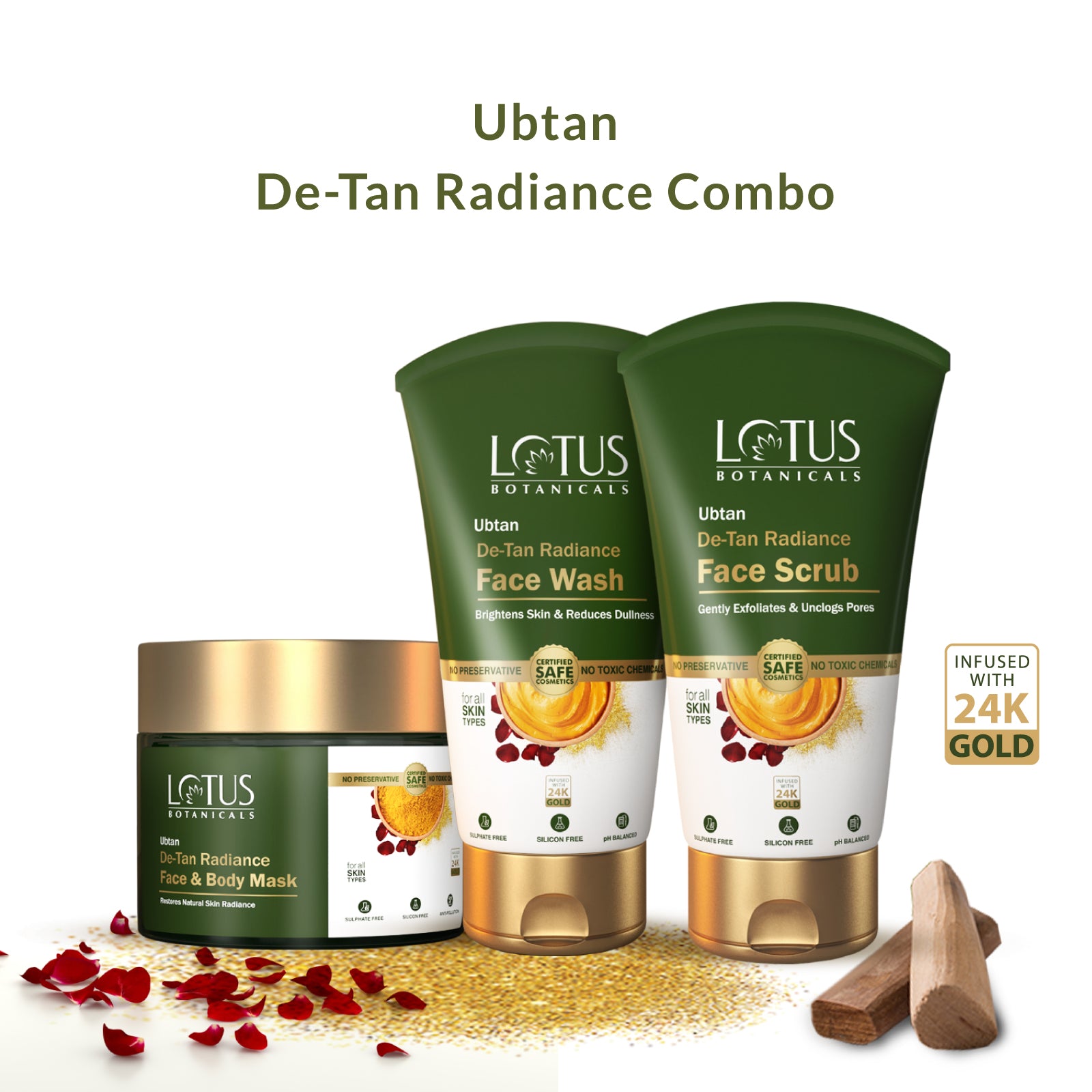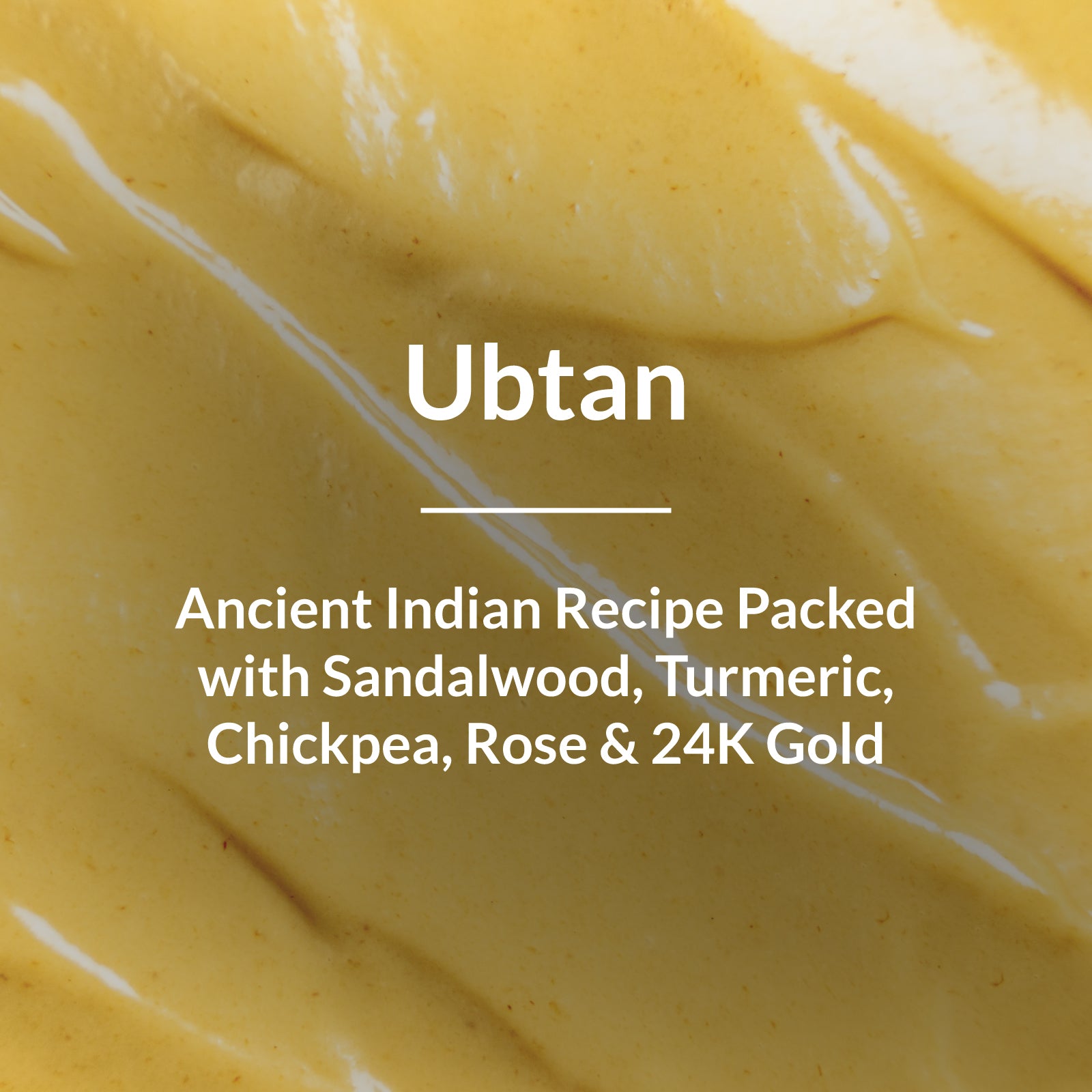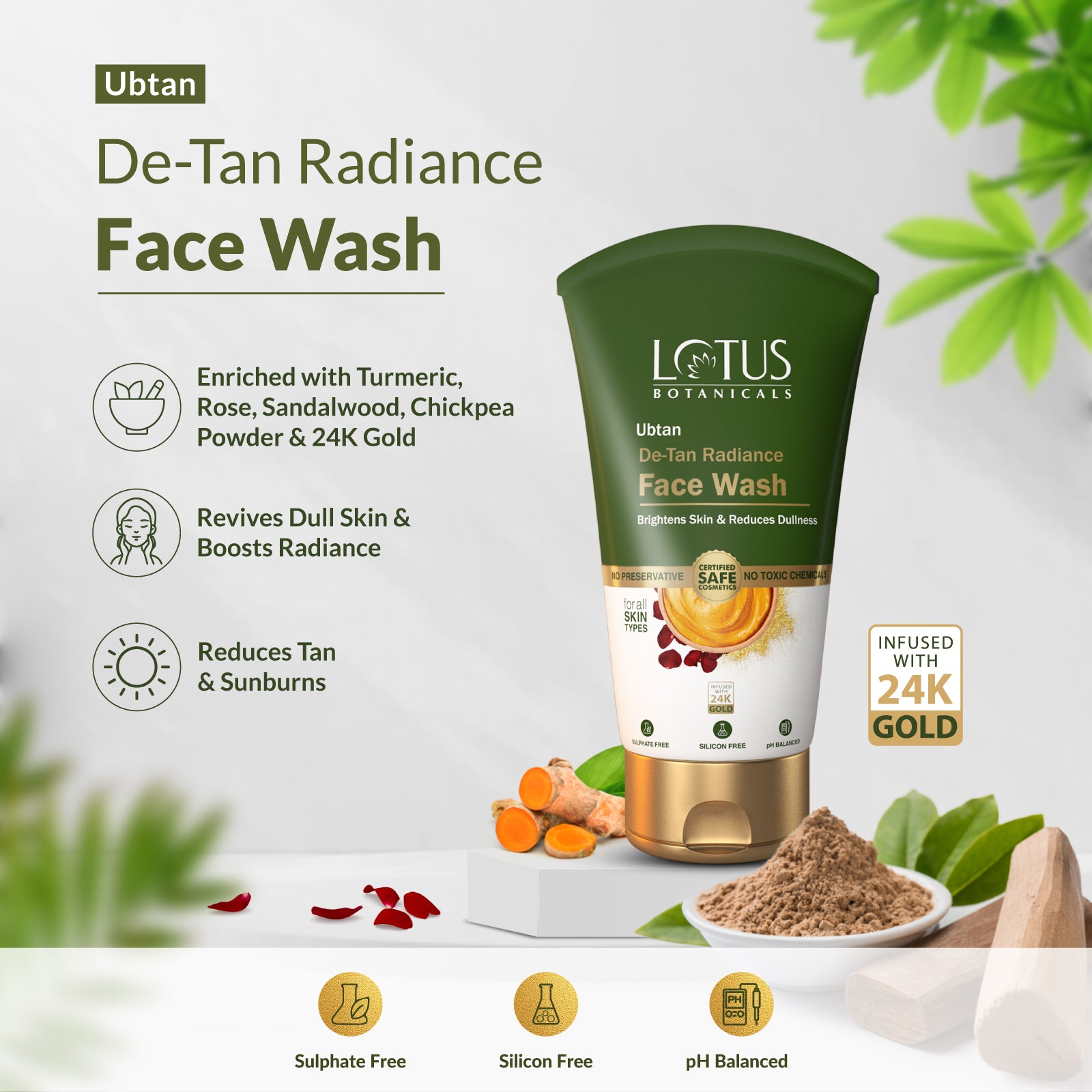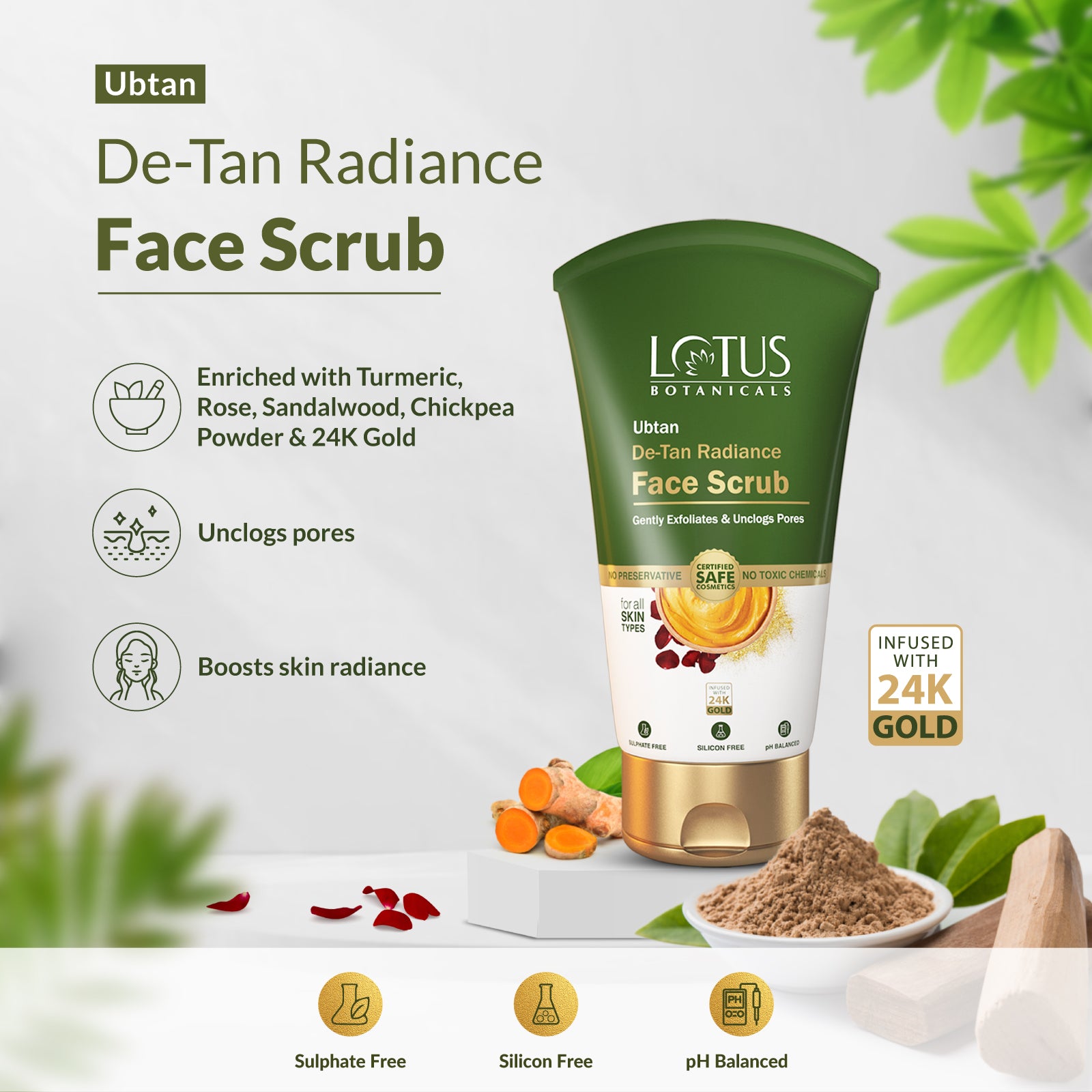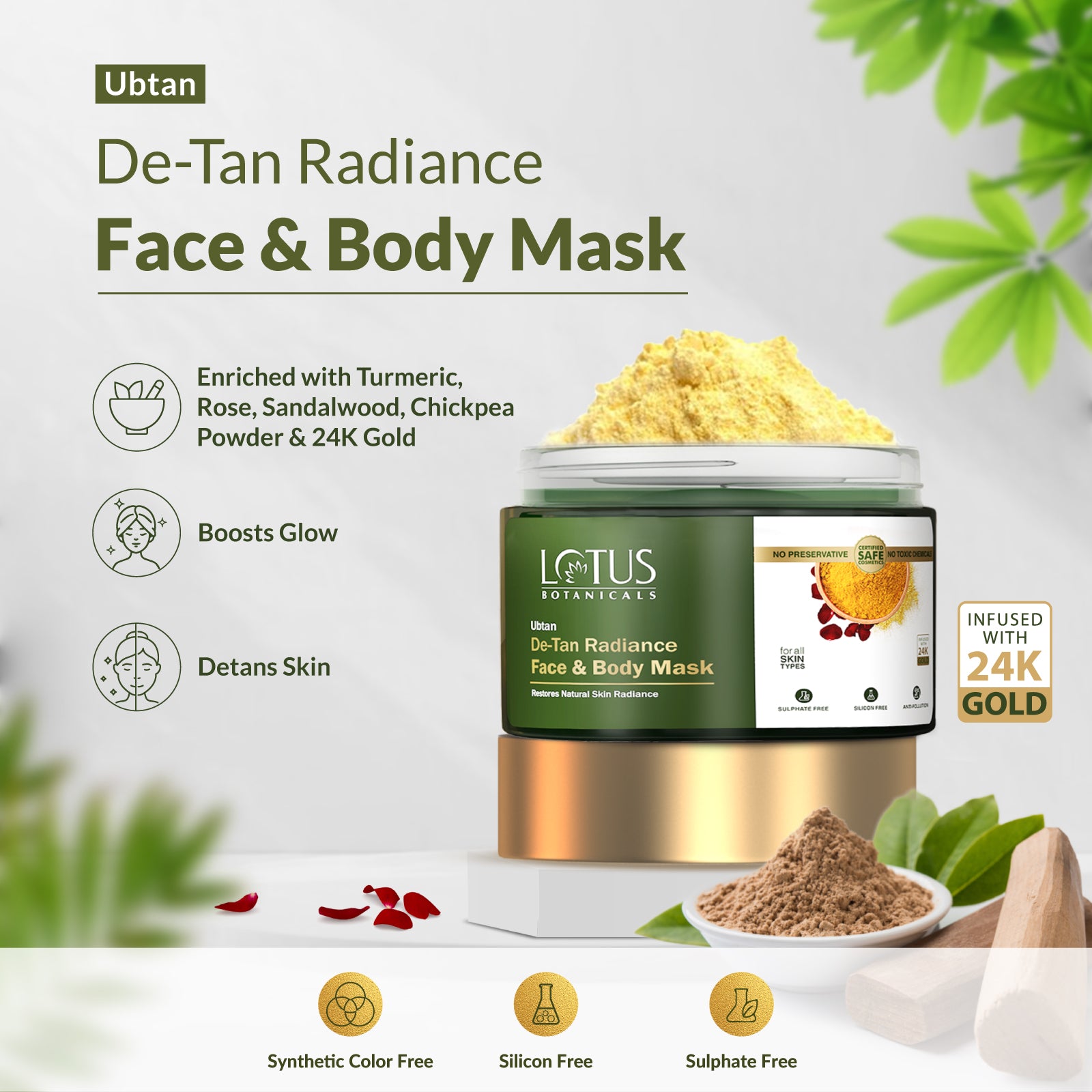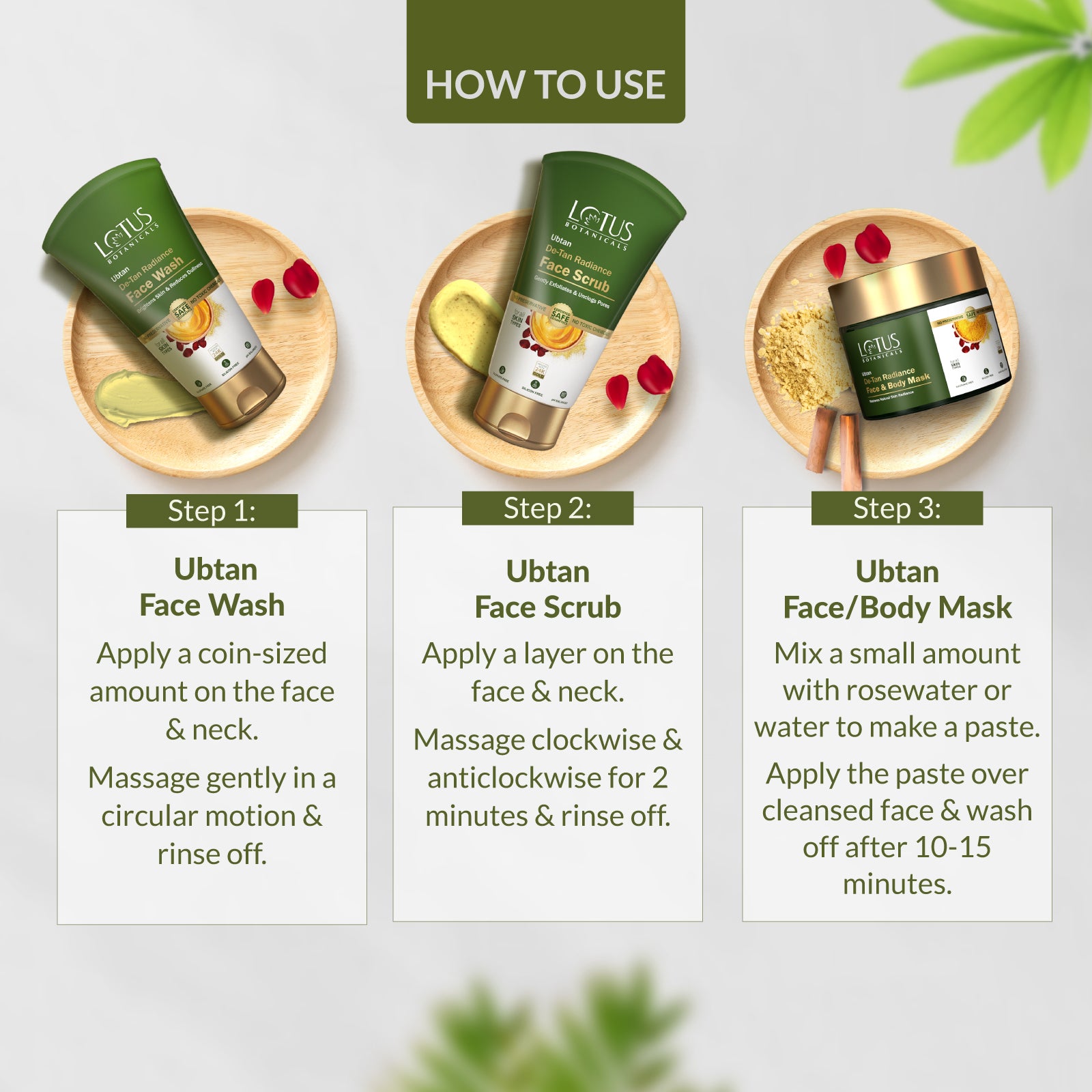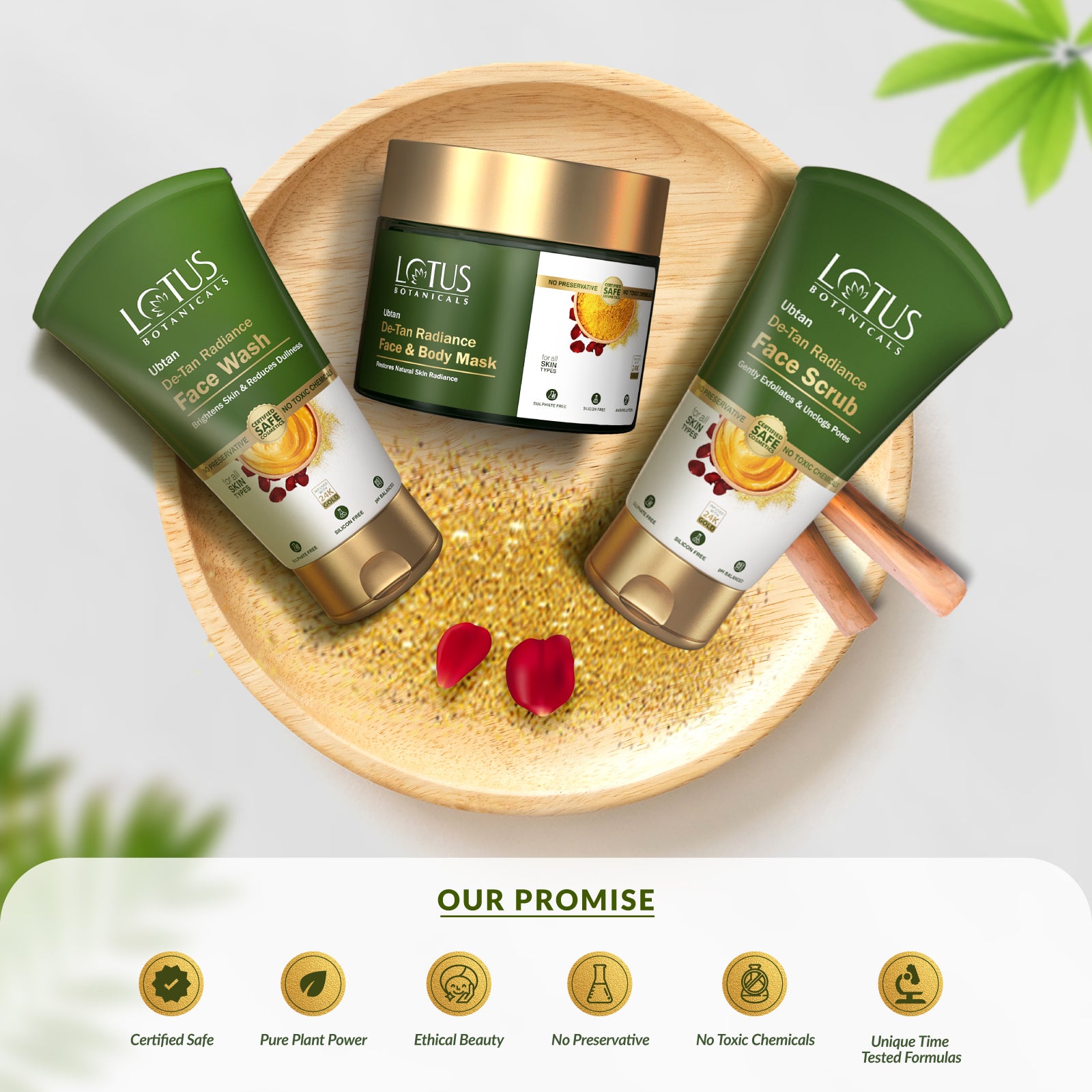 Ubtan De-Tan Radiance Combo
Combo Includes:
1 X Ubtan De-Tan Radiance Face Wash (100g)
1 X Ubtan De-Tan Radiance Face Scrub (100g)
1 X Ubtan De-Tan Radiance Face & Scrub (140g)
Offers You
Can't Resist
🎁FREE Green tea Renew and Restore worth Rs 915 on purchase of Rs 999 or more🎁
Description

Ingredients

Know Your Product

FAQs

Good To know

More Info

Reviews

You May Also Like
Experience the radiance-enhancing benefits of the Ubtan Detan Radiance Combo, an ancient Indian skincare treatment infused with 24K gold. Made with traditional natural ingredients like turmeric, rose, sandalwood, and chickpea powder, this face and body powder mask gently exfoliates to remove impurities, dead skin cells, and tanning, while restoring your skin's natural suppleness and glow. It clarifies your skin complexion, evens out your skin tone, reduces dullness, and leaves your skin feeling fresh, soft, and healthy. This combo is free of preservatives, toxic chemicals, parabens, silicon, sulfates, mineral oil, synthetic color, and is pH-balanced, anti-pollution, cruelty-free, and 100% vegan.
Chickpea Powder
This ingredient has a multitude of benefits, especially for ubtan. You can find this ingredient on your kitchen shelf, also known as Besan. This ingredient has been known as the natural gentle exfoliator since time immemorial. It's rich in antioxidants and has several skin-enhancing properties. Chickpea Powder deep cleanses your skin while regulating sebum production and gently exfoliating dead cells. Also, it has anti-inflammatory properties, which soothe the skin, and aids in fighting acne, zits, etc. This ingredient also helps in making your skin look youthful.
Turmeric Powder
Turmeric has been known as the holy grail of ayurvedic science for multiple skin and body health benefits. Ubtan is incomplete with turmeric powder. It's an age-old, traditional ingredient with anti-inflammatory and antibacterial properties that helps your skin heal from within. It makes your skin glow while boosting collagen production. Turmeric is best for reducing scarring and hyperpigmentation. This is a must ingredient for Detan ubtan-based products.
Sandalwood Powder
One of the biggest issues of Tanned skin is dull and uneven skin tone. From time immemorial, Sandalwood or Chandan has been known for skin brightening and lightening properties. Also, it has multiple other skin benefits, like anti-inflammatory properties, which help soothe acne-prone skin. This ingredient is powerful in lightening scars and post-acne marks. It reduces hyper pigmentation while acting as the perfect de-tan agent. Sandalwood powder has also shown properties to help heal photodamaged skin healthily while boosting skin regeneration that makes your skin look youthful, soft and supple. This becomes perfect for an ubtan because UV rays make your skin look dull and increase the chances of ageing symptoms on your skin. So, ubtan which has sandalwood powder, is a must for de-tanning.
24K gold
24K gold has been known to make your skin bright. Ubtan containing the goodness of the 24K is perfect for Detan formulation, which enhances skin brightness and delays skin ageing. Do you know that 24K gold also decreases the visible signs of ageing? It also helps skin heal, especially for acne-prone skin.
---
---
Good To Know
We recommend that people with sensitive skin always perform a patch test first to ensure there is no reaction. Discontinue if irritation occurs.
Store in a cool and dry place.
In case of pregnancy, please consult with your physician before the product usage.
For external use only.
---
---