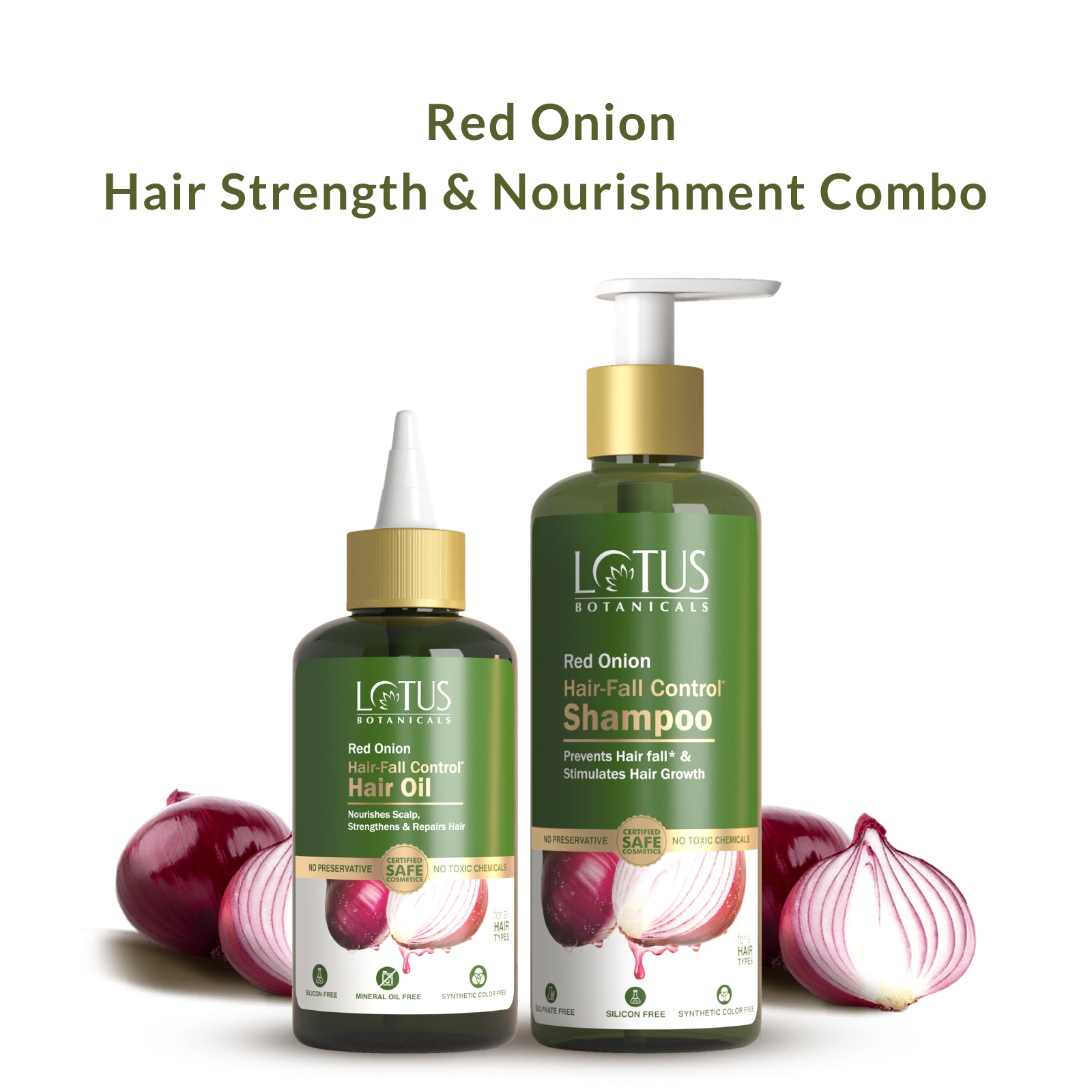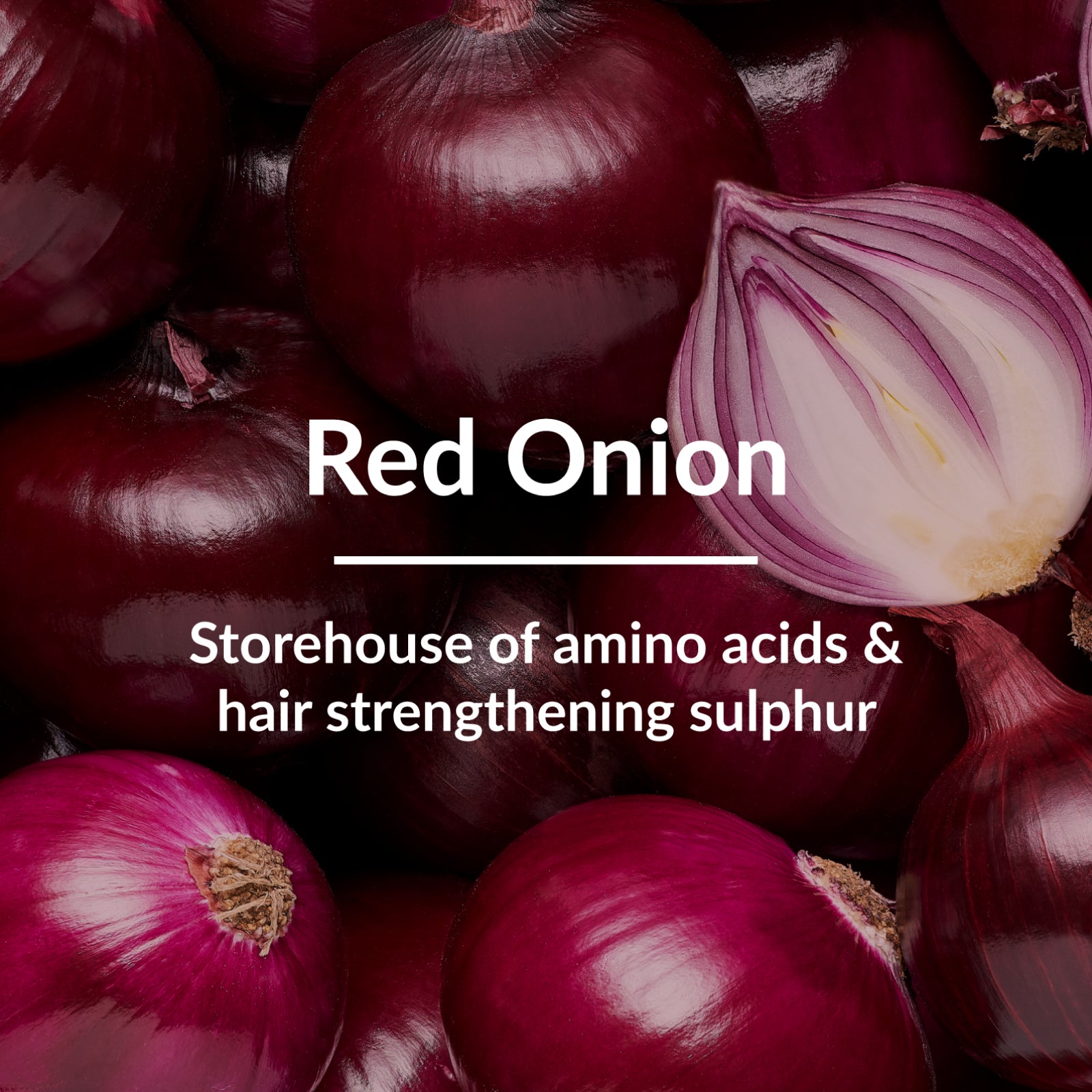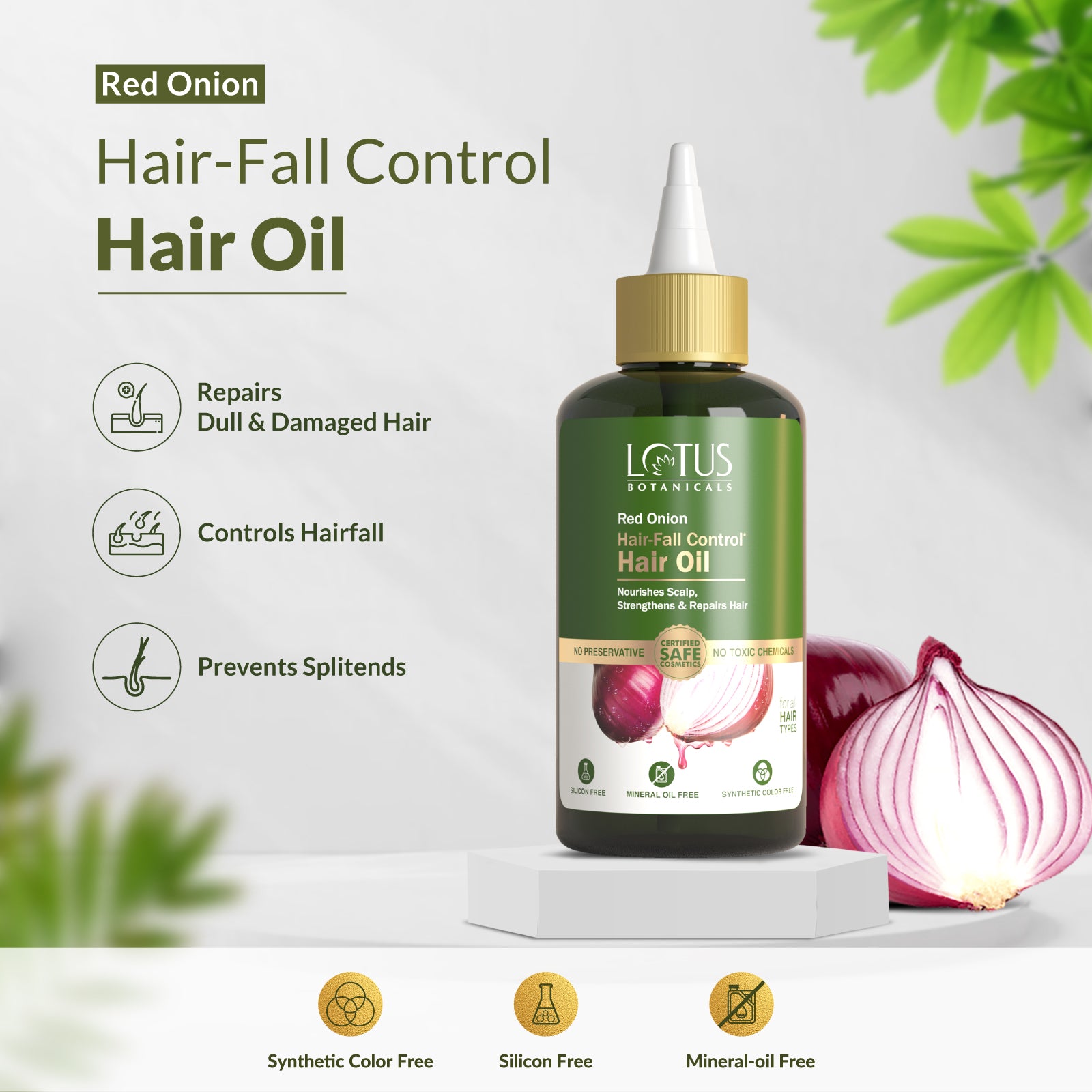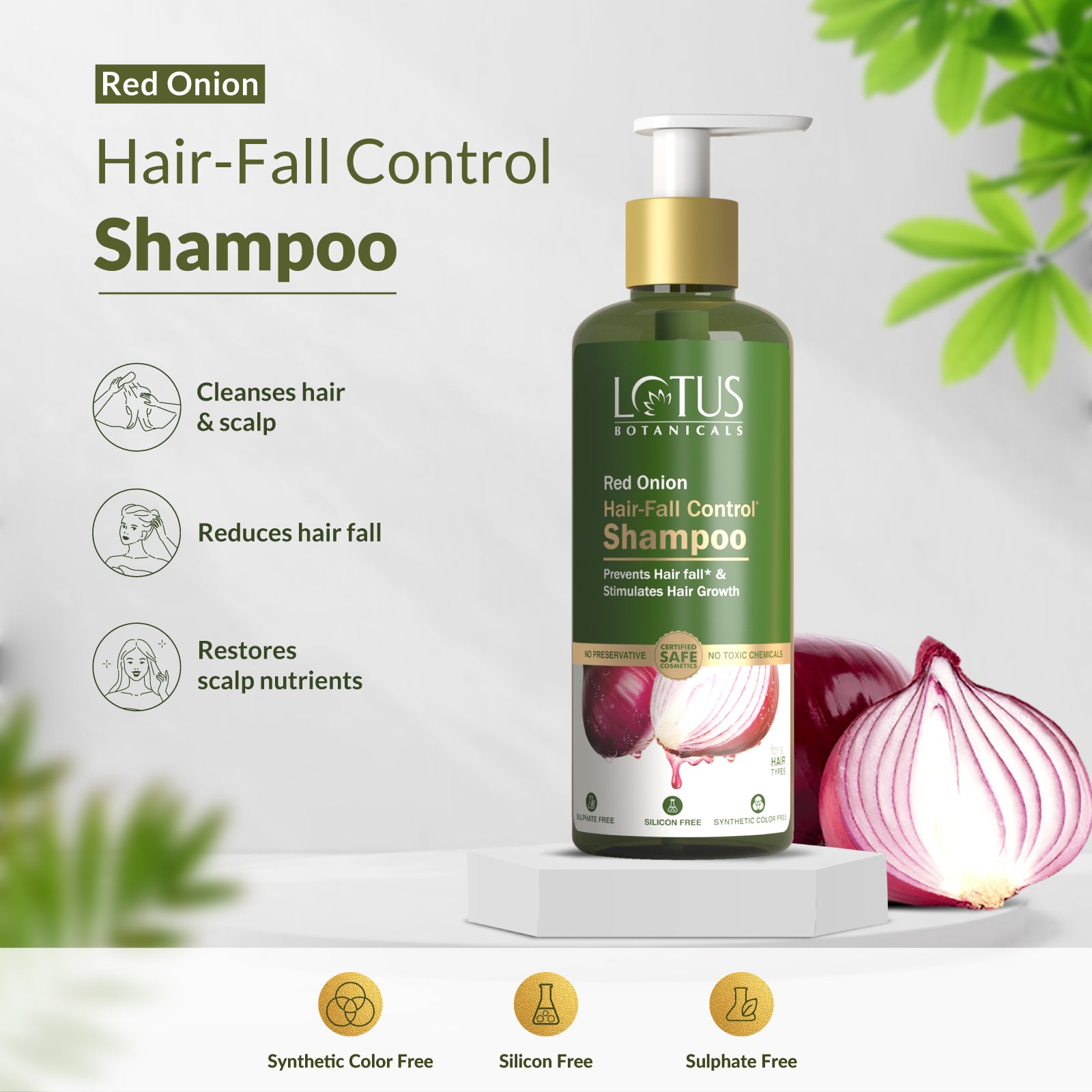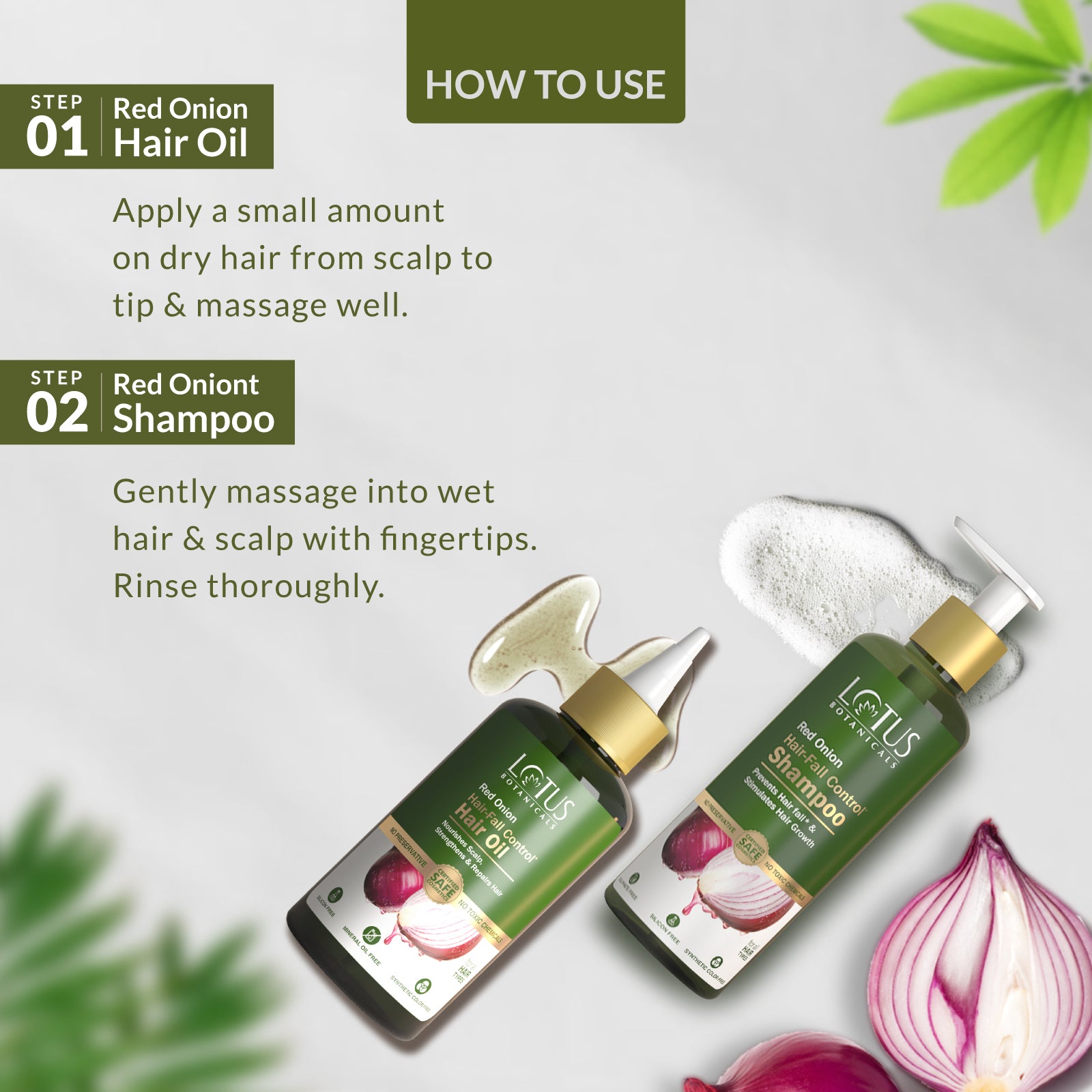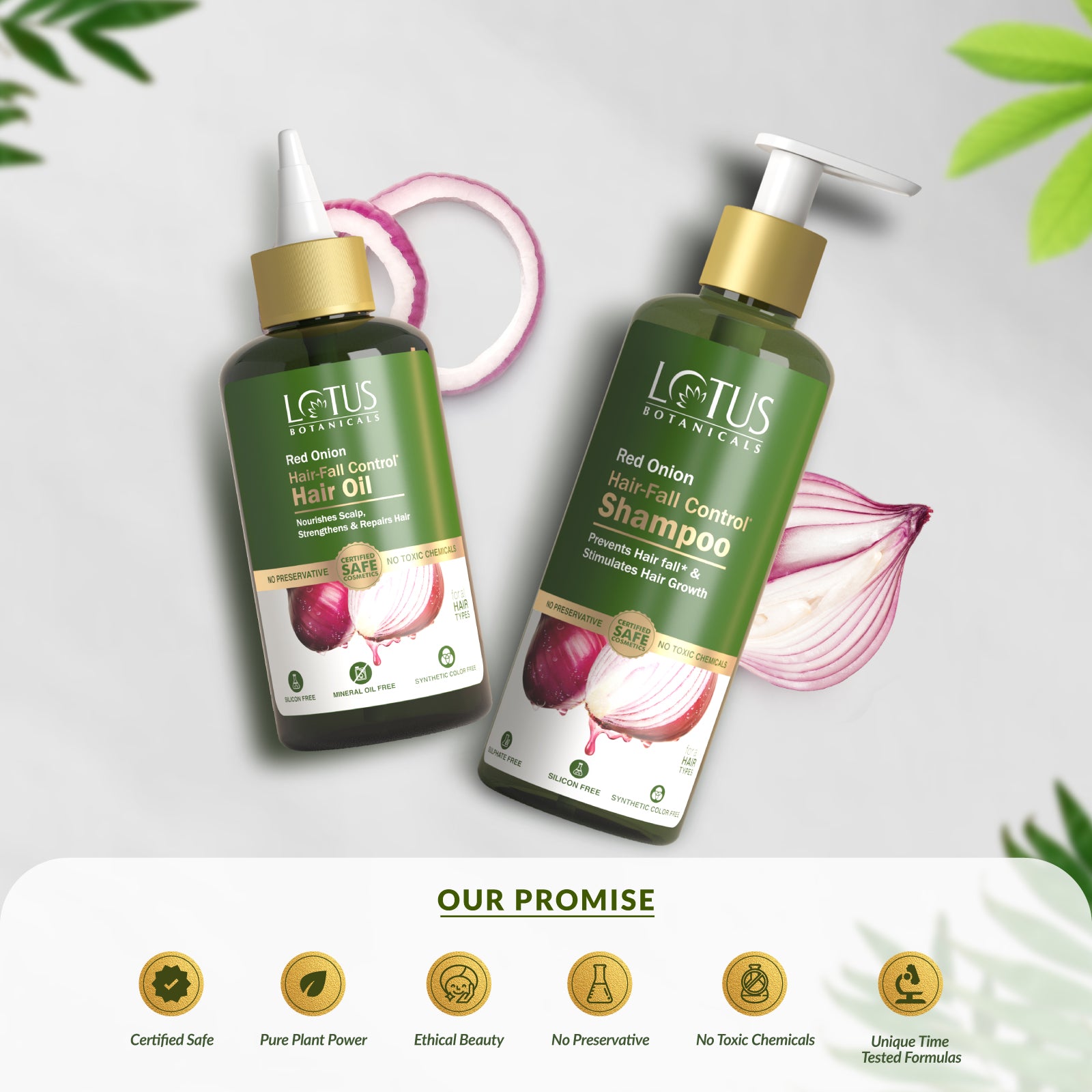 Red Onion Hair Strength & Nourishment Combo
Combo Includes:
1 X Red Onion Hair-Fall Control* Hair Oil (200ml)
1 X Red Onion Hair-Fall Control* Shampoo (300ml)
Offers You
Can't Resist
🎁 FREE Vitamin C Wash N Moisturise Worth Rs 960 on purchase of Rs999🎁
Description

Ingredients

Know Your Product

FAQs

Good To know

More Info

Reviews

You May Also Like
If you are looking for everyday hair care solution then this is the combo you need. The Red Onion Hair-fall Control* Shampoo penetrates deep to strengthen the roots and reduce while the Red Onion Hair-Fall Control* Hair Oil revives dull, damaged and unhealthy hair.
Hair care is an essential part of our everyday routine because the aggressive nature of external stimulants has a detrimental effect on the quality and texture of our hair. Furthermore, unkempt or unhealthy hair can reflect badly on the overall appeal of our personality. In light of these issues, Lotus Botanicals has come up with a one-stop solution to a plethora of hair problems. The Red Onion hair nourishment combo by Lotus Botanicals has all that it takes to keep your tresses healthy and nourished.
Experience the goodness of this hair nourishment combo by Lotus Botanicals
Red onion has a number of benefits when it comes to its ability to impart wholesome goodness to our hair. This hair products combo has condensed the goodness of red onion into the hair products to provide a wide range of benefits and augment your overall hair health. Red onion is known to prevent greying of hair, treat premature hair fall, manage dandruff and even fight lice infections.
This is one of the best hair nourishment combos online. It consists of the following products :
This hair oil is hundred percent cruelty and made from an excellent blend of organic and natural ingredients. You can apply it before washing your hair. It will play a significant role in repairing damaged hair and retiring the natural moisture and nutrients level in your hair and scalp.
This preservative-free shampoo is perfect for deeply cleansing your hair without stripping it off its essential nutrients. The red onion hair fall control shampoo will effectively prevent any germ or dust build-up on your scalp and prevent problems such as dandruff and hair fall.
If you have been struggling with hair use then it is advisable to accommodate this hair nourishment combo in your hair care routine for long-term benefits and noteworthy results.
Why choose Lotus Botanicals?
Lotus Botanicals focuses its efforts on presenting top-quality plant-based hair care and skin care solutions to our clients to enable them to add signify any value to their skin and hair care regime. Our products are vegan, cruelty-free, paraben-free and made with the perfect balance between scientific know-how and natural bounties. We pride ourselves on having products that are sustainable and ethically formulated. In addition to this hair nourishment kit and other hair care products, we also have a wide range of skin care products including face serum, face moisturiser, day cream online, night cream, lotus sunscreen.
Directions To Use

Red Onion Hair-Fall Control* Hair Oil

Step 1:
Apply a small amount on damp or dry hair from scalp to tips.

Step 2:
Massage gently and leave for 1 hour.

Red Onion Hair-Fall Control* Shampoo

Step 1:
Gently massage into wet hair and scalp with fingertips to work into lather.

Step 2.
Rinse thoroughly.
Red Onion Hair-Fall Control* Hair Oil
Revive dull, damaged and unhealthy hair with the Red Onion Hair-Fall Control* Hair Oil. Infused with the astounding properties of red onion and ginseng, its nutritive formula reaches deep to strengthen the strands, reducing hair loss and enhancing the quality of hair.
Red Onion Hair-Fall Control* Shampoo
Preserve your precious hair and prevent it from thinning, with the Red Onion Hair-fall Control* Shampoo. Formulated to nourish, it penetrates deep to strengthen the roots. The result of which is reduced hair loss and thick & healthy tresses.
---
Frequently Asked Questions
In order to nourish your hair at home, you should ensure that you have a proper hair care routine in place. Moreover, you should put categorical efforts in choosing hair care products that help you in improving your hair health and suit your hair type and texture.
In order to optimally nourish your hair with this hair nourishment combo, you can apply the red onion hair fall control hair oil before you plan to take a head bath. After that you can wash your hair with the red onion hair fall control shampoo for best results.
Red onion is a naturally derived product. The hair care products in this combo are preservative free and it is devoid of any harmful chemicals or additives as well. The products are suitable for all hair types but it is advisable to do a patch test to check for any signs of scalp irritation or itching.
Yes, the products in this combo can help you in controlling your hair fall. Since red onion is the primary component of these products, its ability to work on hair fall cannot be ignored. Regular usage of the products if this combo will yield satisfactory results for you.
You can use this red onion nourishment combo as many times as you want. The frequency of usage will depend upon the number of times you wash your hair in a week which will depend upon your hair quality and texture.
---
Good To Know
We recommend that people with sensitive skin always perform a patch test first to ensure there is no reaction. Discontinue if irritation occurs.
Store in a cool and dry place.
In case of pregnancy, please consult with your physician before the product usage.
For external use only.
---
---