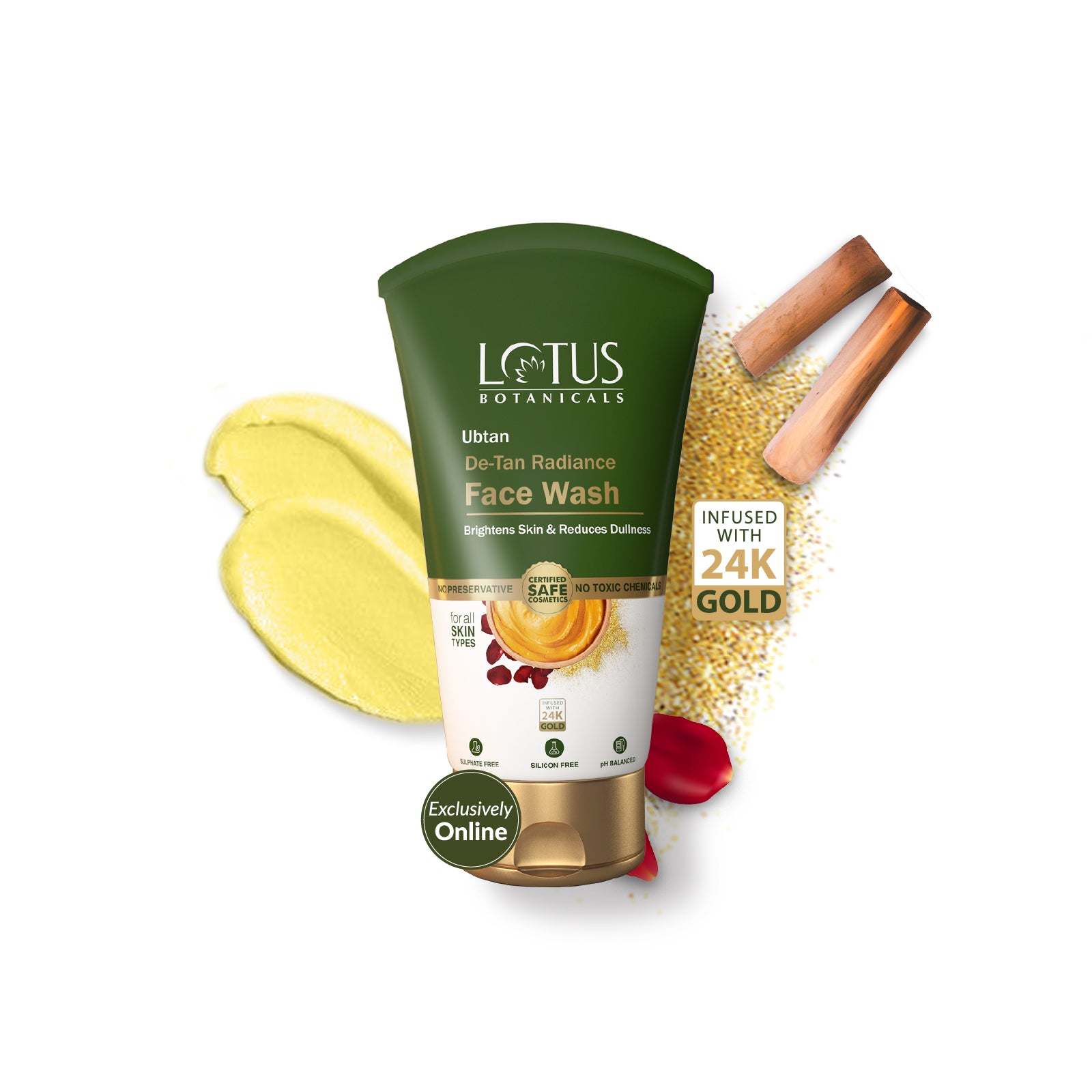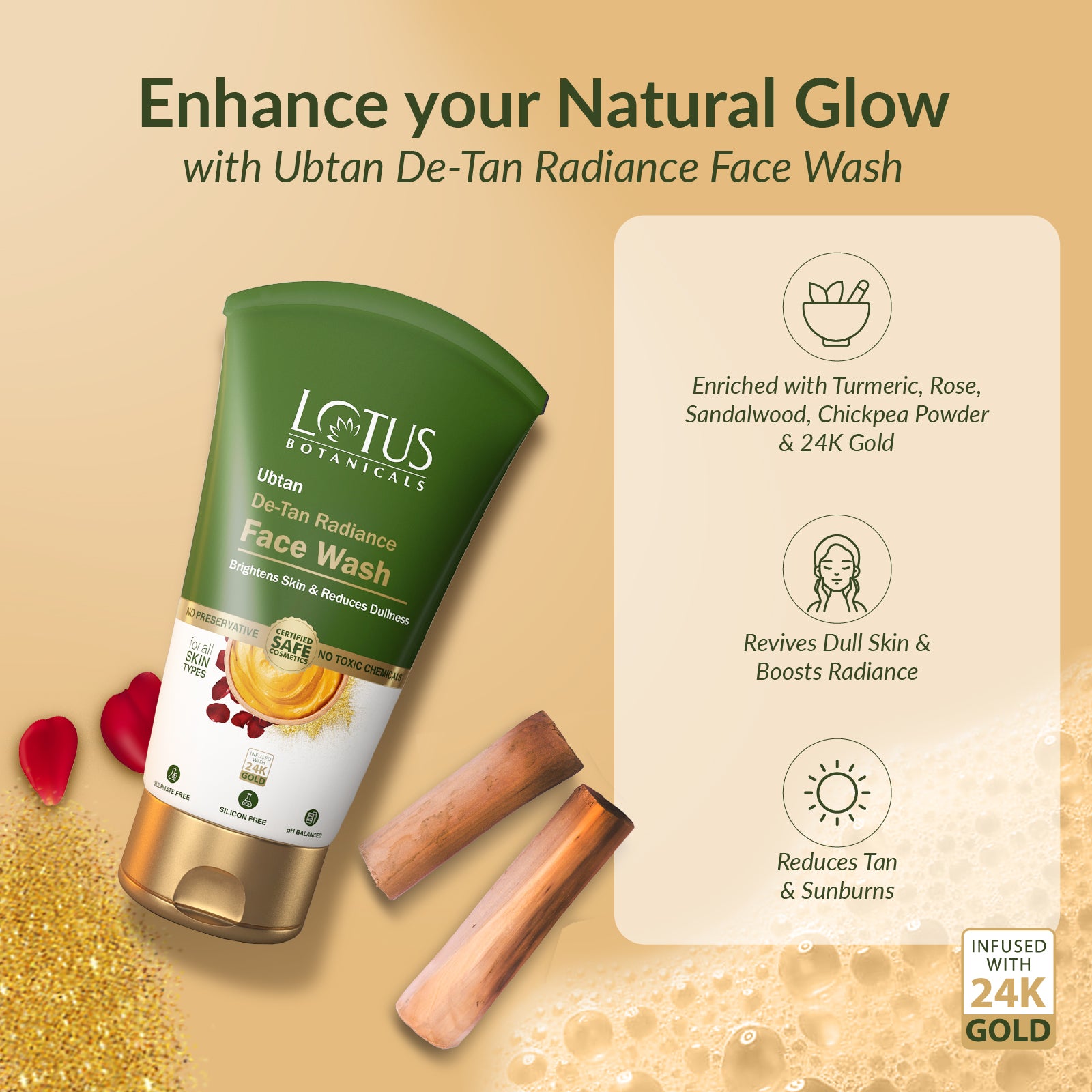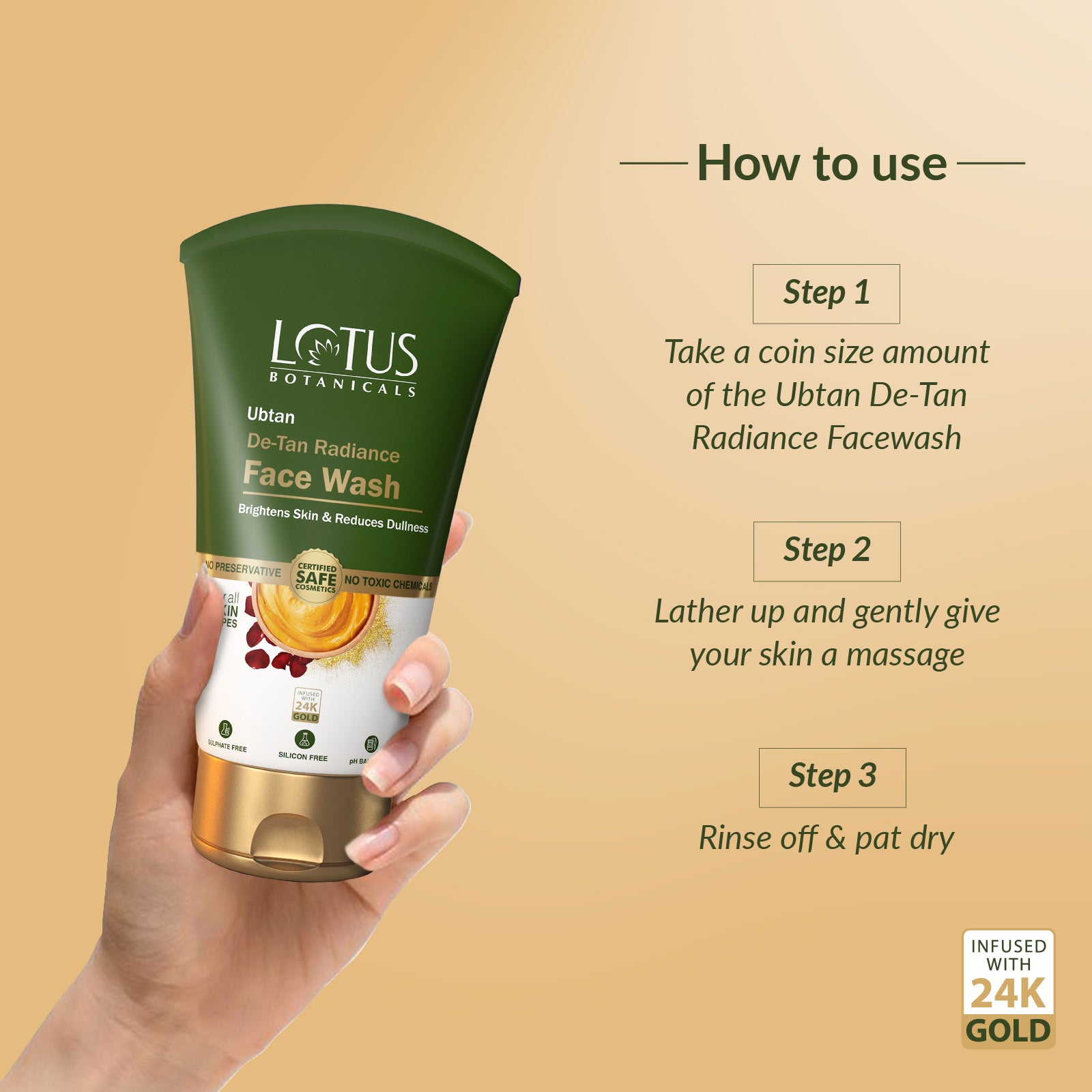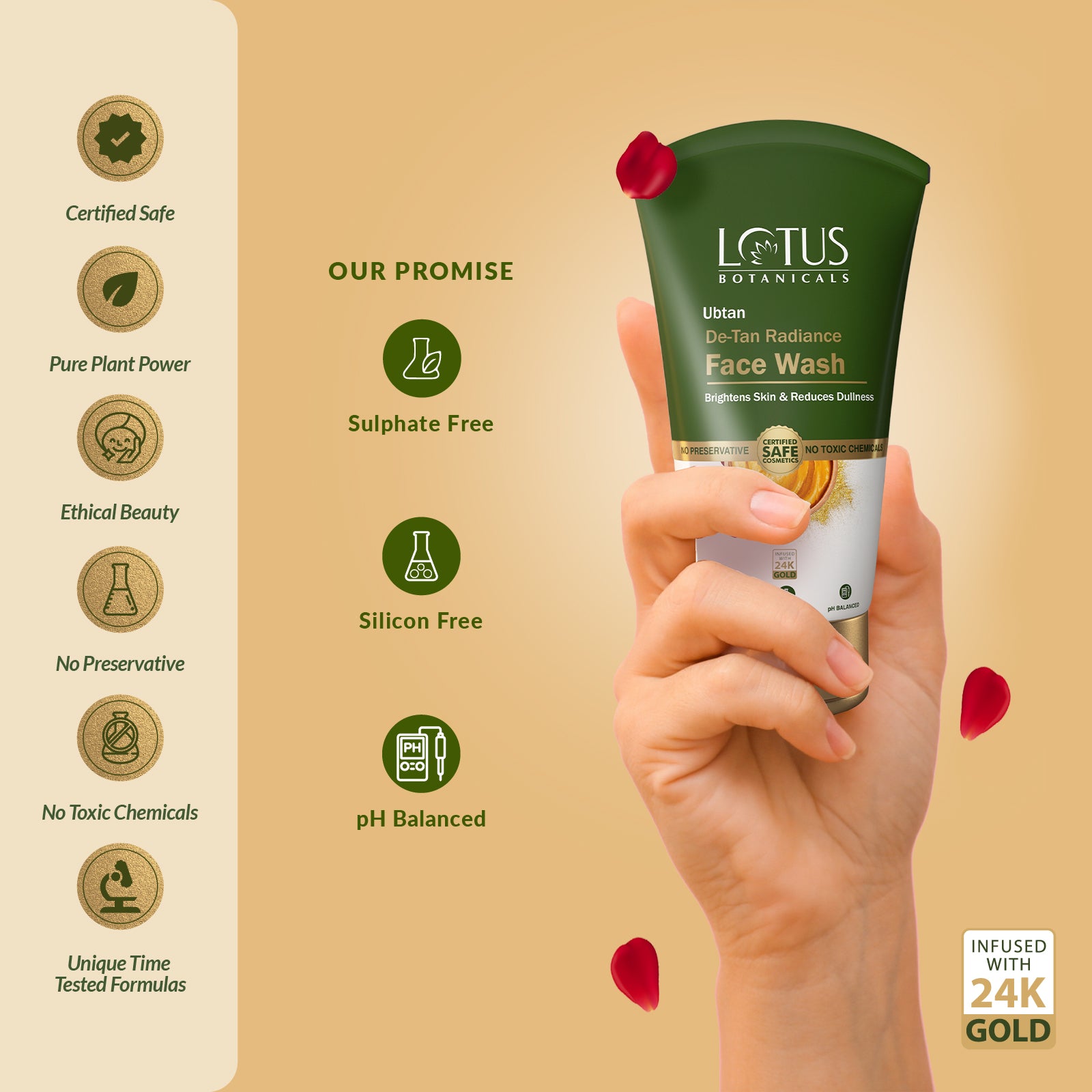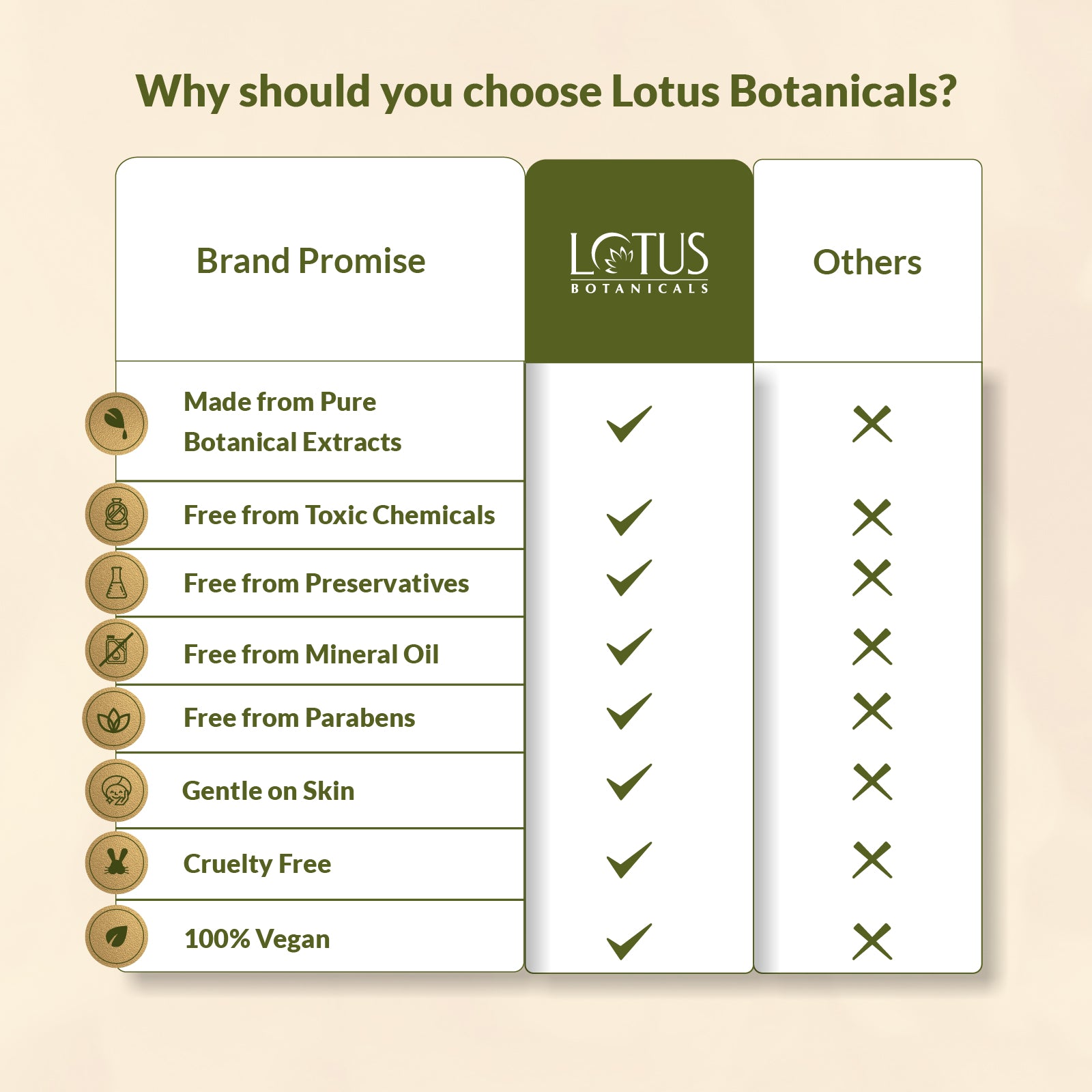 Ubtan De-Tan Radiance Face Wash
Offers You
Can't Resist
🎁FREE Green tea Renew and Restore worth Rs 915 on purchase of Rs 999 or more🎁
Description

Ingredients

Know Your Product

FAQs

Good To know

More Info

Reviews

You May Also Like
Give your skin a look with the ancient Indian tradition of Ubtan Infused with 24K Gold. It rejuvenates your dull and tanned skin so that it feels fresh, soft, supple and bright. It is enriched with traditional natural ingredients including turmeric and sandalwood powder known for their cleansing and skin restoring properties.

• Made with traditional natural ingredients: Turmeric, Rose, Sandalwood and Chickpea Powder
• Infused with 24K Gold
• Brightens Skin
• Reduces Tan and sunburns
• Clarifies Skin Complexion
• No Preservatives, No Toxic Chemicals, Paraben Free, Silicon Free, Sulphate Free, Mineral Oil Free, pH-Balanced, Anti-Pollution, Cruelty Free, 100% Vegan
Ubtan De-Tan Radiance Face Wash contains many herbal ingredients that help to De-Tan. Ubtan face wash ingredients are all organic and good for skin.
Turmeric
Turmeric is an age-old, traditional ingredient known for its healing and skin care benefits. It contains antioxidants and anti-inflammatory components that help brighten your skin to bring out a natural glow. Turmeric also clears out your clogged pores to avoid acne breakouts, while calming your skin and reducing scarring.Turmeric has been known as the holy grail of ayurvedic science for multiple skins and body health benefits. Ubtan is incomplete with turmeric powder. It's an age-old, traditional ingredient with anti-inflammatory and antibacterial properties that helps your skin heal from within. It makes your skin glow while boosting collagen production. Turmeric is best for reducing scarring and hyperpigmentation.


Sandalwood Powder
Sandalwood or Chandan is a powerful ingredient that's traditionally used as a skincare solution with many benefits. It deep cleanses your skin, fights acne, lightens acne scars, soothes your skin and acts as an anti-tanning agent. An age-old secret to flawless, younger-looking skin, sandalwood keeps your skin moist, reverses sun damage and delays the process of skin ageing. One of the biggest issues of Tanned skin is dull and uneven skin tone. From time immemorial, Sandalwood or Chandan has been known for skin brightening and lightening properties. Also, it has multiple other skin benefits like anti-inflammatory properties, which help soothe acne-prone skin. This ingredient is powerful in lightening scars and post-acne marks. It reduces hyperpigmentation while acting as the perfect detan agent. Sandalwood powder has also shown properties to help heal photodamaged skin healthily while boosting skin regeneration that makes your skin look youthful, soft, and supple. This becomes perfect for an ubtan because UV rays make your skin look dull and increase the chances of ageing symptoms on your skin. So, best tan removal ubtan face wash which has sandalwood powder, is a must for detanning.


24K Gold
The star ingredient of Lotus Botanicals' Ubtan De Tan Products, 24K gold, has been known to make your skin bright. Ubtan containing the goodness of the 24K is perfect for Detan formulation, which enhances skin brightness and delays the skin aging process. Do you know that 24K gold also decreases the visible signs of aging? It also helps skin heal, especially for acne-prone skin.


Chickpea Flour
This ingredient has a multitude of benefits, especially for ubtans. You can find this ingredient on your kitchen shelf, also known as Besan. This ingredient has been known as the natural gentle exfoliator since time immemorial. It's rich in antioxidants and has several skin-enhancing properties. Chickpea Powder deep cleanses your skin while regulating sebum production and gently exfoliating dead cells. Also, it has anti-inflammatory properties, which soothe the skin, and aids in fighting acne, zits, etc. This ingredient also helps in making your skin look youthful.
---
Frequently Asked Questions
Yes, you can use the Ubtan De-Tan Radiance Face Wash daily. Use twice a day for the best results.
Yes, this product is crafted with all-natural, traditional skincare ingredients. It is good for your skin and also brings out a natural radiance.
Yes, this facewash is suitable for all skin types.
You can use Ubtan De-tan face wash every day. Ubtan is a completely ayurvedic-based product that has no side effects. The face wash would regulate the sebum production on your skin while giving it a glow from within.
The tan-removal face wash would make your skin glow while de-tanning the skin. *Do not expect to change the basic skin tone of your body. Even skin tone is special and unique. These products only enhance your skin's natural glow while helping it heal due to environmental factors, lifestyle factors, etc.
Yes! ubtan face wash with turmeric & sandalwood is perfect for dull and dry skin. The Ubtan De-Tan face wash contains 24K gold and turmeric powder, which boosts collagen production and makes your skin smooth and supple. It also hydrates your skin from within.
Yes! Ubtan face wash is perfect for all kinds of skin types.
---
Good To Know
We suggest people with sensitive skin always patch test the product before full-coverage usage. Strongly recommend discontinuing in case of irritation.
Store in a cool and dry place
In case of pregnancy, please consult with your physician before using the product
For external use only. Keep away from children
In case of eye contact, rinse immediately with water
---
More Info
Lotus Botanicals Ubtan De-Tan Radiance Face Wash is crafted with the goodness of 24k gold, turmeric, rose and sandalwood powder which helps restore your natural skin radiance, letting you take on your day with confidence. Gold's benefits in this face wash glowing skin helps in restoring elasticity, slowing down collagen depletion and the breakdown of elastin to prevent sagging skin.
Treat your skin to the age-old Ubtan tradition, and watch as your tanned, drab skin is rejuvenated and made to feel bright and fresh. Reverse the affects of a tan, pollution, filth, dangerous UV radiation, and adverse weather. It's time to convert to an all-natural lotus product with the benefits of an age-old botanical combination if your skin has suffered more damage than good from using conventional face cleansers that are loaded with chemicals.
This de tan face wash is rich in antioxidants that brightens your skin and gives it a vibrant glow. It is enriched with rich, traditional natural ingredients including turmeric, sandalwood powder and chickpea powder that are known for their cleansing and skin recovering properties. It is one of the best de tan face wash and a formulation that gently exfoliates the skin, leaving it beautiful and fresh. This d tan face wash can be used by both men & women.
Ubtan De-Tan Radiance Face Wash
Whether it's the summer or the winter, one of the biggest issues that we face every day is skin tanning. No matter how many skin products we use, our skin gets tanned easily due to the harsh UV rays exposure. And who likes dull, tanned skin? So, to help you with dull skin, we bring you a Ubtan De-tan Radiance facewash that helps De-Tan. When we look for safe skincare products, we can always rely on the ancient old Ayurvedic science of Vedic times. One of them is Ubtan which is 100% natural, sans any harsh chemicals formulated according to your body's doshas and body types. 
What is Ubtan?
Ubtan is a mix of Ayurvedic ingredients and herbs, specifically for the skin. Also, one of the main ingredients of Ubtan is Haldi or Turmeric. Now, one can use this mix as a scrub, soap, and face mask for their skin. Since it contains so many herbs and ingredients, the whole mix contains many beneficial properties like antioxidants, anti-fungal, anti-inflammatory, anti-pigmentation properties, etc. So, these ubtans give skin a natural glow while helping skin restore hydration and aid in healing other skin issues like sudden skin breakouts, etc. It keeps skin fully nourished. 
Our Ubtan De Tan face wash has been formulated with organic products according to Ayurveda science. It contains the goodness of 24K gold for the skin. Tanning is a significant issue that all people have, but no matter what they do, the UV rays affect skin more than one comprehends. Give your skin the chance to heal every day with this Ubtan facewash. And what's better than an amazing natural formulation that helps the skin get nourished and keep skin issues like acne breakouts, skin dullness, etc., at bay. Also, ubtan face wash for oily skin helps the skin to restore its natural glow. 
If someone loves the outdoors, they should try the special Lotus Botanicals' ubtan formulation for these situations. Haldi Ubtan Face Wash is perfect for everyday usage. The best d tan face wash contains ingredients like 24K gold, turmeric, and sandalwood powders, including chickpea powder which is anti-inflammatory and known from ancient times for its natural cleansing properties. Also, these ingredients help the skin recover while exfoliating the dead cells from the skin, aiding in an even skin tone.
Ubtan Face Wash Benefits
Ouch! Even though it is not anyone's obvious choice, 1 in 4 Indians experience it every day throughout the summer because of our skin type. After being in the sun, washing our faces with Ubtan Face Wash will help reduce the amount of redness because turmeric helps to relieve burns, itching, and other signs of irritation.
Turmeric is the best natural remedy for reducing inflammation caused by red-faced acne. Ubtan's anti-inflammatory effects will assist the pimple heal more rapidly and smaller before it spreads to other places.
The Ubtan Face Wash assists in exfoliating dirt, oil, and debris from the skin's surface so that it becomes clear and a lot lighter. Additionally, turmeric has antibacterial qualities that prevent germs that cause acne from overgrowth on our skin.
The powerful skin-brightening effects of turmeric make it simple to remove blemishes and dark spots.
Nobody wants their skin to show signs of ageing, therefore using an Ubtan Face Wash will help minimise the appearance of wrinkles and fine lines for a more youthful appearance.
The secret is to get to the tan before washing our faces with Ubtan Face Wash because it sneaks up on us when we least expect it. This will cool the skin and help to reduce the appearance of tanning lines.
Acne marks that are semi-permanent in nature can be extremely challenging to remove. Ubtan Face Wash, which has antioxidant characteristics, will assist in reversing the damage in addition to therapeutic serums by gradually balancing the skin tone with each wash.
Turmeric's antioxidant capabilities help it block the damaging UVA and UVB effects. Your skin will be prepared to withstand these damaging rays if you wash your face every morning with Ubtan face wash.
Cuts and wounds can be treated using turmeric's healing powers without leaving a mark on the skin.
The wound-healing properties of turmeric also facilitate the early healing of fresh scars before they become permanent. It is impossible to resurface older scars with laser treatment, despite the fact that the skin tissues around them have already hardened. 
Use ubtan de tan face wash benefits for skin to heal and refresh everyday.
 Best suited for: All skin types
Concerns: Dry, dull and tanned skin
Directions to use
Step 1: Take a coin size amount of the Ubtan De Tan Facewash
Step 2: Lather up and gently give your skin a massage
Step 3: Rinse off & pat dry
Note: For best results, use twice a day – morning & evening 
---