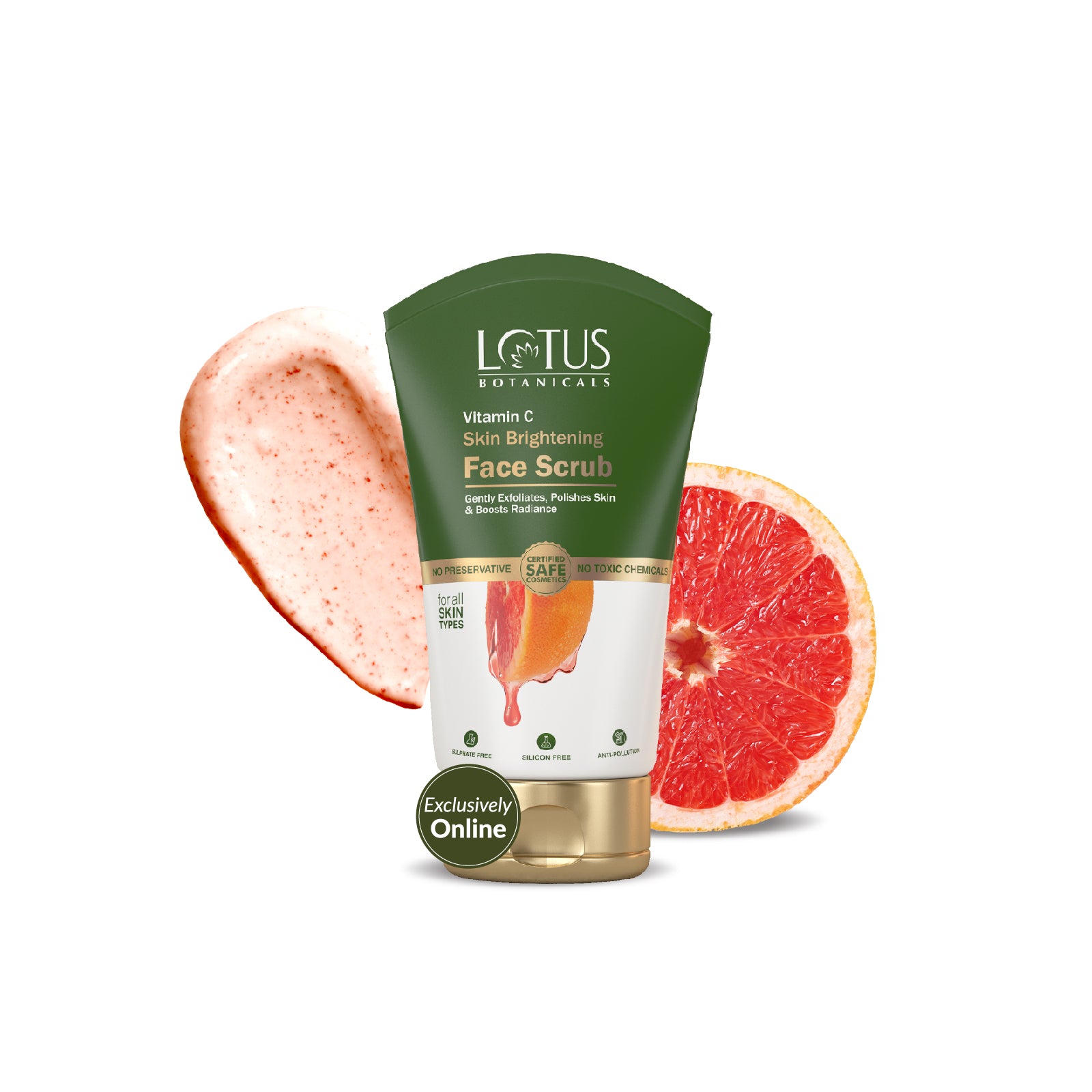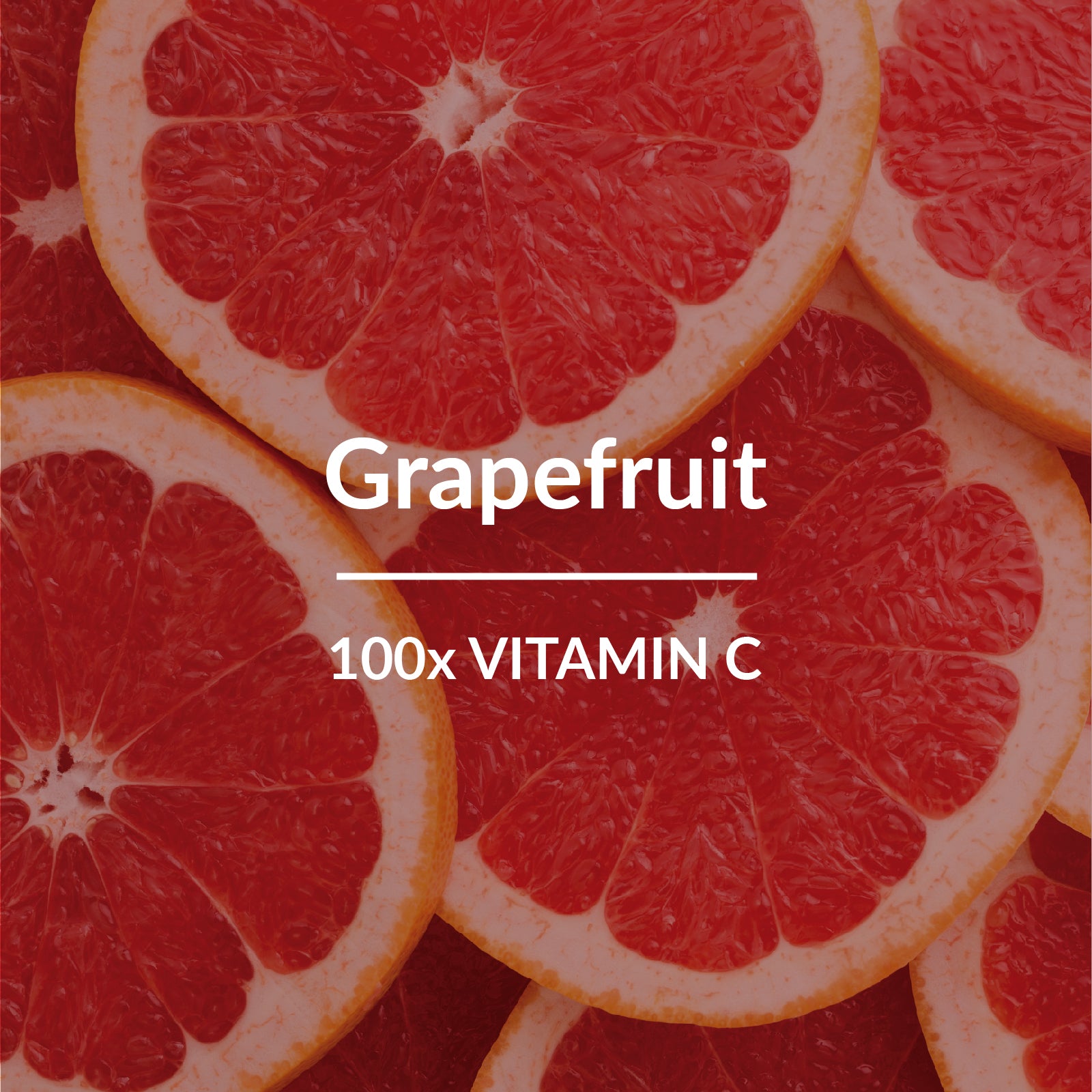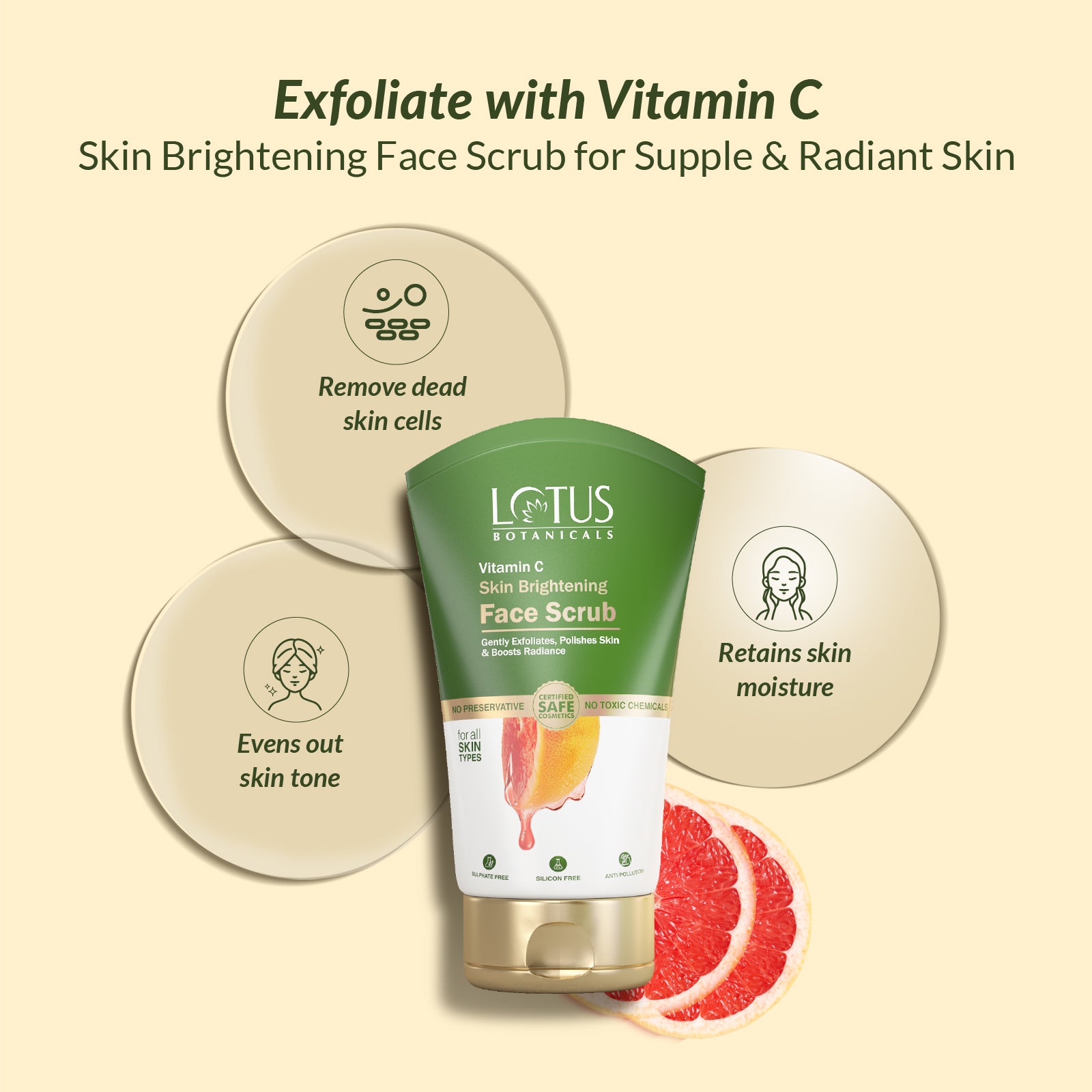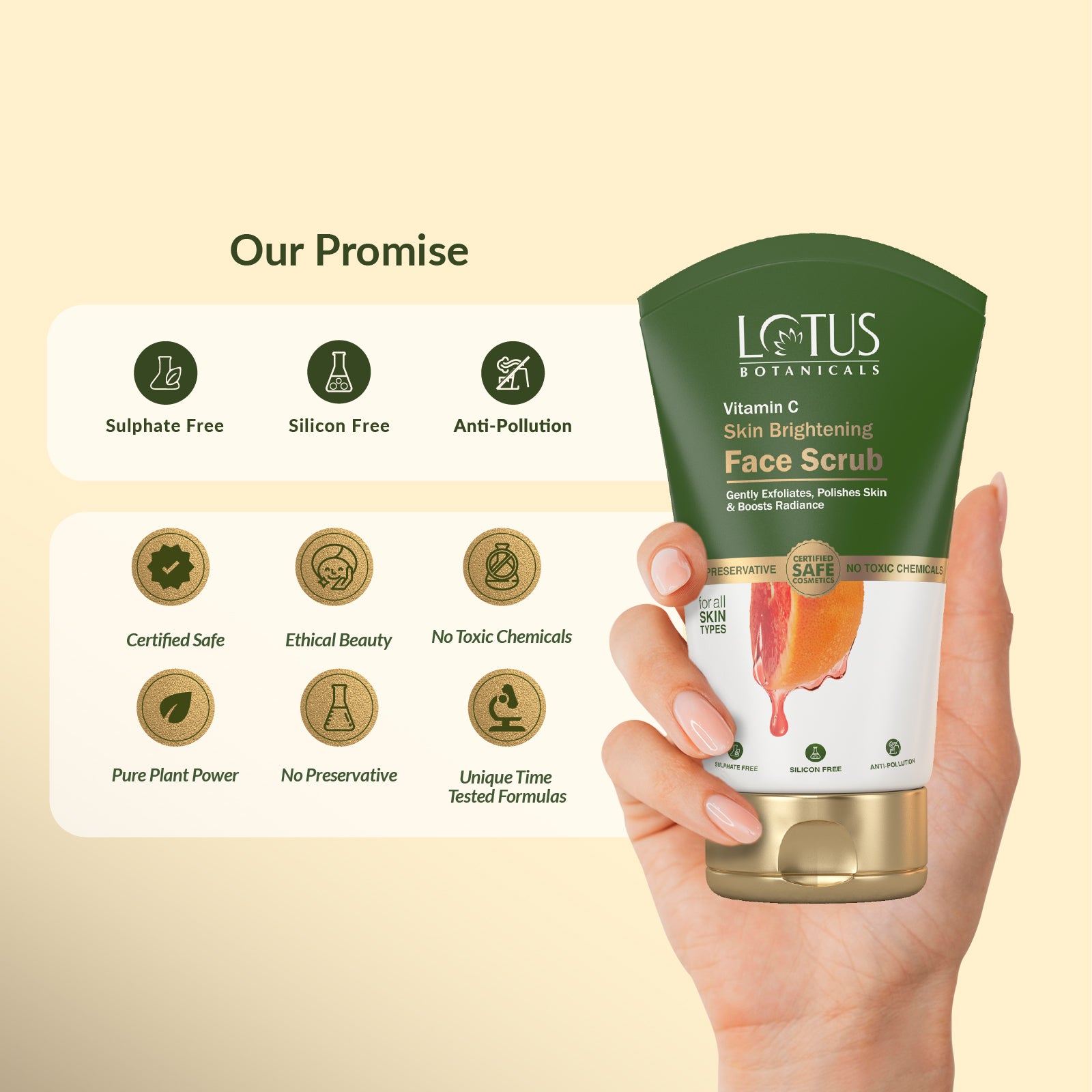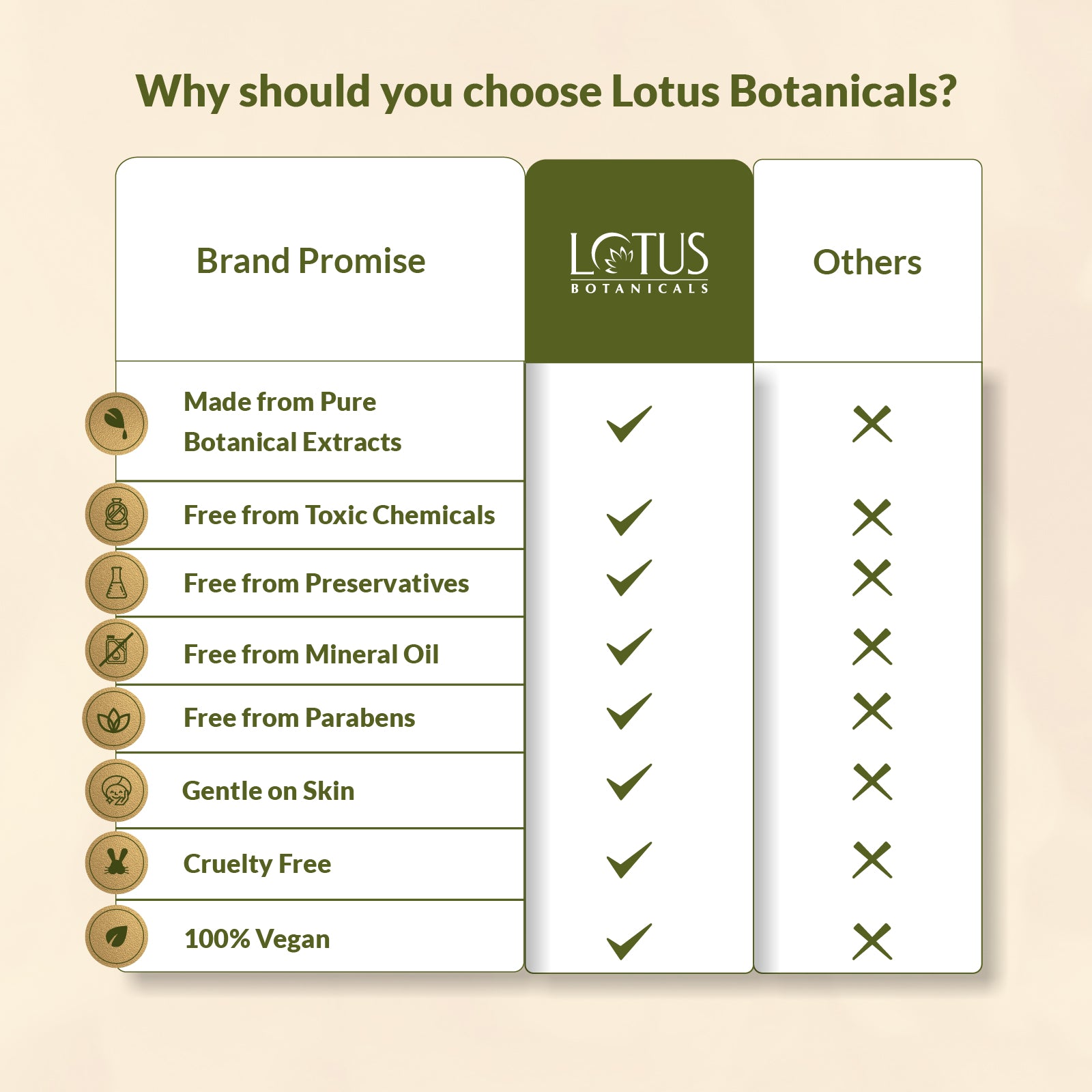 Vitamin C Skin Brightening Face Scrub
Offers You
Can't Resist
🎁FREE Green tea Renew and Restore worth Rs 915 on purchase of Rs 999 or more🎁
Description

Ingredients

Know Your Product

FAQs

Good To know

More Info

Reviews

You May Also Like
Tired, dull and flaky skin - all too much to handle! Lotus Botanicals Vitamin C Skin Brightening Face Scrub gently exfoliates and buffs dead skin cells away, revealing radiant, even-toned skin with the right dose of freshness. Behold a stunning dream-like skin, for real!

🍊 Powerhouse boost of Vitamin C
🍊 Gently exfoliates skin
🍊 Gently removes dead skin cells
🍊 Gives radiant, even-toned skin
🍊 Energizes Skin
🍊 Improves Skin Texture
🍊 No Preservatives, No Toxic Chemicals, No Parabens, No Silicon, No Sulphates, No Mineral Oil, pH-Balanced, Anti-Pollution, Cruelty Free, 100% Vegan
Vitamin C

A powerhouse ingredient, Vitamin C is well-known for its skin-brightening benefits. It fades spots, scars and pigmentation. It is a potent antioxidant that neutralizes free radicals created in the skin due to oxidative stress. It aids in skin's natural cell regeneration. It also helps recover skin and reduces redness either caused by sensitivity, overexposure to the sun or inflammatory skin disorders. It refreshes, energises and radiates the skin.


Grapefruit

The versatile citrus fruit- grapefruit, commonly referred to as the forbidden fruit, is pleasant and healthful. Even though this hybrid fruit makes a filling breakfast or snack, its health advantages are not its only selling point. It contains several nutrients that are beneficial for the skin as well! Its vitamin C content is a significant factor. Grapefruit is a good vitamin C source, just like most citrus fruits. A medium-sized grapefruit has the necessary daily amount of vitamin C. In the human body, this vitamin functions as a potent antioxidant. Antioxidants are essential for reducing inflammation and neutralising the effects of free radicals in the body. Vitamin C facilitates collagen synthesis. Collagen is a crucial protein that maintains the health of your skin.


Full Ingredients List

Aqua, Kaolin Light, Glycerin, Iso Propyl Myristate, Glyceryl monostearate, Prunus Amygdalus Dulcis (Almond) Shell Powder, Cetostearyl Alcohol, Niacinamide, Titanium Dioxide, Decyl glucoside, Stearic acid, Cetyl alcohol, Polyacrylate-13 (and) Polyisobutene (and) Polysorbate 20, Xanthan Gum, Polysorbate 80, Terminalia Ferdinandiana (Kakadu Plum) fruit extract, EDTA Disodium, Biosaccharide Gum-4, Butylated hydroxytoluene, Pentaerythrityl Tetra-di-t-butyl Hydroxyhydrocinnamate, Caprylhydroxamic Acid (and) Phenethyl Alcohol, CI 15985, Fragrance.
---
Frequently Asked Questions
Our product is enriched with Kakadu extracts - one of the richest sources of Vitamin C. It strengthens collagen in the skin. So your face looks and feels naturally brighter and softer.
Yes, it definitely works on oily and uneven skin. It is infused with 300x Vitamin C power, it exfoliates, deep cleanses and removes impurities & dead skin. So your face looks and feels naturally brighter and softer.
By acting as a natural exfoliant, vitamin C face scrub reduces sunburn, dullness, and free radical damage. It nourishes and plumpifies the skin. vitamin C stops the skin's melanin from being produced. Exfoliating with this scrub can improve the texture, tone & appearance of your skin and brighten skin. Using a scrub is known to increase circulation, and assist in the rejuvenation of your cells; antioxidant Vitamin C encourages collagen production, improves elasticity and protects against damaging environmental aggressors. Exfoliating regularly with the Vitamin C Scrub will also help to optimise the effects of serums and moisturizers in your regime.
For better results, gently massage Vitamin C Lotus face scrub in a circular motion on your face and let it stay on the skin for 2-3 minutes. Rinse well with clean water. Apply twice a week for optimal effects.
Absolutely yes, a vitamin C Face Scrub helps remove impurities and blemishes from your facial skin. It contains ingredients that exfoliate your skin!
Yes, Lotus Botanicals Vitamin C Face Scrub is suitable for all skin types.
By acting as a natural exfoliant, vitamin C face scrub benefits by reducing dullness, and free radical damage from your facial skin. Its regular usage nourishes the skin while combating ageing effects, lightening skin tone, eliminating skin imperfections, and removing dirt from the skin.
Vitamin C scrub helps to prevent free radical damage, dullness, and sunburn by functioning as a natural exfoliator. It gives the skin nourishment and hydration. Regular use helps fight the signs of ageing, brighten skin tone, get rid of skin flaws, and protect against UV rays.
Give your face and neck a liberal coating of Vitamin C Face Scrub. Gently pat your face with Vitamin C Face Scrub in a circular motion, paying special attention to your T-zone and forehead in the end, wash it off with clean water and then apply a vegan moisturiser from Lotus Botanicals.
Yes, the antioxidant properties of Vitamin C act as a natural exfoliant.
Vitamin C helps in improving the functioning of the skin's defences and lessening water loss, which might in turn help prevent dry skin. Also, vitamin C, when combined with other natural ingredients aid to restore and improve skin hydration. Lotus scrub for dry skin is considered best to combat all dry skin-related issues.
---
Good To Know
We recommend that people with sensitive skin always perform a patch test first to ensure there is no reaction. Discontinue if irritation occurs.
Store in a cool and dry place.
In case of pregnancy, please consult with your physician before the product usage.
For external use only.
Avoid contact with eye. If contact occurs, rinse immediately with water.
---
More Info
All-Natural, Vegan Goodness

In a world full of toxins and harsh skin products, it's time for you to switch and infuse your skin with the goodness of all natural and vegan skin care products. 
The ingredients used in our beauty routine are frequently unknown to us. It is no less than being unfortunate if we utilise products that contain animal- derived components, even if you are a fervent supporter of a vegan diet and animal welfare. 
By including vegan products in your beauty routine, you remove various pollutants and additives from your skincare regimen, especially if you have sensitive skin or regularly deal with skin-related problems. The vegan concentrate in skincare products naturally moisturises your skin by shielding it through the proper quantities of nutrition derived from plants such as antioxidants, minerals, and vitamins.
After knowing all the benefits of vegan skin care products, how about including a Vitamin C Face Scrub in your skin care?
100% vegan Lotus Botanicals Vitamin C scrub for face works wonders on your skin by exfoliating and deeply nourishing your skin. Skin brightening scrub dazzles your skin by making it feel naturally softer and brighter. Let's take a look at how it works!
How To Use
Ideally, you should only exfoliate your face twice a week. Exfoliating too frequently might dry out your skin's natural oils and cause pimples on your face. Additionally, too much scrubbing could irritate your skin. In the end, exfoliate by following the use of a Lotus Botanicals facial wash and a thorough warm water rinse for optimum results. 
Use a Nickel-sized amount
Put a nickel-sized Vitamin C scrub on your palm after washing your face with water.
Gently rub your hands together to spread the Lotus face scrub to your other hand before using the product on your face. This enables a more uniform application.
Gently massage all across
Apply Vitamin C Face Scrub to your face after spreading it out in your hands. For five to ten seconds, gently massage the scrub into your skin in a circular motion. During application, avoid pulling or stretching your skin. Use a gentle touch when using a facial scrub. When using the scrub on your face, keep it away from your eyes to avoid irritation. This scrub can also be used on the neck and the area beneath the chin.
After the application is finished, make sure to cleanse your face properly. Use lukewarm water and make sure all of the scrub is gone. Water that is excessively hot can irritate your skin, so make sure the water you use is at a suitable temperature.
What is Vitamin C Face Scrub?
The vitamin C Face scrub for the face is a unique product by Lotus Botanicals that focuses on brightening and healing the skin with the goodness of natural ingredients. Vitamin C is a power-packed ingredient for skin care and helps provide hydration, enhance glow, reduce hyperpigmentation and under-eye circles, promote collagen production, and help delay signs of ageing. There are several benefits of vitamin C for your skin that have been studied and proven. Lotus Botanicals uses this pure goodness along with other ingredients to create a perfect formulation for exfoliating and brightening your skin. The vitamin C scrub is made with 100X the power of vitamin C, with no toxic chemicals or preservatives. It is 100% vegan and cruelty-free, so you can use it without any worries about harming any animals. 
Reasons You Will Purely Love this Vitamin C Face Scrub
This scrub is anti-allergenic and is suitable for all types of skin. There are some serious benefits that you should consider when buying this vitamin C face scrub: 
The powerhouse ingredient, vitamin C is popular for its skin-brightening properties. It is a powerful antioxidant that prevents damage from free radicals and heals scars, pigmentation and dark spots. It helps renew the skin and heal inflammation.

It contains grapefruit, which is an important source of vitamin C and adds to the face scrub benefits by acting as an antioxidant.

It exfoliates your skin gently without stripping off the skin's natural moisture. Exfoliation removes dead cells present on the superficial skin layers and makes way for the growth of new skin cells.

This vitamin C exfoliator gives you radiant skin and events out your skin tone by lightening dark patches and reducing pigmentation.

It has 100 times the power of vitamin C which is why it helps energise the skin and improves the skin texture. Get ready for smooth and supple skin after applying this skin brightening scrub regularly.

It is free of toxic chemicals, preservatives, silicone, parabens, sulphates and mineral oil. This is why it is completely safe to use on all types of skin, especially sensitive skin.

It is also pH-balanced, cruelty-free and 100% vegan, which is why it is an ideal choice especially if you are an environmentally conscious person.
Check Out Natural Face Scrubs Online At Lotus Botanicals
Lotus Botanicals has an amazing range of face scrubs in store for you. Check out our natural face scrubs that provide gentle exfoliation for supple, soft skin.
Ubtan De-Tan Radiance Face scrub

: The ancient tradition of applying ubtan to your skin has several benefits and can give your skin the exfoliation it needs to remove a nasty tan. This face scrub is filled with the goodness of turmeric, rose, sandalwood and chickpea powder which together help in removing dead skin cells and rejuvenating your skin.

Natural Baking Soda Deep Cleansing Face scrub

: Baking Soda has been used for ages for skin care to get rid of acne and cleanse the skin thoroughly. This baking soda face scrub gently exfoliates the skin, removes impurities and results in clear and even-toned skin.
Lotus Botanicals Natural Face Care Products In Store For You!
Explore all our categories of face care products that give you naturally better-looking and healthy skin:
Why Choose Lotus Botanicals
Lotus Botanicals is one of the leading skincare brands that use natural ingredients to make the most scientific and effective personal care products. You can be guaranteed to fall in love with our wholesome, cruelty-free and vegan skincare products for skin that are made with the amalgamation of purely natural ingredients and scientific research. We are committed to providing such safe, effective and healthy skincare items that make the world a better place and bring a smile to our customers' faces!
Lotus Botanicals strives to achieve a harmonious coexistence of nature and science via manifestation of purity, harmony, and botanicals throughout its whole product line. 
As a result, we actively work to minimise our environmental impact at every stage of the production process, including product procurement, formulation, packaging, and delivery. The majority of our packaging is made of easily recyclable polymers, so it can be recycled through municipal recycling facilities or domestic recycling collections.
Our entire product line is made up of natural, plant-derived, and ethically farmed ingredients that are completely safe, approved, and free of animal testing. We continuously search for fresh and distinctive active ingredients to create incredibly potent cosmetic products. The proof is in the wide variety of skincare and hair care items we offer!
With our completely vegan, cruelty-free, paraben, silicone, and sulphate-free, pH-balanced, and non-comedogenic products, we offer you just with PURITY and nothing else. Shop from us right away to harness the power of red onion, bakuchiol, vitamin C, and ubtan for your skin and hair!
Best suited for: 

All skin types


Concerns: 

Clogged pores, blackheads, whiteheads, dull skin, excess oil and uneven skin texture.
Paraben Free 
Silicon Free  
Mineral Oil Free
Anti-Pollution
pH Balanced 
Cruelty Free 
100% Vegan 
Recyclable
Directions To Use
Step 1:
Apply the scrub to damp face and neck.

Step 2:
Massage gently with your fingers in clockwise and anti-clockwise motion.

Step 3:
Rinse off well.

For best results, use twice a week
---