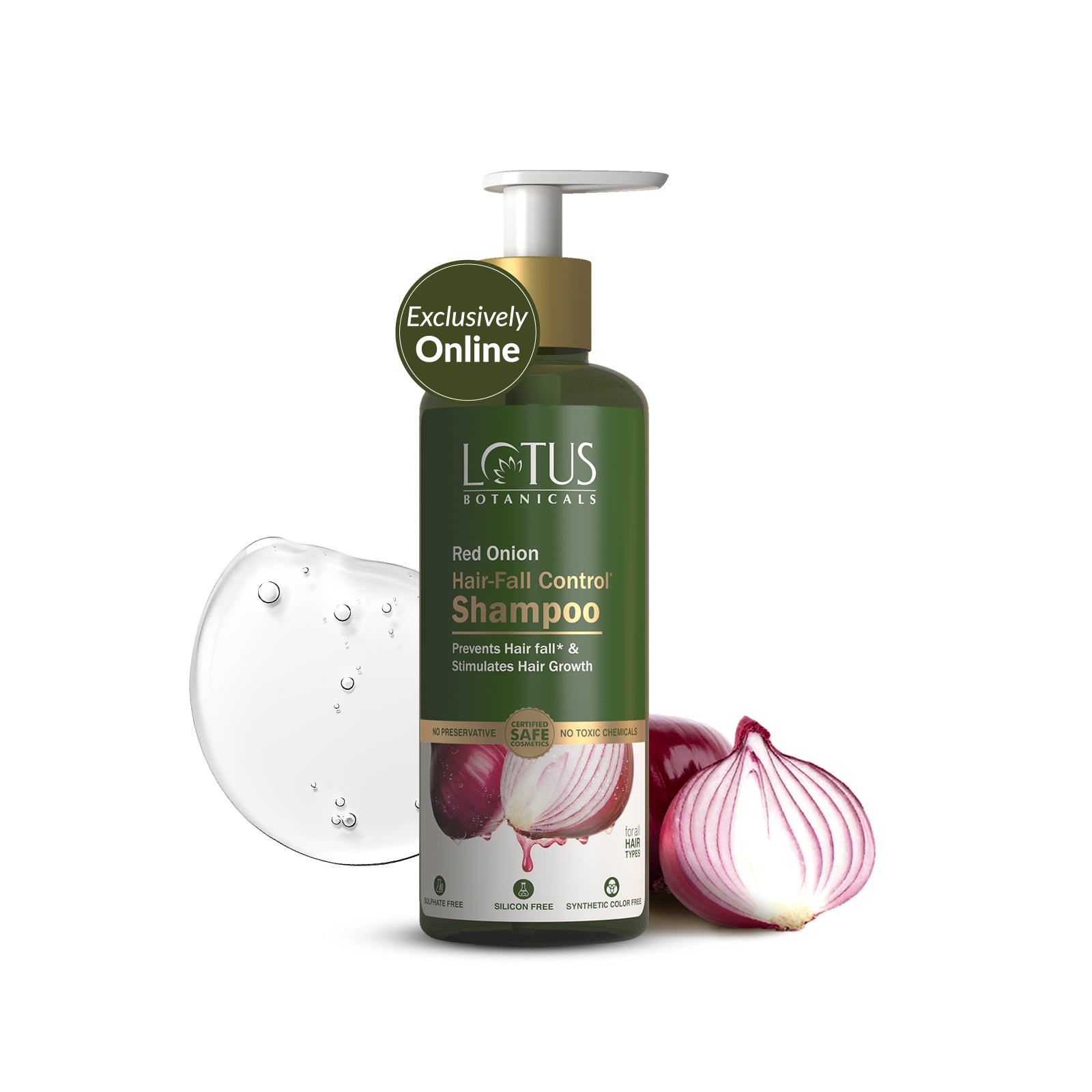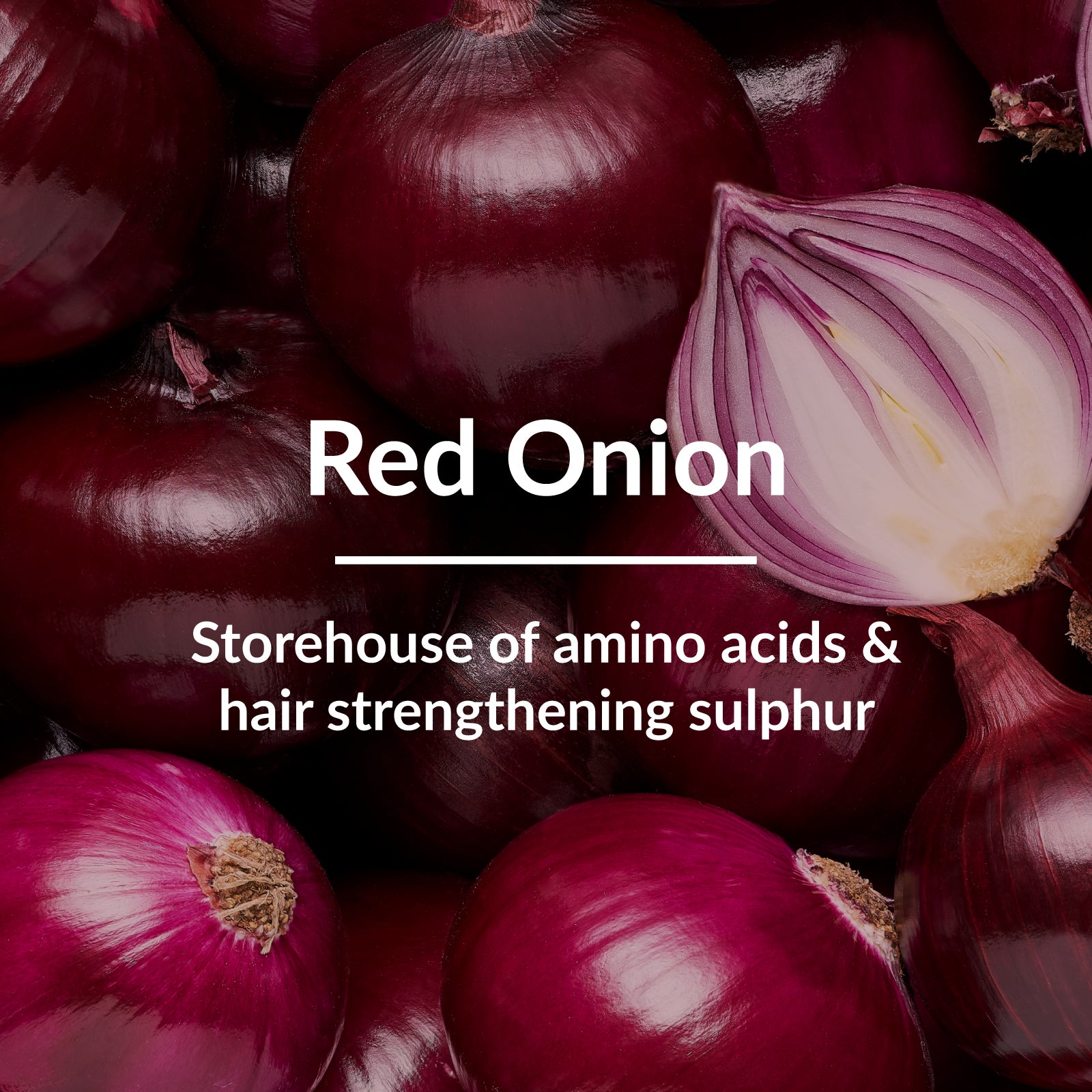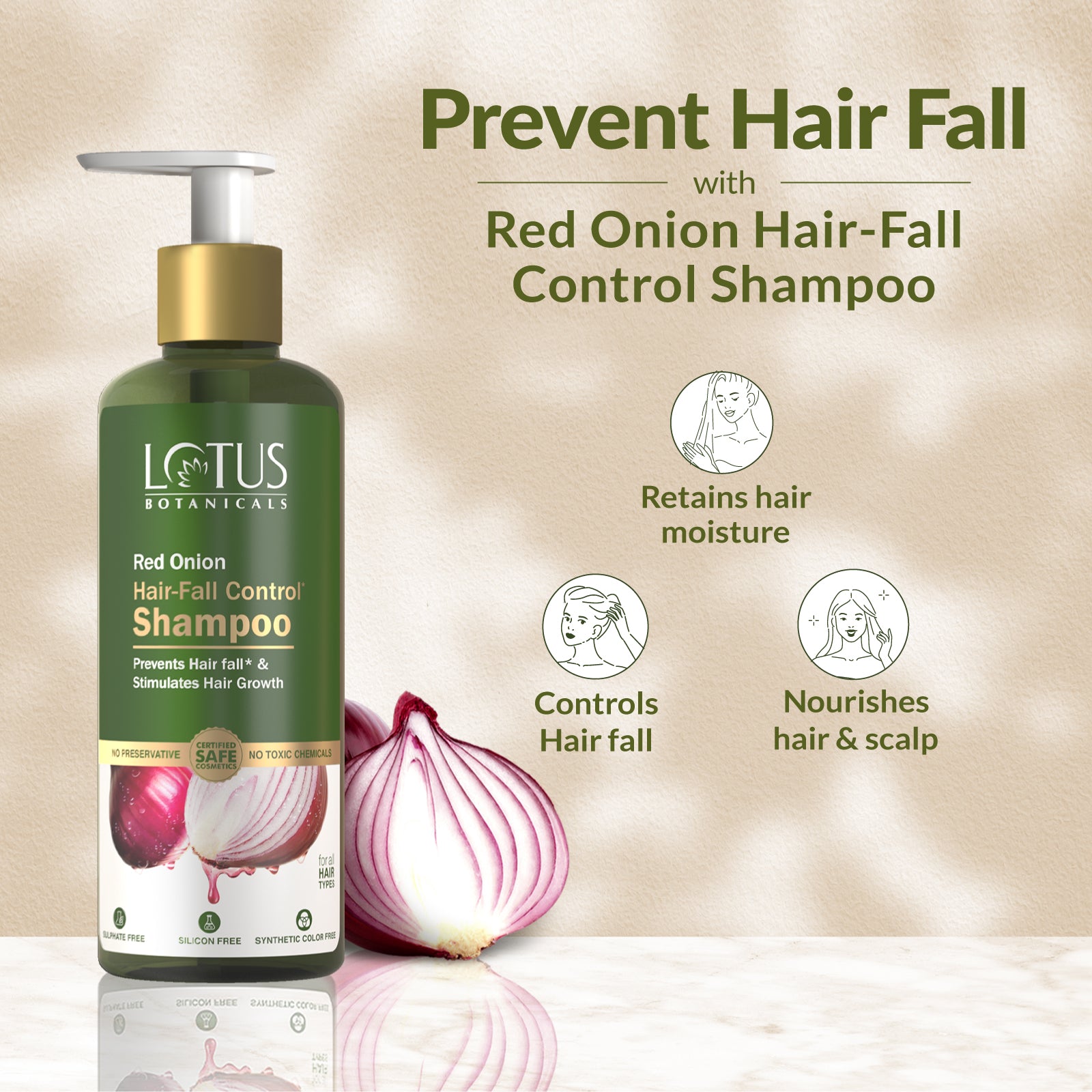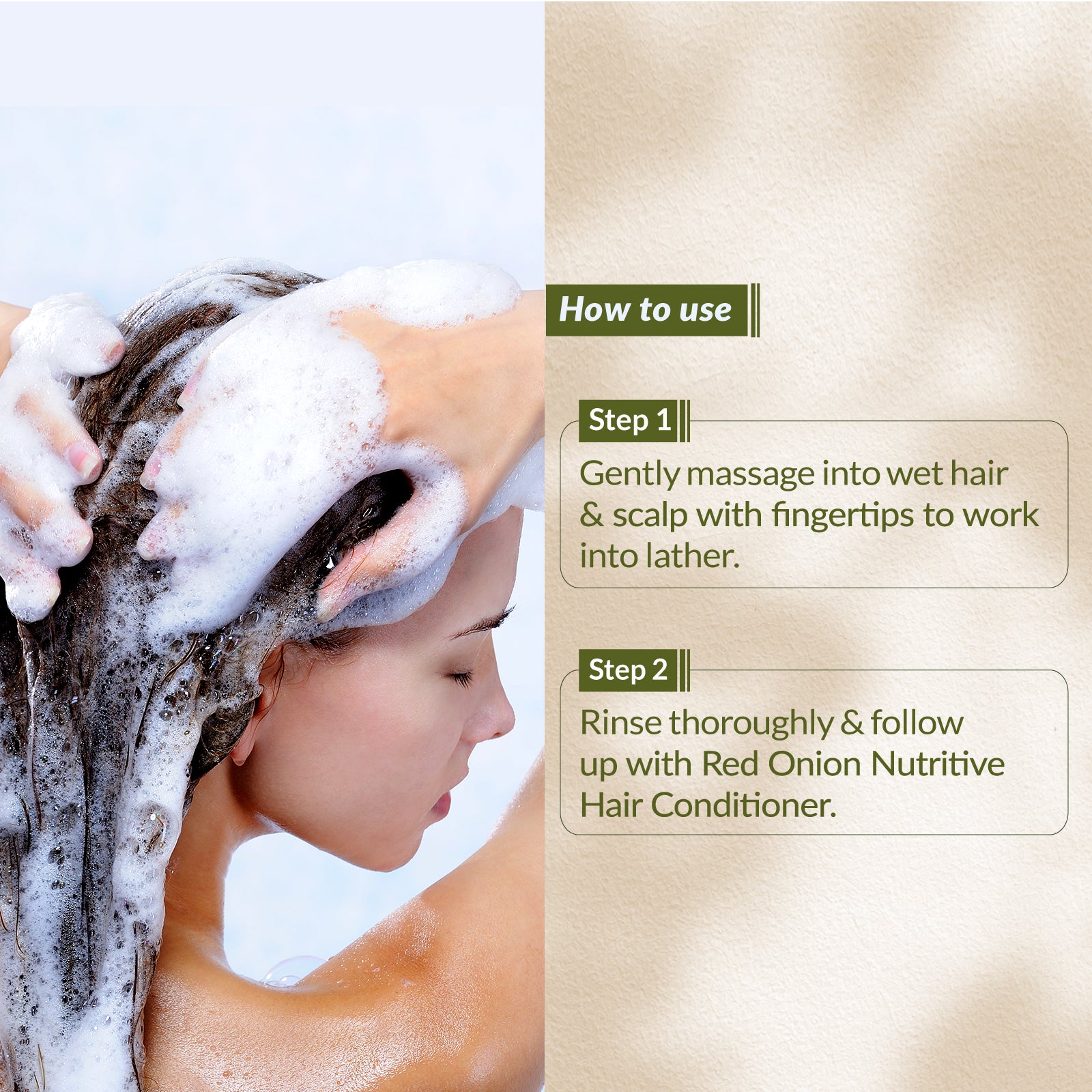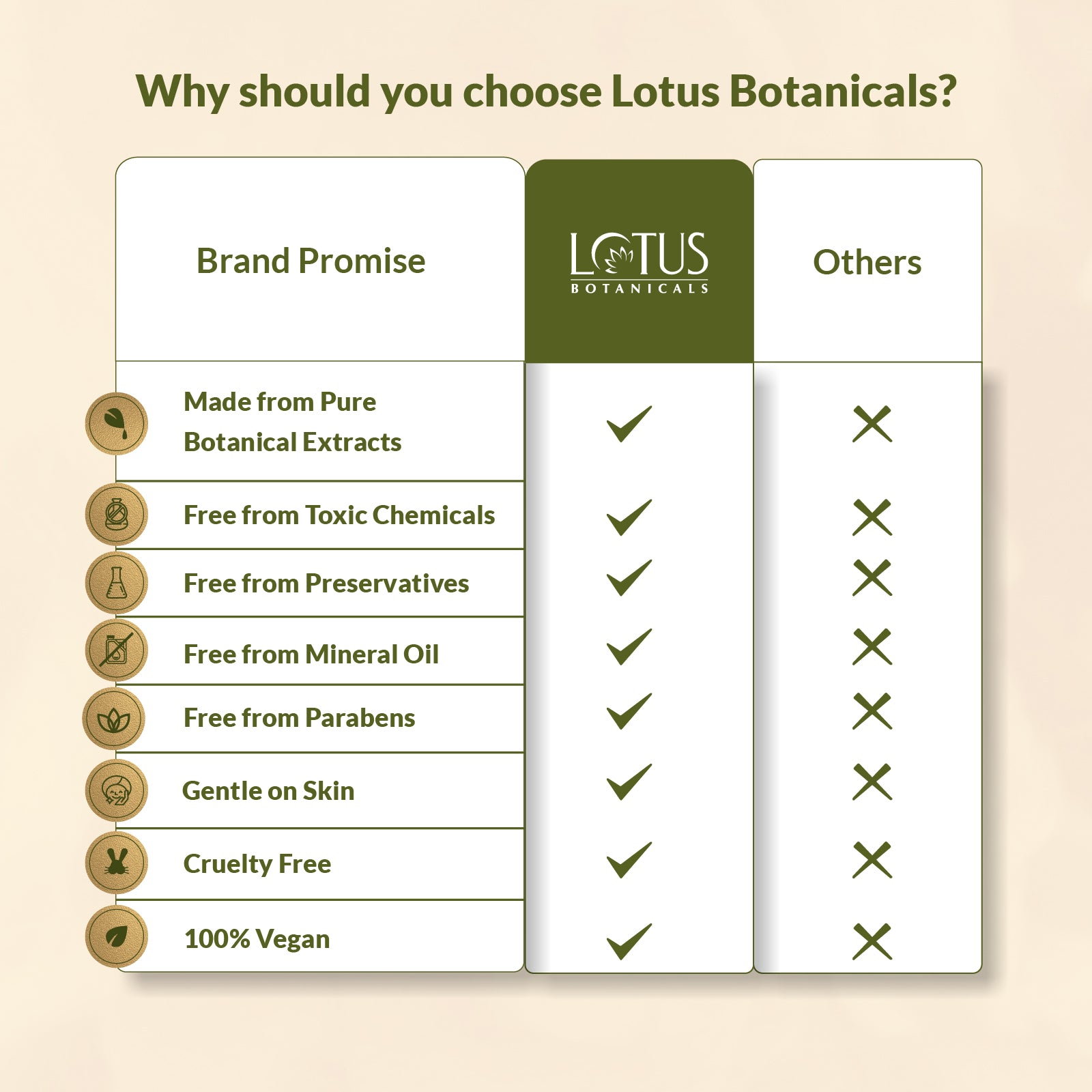 Red Onion Hair-Fall Control Shampoo
Offers You
Can't Resist
🎁FREE Green tea Renew and Restore worth Rs 915 on purchase of Rs 999 or more🎁
🎁 Purchase Red Onion Hair-Fall Control Shampoo to Get FREE Hair Revitalizer 🎁
Description

Ingredients

Know Your Product

FAQs

Good To know

More Info

Reviews

You May Also Like
Dust, pollution, and heaps of styling products all too much to handle for your precious hair! Lotus Botanicals Hair-Fall Control* Shampoo is here to rescue you from hair weakening and thinning, and excessive hair fall with its best-kept nature's secret - 100% Natural Red Onion Extract. Curated after years of research, this safe and gentle formula revives dull hair and restores optimal hair nourishment. You can now flaunt those healthy and protected tresses worry-free.

🍀 Rich in Red Onion Extracts, which helps in healthy nourished and strong hair
🍀 Controls Hairfall
🍀 Gentle on hair and scalp
🍀 Formulated with hydrating ingredients which moisturises the hair and scalp, reducing dryness and improving the overall health of the hair
🍀 Gentle on Color-Treated Hair
🍀 Retains hair moisture and reduces frizz
🍀 No Toxic Chemicals, No Preservatives, No Silicon, No Mineral Oil, No Parabens , No Sulphates, No Synthetic Color, 100% Vegan, Cruelty Free, pH Balanced & Recyclable
Red Onion

Red onion has successfully solved the important hair issue of excessive hair fall. Onions are rich in Sulphur, a nutrient necessary for healthy hair. Sulfur can only be found in amino acid-containing proteins, particularly keratin. Keratin is necessary for the growth and upkeep of the strength in your hair. Poor keratin quality might result in hair loss and breaking. Now that Sulphur is a component of keratin, the overall functionality of this particular protein molecule is guaranteed. When applied topically, red onion hair products can provide more Sulphur, restoring the body's low Sulphur levels and increasing the keratin protein. Red onions encourage more incredible hair follicle growth while reducing hair loss. Red onions also include other types of micronutrients that support collagen synthesis. This property benefits the health of the scalp
Ginseng
There are 11 different types of the small, slowly-growing plant known as ginseng, which have fleshy roots. Ginseng may improve and restore health. The herb has an oval-shaped stalk, light-colored, forked roots, and moderately lengthy leaves. The increase in dermal cells on the scalp caused by ginseng is thought to strengthen the hair follicles and roots. This promotes new strand growth and stops hair loss and breaking. Ginseng might be the remedy for you if those unattractive white flakes that make you unhappy, because of the root's high saponin content, an antibacterial substance- dandruff will be removed from the scalp and won't come back. Your follicles will remain clear and without any visible flakes as a result of this. Ginseng is an herb that benefits both the roots and lengths of the hair because of its nourishing properties. Using the Lotus Botanicals red onion hair shampoo and conditioner is the easiest way to make the most of this highly sought-after ingredient. This line produces a botanical blend unlike any other by combining the enchantment of ginseng. It removes buildup on the scalp and repairs damaged cuticles to give you supple, manageable hair.

Full Ingredients List

Aqua, Caprylyl/capryl glucoside, sodium methyl cocoyl taurate, Cocamidopropyl Betaine, PEG-150 Polyglyceryl-2 Tristearate (and) Laureth-3 (and) Dipropylene Glycol, Propanediol, Coco-Glucoside (and) Glyceryl Oleate, Glycerin, Coco diethanolamide, Polyquaternium-6, Panthenol, Allium Cepa (Onion) Bulb Extract, Disodium EDTA, Caprylhydroxamic Acid (and) Phenethyl Alcohol, Fragrance
---
Frequently Asked Questions
Our Red Onion Hair-fall Control* Shampoo helps in nourishing the hair follicles and strengthens the roots, which leads to reduced hair loss and thick & healthy tresses.
Our products are sulphate-free, and because of that, they don't create lather much. But the effectiveness of the product is not compromised in any way.
It is recommended never to wash your hair every day to avoid stripping off the natural oil and moisture of your hair. Avoid shampoos with harsh chemicals. Always remember that each hair type and condition require a different approach. So, choose your shampoos wisely. Read about the ingredients and understand how each ingredient contributes to making your hair healthy.
Take a coin-size amount in your palm, and wash your scalp first. Next, take the amount of red onion shampoo according to your hair volume and length. Do not over-apply your red onion shampoo. Otherwise, you may experience frizzy and dry hair. Over-shampooing may cause stripping off the natural hair oil, which would cause an imbalance in sebum production. This may aggravate other hair issues like dandruff and an itchy scalp.
Yes! Many studies have proven onion as an excellent ingredient for hair growth and revitalizing hair. It has sulfur which boosts keratin production and aids in hair growth. Also, onion extract makes your hair strong and aids in the reduction of hair fall and hair thinning.
No. Our Lotus Botanicals' red onion shampoo has been formulated to combat hair loss that many face due to several unavoidable factors like UV rays, environmental factors, lifestyle factors, etc.
Yes. Red Onion shampoo is good for oily scalp. The red onion shampoo helps in restoring the natural sebum production of your hair. Also, the red onion shampoo boosts blood circulation, which helps further for an oily scalp.
Yes. Red Onion has been proven to boost hair growth by regulating keratin levels.
---
Good To Know
As a 100 % natural product, temperature changes can affect the consistency of the product, but not its effectiveness.
Discontinue in case of irritation or sensitivity.
Store in cool a dry place away from direct sunlight.
For external use only.
Avoid contact with eye. If contact occurs, rinse immediately with water.
Do not refrigerate.
Sulphate free shampoo does not create much lather but cleanses properly.
---
More Info
We often find ourselves in physiological and psychologically stressful situations due to our fast-paced modern life, which affects our health and even our hair. We often face issues like hair thinning, hair fall, hair breakage, premature hair greying, etc. Well, what if we tell you that two herbal ingredients have the ultimate solution to your hair fall issues?  
Red Onion shampoo contains vitamins, nutrients, and antioxidants that encourage healthy hair growth and reduce hair loss. It is designed to help hydrate and shield brittle, lifeless hair. The red onion extract improves the circulation of the scalp and hair roots in hair fall control shampoo, which is appropriate for both men and women. In addition, Red onion hair fall shampoo is renowned for reducing excessive dryness, dandruff, and scalp eruptions and enhancing scalp health.   
So, to combat these hair issues, we bring you Red Onion hair oil and Shampoo, which makes your hair healthy while aiding in making your scalp healthy. It reduces dandruff and itchy scalp. Also, Ginseng, another star ingredient, has proven to have multiple therapeutic properties that boost hair growth while aiding in better blood circulation and stimulating hair follicles. It increases dermal cells in hair follicles which helps you get better, smooth, and voluminous hair.  
Red Onion Hair-Fall Control Hair Shampoo is the perfect addition to your hair care routine if you wish to revive your dull, damaged and unhealthy hair. Its nourishing formula, infused with the fantastic qualities of red onion based shampoo and ginseng, is packed with flavonoids and other essential nutrients that play a vital role in unclogging your hair roots and removing any germ build-up while strengthening and revitalising the hair strands. This is the most potent addition to your hair care routine if you are looking for effective ways to fight hair problems like baldness, premature greying, hair thinning etc.
Preserve your precious hair and prevent it from thinning, with the Red Onion Hair-fall Control* Shampoo. Formulated to nourish, it penetrates deep to strengthen the roots. The result of which is reduced hair loss and thick & healthy tresses.
Benefits Of Red Onion Shampoo
There are many onion shampoo benefits you should know:
Red Onion Hair Shampoo aids in preventing hair loss
One of the main worries for most individuals when selecting a hair product is hair fall. The capacity of Red Onion based shampoo advantages to successfully combat hair fall issues is one of the main reasons for its rise in popularity. This shampoo efficiently addresses this widespread issue because to its all-natural components. The antioxidant-, nutrient-, and vitamin E-rich Lotus Botanicals Red Onion Shampoo for Hair Growth aids in reducing hair loss and promotes healthy hair. In fact, it strengthens and shields the hair from loss by promoting blood flow to the roots.
Red Onion shampoo helps in the struggle with dandruff and excessive dryness
The ginseng is one of the key components that distinguishes this shampoo from competing products. With its anti-inflammatory characteristics, it not only aids in minimising hair loss but also in battling excessive dryness, dandruff, and scalp eruptions. It also promotes the health of the hair and scalp, preventing any damage or harm to the hair.
Red Onion hair shampoo helps in reviving the scalp and strengthening hair strands.
      The finest red Onion shampoo for hair development is made from red Onion seed oil extract, which is high in flavonoids, vitamins B, C, D, and E, and strengthens strands, revitalises thin hair, unclogs clogged roots, and treats scalp infections.
Red Onion shampoo results in soft, shiny hair.
      Who doesn't aspire to have beautiful, silky hair? You may accomplish it with the assistance of pro-vitamin B5, an important component included in the shampoo. It aids in root strengthening and increases moisture, making hair smoother, shinier, and stronger. In order to provide the hair shine and lustre, it helps to smooth out the cuticles.
Every hair type is appropriate, no harsh chemicals are used in Lotus Red Onion Shampoo
      The shampoo's natural formulations do not include harsh ingredients like silicones, parabens, or sulphates, which can damage hair and lead to major health problems and allergies. Additionally, it makes no difference if you have dry or oily hair because the Lotus Red Onion Shampoo for hair development gives non-sticky nourishment, making it suited for all hair types.
Best suited for: 

All hair type


Concerns: 

Hair fall, breakage and thinning
Paraben Free 
Silicon Free  
Mineral Oil Free
Anti-Pollution 
pH Balanced 
Cruelty Free 
100% Vegan 
Recyclable
Key Benefits
Cleanses hair and scalp, effectively reducing hair fall
Promotes thicker, smoother and glossier hair
Restores scalp nutrients


Directions To Use
Step 1:
Gently massage into wet hair and scalp with fingertips to work into lather.
Step 2.
Rinse thoroughly.
---