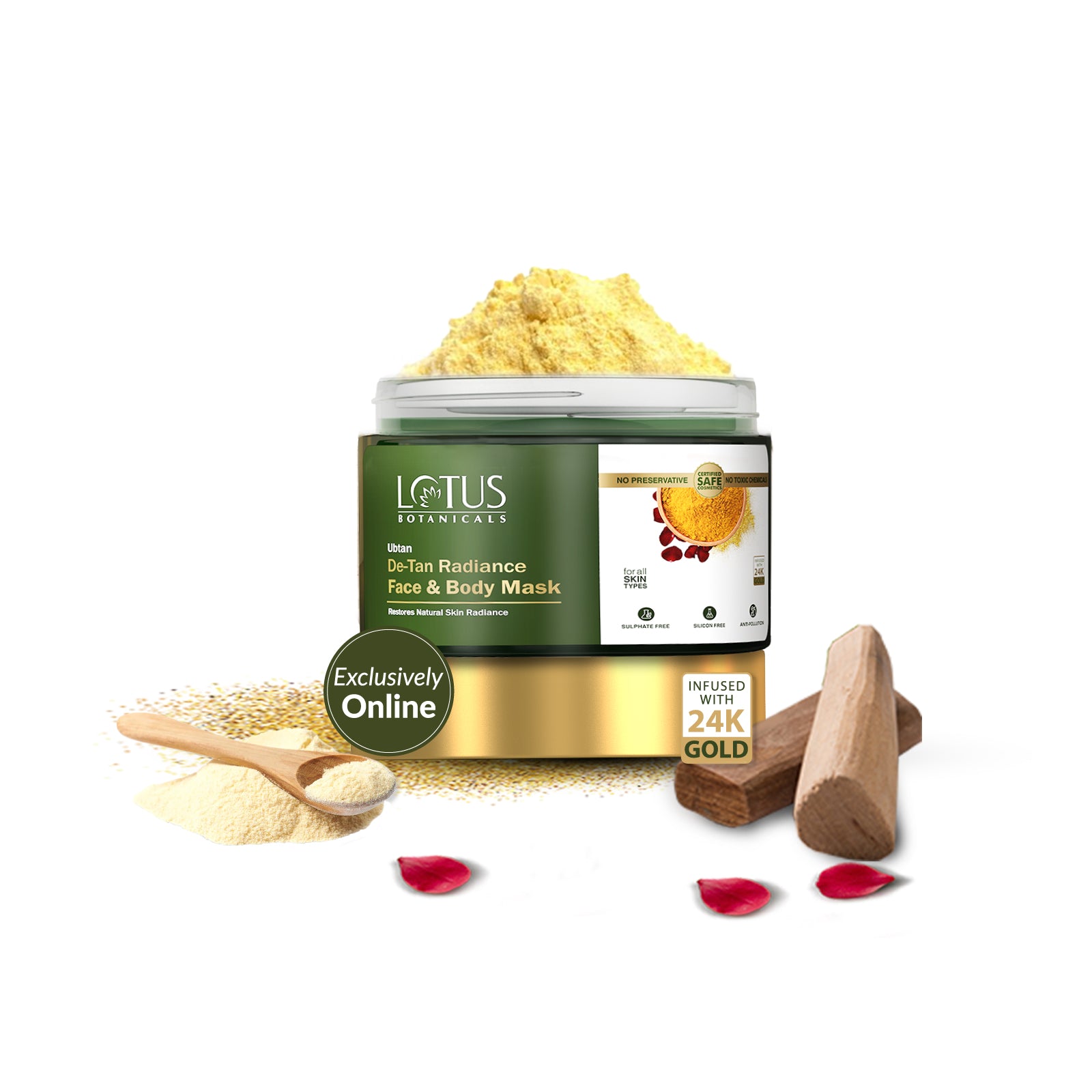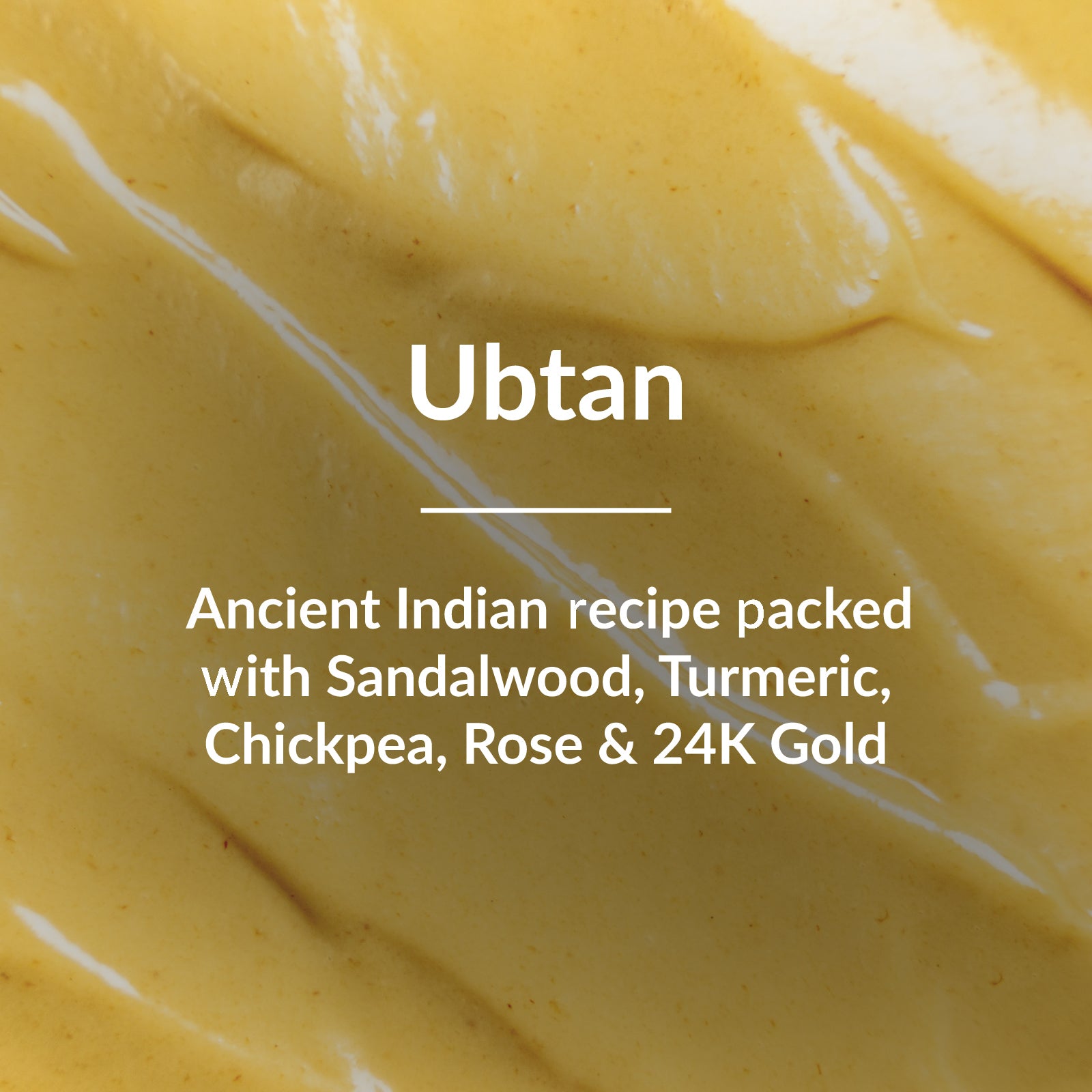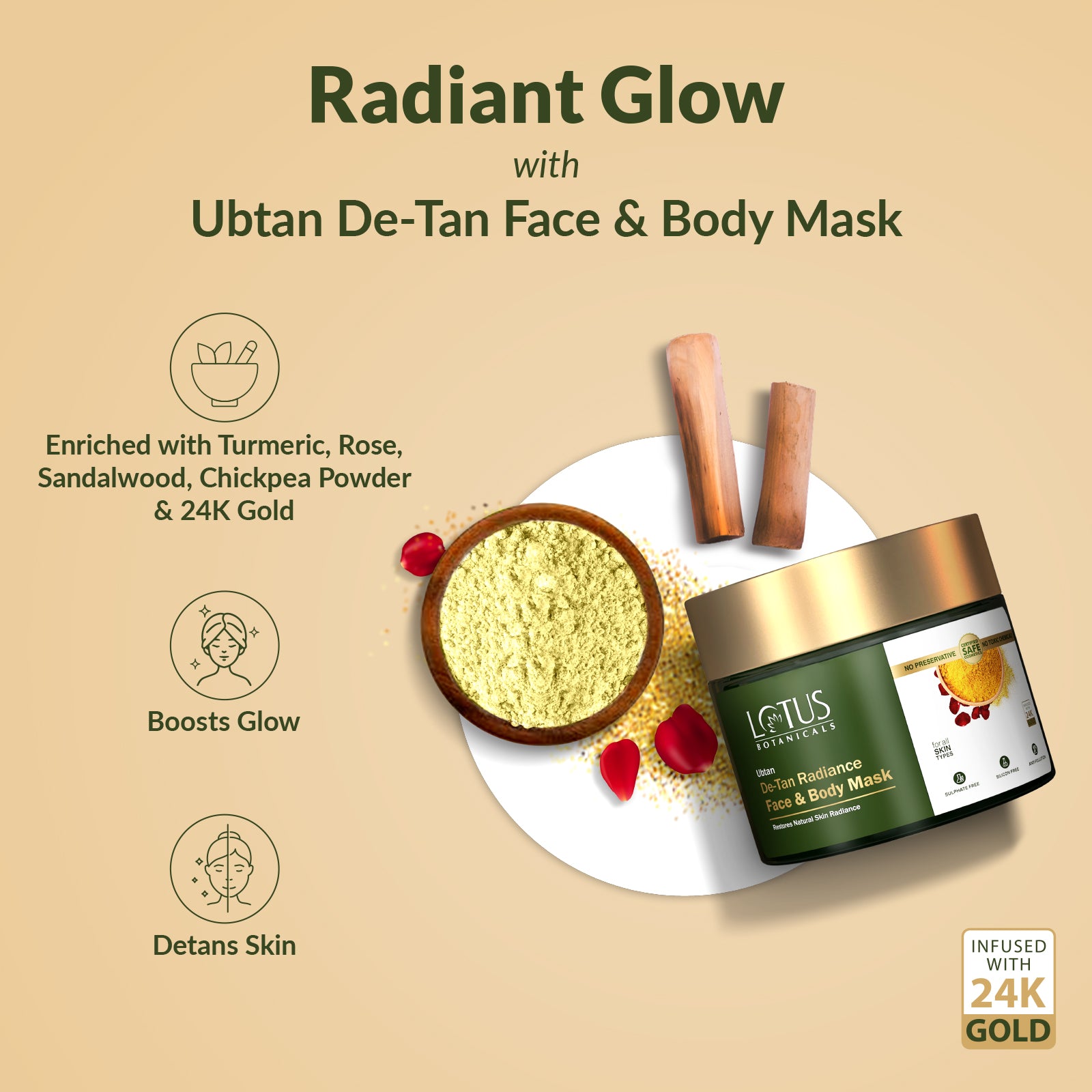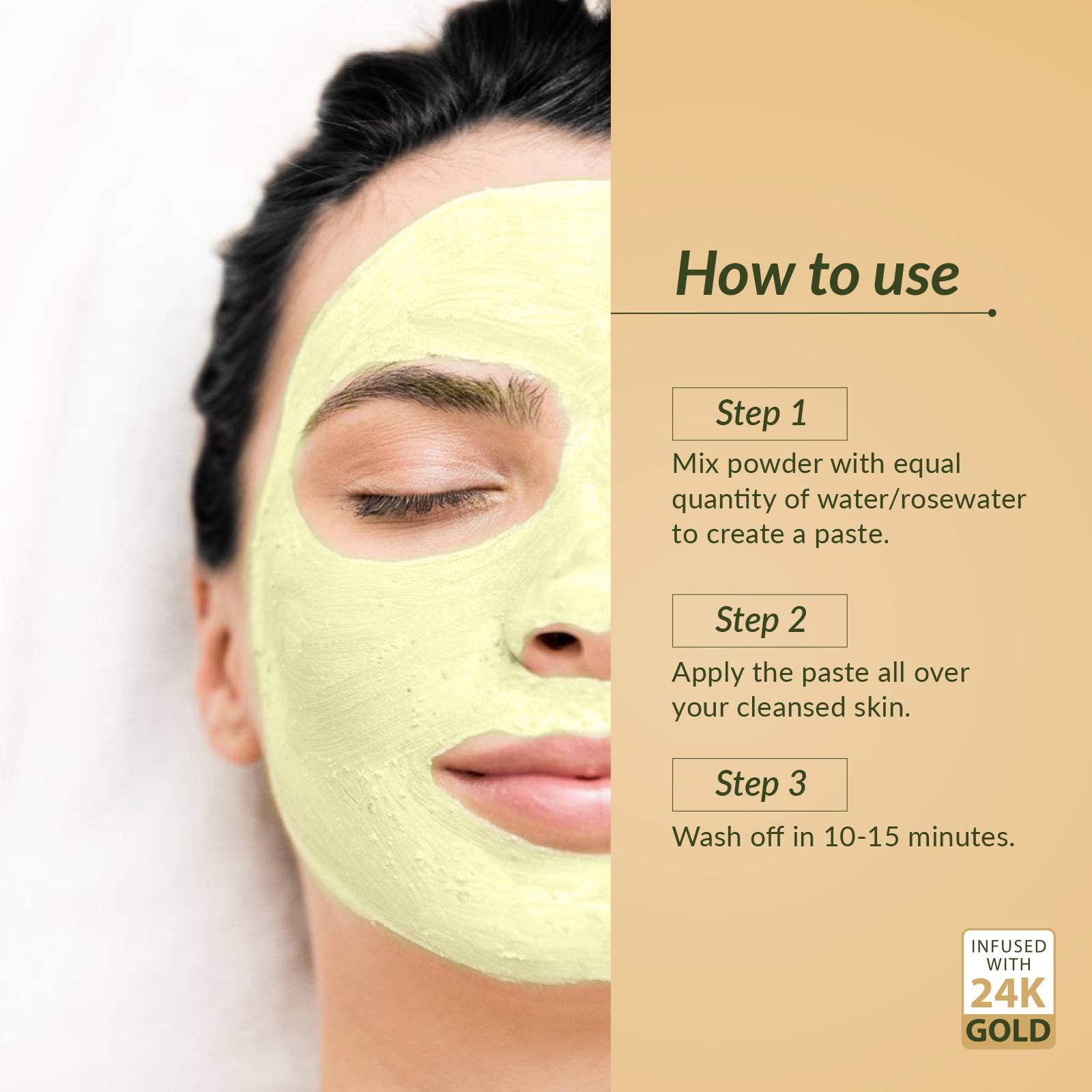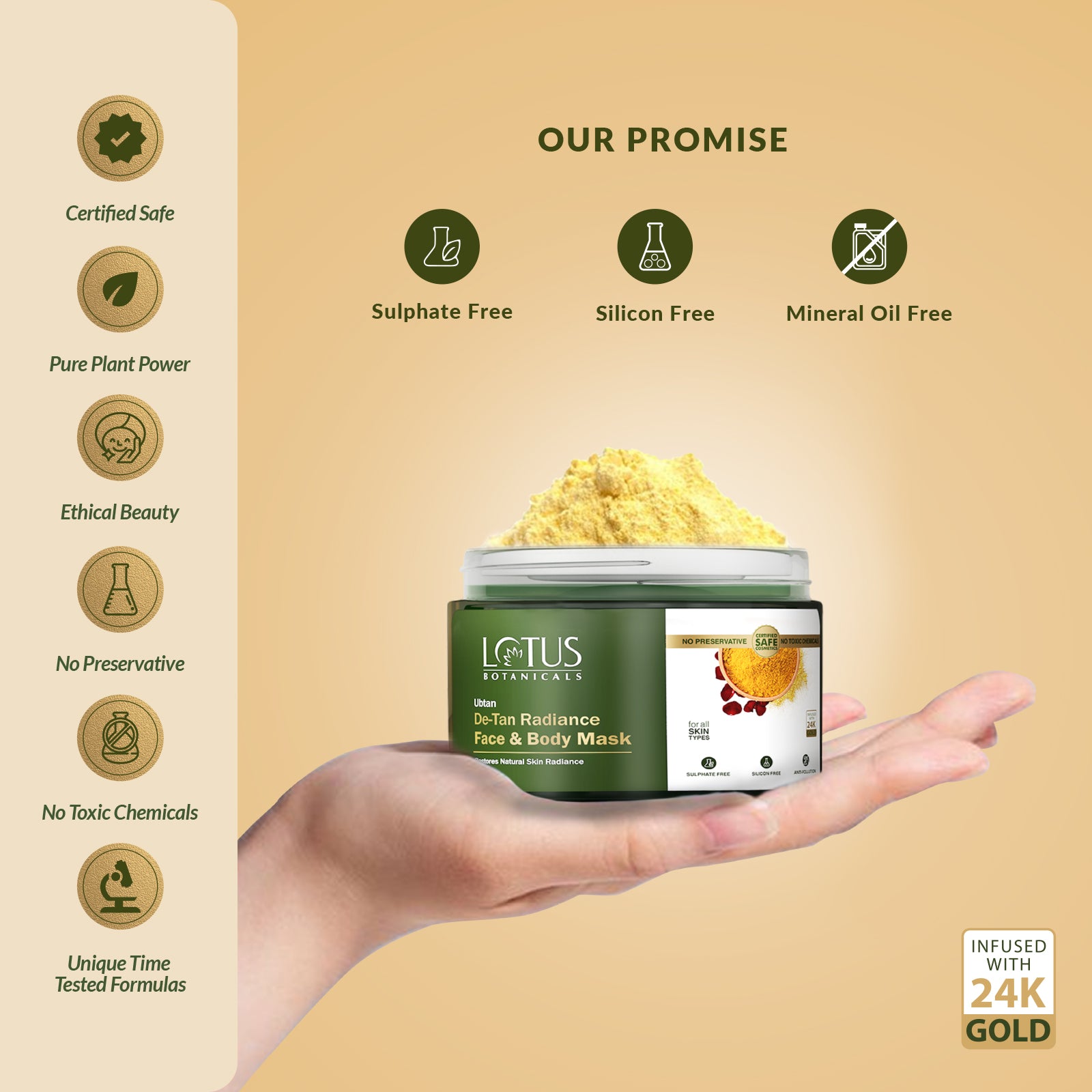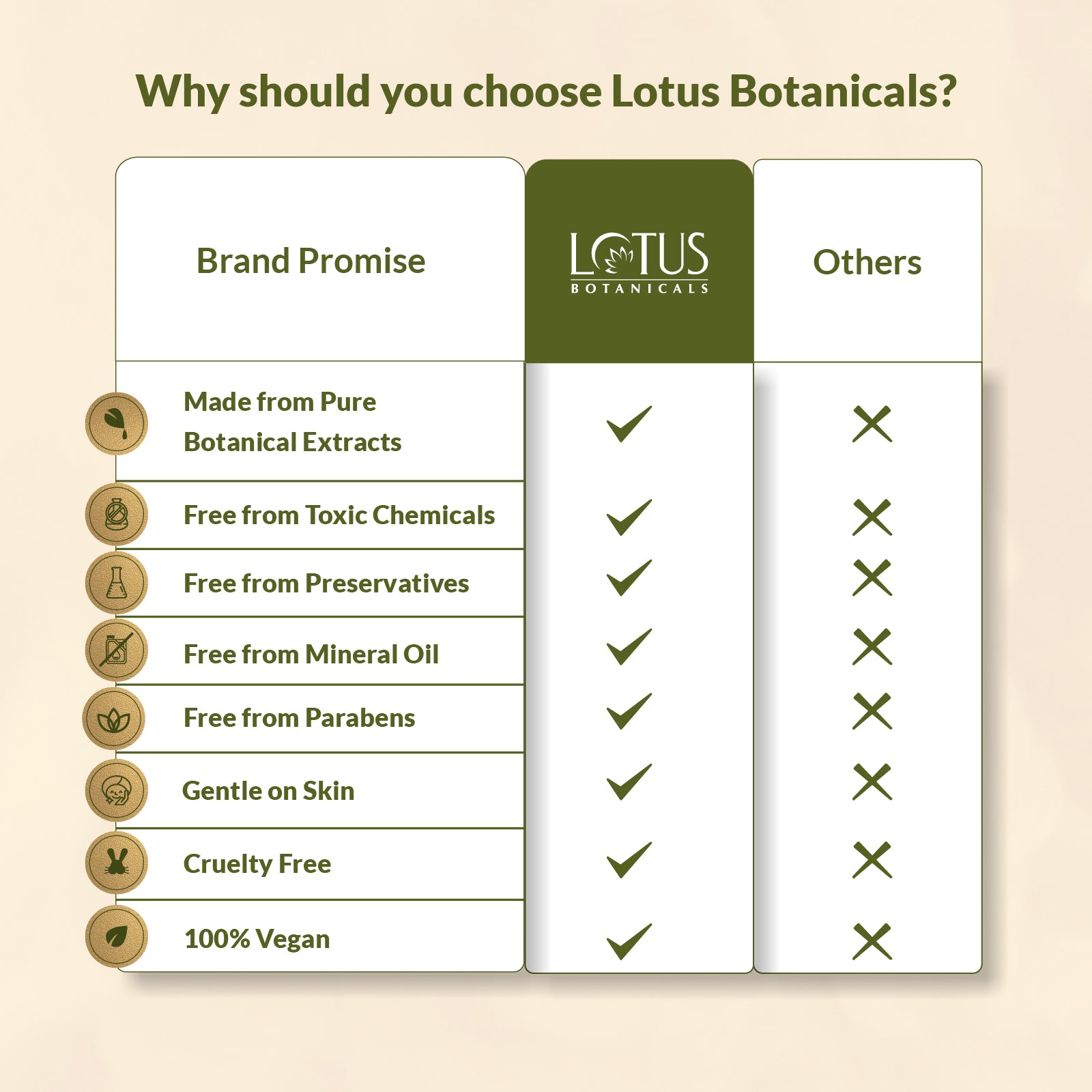 Ubtan De-Tan Radiance Face & Body Mask
Offers You
Can't Resist
🎁 FREE Vitamin C Wash N Moisturise Worth Rs 960 on purchase of Rs999🎁
Description

Ingredients

Know Your Product

FAQs

Good To know

More Info

Reviews

You May Also Like
Give your skin a glowing look with the ancient Indian tradition of Ubtan infused with 24K Gold. Lotus Botanicals Ubtan De-Tan Radiance Face & Body Powder Mask brightens your skin, exfoliates gently & gives you a beautiful, healthy glow. It is enriched with traditional natural ingredients including turmeric and sandalwood powder known for their cleansing and skin restoring properties.

• Made with traditional natural ingredients: Turmeric, Rose, Sandalwood and Chickpea Powder
• Infused with 24K Gold
• Restores Skin Radiance
• Brigthens dull skin
• De-Tans Face and Body
• Gently exfoliates givng a healthy glow
• No Preservatives, No Toxic Chemicals, Sulphate Free, Silicon Free, Anti-Pollution, Mineral Oil Free, No Synthetic Color, Cruelty Free, 100% Vegan
Turmeric

Turmeric is an age-old, traditional ingredient known for its healing and skin care benefits. It contains antioxidants and anti-inflammatory components that help brighten your skin to bring out a natural glow. Turmeric also clears out your clogged pores to avoid acne breakouts, while calming your skin and reducing scarring. Turmeric is a well-known natural antiseptic but did you know that this potent ingredient can enhance the natural glow of your skin? The Curcumin content in turmeric imparts its amazing anti-inflammatory and antioxidant properties which are super useful for your skin. (3) The Curcuma longa variety of plants generates curcumin, a substance that is brilliant yellow in colour. It is the main curcuminoid found in turmeric, which belongs to the Zingiberaceae family of ginger plants. It is offered as a culinary flavouring, food colouring, cosmetic component, and herbal supplement. Additionally, it could aid in the control of inflammation and muscle soreness brought on by exercise, improving recovery and subsequent performance in physically active persons.

Sandalwood Powder

Sandalwood or Chandan is a powerful ingredient that's traditionally used as a skincare solution with many benefits. It deep cleanses your skin, fights acne, lightens acne scars, soothes your skin and acts as an anti-tanning agent. An age-old secret to flawless, younger-looking skin, sandalwood keeps your skin moist, reverses sun damage and delays the process of skin ageing. Sandalwood is an excellent moisturiser and it can work wonders in protecting your skin from signs of ageing like wrinkles and fine lines. Furthermore, sandalwood has many antioxidants which can protect your skin from the damage caused by free radicals. There are numerous benefits of Sandalwood: Anti-Ageing: Ayurveda holds it in high regard for its anti-ageing abilities, which can make skin firmer and reverse sun damage. Isn't that incredible? Scar removal - Sandalwood is a proven skin tissue healer. Scars from wounds, blemishes, dark spots, and eczema may all be removed with the aid of its healing quality. Sandalwood may also be used to whiten skin as it clears away impurities to leave you with a uniform tone. Anti-tanning: If a suntan is not treated right away, its effects may linger for a long time. Sandalwood paste or products can be used in the afflicted areas to gradually eliminate suntan and lessen the redness and burning brought on by excessive sun exposure.

24K Gold

With many known skincare benefits of gold, it is a luxurious ingredient to add to your shelf. 24K gold is the purest form of gold that enhances your skin, delays the process of skin ageing and reduces its visible signs. Its healing properties work on acne and breakouts.

Chickpea Flour

An ingredient found in every Indian household, chickpea flour or besan is famously known for its skin-enhancing properties. Rich in antioxidants, it helps lighten suntanning, regulate skin's oiliness, exfoliate dead skin cells and cleanse deep-seated impurities. Its anti-inflammatory properties keep your skin calm while fighting acne and lightening scars. It promotes a younger-looking skin with an even skin tone. Chickpea flour is a rich source of zinc which plays an active role in fighting infections that can cause acne. Furthermore, chickpea flour is an excellent exfoliator which can be used to remove dead skin cells from your skin.

24K Gold
Gold has natural anti-inflammatory properties which can be used to treat swelling caused due to acne. Gold-infused skin care products have antiseptic properties and they can rejuvenate the skin right from the cellular level.
---
Frequently Asked Questions
Make a paste with equal parts of rosewater or water and apply it on your face and body with a brush or your fingers.
You can use it twice or thrice a week.
No, there are no side-effects of the product. However, since it is crafted with natural ingredients, we suggest a patch test before full application.
No, this product is suitable for all skin types.
A body mask helps in replenishing the moisture levels of your body's skin. More often than not, we focus our attention on our face while putting together our skincare routine. Consequently, our body's skin is neglected and starts looking dull and dry over time. A body mask helps with wholesome skin rejuvenation.
You can use a body mask twice a thrice a week, before taking a bath. You can apply the Lotus body Ubtan on your body and wash it off after fifteen minutes. You should do this as a part of your skin rejuvenation and wellness routine.
Yes, this Lotus Botanicals detan mask for the body has been made from the best of ingredients which have stellar benefits for your skin. The excellent combination of turmeric, sandalwood and gold will make your skin glow with regular usage.
You can use this product, twice or thrice a week for the best results. It will help your skin in getting rid of its deep-rooted impurities and germ build up.
This is a gender neutral product and can be used by both men and women.
Yes, just like all our other products, this de-tan body mask is also free from sulphur, parabens and other harmful additives.
This product is made from natural ingredients and therefore it is known to not have any side effects. Having said that, it is important to take a patch test to look for any signs of skin itching or irritation.
After the product suits you in a patch test, then you can use this product on your face and body, even if you have sensitive skin.
While choosing a body mask online, you must check out the list of ingredients to make sure that you are not allergic to any of them.
---
Good To Know
We suggest people with sensitive skin to always patch test the product before full-coverage usage. Strongly recommend discontinuing in case of irritation.
Store in a cool and dry place
In case of pregnancy, please consult with your physician before using the product
For external use only. Keep away from children
In case of eye contact, rinse immediately with water
---
More Info
Lotus Botanicals Ubtan De-Tan Radiance face and body mask has cooling properties that help relieve your skin from excessive heat and tan. This body mask treats your skin with the goodness of traditional ingredients like 24k gold, chickpea, sandalwood and turmeric.
Ubtan De-Tan face and body mask has a lot of zinc, antioxidants, minerals, and vitamin E, all of which support healthy skin. Moreover, Magnesium is abundant in chickpeas, which helps to lessen wrinkles and fine lines on the skin.
This Ubtan De-Tan  face and body mask is a great exfoliator that takes away all the dirt and impurities from your skin. It gently nourishes your skin and strengthens your skin barrier. It helps maintain radiant, supple skin with an even skin tone. This body mask can be used by both men & women above age 15.
Engage in the age-old practise of ubtan and let it revitalise your face for a youthful, radiant appearance. While we focus our skin care endeavours primarily on our face, the rest of our body kind of gets neglected. Given the aggressive nature of outside aggressors, it is imperative to take care of our skin in order to protect it from a number of problems.
The most common problem that we face with regard to our skin is tanning. Extended periods of sun exposure can enhance the melanin production in our skin which can cause skin darkening. If tanning is left unchecked, it can cause a lot of damage to the cells of your skin and speed up the skin ageing process. Read More : Ubtan: The Age-old skin care formula.
Benefits of Lotus Botanicals Ubtan De-Tan Face and Body Mask
The following benefits can be attributed to the usage of this ubtan face and body mask. 
Ubtan de tan face and body mask helps in restoring the natural moisture levels of your skin. 
By virtue of its noteworthy ingredients, the Lotus Ubtan face pack, which can also be used on the body can play an active role in replenishing the moisture levels of your skin. This will make your skin look more youthful and radiant. 
Ubtan face and body mask

helps in improving your skin texture.
Chickpea flour, turmeric, sandalwood and gold extracts which are used in this Lotus body Ubtan can be significantly helpful in improving your skin texture and making your complexion seamless. 
Ubtan de tan face and body mask

works on pigmentation 
Turmeric, which is one of the main ingredients of this body mask, has exceptional anti-inflammatory and antiseptic properties and therefore this body Ubtan can be useful for managing pigmentation and dark spots. 
Ubtan de tan face and body mask 

helps in getting rid of tanning 
If your lifestyle is such that you have to step out in the sun on a daily basis, then this de-tan body mask by Lotus products can help you in managing the appearance of sun tan on your skin. Regular usage can help you see note-worthy results. Read More: How to Use Ubtan For Tan Removal
Steps To Use Lotus Botanicals Ubtan Face Mask
You can adhere to the following steps to use this Lotus body de-tan face and body mask:
Take a small amount of product in a bowl or on your palm. 

Mix some normal water or rose water in it to make a paste. 

Apply it over your face and body, then let it sit there for approximately fifteen minutes. 

Wash off the Lotus body Ubtan with water and experience a beautiful glow on your skin. 
Read More: Ubtan Skincare Products for Skin Radiance & Glow
Best suited for: All skin types
Concerns: Clogged pores, blackheads, whiteheads, dull and uneven skin texture
---