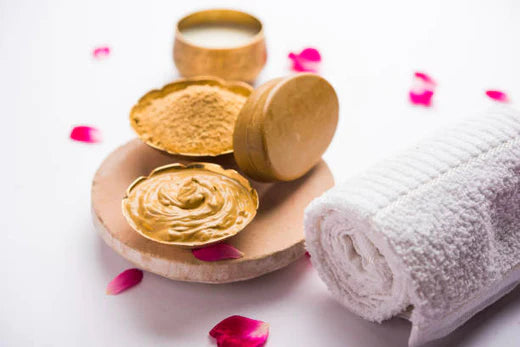 Highlights
Ubtan and Its Benefits

Ingredients Used in Ubtan

Lotus botanical Ubtan products which help in skin radiance and glow

Benefits of Using Lotus Botanicals Skin Radiance and Brightening Products
With our busy schedules and hectic lifestyles, we constantly stress and make a mess of our skincare routine. We attempt everything under the sun to achieve that immaculate sheen by applying various chemical products or rubbing the skin off with raw lemons for minutes. All in all, we somehow manage to pay attention to our facial skin, but we frequently forget about the rest of our bodies. But worry no longer! It comes easy to you with a wide range of Ubtan Skin Care products for body and facial skin!
By employing ubtans in your skincare regimen, we're transporting you back to the care your grandma gave you when you were a child. For those unaware, utilising ubtans is one of the simplest everyday in-home beautifying methods. Ubtans are primarily created with ingredients found in the kitchen without using chemicals.
Ubtan and Its Benefits
We have always observed ayurvedic or homemade treatments growing up in a civilised nation like India. For millennia, the majority of our problems with skincare and beauty have been solved by using these treatments. Every home in our country has seen a mysterious yellow powder. It most frequently makes its appearance around holidays or other significant occasions like weddings, baby showers, etc.
You might be wondering what's this mysterious ingredient is? Ubtan is the name of this mysterious yellow powder. It's a concoction of numerous natural, organic and effective components. Ubtan transforms into a paste for your body and face when combined with water.
According to long-standing Indian traditions, ubtan is typically a powdered mixture of sandalwood, turmeric, and gram flour applied to the body as a paste or scrub using either rose water or milk.
Let's check out some of the prominent benefits of Ubtan for Skin (1):
Usage of Ubtan for the face is said to slow down the ageing process due to the presence of anti-ageing and antibacterial components like sandalwood, turmeric, and chickpea. These ingredients are said to promote collagen formation and skin renewal. As a result, the normal ageing process is slowed down. Ubtan benefits in reducing the harm caused by free radicals. This lessens the likelihood of cell damage and inflammation, which are the root causes of under-eye bags and dark circles.
Ubtan is also useful for getting rid of tans. The mixture of rosewater, sandalwood and turmeric in ubtan aids in cleansing, exfoliation, and tan removal.
It helps in getting even and toned skin
Ingredients with antibacterial and antifungal characteristics, such as 24k gold, Haldi and Chandan employed in Ubtan, help clear your skin and reduce acne outbreaks. Additionally, sandalwood minimises pores and gives skin a firm, young appearance.
Ingredients Used in Ubtan
One of the key components in many Indian dishes, including handmade ubtan, is also referred to as Haldi in Hindi contains anti-inflammatory and antioxidant properties. Additionally, it possesses skin-whitening and anti-ageing benefits. Turmeric is also well known for its ability to cleanse and brighten the skin. Haldi is the Ubtan's real leader. It is the cause of Ubtan's yellow hue. (2)
The cooling effects of Chandan, often called sandalwood, have been recognised since ancient times. The cooling properties of sandalwood help your skin heal from suntan and sunburns while smoothening our wrinkles and scars. Its lovely scent heals your mind and relaxes your body after a long work week, thus enhancing the radiance of the skin.
Rosewater is said to boost hydration and give your skin a healthy glow. It functions as the ideal toner for oily or acne-prone skin and offers cooling, balancing, and moisturising effects. (3)
Another crucial component of the Natural ubtan recipe is chickpea or gram flour. It is considered abundant in regenerating vitamins including Vitamin A, B, and C, which give the skin a healthy glow.
Gold has anti-inflammatory and antioxidant characteristics, making it perfect for sensitive, hypoallergenic, hyperpigmented, and acne-prone skin. It gives skin the sheer radiance from within, fights wrinkles, and battles signs of ageing, leaving your skin all soft and glowing.
Lotus botanical Ubtan products which help in skin radiance and glow
These days when everyone is in a fictitious race to reach their goals as quickly as possible, most people tend to give up taking care of their skin. Because they can't discover an effective skincare routine, most people neglect to take care of their skin. An excellent skin care regimen should be practical and simple to follow. It is ought to fit easily into your busy schedule. It takes time and a lot of ingredients to make ubtan from scratch. But that does not imply that you should completely cut it out of your schedule. With the Lotus Botanicals Ubtan face set, we offer the ideal answer for you.
Lotus Botanicals Ubtan De-tan Radiance Face Wash
It's time to switch to an all-natural product with the benefits of an authentic and natural blend if common face washes laced with chemicals have caused more harm than good to your complexion. Washing your face is the first step in every skin care regimen. Always begin cleaning it carefully with the best Ubtan face wash. Look no farther than the Lotus Botanicals Ubtan face wash if you're searching for a quality face cleanser.
It is the best ubtan face wash and was created to offer you a naturally healthy appearance while shielding your skin from damaging pollution and improving skin tone with each wash.
Lotus Botanicals Ubtan De-tan Radiance Face Scrub
Traditionally ubtan was used as an effective skincare product as it is loaded with natural components that help brighten dull skin, reduce sun damage, and leave skin feeling rejuvenated and fresh. The powerful components in Lotus Botanicals Ubtan Face Scrub, such as turmeric, rose, chickpea powder, sandalwood powder, and 24k Gold, gently exfoliate dead skin cells and impurities to preserve luminous, supple skin with an even skin tone.
Lotus Botanicals Ubtan De-tan Radiance Face and Body Mask
The Ubtan face mask and body from Lotus Botanicals encourage even skin tone. The best ubtan face mask will give you smooth, immaculate skin, so say goodbye to acne, scars, sun tan and sunburn. Additionally, it possesses anti-ageing qualities that restore your skin's original complexion. Even you won't be able to resist stroking your face because your skin will become so soft.
The coolant properties of Ubtan face and body mask can help your skin recover from overheating and tanning. Ingredients like 24 karat gold, chickpeas, sandalwood, and turmeric make your skin healthy naturally.
This face and body mask is a fantastic exfoliant that enhances your skin barrier while gently nourishing your skin. It keeps skin looking healthy, soft, and even in tone.
Benefits of Using Lotus Botanicals Skin Radiance and Brightening Products
Lotus Botanicals is driven by a strong conviction in promoting an ethical and durable hair and skin care product range. In order to preserve a healthy balance between nature and science, Lotus as a brand has spent the last three decades searching for ways to create skincare products that are sustainable and up to the highest standards. In order to discover the most potent extracts that will transform the way you look and feel, we delve deeply into centuries-old customs and natural treasures. Lotus Botanicals bring you an amazing range of clean beauty products.
Lotus Botanicals Ubtan Range is one such skincare line which provides your skin with a healthy and natural glow, devoid of any harsh ingredients. So give a treat of nature to your skin with us!
Read More:
Ubtan- The Age Old Skincare Formula

Ubtan For Tan Removal

9 Amazing Benefits Of Ubtan For Glowing Skin

Vitamin C Products For Skin Brightening
Highlights
Ubtan and Its Benefits

Ingredients Used in Ubtan

Lotus botanical Ubtan products which help in skin radiance and glow

Benefits of Using Lotus Botanicals Skin Radiance and Brightening Products