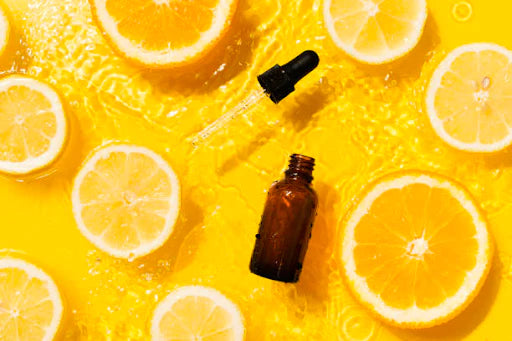 Highlights
A Boost of Hydration

A must-have for Skin Brightening

Evens out skin tone

Combats Hyperpigmentation

A must for Anti-Ageing

Vitamin C as a Sunscreen

FAQs
If you ever ask what one ingredient is known as an elixir of the skin, you would always hear a loud cheer for Vitamin C (1). It is one of the famous active, potent ingredients in the skincare landscape and is legendary for the right reasons! Vitamin C has proven to show results in a shorter amount of time (2). Vitamin C is the answer or solution to your skin issues, whether it's the uneven skin tone, hyperpigmentation, rough skin texture, dullness, or dehydrated skin. But the question is, we all consume Vitamin C-rich ingredients like lemon and oranges, isn't that enough for our skin? Why do we need Vitamin C topically? Don't both methods of use have the same benefits of its antioxidant properties?
Before we answer these questions, let's understand a bit more about Vitamin C.
Now, this potent antioxidant ingredient (3) has the power to neutralise the free radicals on your skin. Vitamin C is enriched with various antioxidant properties that boosts the skin's regeneration process. For any skin brightening concern, the first and foremost thing you need is an increase in your cell regeneration process. This aids the body in repairing your damaged skin (4) caused by multiple lifestyles and environmental factors like pollution, UV exposure, food habits, etc. Yes, the antioxidants of the vitamin C-rich foods and vitamin C topical serums and creams have the same characteristics. They both have antioxidant properties to neutralise various harmful and complex molecules known as free radicals inside your body and on your skin (5). But, the vitamin C we consume may not completely aid our skin in the regeneration and/or healing process. So, that's the reason why you need to use Vitamin C topically to reap the maximum benefits and help your skin heal faster and get brighter in a shorter amount of time.
Also, vitamin C has multiple never-ending lists of benefits that make it an elixir for the skin. Do you know that Vitamin C also aids in fighting off any signs of ageing like reducing fine lines and wrinkles, (6) increasing skin's elasticity and protecting the skin from ill effects of the UV rays like precancerous skin symptoms?
Well, it does and you're going to read all about the benefits of Vitamin C for the face/skin.
Benefits of Vitamin C
There are a plethora of benefits of Vitamin C for your skin. And with Vitamin C's benefits combined with the benefits of other ingredients, it makes different skincare products much more effective when it is added to your skincare routine.
A Boost of Hydration
According to multiple studies, it has been proven that Vitamin C and its derivatives help the skin stay hydrated (7). How? Due to blood circulation, vitamin C usually accumulates in your body organs, including the skin. Also, Vitamin C has the power to penetrate through your skin's upper layer very fast, ensuring that your skin benefits from the vitamin C product(s) effectively. But how does it help your skin stay hydrated and supple? Basically, Vitamin C aids in building the skin's barrier, restricting water loss, and allowing your skin to stay supple.
This is why you should try the Vitamin C Skin Brightening Face Moisturiser by Lotus Botanicals if you have dehydrated and dull skin. This moisturiser is light and absorbed quickly into your skin, adding moisture which keeps it hydrated and supple.
A must-have for Skin Brightening
Vitamin C reduces hyperpigmentation caused by excessive UV rays exposure, dehydration and acne breakouts (8). This is because Vitamin C helps your skin to regenerate faster while neutralising the effects of free radicals due to environmental factors and lifestyle. And since your skin absorbs Vitamin C quickly, it helps the skin look smooth and reduces the sudden appearance of dullness. Also, you can see how your skin starts to glow from within since Vitamin C decreases your skin's melanin production (9).
Evens out skin tone
Just as how Vitamin C helps to neutralise free radicals, it has also been shown to act as an anti-inflammatory agent with its antioxidant properties. This is the reason why Vitamin C aids in reducing skin redness caused by acne or allergies. The Lotus Botanicals Vitamin C Skin Brightening Face Wash is perfect for a dose of daily freshness and to calm any skin inflammation. Vitamin C helps to rejuvenate your skin and this face wash is gentle yet effective.
Combats Hyperpigmentation
Are you facing issues like skin scarring and excessive hyperpigmentation? You need to add Vitamin C products for dull skin to your skincare routine. Vitamin C reduces the sudden melanin production, which slowly helps in fading the hyperpigmented skin portions. You can get hyperpigmented skin because of various reasons, but the three most common factors that aggravate hyperpigmentation are exposure to sunlight for longer periods of time, skin trauma caused by an injury or acne, and hormonal changes (10). You will see the accumulation of melanin on spots post-acne and other various spots, also known as sunspots and age spots.
You can try the Lotus Botanicals Vitamin C Skin Brightening Face Serum which is perfect to treat skin issues like hyperpigmentation, dull and uneven skin tone. Turn your dull skin into lustrous skin with this Vitamin C product for glowing skin. The powerful serum gets absorbed quickly, hydrating your skin instantly. Also, it helps in combating ageing symptoms like fine lines and wrinkles.
A must for Anti-Ageing
If you want to decrease the sagginess of your skin and remove fine lines, then you need to go for skin care products with Vitamin C. Do you know that Vitamin C boosts collagen production in your skin? Well, it does!
Collagen is a protein and it promotes the firmness of your skin. But with time and age, this particular protein depletes (11). As collagen level decreases, your skin loses its natural elasticity which leads to ageing symptoms like wrinkles and crow's feet. Vitamin C boosts collagen production that reduces ageing symptoms. Do you know that without Vitamin C, collagen synthesis is impossible?
Vitamin C is the only essential factor that helps synthesise two enzymes known as Prolyl Hydroxylase and Lysyl Hydroxylase (12) that help in collagen production. Try Lotus Botanicals Vitamin C Skin Brightening Night Crème which repairs and restores your youthful glow while you take your beauty sleep. It reduces uneven skin tone and pigmentation while providing natural elasticity to the skin.
Vitamin C as a Sunscreen
Do you know that Vitamin C can also aid in protecting your skin from harmful sun rays? It has been proven that when our skin is exposed to UV rays for a long period, including the factors of oxidant stress and pollution, the vitamin C levels of the skin gets depleted over time. This makes your skin more prone to photodamage (13). This is because the UV rays activate the free radicals in the environment, affecting your skin. Vitamin C neutralises the free radicals, thus, rendering them harmless (14). This is why you should look for sunscreen, which also has Vitamin C.
Lotus Botanicals Vitamin C Skin Brightening MatteFLUID Sunscreen is a must-have product for your skin. The sunscreen has a revolutionary no-white cast formula and fights off free radicals while keeping your skin safe from other skin issues caused by UV rays. This new sunscreen formulation will help you say bye-bye to dull skin, photodamaged skin, and skin tanning!
How to Pick The Right Vitamin C Product?
With so many Vitamin C products to choose from, you need to consider some factors before choosing a vitamin C product that's right for your skin.
Check the concentration of Vitamin C in the product. Vitamin C's concentration can range from 1% to 20%. If you have sensitive skin, then start from a lower concentration. Otherwise, you may experience some skin irritation.
Check that the Vitamin C serums are clear in colour. It should not be a yellowish colour. If it is, that means the vitamin C has already oxidised. This may make your skin dull and uneven.
Keep your vitamin C products away from sunlight. Ensure to keep it airtight.
If you have acne or other skin problems, consult your doctor before adding Vitamin C products to your skincare regime.
If you want a youthful and glowing skin, it's time to add vitamin C products (Or products with a derivative of Vitamin C) to your skincare routine. Explore Lotus Botanicals' range of vitamin C products!
FAQs
When do I use Vitamin C?
It depends on the product. Vitamin c face washes, Moisturisers and Vit C Sunscreens among other products can be used daily. Other vitamin c products like Vitamin C face scrubs can be used a few times a week. Vitamin C helps with the following skin issues:
Hyperpigmentation
Dull skin
Uneven skin tone
Photodamaged skin
Fine lines and wrinkles
I've read that vitamin C is unstable. What does that mean?
When Vitamin C is exposed to air and moisture, it oxidises, making the product yellowish and unstable. It doesn't have the right potential to neutralise the free radicals in your skin, boost collagen production or hydrate your skin. You can keep your vitamin C products safe by keeping the product package in a dry place; away from sunlight.
Do I need to introduce it into my skincare routine slowly?
Yes. It's important to introduce any active ingredients into your skincare routine slowly. Otherwise, your skin will experience a shock resulting in skin irritation.
Highlights
A Boost of Hydration

A must-have for Skin Brightening

Evens out skin tone

Combats Hyperpigmentation

A must for Anti-Ageing

Vitamin C as a Sunscreen

FAQs