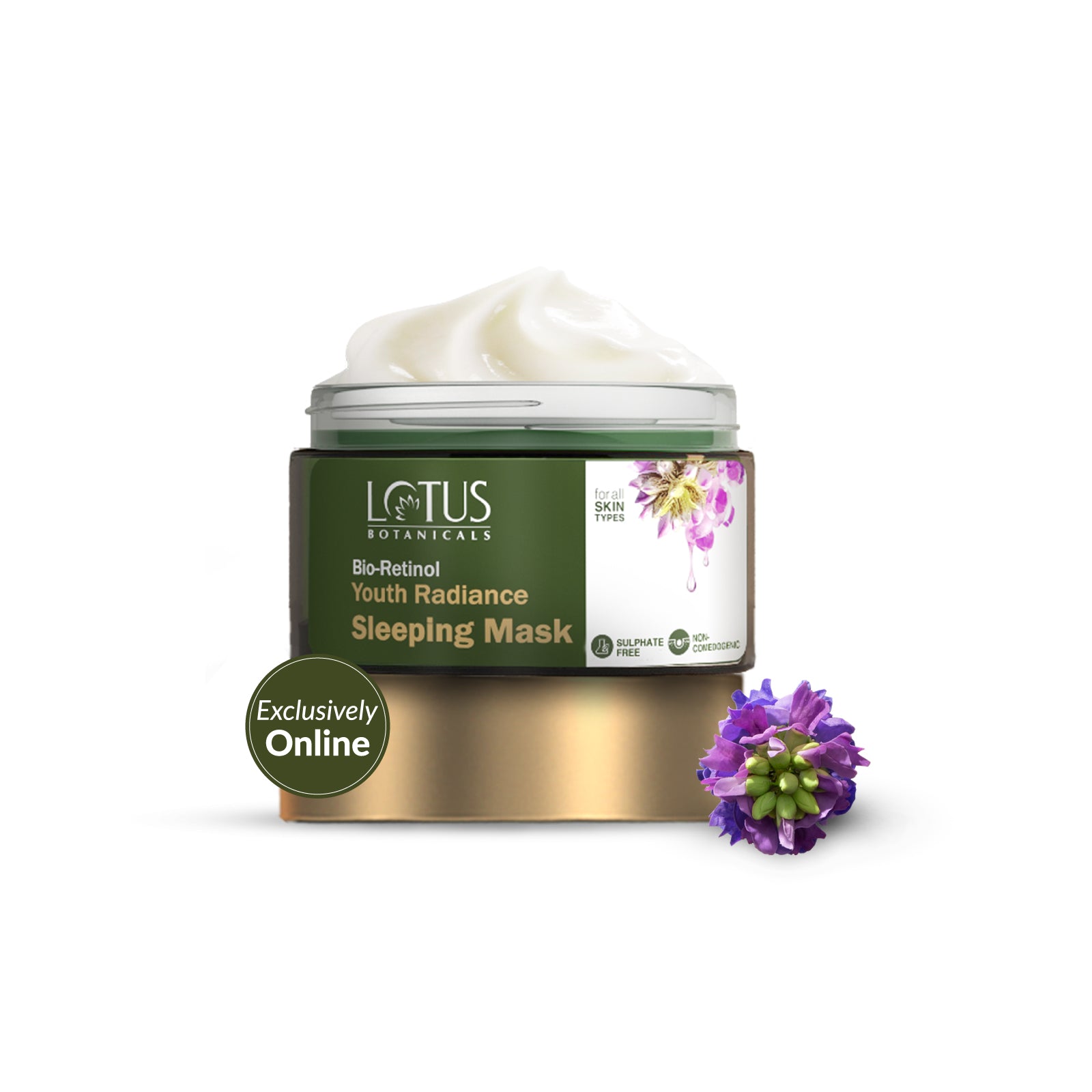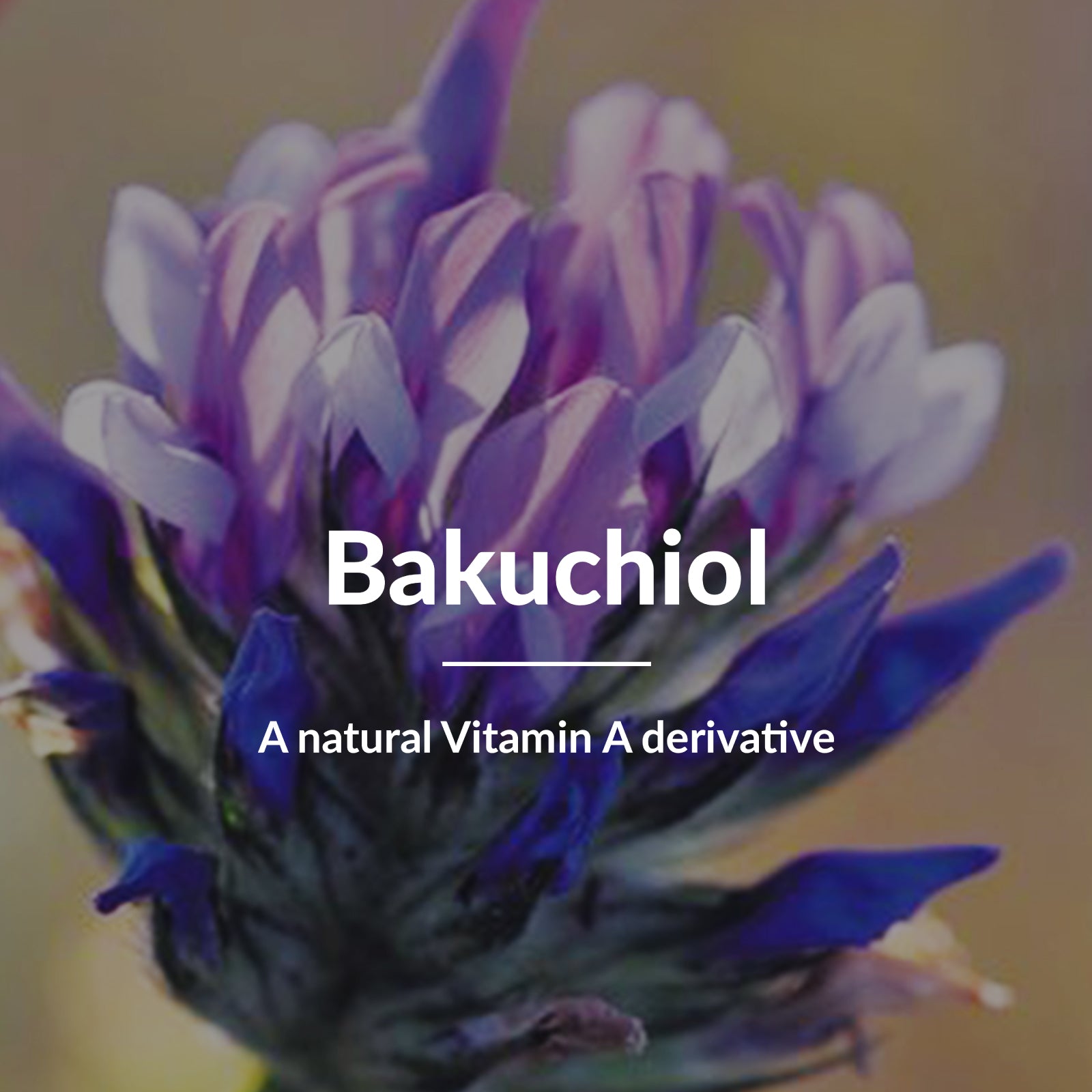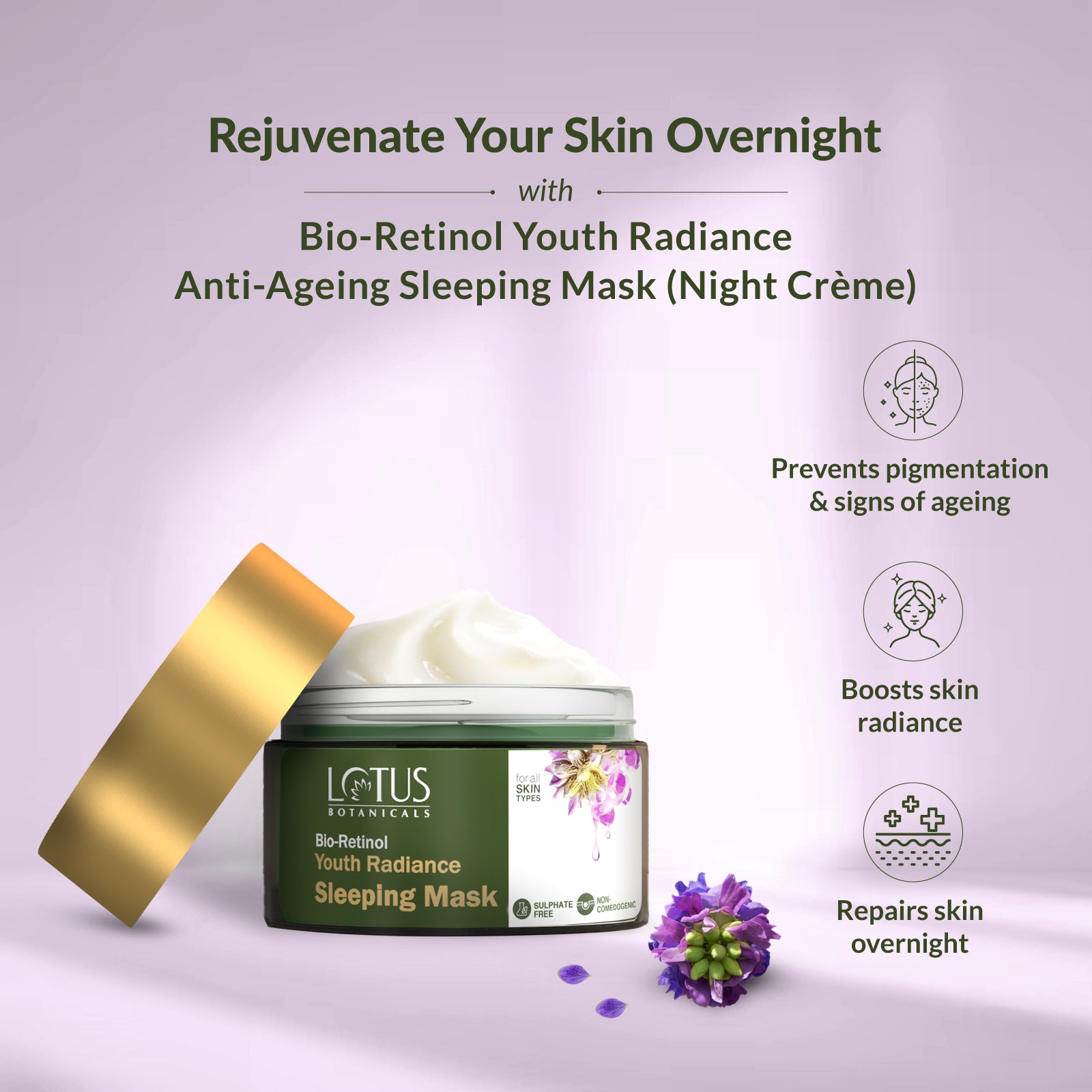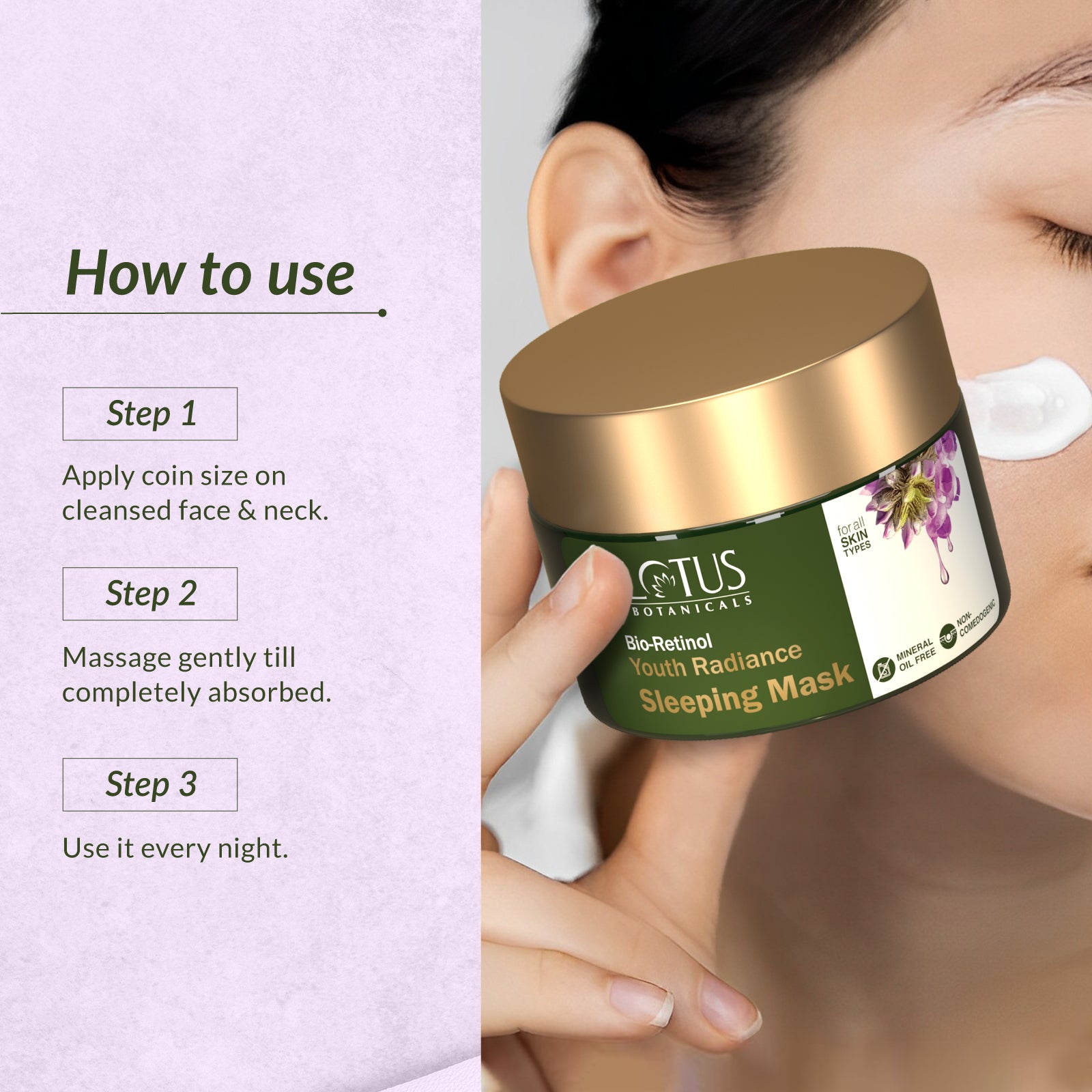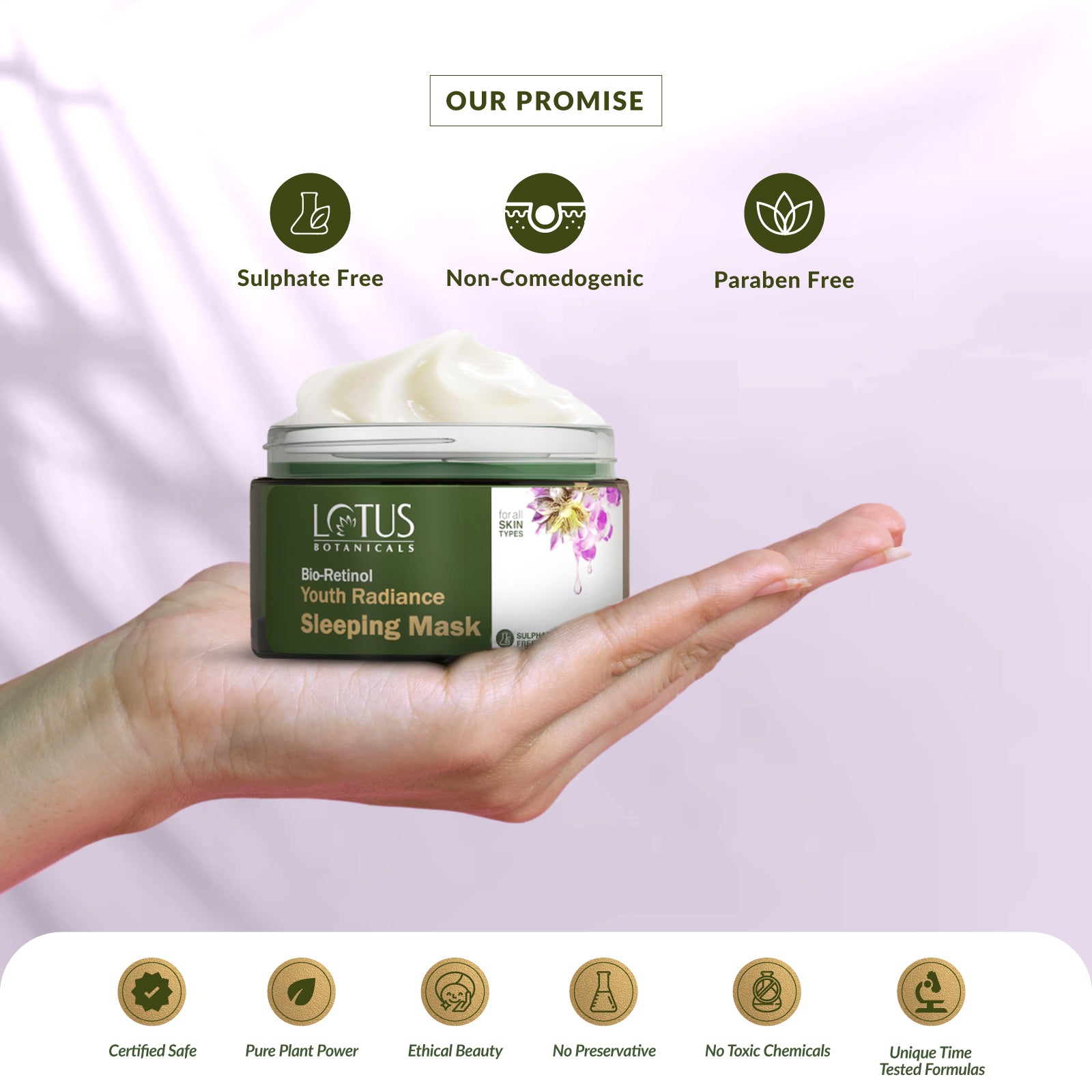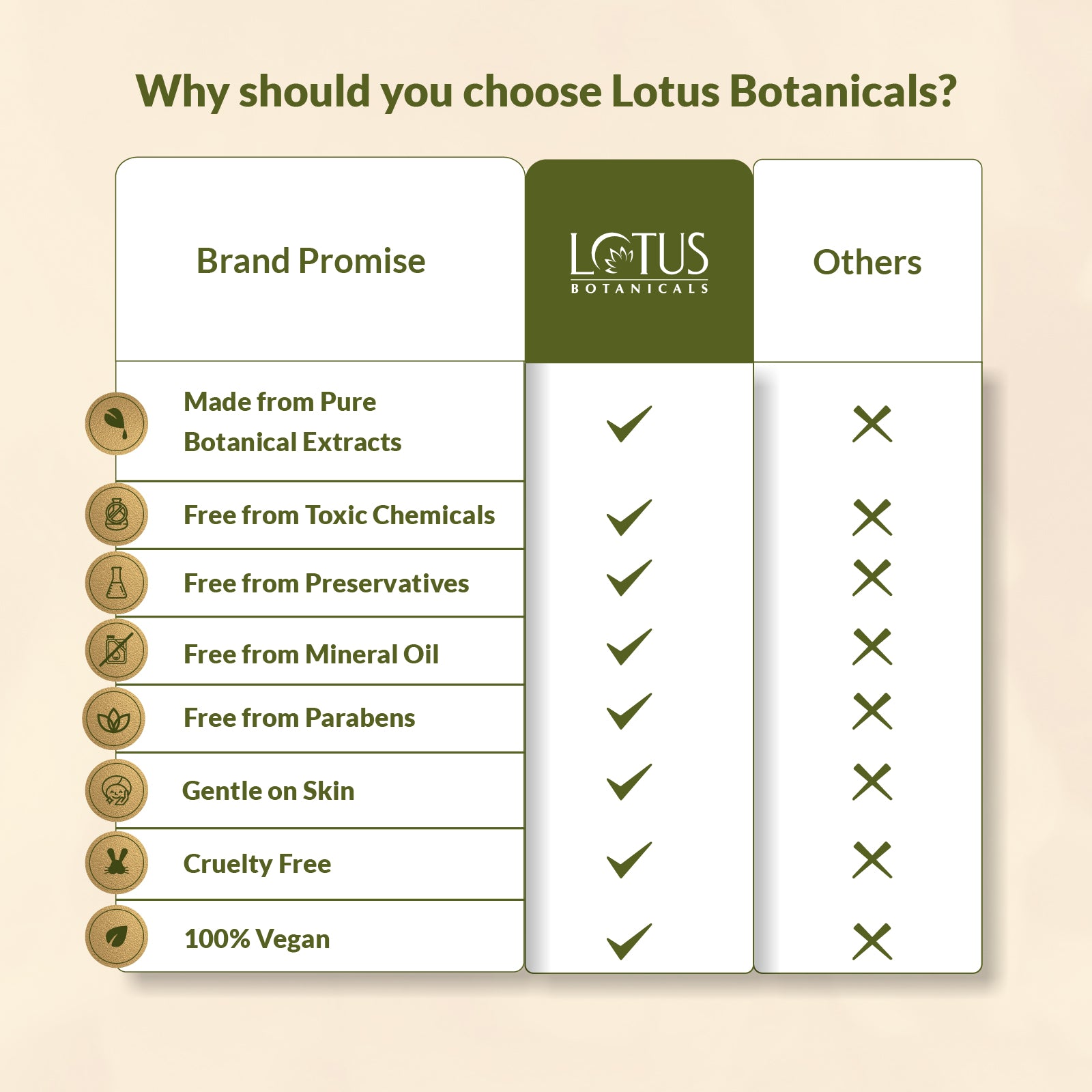 Bio-Retinol Youth Radiance Anti-Ageing Sleeping Mask (Night Crème)
Offers You
Can't Resist
🎁 FREE Vitamin C Wash N Moisturise Worth Rs 960 on purchase of Rs999🎁
Description

Ingredients

Know Your Product

FAQs

Good To know

More Info

Reviews

You May Also Like
The lightweight and fast-absorbing formula that delivers intense hydration and nourishes skin overnight. Lotus Botanicals Bio-Retinol Youth Radiance Sleeping Mask effectively targets on fine lines, wrinkles, crow's feet and transforms skin. Formulated with natural plant derived retinol, the formula goes into the skin and locks the moisture, provides instant soothing effect. It ensures smooth skin texture, boosts radiance and increases skin firmness. It's time to say adios to all ageing, dull and dry skin problems.

• Rich in Bakuchiol : Natural Vitamin A Derivative
• Reduces finelines, wrinkles, crow's feet
• Transforms skin into younger looking youthful skin
• Locks skin moisture and provides instant soothing effect
• Ensures smooth skin texture
• Boosts skin radiance
• Increases skin firmness
• No Preservatives, No Toxic Chemicals, Paraben Free, Sulphate Free, Non-Comedogenic, Mineral Oil Free, pH-Balanced, Anti-Pollution, Cruelty Free, 100% Vegan
BIO-RETINOL Youth Radiance Sleeping Mask
Aqua, Niacinamide, Heptyl Undecylenate, Hydroxyethyl Urea, Cyclopentasiloxane, Caprylle Capric Triglycerides, Glycerin, Propanediol, Cyclopentasiloxane and Dimethicone/Vinyl Dimethicone Alkane (and) C10-16 Alkyl Glucoside, Enteromorpha Compressa Extract (and) Silybum Marianum Fruit Leaf Extract, Extract (and) Ocimum Sanctum Leaf B a corylifolia (Bakuchlol) Extract, Maltodextrin Su crose Diaurate, Sodium Cocoyl Glutamato &Pisum Sativum (Pea) Extract, PEG-35 Castor Oll (and) Polysorbate 20 (and) Aesculus Hippocastanum (Horse Chestnut) Seed Extract (and) Retinyl Palmitate (and) Tocopherol (and) Inositol (and) Calcium Pantothenate (and) Linoleic Acid (and) Biotin, Titanium dioxide, Disodium EDTA, Allantoin, Butylated hydroxytoluene, Tocopheryl acetate, Citric acid, Menthol, Caprylhydroxamic Acid (and) Phenethyl Alcohol, Fragrance
---
Frequently Asked Questions
Bio-retinol is a safe, plant-based alternative to retinoids for skin concerns like wrinkles, acne, dark spots and uneven skin texture. It exhibits similar properties to traditional retinoids but without any harmful effects.
For best results, use it daily in your night skin care routine.
Natural products react differently to different skin types. We recommend that people with sensitive skin always perform a patch test first to ensure there is no reaction. Discontinue if irritation occurs.
A sleeping mask is nothing but a nourishing gel or cream-based product that helps in deeply nourish your skin and provides several benefits depending on the ingredients present in it.
Anyone can use a sleeping mask, but those with dry and damaged skin can benefit the most from it. Even those with sensitive skin can use our sleeping masks.
The best time to use a sleeping mask is at least 20 minutes before sleeping. The mask helps in healing your skin, reducing pigmentation and reducing signs of ageing.
A sleeping mask is far more potent than a night cream and is meant specifically to act as an energizing agent to boost radiance and give your skin the nourishment it needs.
Yes, you need to wash off the mask in the morning.
Yes, natural overnight face treatments such as sleeping masks work as long as they are used correctly.
Those with oily or acne prone skin can use the mask, but not too often as excess usage may lead to pore obstruction or irritation.
---
Good To Know
Bio-Retinol - a natural Vitamin A derivative, is considered as a holy grail ingredient for all things anti-ageing and anti-acne. Bio-Retinol reduces fine lines and wrinkles by increasing the production of collagen. It also stimulates the production of new blood vessels in the skin, which improves skin radiance.
WE ARE GREEN! At Lotus Botanicals, we believe in harnessing the real power of nature for every beauty and wellness need. Our products are formulated using potent plant botanical extracts - the real essence of purity.
WE BELIEVE IN SCIENCE! At Lotus Botanicals, we continuously research for innovative and unique active ingredients to bring out highly efficacious and sensorial-driven formulations.
WE ARE CONSCIOUS! We do not use any harmful or toxic chemicals and synthetic compounds in our formulas. We pride ourselves on both the efficacy and ethics of our formulations and take conscious steps to reduce our impact on the environment at every stage of our product journey.
---
More Info
Bio-Retinol is a powerful plant derivative of Vitamin A which has Bakuchiol as a key ingredient. Bakuchiol is an extract derived from the leaves and seeds of the Babchi plant.

Bio-Retinol is considered as a holy grail ingredient which helps in reducing fine lines and wrinkles by increasing the production of collagen (a protein formed naturally in skin). It also stimulates the production of new blood vessels in the skin, which improves skin radiance.
Lotus Botanicals Bio-Retinol Youth Radiance Sleeping helps speed up skin cell turnover rate thereby reducing the appearance of fine lines and wrinkles. It locks moisture into your skin to let you wake up with fresh skin that glows from within. 
It is a non-comedogenic, ultra-moisturising sleeping mask in the form of crème which works overnight, and repairs your skin giving you soft, flawless and replenished skin the next morning. It also helps repair and reverses photoaging and pigmentation when used regularly.
What is Anti Ageing Sleeping Mask?
The anti ageing retinol sleeping mask by Lotus Botanicals is a natural sleeping mask that is filled with potent ingredients such as bakuchiol which help to offset the signs of ageing such as wrinkles, fine lines and dullness. It nourishes your skin overnight, locks in moisture and targets the various ageing signs. It boosts the radiance of your skin and improves its texture, giving you noticeably younger-looking skin. It is formulated from plant-derived retinol which goes into the skin, is quickly absorbed and provides a soothing effect that works on your skin throughout the night.
Natural Ingredients of Retinol Anti-Ageing Sleeping Mask
Here are the major Ingredients that make up the Lotus sleeping mask that acts synergistically with each other to rejuvenate your skin and make it smooth and supple:
Bakuchiol: This is a natural derivative of vitamin A or retinol. It is a strong antioxidant which can reduce the damage caused by free radicals, reduce oxidative stress and hence delay the signs of ageing. It helps stimulate skin cell turnover, reduces pigmentation and also improves skin texture considerably. It is a plant-derived source of retinol which gives an advantage over artificial retinoids and does not cause any side effects. The

retinol sleeping mask

is made with this principal ingredient apart from other natural ingredients.

Other beneficial natural ingredients such as niacinamide, glycerin, enteromorpha compressa extract, Silybum marianum fruit leaf extract, castor oil, horse chestnut seed extract, retinyl palmitate, tocopherol (vitamin E), linoleic acid, biotin, citric acid, menthol and more. You can rely on our expert formulation to nourish your skin and heal it overnight.
Reasons you will Purely love this product
Some of the reasons why you should buy this sleeping mask online include:
It is made with purely natural ingredients and so it will not cause any harmful effects like those products with artificial ingredients.

The goodness of retinol helps in making your skin look younger and softer with reduced pigmentation and wrinkles.
It is super easy to apply. All you need to do is leave it on for the night and let the overnight sleeping mask online work its magic on your skin.
Benefits of Using Lotus Botanicals Anti-Ageing Sleeping Mask
Some of the retinol mask benefits include:
It helps in repairing your skin overnight and saves from the dullness of the skin

The plant-based retinol helps to lock in moisture in your skin and make it more flexible, thus keeping your skin hydrated and younger 

One of the most important

benefits of the overnight sleeping mask

is that it helps promote the production of collagen and thus reduces pigmentation and signs of ageing like fine lines and wrinkles.

It is free of chemicals and harmful substances like parabens, silicon and mineral oil. It is 100% vegan and non-comedogenic, which means those with sensitive skin can also apply it. 
How to Use Lotus Botanicals Anti-Ageing Sleeping Mask?
First, wash your face with a natural cleanser to remove the dirt and grime at the end of the day 

Pat your skin dry gently.

Now apply a coin-sized amount of the

sleeping mask online

on your face. 

Massage it gently all over your face until it is fully absorbed.
Tips To Use Retinol Anti Ageing Sleeping Mask
You can use this overnight sleeping mask once or twice a week to obtain maximum benefits and thoroughly hydrated skin. 

Apply the mask at least 20 minutes before sleeping to give your skin some time to absorb the mask

You must cleanse your face thoroughly before applying the mask

If you need to apply moisturiser, you can do so before the mask 
Why Choose Lotus Botanicals
Lotus Botanicals is a leading Indian skincare brand that is committed to producing natural products made from wholesome ingredients to nourish the skin, hair and lips. We have a wide range of unique skincare products made with naturally derived ingredients that are known to work scientifically on providing better skin and hair. You can check out our wide range of products on our website and pick your favourite. There is nothing better than pure natural ingredients to take care of your skin, and we prove it every day!
Best suited for: All skin types
Concerns: Fine Lines, Wrinkles, Dull and Dehydrated Skin.
Paraben Free 
Silicon Free  
Mineral Oil Free
Anti-Pollution 
Cruelty Free 
100% Vegan 
Recyclable 
Key Benefits
Directions To Use
Steps:  
Step 1: 
Apply a pea-size amount smoothly onto a cleansed face and neck.
Step 2:
Massage gently till entirely absorbed.
For best results, use Bio-Retinol Youth Radiance Sleeping Mask every night.
---