Hear it from Our Customers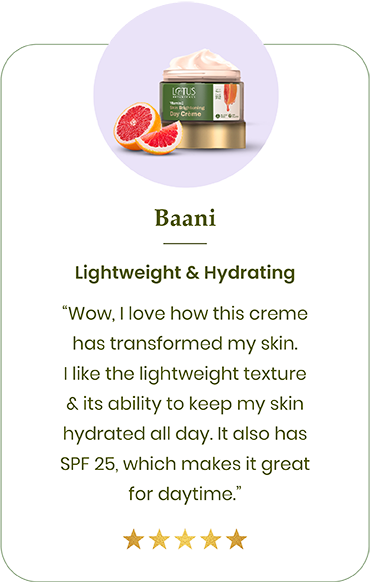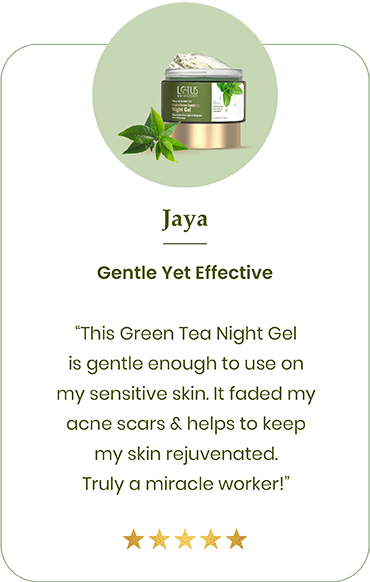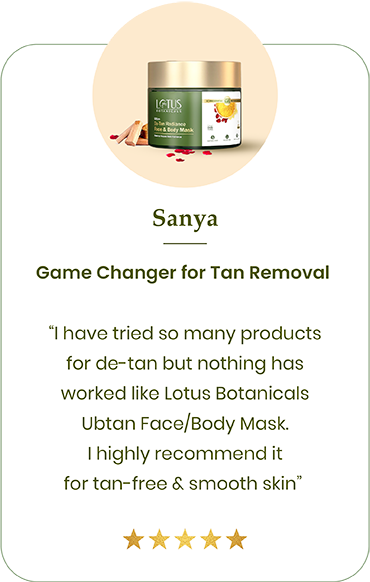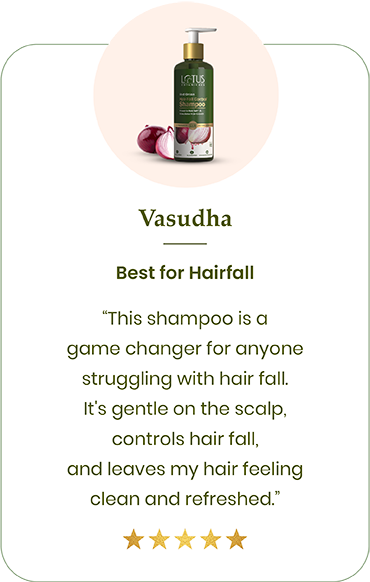 CAUTION
Please beware of fraudulent messages and phone calls on behalf of Lotus Botanicals. We NEVER ask for bank details, otps, advance cash payments or engage in lotteries.
Lotus Botanicals: 100% Pure, Vegan, Natural Products
Enjoy the pristine nature with our variety of all-vegan products, available to purchase online. While a vegan diet can be advantageous to many individuals, it is likewise necessary to integrate vegan products into our haircare and skincare regimens. The skin, along with the scalp, is the largest organ in the human body.
We understand how difficult it can be to integrate mindfulness, fitness, and nutrition regimens into our hectic lives, no matter how committed we are. That is why we propose you eliminate all toxic chemical beauty products containing sulphur, paraben and silicone and replace them with some of the tried-and-true organic and 100% vegan products.
They are not only better for you and the environment, but they also work exceptionally well on our skin and hair. Created with the aim of serving purity to you, Lotus Botanical's hair and skin care range is a must to include in your routine!
Skin Care Range
Shop by ingredients
Vitamin C
Vitamin C is well known for its miraculous abilities! Being high in antioxidants, which are proven to make your skin look younger and more luminous, vitamin C aids in the destruction of free radicals and tissue healing and collagen synthesis for healthy skin. It's most commonly seen in the skin's dermis and epidermis, where it's supplied from the bloodstream. Although its availability from the epidermis may be reduced as a result of ageing, pollution, or UV exposure.
To increase its presence in the skin, it is important to include the best vitamin C range products for the face and get the youthful beauty you've always desired. So, shop for an exclusive range of Vitamin C-infused products such as skin brightening face wash, face scrub, night cream, matte fluid sunscreen, face serum and face moisturiser from Lotus Botanicals and gift your skin a glow! Being free from preservatives, our natural skin care products are safe to include in your skincare regime.
Bioretinol
Over time, the skin begins to alter, and its protective barrier function decreases. Furthermore, the building proteins like collagen and elastin are disrupted, resulting in a lack of firmness and elasticity. As a result, wrinkles, fine lines, and a loss of volume and density emerge. In addition, other elements such as the sun or pollution interact with the skin and directly impact the appearance of ageing indicators.
Bioretinol is rich in Vitamin A and a plant-based extract with a higher tolerance in combating the signs of age and photoaging. Furthermore, its properties have a renewing, brightening, and sebum-regulating impact, extending its recommendations and benefits for the skin. Permeate the amazing properties of Bioretinol in your skincare products with Lotus Botanicals Bio Retinol Youth Radiance Ultra Cream and sleeping mask!
Baking Soda
What if someone revealed that applying NaHCO3 to your skin could help you resolve most of your skin issues? Yes, it's the same extraordinary molecule known as Baking Soda or Sodium Bicarbonate. Baking soda has features that might make it your skin's best friend, from being a terrific exfoliant to a brilliant bleaching agent. With Lotus Botanical's Natural Baking Soda Deep Cleansing Face Scrub, you can say goodbye to acne, dullness, and uneven skin texture. Also, the remarkable abilities of our vegan skin care products, such as Deep Cleansing Face Wash with Natural Baking Soda, remove impurities, excess oil, and make-up residue effectively and softly, leaving you with clean, balanced, and hydrated skin.
Ubtan
Let us tell you about the benefits of the au-natural ubtan if you haven't already heard about them. Ubtan is the oldest and purest form of cosmetic ever made. Ubtan face pack pampers your skin and leaves it refreshed, thanks to its basic yet effective components.
Lotus Botanical's Ubtan Face and Body mask offer cooling characteristics that aid in the relief of excessive heat and tan on the skin. Traditional materials like 24k gold, chickpea, sandalwood, and turmeric are used to cure your skin. Our Ubtan Face wash and ubtan face scrub organic beauty products online are also a must-try!
Hair Care Range -Traditional Indian Hair Care
Shop by Hair Concerns
Dandruff
Those bad-looking white flakes constantly falling on your black dress makes you feel insecure and low in self-esteem? Dandruff, also known as seborrhoea in medical terms, is a scalp ailment caused by improper hair brushing, stress, and dry skin. This is also the cause of dryness and itching on the scalp, which leads to the accumulation of dead skin cells as visible flakes. In addition, the degree to which people are sensitive to certain fatty acids influences whether they have acute or mild dandruff. So, what's the most effective strategy to end it?
The one-stop solutions are the red onion hair revitaliser and ginger root dandruff control shampoo! Cure all these issues and get amazing results with Lotus botanicals products to repair damaged hair.
Hairfall
The tresses, often known as the 'crowning glory,' directly reflect an individual's personality and style. Excessive hair loss can be a bothersome issue, generating concern and lowering self-esteem, particularly in women.
Hair loss has the potential to affect the social and psychological well-being of men and women of all ages. Hair loss patterns might be visible, or can occur in a diffused pattern. Red Onion is the best hair loss remedy because of its sulphur content and anti-inflammatory properties. Try the best red onion vegan products online from Lotus Botanicals!
Shop by ingredients
Red Onion
If you've been on a desperate search for healthy, thick, and luscious hair, there's a good possibility you've come across 'onion' as a potent component to help you achieve your goals. Onions, a daily kitchen staple, are high in sulphur and antioxidants, as well as a variety of other hair-beneficial components, making them a one-of-a-kind hair health booster. Red onion products work wonders for healing dry and damaged hair because of the presence of amino acids. In addition, the red onion extracts work wonders in removing impurities from the pores while healing damaged hair and restoring its lustre.
As a result, we advise you to use red onion-based natural beauty products online from Lotus Botanicals, such as shampoo, hair oil, hair mask and revitaliser.
Ginger Root
Are you aware of the numerous advantages of ginger for your hair? Ginger is a little-known fact that is proven to be great for your hair. It's high in antioxidants and is also a well-known antibacterial that can assist with dandruff, brittle hair, and hair loss.
Ginger stimulates individual hair follicles and stimulates scalp circulation, resulting in natural hair growth. The vitamins, minerals, and fatty acids in ginger help to strengthen your hair strands, preventing hair loss and helps restore moisture loss. Ginger root dandruff control shampoo from Lotus Botanicals is a must-try!
Save on Sets and Combos
Want to heal your skin and scalp with the best organic beauty products for women? No worries now! Lotus Botanicals combo sets let you save high on your pockets while availing the best of nature for your skin and hair. Buy the perfect sun protection vitamin C combo with Skin Brightening Face Wash, Vitamin C Skin Brightening Face Scrub, and Vitamin C Skin Brightening MatteFLUID Sunscreen making it look younger and brighter. There are amazing combos to shop including red onion, skincare products!
Why Lotus Botanicals - Our Goodness Promise
Established with the fact that our appearance and health cannot be at the expense of the environment, Lotus Botanicals believes in achieving a healthy balance between nature and science by manifesting purity, balance, and botanicals in all its products range. We strongly believe in striking a balance between what we take and what we give and there's a fine line between appearing good and doing good.
Therefore, at every point of our product journey, from sourcing to formulating, packaging, and delivery, we make conscious efforts to minimise our environmental effects. Most of our packaging can be recycled through our domestic recycling collections or municipal recycling centres as it is constructed of easily recyclable polymers.
Talking about our products, we create as-pure-as-it-gets skin and hair care products by combining nature's most restorative and nourishing elements. Each product, in fact, has extremely high quantities of plant actives that are truly revolutionary.
Our entire range of products is natural, plant-derived, and ethically farmed components that are 100% safe, certified, and cruelty-fIn addition, wee. We are constantly in a process of looking for new and unique active ingredients to develop extremely effective cosmetic products our diverse assortment of beauty products is the evidence of it!
We serve you only with PURITY and nothing else with our 100% vegan, cruelty-free, paraben, silicone and sulphate-free, pH balanced and non-comedogenic products. Shop now from us and harness your skin and hair with the power of red-onion, bakuchiol, vitamin C and ubtan!