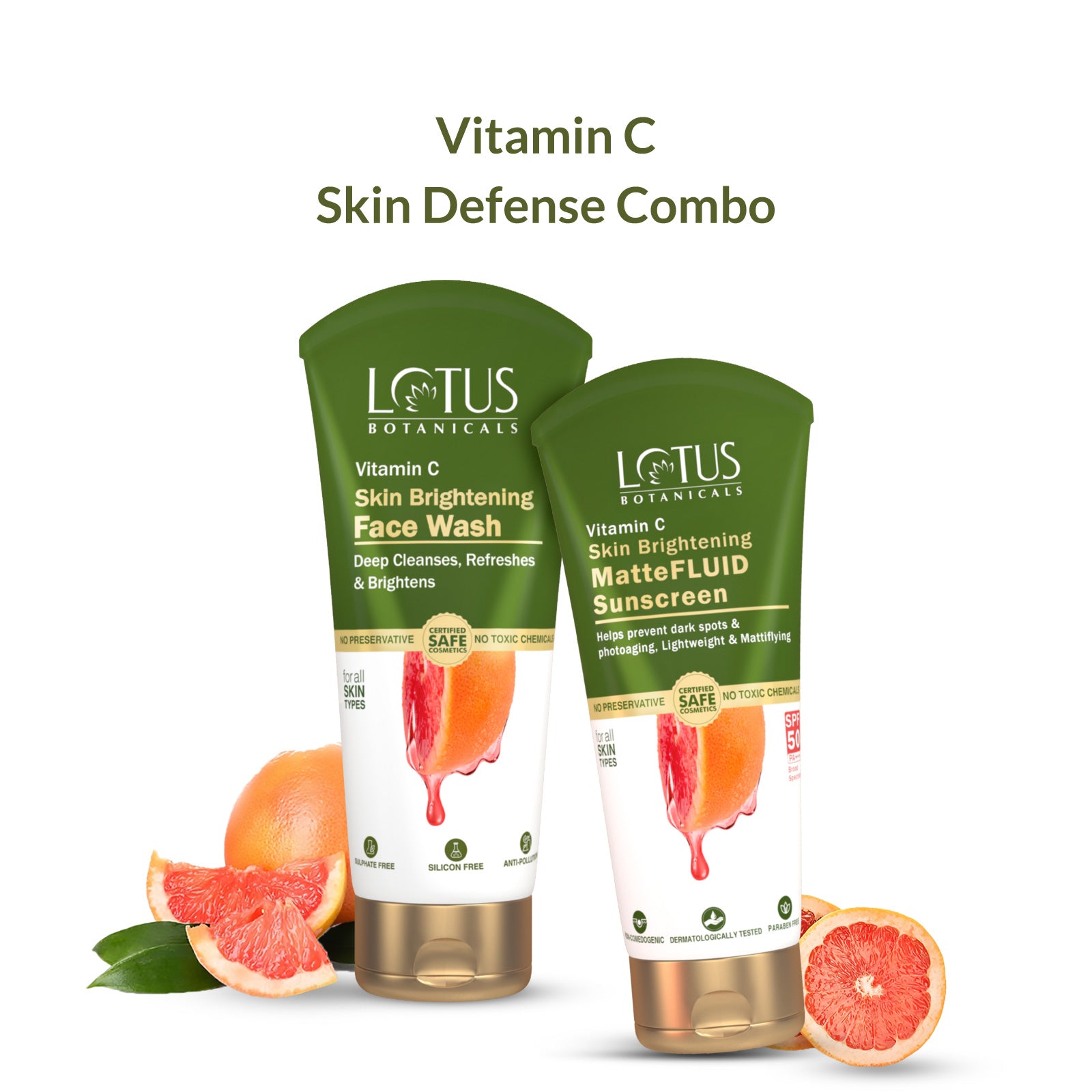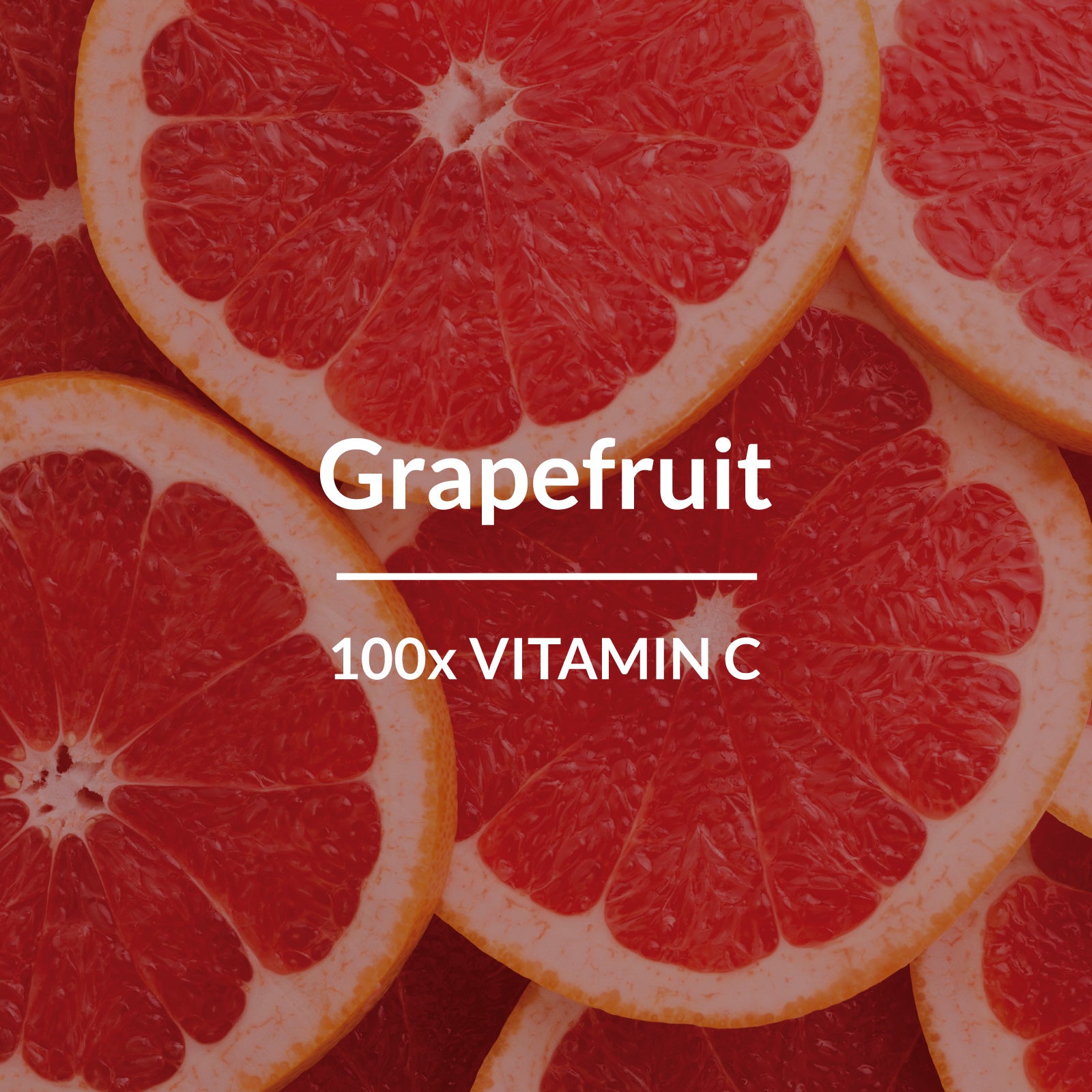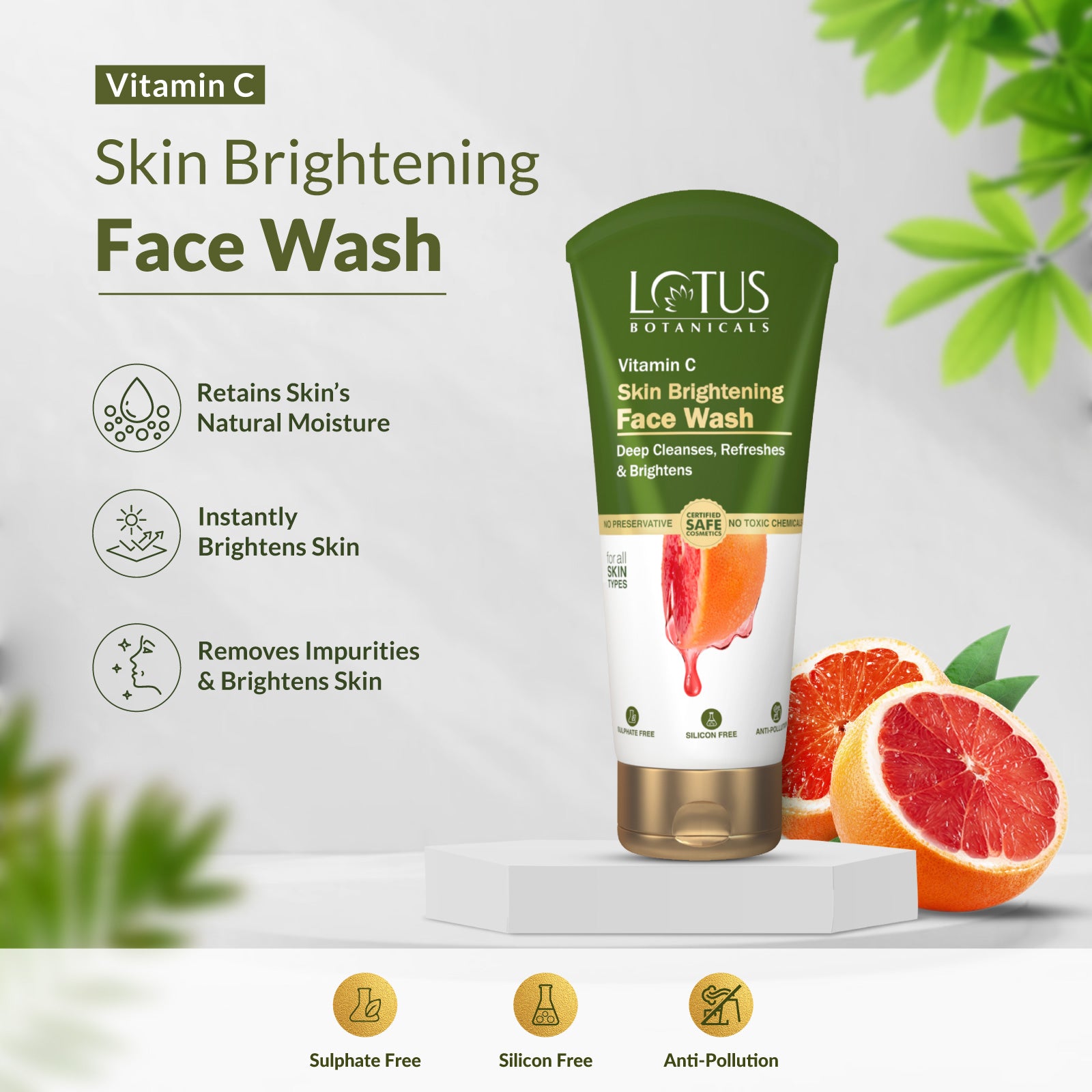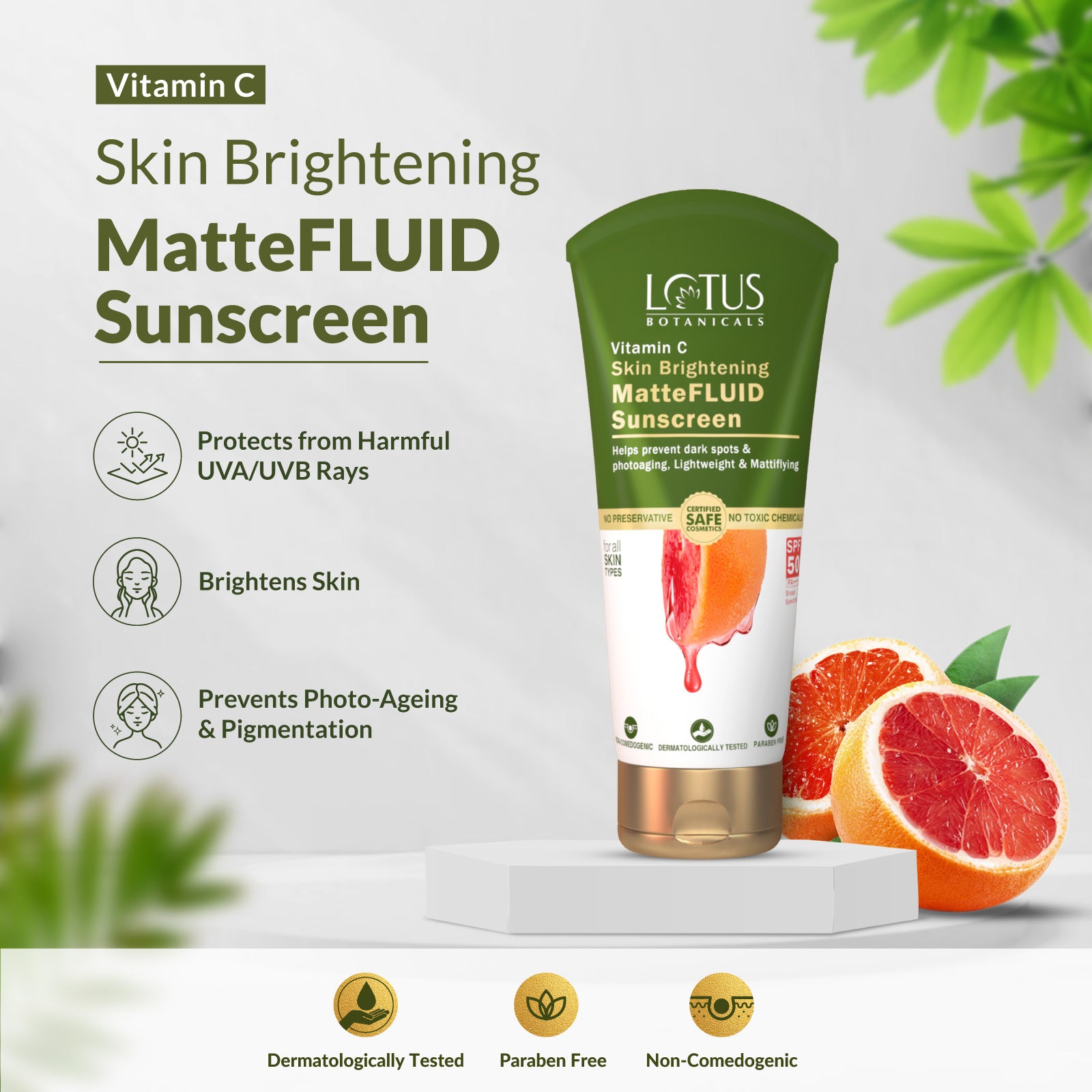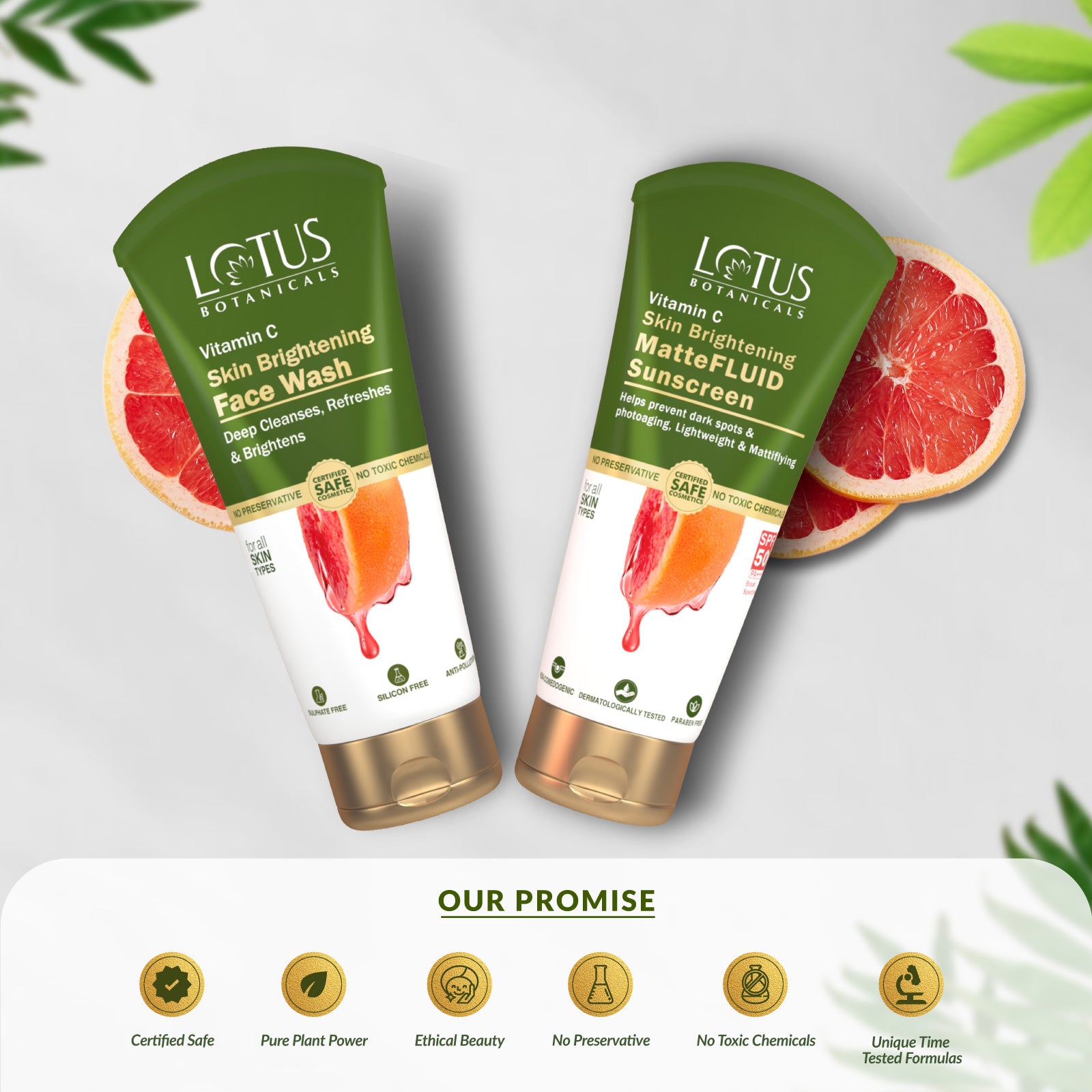 Vitamin C Skin Defense Combo
Combo Includes:
1 X Vitamin C Skin Brightening Face Wash (100ml)
1 X Vitamin C Skin Brightening MatteFLUID Sunscreen (75g)
Offers You
Can't Resist
🎁 FREE Vitamin C Wash N Moisturise Worth Rs 960 on purchase of Rs999🎁
Description

Ingredients

Know Your Product

FAQs

Good To know

More Info

Reviews

You May Also Like

This is the combo you need for clean, hydrated and brighter skin that is better protected against the harmful sun rays. The Vitamin C Skin Brightening Face Wash deeply cleanses your face without stripping its natural moisture while the Vitamin C Skin Brightening MatteFLUID Sunscreen with SPF 50 PA+++ protects delicate skin cells from harmful UV rays making the skin look brighter & younger.
Steps to use:
1. Vitamin C Skin Brightening Face Wash
Step 1:
Apply coin size on damp face.
Step 2:
Massage gently in circular motion.
Step 3:
Rinse thoroughly with water. For best results, use twice daily in the morning and evening.
2. Vitamin C Skin Brightening MatteFLUID Sunscreen
Step 1:
Before venturing out in the sun, apply "Lotus Botanicals Vitamin C Sunscreen" liberally on your face, neck and other exposed areas on your body. Massage gently till completely absorbed.
Step 2:
This sunscreen works effectively when applied 15 minutes before going outdoors.
Step 3:
Keep applying this sunscreen once every 2 hours for better protection from UV rays.
Experience the remarkable benefits of Vitamin C for your skin. This powerhouse antioxidant not only fades dark spots and evens out skin tone, but also stimulates collagen production for a more youthful complexion. Shield your skin from environmental damage and revel in a radiant, healthy glow. Unleash the transformative power of Vitamin C today.
---
Frequently Asked Questions
Lotus Botanicals skin defense products that come with Vitamin C face wash (100 ml) and Vitamin C sunscreen (75g) come at a price of Rs. 830.
Use this Vitamin C Combo in your morning routine. Wash your face with the face wash to remove dust and impurities from the skin. Then you can apply any serum or moisturiser. Before stepping out apply a generous amount of the Vitamin C MatteFLUID sunscreen.
---
---
More Info
Safety and Precautions: Please note that it is always advisable to perform a patch test before using any new skincare product, including the Vitamin C skin defense combo. This helps determine if you have any sensitivities or allergies to the ingredients. Additionally, if you have any pre-existing skin conditions or concerns, consult with a dermatologist or skincare professional before incorporating the combo into your routine.
---