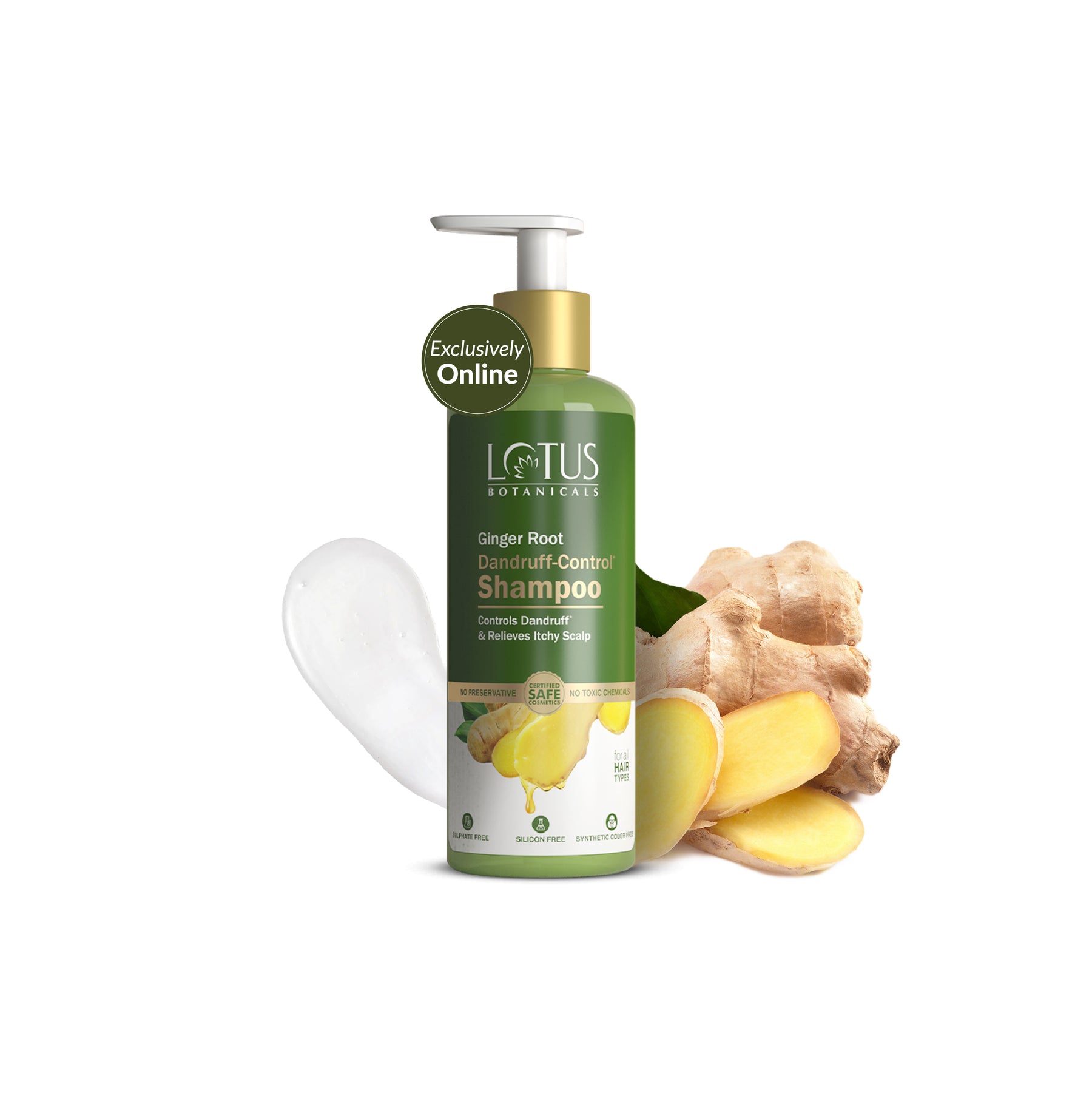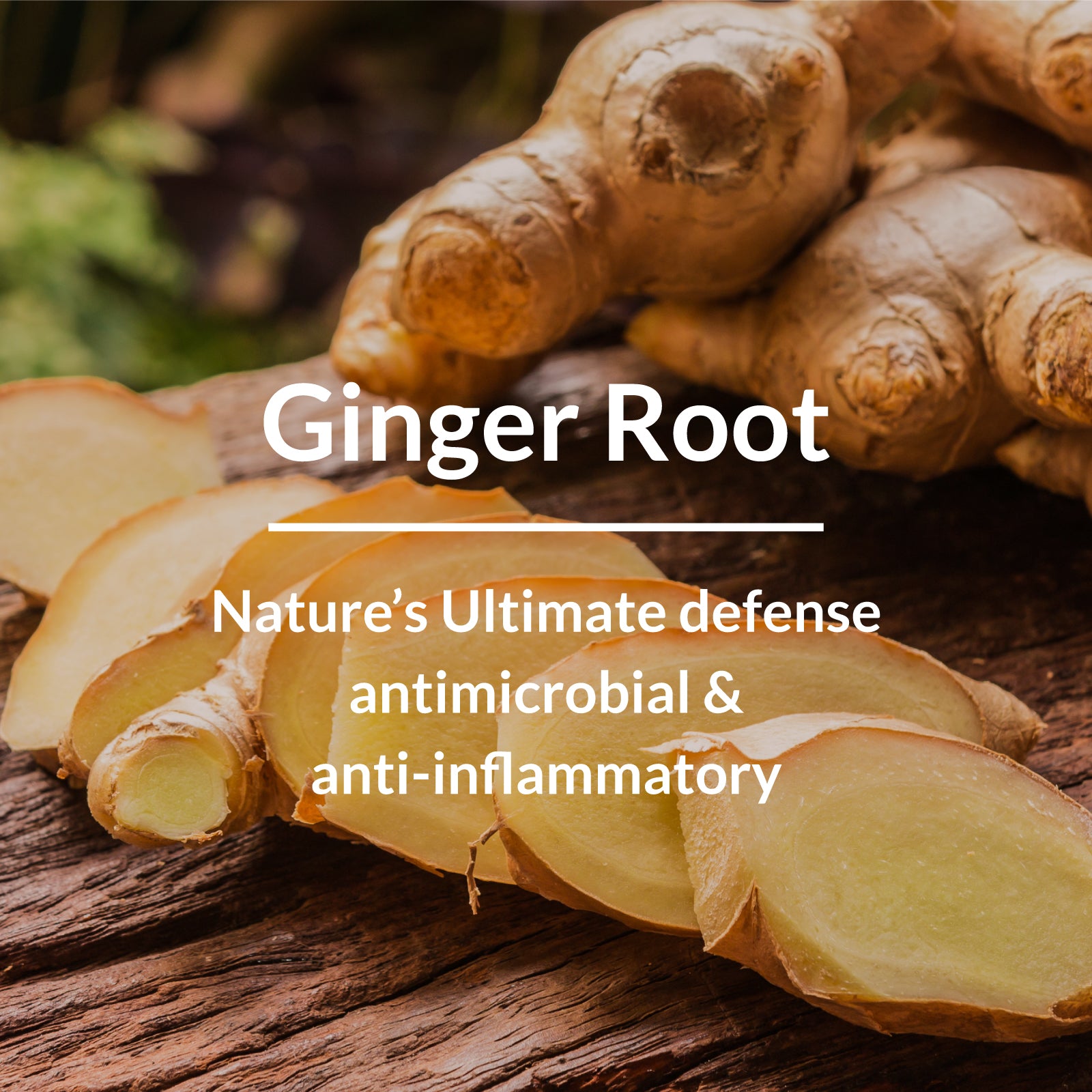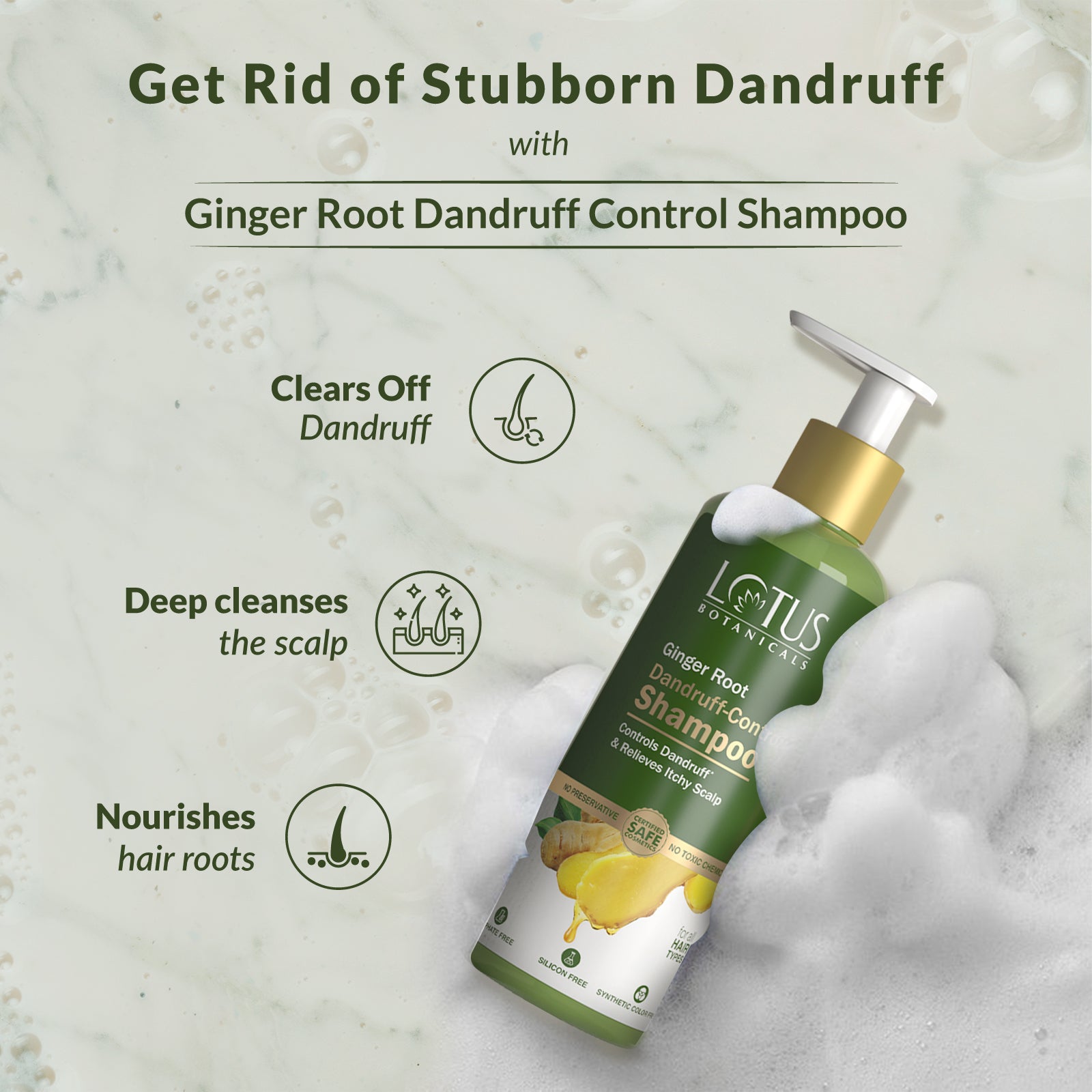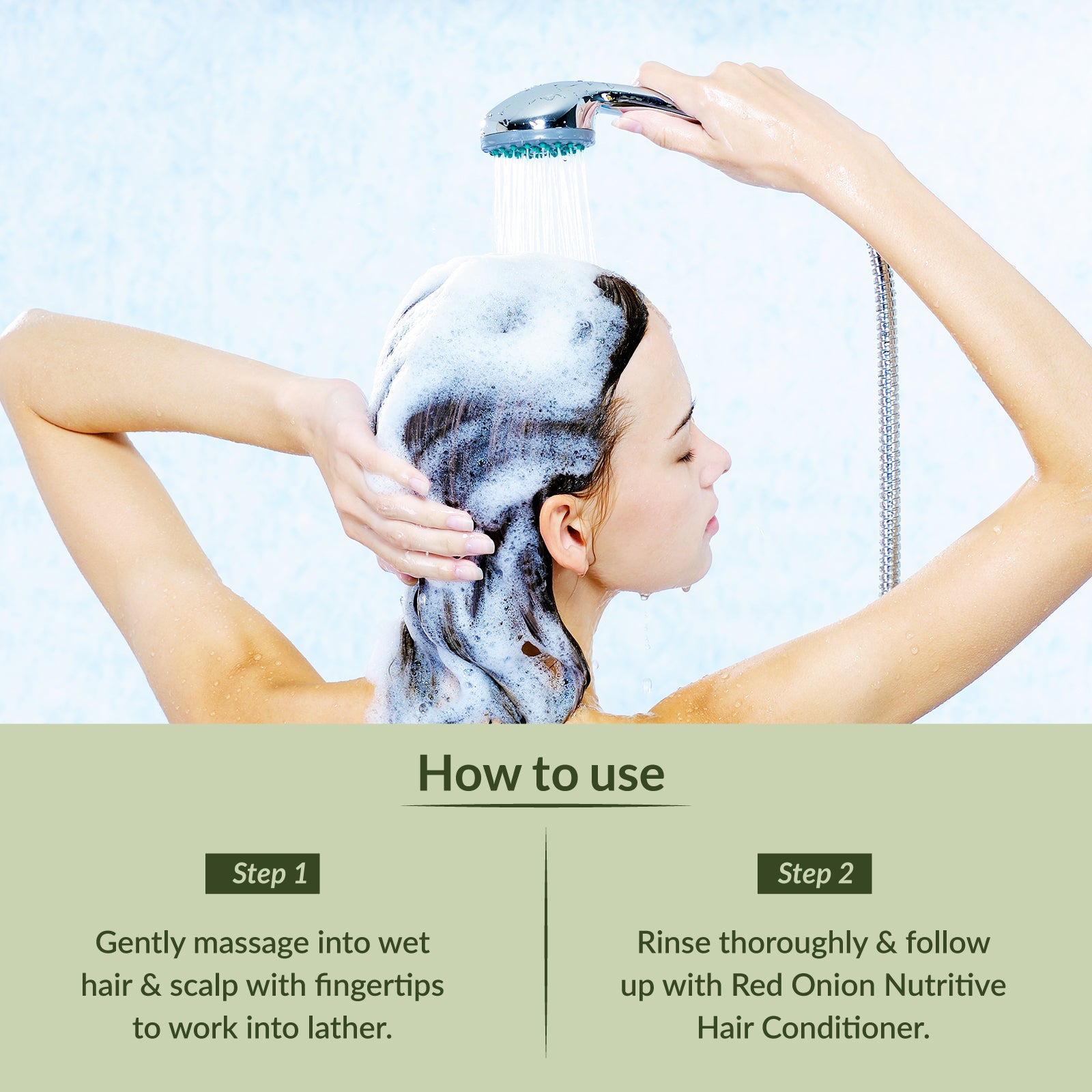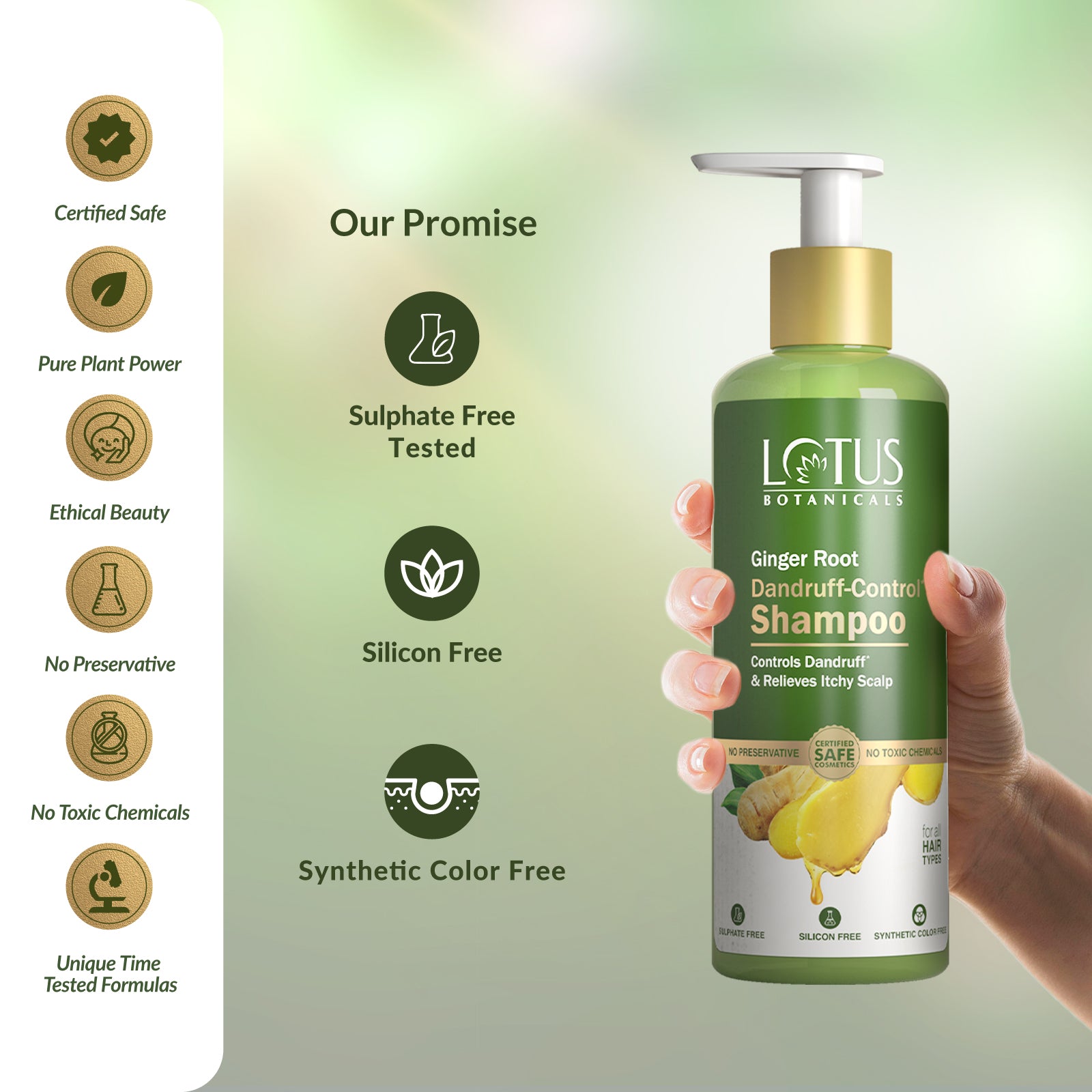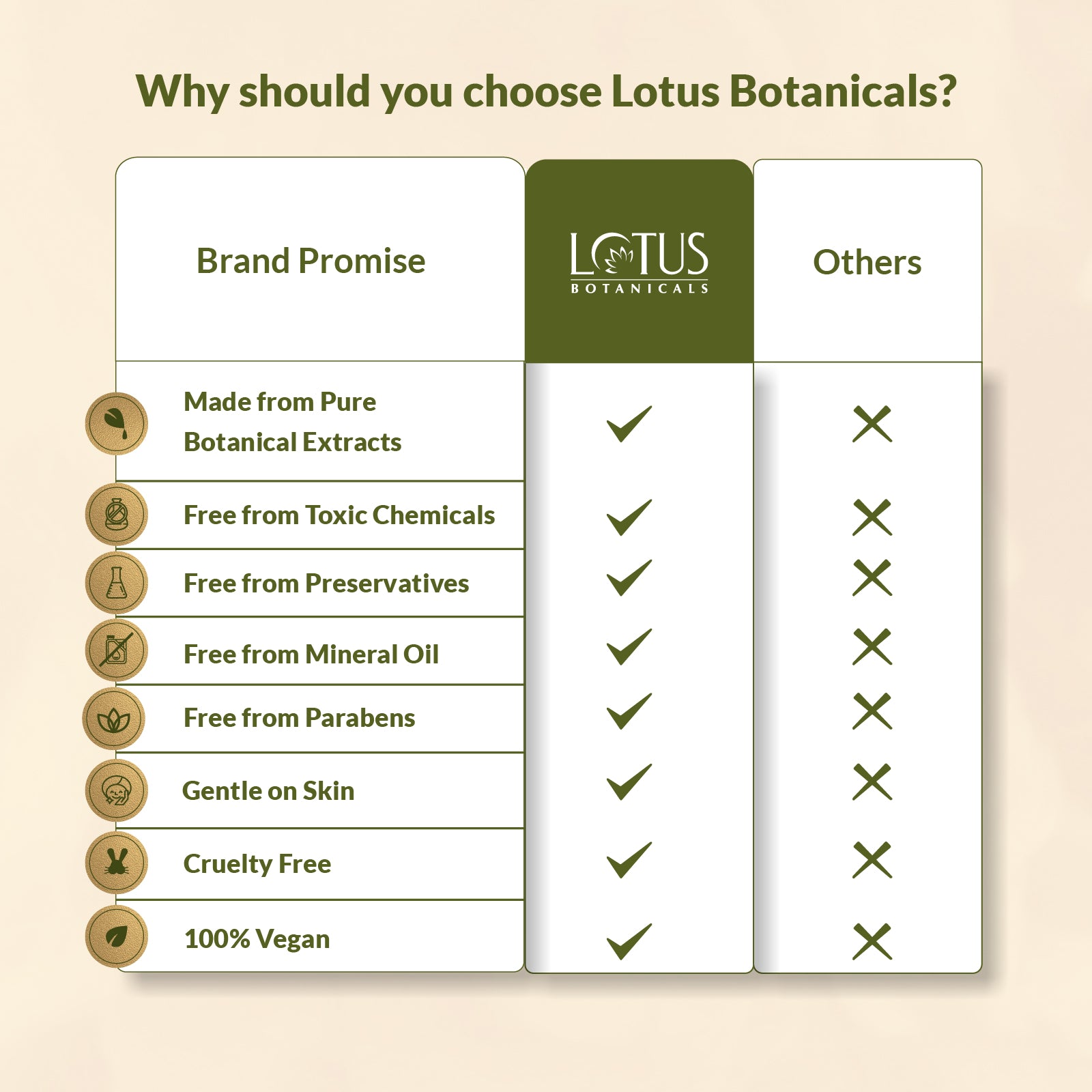 Ginger Root Dandruff-Control Shampoo
Offers You
Can't Resist
🎁FREE Green tea Renew and Restore worth Rs 915 on purchase of Rs 999 or more🎁
🎁 Purchase Ginger Root Dandruff-Control Shampoo to Get FREE Hair Revitalizer 🎁
🎁 Purchase Ginger Root Dandruff-Control Shampoo to Get FREE Ginger Root Hair Oil 🎁
Description

Ingredients

Know Your Product

FAQs

Good To know

More Info

Reviews

You May Also Like
Dirt, dandruff and pollution the troublesome trio! Not anymore! Lotus Botanicals Ginger Root Dandruff-Control* Shampoo has got your tresses as its top priority! 100% Natural Ginger Root Extract & Tea Tree Oil fights even the most stubborn grim and flakiness. A safe and gentle formula that cleanses without stripping your tresses of its natural moisture maintaining its pH balance. Get awe-struck with clean, Lustrous and happy hair!

🫚🍀 Ginger Root stimulates the scalp and promotes hair growth
🫚🍀 Ginger has anti-inflammatory properties, which reduces inflammation on the scalp and improve the health of the hair follicles.
🫚🍀 Ginger root improves the texture and manageability of hair, making it less prone to frizz.
🫚🍀 Improves the overall appearance of hair, giving it a shinier, healthier look.
🫚🍀 No Toxic Chemicals, No Preservatives, No Silicon, No Mineral Oil, No Parabens , No Sulphates, No Synthetic Color, 100% Vegan, Cruelty Free, pH Balanced
Ginger Root

For over 2500 years, ginger root has been used all over the world for its amazing hair benefits. With its antiseptic properties, it reduces scalp infections and dandruff. It also has conditioning properties that improve the look and feel of hair. Ginger root has been an essential part of people's skin and hair care routines since ages and was even used in ancient times to keep the skin healthy. It has antiseptic properties that decrease scalp infections and dandruff. It also has conditioning properties that make hair more shiny and lustrous.


Tea Tree Oil

It clears the follicles and allows hair to breathe. Its anti-fungal nature prevents buildup of access oil on the scalp. Tea tree oil helps in removing the buildup of chemicals down your hair shaft and also removes dead skin. It helps clear your follicles so that your hair can breathe and blood can circulate freely. It also has anti-fungal properties and prevents the excess buildup of oil on the scalp.


Full Ingredients List

Aqua, Caprylyl/capryl glucoside, sodium methyl cocoyl taurate, Cocamidopropyl Betaine, PEG-150 Polyglyceryl-2 Tristearate (and) Laureth-3 (and) Dipropylene Glycol, Propanediol, Coco-Glucoside (and) Glyceryl Oleate, Glycerin, Coco diethanolamide, Climbazole, Polyquaternium-6, Panthenol, Zingiber Officinale (Ginger) Root Extract, Melaleuca Alternafolia (Tea Tree) Leaf Oil, Disodium EDTA, Caprylhydroxamic Acid (and) Phenethyl Alcohol, Fragrance
---
Frequently Asked Questions
Ginger root helps in boosting the blood circulation of the scalp, which keeps the hair follicles healthy and helps in getting rid of dandruff.
Our products are sulphate-free, and because of that, they don't create much lather. But the effectiveness of the product is not compromised in any way.
The ginger root shampoo consists of a pure ginger root extract that is antiseptic and antibacterial in action. It cleanses the scalp and prevents microbial growth on the hair follicles, which keeps them free from infection. It also conditions the hair and makes them more lustrous.
You can use the ginger shampoo by gently massaging it onto your wet scalp with your fingertips and working it into a lather, although too much lathering is not expected. After massaging for some time, rinse it off thoroughly.
Ginger does promote hair growth as it boosts circulation in your scalp. It also strengthens the roots of your hair follicles.
The ginger shampoo consists of ginger root extracts with anti-inflammatory properties. It thoroughly cleanses the scalp and also keeps it nourished by preserving the natural oils on the scalp, which help in keeping dandruff in check.
Yes, ginger root has been known to have exceptional properties that can play a vital role in safeguarding your health. In addition to its anti-inflammatory and anti-bacterial properties, ginger root is also a potent ingredient to prevent dandruff.
It is not advisable to apply ginger directly to the scalp as you might not be sure about the manner in which it would react with your skin. It is always a good idea to go for a ginger root shampoo from a trusted brand to experience the benefits of this wonder ingredient. However, it would be in your best interest to do a patch test to look for any signs of scalp itching or irritation.
The ginger root shampoo by Lotus botanicals is perfect for managing dandruff in your hair. Furthermore, it is also useful for blanaci b the pH level of your scalp and maintaining an appropriate moisture level.
It is advisable to use this product every time you wish to shampoo your hair. The number of head baths taken in a week can vary from person to person depending upon hair type and texture. Ideally, it is recommended to use this product 2-4 times a week depending upon your requirements.
Yes, this is a gender neutral product, which means that it can be used by both men and women. Having said that, it is improbable for men to focus on their hair care routine as much as women.
This product has been made from natural ingredients and it is free from any toxic chemicals and additives. This product is suitable for all but it is advisable to do a patch test to check for any signs of scalp irritation.
---
Good To Know
As a 100 % natural product, temperature changes can affect the consistency of the product, but not its effectiveness.
Discontinue in case of irritation or sensitivity.
Store in cool a dry place away from direct sunlight.
For external use only.
Avoid contact with eye. If contact occurs, rinse immediately with water.
Sulphate free shampoo does not create much lather but cleanses properly.
Do not refrigerate.
---
More Info
Add Ginger Root Hair Care Product In Your Hair care Regime
Hair care is an important component of your daily routine because it enables you to take care of your overall hair health and consequently feel more confident. Once cannot undermine the aggressive nature of external stimulants and in the face of all this, it becomes absolutely imperative to pay categorical attention towards taking care of your hair. 
Since the past few years, people have become more aware and conscious of the kind of products that they use on their skin and hair, therefore, there has been a growing trend in adoption of organic and natural products into one's skin care and hair care routine. 
One such ingredient that has managed to make it big in the hair care industry is ginger root. A ginger root shampoo is an excellent addition to your hair care routine, owing to its amazing hair benefits. If you wish to buy the best ginger root shampoo online, you can order the Lotus Botanicals ginger root shampoo from the website. 
Buy Ginger Anti-Dandruff Shampoo Online
This winter, forget about dandruff problems due to a dry scalp, thanks to the ginger root dandruff control shampoo that will fight stubborn flakiness and itchy scalp. It is packed with the goodness of ginger root extract product and tea tree oil which help in cleansing the scalp without stripping off its natural oils and moisture. Try ginger shampoo for a dry and damaged scalp and obtain lustrous and shiny hair. 
This shampoo is suitable for all types of the scalp, however, those with dandruff, dryness, itchy scalp and flakiness can derive maximum benefits from its natural ingredients. It is 100% vegan and cruelty-free and does not contain any toxic chemicals or preservatives.
Bid adieu to dirt, dandruff and itchy scalp with the Ginger Root Dandruff-Control Shampoo. Loaded with 100% natural ginger root extract and tea tree oil, it fights even the most stubborn grim and flakiness. Its cleanses the scalp without disturbing its moisture and pH balance. Say hello to clean scalp and lustrous happy hair.
Benefits of Lotus Botanicals Ginger Root Shampoo
There are several benefits of using this dandruff-free shampoo: 
It contains ginger root which is a great antiseptic and will cleanse your hair thoroughly without letting them become dry. 

This shampoo is free of sulphates, parabens, and other toxic chemicals that cause damage to the scalp and may cause

hair fall

. Our ingredients are transparent and beneficial.

The tea tree oil elevates the

Lotus ginger shampoo

and makes it even more nourishing and rejuvenating for your scalp.

Get shiny locks, free of dandruff with the help of

ginger for dandruff,

which has various medicinal uses and also maintains the pH of the scalp.
Uses Of Ginger Root Shampoo
Primarily, this ginger shampoo can be used by those with extremely dry scalps and dandruff or flaky scalp.

However, ginger shampoo is suitable for all types of hair, be it oily, dull, dry or damaged. 

Special concerns are itchy, flaky, and dry scalp which occurs most commonly in the winter.
Good To Know
Always test the product on your skin or hair, and if irritation occurs, discontinue its use.

It is best stored in a cool and dry place that is away from direct sunlight.

Avoid any contact with your eye and if it does occur, wash it immediately with water.

You may notice that this shampoo does not create much lather as it is sulphate-free but this does not affect its cleansing properties in any way.

As this is a completely natural product, there may be some changes in the consistency of the product as per the surrounding temperature, which should be considered normal.
Steps Of Using Lotus Botanicals Ginger Root Shampoo
Here are the steps to follow to use the Lotus ginger root shampoo the right way:
Firstly, wet your hair and scalp and then apply a small amount of

hair shampoo

by massaging it onto your scalp with your fingertips

Rinse it off later on and remove all the shampoo from your hair.

You can also use a

hair conditioner

after this to hydrate your hair.
Best suited for: All hair type
Concerns: Dandruff, dry, itchy and flaky scalp
Paraben Free 
Silicon Free  
Mineral Oil Free
Anti-Pollution 
pH Balanced 
Cruelty Free 
100% Vegan 
Recyclable 
Key Benefits
Deeply cleanses the scalp. Removes dirt, dandruff and the effects of pollution.
Restores scalp health by soothing dry & itchy scalp.
Protects natural moisture and maintains pH balance of the scalp.
Directions To Use
Step 1:
Gently massage into wet hair and scalp with fingertips to work into lather.
Step 2.
Rinse thoroughly.
---