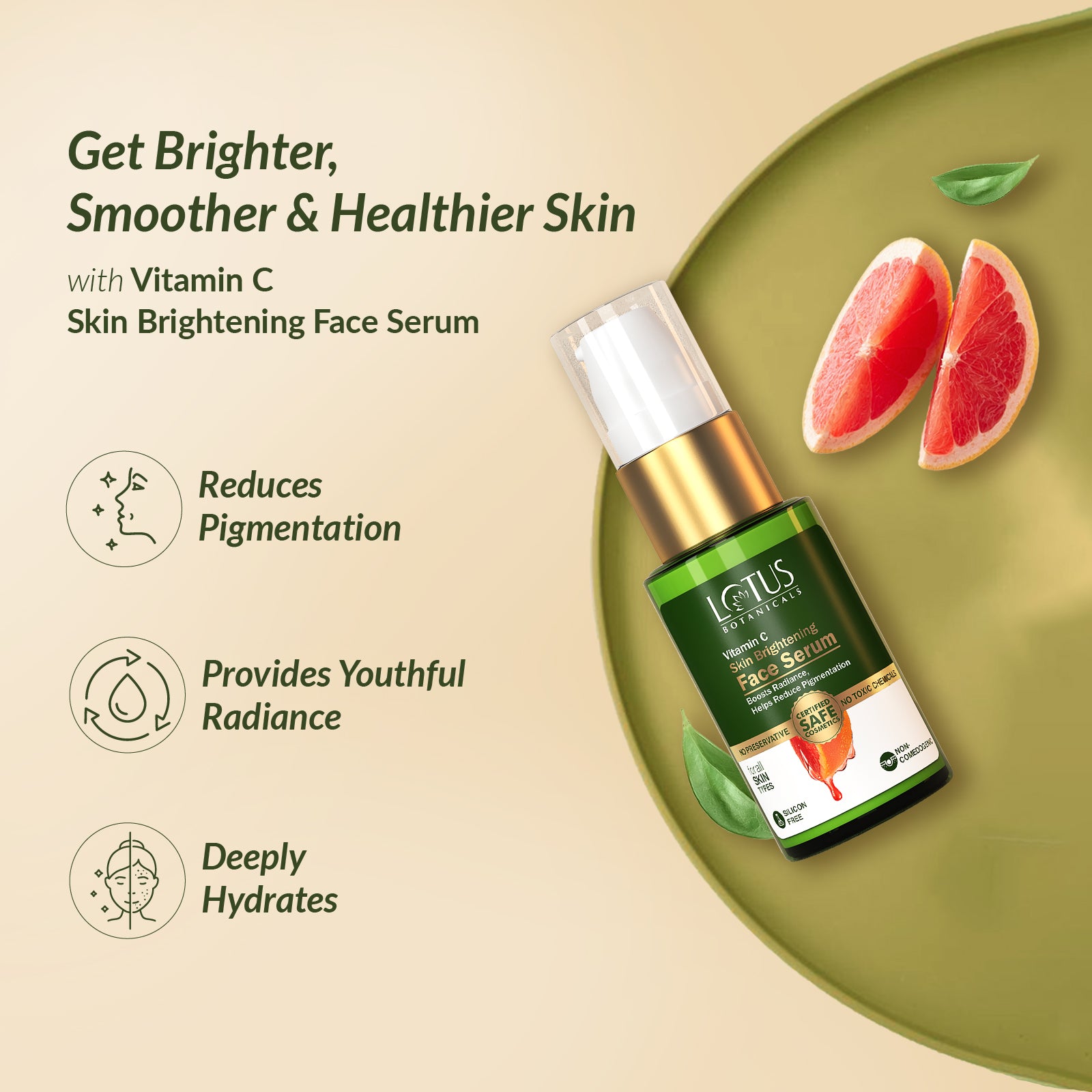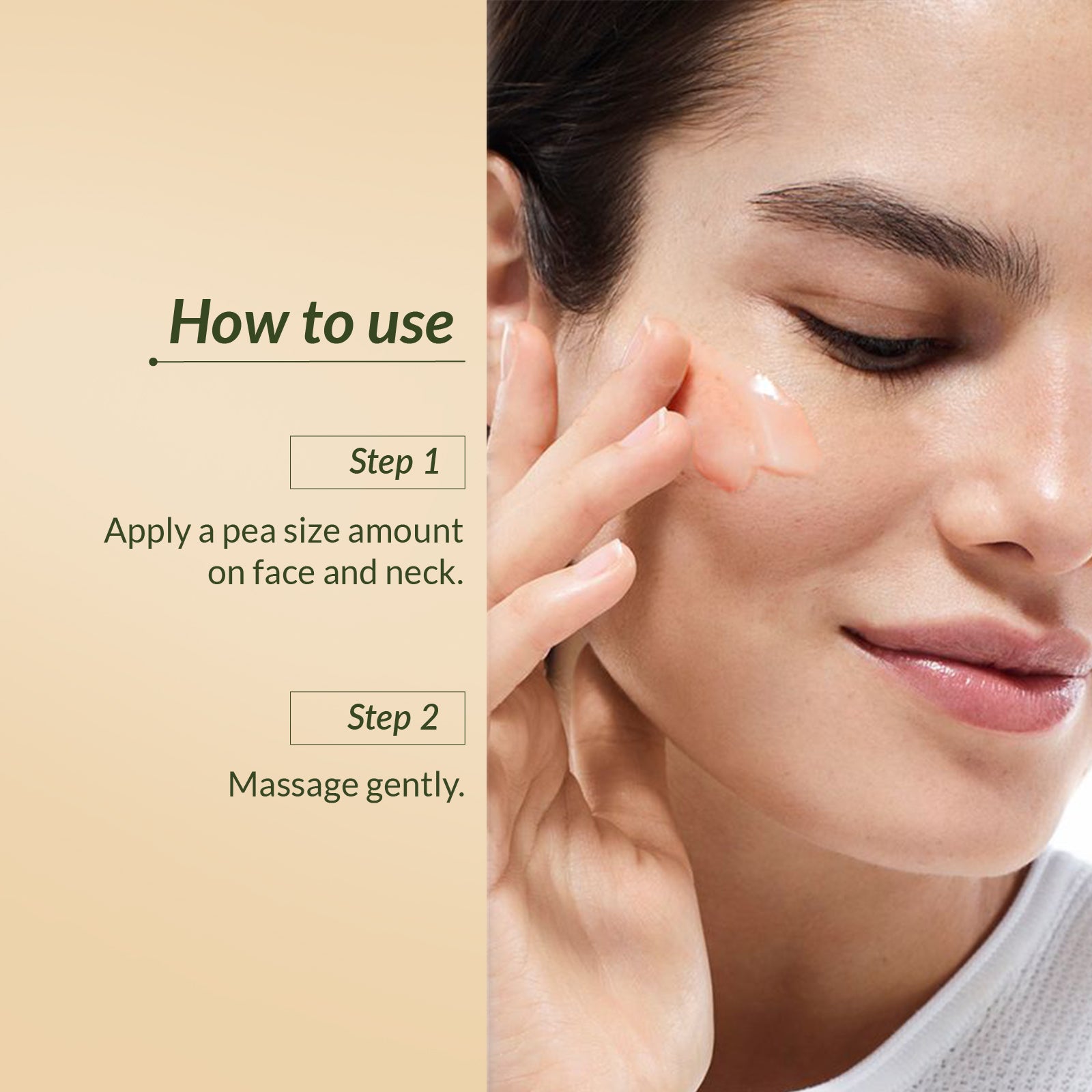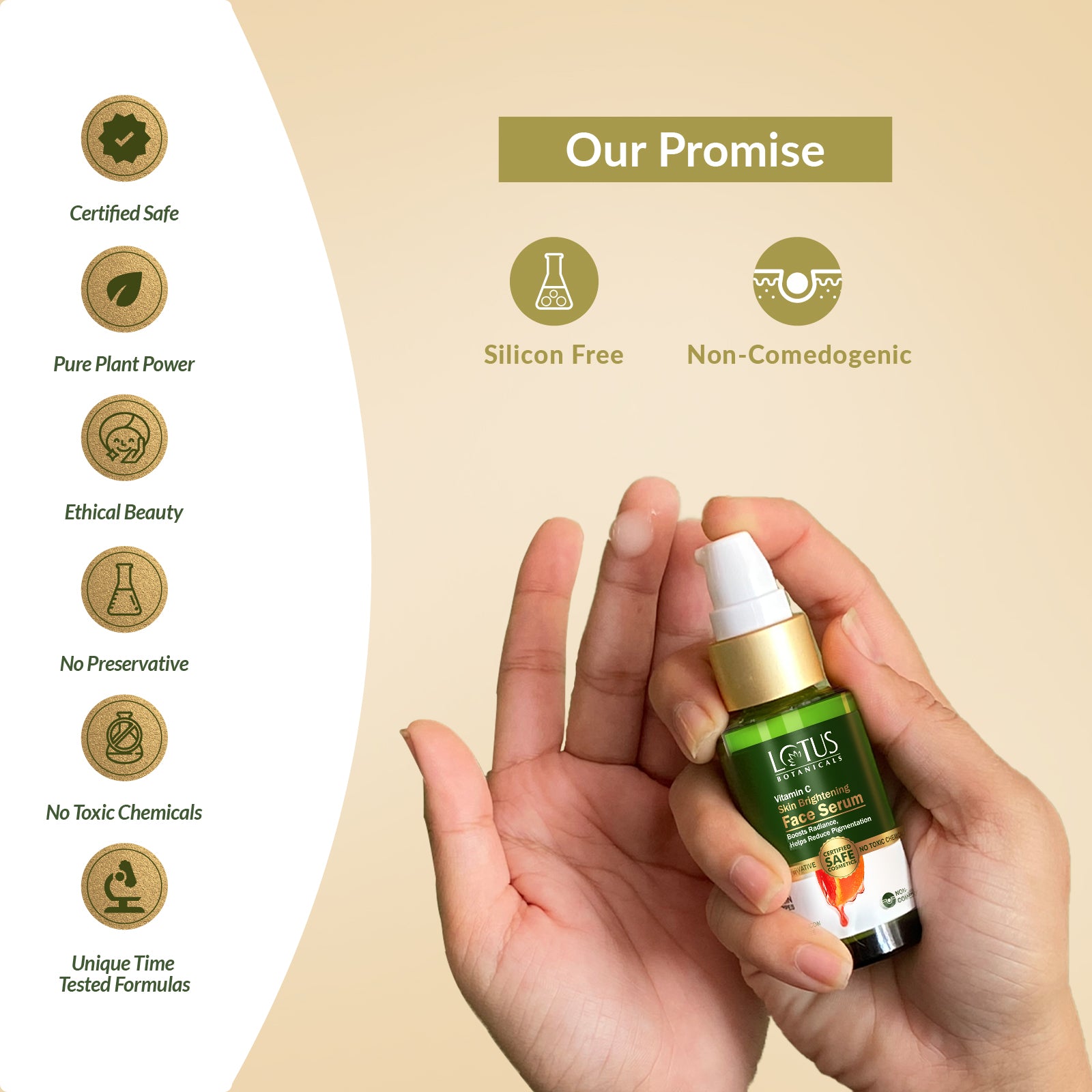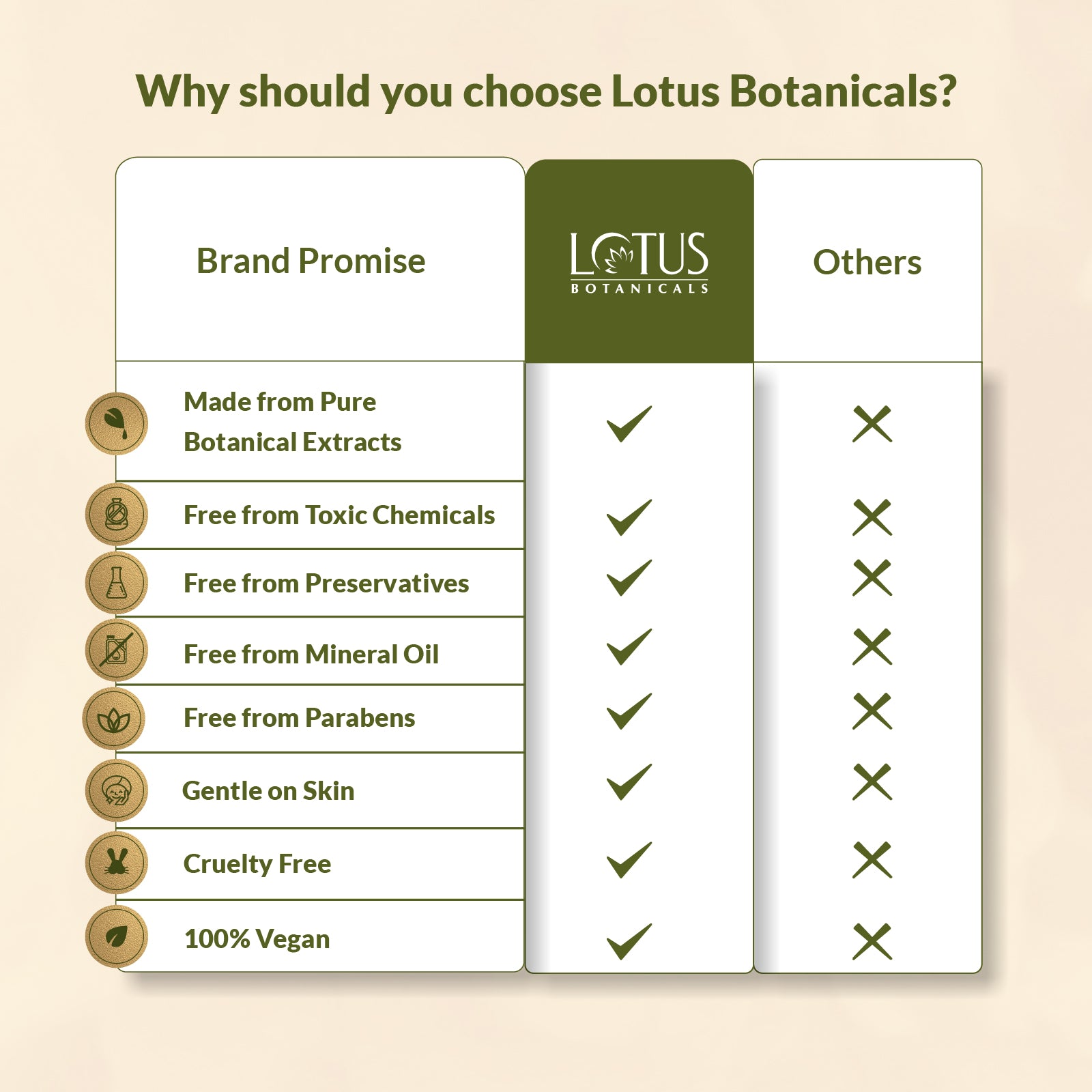 Vitamin C Skin Brightening Face Serum
Offers You
Can't Resist
🎁 FREE Vitamin C Wash N Moisturise Worth Rs 960 on purchase of Rs999🎁
Description

Ingredients

Know Your Product

FAQs

Good To know

More Info

Reviews

You May Also Like
Lotus Botanicals Vitamin C Skin Brightening Face Serum is the ultimate potent, concentrated and antioxidant dose of Vitamin C that your skin needs! It targets dull, uneven and ageing skin, making it lighter, brighter and firmer. Let your skin sparkle all the way with a youthful radiance!

• Results in brighter, smoother and healthier skin
• Fades Pigmentation
• Instant Absorbing Formula
• Deeply Hydrates and moisturises skin
• Makes skin younger looking and firmer
Vitamin C

A powerhouse ingredient, Vitamin C is well-known for its skin-brightening benefits. It fades spots, scars and pigmentation. It is a potent antioxidant that neutralizes free radicals created in the skin due to oxidative stress. It aids in skin's natural cell regeneration. It also helps recover skin and reduces redness either caused by sensitivity, overexposure to the sun or inflammatory skin disorders. It refreshes, energises and radiates the skin.


Full Ingredients List

Aqua, Niacinamide, Propanediol, Glycerin, Heptyl Undecylenate, Hydroxyethyl Urea, Coco-Glucoside (and) Glyceryl Oleate, Biosaccharide Gum-4, Polyacrylate Crosspolymer-6, Terminalia Ferdinandiana (Kakadu Plum) fruit extract, Enteromorpha Compressa Extract (and) Silybum Marianum Fruit Extract (and) Ocimum Sanctum Leaf Extract (and) Citric Acid, Xylitylglucoside (and) Anhydroxylitol (and) Xylitol, Tocopheryl acetate, EDTA disodium, Allantoin, Caprylhydroxamic Acid (and) Phenethyl Alcohol, CI 15985, Fragrance


Grapefruit

This Vitamin C skin brightening face serum is packed with the goodness of grapefruit extracts that have a high vitamin C content and categorically targets dark spots and sun damage. It also helps to naturally exfoliate the skin while packing in the moisture to make it look more radiant.


Niacinamide

It is a form of Vitamin B3. Niacinamide is instrumental in enhancing the keratin production that imparts beneficial properties to the skin in order to make it healthy, luminous and firm. This ingredient is very helpful in retaining the natural moisture of the skin.
---
Frequently Asked Questions
Our Vitamin C Skin Brightening Face Serum hydrates, evens out skin tones and prevents skin ageing. It also neutralizes free radicals which cause skin damage.
Use it every morning and night for best results.
The Lotus Botanicals Vitamin C face serum works like a magic potion for your skin by imparting a comprehensive range of skin benefits.
You can use a Vitamin C face serum twice a day, everyday. It works for all skin types and has amazing skin benefits.
Regular usage of this Vitamin C serum can yield noteworthy results within a period of four to twelve months.
This Lotus Botanicals Vitamin C face serum can revitalise, hydrate and nourish your skin. It enhances the collagen production in skin and provide a broad spectrum of skin brightening and healing benefits.
Yes, you can use the Vitamin C face serum in the morning after washing and toning your face. You can also use it at night before bedtime.
You should use the Vitamin C serum before applying the moisturiser.
You can use this serum everyday. We recommend applying this Lotus face serum twice daily to experience long-lasting benefits.
You can use this serum regularly. It's best to use it every time you wash or deep clean your face.
This is the best vitamin c serum for glowing skin. It would help if you use it regularly for an even skin tone and a radiant complexion.
You don't have to wash your face after applying the vitamin c face serum. You can let it stay on your face so your skin can absorb it.
Yes, the Lotus Vitamin C serum is rife with the goodness of Vitamin C which provides a broad range of benefits to your skin. In addition to that, the lightweight and non greasy formulation of this face serum glides onto your face beautifully to keep your skin nourished and hydrated.
You can buy Vitamin C serum online from Lotus Botanicals. It is the best serum for your face because it is endowed with a number of skin healing and nourishing benefits.
Yes, this Vitamin C serum can be used everyday. Owing to its stellar benefits, it is an excellent addition to your daily skincare routine.
Yes, it is advisable to moisturise your face after using this Vitamin C serum. You can opt for the Lotus Botanicals Vitamin C skin brightening day creme you give your face that much needed moisture boost.
Vitamin C is a very potent antioxidant that has numerous benefits for your skin. However, it is advisable to not mix it with Retinol or Retinol infused products.
Consistency is the key when it comes to satisfactory results. With regular usage, you can see visible results in four to six weeks.
Yes, this Vitamin C serum can be applied under your eyes to hydrate your sensitive under eye area.
Yes, our Vitamin C serum is made from natural and sustainable ingredients. It is suitable for all skin types but it is advisable to do a patch test to mitigate the possibility of any kind of skin irritation.
You should use vitamin C in the morning rather than at night since it helps shield your skin from free radicals, UV radiation, and pollution. As a general guideline, skincare products should be applied in a consistency gradient from "thinnest" to "thickest." Vitamin C serum work best when your skin has been adequately exfoliated. The layer of dead skin cells brought on by inadequate exfoliation might make it challenging for products to penetrate. The benefit of vitamin C serums is that, because the best ones never feel sticky, you may apply them as a foundation layer under any products you use in the morning.
---
Good To Know
We recommend that people with sensitive skin always perform a patch test first to ensure there is no reaction. Discontinue if irritation occurs.
Store in a cool and dry place.
In case of pregnancy, please consult with your physician before the product usage.
For external use only.
---
More Info
If you wish to enrich the quality and impact of your skincare routine, then introducing a Lotus face brightening serum to your daily skincare regime is a great idea. Its powerful formula hydrates, evens out skin tones and prevents skin ageing. A must for every skincare routine, vitamin C face wash's  regenerative ingredients truly preserve the skin's authentic beauty and its lightweight formula  can be used by both men & women. By removing free radicals, this vitamin C face serum can reduce wrinkles, dullness, and age spots.
Face Serums help boost the collagen production of the skin, thus keeping skin inflammation and irritation at bay. Vitamin C is a very potent antioxidant that works wonders on the skin, and when infused in your face serum, it becomes a powerhouse of a number of skin energising and brightening benefits. The Vitamin C face serum is a light and non-greasy formulation of face oil. Lotus Botanical Vitamin C face serum can be regarded as the best face serum online for skin brightening. 
Benefits of Vitamin C Brightening Serum 
Vitamin C skin brightening serum deeply hydrates and nourishes your skin
This Lotus face brightening serum has all the essential nutrients that provide outstanding hydration to your skin and also enable it to seal in moisture. 
Vitamin C skin brightening serum has many skin brightening benefits. 
It is an illuminating serum that will provide unprecedented shine to your face and enable you to get that youthful glow. Vitamin C face serum has amazing skin brightening properties that will make your skin glow naturally. 
Vitamin C face brighetning serum is your solution for flawless skin tone 
The Lotus Botanicals Vitamin C serum is the best serum for uneven skin tone. It reduces the inflammation and puffiness on your face for an even and glowing complexion to shine through. 
Vitamin C face brighetning serum works like a dream on hyperpigmentation.
 By enhancing melanin production, this Vitamin C face serum fades hyperpigmentation and targets various acne spots, sun spots and age spots on your face. It is an effective solution packed in the form of serum for pigmentation. 
Vitamin C face brightening serum enhances collagen production. 
Collagen is a skin protein that enhances skin elasticity and its overall strength. This Lotus face serum boosts collagen production in the skin and helps in imparting overall skin benefits. 
How to use Vitamin C Face Serum
A vitamin C serum should be a part of your regular skin care regime if you are in your 20s and 30s because with age the natural collagen production of your skin depletes. You can restore the collagen production with regular usage of this illuminating lotus serum for pigmentation in addition to enjoying a number of other skin benefits. 
You should apply this serum everyday after you wash your face, but before putting on the moisturiser and sunscreen. 
Take a few drops of this skin brightening serum and gently massage your face with it. 
This Vitamin C face serum as can also be used as a night serum and you can apply it on your face after you remove your make up and wash your face at night. You should let it stay on your face overnight for best results. Buy Vitamin C serum online from Lotus products store.
Skin brightening serum and concentrates are some of the most well-liked beauty products now available in the cosmetics industry. After cleansing but before moisturising, they should be used. These are designed to deliver the most potent chemicals possible right to your skin. The most common uses for face brightening serum are to balance out skin tone, minimise fine wrinkles, brighten, tighten up, or get rid of dark spots. You are taking good care of your skin after you incorporate them into your everyday skincare regimen. Lotus Vitamin C serum price is Rs. 785.00
Best suited for: 
All skin types
Concerns: 
Dull, dehydrated skin, hyperpigmentation, dark spots and uneven skin tone
Paraben Free 
Silicon Free  
Mineral Oil Free
Anti-Pollution 
pH Balanced 
Cruelty Free 
100% Vegan 
Recyclable
Key Benefits
Results in brighter, smoother and healthier skin.
Fades pigmentation and smoothens the skin.
Gets absorbed faster and delivers proven results from inside out.
Directions To Use
Step 1:
Apply a pea size amount on face and neck.
Step 2:
Gently massage to ensure even distribution.
Follow with Vitamin C Skin Brightening Day Crème for better results.
---