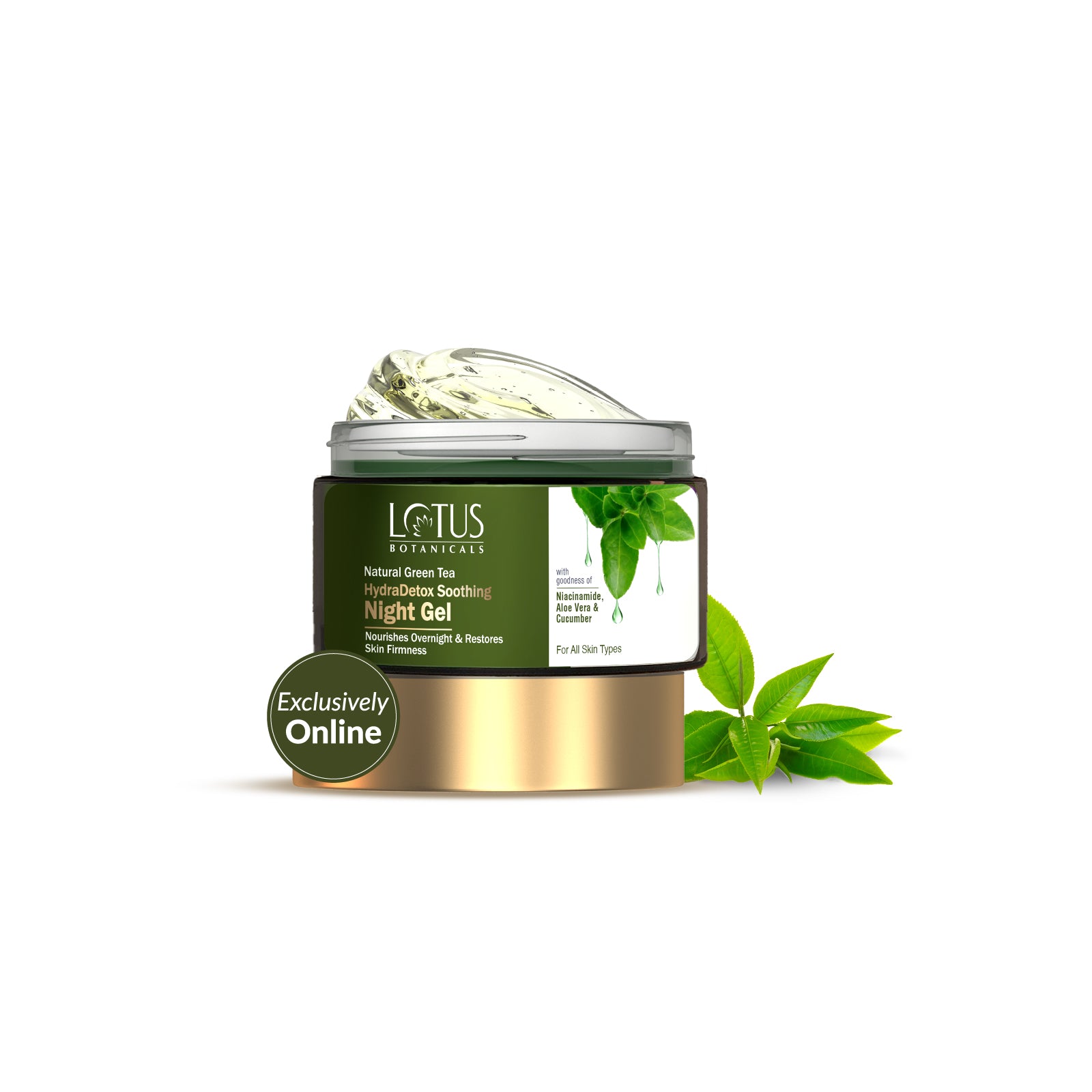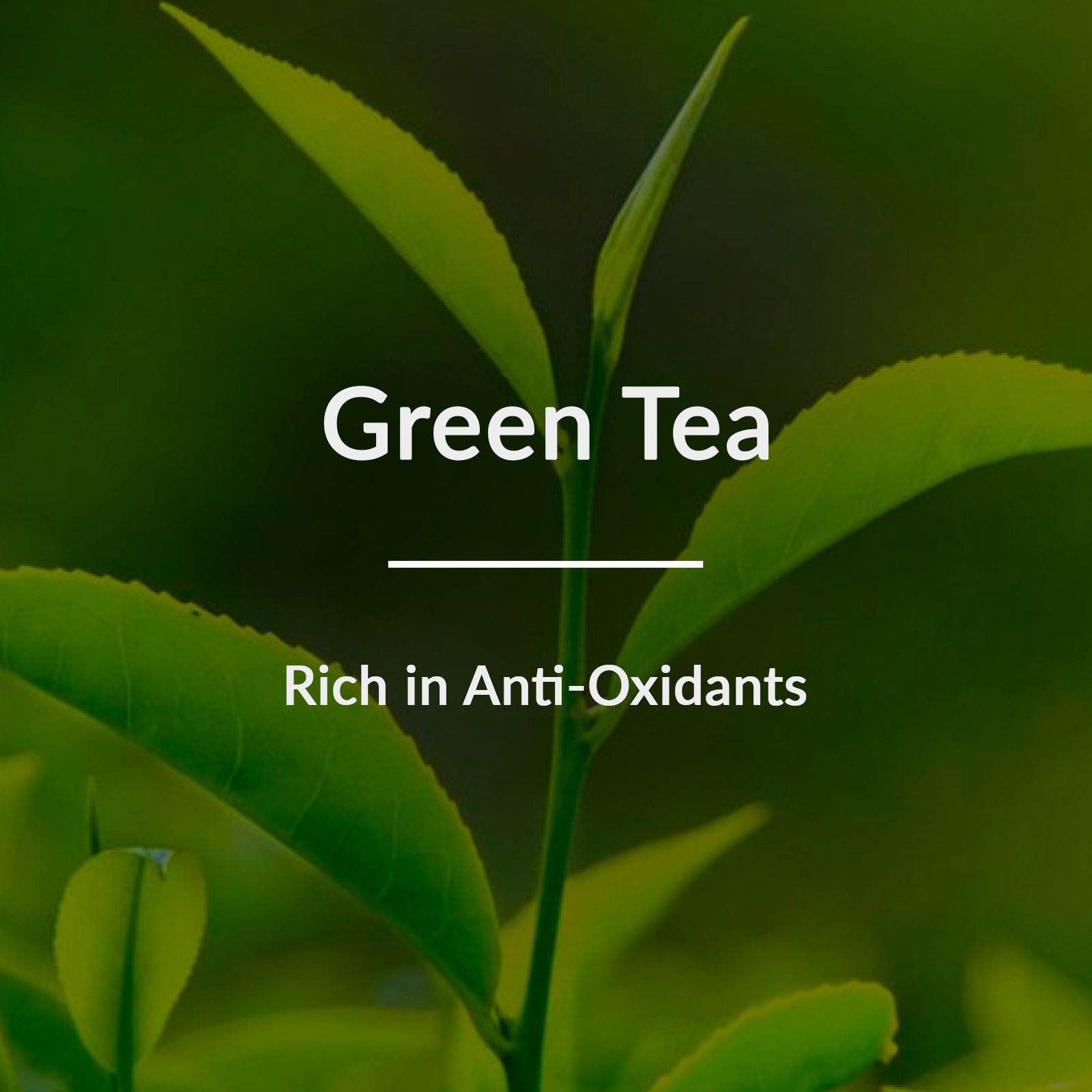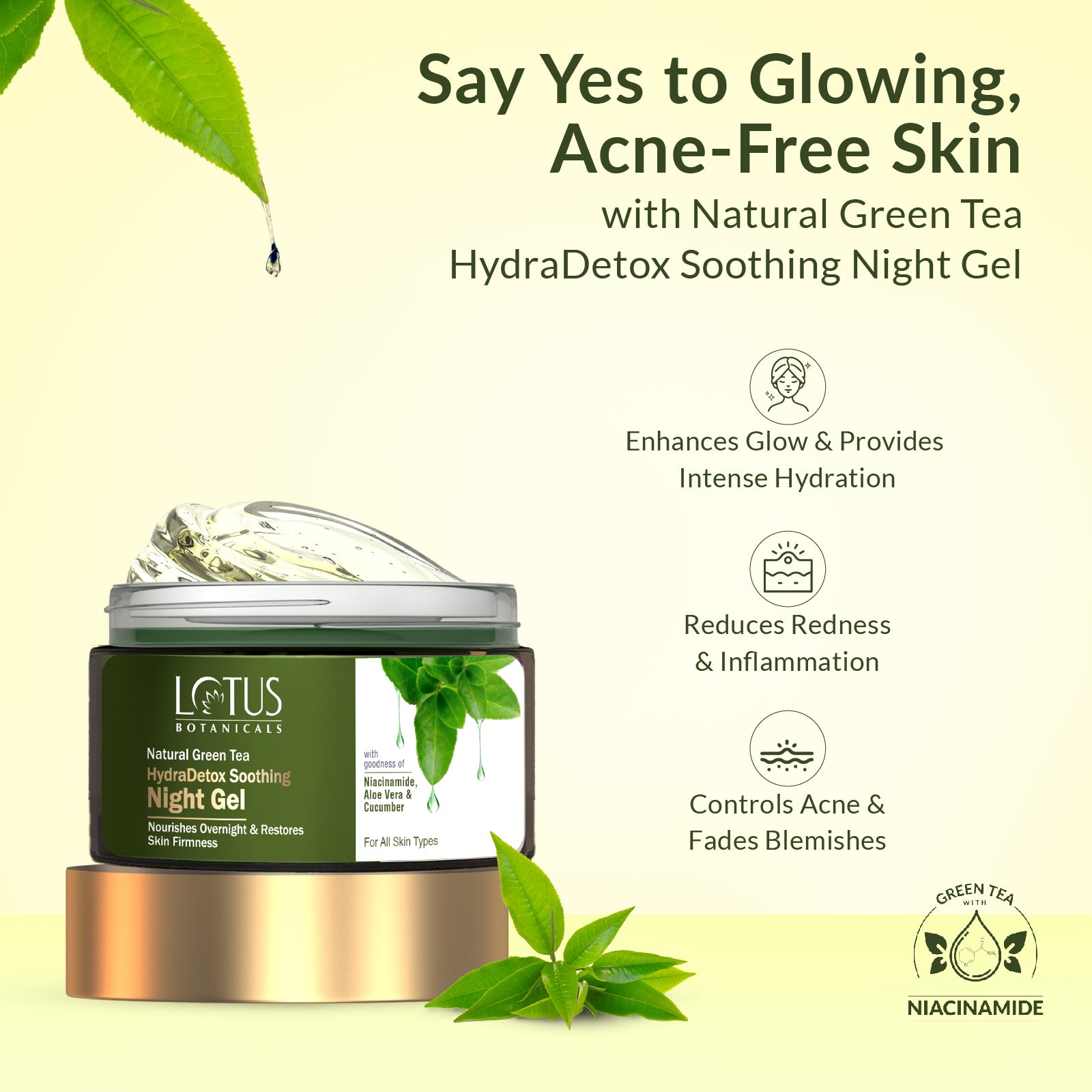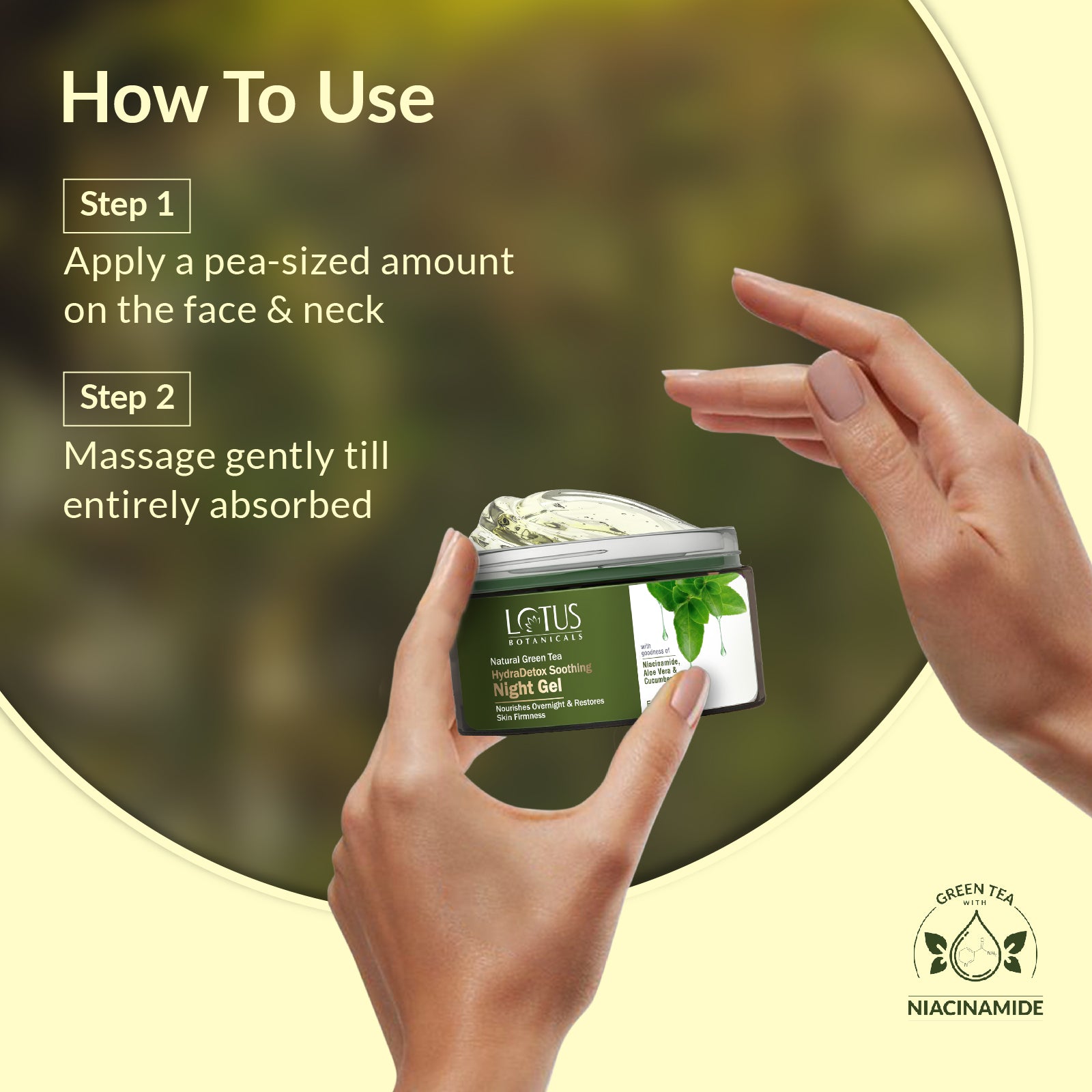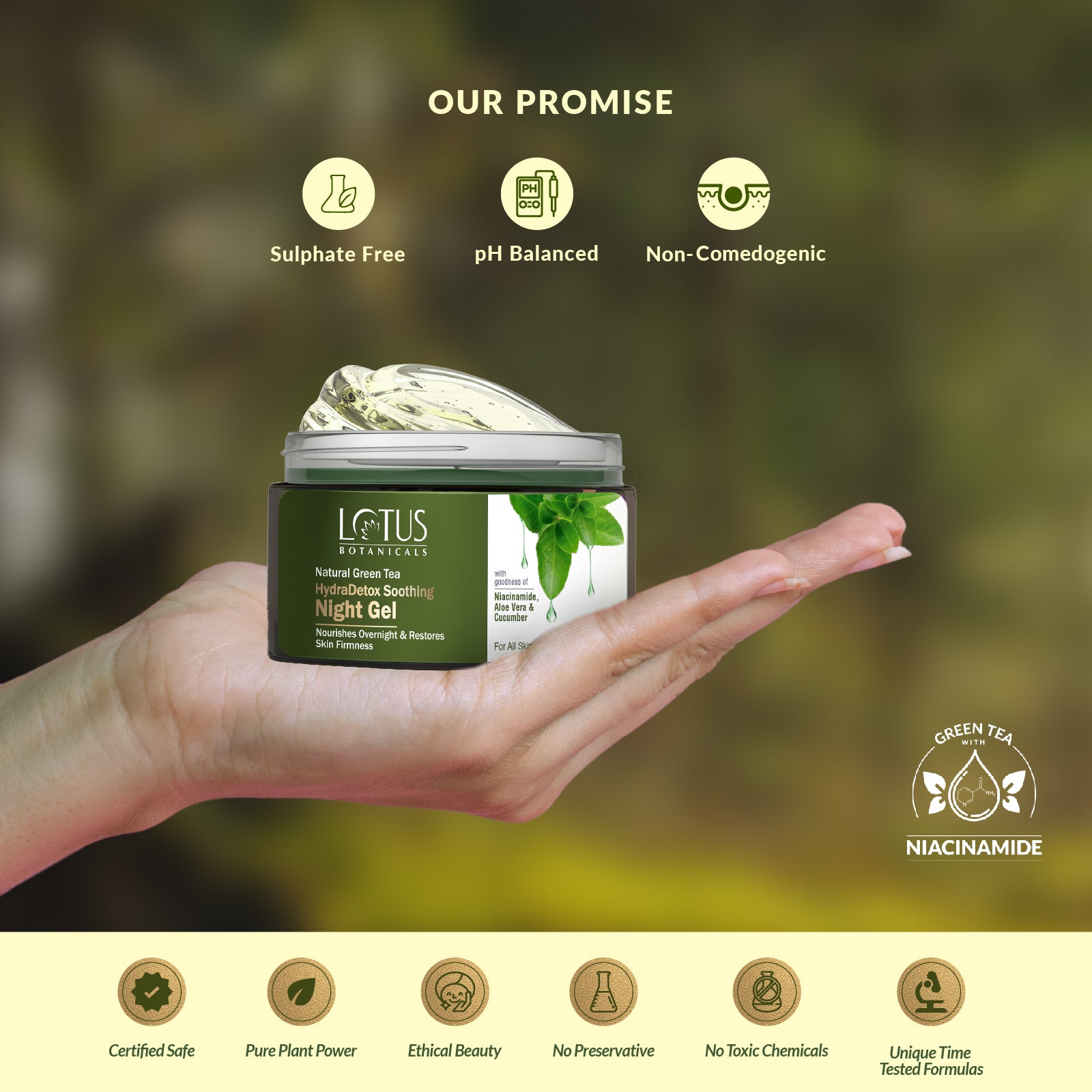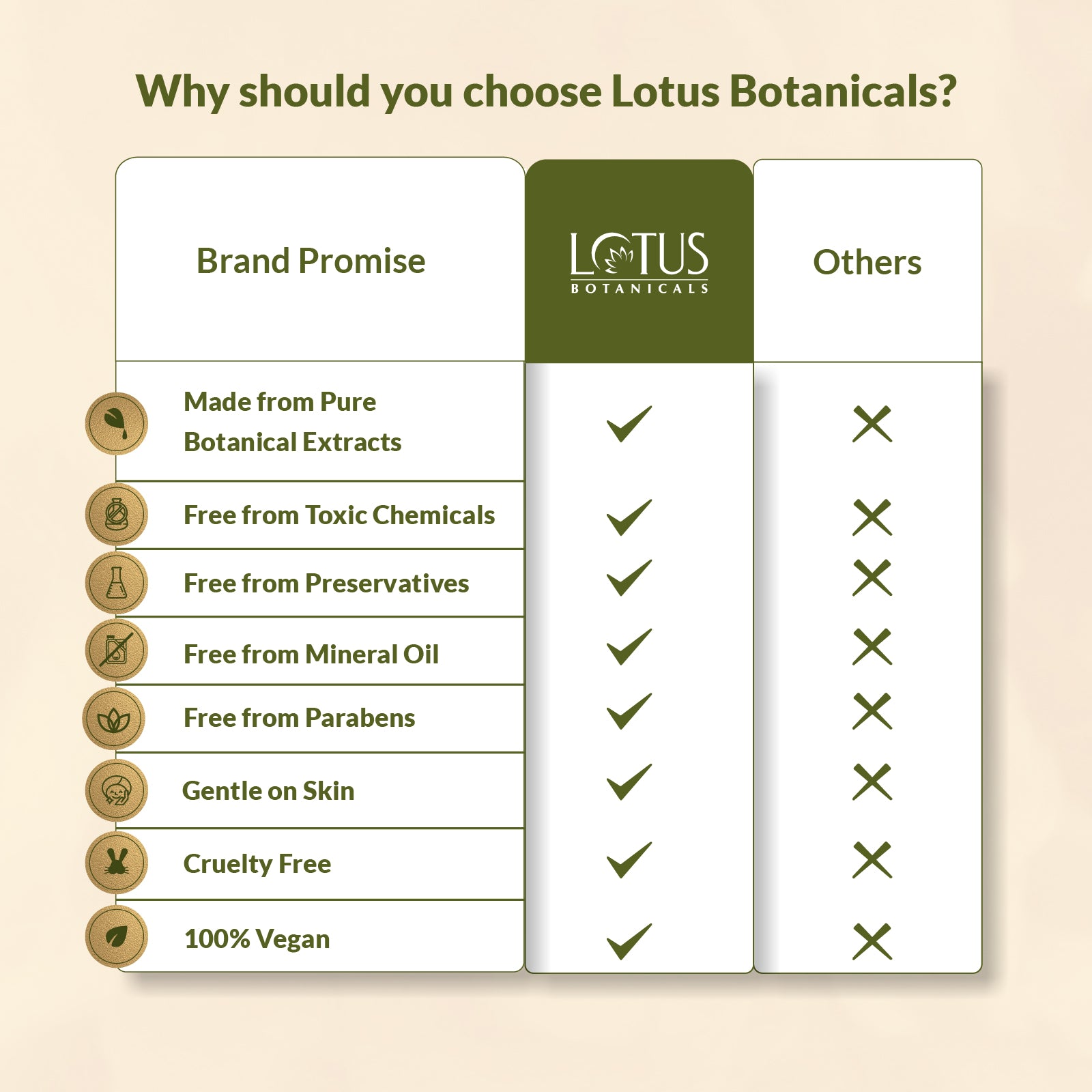 Natural Green Tea HydraDetox Soothing Night Gel
Offers You
Can't Resist
🎁 FREE Vitamin C Wash N Moisturise Worth Rs 960 on purchase of Rs999🎁
Description

Ingredients

Know Your Product

FAQs

Good To know

More Info

Reviews

You May Also Like
Give your skin the pampering it needs with Lotus Botanicals Natural Green Tea HydraDetox Soothing Night Gel to restore the skin firmness with it's anti-ageing properties. The potent antioxidants work magically in repairing the skin overnight while you are enjoying a blissful sleep.

• Made with unique combination of Green Tea, Aloe Vera, Cucumber and Niacinamide
• Soothes skin overnight
• Fights acne, pimples, redness and inflammation
• Prevents skin ageing
• Promotes skin firmness
• Rejuvenates Skin by providing intense moisturisation
• No Preservatives, No Toxic Chemicals, Sulphate Free, Silicon Free, Mineral Oil Free, Non-Comedogenic, pH-Balanced, Anti-Pollution, Cruelty Free, Allergen Free Fragrance, 100% Vegan
The Lotus Botanicals green tea night gel has been formulated with a robust blend of these ingredients :
Green tea
Green tea has numerous anti-microbial and anti-inflammatory properties. As a matter of fact, the polyphenols present in green tea can help in the prevention of many malignant diseases such as skin cancer.
Aloe Vera
In addition to its moisturising and skin healing properties, Aloe Vera can also be helpful in treating hyperpigmentation.
Cucumber
Cucumber has many skin soothing and hydrating properties. It is an excellent ingredient to facilitate skin rejuvenation.
Chamomile
Chamomile is a herb that has many skin healing properties due to the presence of special compounds like flavonoids and terpenoids. In addition to that, it is also a natural bleaching agent that helps your skin look bright and vibrant.
Witch Hazel
Witch Hazel is helpful in managing conditions like skin irritation, redness and itching. It is also effective in treating skin conditions such as erythema. (Erythema is skin redness brought on by an injury or similar inflammatory disease. Erythema can be brought on by environmental causes, infections, or excessive sun exposure. It frequently appears as a rash (ie, sunburn)).
---
Frequently Asked Questions
The Lotus Botanicals green tea hydradetox soothing night gel is one of the best night gel online. It is an appropriate addition to your night time skin care routine and can be used every night. If you want to buy night gel online, this product is appropriate for you.
No, this green tea hydradetox soothing night gel has incredible skin moisturising properties. Consequently, you don't have to follow it up with a moisturiser application.
Yes, the Lotus Botanicals Green tea hydradetox soothing night gel has natural ingredients and is devoid of harmful chemicals. This makes it suitable for all skin types. However, it is advisable to do a patch test to mitigate the possibility of any kind of skin irritation.
No, you don't have to wash your face after applying this night gel. You can let it stay on your face overnight.
Green tea is infused with antioxidants and it is a natural skin-soothing agent. A green tea night gel can help your skin recuperate and heal itself as you take your beauty sleep.
Night creams are an important part of your nighttime skin care regime. Skincare products are able to properly penetrate your skin at night and help it undo the damage that has been caused by the aggressive nature of external aggressors such as pollution, dirt, etc.
Yes, you can use the green tea night gel every night. This product will be the perfect addition to your night time routine and will help you in achieving noteworthy results.
The natural green tea night gel by Lotus Botanicals is the best night that you can use. It is endowed with the goodness of green tea (3) which can be a blessing in disguise for your skin.
No, a night gel is very lightweight and they are focused on rejuvenating your skin while you sleep. Moisturisers, on the other hand, are thicker than night gels and they are meant to deeply moisturise your skin and keep dryness away.
Both are distinguished skin care products and they have their own functions to serve. A night gel is perfect for night time usage whereas a moisturiser is ideal for daytime application when you get ready to step out.
It is advisable to apply the green tea night gel before applying a layer of moisturiser for added hydration.
The price of the Green tea night gel is 545.
---
Good To Know
This is a gender-neutral night gel.
It is advisable to apply this green tea night gel on a clean and dry face.
Wash immediately in case of contact with eyes.
It has a very lightweight and non-greasy formulation which makes it beautifully glide onto your skin.
---
More Info
An effective skin care regime consists of a well-thought-of day time and night time skin care routine. By doing your due deligence in selecting appropriate products for your nighttime skin care, you can ensure that you wake up to fresh and supple skin every morning. A green tea hydra-detox soothing night gel is infused with the power-packed goodness of green tea extracts to provide a wide array of benefits to your skin.
If you are looking for the perfect product to spruce up your skin care activity, then you can get the best green tea night gel from Lotus Botanicals.
Benefits Of Green Tea Night Gel
There are a number of benefits of this Green tea night gel :
It works like a dream on your skin to replenish its moisture levels as you take your beauty sleep.
It helps in tightening pores and making your skin look more plump.
By virtue of its stellar formulation, this night gel helps in strengthening your skin to make it look even toned, brighter and smooth.
Range of Vegan Skincare Products At Lotus Botanicals
In addition to the green tea night gel, we have an expansive range of bespoke vegan skin care products that will yield noteworthy results with consistent usage. 
You can check out our range of face wash, face serum, face moisturiser, day creme, night cream, face and body masks, sunscreen etc.  We have also put together a range of skin care products that are enriched with the goodness of Vitamin C (1), Green tea, Bio Retinol, Baking soda, Hyaluronic acid, salicylic acid, niacinamide and various other products. 
Things To Consider Before buying Green tea night gel
Before you buy a green tea night gel, it is advisable that you consider the following things. 
The night gel should be lightweight 
You must always ensure that the skin care products in your nighttime skincare routine should be lightweight. Anything too dense will clog your pores and prevent your skin from breathing. 
There should not be SPF in it. 
We do not need sunscreen at night while we sleep. Instead, look for cooling ingredients like cucumber, green tea, aloe Vera etc in your night gel that can soothe your skin while you sleep. 
Make sure that you aren't allergic to any of the ingredients 
Always check the list of ingredients to ensure that you aren't allergic to anything that is a part of your night gel's formulation. In case of any discrepancy, your skin can get irritated and begin to itch or flake. 
It is of utmost importance that you know your skin type before buying a green tea gel. Green tea is a natural ingredient which can be very helpful for augmenting the impact of your skin care routine. (2) But if your skin is very sensitive, you should do a patch test before incorporating any new product into your regime.
Tips & Hacks for using green tea night gel
In order to reap the full benefits of the Lotus night gel, you can adhere to the following tips and hacks. 
Always apply the night gel to a clean face. 

For extra moisturization, you can follow up the night gel application with a moisturiser. 

You can mix this green tea night gel in Multani mitti (fuller Earth) for making a DIY face pack. 
Why choose Lotus Botanicals
Lotus Botanicals is a vegan and cruelty-free skincare and hair care brand that prides itself on formulating sustainable and ethical products that are made from the best ingredients. We believe in combining the endowments of natural ingredients with cutting-edge advancements in technology to produce articulate products that can effectively target and alleviate various skin and hair problems. 
How to Use
Start by washing your face with Green Tea Hydradetox clarifying Face Wash.
Pat dry your skin.
Take a dollop of Lotus green tea hydradetox night gel on your palm or fingertips.
Massage it gently on your face and neck till you feel that the product is nicely absorbed into your skin.
For best results, use every night.
---