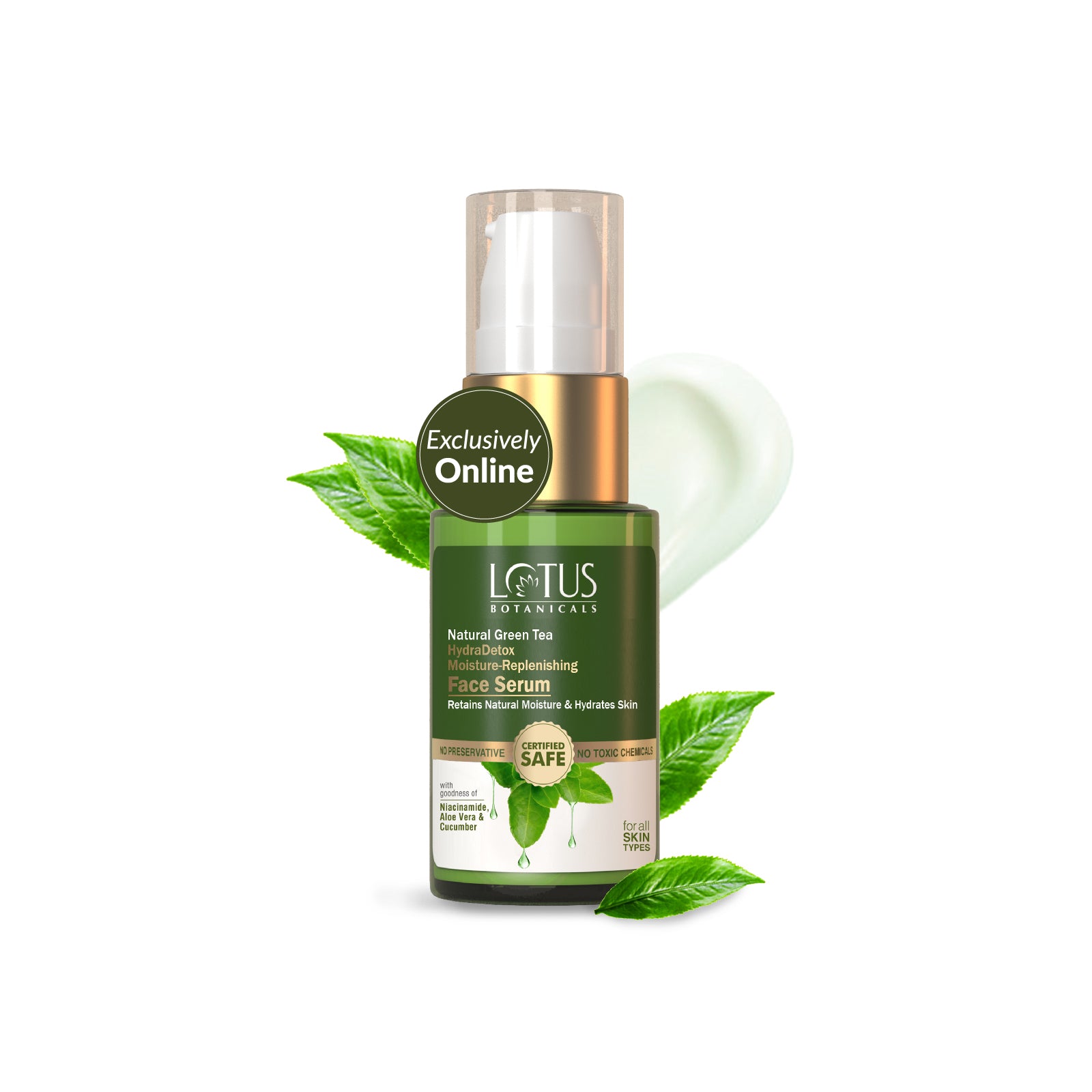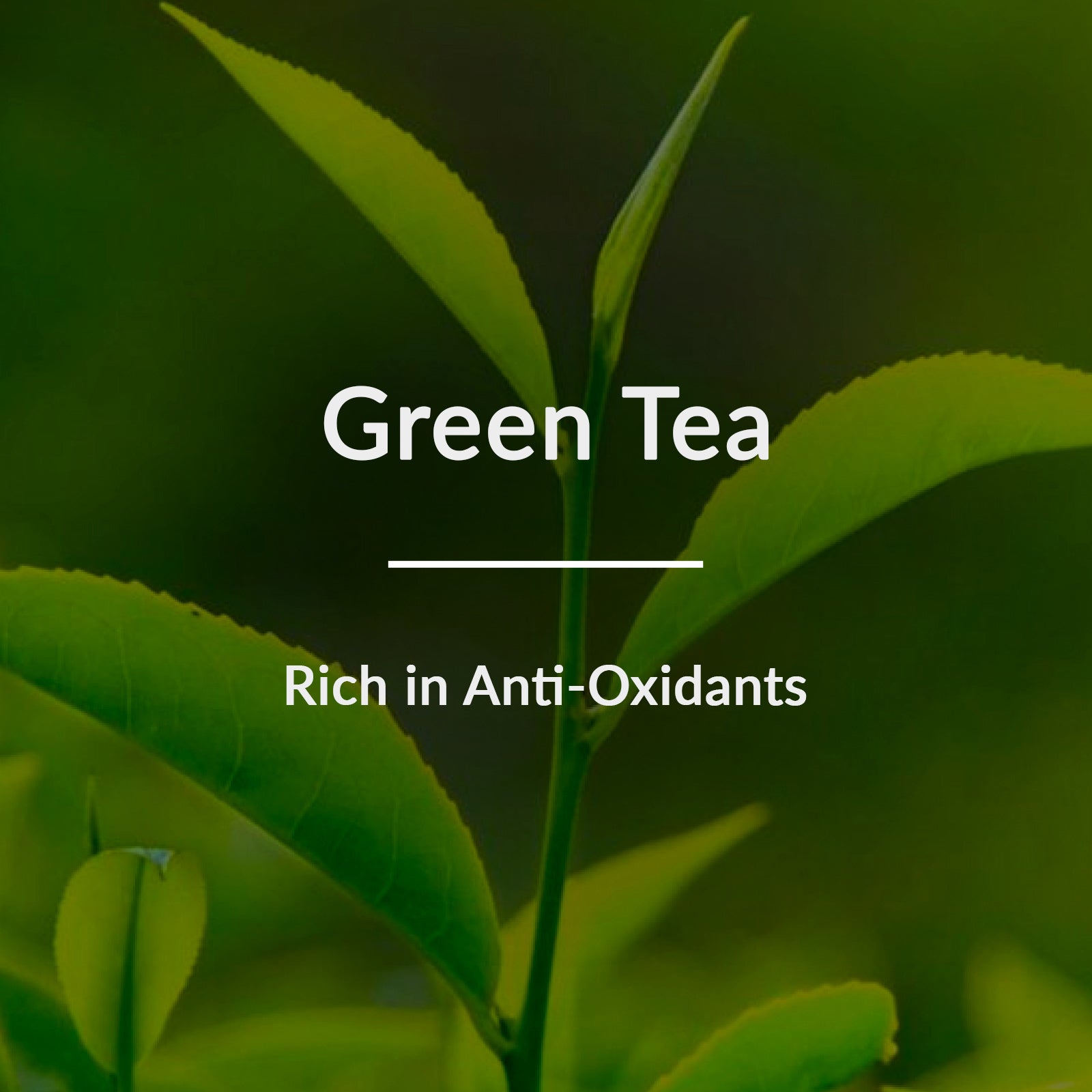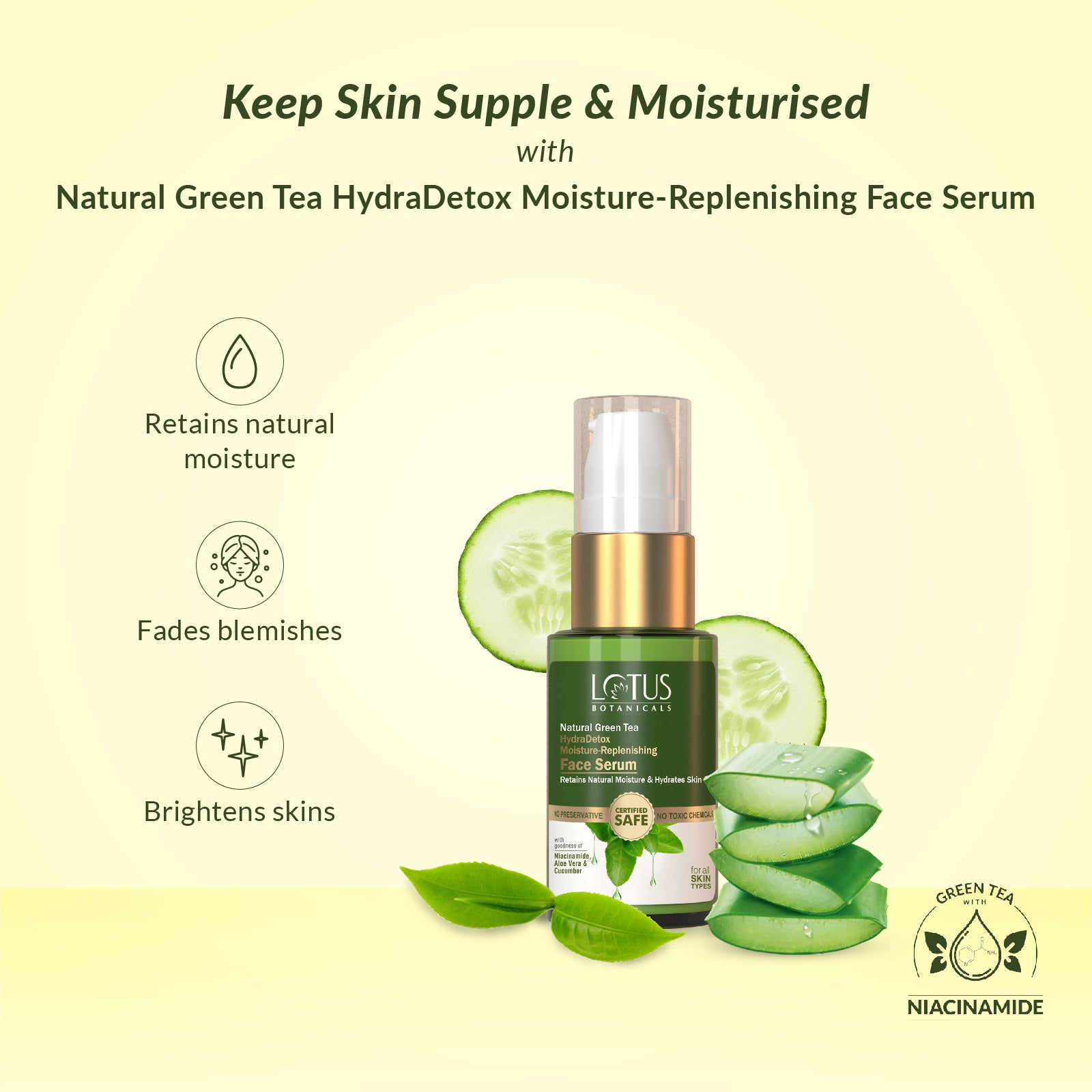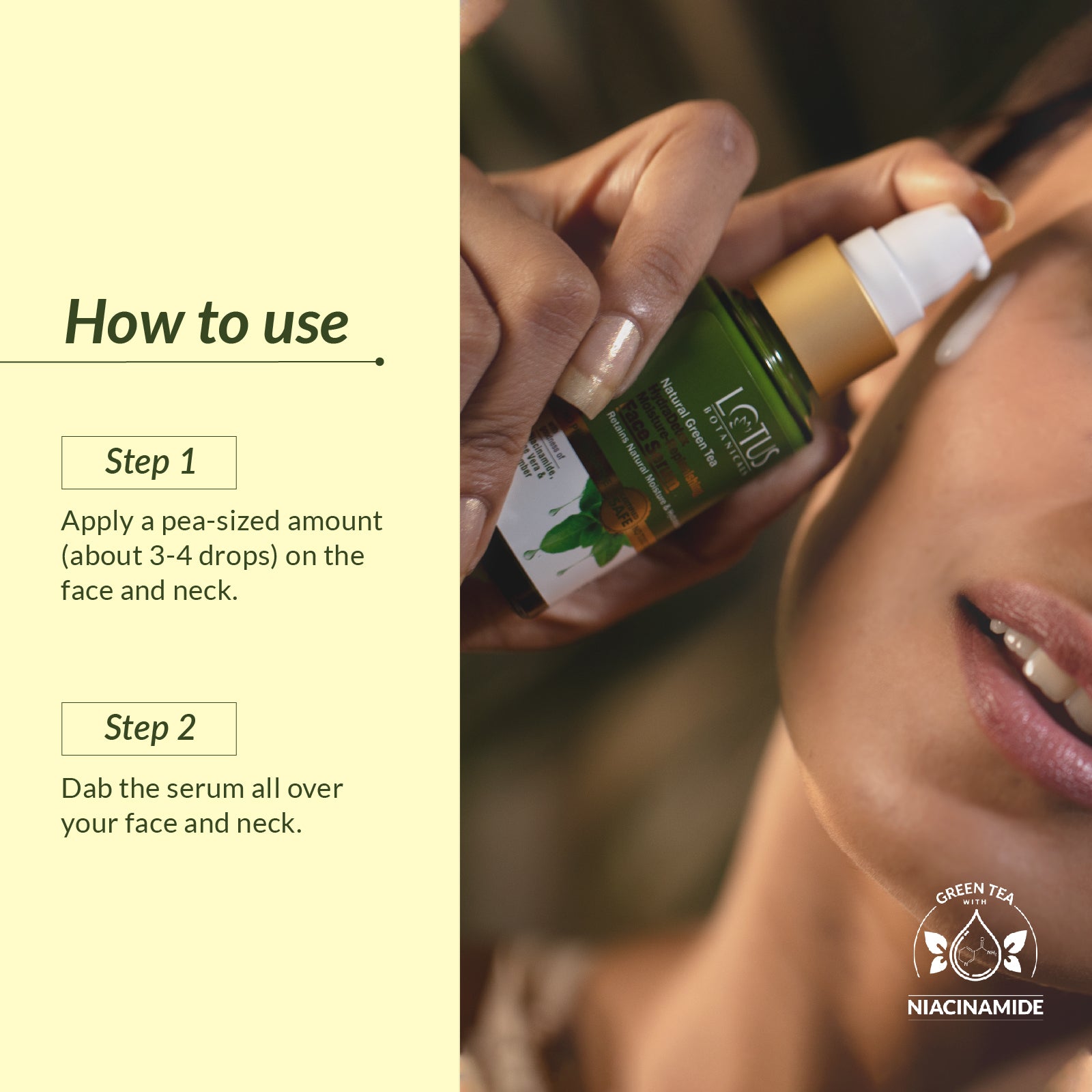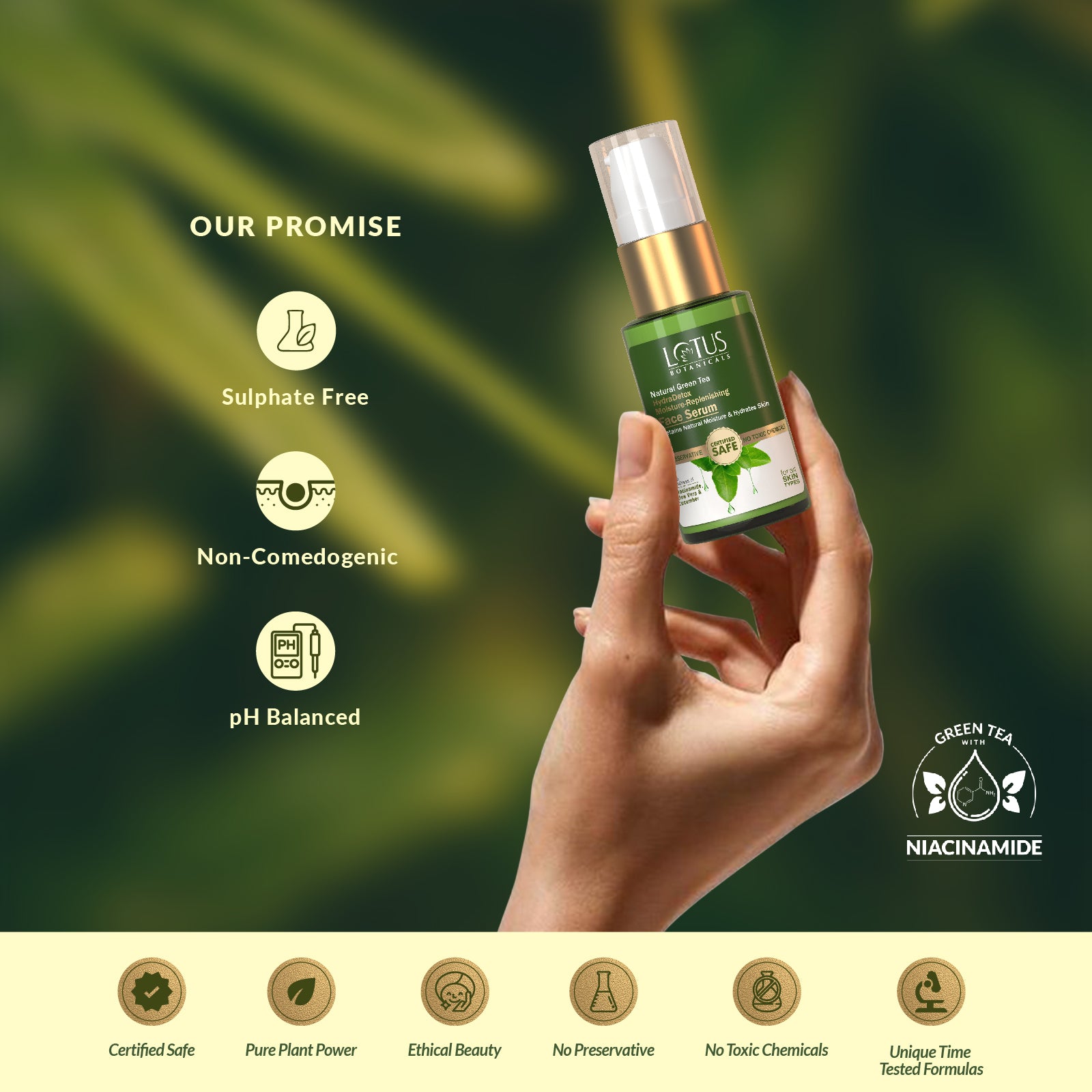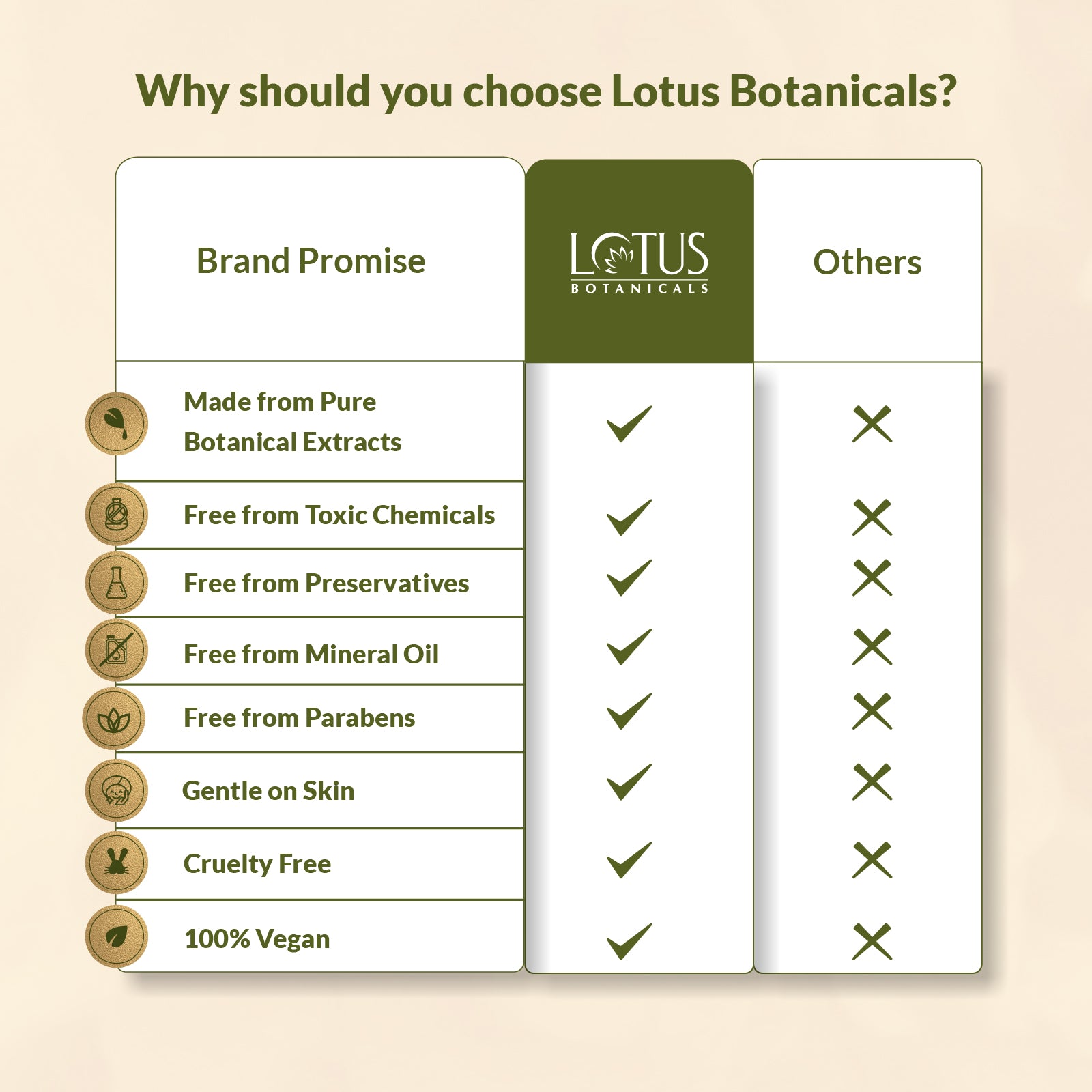 Natural Green Tea HydraDetox Moisture-Replenishing Face Serum
Offers You
Can't Resist
🎁 FREE Vitamin C Wash N Moisturise Worth Rs 960 on purchase of Rs999🎁
Description

Ingredients

Know Your Product

FAQs

Good To know

More Info

Reviews

You May Also Like
Get the glowing skin of your dreams with the nourishment & hydration of Lotus Botanicals Natural Green Tea HydraDetox Moisture- Replenishing Face Serum protecting the outer barrier of your skin and replenishing skin's moisture and restoring it's natural freshness. The perfectly crafted formula with the richness of antioxidants, helps in boosting the skin elasticity while fighting free radicals and signs of ageing.

• Made with unique combination of Green Tea, Aloe Vera, Cucumber and Niacinamide
• Moisture Boost - Replenishes Skin Moisture, giving hydrated look
• Augments skin cells regeneration for a youthful glowing skin
• Tightens skin's pores
• Boosts skin elasticity
• Fights free radicals and signs of ageing
• No Preservatives, No Toxic Chemicals, Sulphate Free, Silicon Free, Mineral Oil Free, Non-Comedogenic, pH-Balanced, Anti-Pollution, Cruelty Free, Allergen Free Fragrance, 100% Vegan
The Lotus Botanicals face serum has been made with a stellar blend of the following ingredients :
Green tea
Green tea is a rich source of various antioxidants and nutrients for the skin. The EGCG catechin found in Green tea is a potent polyphenol that can provide a broad spectrum of benefits for the skin, including managing conditions such as acne.
Aloe Vera
This ingredient is super helpful because of its antifungal and antibacterial properties. Aloe Vera also limits the appearance of minor scars and marks on your face.
Cucumber
By virtue of its commendable soothing properties, cucumber can help in mitigating the effects of sun damage and other environmental distress on your skin.
Chamomile
Chamomile can provide numerous anti-ageing benefits by reducing the appearance of fine lines and wrinkles.
Witch Hazel
Witch Hazel has been used for medicinal purposes since antiquity. When infused in skin care it provides exemplary anti-inflammatory and oil absorption benefits for the skin.
---
Frequently Asked Questions
Out of all the green tea serum for face benefits, their skin hydrating properties are the most proverbial ones.
Yes, a green tea serum for the face is flushed with the incredible benefits of green tea extract and other natural ingredients to give a holistic range of benefits to your skin including skin hydration and healing. The anti-inflammatory properties of green tea enable this face serum to target redness and skin irritation, thereby providing a soothing effect to your face.
The Lotus Botanicals Natural Green Tea HydraDetox moisture replenishing face serum is vegan, cruelty free and ethically made. It is one of the best Green tea face serums in the market.
Yes, it is advisable to use a moisturiser after putting on this green tea face serum.
You can use this face serum everyday. For best results you should use it twice a day, once in the morning and once at night.
Yes, this Green tea face serum is perfect to manage excess oil production on your skin.
---
Good To Know
It is safe to be used by both men and women.
It is advisable to do a patch test to check for any possible signs of skin irritation.
Avoid contact with eyes.
The bottle comes with a dripper to facilitate ease of use.
---
More Info
A face serum is a productive addition to your skin care routine as it can help you in safeguarding your overall skin health. A face serum spreads across your face like a dream and endows it with numerous skin benefits. The intense formulation of this green tea face serum easily sinks into the face to provide a wide range of benefits.
Green tea, which has become a skin care sweetheart due to its exemplary skin nourishing and healing properties is a wonderful ingredient to be added to face serum. If you are looking for the best green tea serum for face, then you are at the right place.
The Lotus Botanicals Natural Green Tea Hydra Detox moisture replenishing face serum is infused with the goodness of nature to work effectively on your skin.
Benefits Of Green Tea Face Serum
There are a number of Green tea face serum benefits. Some of those benefits are :
It hydrates your skin and makes it feel fresh and nourished.
It is effective in augmenting cell regeneration to give your skin a youthful glow.
Owing to its powerful list of ingredients, the Lotus Botanicals green tea serum helps in tightening your skin's pores to make it look more vibrant.
How to Use
Start by washing your face.
Take 3-5 drops of this green tea face serum on your fingertips and massage it all over your face and neck.
Massage it till you feel that the product is completely absorbed by your skin.
After proper absorption of the face serum by your skin, you can apply the Lotus Botanicals Natural Green Tea HydraDetox Glow Boosting Day Crème SPF 20 on your face for deep moisturisation and nourishment.
---