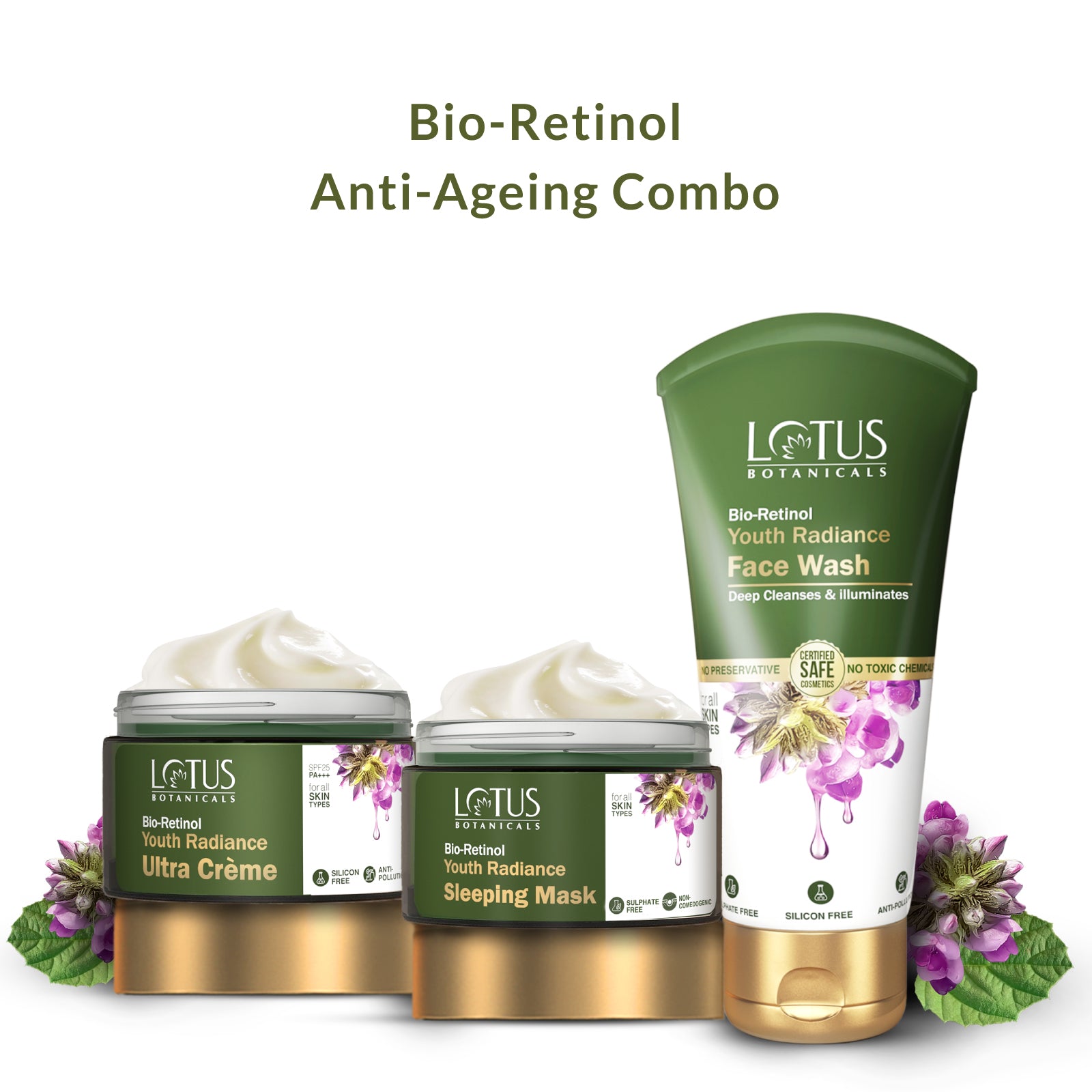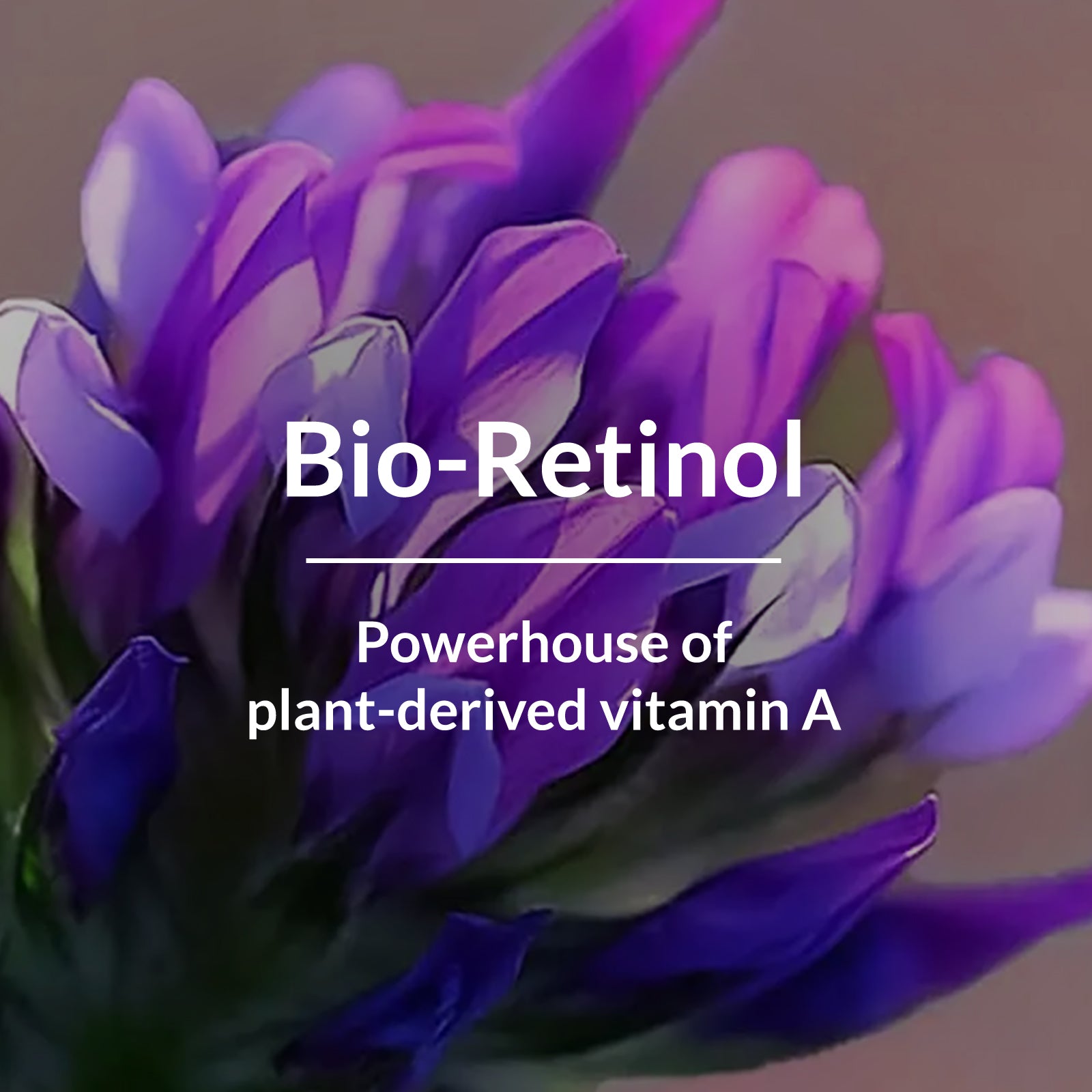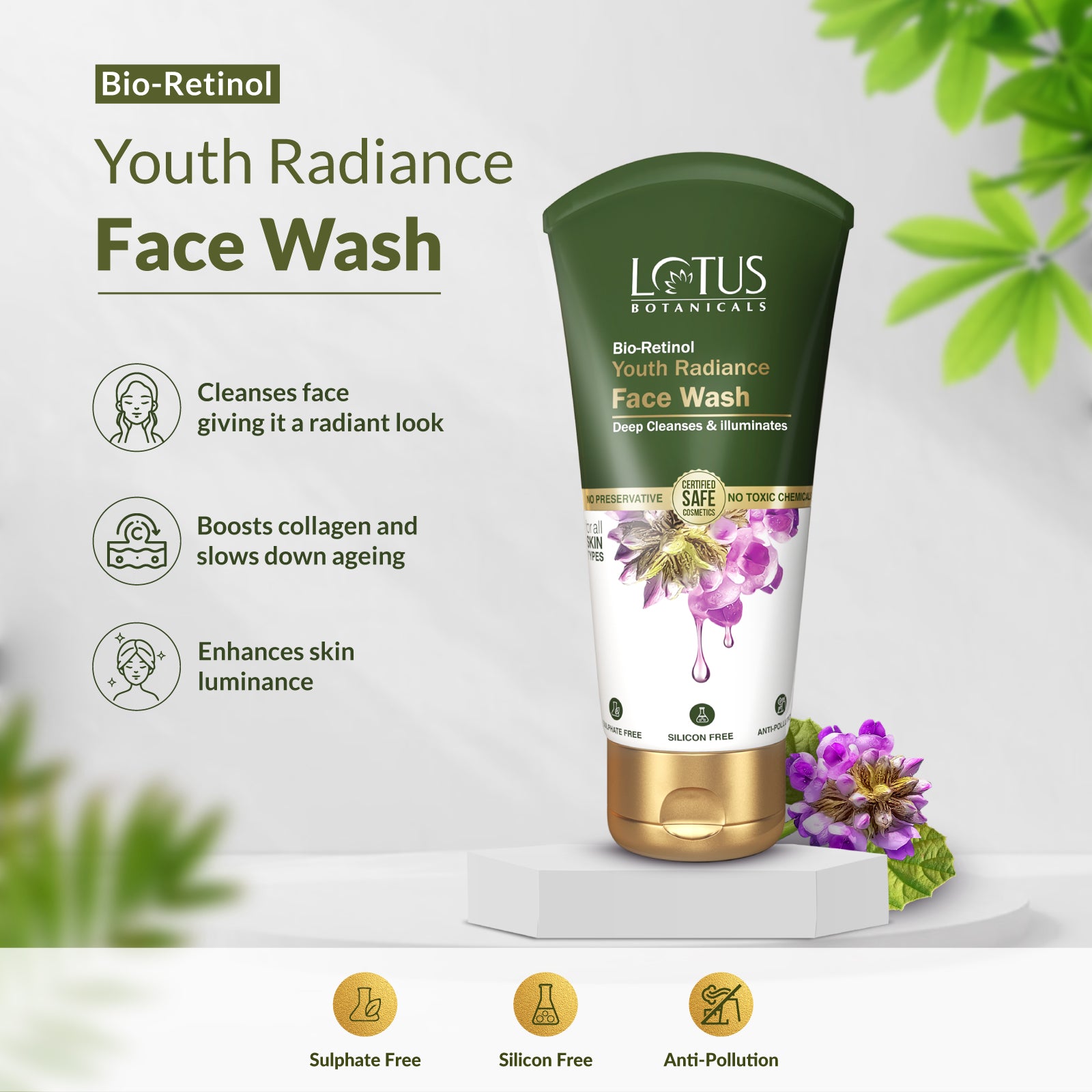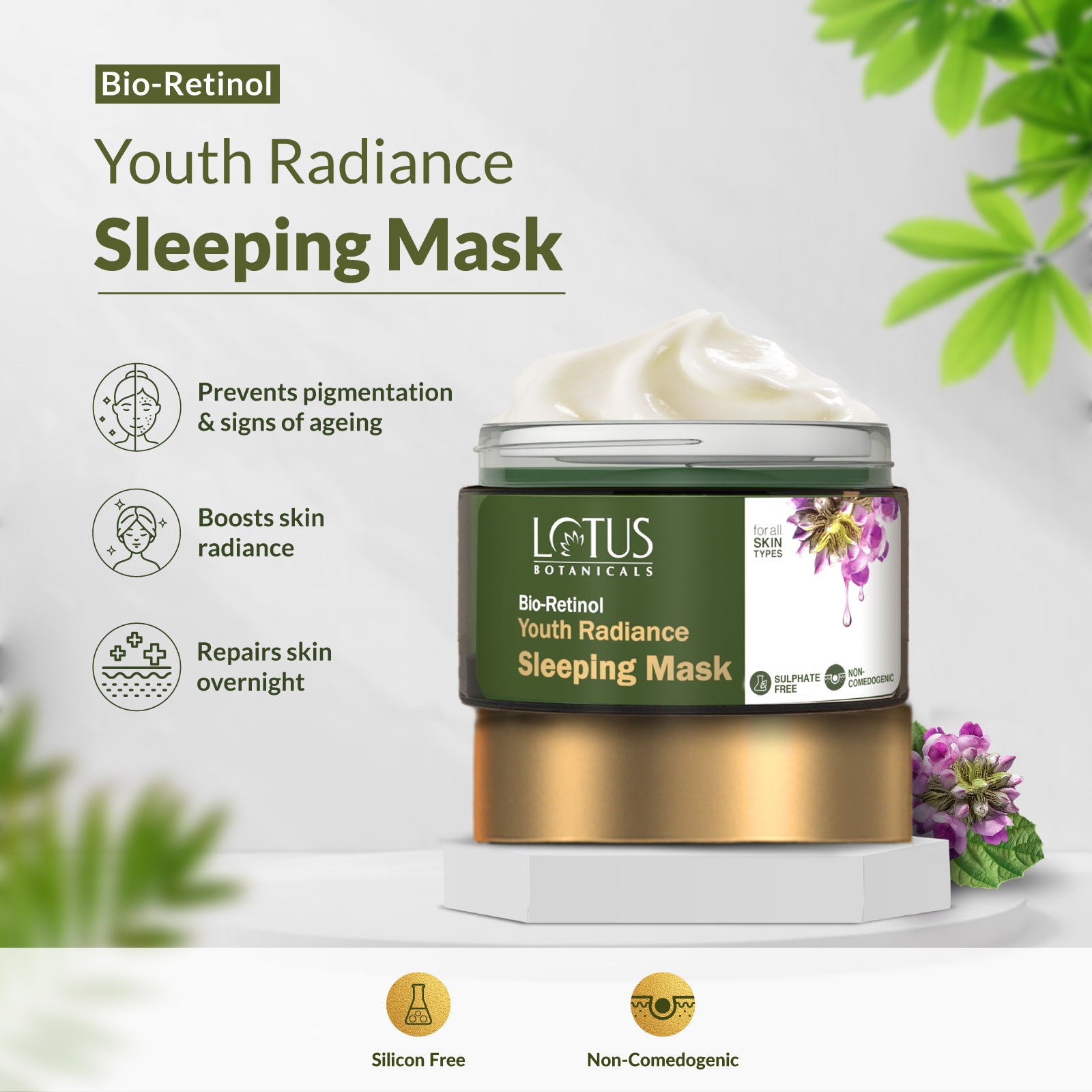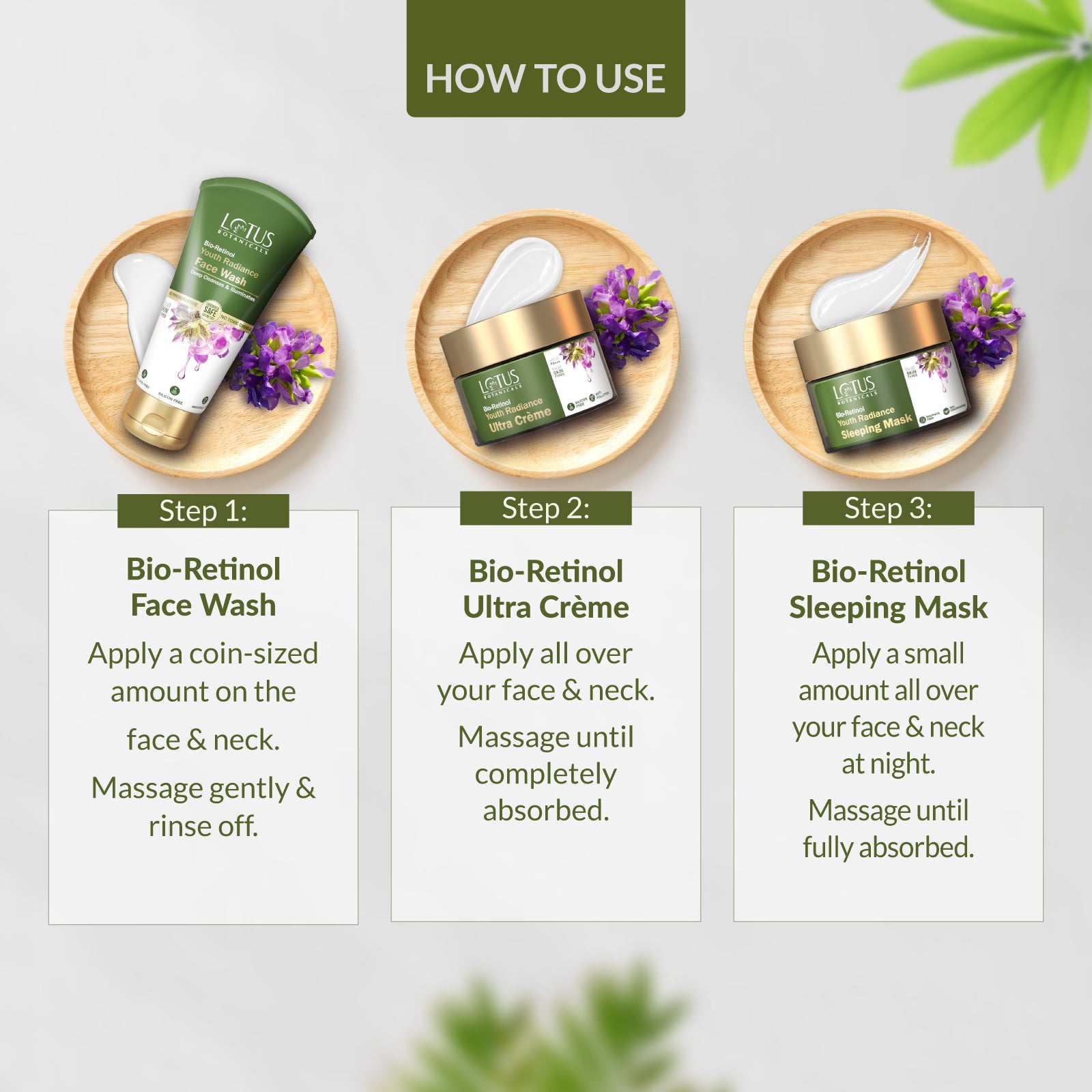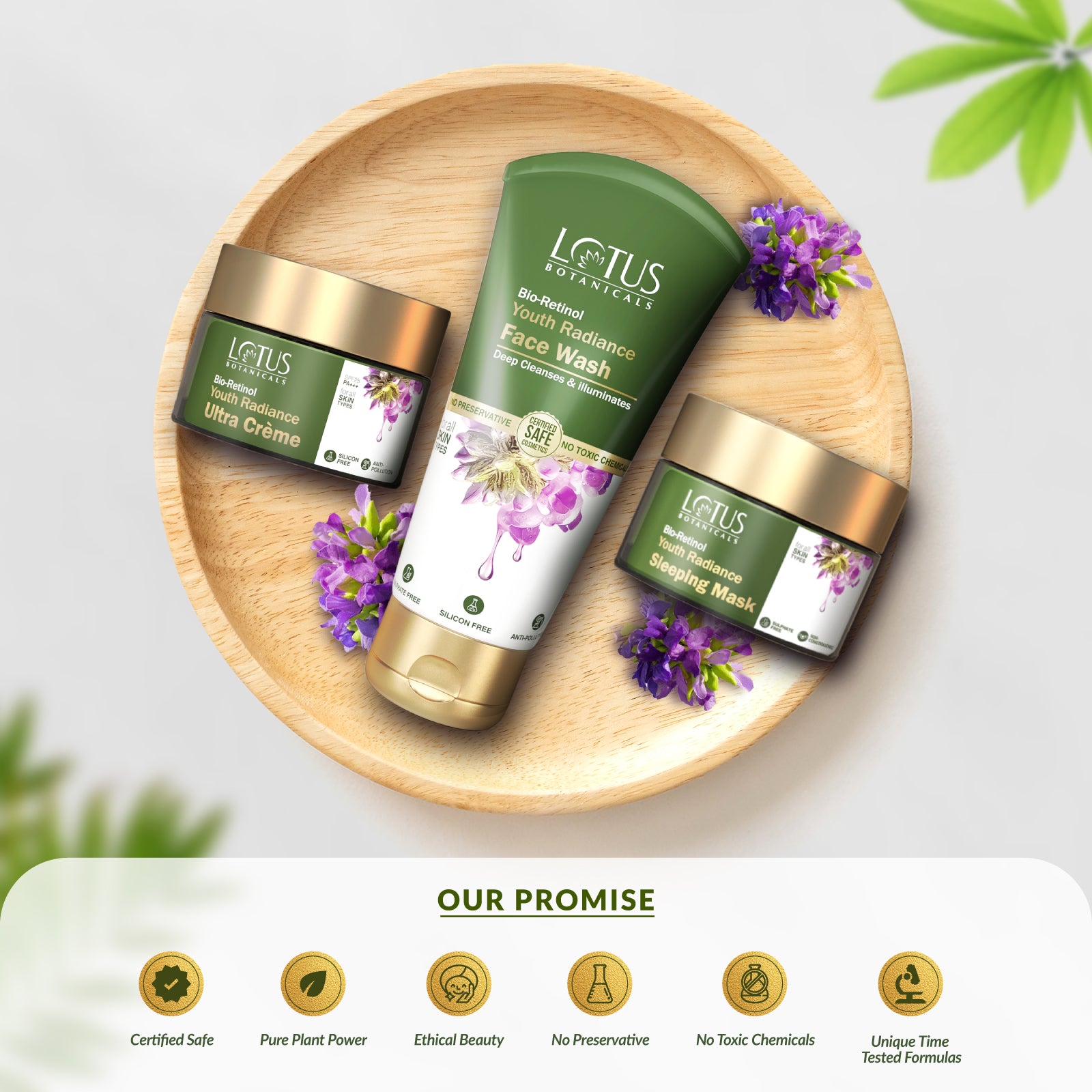 Bio-Retinol Anti-Ageing Combo
Combo Includes:
1 X Bio-Retinol Youth Radiance Face Wash (100ml)
1 X Bio-Retinol Youth Radiance Ultra Crème (50g)
1 X Bio-Retinol Youth Radiance Sleeping Mask (50g)
Offers You
Can't Resist
🎁 FREE Vitamin C Wash N Moisturise Worth Rs 960 on purchase of Rs999🎁
Description

Ingredients

Know Your Product

FAQs

Good To know

More Info

Reviews

You May Also Like
The search for youthful skin ends here with Bio Retinol. One of the most talked-about, amazing skincare ingredients that have created a storm in the SkinCeuticals industry is Bio-Retinol. This plant-based ingredient, also known as Bakuchiol, is a stable, safe, plant-based alternative for all kinds of retinoids to tackle issues like acne, dark spots, wrinkles, fine lines, and uneven skin tone. Bakuchiol or Bio Retinol is a tropical plant used even in Ayurveda times. But due to the increased awareness about the goodness of retinol for a skincare routine, you can now get amazing skincare products that contain Bio-Retinol as one of their star ingredients.
Do you know that Bio-Retinol is a Vitamin A derivative? This plant-based Bio-Retinol exhibits similar properties to vitamin A derivative but without side effects. Pregnant or breastfeeding, you can use Bio-Retinol products without worrying about anything!

Lotus Botanicals now offers you a range of Bio-Retinol products with the goodness of Bakuchiol. Bakuchiol has proven to have multiple anti-skin ageing effects like decreasing fine lines, boosting collagen growth, etc.
Bio-Retinol Youth Radiance Ultra Crème helps with skin renewal and boosts collagen production. The creme's formulation helps restore skin, giving it more clarity and reducing fine lines and wrinkles. It revives the skin to become healthy and gives you a youthful state. Bio Retinol works best when applied at night. Usually, Bio-Retinol is a powerful active ingredient. Also, it makes your skin photosensitive. So, bio-retinol works best when you apply it at night. Try Bio-Retinol Youth Radiance Sleeping Mask, which increases skin cell turnover that helps with skin regeneration. Also, the Bio Retinol sleeping mask also locks moisture, making your skin supple and smooth. This Bio Retinol Youth Radiance Sleeping mask is non-comedogenic, making it perfect for sensitive skin and skin prone to acne breakouts. You apply this mask at night and get youthful-looking skin in the morning! Also, you can start your morning with our Bio-Retinol Youth Radiance Face Wash which not only cleans the dirt off your skin but is a lightweight formula that also targets various ageing symptoms like fine lines and crow's feet.
Start your retinol skincare routine with Lotus Botanicals' Bio-Retinol range of products!
Benefits Of Bio-Retinol
There are multiple skin benefits of Bio-Retinol:
Decreases Signs of Ageing
Bio Retinol of Bakuchiol boosts the skin collagen, which usually starts to deplete after a certain age and lifestyle factors. Bakuchiol boosts various collagen proteins that your skin needs to heal and regenerate. This helps restore the skin's natural elasticity, which aids in decreasing fine lines, wrinkles and crow's feet. Also, due to skin regeneration, your skin starts to look youthful and supple.
Reduce Hyperpigmentation and Uneven Skin Tone
This powerful plant-based ingredient is amazing if you want to reduce hyperpigmentation. Bio-retinol penetrates your skin deeply, which increases the effectiveness of the product. Also, this ingredient boosts blood circulation in your skin, which helps your skin turnover, decreasing hyperpigmentation and uneven skin tone.
The Bakuchiol derivative is perfect for you if you have sensitive skin or acne-prone skin. Being a plant-based ingredient, it helps the skin to regenerate healthily and naturally. Also, it doesn't cause irritation or inflammation, which helps your skin heal from within.
How To Follow this Combo?

Step 1:
Bio-Retinol Youth Radiance Face Wash
Clean your face with Bio-Retinol Youth Radiance Face Wash. Use twice daily for best results.
Step 2:
Bio-Retinol Youth Radiance Ultra Crème
Follow with Bio-Retinal Youth Radiance Ultra Crème during the day. Massage gently till completely absorbed.
Step 3:

Bio-Retinol Youth Radiance Sleeping Mask
Complete your night time routine with Bio-Retinol Youth Radiance Sleeping Mask and rejuvenate skin overnight.

Aqua, Niacinamide, Heptyl Undecylenate, Hydroxyethyl Urea, Cyclopentasiloxane, Caprylle Capric Triglycerides, Glycerin, Propanediol, Cyclopentasiloxane and Dimethicone/Vinyl Dimethicone Alkane (and) C10-16 Alkyl Glucoside, Enteromorpha Compressa Extract (and) Silybum Marianum Fruit Leaf Extract, Extract (and) Ocimum Sanctum Leaf B a corylifolia (Bakuchlol) Extract, Maltodextrin Su crose Diaurate, Sodium Cocoyl Glutamato &Pisum Sativum (Pea) Extract, PEG-35 Castor Oll (and) Polysorbate 20 (and) Aesculus Hippocastanum (Horse Chestnut) Seed Extract (and) Retinyl Palmitate (and) Tocopherol (and) Inositol (and) Calcium Pantothenate (and) Linoleic Acid (and) Biotin, Titanium dioxide, Disodium EDTA, Allantoin, Butylated hydroxytoluene, Tocopheryl acetate, Citric acid, Menthol, Caprylhydroxamic Acid (and) Phenethyl Alcohol, Fragrance
---
Frequently Asked Questions
Yes. Bio-Retinol is good for all kinds of skin types. Do you know that bio-retinol is safe to use even when you are pregnant or breastfeeding? It has no known side effects making it safer to use. If you want youthful-looking skin, then bio-retinol products are perfect for you!
Unlike the vitamin A derivative retinoid family, the plant-based bio-retinol can be used with many other products with other active ingredients. You can use these products any time of the day. But, it is recommended that you use bio-retinol products at night. Always use sunscreen post applying bio-retinol products to lessen the photodamage of the skin.
Usually, we don't apply any other products with retinol. But with bio-retinol, you can pair other products like De-Tan and Vitamin C products in your retinol skincare routine. We recommend pairing with products which contain PHA and Squalane to increase the hydration factor of the skin. Avoid using Glycolic acid, which may degrade the bio-retinol product's efficiency.
This is because retinol usually makes your skin photosensitive. So, if you use retinol during the day, your skin may become more sensitive to UV rays. That's why we recommend that you use retinol face creme at night. Also, when we rest at night, our skin gets more time to heal and regenerate faster than at any other time of the day.
The Retinol Face Wash helps to clean pores deeply. Since it contains retinol, it also decreases the appearance of the pore size while helping the skin to regenerate. This face wash is perfect for those who have sensitive and acne-prone skin.
Yes. Lotus Botanicals Retinol Products are suitable for all skin types. This is because it doesn't contain vitamin A derivative retinoids and retinol. Instead, it contains the plant-based Bio-Retinol of Bakuchiol which has all the properties of retinol and has no known side effects.
Lotus retinol combo with bio-retinol face wash, day cream and sleeping mask is one of the best anti-ageing combo products for Indian skin. It suits all skin types and can be used by both men and women.
Try using anti-ageing skincare products that are vegan and chemical-free. Bio-retinol-based products like the Lotus anti-ageing skincare combo with bio-retinol face wash, bio-retinol day crème and bio-retinol sleeping mask are one the best plant-based retinol combinations for the skin.
The number one ingredient for anti-ageing is bio-retinol which is derived from the extracts of the bakuchi plant. It exhibits similar properties to retinoids but is plant-based and safer. Bio-retinol is completely vegan and chemical-free. What products will make my skin look younger? Bio-retinol is an anti-ageing ingredient derived from the extracts of the bakuchi plant. It improves skin texture and provides good hydration to the skin to give you youthful-looking skin.
Niacinamide serum and hyaluronic acid serums provide intense moisture to the skin and make your skin look hydrated, soft and younger.
---
Good To Know
We recommend that people with sensitive skin always perform a patch test first to ensure there is no reaction. Discontinue if irritation occurs.
Store in a cool and dry place.
In case of pregnancy, please consult with your physician before the product usage.
For external use only.
---
More Info
Please note that it is always advisable to perform a patch test before using any new skincare product, including the products in the Bio-Retinol Anti-Ageing Combo. This helps determine if you have any sensitivities or allergies to the ingredients. Additionally, if you have any pre-existing skin conditions or concerns, consult with a dermatologist or skincare professional before incorporating the combo into your routine. Your skin's health and safety are of utmost importance.
---