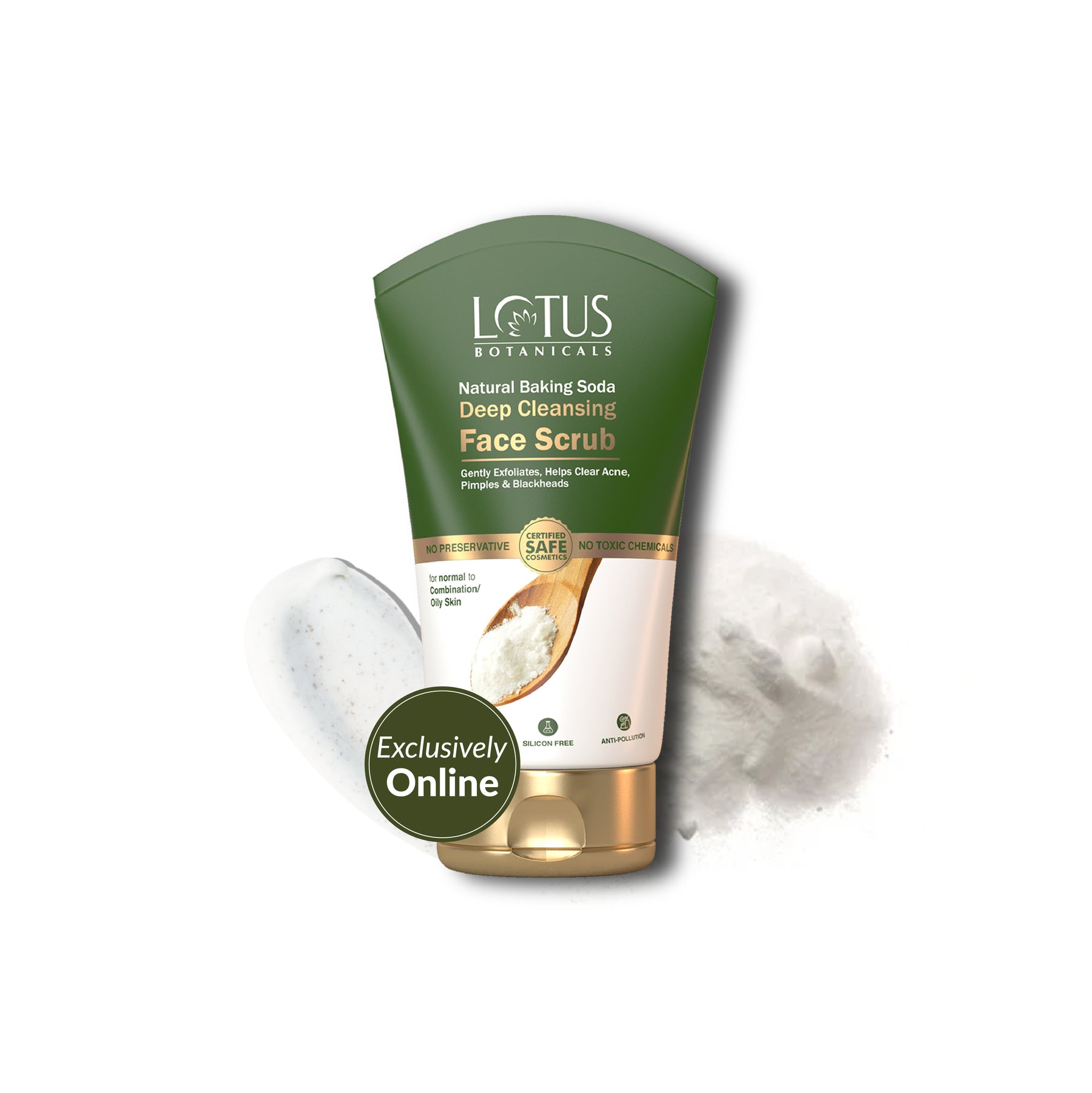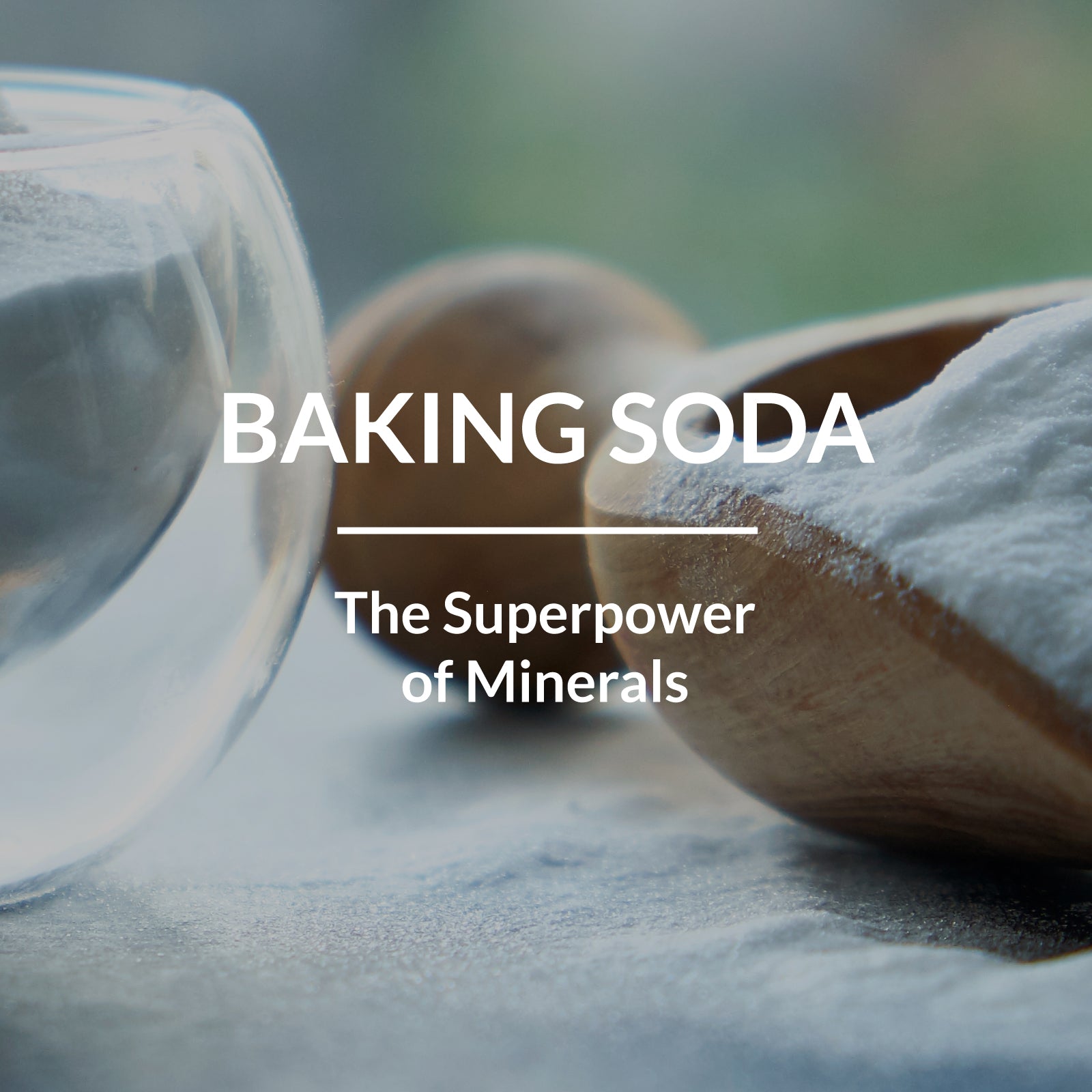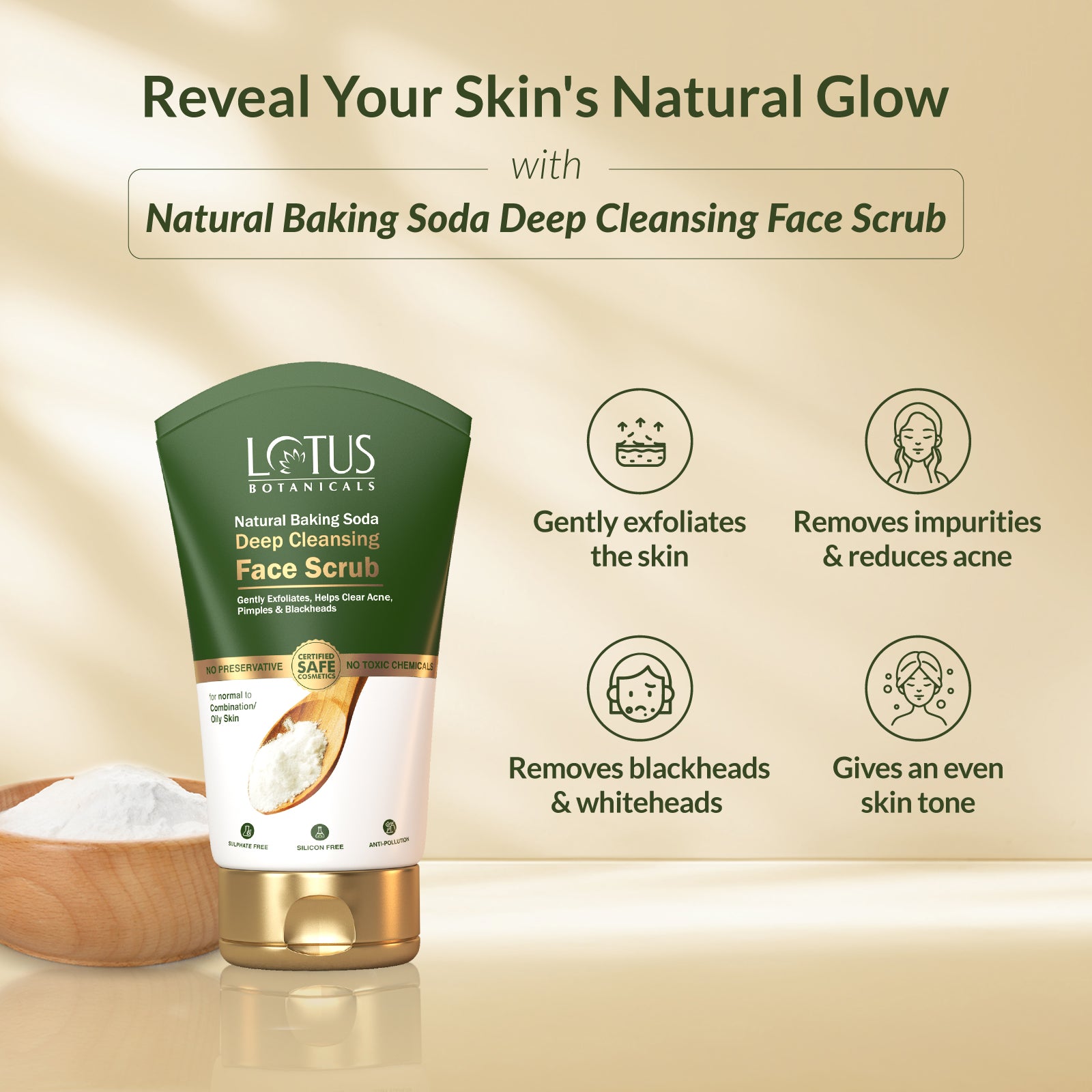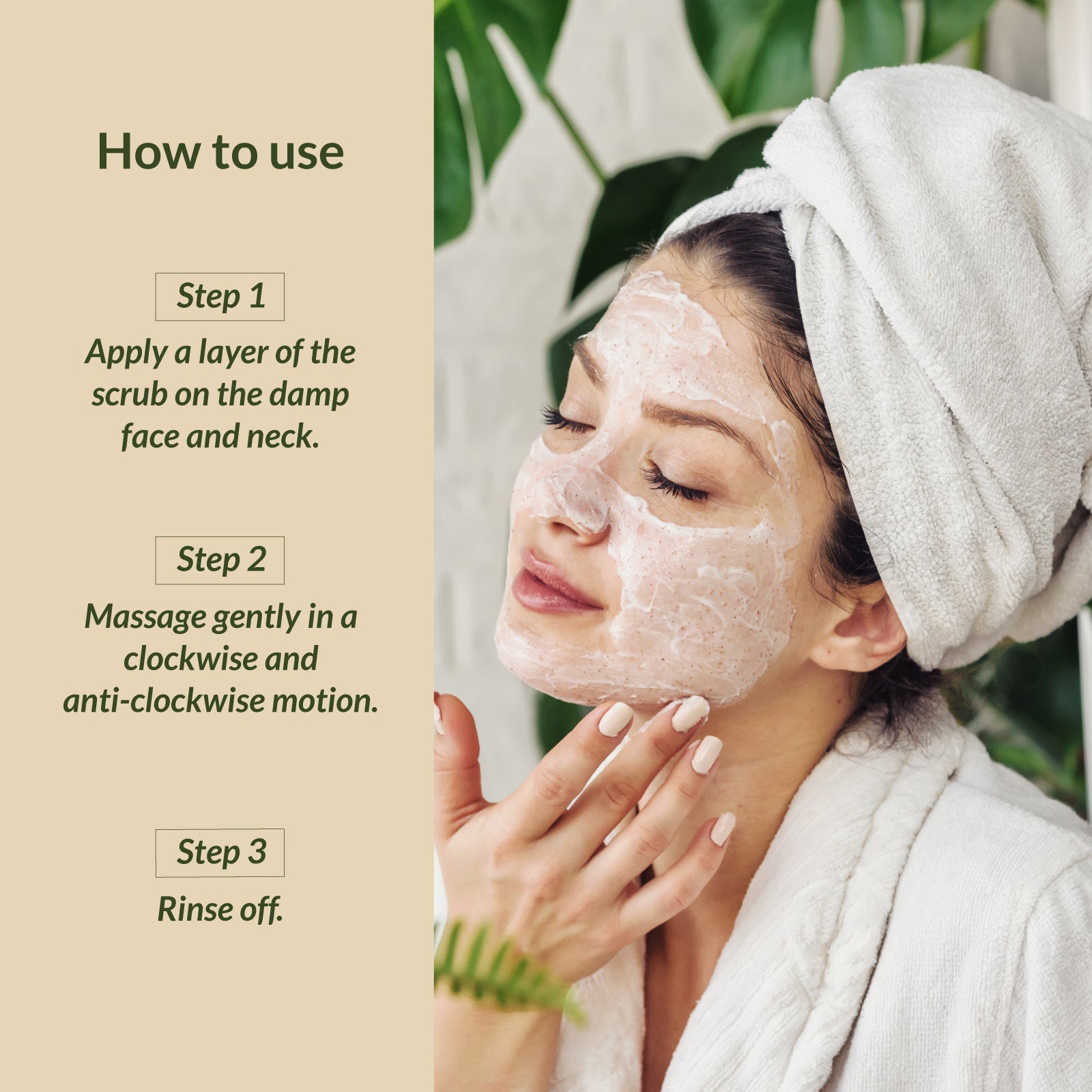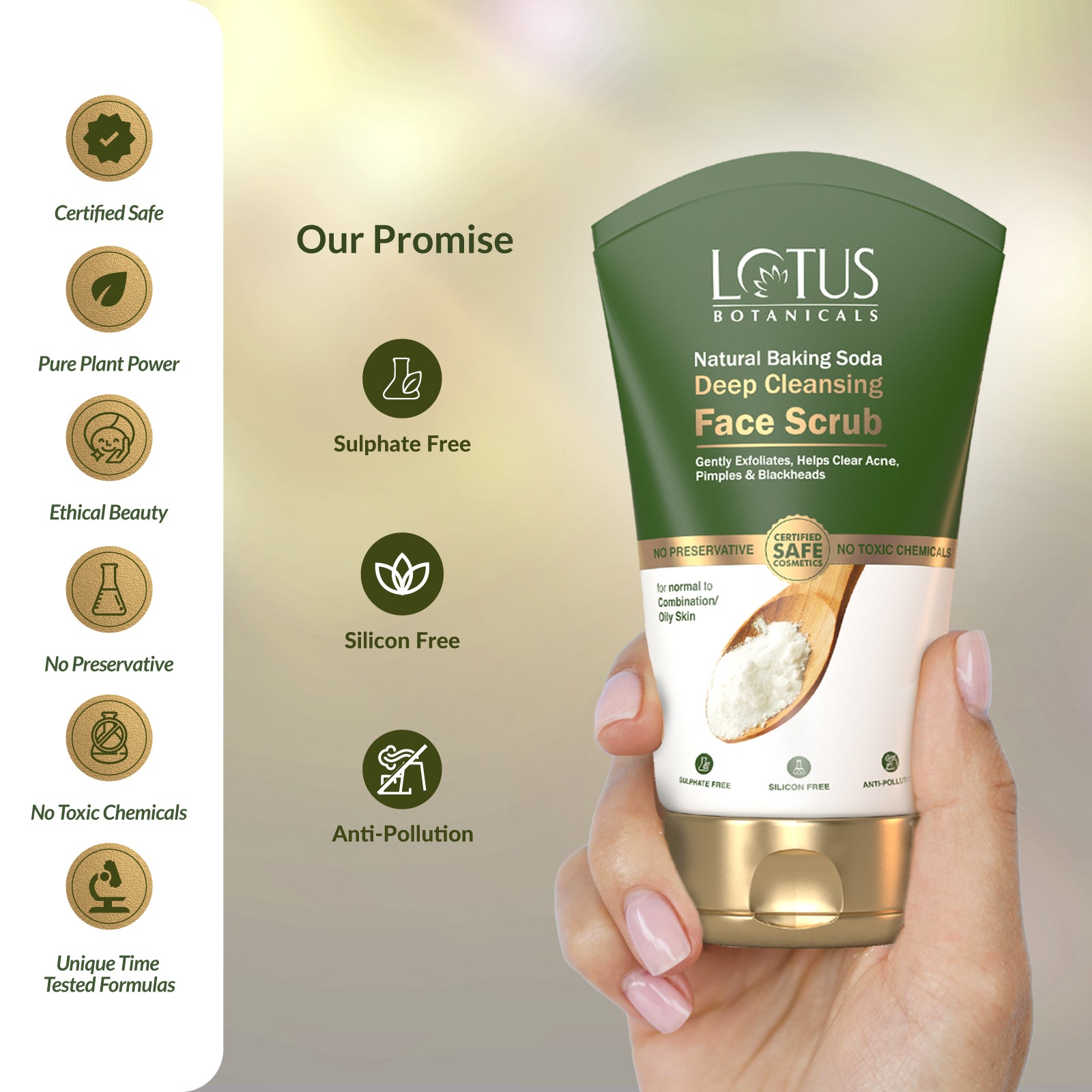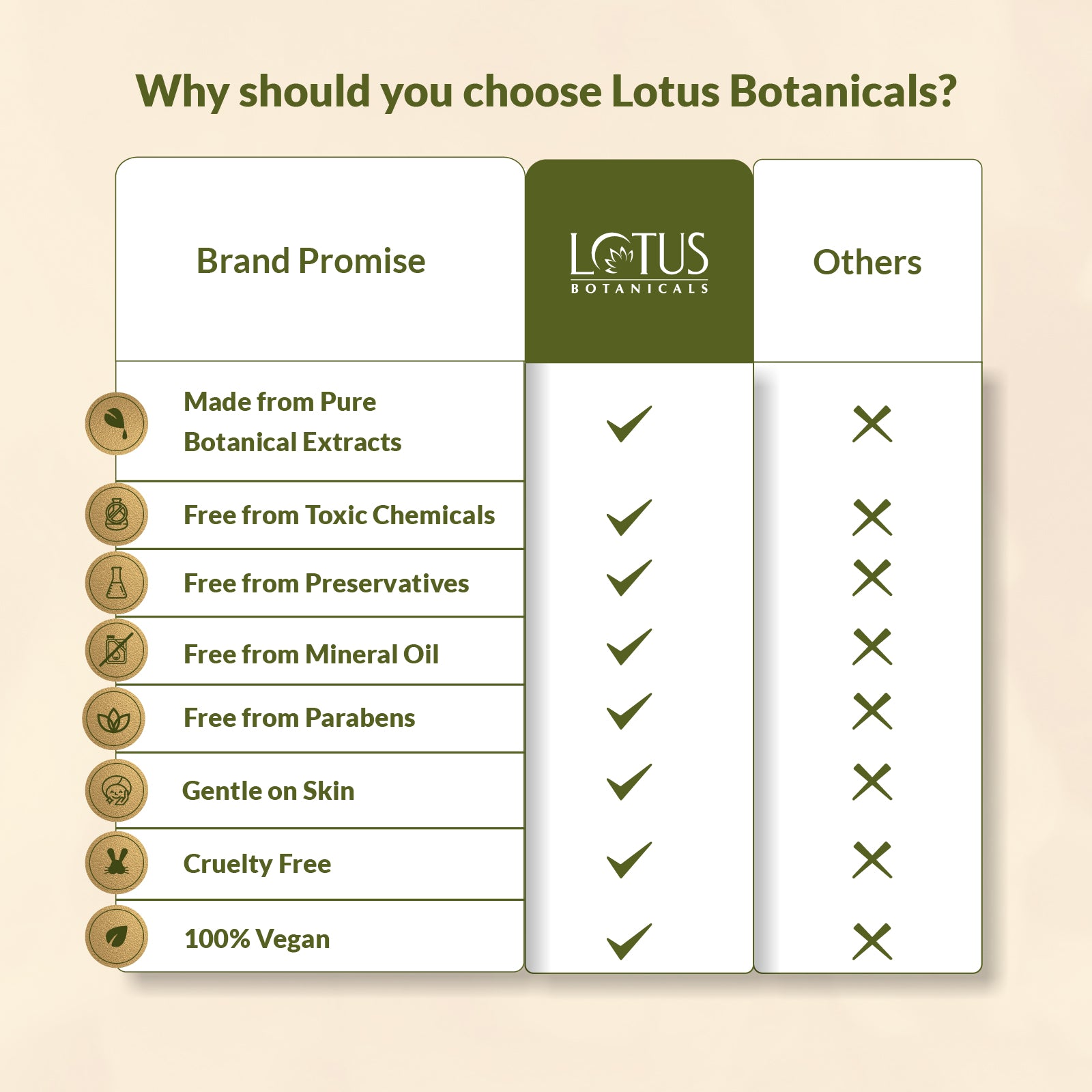 Natural Baking Soda Deep Cleansing Face Scrub
Offers You
Can't Resist
🎁 FREE Vitamin C Wash N Moisturise Worth Rs 960 on purchase of Rs999🎁
Description

Ingredients

Know Your Product

FAQs

Good To know

More Info

Reviews

You May Also Like
Radiant you with smoother skin! Lotus Botanicals Natural Baking Soda Deep Cleansing Face Scrub has your skin goals sorted! An innovative exfoliant formula, it gently buffs the skin surface, helps reduce acne, pimples and blackheads while sloughing away impurities. Result, visibly clear, even-toned & squeaky clean skin.

• Rich in essential minerals with the power of natural baking soda
• Removes blackheads and whiteheads
• Gently exfoliates
• Unclogs pores
• Controls acne
• No Preservatives, No Toxic Chemicals, Paraben Free, Silicon Free, Sulphate Free, Mineral Oil Free, pH-Balanced, Anti-Pollution, Cruelty Free, 100% Vegan
Natural Baking Soda

The mild exfoliating property of baking soda makes it a wonder ingredient. It banishes acne, pimples and blackheads from your skin. Its anti-inflammatory and antiseptic properties make it an ideal ingredient to deeply cleanse and even out the skin tone.
Full Ingredient List

Aqua, Cetostearyl alcohol, Cetyl alcohol, Glycol Stearate, Glyceryl monostearate, Cellulose, Glycerin, Salicylic acid, Magnesium Aluminium Silicate, Titanium dioxide, Microcrystalline Cellulose, Caprylhydroxamic Acid (and) Phenethyl Alcohol (and) Glycerin, Sodium bicarbonate, Polyacrylate-13 (and) Polyisobutene (and) Polysorbate 20, Propanediol, Hydroxy ethyl cellulose, Decyl glucoside, Niacinamide, Xanthan Gum, Biosaccharide Gum-4, Butylated hydroxytoluene, EDTA Disodium, Triethanolamine, Fragrance.
---
Frequently Asked Questions
It is an excellent exfoliant that effectively and gently removes dirt, excess oil and even make-up residue. Its alkaline nature balances the pH levels and provides you with smooth and radiant skin.
If you have sensitive skin then we would recommend you to perform a patch test first to ensure there is no reaction. Discontinue if irritation occurs.
Yes, one of our major brand principles is cruelty-free. We do not allow any of our products to be tested on animals.
No, using the Lotus Baking soda scrub is not advisable daily. Depending on your skin type and texture, you can use it 2-3 times a week.
Apply a generous layer of this face scrub on damp skin and scrub in clockwise and anticlockwise directions. Scrub gently for a few seconds and then wash your face.
This Lotus scrub for oily skin has been formulated with a potent blend of baking soda ( sodium bicarbonate), glycerine, salicylic acid and other powerful ingredients.
Yes, this face scrub is suitable for all skin types but it is advisable that you do a patch test to look for any signs of skin itching or irritation.
You can use this baking soda facial scrub as a part of your daytime and nighttime skincare regime.
Consistency is the key when it comes to noteworthy results in the context of the usage of the face scrub. With regular usage, you should see evident results in 2-3 weeks.
There are no known side effects of using this scrub but it is advisable to do a patch test to rule out any adverse skin reaction to it.
Yes, this face scrub is dermatologically tested. Furthermore, this product is paraben-free, cruelty-free and vegan.
---
Good To Know
We recommend that people with sensitive skin always perform a patch test first to ensure there is no reaction. Discontinue if irritation occurs.
Store in a cool and dry place.
In the case of pregnancy, please consult with your physician before the product usage.
For external use only.
Avoid contact with eye. If contact occurs, rinse immediately with water.
---
More Info
When it comes to effective skin care, scrubbing is an important aspect of it. By using a deep cleansing face scrub, you can significantly improve the texture of your skin. (1) This is facilitated by eliminating the build-up of any dead skin or stubborn impurities on your face. 
In recent years, there has been a surge in demand for natural and sustainable ingredients in our beauty and skincare routine. Baking soda is one such ingredient that has managed to amass an impressive following owing to its outstanding skin benefits. 
Bid adieu to acne, dull and uneven skin texture with our Natural Baking Soda Deep Cleansing Face Scrub. A gentle yet powerful exfoliator, its regular use reduces acne, blackheads and removes impurities from the deepest layers, evening out your skin tone.

Best suited for: Normal to Combination/Oily Skin
Concerns: Clogged pores, acne, blackheads, whiteheads and uneven skin texture
Key Benefits of Baking Soda Face Scrub
This Baking soda face scrub by Lotus Botanicals has a number of benefits like :
It has antiseptic and anti-inflammatory properties 
Since baking soda is the primary ingredient in this deep cleansing face scrub, one cannot ignore its outstanding antiseptic and anti-inflammatory properties. Owing to these characteristics, this face scrub with baking soda can keep a number of skin infections at bay. (2) 
It helps in effective skin exfoliation 
This deep cleansing face scrub can help you get rid of white and blackheads. It also unclogs your skin pores and takes away germ or bacterial build-up. This gentle yet powerful exfoliator is ideal for removing blemishes. (3) 
It helps in brightening up your complexion 
Baking soda is endowed with a number of skin-enriching properties. It is also a natural bleach (4) and therefore, when infused in a face scrub, it can facilitate a brighter and more radiant complexion. 
It can help you in managing acne 
This baking soda scrub can help you in taking care of acne-induced inflammation. Since baking soda is alkaline, or can also enable you to balance the pH level of your skin. (5) 
Who can use Baking Soda Face Scrub
This product is a gender-neutral product and safe for usage by both men and women.

It is beneficial for people who have oily skin. 

It can be used by anyone who wants to amp up the effect of their skincare routine.
Paraben Free 
Silicon Free  
Mineral Oil Free
Anti-Pollution 
pH Balanced 
Cruelty Free 
100% Vegan 
Recyclable
Directions To Use
Step 1:
Apply a layer of the scrub on damp face and neck.
Step 2:
Massage gently in clockwise and anti-clockwise motion.
Step 3:
Rinse off with water.
For best results, use twice a week.
---