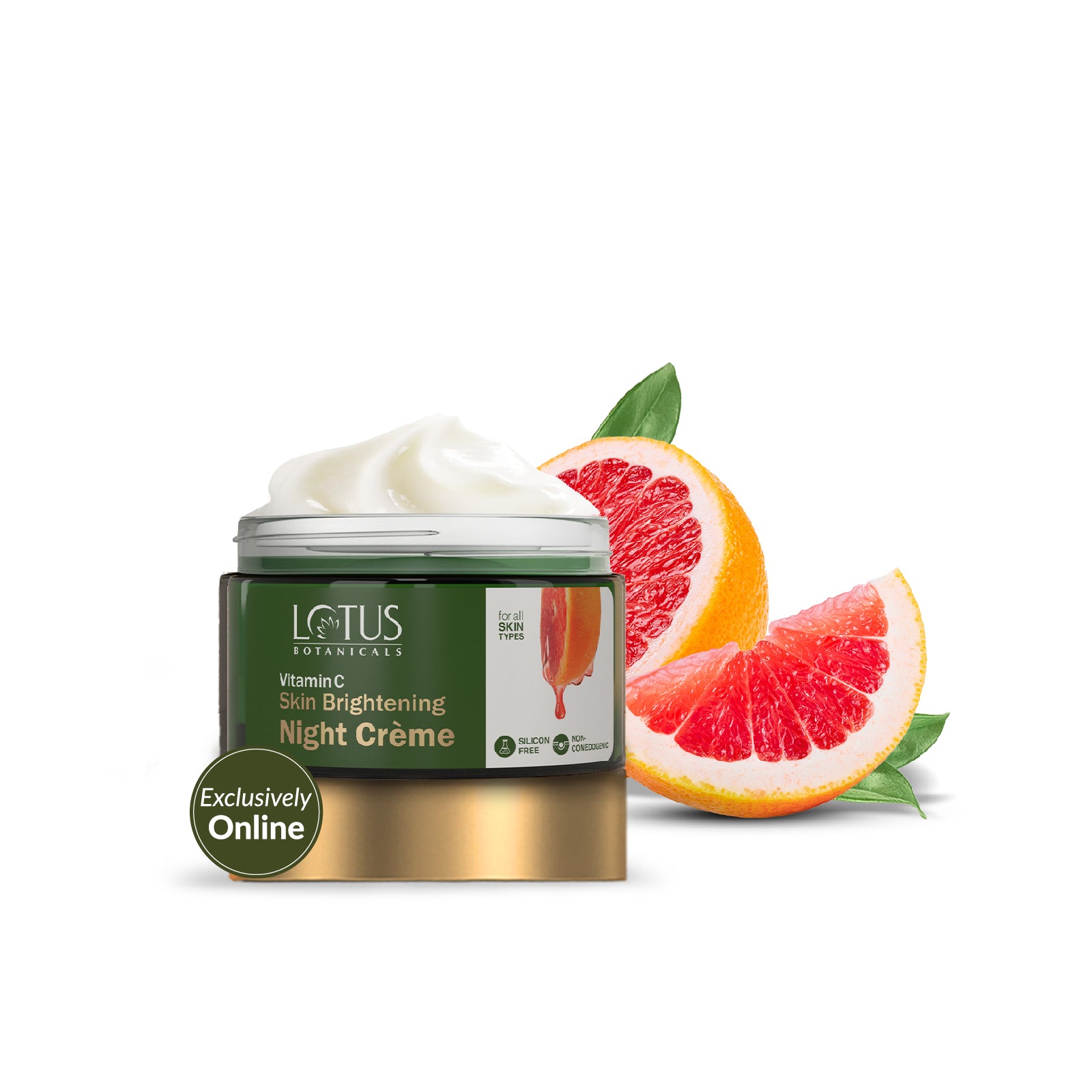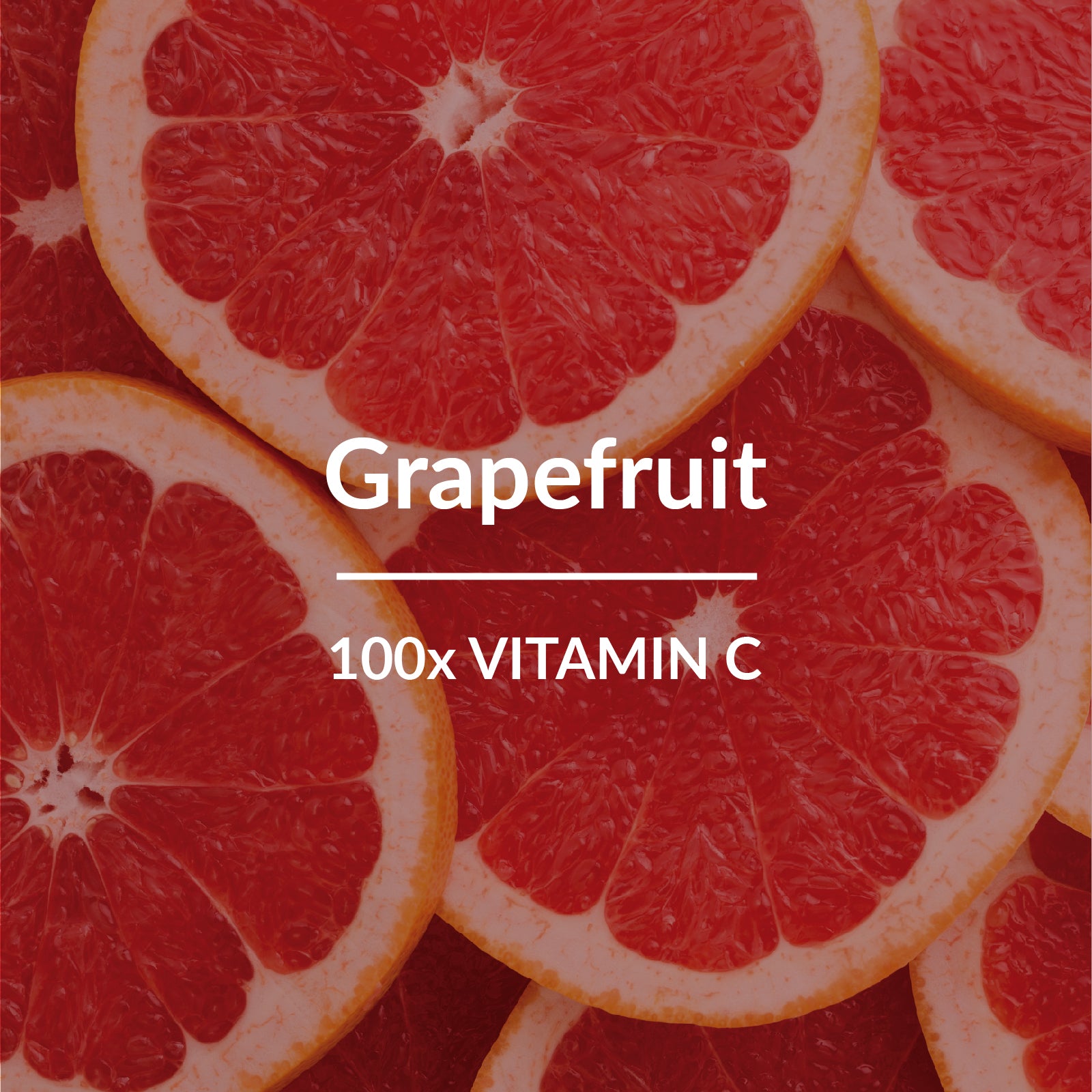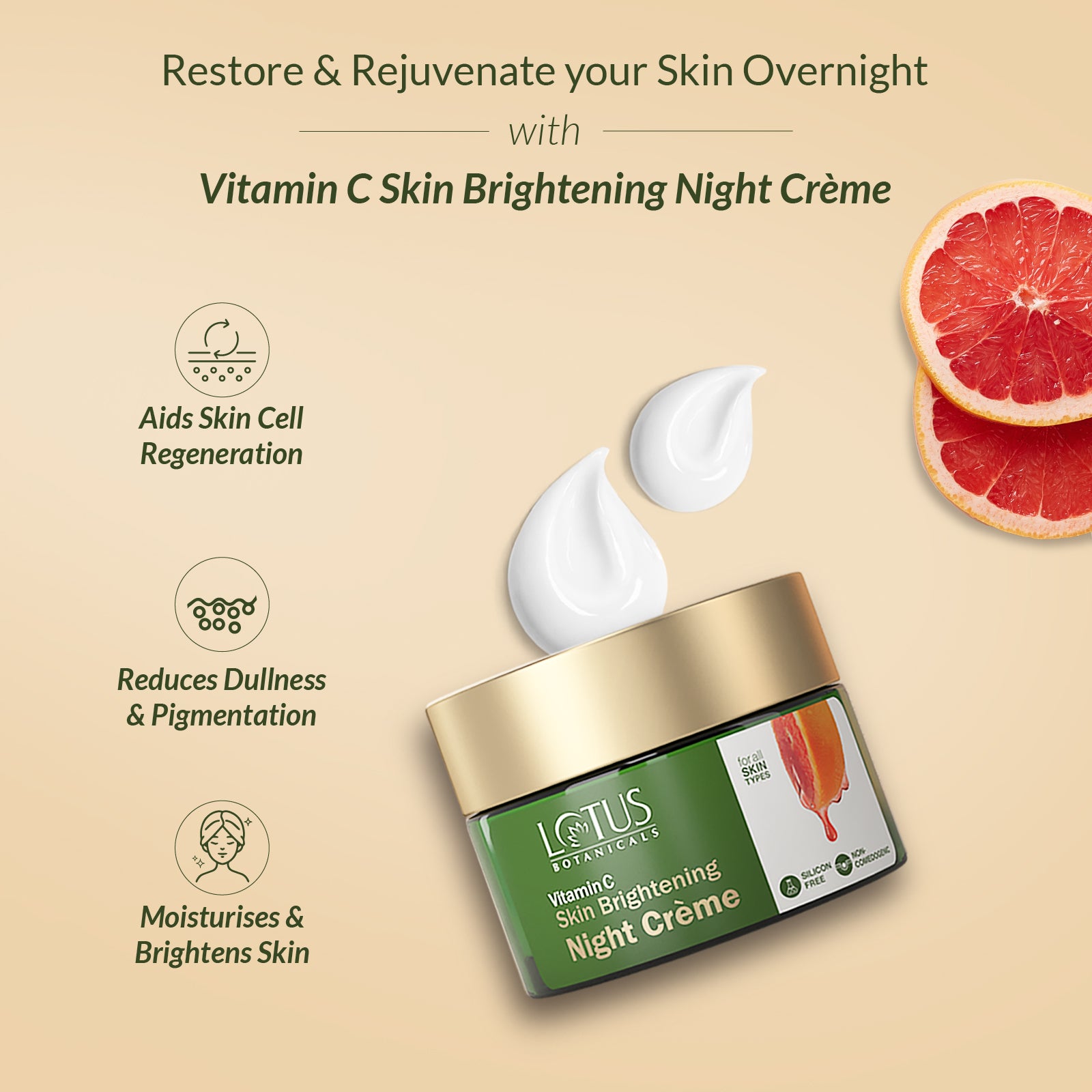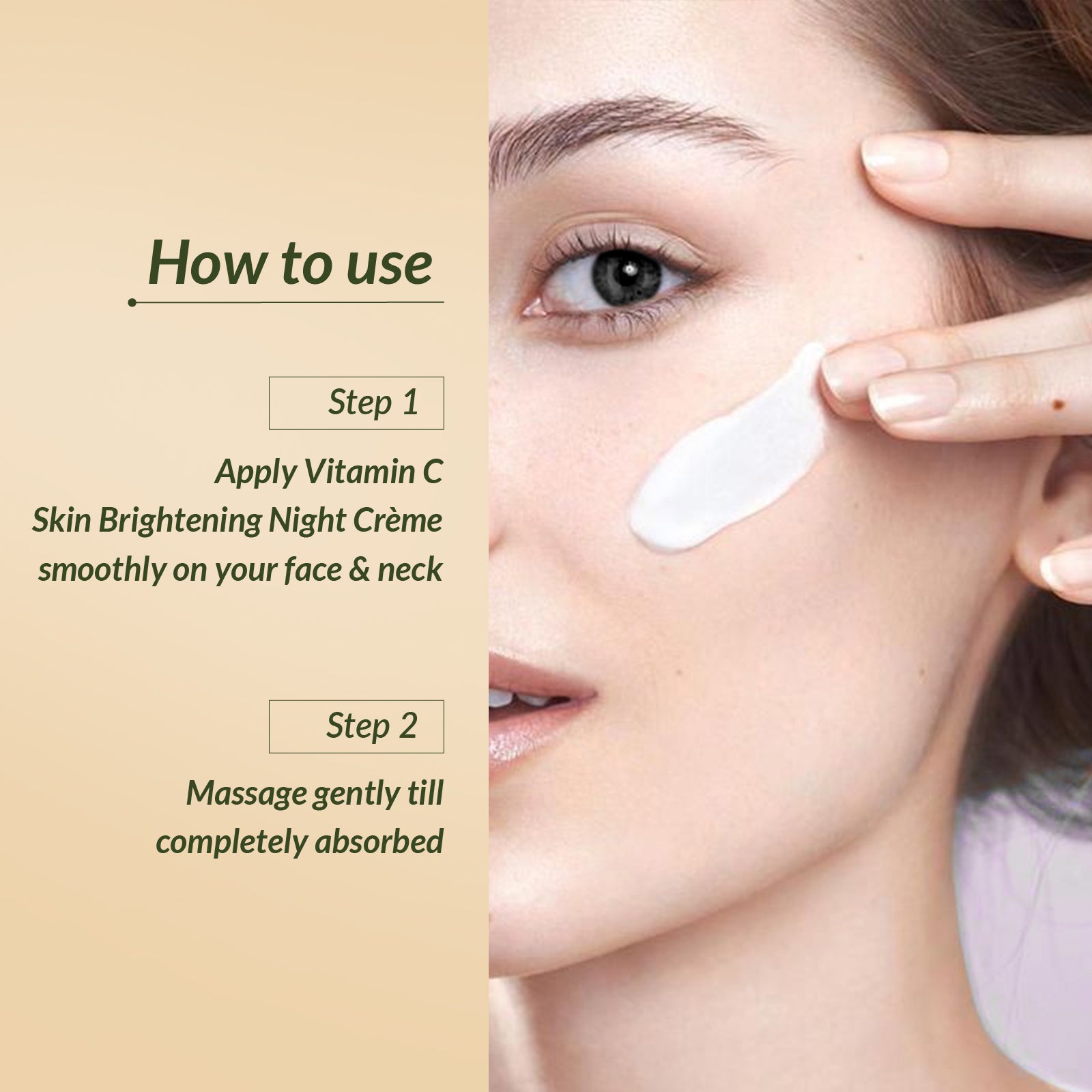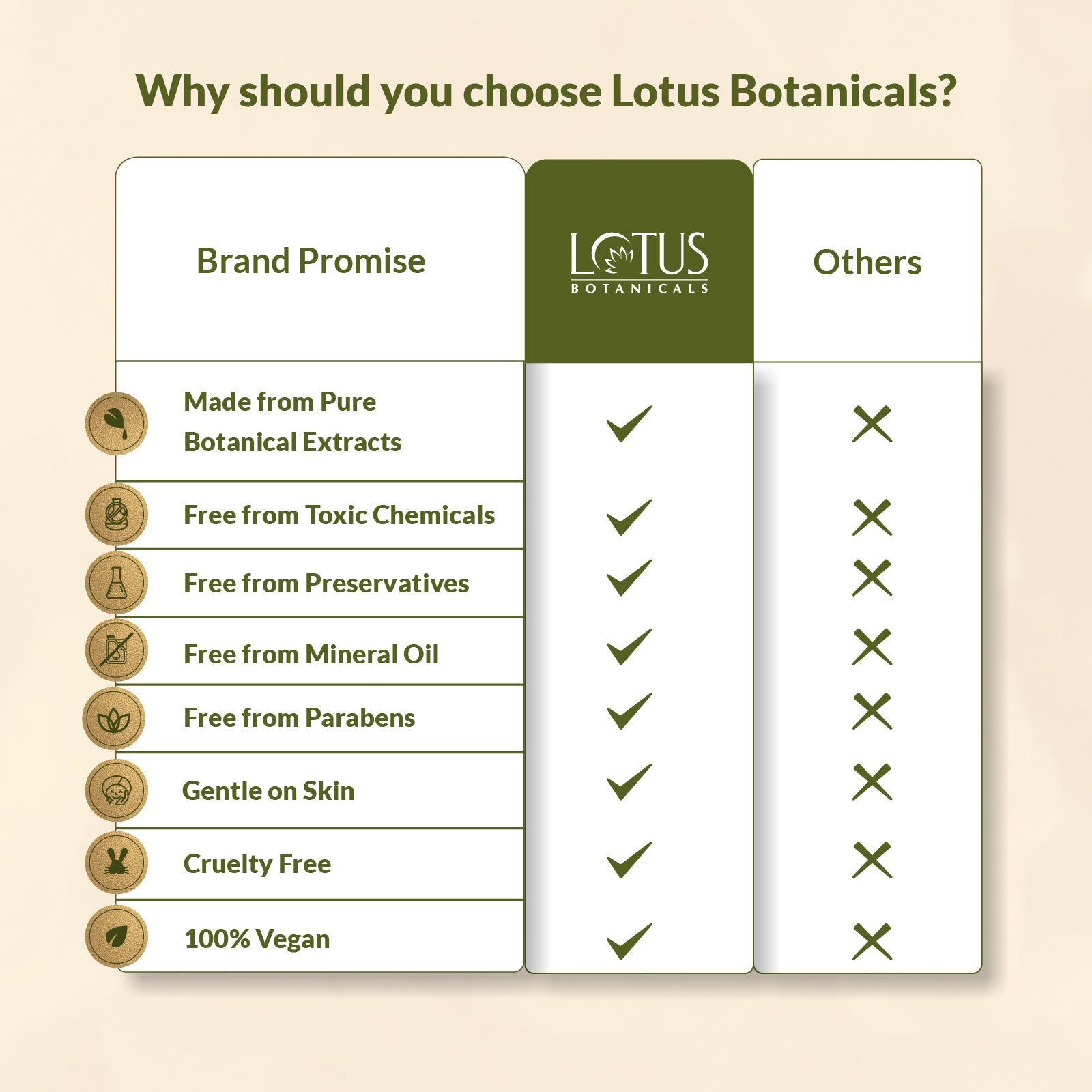 Vitamin C Skin Brightening Night Crème
Offers You
Can't Resist
🎁FREE Green tea Renew and Restore worth Rs 915 on purchase of Rs 999 or more🎁
Description

Ingredients

Know Your Product

FAQs

Good To know

More Info

Reviews

You May Also Like
Night time is skin repair time! Set your skin clock to a restore mode with Lotus Botanicals Vitamin C Skin Brightening Night Crème. Powerhouse of Vitamin C in this moisture-surge formula activates your skin's natural defence reducing uneven tone, pigmentation, fine lines and wrinkles. Unravel smoother, younger-looking and revitalised skin!

🍊 Powerhouse boost of 100x Vitamin C
🍊 Rejuvenates skin overnight resulting in brighter looking face
🍊 Moisture surge formula keeps skin hydrated
🍊 Reduces uneven skin tone, pigmentation, fine-lines and wrinkles
🍊 Results in smoother, younger looking and revitalized skin
🍊 No Preservatives, No Toxic Chemicals, No Parabens, No Silicones, Non-Comedogenic, No Mineral Oil, pH-Balanced, Anti-Pollution, Cruelty Free, 100% Vegan
Vitamin C

A powerhouse ingredient, Vitamin C is well-known for its skin-brightening benefits. It fades spots, scars and pigmentation. It is a potent antioxidant that neutralizes free radicals created in the skin due to oxidative stress. It aids in skin's natural cell regeneration. It also helps recover skin and reduces redness either caused by sensitivity, overexposure to the sun or inflammatory skin disorders. It refreshes, energises and radiates the skin.


Full Ingredients List

Aqua, Niacinamide, Glycerin, Polyacrylamide (and) C13-14 Isoparaffin (and) Laureth-7, Capryrlic-capric triglyceride, Coco Glycerides, Heptyl Undecylenate, Propanediol, Sorbitan Stearate (and) Sucrose Cocoate, Glyceryl Stearate and PEG-100 Stearate, Xylitylglucoside (and) Anhydroxylitol (and) Xylitol, Titanium Dioxide & Isocetyl Stearoyl Stearate, Terminalia Ferdinandiana (Kakadu Plum) fruit extract, Enteromorpha Compressa Extract (and) Silybum Marianum Fruit Extract (and) Ocimum Sanctum Leaf Extract (and) Citric Acid, Tocopheryl acetate, EDTA Disodium, Butylated hydroxytoluene, Allantoin, Pentaerythrityl Tetra-di-t-butyl Hydroxyhydrocinnamate, Caprylhydroxamic Acid (and) Phenethyl Alcohol, Fragrance
---
---
Good To Know
We recommend that people with sensitive skin always perform a patch test first to ensure there is no reaction. Discontinue if irritation occurs.
Store in a cool and dry place.
In case of pregnancy, please consult with your physician before the product usage.
For external use only.
Make sure your fingers are not contaminated or wet when dipping into the cream.
Close the cap tightly after each use.
---
More Info
Get Glowing Skin With Vitamin C Night Creme
To flaunt flawless skin, you must work on a flawless skincare routine. An effective skincare regime pays categorical attention to day time and nighttime skincare unequivocally. The most defining difference between a night and daytime skincare routine is that the focus of skin care products used at night is to facilitate cell repair, day time skin care products focus on skin protection from external aggressors.
This Vitamin C night cream is ideal for you if you are looking for the perfect product to wake up to fresh-looking skin. Repair, restore and rejuvenate your skin while you sleep with our Vitamin C Skin Brightening Night Crème. With 100x Vitamin C power, it reduces uneven skin tone and pigmentation and reveals a brighter skin tone. It restores adequate moisture to minimise wrinkles, fine lines and age spots.
Lotus Vitamin C Night Cream, created to revitalise skin, encourages the creation of collagen to give you firm and lush skin. Vitamin C's antioxidants stop melanin formation and dark patches, giving your skin a noticeable shine. Excellent natural ingredients that both moisturise and brighten, grapefruit and kakadu plum. The Lotus Vitamin C night cream will function as you sleep, hydrating your skin all night long and assisting you in regaining your natural young shine. The best skin rejuvenator for oily skin is vitamin C night cream. The potent mix of vitamins A, B3, C, and E allows you to naturally care for your skin. It lessens the visibility of ageing symptoms including dark spots, fine wrinkles, and sagging skin, as well as aids to maintain the skin's health. As a natural overnight treatment, the cream feeds the skin as you sleep and leaves it looking gorgeous in the morning. The cream moisturises the skin and aids in maintaining your skin's moisture levels because it contains niacinamide acid.
Key benefits of Vitamin C Skin Brightening Night Cream
There are numerous Lotus Vitamin C night cream benefits  :
Vitamin C night cream has anti-inflammatory properties
The main ingredient of this night cream is Vitamin C, a powerful antioxidant with fantastic anti-inflammatory properties. This is useful in protecting your skin from sun damage and other external or internal factors.
Vitamin C night cream

boosts collagen production. 
This Vitamin C night cream can enhance your skin's firmness and elasticity by augmenting collagen production. By regular usage of this Vitamin C night cream, you can make your skin look more plump and youthful. 
Vitamin C night cream

helps in skin brightening. 
Vitamin C is known to have outstanding skin brightening properties. This skin brightening night cream can yield noteworthy results in terms of an even complexion and brighter skin tone over time. 
Vitamin C skin brightening night cream

helps in keeping acne at bay. 
This Vitamin C night cream has a non-comedogenic formulation which ensures that your skin's pores don't get clogged. Consequently, by using this night cream, you can avoid various skin problems such as acne and breakouts. 
Vitamin C night cream

is a perfect addition to your nighttime skincare regime 
The creamy, lightweight, toxic-free, and non-comedogenic formulation of this Vitamin C night cream makes it glide onto your face like a dream. By its holistic skin benefits, it is safe to say that it is a good addition to your daily nighttime skincare regime. 
How To Choose The Best Vitamin C Night Cream?
When picking the finest and best vitamin C night cream, consider the following:
A high-quality vitamin C cream often has a light texture and is non-greasy. These lotions are perfect for those with oily or mixed skin.

Vitamin C night creams with components sourced from plants, such as grapefruit and Kakadu plum, are ideal for persons with sensitive skin.

Vitamin C night creams enhanced with seed oils, fruit extracts, and glycerine are excellent if you have dry skin.
Who can use Vitamin C Night Cream
:
This is a gender-neutral product. Both men and women can use it.

It is safe for use by anybody who wants to enhance the effectiveness of their skincare regime. 

It is suitable for all skin types. However, it is advisable to do a patch test to be sure of this product's suitability.
The price of Lotus night cream is  Rs. 645.00
Best suited for: All skin types
Concerns: Dry, dehydrated skin, dullness and uneven skin tone
---