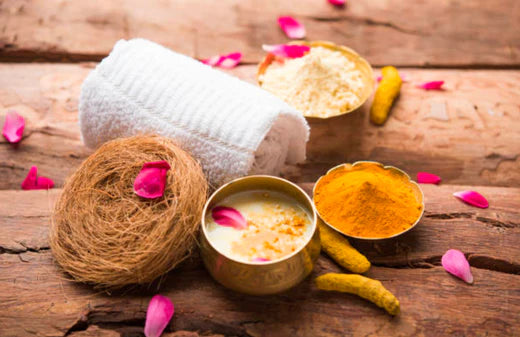 Since we were young, organic practices and homemade cures have been the go-to solutions for the majority of beauty and skincare problems. Whether people prefer it or not, everyone in their homes has been introduced to the yellow powder that is smeared across the face and skin. Ubtan, a classic Vedic formula to cleanse the body and face, is exactly what that powder is. Ubtan is a miraculous recipe that pampers your skin and leaves you feeling refreshed. It is created with basic yet effective ingredients. Ubtan has been used for generations to safeguard and beautify skin, and it's rather amazing how well this natural mixture still performs wonders for our bodies.
Let's look at some amazing benefits of ubtan for glowing skin
1. Free From Harsh Chemicals
There is always a concern about side effects and potential long-term skin damage while using various chemicals infused skin care products. In some cases, these beauty products may give an instant glow, but over time, they just harm the skin.
But, since Ubtan is composed of natural ingredients such as turmeric, sandalwood, etc., you can enjoy the natural glow without fearing about any adverse side effects.
2. Makes You Look Younger
The primary ingredient of ubtan is turmeric, also known as haldi, which is revered for its therapeutic powers. This remarkable ubtan ingredient is renowned for its anti-inflammatory, anti-ageing, and anti-oxidative effects. It treats flaky, dry skin, a sign of ageing, and restores lost moisture, making the skin look more youthful.
3. Even Toned Skin
Sandalwood powder, also known as Chandan, is another crucial component that makes up ubtan, and it is well renowned for its ability to tighten the skin naturally. Applying frequently gives your skin a firm and youthful appearance and tightens pores.
Ubtan: A Miraculous Remedy for Sun Tan
Above all, Ubtan aids in tan removal and dead skin cells, preventing fine lines, wrinkles, dryness and soothing sensitive skin. It combines natural components that help moisturise skin and make the complexion look more radiant. It aids in fading blemishes and uneven skin tone. It helps clear up facial flaws, manage excessive oil, and calm the skin.
After exposure to sunlight, the skin's melanin pigment grows, which results in a darkening look, known as tanning. When exposed to UV, this is how our bodies naturally defend themselves. It acts as a barrier to guard your skin from sun damage.
The cells in the epidermis are destroyed when exposed to UV rays, which causes a burning sensation. The skin gradually becomes itchy and may even start to tear up due to sunburn, also known as erythema. Constant exposure to light damages your skin cells and results in hyperpigmentation, a disorder that typically manifests as dark blotches on your body. Unsecured exposure to UV radiation causes the elastin and collagen fibres that maintain your skin healthy to disintegrate. Due to a decrease in the skin's ability to produce vital proteins, fine lines, wrinkles, loosened creases, and other early ageing symptoms occur.
You can help yourself naturally remove your skin tan by using ubtan. Because ubtan is composed entirely of natural components, the uses of ubtan for tan removal are many and applying it to the skin is the nicest thing ever. The mixture has a lovely scent of herbs, spices, grains, pulses, and nuts, all of which serve to thoroughly exfoliate the skin and bring out its natural radiance.
Chickpea flour, turmeric, sandalwood, 24k gold and rose water are some of the more popular components used in the numerous ubtan recipes. To make the skin look more radiant, some individuals even mix saffron and sandalwood powder into the ubtan paste. These mixtures can be combined to make a paste and can be added to different types of ubtan to remove tan at home.
Lotus Botanicals' Range of Ubtan De-Tan Radiance Skin Care Products
Since now you know the ubtan benefits for tan removal, you should get the amazing organic de- tan products from Lotus Botanicals to get your skin all glowy and radiant! Let's look at our range.
Ubtan De-Tan Radiance Face Wash
Lotus Botanicals Ubtan De-Tan Glow Face Wash helps restore your skin's natural glow while providing the advantages of 24k gold, turmeric, rose, and sandalwood granules so you may approach each day with enthusiasm.
This Ubtan face wash contains lots of antioxidants, which brighten and give your skin a beautiful appearance. The face wash contains rich, ancient organic ingredients like chickpea powder, sandalwood powder, and turmeric, which are known for their cleansing and skin-repairing properties. Its formula gently exfoliates the skin, leaving it shiny and youthful-looking.
Ubtan De-Tan Radiance Face Scrub
Active elements in our Ubtan De-Tan Radiance Face Scrub, such as turmeric, rose, chickpea powder, sandalwood powder, and 24k Gold, gently exfoliate dead skin cells and pollutants to preserve luminous, flexible skin with an even skin tone. Our Ubtan face scrub treats blackheads, whiteheads, clogged pores, and dull, uneven skin tone.
Ubtan De-Tan Radiance Face & Body Mask
Our Ubtan De-Tan Radiance Face & Body Mask's active ingredients, including 24k Gold, Rose, Turmeric, Chickpea Particles, and Sandalwood Powder, gently scrape old skin and pollutants to maintain radiant, supple skin with a neutral complexion. Our Ubtan face and body mask can treat a variety of skin issues, including clogged pores, fatigued skin, uneven skin tone, and blackheads and whiteheads.
DIY Ubtan recipe for tan removal using Lotus Botanicals' Ubtan De-Tan product
DIY ubtan for tan removal is one of the best ways to remove tan and make your skin look young and fabulous. And adding Lotus Botanicals' Ubtan in the homemade recipes can enhance and add extra benefits to them.
Below we have shared some homemade recipes using Lotus Botanicals' de-tan ubtan products for tan removal!
To make a DIY ubtan face mask paste, combine milk, 2 tablespoons of honey, 1 tablespoon of lemon juice, and the powder from the Lotus Botanicals face and body mask. Your face should be covered with the paste, which you should leave on for 15 to 20 minutes. Lemon is an excellent, all-natural bleach for tans. For better and quicker results, use this mask at least twice a week and more frequently in the summer.

For a DIY ubtan body mask, use yoghurt and lotus Botanicals' face & body mask, mix them well and apply the paste on your body. The antioxidants present in yoghurt combined with the goodness of ubtan remove tan from the body effectively.

Another effective face mask includes a combination of Lotus Botanicals' ubtan powder and rose water. Add rose water till you get the desired consistency and apply the mask to your face for about 20 minutes. Wash your face with cold water and moisturize well. This will give a glowing and fresh feel to your skin.
Why go for Lotus Botanicals?
We use nature's actual power for people's entire health and beauty. Additionally, the goods are created using the purest kind of botanical extraction from power plants. Every step of the Lotus Botanicals company's journey, from sourcing to formulation, packaging, and delivery, involves deliberate attempts to have a less environmental impact. When we use the word "natural," we mean it literally. At Lotus Botanicals, no additives of any kind are used at any point in the course of the clean beauty product, making it ideal for daily use.
The Lotus Botanicals ubtan products line is skillfully created to address a variety of common skin problems, including tanning, blackheads, whiteheads, clogged pores, uneven skin tone, and more. We provide a wide range of Ubtan products, including face wash, face scrub, and face and body masks, all of which contain healthy ingredients like chickpea flour, 24 karat gold, sandalwood, turmeric, and these. These products are cruelty-free and devoid of contaminants, parabens, phthalates, mineral oils, and sulphates, making them best for tan removal and glowing skin.
Since now you know the uses of ubtan for tan removal, go get the Lotus Botanicals De-tan Kit to fight the scorching sunlight and get beautiful skin.
Read More:
Ubtan- The Age Old Skincare Formula
Ubtan Skincare Products For Skin Radiance & Glow
9 Amazing Benefits Of Ubtan For Glowing Skin
Vitamin C: The Wonder Nutrient for Your Skin