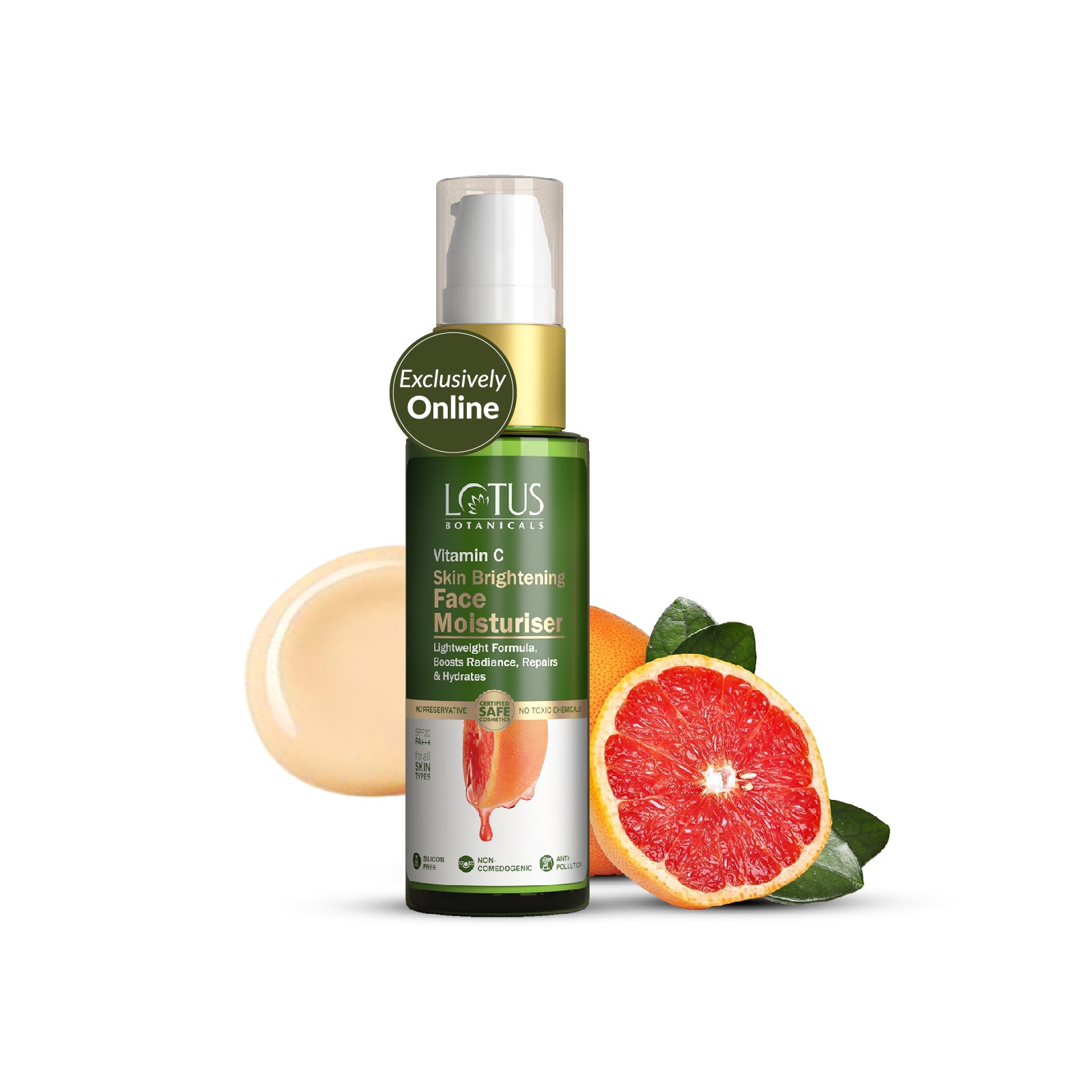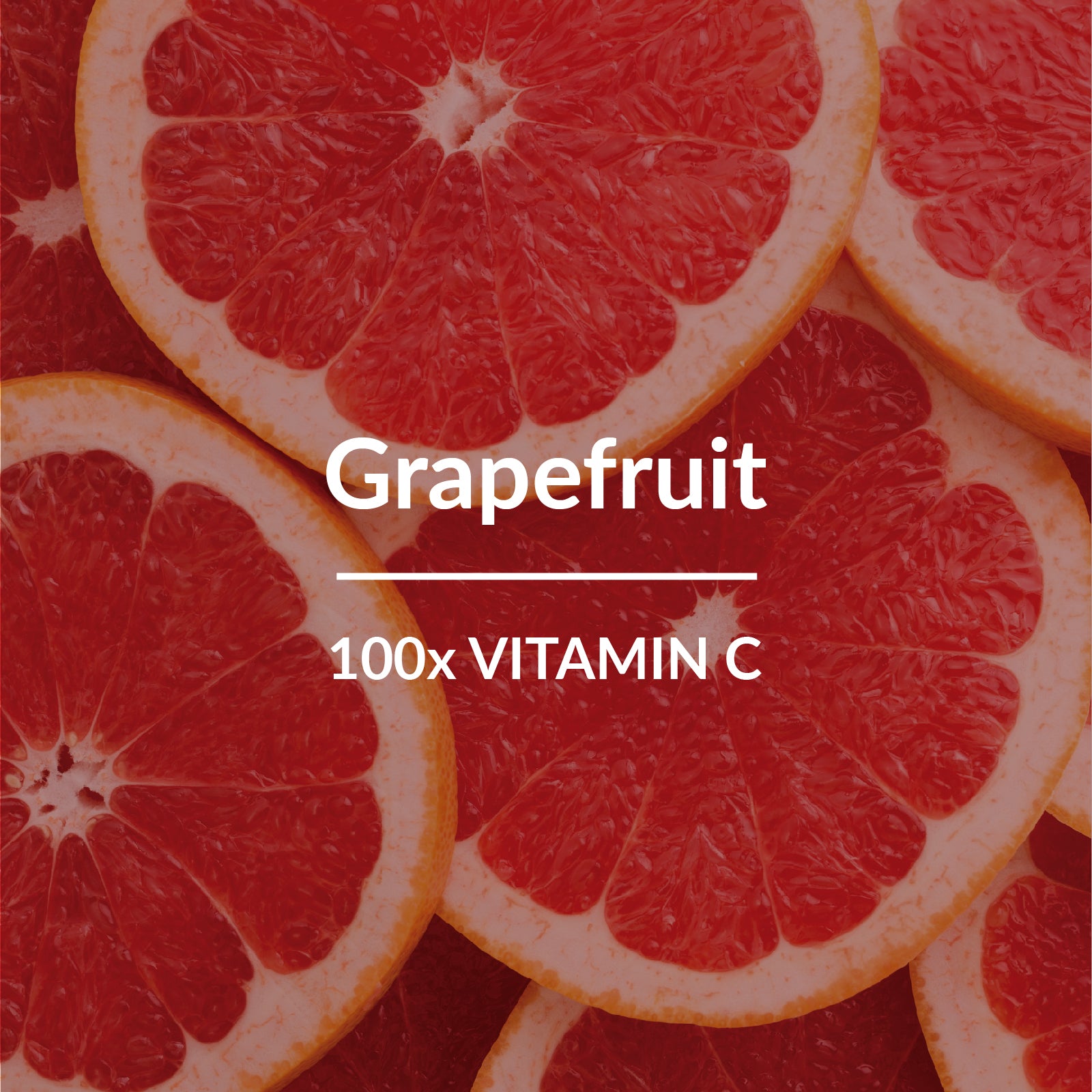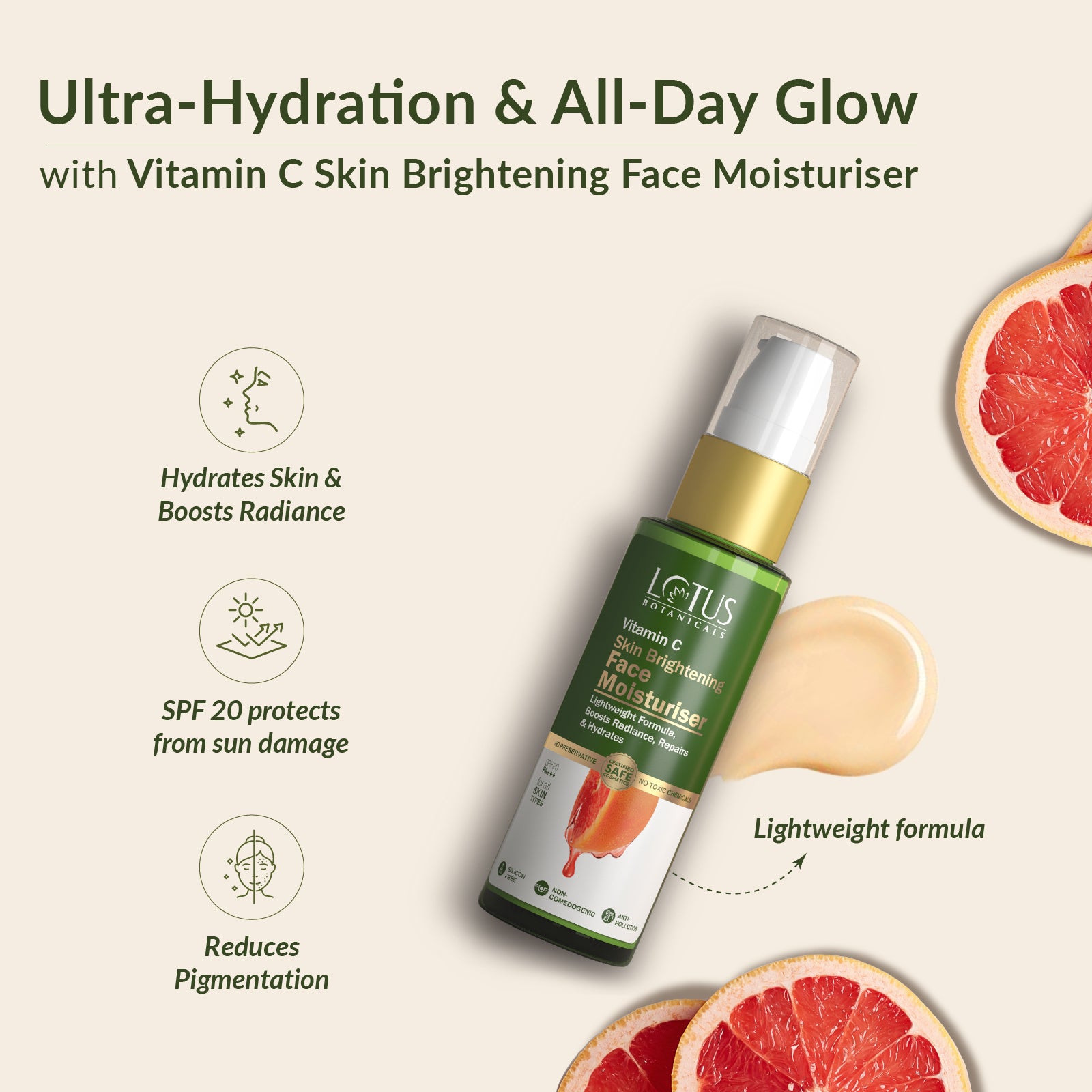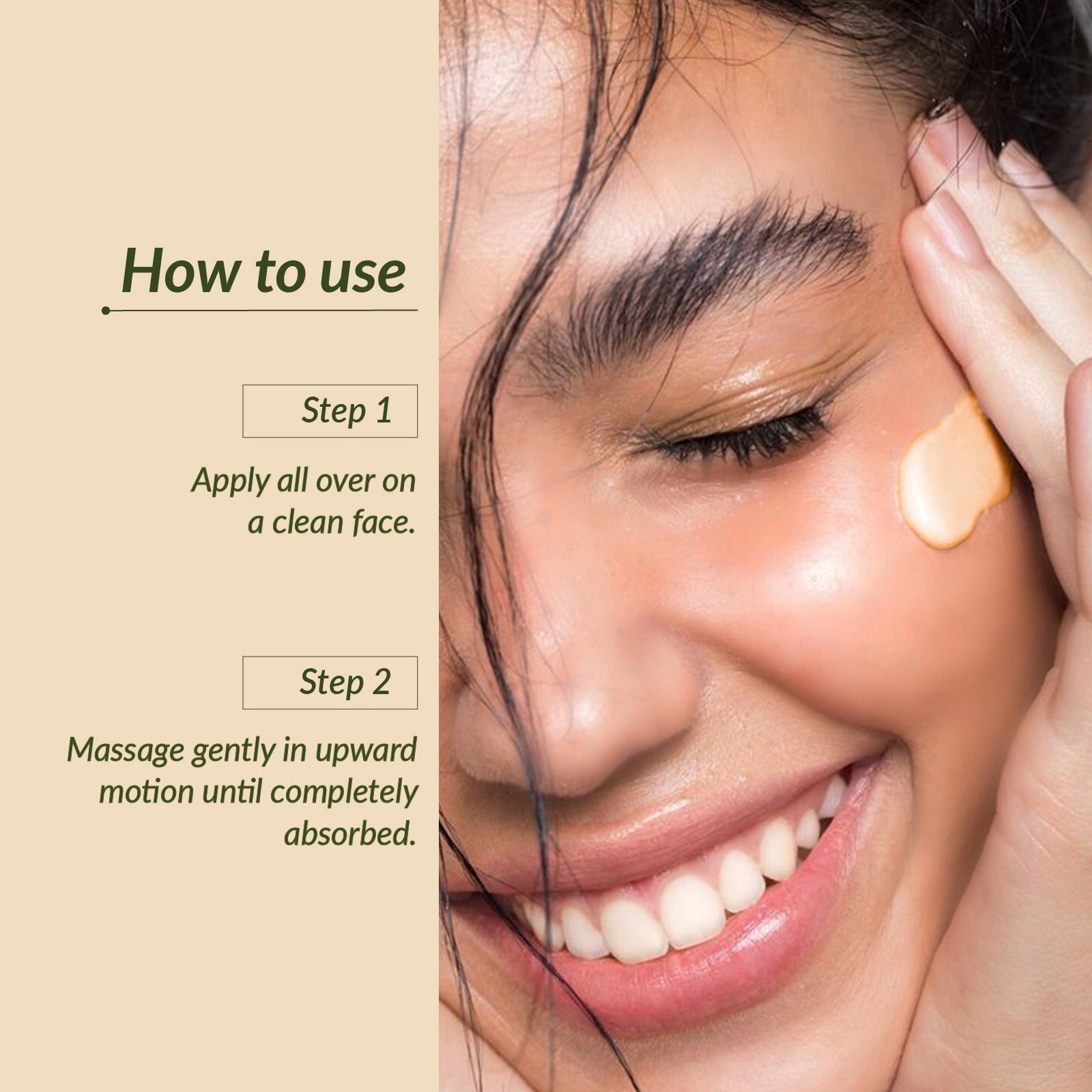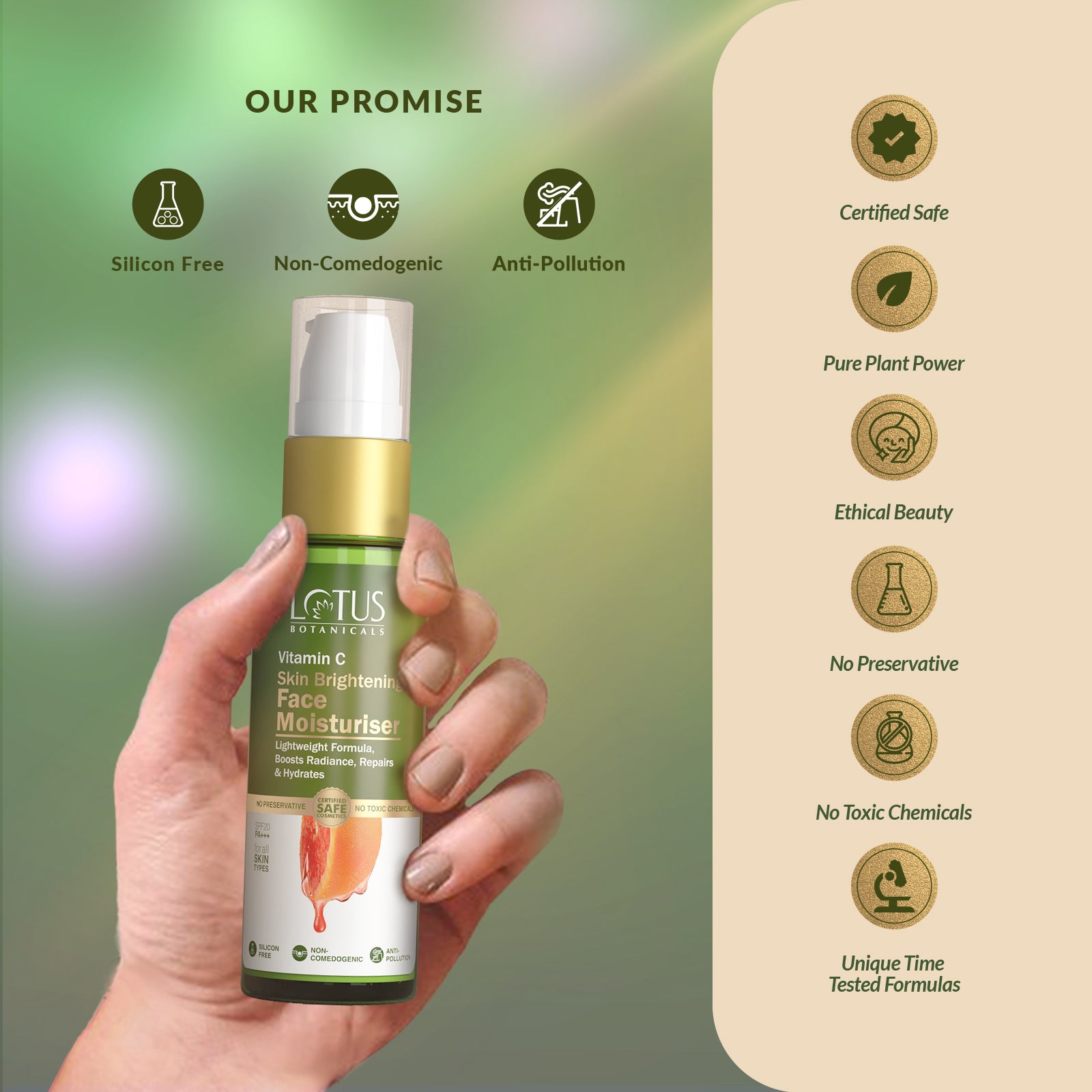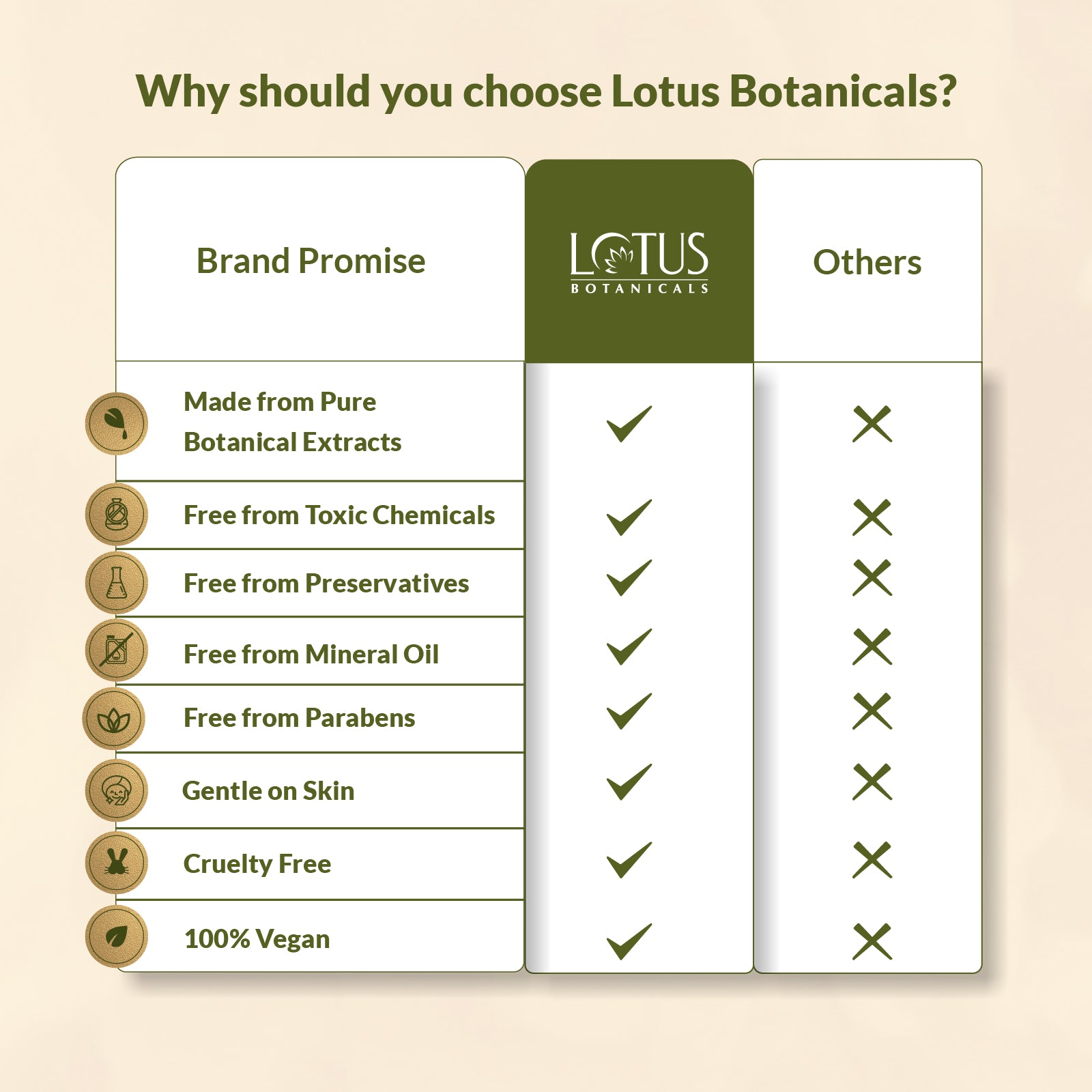 Vitamin C Skin Brightening Face Moisturiser
Offers You
Can't Resist
🎁 FREE Vitamin C Wash N Moisturise Worth Rs 960 on purchase of Rs999🎁
Description

Ingredients

Know Your Product

FAQs

Good To know

More Info

Reviews

You May Also Like
Supercharge your skin with Lotus Botanicals Vitamin C Skin Brightening Face Moisturiser the ultimate antioxidant powerhouse! A feather-light moisturiser, it boosts skin radiance hydrates and makes it glowing. The power of Vitamin C along with SPF 20 protects from sun damage reduces pigmentation and signs of skin ageing.

• Powerhouse boost of Vitamin C
• Keeps skin supple, moisturised and hydrated
• Feather-light moisturising formula
• Boosts Skin Radiance
• Results in glowing skin
• SPF20 protects from sun damage and UV rays
• Reduces skin pigmentation and signs of ageing
• No Preservatives, No Toxic Chemicals, Paraben Free, Silicon Free, Non-Comedogenic, Mineral Oil Free, pH-Balanced, Anti-Pollution, Cruelty Free, 100% Vegan
Vitamin C

A powerhouse ingredient, Vitamin C is well-known for its skin-brightening benefits. It fades spots, scars and pigmentation. It is a potent antioxidant that neutralizes free radicals created in the skin due to oxidative stress. It aids in skin's natural cell regeneration. It also helps recover skin and reduces redness either caused by sensitivity, overexposure to the sun or inflammatory skin disorders. It refreshes, energises and radiates the skin.


Full Ingredients List

Methoxydibenzoylmethane (and) Benzophenone-3 (and) Phospholipids (and) 1,3-Butylene Glycol, Glycerin, Titanium Dioxide & Isocetyl Stearoyl Stearate, Propanediol, Cetostearyl Alcohol, Cetyl alcohol, Glyceryl monostearate, Hydroxyethyl Urea, Glyceryl Stearate and PEG-100 Stearate, Biosaccharide Gum-4, Tocopheryl acetate, Enteromorpha Compressa Extract (and) Silybum Marianum Fruit Extract (and) Ocimum Sanctum Leaf Extract (and) Citric Acid, Xanthan Gum, Allantoin, Terminalia Ferdinandiana (Kakadu Plum) fruit extract, EDTA disodium, Butylated hydroxytoluene, Caprylhydroxamic Acid (and) Phenethyl Alcohol, CI 15985, Fragrance
---
Frequently Asked Questions
Our Vitamin C Skin Brightening Face Moisturiser boosts skin's radiance and shields the skin from sun damage. It reduces pigmentation and signs of ageing.
Yes, Vitamin C is a powerful skin-brightening ingredient. It helps recover vitality in the skin that has become dull over time and brings back the radiance.
Yes, both men and women can use this product.
Yes, this Vitamin C moisturizer is very good for deeply nourishing your face. In addition to that, it has numerous properties that can provide holistic benefits to your skin.
It is advisable to always use a moisturizer after using a Vitamin C serum. A Vitamin C seek will hydrate your skin whereas a Vitamin C moisturiser will deeply moisturise and nourish your skin.
Yes, you can use the Lotus Botanicals Vitamin C moisturiser after your Vitamin C serum has been properly absorbed by your skin.
The Lotus Vitamin C moisturizer has been made from natural ingredients and there are no known side effects attributed to it. Having said that, you can do a patch test to mitigate the possibility of any signs of skin irritation.
The Lotus Botanicals Vitamin C face moisturiser has been made from natural ingredients sustainably and ethically. It is vegan, cruelty free, paraben and sulphate free.
It would help if you incorporated this moisturiser into your daily skin care routine for the best results. You can gently massage this moisturiser onto your face after washing to facilitate proper skin penetration.
Consistency is the key when it comes to evident results. You should be able to see results in terms of your dark spots after regular usage of two to four weeks.
This moisturising lotion has been made from pure, balanced and natural ingredients. Furthermore, it is infused with the outstanding benefits of Vitamin C that give this Lotus moisturizer exceptional skin moisturising properties.
In light of its natural, vegan and cruelty-free formulation, this product is suitable for all skin types. However, it is advisable to do a patch test to look for any signs of skin irritation.
No, the lightweight and non-greasy formulation of this moisturizer will not make your skin greasy.
---
Good To Know
We recommend that people with sensitive skin always perform a patch test first to ensure there is no reaction. Discontinue if irritation occurs.
Store in a cool and dry place.
In case of pregnancy, please consult with your physician before the product usage.
For external use only.
---
More Info
Add A Touch Of Vitamin C Moisturiser To Your Skincare Routine
Moisturising is one of the most important steps of skin care. It is imperative for safeguarding your holistic skin health and keeping a number of skin problems at bay. 
Vitamin C has earned the title of a distinguished skin care ingredient in light of its prodigal skin healing and nourishing characteristics. When the benefits of Vitamin C are infused in your moisturiser, then the ensuing product; the Lotus Botanicals Vitamin C skin brightening face moisturiser is an absolute winner. 
Nothing's more beautiful than supple and hydrated skin. With its feather-light texture and non-greasy formula, our Vitamin C Skin Brightening Face Moisturiser reduces pigmentation, dark spots, and signs of ageing. SPF 20 shields skin from sun damage and helps you stay beautiful and young.
Vitamin C Face Moisturiser Benefits
If you have been meaning to buy a Vitamin C moisturiser online, then the Lotus Botanicals Vitamin C skin brightening moisturiser is perfect for you. 
It can augment collagen production 
Consistent usage of this moisturiser can help you in enhancing collagen production which can have numerous benefits for your overall skin health. 
It has anti-aging benefits 
By virtue of its stellar ingredients and formulation, this moisturiser can target fine lines and wrinkles and help impart a youthful texture to your face.
It works on dark spots and pigmentation 
Vitamin C, which is an integral ingredient of this moisturiser, is known to have potent benefits to blur away the appearance of dark spots and pigmentation. This helps you in getting a flawless skin tone.
It is a powerful antioxidant for the skin 
Regular usage of this moisturiser can help you in managing the oxidative stress caused to your skin due to aggressive external factors. This will help in providing wholesome benefits to your skin.
It can help you in achieving a brighter skin tone
By playing an active part in decreasing melanin formation, this is akin to the brightening moisturizer, can help you in achieving a glowing and radiant complexion.
Who can use Vitamin C Moisturiser
The Lotus Botanicals moisturiser is amongst the best Vitamin C moisturisers out there. It can be used by anyone :
Who wants to enhance the impact of their skin care regime. 

People who are not allergic to Vitamin C. 

Anyone who want a moisturiser to target dark spots and pigmentation on their skin specifically. 
Best suited for: 

All skin types


Concerns: 

Dry, dulll skin and uneven skin tone
Paraben Free 
Silicon Free  
Mineral Oil Free
Anti-Pollution 
pH Balanced 
Cruelty Free 
100% Vegan 
Recyclable
Directions To Use
Step 1:
Apply all over on a clean face.
Step 2:
Massage gently till completely absorbed.
For best results, use Vitamin C Skin Brightening Face Wash every day.
---