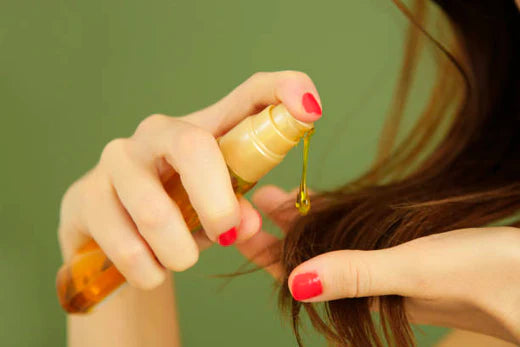 Highlights
Some Amazing DIY Hair Masks

Conclusion

FAQs about Red Onion Oil.
They say the first impression is the last impression, and we don't want our last impression to be with hair problems. While most of our hair problems don't really show on the surface, we know it's there and the thought of reaching up to really scratch our scalp or apply another coat of serum while at a meeting is unthinkable.
Red Onion Oil (Allium Cepa) is an answer to all your hair problems (1). Hair fall is a common problem faced both by men and women. Lifestyle disorders, environmental pollution, and stress can all affect hair fall. Benefits of Onion oil are widely known now. It is generally known for its incredible hair-thy (hair-healthy) benefits from growing out your beautiful hair to caring for it and we're going to be taking a look at those benefits now (2).
Red onion hair oil is one of the best ingredients for hair fall problems and red onion oil benefits are trusted and highly recommended by dermatologists and hair experts worldwide.
Benefits of Onion oil come from the fact that onions are loaded with an immense amount of Vitamin C, B6 and folate. It also contains sulphur and essential minerals like iron, potassium and magnesium. The phytochemicals allium and allyl disulphide are known to improve blood circulation and the antioxidants in red onion fight inflammation. (2)
You can also use red onion shampoo for better scalp help. Other surprising benefits of onion shampoo include its antibacterial and antiseptic properties that aid to ward off dandruff.
Let us take a look at Onion Oil benefits in this post.
Key Benefits of Red Onion Oil for Hair
Grow your hair:
Trying to grow your hair? Then, Red Onion Oil is for you!
Red onion oil benefits are well-known for healthy hair. It has antimicrobial properties which prevents build-up on your scalp (3) promoting hair growth with every application. Be sure to get those fingers moving when you're massaging it into your scalp as it helps with blood circulation which strengthens your hair roots and brings about growth of new hair follicles.
Put an end to hair fall:
Hair Fall is a huge problem that everyone has been through once or just a few billion times in their lifetime. Did you know the humble Red Onion oil could be your solution for that? Well Red Onion Oil is your solution for that as it is a source of antioxidants (4) that produce enzymes which prevents hair thinning and hair fall overtime.
Say 'goodbye' to Dandruff:
Here's another problem we've all faced or still face. Majority of us think using a good shampoo and conditioner is enough to cure our dandruff problem, but going full force and oiling your hair with Red Onion Oil before every wash is an attack, which dandruff won't be able to stand. Red Onion Oil has natural properties like its antibacterial property that promotes a healthier scalp making it difficult for bacteria to survive. This helps treat scalp conditions/infections as well as dandruff.
Similarly, you will notice surprising benefits of onion shampoo when you follow an onion oil hair massage with the onion shampoo and conditioner routine. Reap the benefits of onion oil along with washing your scalp with red onion shampoo.
No more split ends:
Usually, our best solution for split ends is to just go for a trim or better yet, a haircut because nothing we do or use works. But sometimes split ends are still present a few days/weeks after a haircut.
What do you do then? Go for another haircut till you're bald?
Please don't. Red Onion Oil is abundant in Sulphur (5) which is a cure for split ends, and the plus side, it makes your hair softer and voluminous.
Better Hair Texture:
Who doesn't want soft thick hair?
Well, Red Onion Oil promotes hair growth and structure, repairing damaged hair follicles making your hair denser and thicker.
6. Prevents Greying
Red onion oil benefits your hair with the goodness of essential vitamins, minerals. It contains a potent antioxidant called quercetin and it assists in reversing premature greying of hair.
Some Amazing DIY Hair Masks
You can reap the benefits of onion oil with some DIY Hair masks at home. Red onion oil mixed with hair masks is all the rage right now, and what better way to pamper your hair than to make one yourself? *Chef's Kiss* Even better.
Here are a few ways you can pair Red Onion Oil to make a mask at the comfort of your home.
Make a mixture of Red Onion Oil with Castor Oil which has similar properties and benefits of Onion Oil. Apply it on your scalp and massage your scalp well. This will promote hair growth and help to shed damaged skin cells (6).
If Castor Oil is something you can't get your hands on, then try out these other options with ingredients that you will certainly have at home.
Make a mixture of Red Onion Oil and Egg yolk which has a high fat ratio that makes your hair even softer (7).
Make a mixture of Red Onion Oil and Ginger juice which has anti-inflammatory properties that combats scalp infections/conditions (8).
Give your tresses the love and care it needs with Lotus Botanicals Hair Oil Range and imbibe red onion oil benefits for healthy strong hair.
Conclusion
In all of this, remember that consistency is key. Don't expect all of these benefits without making the Red Onion Oil application a routine. But when you do reap the benefits, and you will, don't stop there because prevention is better than cure.
FAQs about Red Onion Oil.
Q: How often can you apply Red Onion Oil?
A: Well how often do you want to? You can apply Red Onion Oil as many times as you wash your hair and even put a little quantity on the important areas until you get your desired result.
Q: Are there any side effects to using Red Onion Oil?
A: We all have different reactions to different things and you wouldn't know until you actually do a test-use. That is, apply a small amount of red onion oil and wait for a set period of time and see if you have any reactions. Some reactions to using Red Onion Oil may include itching and redness (9).
Q: Can I use onion oil on skin?
A. You will be surprised to know the benefits of onion oil for skin. Red onions help in lowering inflammation and reducing the risk of acne.
Now go get that scalp massage and begin your hair growth/care journey with Lotus Botanicals' red onion hair combo pack.
Read More:
Red Onion Hair Care Regimen for Hairfall
How Red Onion Shampoo Is Best For Hair Growth & Hair Fall Control?
Red Onion – Food for Your Hair and Scalp
Bid Adieu to Hair fall this Monsoon
Highlights
Some Amazing DIY Hair Masks

Conclusion

FAQs about Red Onion Oil.