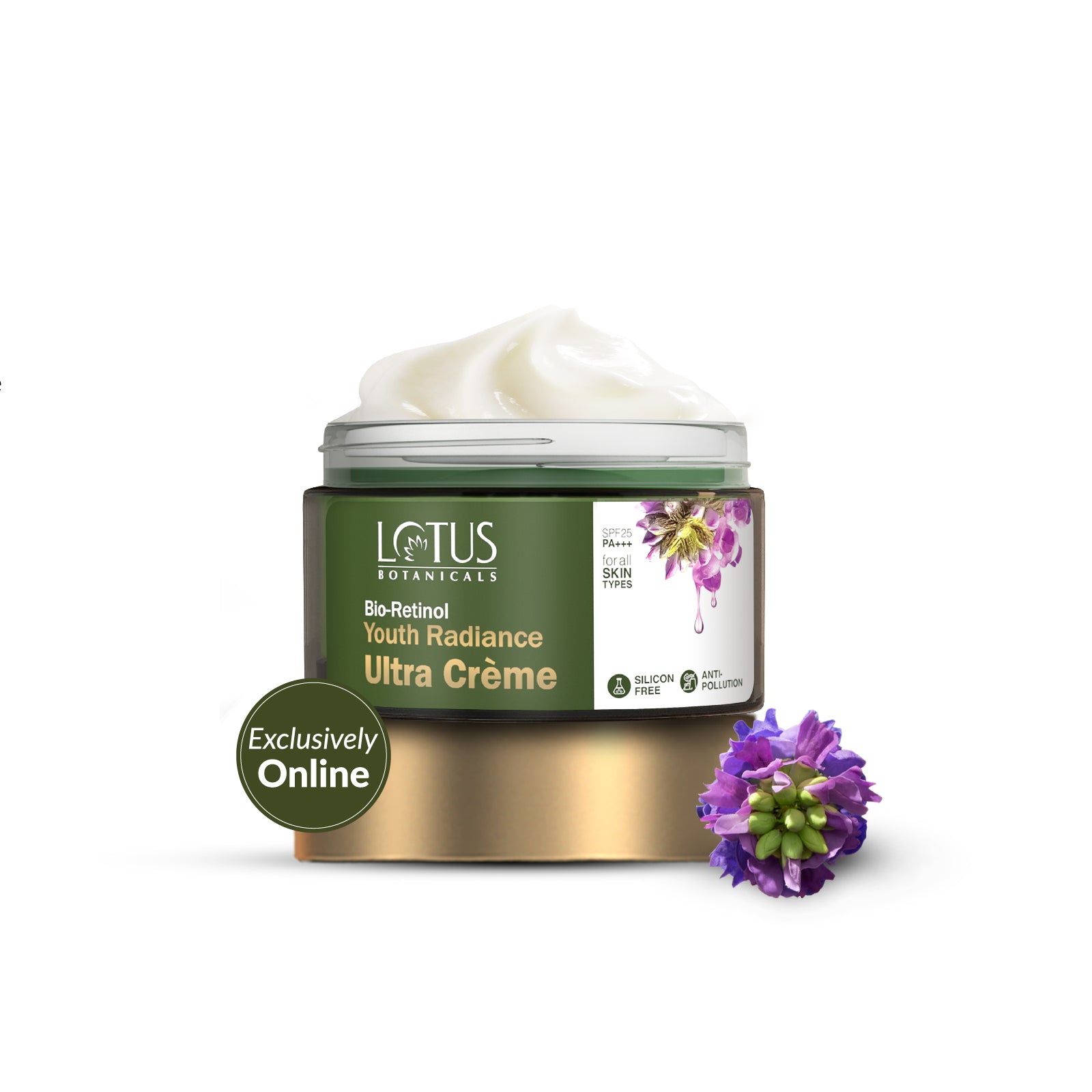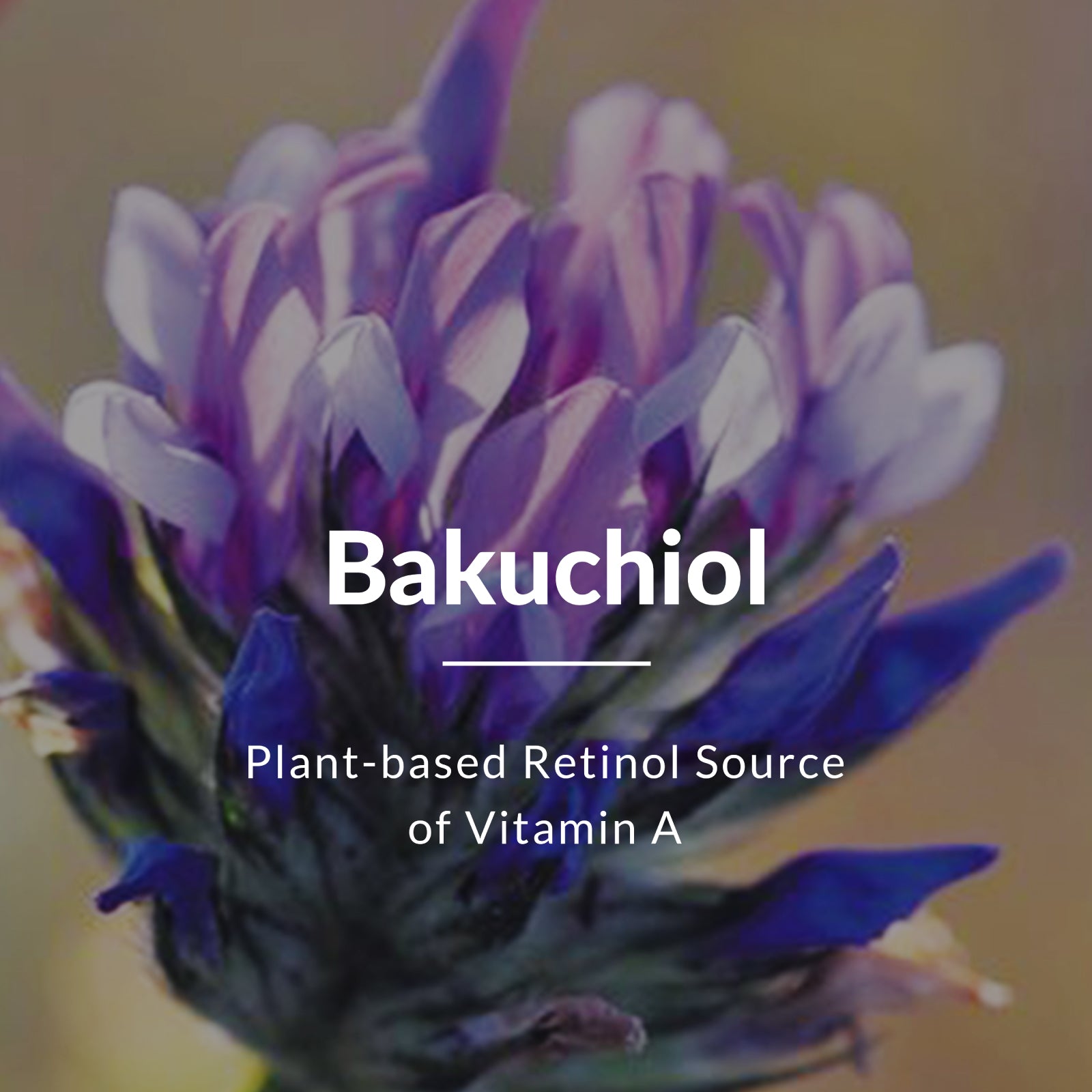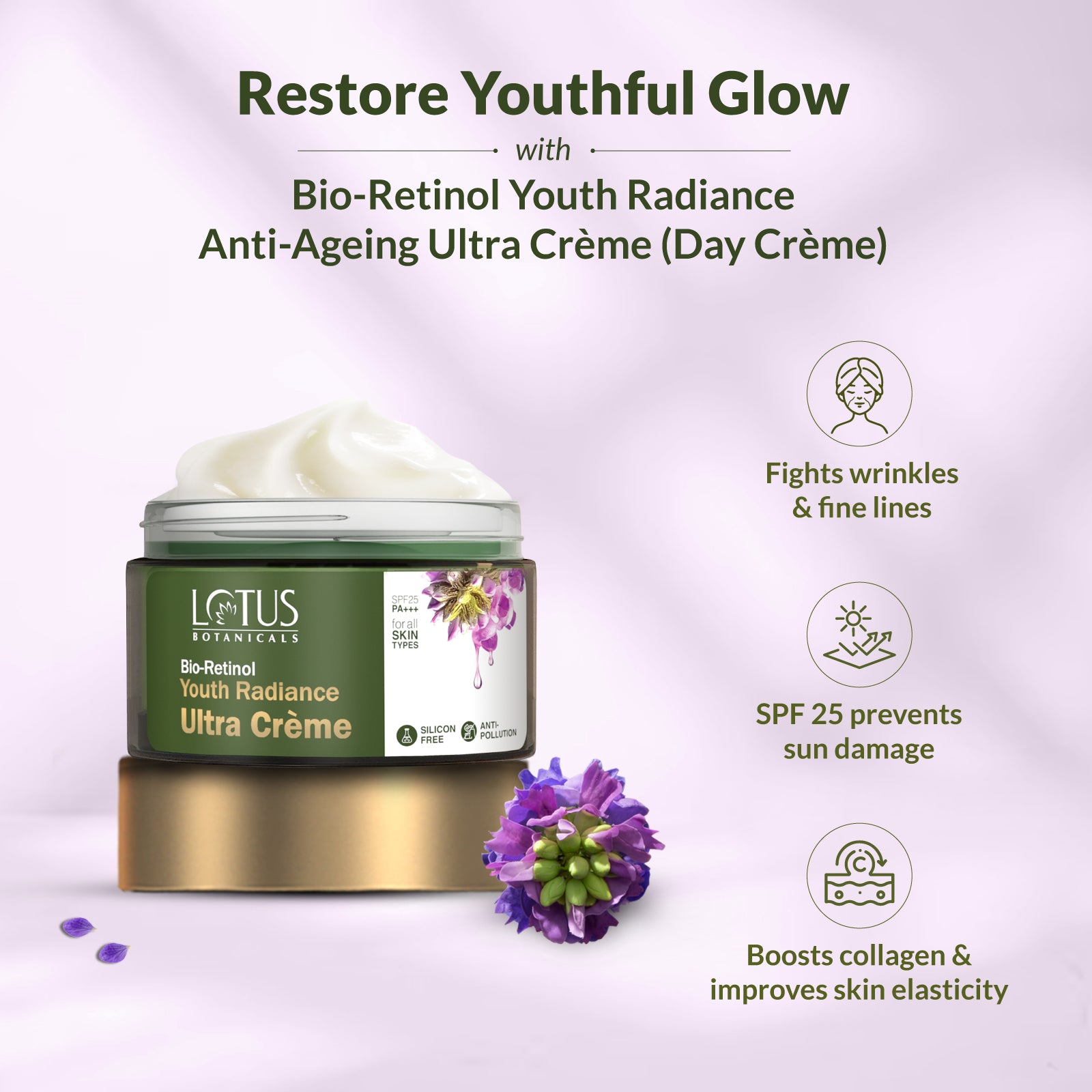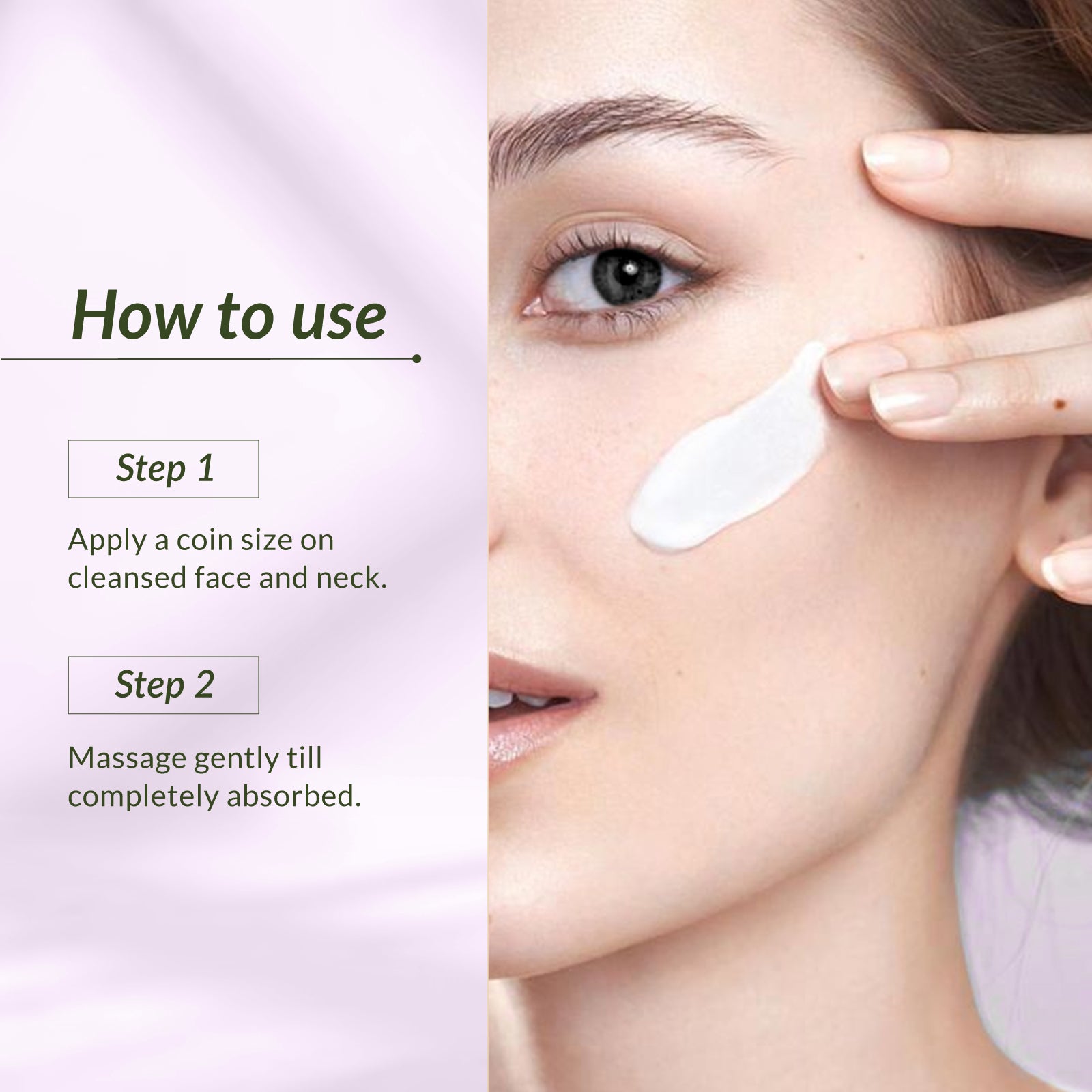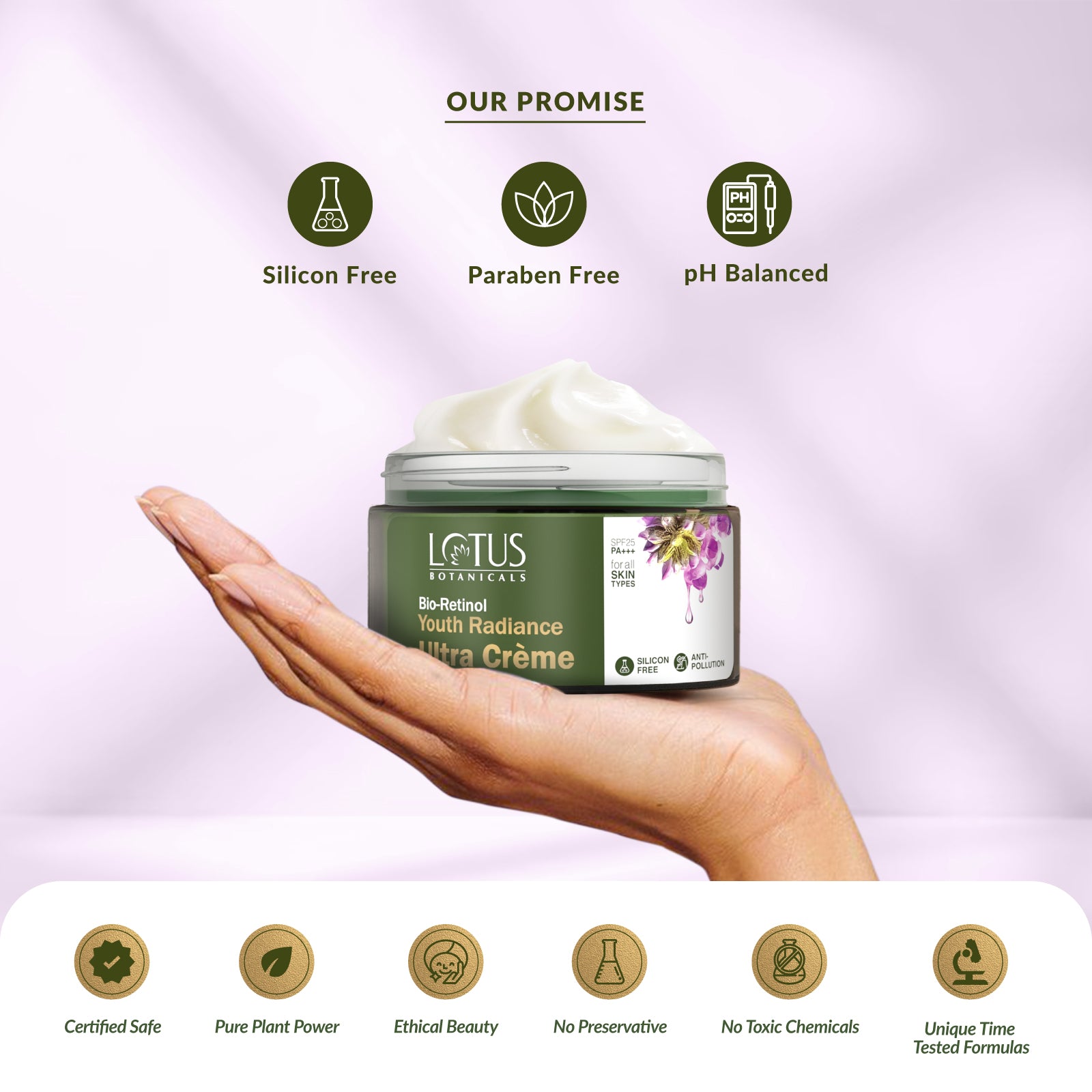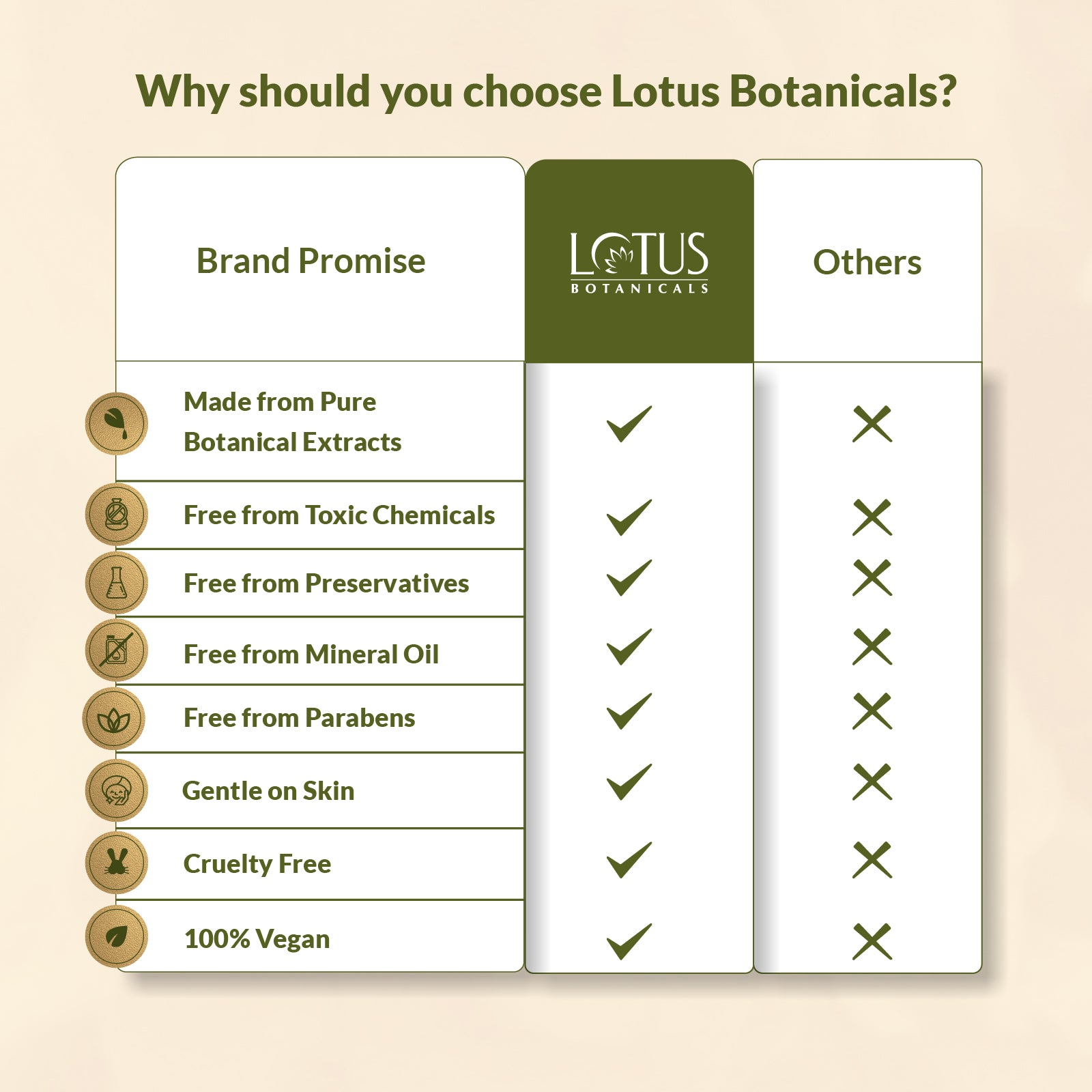 Bio-Retinol Youth Radiance Anti-Ageing Ultra Crème
Offers You
Can't Resist
🎁 FREE Vitamin C Wash N Moisturise Worth Rs 960 on purchase of Rs999🎁
Description

Ingredients

Know Your Product

FAQs

Good To know

More Info

Reviews

You May Also Like
Ultra rich beauty-enhancer daily crème restores and revive younger-looking skin. Lotus Botanicals Bio-Retinol Youth Radiance Ultra Crème SPF 25 is infused with powerful plant-derived retinol. Especially formulated to improve skin elasticity. boosts collagen and evens out skin texture.

• Rich in Bakuchiol : Natural Vitamin A Derivative
• Fights signs of ageing - finelines, wrinkles, crow's feet
• SPF 25 prevents sun damage and protects skin from harlful UV rays
• Boosts Radiance and increases skin firmness
• Results in smooth skin texture
• No Preservatives, No Toxic Chemicals, Paraben Free, Silicon Free, Mineral Oil Free, pH-Balanced, Anti-Pollution, Cruelty Free, 100% Vegan
Bakuchiol
Bakuchiol is a natural derivative of Vitamin A and a plant based alternative to Retinol. It enhances the production of collagen and provides exceptional anti-aging benefits. Collagen acts as a scaffolding for the skin that promotes skin cells rejuvenation.
Niacinamide
Niacinamide is a form of Vitamin B3 and it is known to have exceptional skin benefits, especially for acne, hyperpigmentation and ageing. It enhances the production of Keratin that makes your skin more healthy and firm. Niacinamide can also help your skin in developing a lipid barrier to augment moisture retention.
BIO-RETINOL Youth Radiance Ultra Crème
Aqua, Niacinamide, Caprylic Capric Triglycerides, Glycerin, Glyceryl Stearate and PEG-100 Stearate, Coco Glycerides, Heptyl Undecylenate, Isononyl Isononanoate, Glyceryl mono stearate, Titanium dioxide, Hydroxyethyl Urea, Catostearyl Alcohol, Cetyl Alcohol, Sodium Acrylate/Sodium Acryloyldimethyl Tourate Copolymer (and) C15-19 Alkane (and) C10-16 Alkyl Glucoside, Ethylhexyl SAFE Methoxycinnamate (and) Butyl Methoxydibenzoylmethane (and) Benzophenone-3 (and) Phospholipids (and) 1,3-Butylene Glycol, Blosaccharide gum-4, Psorales corylilolia (Bakuchiol) Extract, PEG-35 Castor Ol (and) Polysorbate 20 (and) Aesculus Hippocastanum ( (Horse Chestnut) Seed Extract (and) Retinyl Palmitate (and) Tocopherol (and) Inositol (and) Calcium Pantothenate (and) Linoleic Acid (and) Biatin, Tocopheryl acetate, Xanthan Gum, Propanediol (and) Enteromorpha Compressa Extract (and) Silybum Marianum Fruit Extract (and) Ocimum Sanctum Leaf Extract, Butylated hydroxytoluene, Maltodextrin, Sucrose Daurate, Sodium Cocoyl Glutamate & Plaum Sativum (Pea) Extract, Disodium EDTA, Alantoin, Pentaerythrityl Tetra-d-1-butyl Hydroxyhydrocinnamate, Citric acid, Caprylhydroxamic Acid (and) Phenethyl Alcohol, Fragrance
---
Frequently Asked Questions
Bio-retinol is a safe, plant-based alternative to retinoids for skin concerns like wrinkles, acne, dark spots and uneven skin texture. It exhibits similar properties to traditional retinoids but without any harmful effects.
For best results, use it daily in your night skin care routine.
Natural products react differently to different skin types. We recommend that people with sensitive skin always perform a patch test first to ensure there is no reaction. Discontinue if irritation occurs.
Yes, Retinol creams are effective in reversing the effects of tan on your skin. They have outstanding anti ageing properties which make them an appropriate choice for achieving youthful and radiant skin.
Yes this Bio retinol cream is super easy to use. You just have to take a pea sized amount of the product on your palm, rub it and massage it into your skin.
It is advisable to massage your skin with this creme in upward strokes to achieve the best results.
The main benefits of this Bio Retinol Creme include protecting against acne, pigmentation, fine lines and skin ageing and photoaging.
Although, this Bio Retinol creme will work wonders in your under eye area when applied exclusively, but if you want you can mix your under eye cream in this bio retinol creme and use it under your eyes.
It is beat to incorporate it into your daily nighttime skin care routine to experience the best ans long lasting results.
This bio retinol creme is suitable for oily, dry, normal and combination skin. People with oily skin can especially benefit from the amazing results of this product.
It is a gender-neutral product and can be used by both men and women.
Retinol is a star ingredient when it comes to skincare. It is a derivative of Vitamin A and it has outstanding anti-ageing properties.
This Bio Retinol creme imparts all the benefits of a retinol face cream minus the side effects like skin irritation and itching.
Pregnant women and breastfeeding mothers should avoid using retinol face creams. Although bio retinol creams are safe for usage during pregnancy, but these claims are not very widely substantiated.
Consistency is the key. In order to experience results, you need to be regular in terms of your usage. Subsequently, it will take 4-6 weeks to show results.
---
Good To Know
Bio-Retinol - a natural Vitamin A derivative, is considered as a holy grail ingredient for all things anti-ageing and anti-acne. Bio-Retinol reduces fine lines and wrinkles by increasing the production of collagen. It also stimulates the production of new blood vessels in the skin, which improves skin radiance.
WE ARE GREEN! At Lotus Botanicals, we believe in harnessing the real power of nature for every beauty and wellness need. Our products are formulated using potent plant botanical extracts - the real essence of purity.
WE BELIEVE IN SCIENCE! At Lotus Botanicals, we continuously research for innovative and unique active ingredients to bring out highly efficacious and sensorial-driven formulations.
WE ARE CONSCIOUS! We do not use any harmful or toxic chemicals and synthetic compounds in our formulas. We pride ourselves on both the efficacy and ethics of our formulations and take conscious steps to reduce our impact on the environment at every stage of our product journey.
---
More Info
The best way in which we can take care of our skin from any kind of damage is to indulge in a well-thought-of skincare routine. Lotus Botanicals bio retinol creme is the perfect addition to your daily skincare regime. 
Bakuchiol which is also referred to as the plant-based substitute for Retinol, has taken the skincare and beauty industry by storm.
Bio-Retinol is a powerful plant derivative of Vitamin A which has Bakuchiol as a key ingredient. Bakuchiol is an extract derived from the leaves and seeds of the Babchi plant.

Bio-Retinol is considered as a holy grail ingredient which helps in reducing fine lines and wrinkles by increasing the production of collagen (a protein formed naturally in skin). It also stimulates the production of new blood vessels in the skin, which improves skin radiance.
Lotus Botanicals Bio-Retinol Youth Radiance Ultra Crème gets your skin renewed, helps boost collagen production & increases the rate of skin cell turnover, helping skin look smooth, firm and feel rejuvenated.  Its unique formula helps in restoring the skin and bringing a brighter clarity to it while helping to even skin tone and texture and reviving your skin back to its healthiest & most youthful state.
Benefits of Bio Retinol Creme 
The skin care and beauty industry has experienced significant advancements in the ingredient technology and one of the many noteworthy results has been the discovery of 'Bio Retinol'. If you are looking for the best Retinol cream sans the side effects of Retinol, then the Lotus Botanicals Bio-Retinol Youth Radiance Ultra Creme is the perfect choice for you. 
I

t provides holistic skin benefits 
Regular usage of this Creme can impart unprecedented benefits to your skin in terms of reduction in inflammation and the appearance of fine lines. In addition to that, it will also enhance the production of collagen to give your skin an illuminated and radiant glow. 
It has multi-correctional skin benefits 
This bio retinol cream has multi faceted skin benefits that include reduction in skin discolouration, repairing uneven skin tone and giving a smooth texture to the skin. It can also improve the elasticity of the skin in turn making it look more plum and radiant. 
It is full of antioxidants 
This creme is packed with antioxidants that give it the power to stabilise the free radicals which are capable of greatly harming the skin. In addition to that, the Lotus Botanicals Bio retinol youth radiance ultra creme also provides deep nourishing and hydrating benefits to the skin. 
It is made using exceptional green chemistry
As the term 'green chemistry' already gives it away, this Creme has been formulated with the power of potent plant botanical extracts and has been infused with carefully researched active ingredients that can enhance the efficacy of this product. 
How to use 
The ultra-rich texture of this bio retinol creme makes it glide onto your skin like a dream. In order to reap the best results, you should use it regularly by making it a part of your daily skincare routine. 
Take a pea-sized amount of the Lotus Botanicals Bio Retinol Youth Radiance Ultra Creme. 

Massage it into your face and neck until it is fully absorbed by your skin. 

Always massage your face with the product with upward strokes.
Best suited for: All skin types
Concerns: Dry & Dull skin, Decreased skin collagen and Uneven skin texture.
Paraben Free 
Silicon Free  
Mineral Oil Free
Anti-Pollution 
Cruelty Free 
100% Vegan 
Recyclable 
Key Benefits
Directions To Use
Steps:  
Step 1: 
Apply a pea-size amount smoothly onto a cleansed face and neck.
 Step 2:
Massage gently till entirely absorbed.
For best results, use BIO-RETINOL Youth Radiance Ultra Crème every day.
---