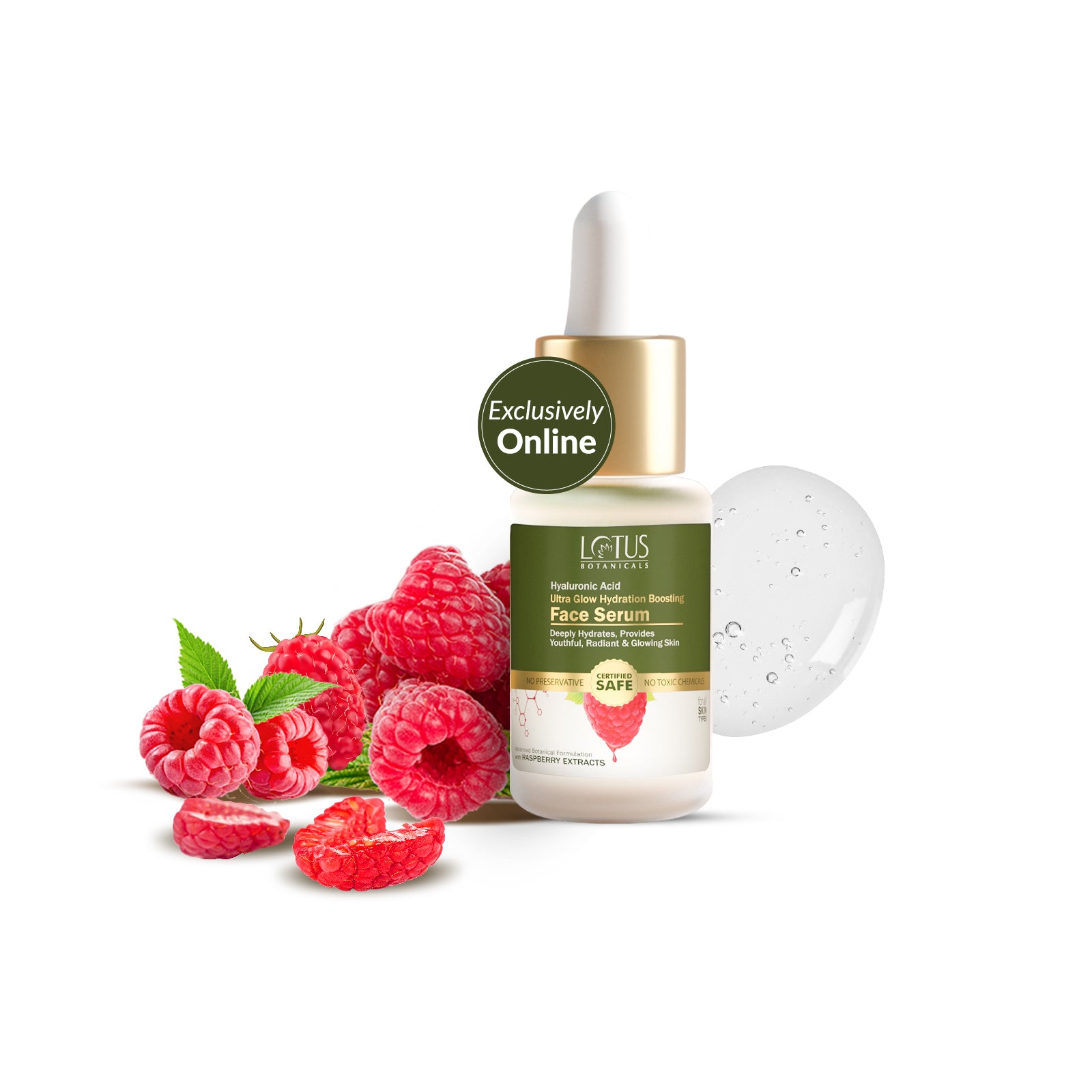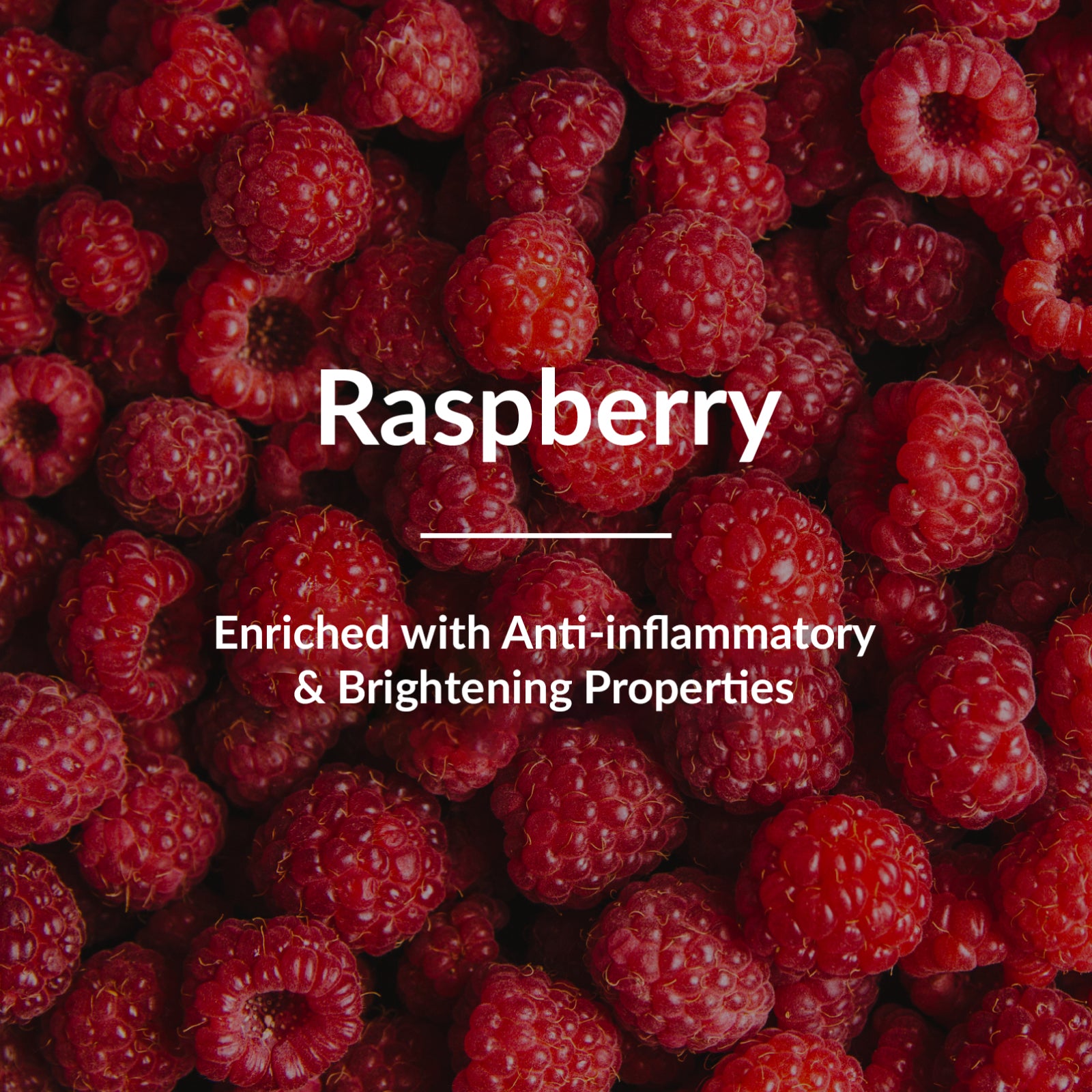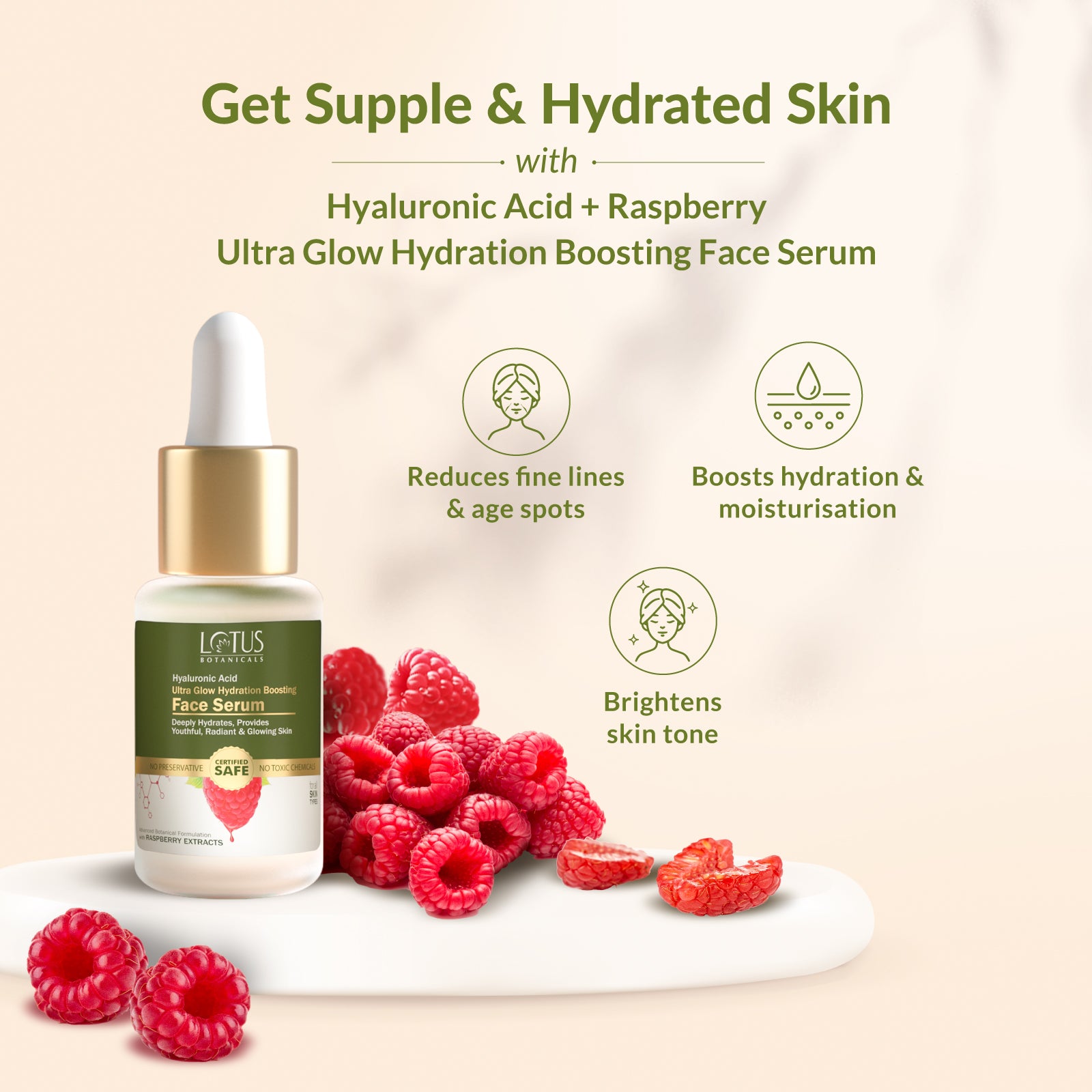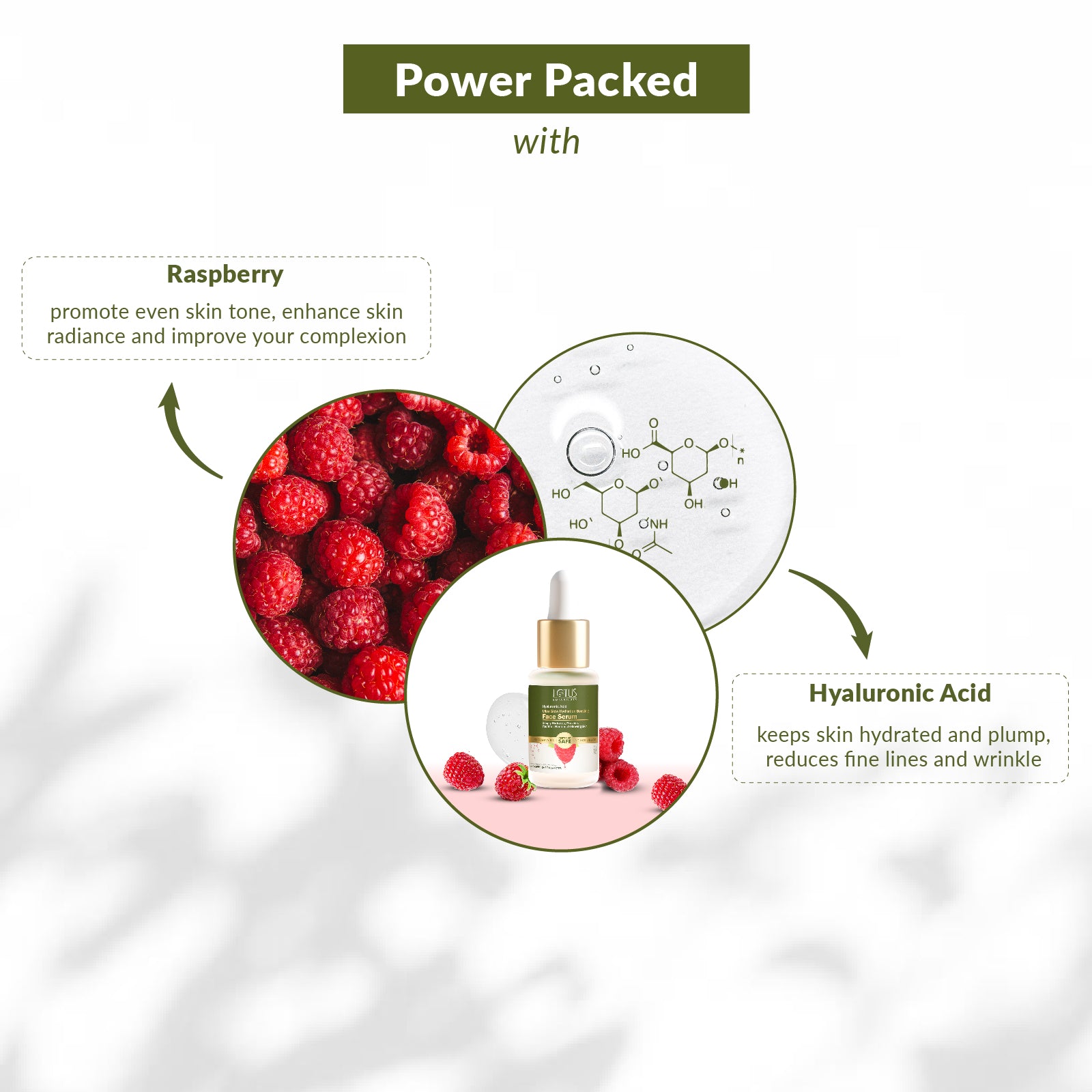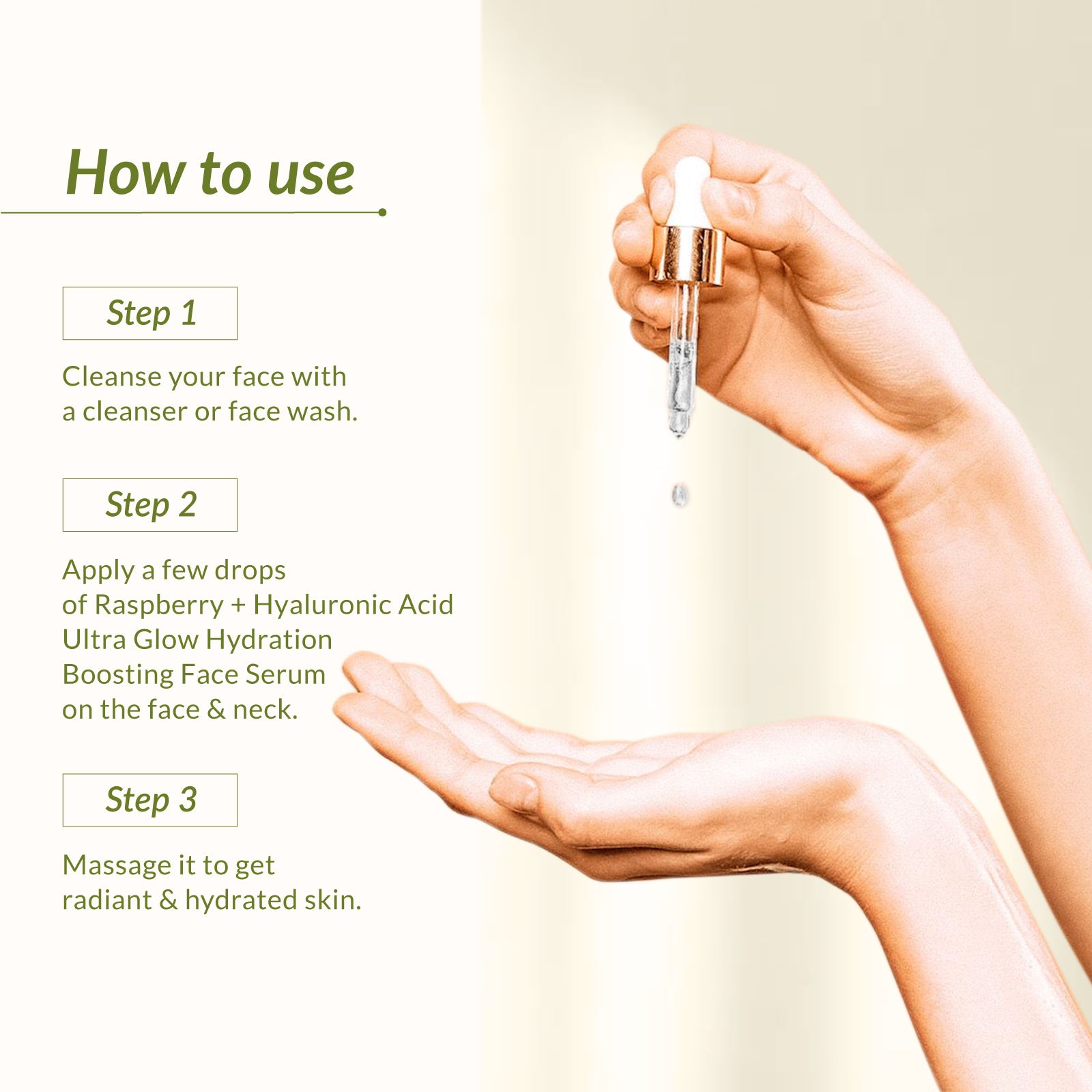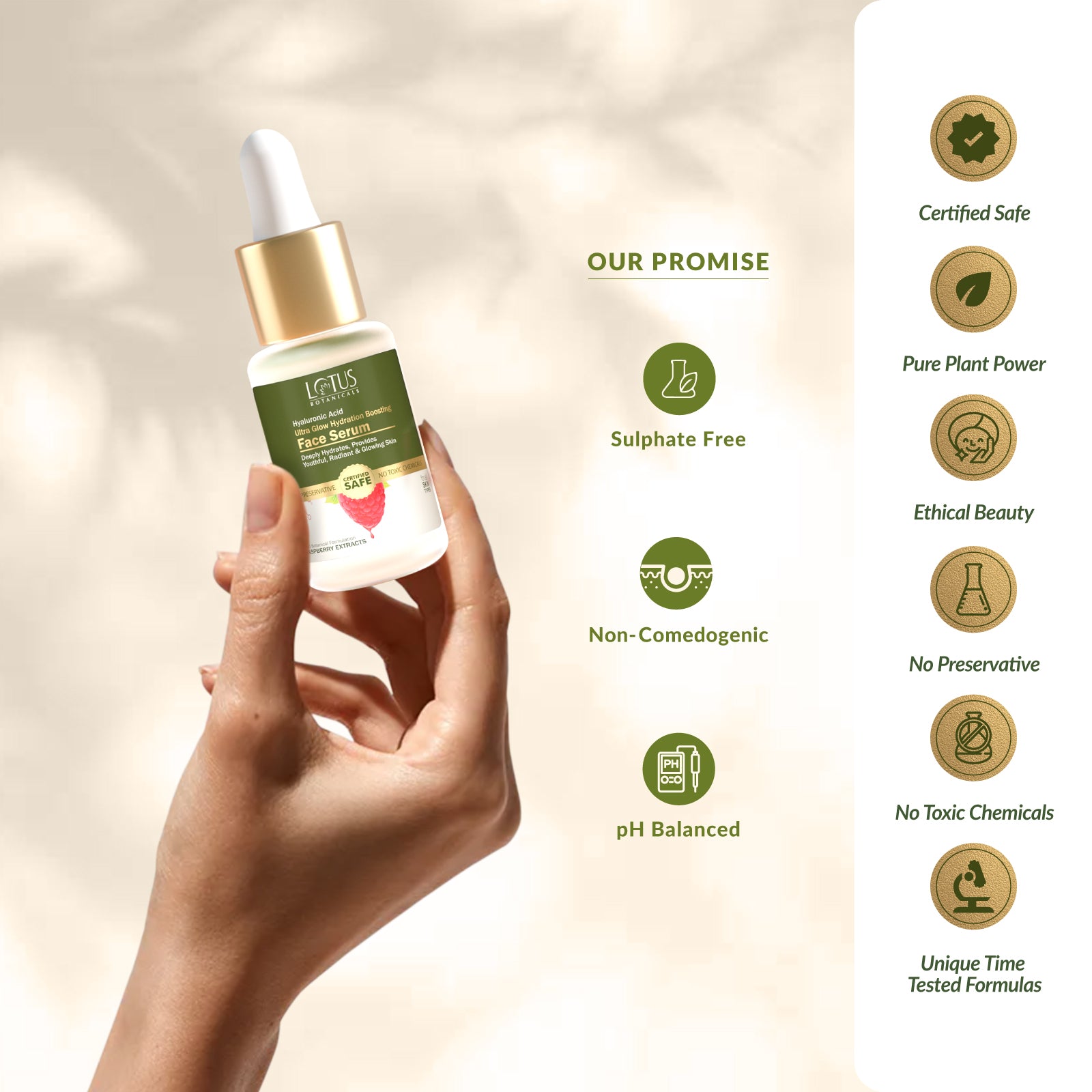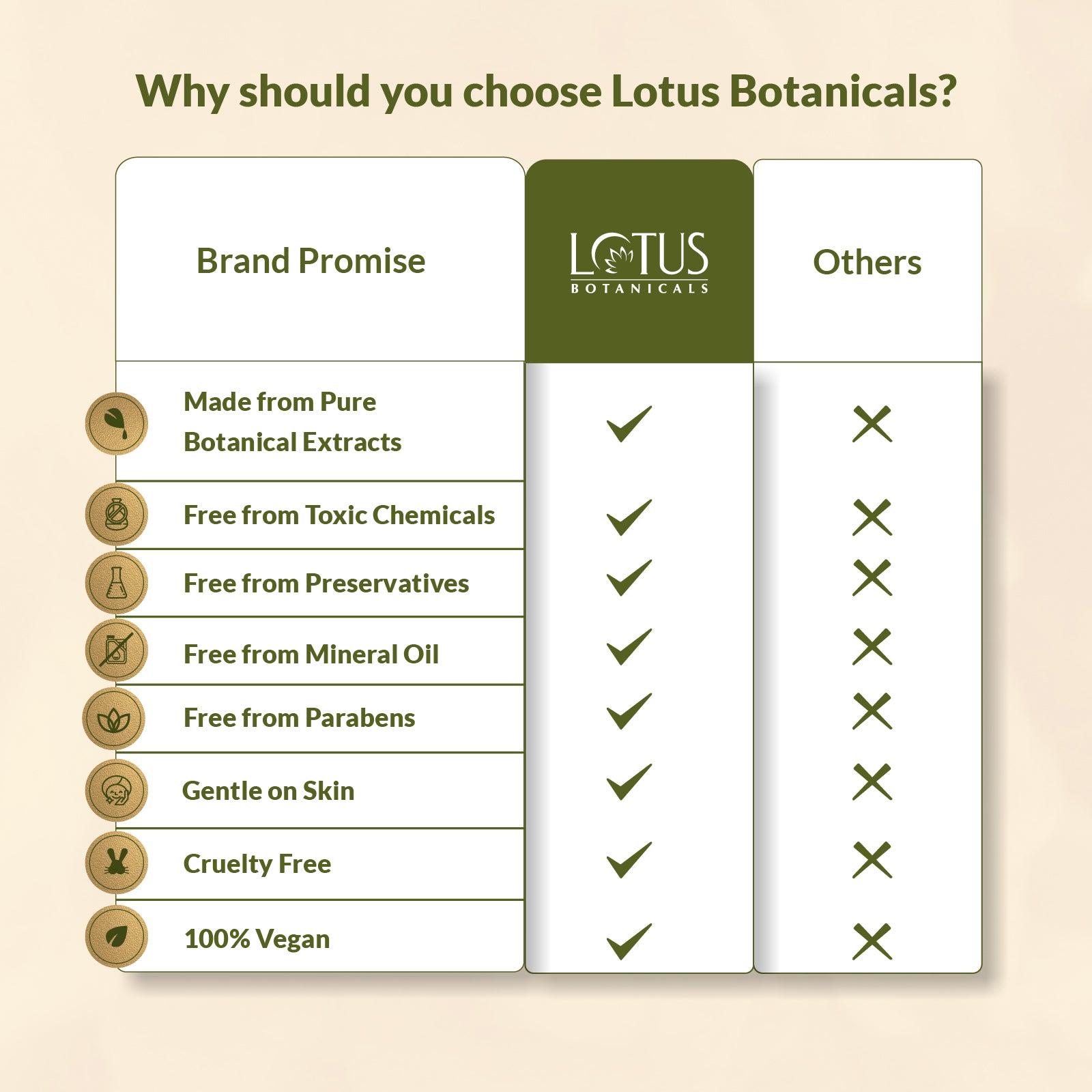 Hyaluronic Acid + Raspberry Ultra Glow Hydration Boosting Face Serum
Offers You
Can't Resist
🎁 FREE Vitamin C Wash N Moisturise Worth Rs 960 on purchase of Rs999🎁
Description

Ingredients

Know Your Product

FAQs

Good To know

More Info

Reviews

You May Also Like
Make your skin look hydrated, soft and supple everyday with Lotus Botanicals Hyaluronic Acid Ultra Glow Hydration Boosting Face Serum. It provides deep nourishment to the skin while retaining the natural glow of the skin. The Hyaluronic Acid penetrates deep into the skin resulting in increasing its hydration levels & helps in reducing signs of ageing such as fine lines and age spots. The anti-oxidants in Raspberry Extracts help in brightening the skin, making the skin look radiant and healthy!

• Unique and Revolutionary combination of Raspberry with Hyaluronic Acid Illuminates skin and boosts radiance
• Potent formulation boosts hydration and moisturisation
• Makes skin soft, supple and glowing
• Reduces signs of ageing
• Rich in anti-oxidants, makes skin healthier
• No Preservatives, No Toxic Chemicals, Sulphate Free, Silicon Free, Mineral Oil Free, Non-Comedogenic, Paraben Free, pH-Balanced, Cruelty Free, 100% Vegan
The Lotus Hyaluronic acid serum is made of the following ingredients. The stellar formulation of this product makes it one of the best Hyaluronic acid serums out there.
Hyaluronic acid :
This is a star ingredient when it comes to skincare products. Hyaluronic acid is known for its commendable hydrating and antioxidant properties. In addition, Hyaluronic acid also has skin healing benefits that can be significant in blurring the scarring due to acne or other marks. (2)
Raspberry extract :
Raspberry extracts are rife with anti-inflammatory and anti-oxidative properties that play an important role in enhancing your skin health. Furthermore, raspberry extracts help manage the signs of sun damage to your skin.(3) Consequently, this ingredient plays an active role in mitigating the signs of photoaging and therefore helps in giving you a more seamless and even complexion.
---
Frequently Asked Questions
In addition to providing deep hydration to your skin, this Hyaluronic acid serum can provide a number of noteworthy benefits to your skin that can go a long way in safeguarding your overall skin health.
You should always use the hydrating Hyaluronic acid serum on a clean and dry face.
Yes, this hydration serum is endowed with the goodness of Hyaluronic acid to provide a wide range of benefits to your skin.
The Hyaluronic acid serum by Lotus botanicals is one of the best face serums that can provide healing, hydrating and nourishing benefits to your skin.
Yes, it is safe to use Hyaluronic acid every day. Lotus Botanicals' Hydration serum with Hyaluronic acid has a number of skin benefits, and it is an ideal product for daily use.
Hyaluronic acid is a very versatile ingredient, and it goes well with almost all the other skincare ingredients. Hyaluronic acid works wonders when combined with Niacinamide, Vitamin C, Retinol etc.
Yes, You should use a moisturiser after using the Hyaluronic acid hydrating serum. This will provide a layer of moisturisation to your face to keep it soft and supple.
It depends upon the results that you are seeking for your skin. If you are someone who has dry skin, then Hyaluronic acid is perfect for you.
Yes, the Hydrating Hyaluronic acid serum by Lotus Botanicals is safe for under-eye usage. It's the deep hydrating formula will be beneficial for the sensitive under-eye area of your face.
---
Good To Know
This hydrating Hyaluronic acid serum is suitable for all skin types but it is advisable to do a patch test to check for any signs of skin irritation.
It is a gender neutral product and can be used by both men and women.
It can be incorporated into your day time and night time skin care routine.
---
More Info
Given the aggressive nature of external stimulants, it has become imperative to put together a well-thought skincare regime for yourself. An effective skincare regime will not just enhance your appearance, but it will also protect your skin from a number of skin problems.
A face serum is an important addition to your skincare routine because it gets easily absorbed into your skin to make it nourished and hydrated.
Loss of moisture is one of the leading causes of skin problems. Hyaluronic acid face serum is known to have potent benefits when it comes to deep hydration of your skin. (1) Merging the benefits of Hyaluronic acid face serum can transplant beautifully for your holistic skin health. Lotus Botanicals' Hyaluronic acid hydrating face serum is a great product for your daily skincare regime.
Benefits of Lotus Botanicals Hyaluronic Acid + Raspberry Ultra Glow Intensive Hydration Serum 
There are a number of benefits associated with this Hyaluronic acid serum. Some of those benefits are as follows :
Deep hydration
The Lotus Botanicals Hyaluronic Acid + Raspberry Ultra Glow Intensive Hydration Serum has excellent skin hydrating properties that can make your skin look plum and healthy. This face serum gets easily absorbed by your skin and does its best to lock in your skin's moisture.
Anti ageing benefits
By locking in the moisture and enhancing the elasticity of your skin. Consistent usage of this serum can also manage the appearance of fine lines, wrinkles etc to give your skin a youthful and even appearance.
Manages the signs of photoaging
Due to the presence of raspberry extracts in this hydrating Hyaluronic acid serum, it becomes potent enough to ward off the signs of photo damage to your skin, that include appearance of pigmentation, dark spots, wrinkles etc. This face serum is endowed with anti-inflammatory and anti-oxidative properties to protect your skin from various signs of sun damage.
Steps To Use Lotus Botanicals
 

Hyaluronic Acid + Raspberry Ultra Glow Intensive Hydration Serum 
Wash your face with Lotus Botanicals face wash, and then pat dry.
Take drops of this Lotus Ultra glow intensive Hyaluronic acid serum on your fingertips and gently massage your face and neck.
You can massage your skin in a circular motion and upward strokes to enhance blood circulation.
Allow the face serum to get fully absorbed by your skin before moving on to the next step of your skincare routine.
---