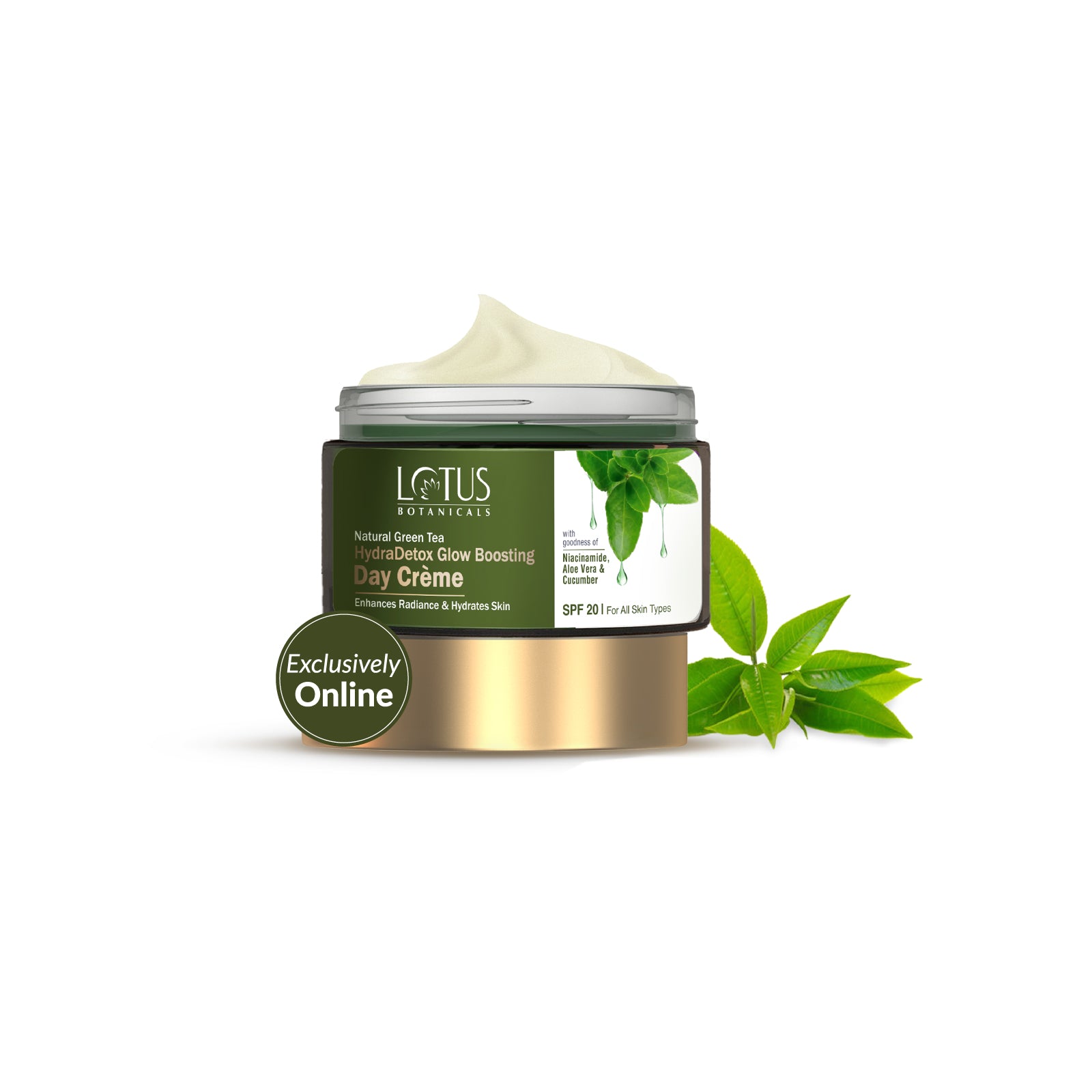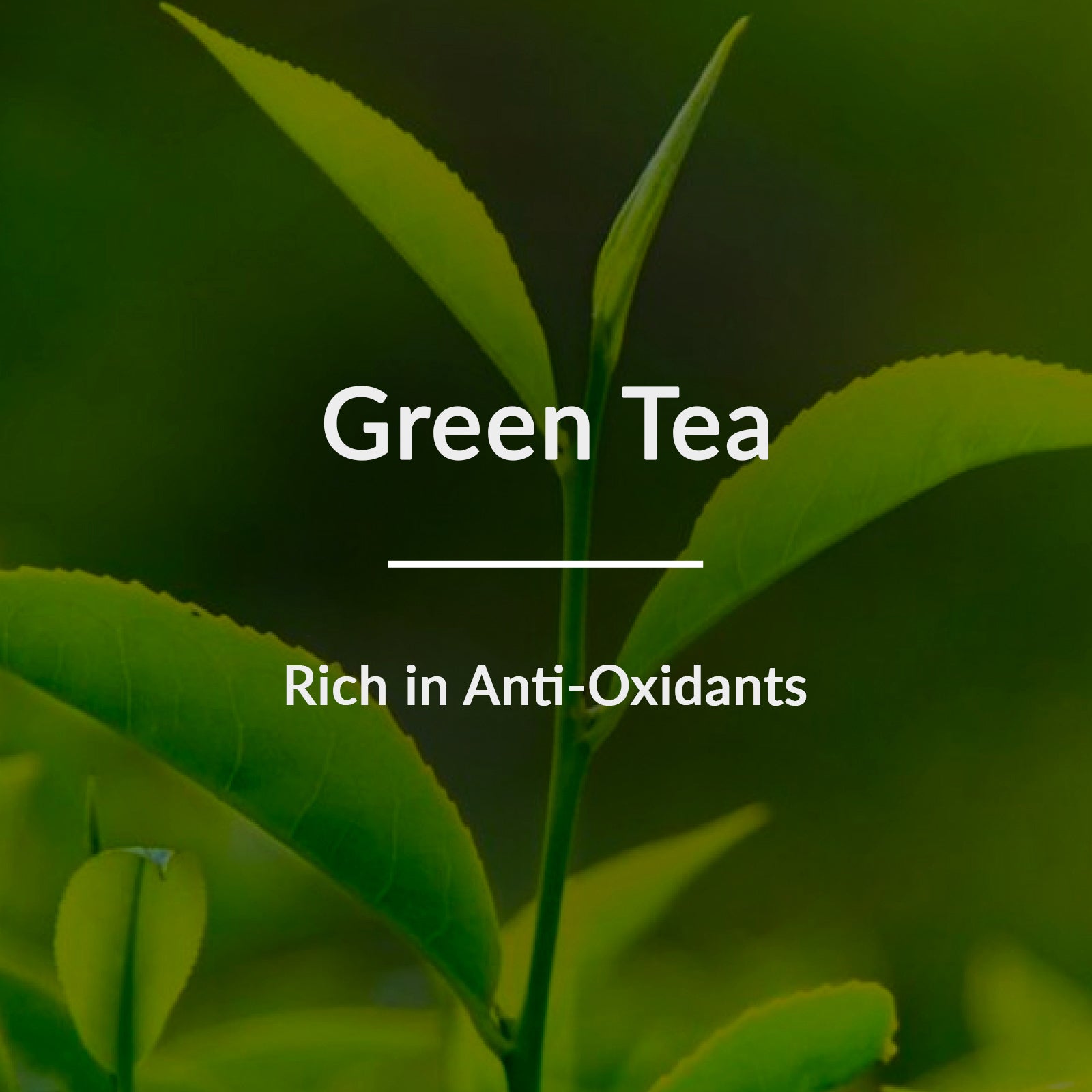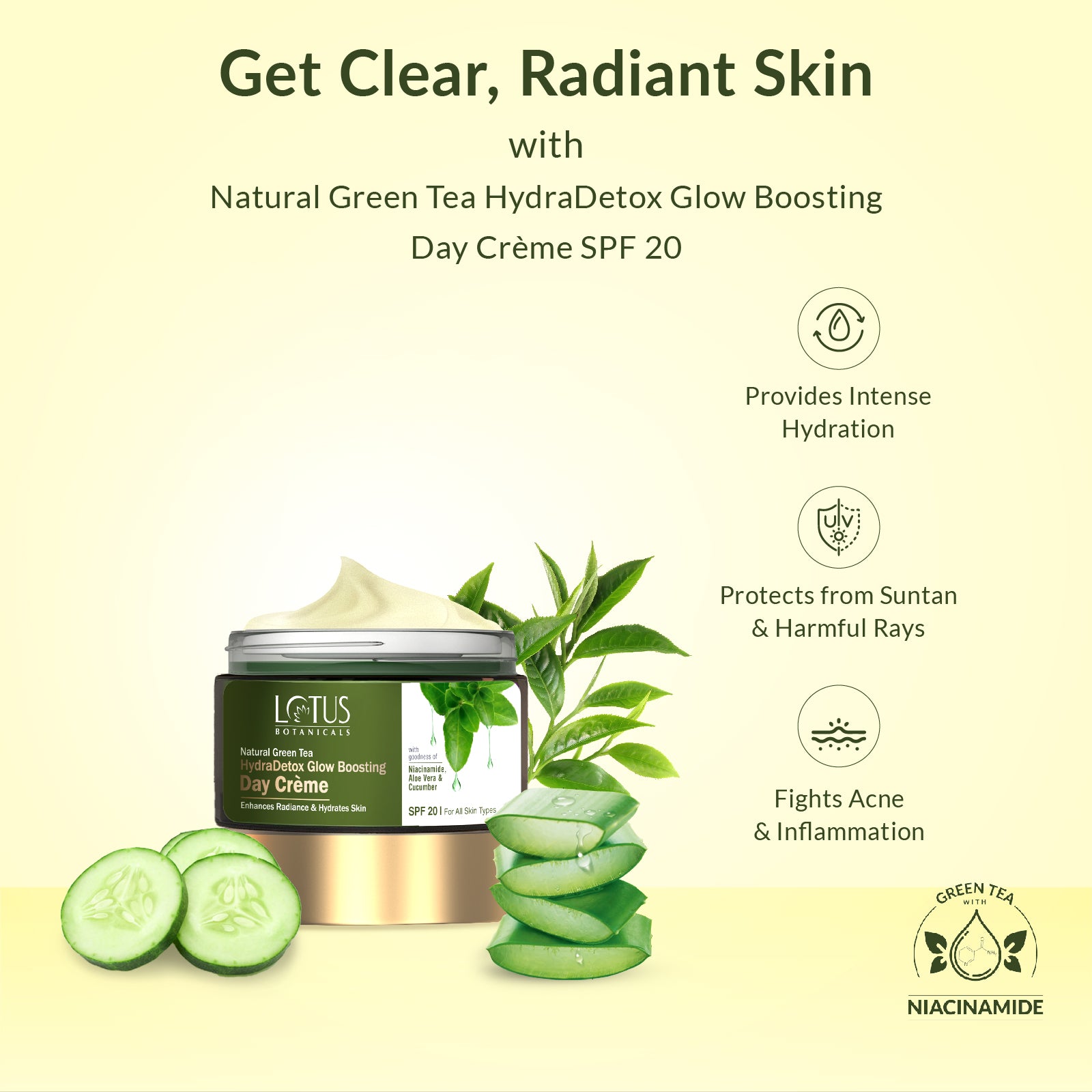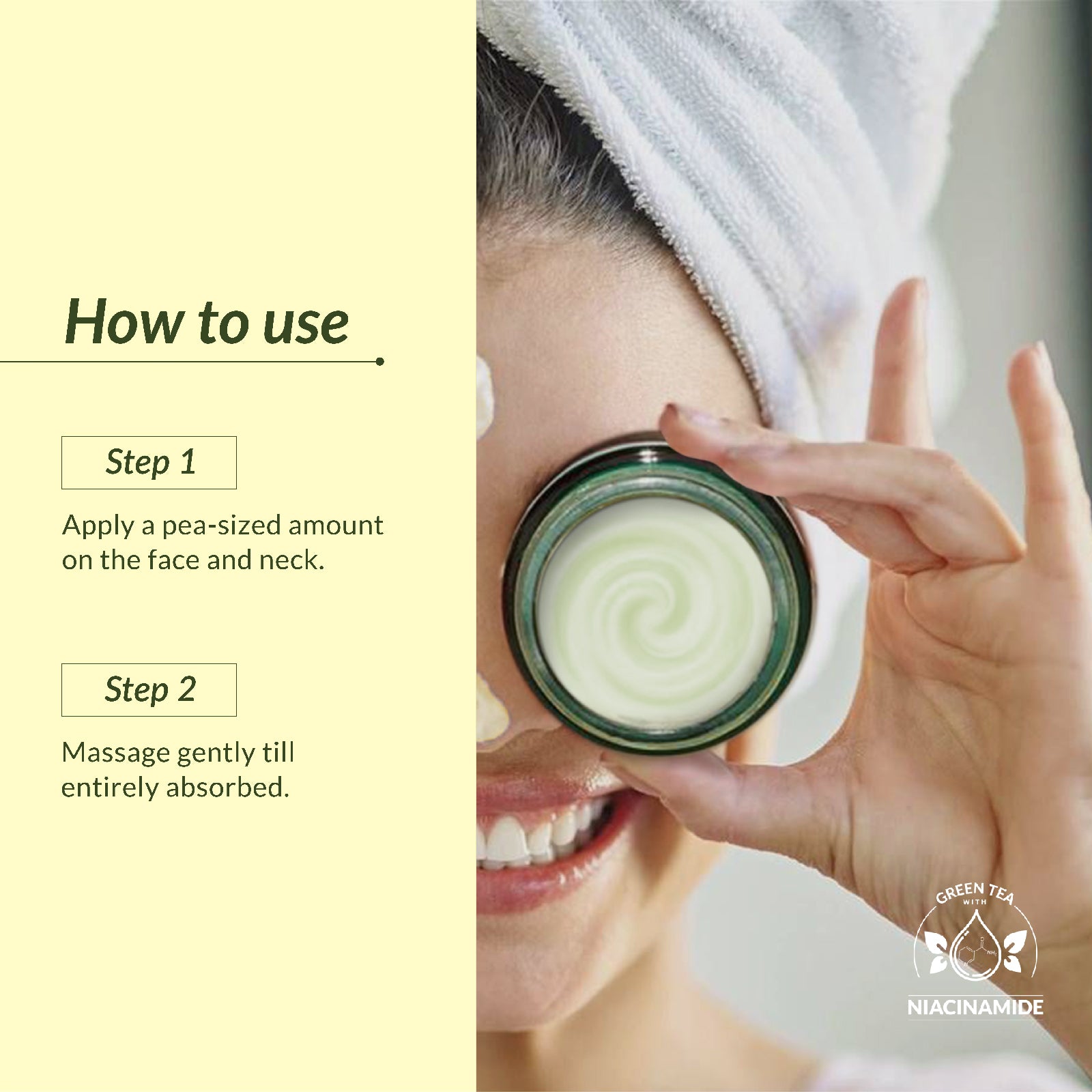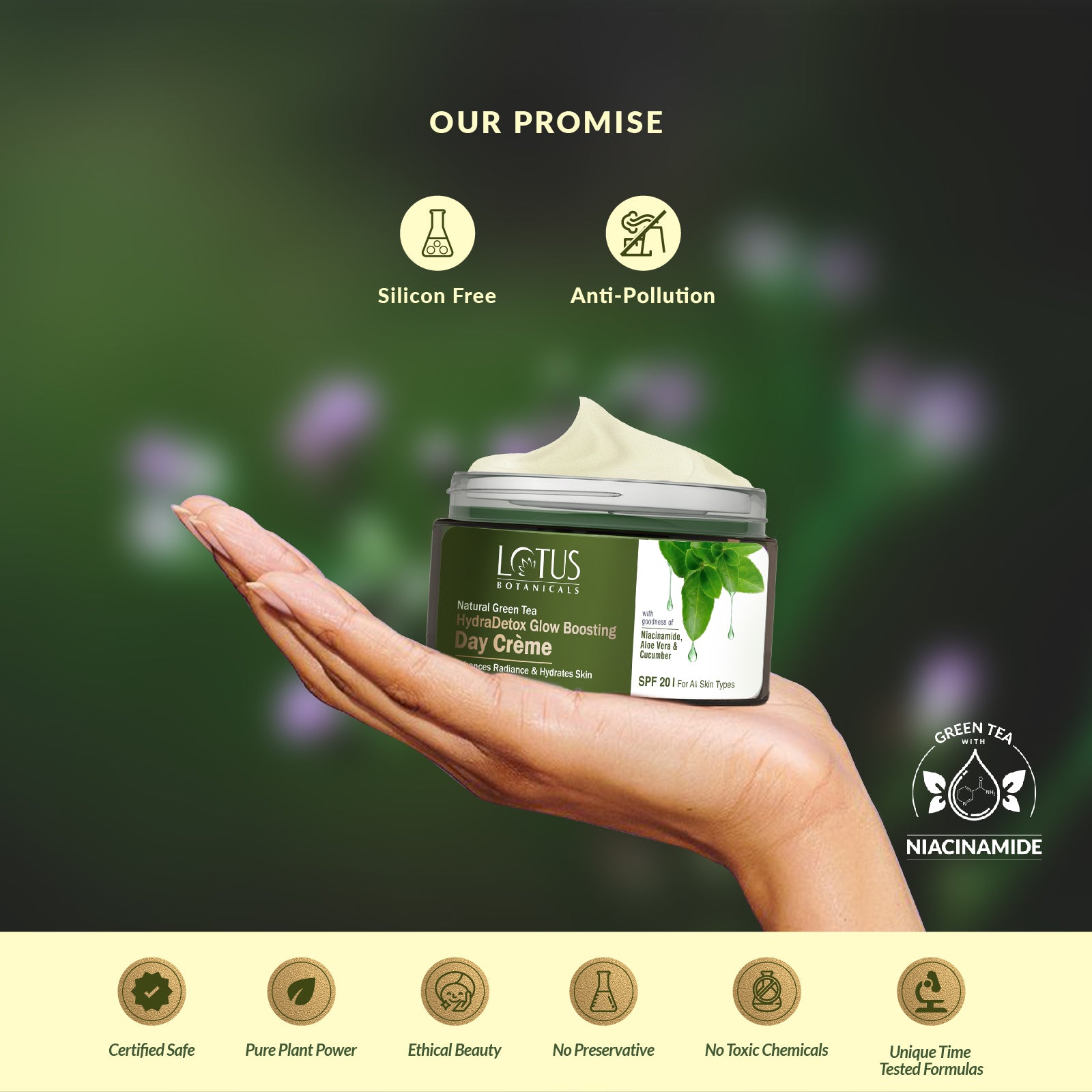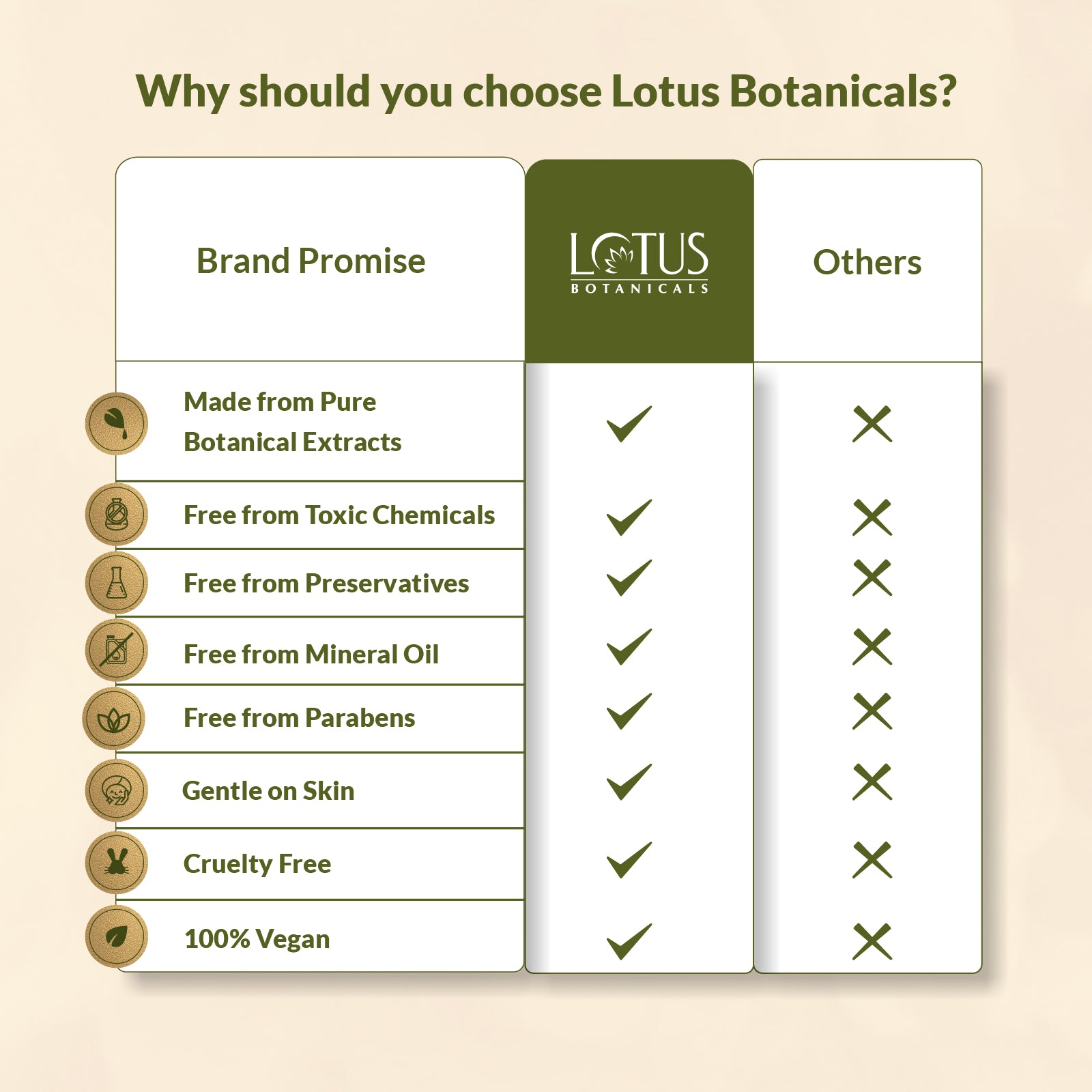 Natural Green Tea HydraDetox Glow Boosting Day Crème SPF 20
Offers You
Can't Resist
🎁FREE Green tea Renew and Restore worth Rs 915 on purchase of Rs 999 or more🎁
🎁 Purchase Natural Green Tea HydraDetox Glow Boosting Day Crème SPF 20 & Soothing Night Gel to Get FREE Green Tea Face Mist 🎁
Description

Ingredients

Know Your Product

FAQs

Good To know

More Info

Reviews

You May Also Like
Made from a blend of Green Tea, Aloe Vera and Cucumber Extracts & enriched with antioxidants, Lotus Botanicals Natural Green Tea HydraDetox Glow Boosting Day Crème protects the skin all day long and results in smoother, younger looking, non-greasy and radiant skin. The SPF 20 protects skin from sun and harmful UV rays.

🍃 Made with unique combination of Green Tea, Aloe Vera, Cucumber and Niacinamide
🍃 Keeps skin hydrated throughout the day
🍃 Boosts glow
🍃 SPF 20 protects skin from suntan and sunburns
🍃 Evens out skin tone
🍃 Boosts collagen production
🍃 Fights ageing, acne and inflammation
🍃 No Preservatives, No Toxic Chemicals, No Sulphates, No Silicon, No Mineral Oil, Non-Comedogenic, pH-Balanced, Anti-Pollution
🍃 Cruelty Free, Allergen Free Fragrance, PEG Free, 100% Vegan
This Lotus Botanicals Natural Green Tea HydraDetox Glow Boosting Day creme is amongst the best Green tea face creme in the market. It is formulated with potent ingredients like :
Green tea
Green tea is endowed with polyphenols, Vitamin E, Vitamin B2 and various other antioxidants that turn green tea into a star ingredient for skin care products.
Aloe Vera
In addition to having anti-inflammatory properties, Aloe Vera can boost the production of collagen too.
Cucumber
By virtue of its impressive water content, cucumber is significantly helpful in hydrating your skin.
Chamomile
Chamomile is very effective in safeguarding your skin against the harmful effects of free radicals that can cause cellular damage. Chamomile also has anti-ageing benefits for your skin.
Witch Hazel
This plant has outstanding anti-inflammatory properties. Due to the presence of tannin in witch hazel, it has amazing antioxidant properties too.
---
Frequently Asked Questions
Yes, green tea day creme for skin is laced with the excellent skin nourishing properties of green tea
skin nourishing properties of green tea:
Helps in reducing irritation and redness
Helps in treating acne
Moisturizes skin
Helps in hydrating skin
The Lotus Botanicals Green tea face day cream is formulated using the best ingredients like aloe vera, cucumber, witch hazel and is devoid of any toxic chemicals. Therefore, it is the best green tea face cream out there.
This Green tea hydra detox glow boosting day cream can provide wholesome benefits to your skin. It also has SPF 20 to protect your face from the detrimental effects of ultraviolet rays.
Yes, this day creme can help in managing excess oil production on your face and therefore, it is an appropriate product to be used by someone who has acne-prone skin.
Yes, you can use the Lotus Botanicals green tea face creme twice everyday to experience noteworthy benefits.
---
Good To Know
It is a gender-neutral product and safe for usage by both men and women.
You should always do a patch test to avoid any risk of skin irritation.
This product is for external use exclusively.
Immediately wash your eyes with water in case the product gets inside your eye.
---
More Info
Moisturising is an essential part of your skin care routine. Green tea is packed with outstanding skin benefits that work wonders for your skin. The Lotus Botanicals Natural Green Tea Hydra Detox Glow Boosting Day Creme with SPF 20 is the perfect green tea face creme for you. Furthermore, it has SPF 20 which protects your skin from the detrimental effects of UV rays.
Benefits Of Green Tea Day Crème
This Green tea revitalising face cream has a number of benefits
It can deeply hydrate your face.
It enhances the production of collagen which makes your skin look youthful and radiant.
Due to its natural formulation and good quality ingredients, it can deeply nourish your skin.
It has outstanding anti-inflammatory and antioxidant properties that can heal your skin and keep a number of skin problems at bay.
Steps To Use Green Tea HydraDetox Glow Boosting Day Crème SPF 20
In order to experience the green tea face cream benefits
Always apply the cream on a clean face.
After washing your face, take a dollop of cream on your palm or your fingertips and gently massage it on your face.
Allow the cream to seep into your face for a few minutes before you apply any other layer of skin care or beauty product.
Apply this cream at least thirty minutes before you step out in the sun.
---