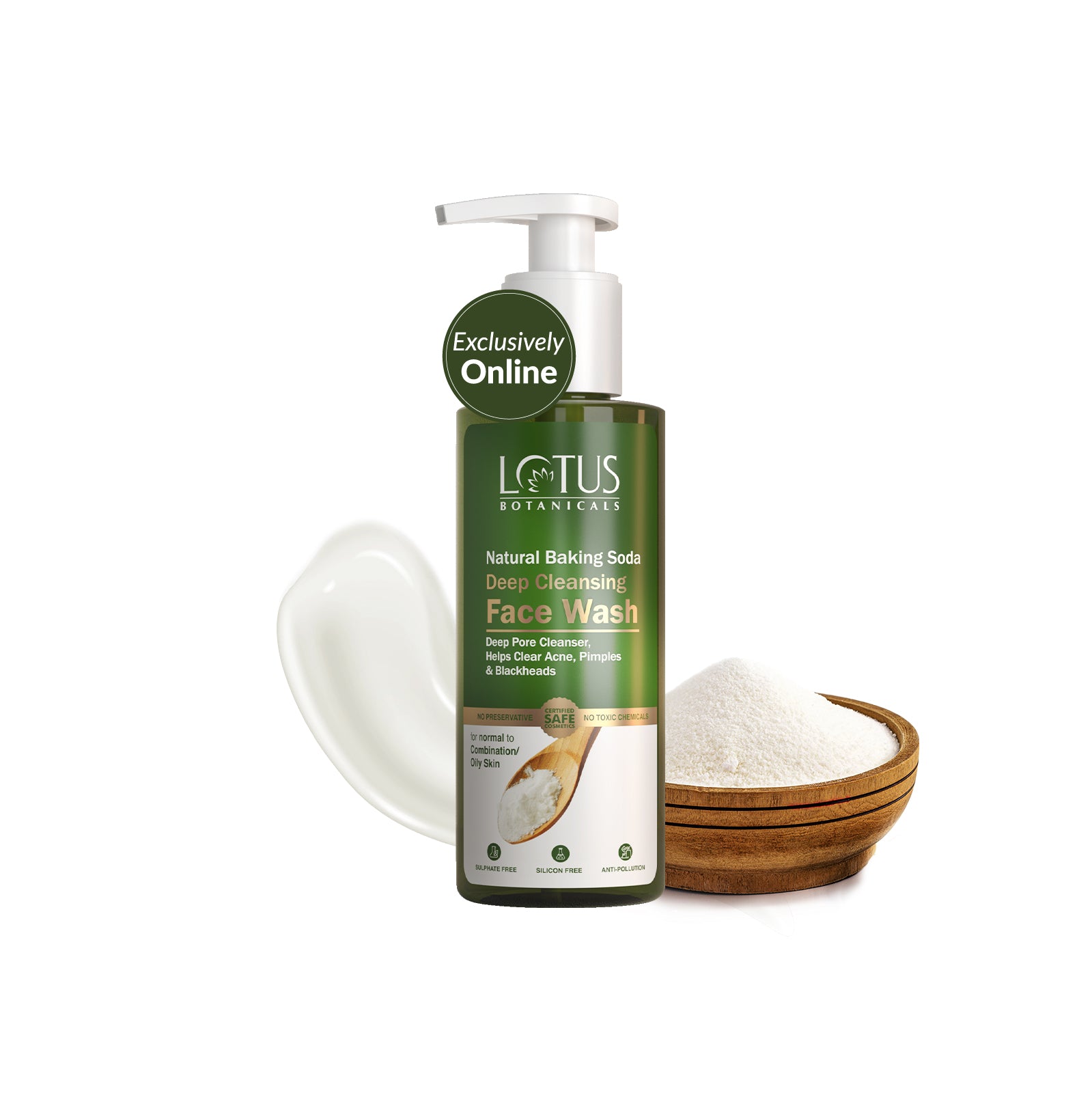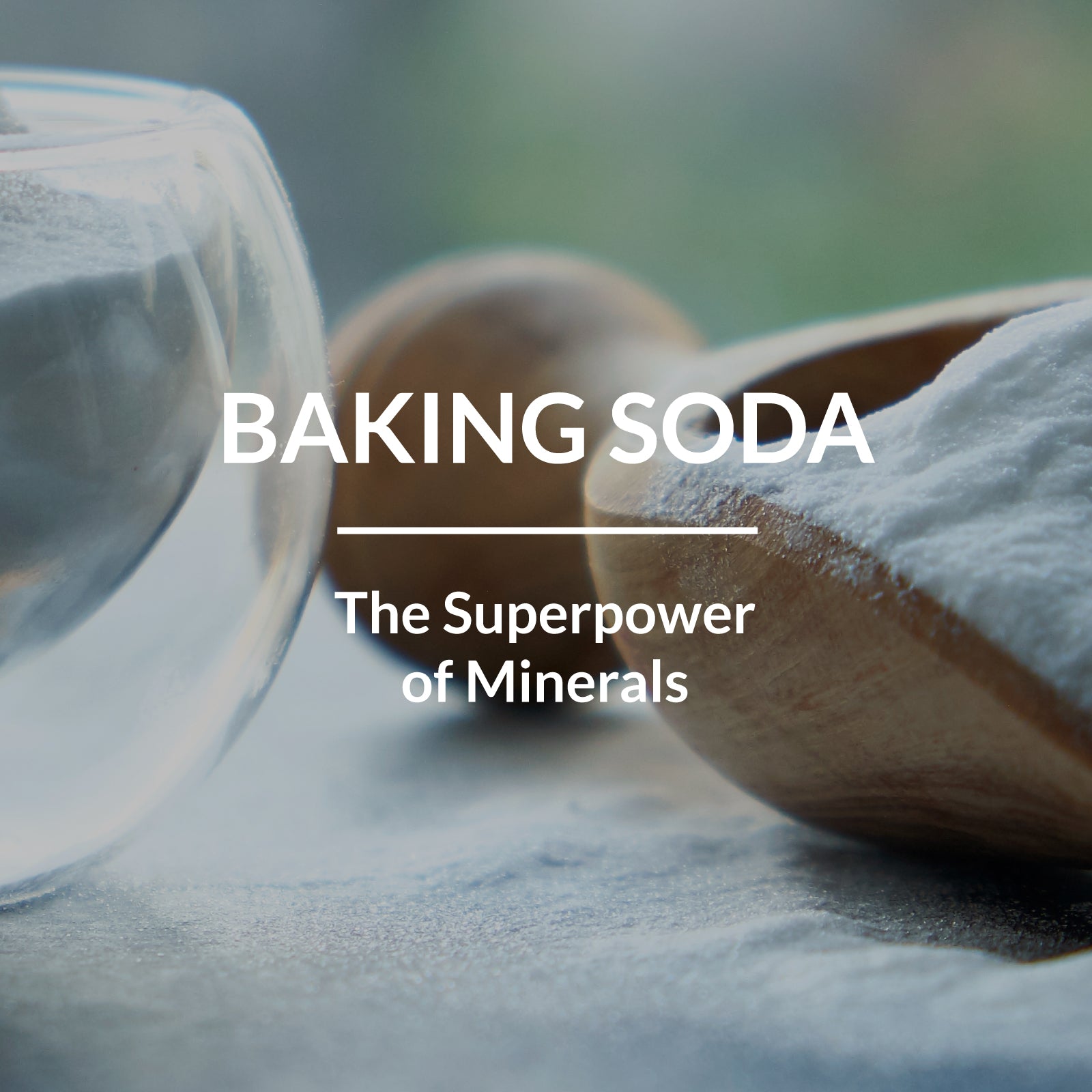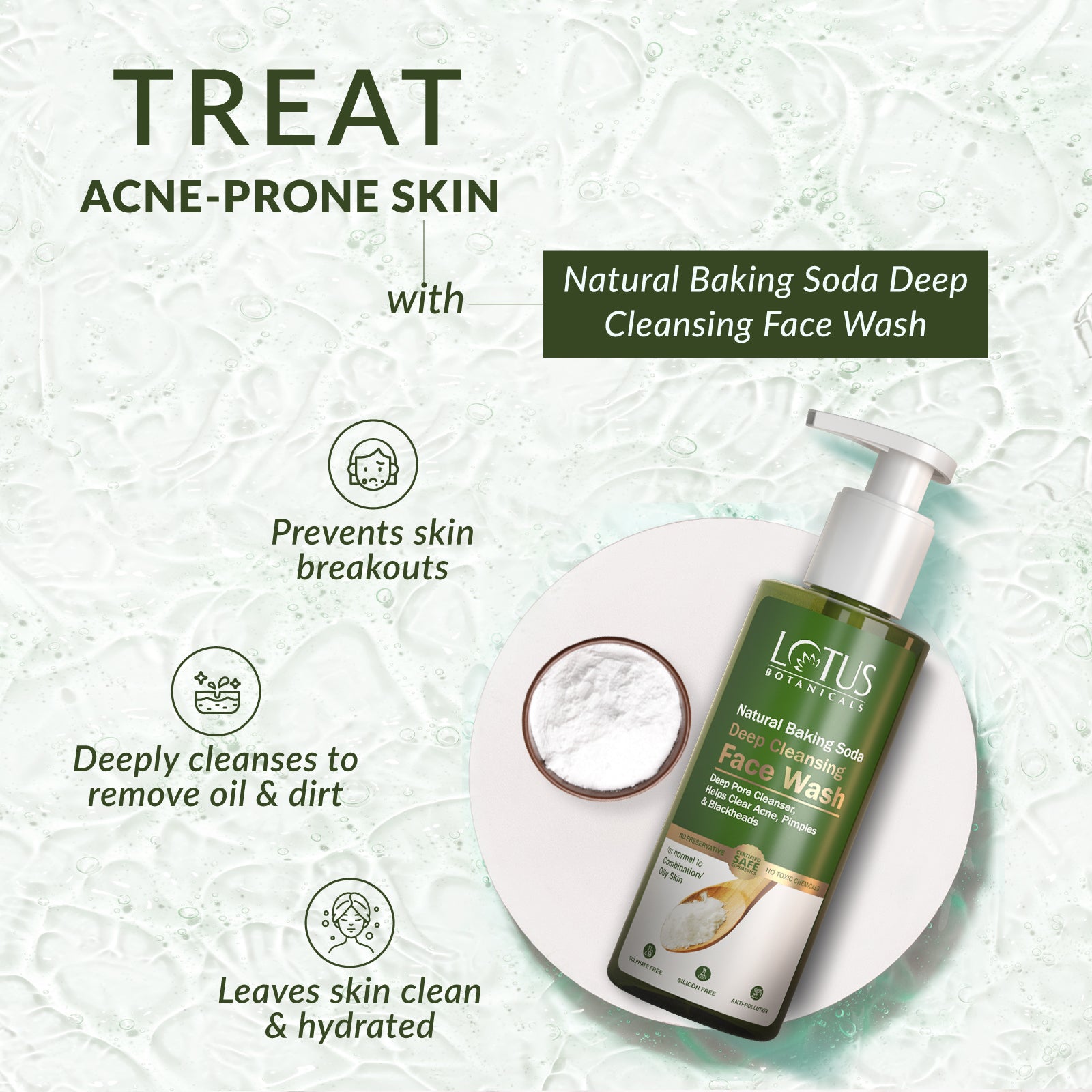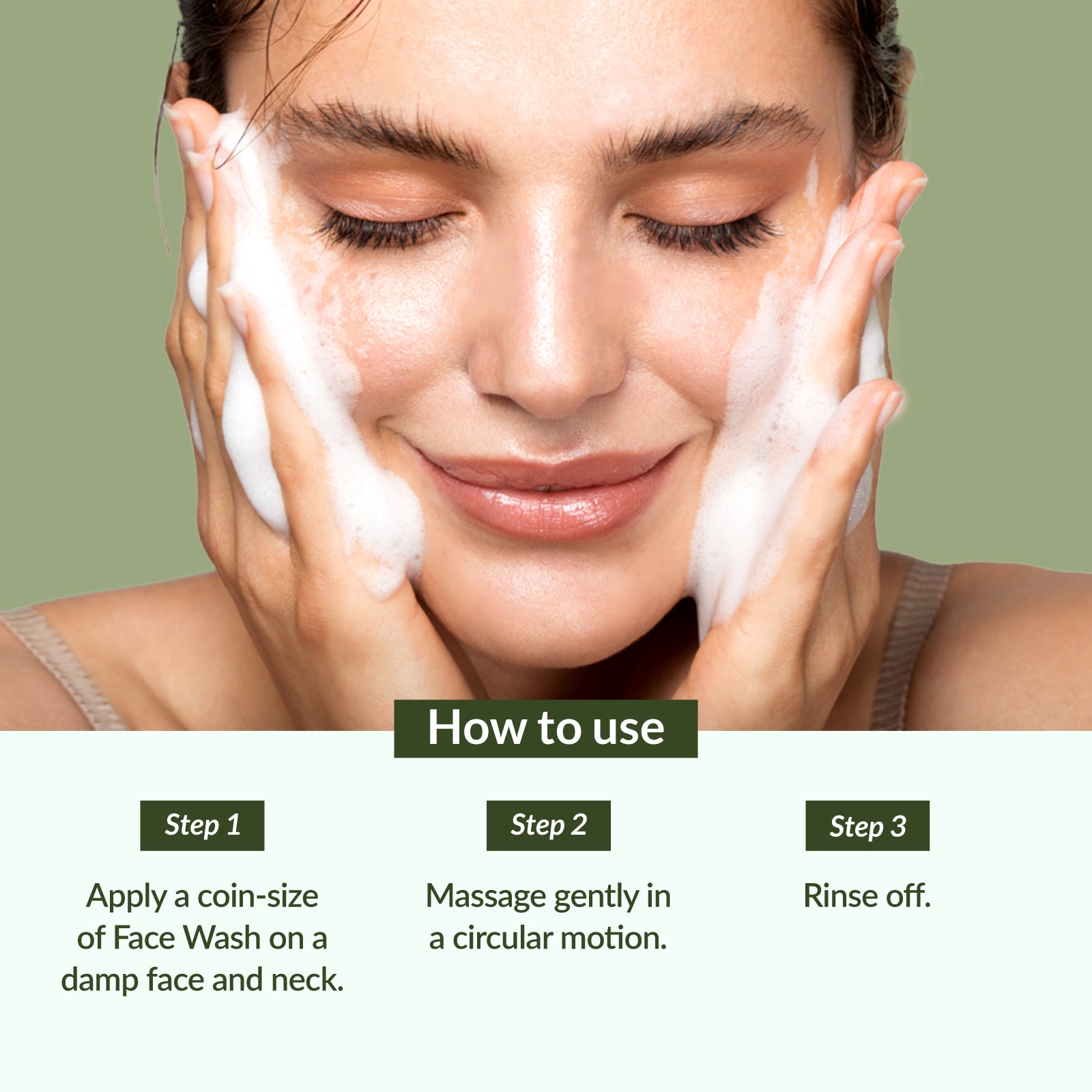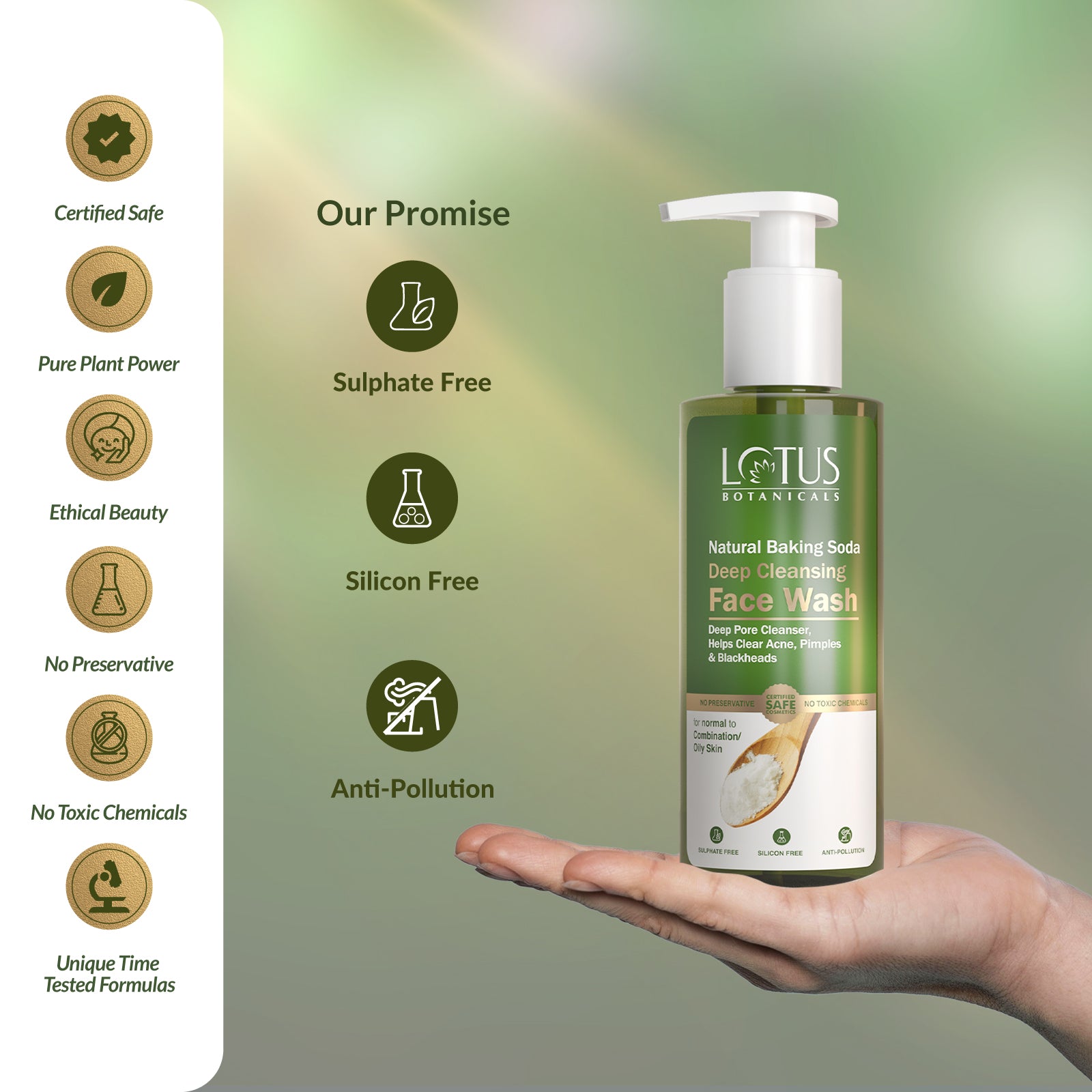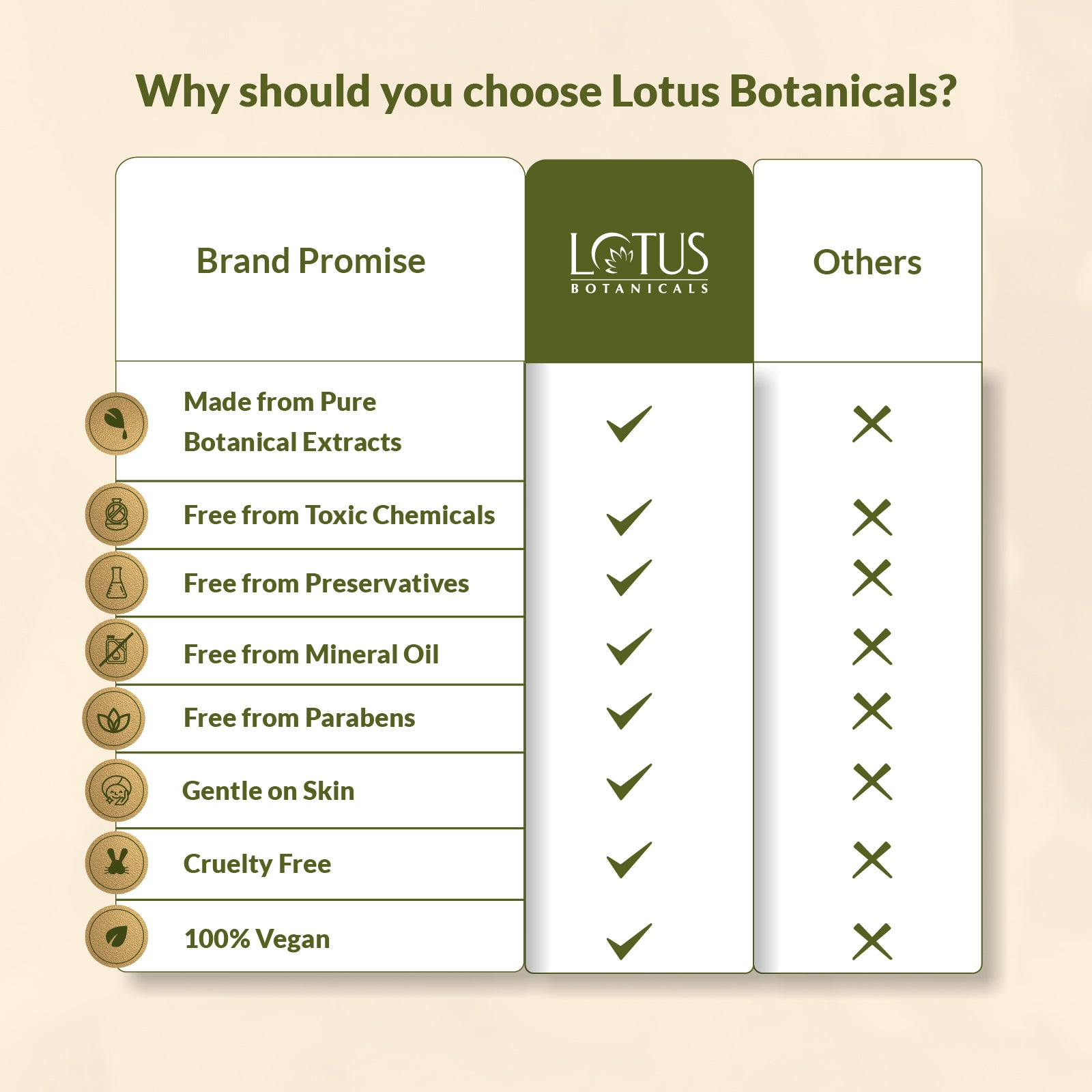 Natural Baking Soda Anti-Acne Face Wash
Offers You
Can't Resist
🎁FREE Green tea Renew and Restore worth Rs 915 on purchase of Rs 999 or more🎁
🎁 Purchase Natural Baking Soda Anti-Acne Face Wash to Get FREE Baking Soda Face Scrub 🎁
Description

Ingredients

Know Your Product

FAQs

Good To know

More Info

Reviews

You May Also Like
Pore-problems, excess oil woes! Lotus Botanicals Natural Baking Soda Deep Cleansing Face Wash is the perfect detox cleanser for combination or oily skin. It deep cleanses pores and removes dirt, excess oil and makeup residue for an all-over smooth de-gunked and refreshed skin.

• Rich in essential minerals with the power of natural baking soda
• Deep Cleanses Pores
• Helps Clear Acne, Pimples and Blackheads
• Removes dirt, excess oil and makeup residue
• Prevents Skin Breakouts
• Leaves skin fresh, smooth and even-toned
• No Preservatives, No Toxic Chemicals, Paraben Free, Silicon Free, Mineral Oil Free, pH-Balanced, Anti-Pollution, Cruelty Free, 100% Vegan
Natural Baking Soda

The mild exfoliating property of baking soda makes it a wonder ingredient. It banishes acne, pimples and blackheads from your skin. Its anti-inflammatory and antiseptic properties make it an ideal ingredient to deeply cleanse and even out the skin tone.


Full Ingredients List

Aqua, Decyl glucoside, Cocamidopropyl betaine, Glycerin, Coco-Glucoside (and) Glyceryl Oleate, Caprylhydroxamic Acid (and) Phenethyl Alcohol (and) Glycerin, Polyacrylate Crosspolymer-6, Xanthan gum, Glycol Stearate, Niacinamide, Propanediol, Salicylic acid, Sodium bicarbonate, Biosaccharide Gum-4, Butylated hydroxytoluene, Citric Acid, EDTA Disodium, Fragrance.
---
Frequently Asked Questions
It is an excellent exfoliant that effectively and gently removes dirt, excess oil and even makeup residue. Its alkaline nature balances the pH levels and provides you with smooth and radiant skin.
If you have sensitive skin then we would recommend you perform a patch test first to ensure there is no reaction. Discontinue if irritation occurs.
Yes, one of our major brand principles is cruelty-free. We do not allow any of our products to be tested on animals.
You can use the Lotus Botanicals face wash every day. In fact, you can use it once in the morning and once before bedtime to experience the best results.
After deep cleaning your face with a face wash, you should apply a good moisturiser to replenish the natural moisture of your skin.
In order to wash your face properly, you must first dampen it with lukewarm water and then use your fingertips to gently massage the face wash on your face in a circular motion. It is advisable to not rub your far too vigorously with it. Subsequently, you can clean your face with water and pat dry.
Baking soda has anti-bacterial and anti-inflammatory properties that make this natural ingredient good for acne.
Before you buy your baking soda face wash make sure that its ingredient list doesn't include parabens or any other detrimental chemical that might harm and negatively impact your skin.
When baking soda is infused in your skincare products like this Lotus Botanicals baking soda face wash, then its synergy with other ingredients works like a dream to provide numerous skin nourishing benefits.
This baking soda face wash has been made from natural ingredients and it is devoid of any parabens or harmful additives. Therefore, it is safe for your skin. Having said that, we advice you to do a patch test to look for any signs of skin itching or irritation.
With consistent usage, you can expect noteworthy results after a week or two, drowning in your skin type.
Yes, the Lotus Botanicals baking soda face wash is totally vegan and cruelty-free.
Yes, this face wash is suitable for all skin types, but you can do a patch test to mitigate any skin irritation.
---
Good To Know
We recommend that people with sensitive skin always perform a patch test first to ensure there is no reaction. Discontinue if irritation occurs.
Store in a cool and dry place.
In case of pregnancy, please consult with your physician before the product usage.
For external use only.
Avoid contact with eye. If contact occurs, rinse immediately with water.
---
More Info
The concept of clean beauty essentially entails the usage of natural ingredients that can yield noteworthy results for your skin. Baking soda is one such natural product that has become a preferred ingredient in various skin care products by virtue of its excellent skin healing and rejuvenating properties. Since cleansing is the first step of skincare, it is important to opt for a good face wash to rid your skin of all dirt and impurities. 
If you are looking for the perfect face wash for your skincare routine, then the Lotus Botanicals deep cleansing face wash is an ideal product for you. 
Step out with a soft and clear skin. Choose our Natural Baking Soda Deep Cleansing Face Wash. Its miraculous properties effectively and gently remove dirt, excess oil and make-up residue, giving you a clean, balanced and hydrated skin.
Why use Baking Soda Face Wash:
The Lotus Botanicals baking soda face wash has several key benefits attributed to it :
Natural baking soda has outstanding anti-inflammatory properties. This face wash can mitigate the inflammation caused by acne and consequently help you manage your acne breakouts. (1) 
It will make your skin glow 
Baking soda has natural bleaching properties (2), and therefore, you can achieve naturally glowing and radiant skin by making this lotus botanicals face wash a part of your daily skincare regime. 
It will help you in deep cleaning your face
Baking soda is a natural exfoliator, and it has outstanding antibacterial properties as well. (3) 
The stellar blend of baking soda with other potent ingredients such as glycerine and salicylic acid makes this Lotus Botanicals face wash perfect for deep cleaning your face.
It can even tighten the pores of your skin 
Baking soda is known to have some effect on tightening the pores of your skin (4). This can prevent dirt and other particles from clogging the pores of your skin and causing breakouts. 
Who can use Baking Soda Face Wash
It is a gender-neutral product, and therefore, it can be used by both men and women 

It is perfect for those looking for products that can work on acne-prone skin. 

By virtue of its alkaline nature,

baking soda products

can manage the pH level of the skin and therefore it is appropriate for people who have oily skin. 
Best suited for:  Normal to Combination/Oily Skin
Concerns: Clogged pores, acne, blackheads and uneven skin texture
Paraben Free 
Silicon Free  
Mineral Oil Free
Anti-Pollution 
pH Balanced 
Cruelty Free 
100% Vegan 
Recyclable
Directions To Use
Step 1:
Apply coin size on damp face and neck.

Step 2:
Massage gently in circular motion.

Step 3:
Rinse thoroughly with water.

For best results, use twice daily in the morning and evening.
---