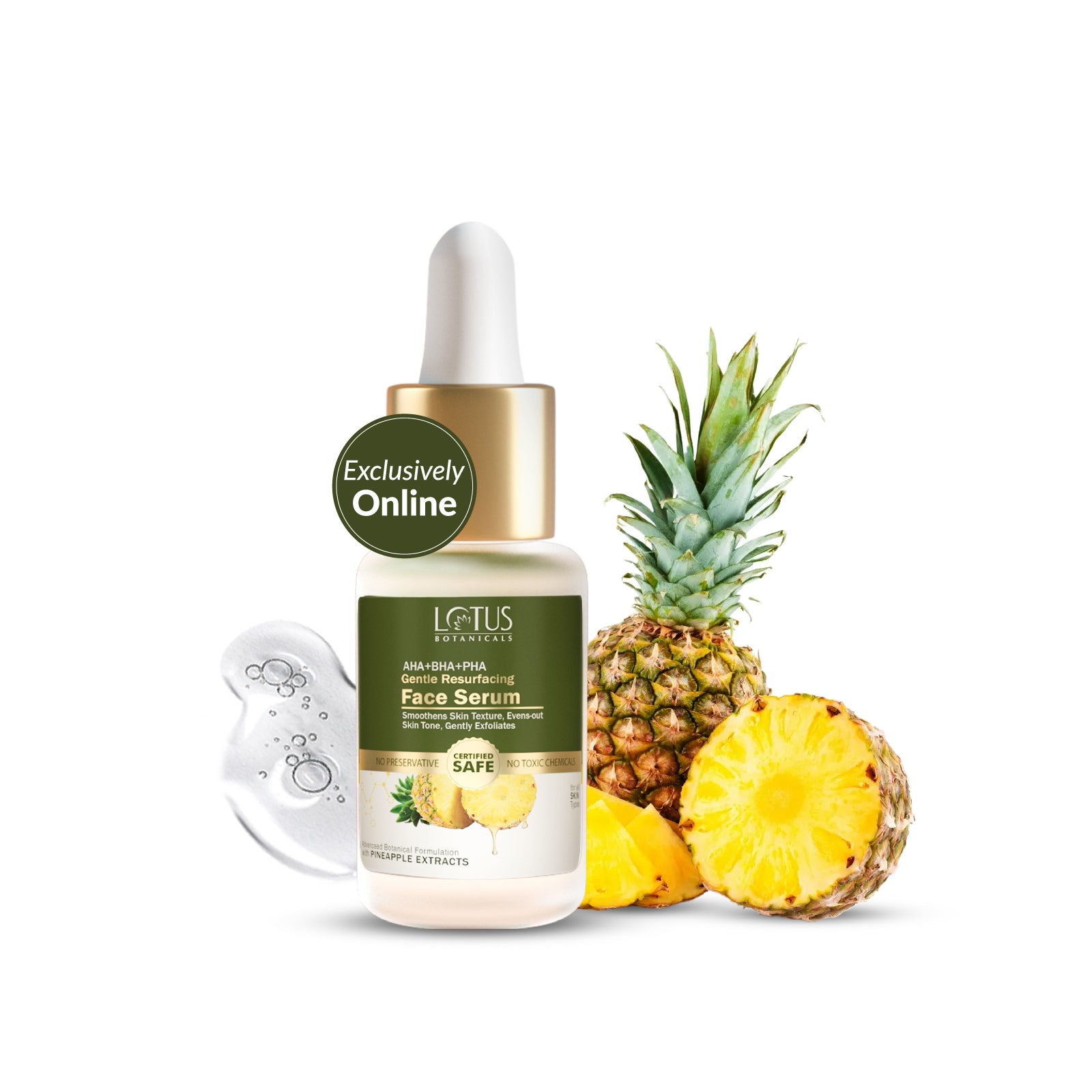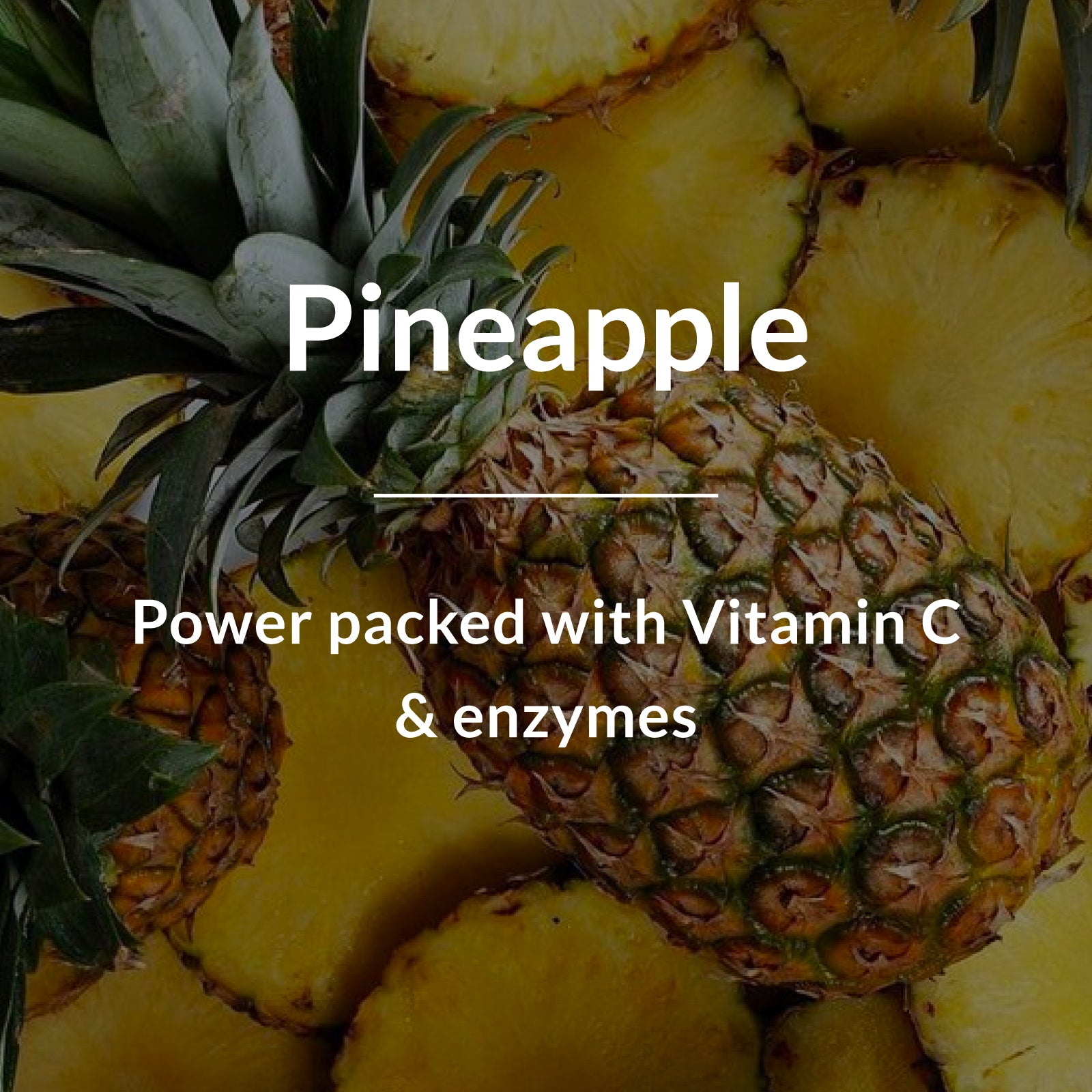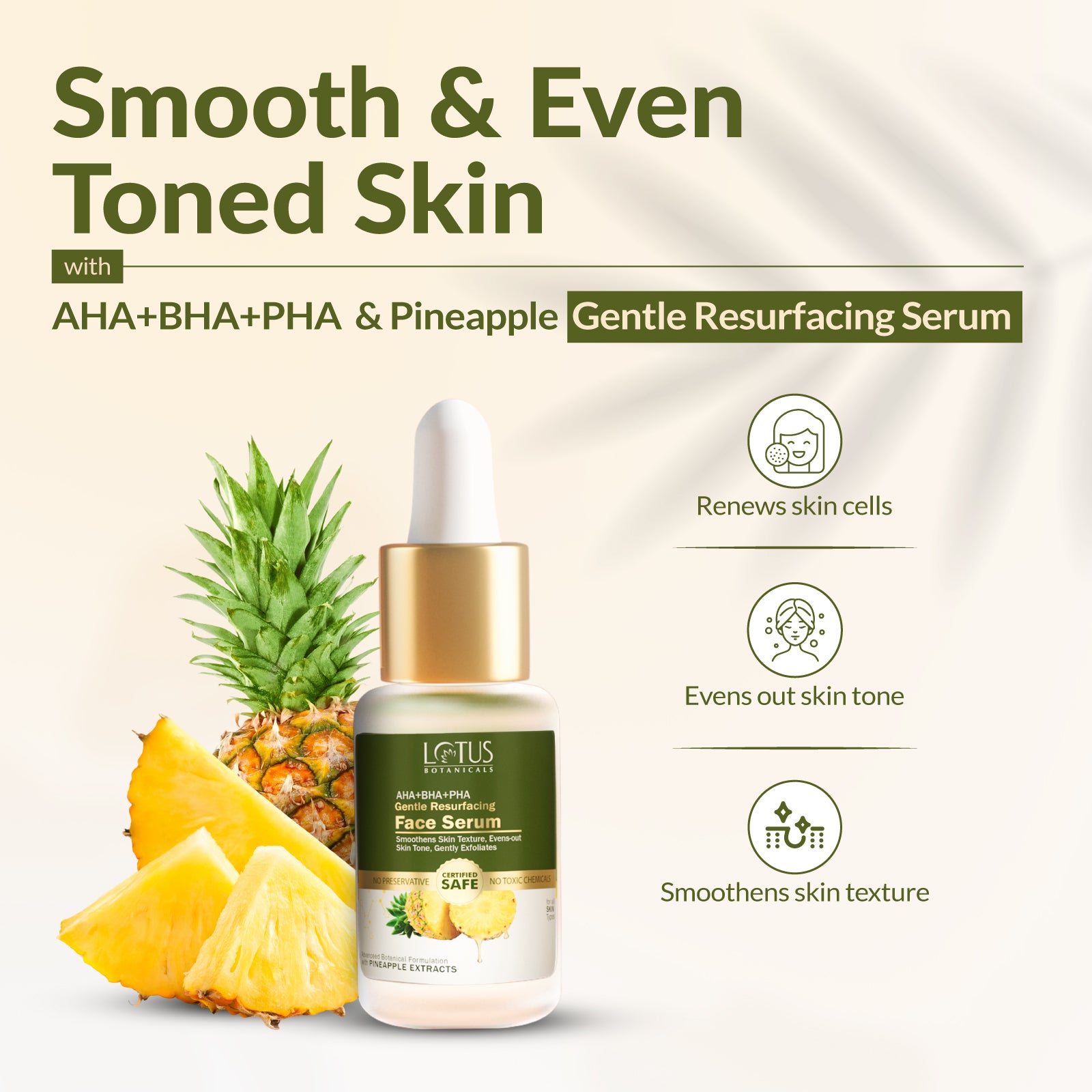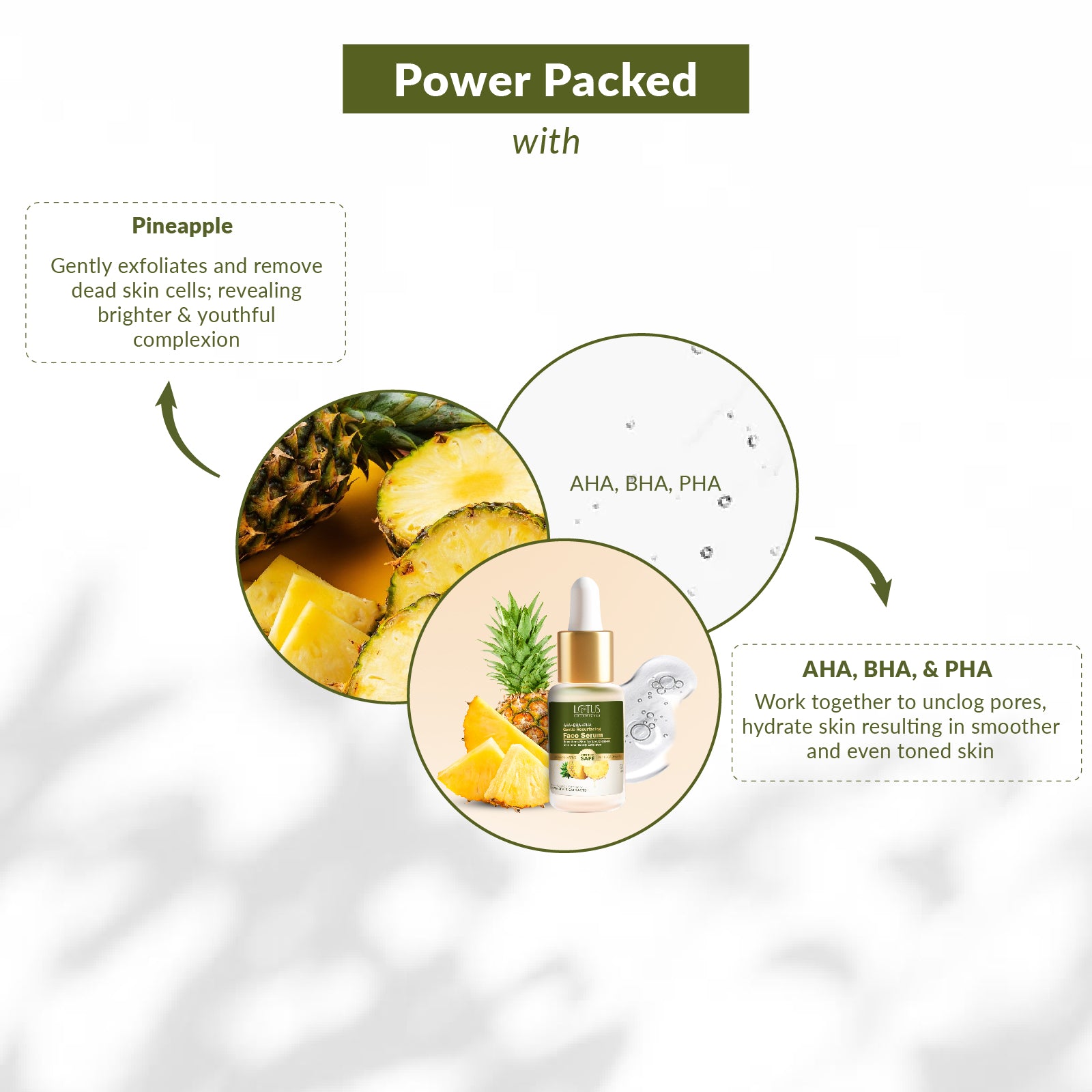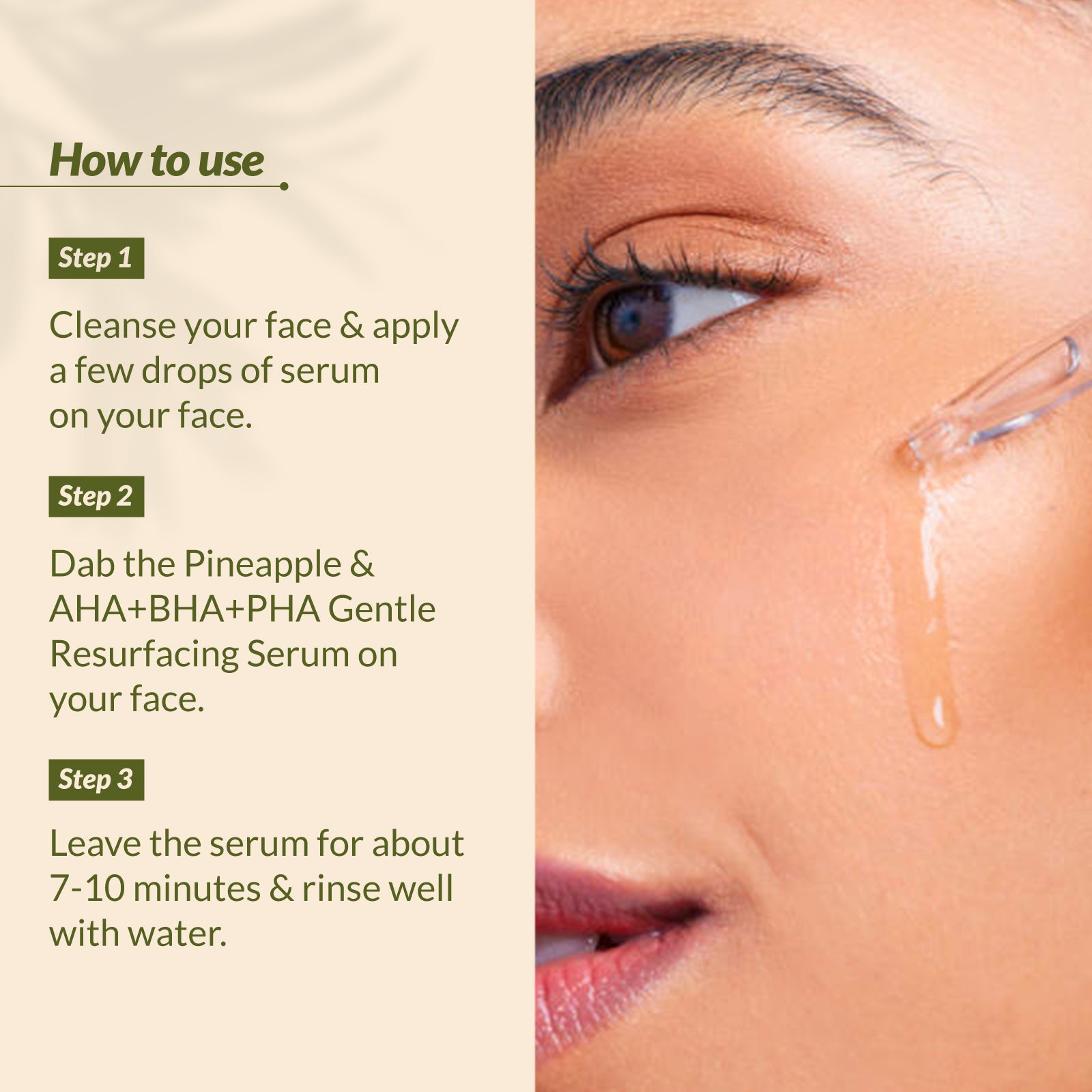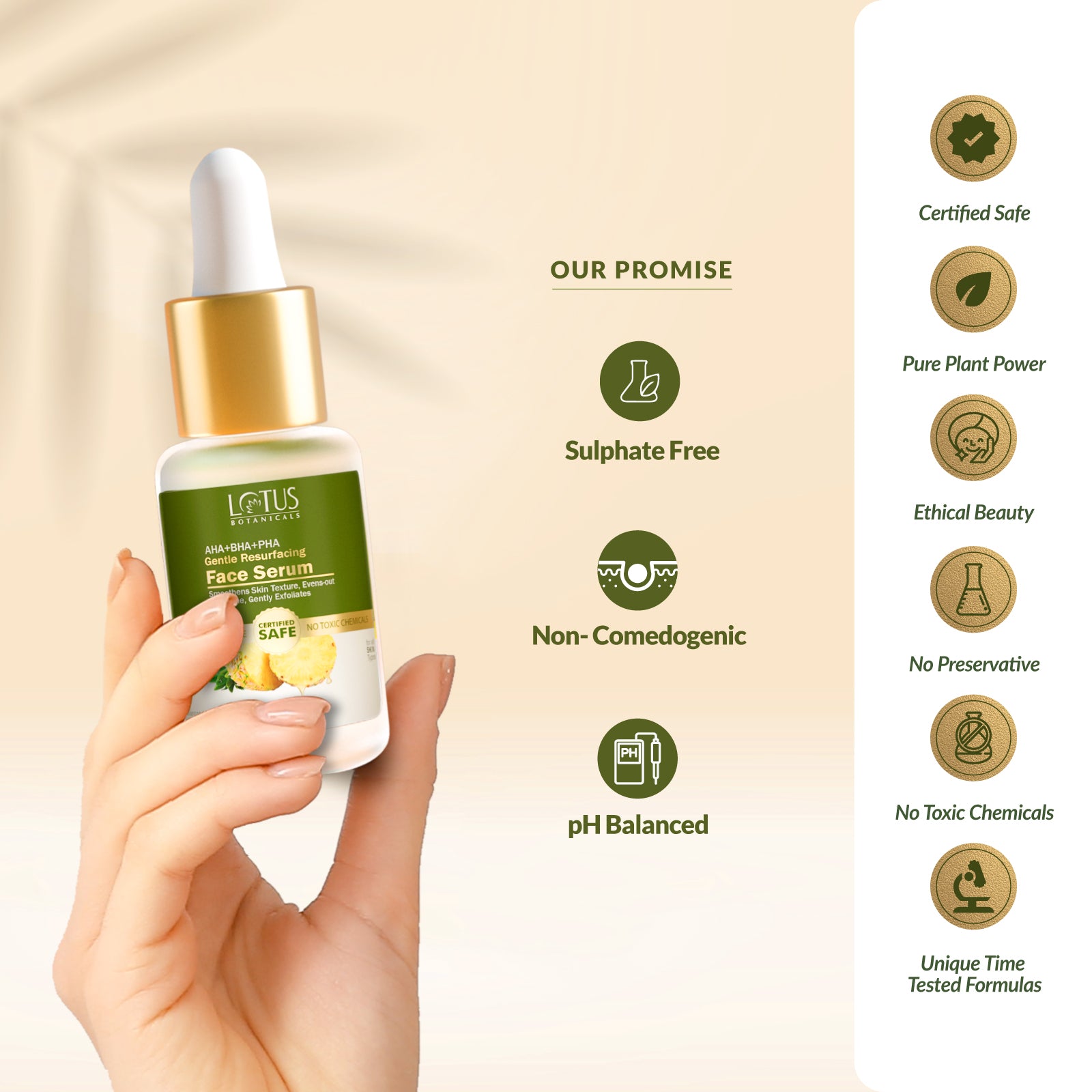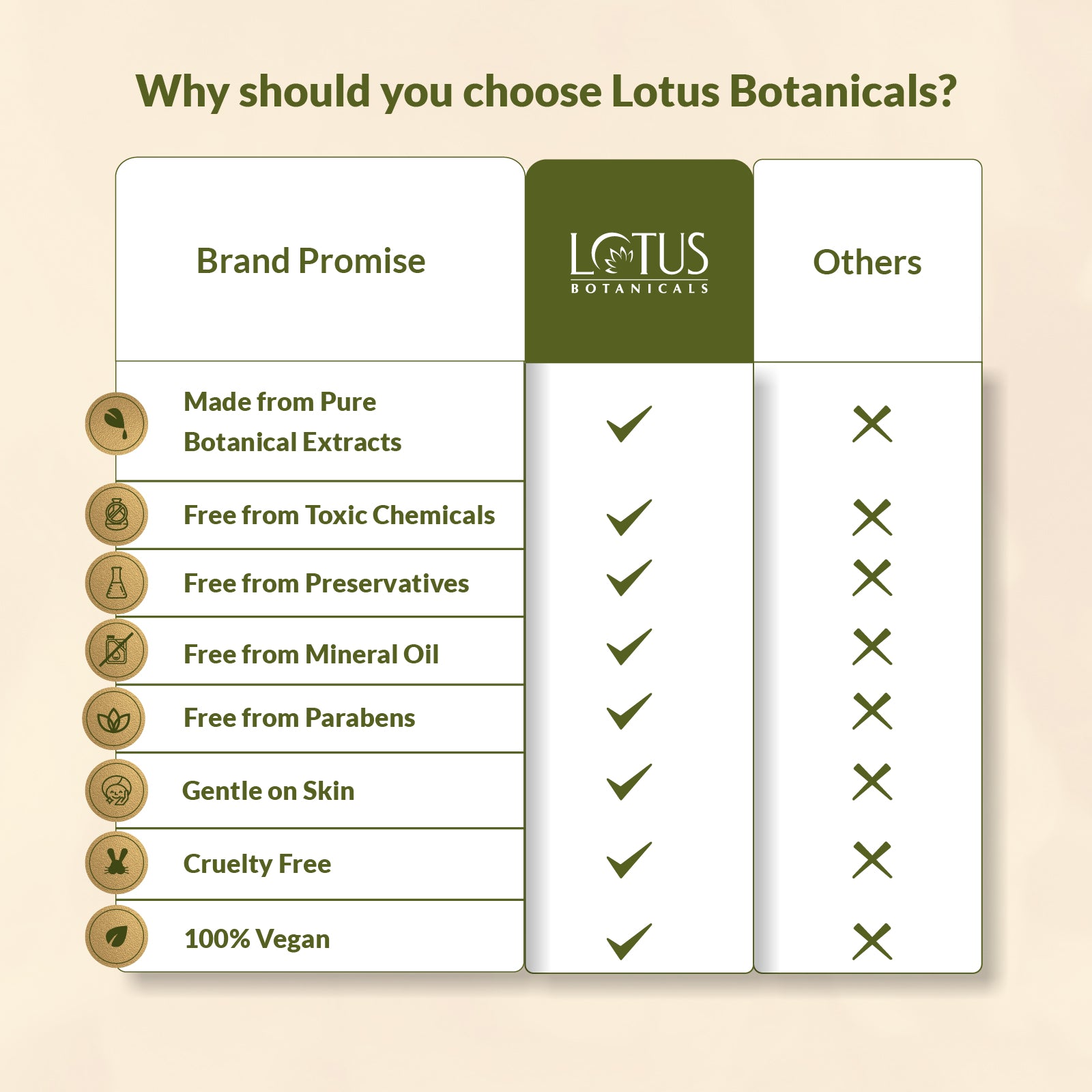 AHA+BHA+PHA & Pineapple Gentle Resurfacing Serum
Offers You
Can't Resist
🎁 FREE Vitamin C Wash N Moisturise Worth Rs 960 on purchase of Rs999🎁
Description

Ingredients

Know Your Product

FAQs

Good To know

More Info

Reviews

You May Also Like
With the deep exfoliating miracle drops of Lotus Botanicals Natural AHA+BHA+PHA Gentle Resurfacing Face Serum with Pineapple Extract, enhance your skin's collagen production, renew skin cells, and reduce inflammation. An innovative blend of plant based antioxidant rich ingredients, this serum helps lighten dark spots, acne, clears pores & reduces blackheads and hyperpigmentation all at once, while also gently getting rid of the dead skin cells and other impurities.

• Unique and Potent Formulation with Combined power of Pineapples, AHAs, BHAs and PHAs
• Enhances skin collagen production
• Renews skin cells
• Reduces skin inflammation
• Lightens dark spots, clears pores, reduces blackheads and hyperpigmentation
• Evens out skin tone and smoothens skin texture
• No Preservatives, No Toxic Chemicals, Sulphate Free, Silicon Free, Mineral Oil Free, Non-Comedogenic, Paraben Free, pH-Balanced, Cruelty Free, 100% Vegan
Salicylic acid :
Salicylic acid is an excellent ingredient for skin care products because it can properly exfoliate your skin. This is very helpful for managing a number of skin conditions including acne.(2) This ingredient can protect your skin from photo damage, melasma and various other skin problems.
Glycolic acid :
Glycolic acid is helpful in addressing and alleviating a number of skin issues like acne, pigmentation etc. This ingredient has a number of skin healing, restorative and therapeutic benefits and therefore it is an ideal addition to your skin care products.(3)
Lactic acid :
This particular ingredient has a number of skin moisturising properties and it can help you in efficiently replenishing your skin's moisture levels. Lactic acid has great antioxidant benefits for your skin and it can work wonders for wrinkled and pigmented skin.(4)
Gluconolactone :
This ingredient is very gentle on the skin and therefore it is relatively safe for all skin types. It is a natural exfoliation that can help in skin rejuvenation and healing. (5) It is extracted from gluconic acid and exhibits wonderful skin moisturising and hydrating properties.(6)
Pineapple extract
Pineapple extracts are rife with a component called bromelain which has anti-inflammatory properties. This component also protects your skin from oxidative stress and in turn provides wholesome skin benefits.(7)
---
---
---
More Info
A skin care routine is an ideal and effective way to protect your skin from the damage caused by external factors. In addition to that, an articulate skincare routine can also go a long way in safeguarding your skin and keeping it clean and nourished.
A face serum is one such aspect of your skincare routine that can facilitate skin hydration. The Lotus Botanicals Natural Gentle Resurfacing Serum with plant-derived AHA+BHA+PHA is a lightweight serum that will be an excellent addition to your skincare routine.
AHA, BHA and PHA refer to alpha hydroxy acids, beta hydroxy acids and polyhydroxy acids. These are naturally occurring hydroxy acids that have specific benefits for the skin. Opting for skin care products that have an appropriate balance of these three hydroxy acids can bode well for your overall skin health.
Not to mention, these three ingredients are known to work wonders for the skin. The combination of these products work great for all skin types. AHA works great for dry skin with its moisturising properties. BHA works for people with oily skin, and acne-prone skin. PHA works great for those with sensitive skin.
How to use AHA, BHA and PHA + Pineapple enriched face serum in your skin care routine
Using acids on your skin might sound bizarre but trust us, these naturally occurring acids can be your solution for a wide range of skin problems. They are outstanding exfoliants and do a great deal to help your skin feel fresh and nourished. A balanced combination of these acids in your skincare products can be very beneficial for treating acne. In fact, it can also help in improving your skin texture and give you a seamless and glowing complexion.(8)
These organic acids are natural peeling agents and the following benefits can be attributed to them :
The premature signs of skin ageing are very intricately connected to the inflammation caused to our skin due to UV rays and other aggressive environmental pollutants. These organic acids play a vital role in mitigating and managing the signs of photoaging.
These hydroxy acids can augment collagen production and improve skin elasticity, and flexibility. Consequently, these organic acids are useful in giving you youthful-looking skin.(9)
Consistent usage of these organic acid-infused skin care products can help you in achieving plumper and smoother skin.(10)
This face serum is an ideal addition to your skincare routine if you want to categorically focus on acne and other signs of photoaging. Consistent usage of this face serum will deeply hydrate and nourish your skin while addressing issues such as skin discolouration. Moreover, these ingredient help you achieve natural peeling or exfoliation of your skin that can balance out keratinisation, which is one of the primary factors of acne.
The Lotus Botanicals' natural gentle resurfacing serum will help you in achieving that perfect balance of these organic acids in your product and the results are going to be swoon-worthy.
---