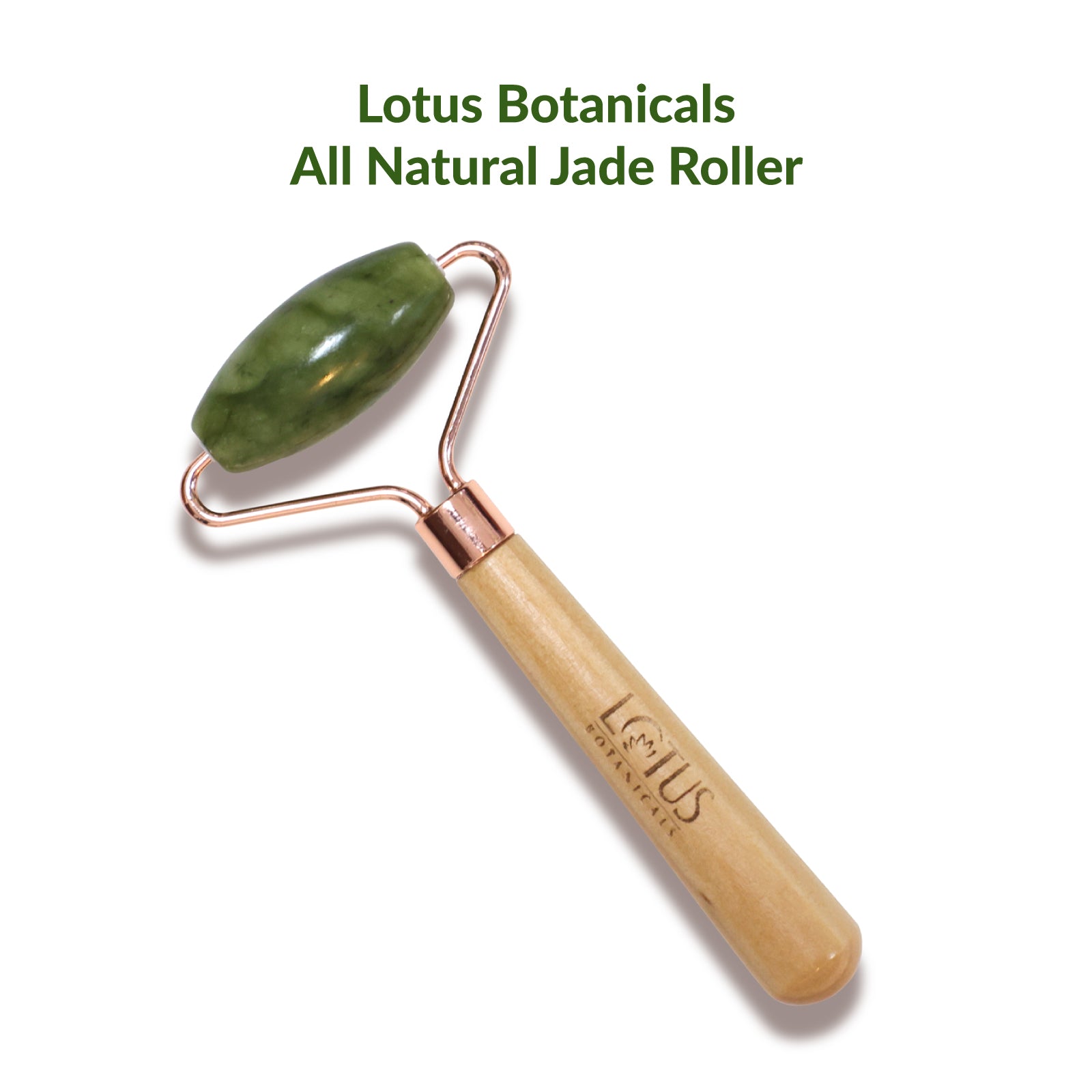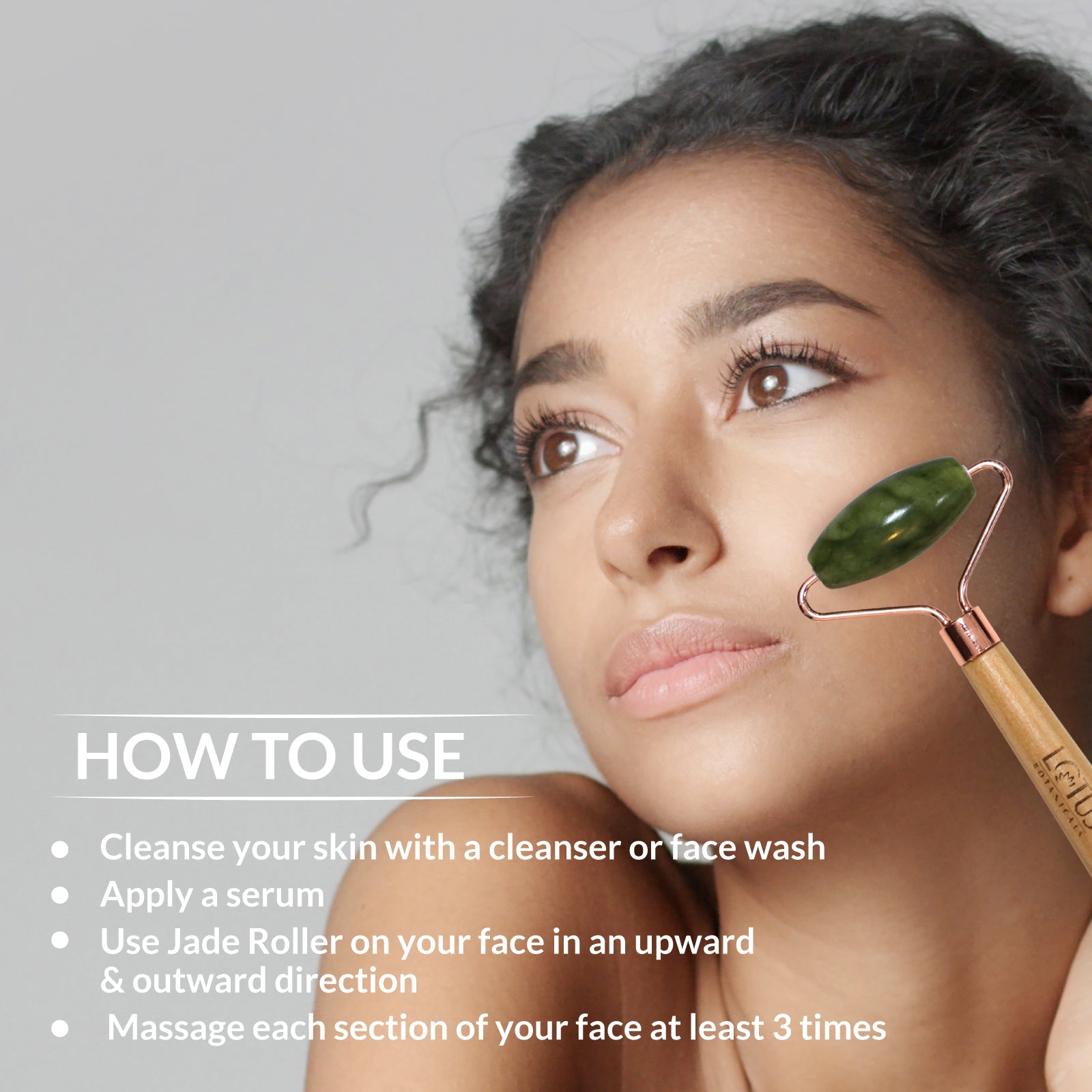 Lotus Botanicals All Natural Jade Roller
Offers You
Can't Resist
🎁FREE Green tea Renew and Restore worth Rs 915 on purchase of Rs 999 or more🎁
Description

Ingredients

Know Your Product

FAQs

Good To know

More Info

Reviews

You May Also Like
Lotus Botanicals brings to you an all-natural Jade Stone roller for the perfect cheeks, neck, forehead, and jawline you always wished for! It is made of Jade which is a naturally cooling stone enriched with minerals; and serves as an anti-ageing tool that helps relieve stress and smoothens cheeks, neck, and forehead and gives you a perfect jawline, on gentle massaging. Jade Rolling Stone is based on 4000 years old TAI CHI technique that stimulates blood circulation and acupressure points. It balances muscle tension and gives your skin the relaxation it needs. The motion of the roller combats puffiness caused by the congested lymphatic channels, leaving your skin soft and glowing. For best results, pair Lotus Botanicals All Natural Jade Roller with your favourite Lotus Botanicals Face Serum.

• Improves blood circulation to the surface of the skin
• Helps with lymphatic drainage this reducing puffiness
• Relieves muscular tension build-up and has a relaxing effect
• Enhances the look of the jawline while rejuvenating the face
• Helps with de-puffing under the eyes & reduces dark circles
• Reduces the appearance of fine lines
• Accelerates skin cell renewal process
• Brightens skin tone, tightens and sculpts the face
• Relieves facial stress and anxiety
• Helps your skin glow
• Helps serums and oils to absorb more effectively
---
---
---
More Info
Experience the Benefits of Jade Roller with Lotus Botanicals
If we talk about one product that has taken the beauty industry by storm, then we have to give a special shout-out to the Jade roller. This prodigal face roller isn't a new entrant to the beauty scene, but, in fact, it has been around for many centuries. (1)
It is believed that the time jade, which is used in this face roller, has excellent abilities to calm and soothe the skin. If you are looking for a good face roller for yourself, then the Jade stone roller by Lotus Botanicals will be an excellent addition to your skincare routine.
What is a Jade Roller
A Jade roller is a simple yet effective beauty device that uses a stone (jade) that has exceptional cooling properties for the skin. This hand-held massaging device has gained widespread popularity and momentum recently but in fact, it has been in use since the seventh century. This used to be a part of the Chinese beauty routine but now the whole world is recognising the benefits of using a jade roller. In this facial roller, the stone is attached to a facial roller that has a wider stone surface on one end and a smaller stone surface on the other end so that the user can effectively massage the delicate areas of the face as well. The most defining use of a jade roller is that it has cool-to-touch properties.
How to use a Jade Roller
In order to use a Jade Roller properly, you can adhere to the following steps:
Place the larger part of the roller on your chin and roll it toward your ear. Do that 5-6 times on either side.
Place the small part of the roller beneath your eyes and then start rolling outward towards the corner of your eye. Repeat this 5-6 times on either side.
Place the larger end of the roller on your forehead and then massage it towards your ears.
You can use the roller to soothe your skin and instantly refresh it.
Benefits of Jade stone face roller
There are a number of benefits associated with the Lotus Jade roller.
They improve blood circulation
Regularly massaging your face with a jade roller can yield satisfactory results by boosting your blood circulation and enhancing lymphatic drainage. (2) By enhancing blood circulation, this face roller also makes the skin look extra glowy.
It helps in reducing facial puffiness
The cooling effect of the jade facial roller can work on puffiness by increasing the blood flow to that area. This will give a fresh and rejuvenated look to your face.
It helps in the proper absorption of skin care products
By massaging your face with a jade roller, you can change your skin and make it ready for subsequent product application. Furthermore, if you massage your face with a jade roller after applying a lotus moisturiser or a face serum, it will enable your skin to properly absorb the product to yield evident results.
They might help with your friend's double chin
Jade rollers are known to tighten skin (3) and regular usage can help with a double chin as well. There have been studies to suggest that face massage is linked to tighter skin and therefore it sounds promising to try out this face roller for a sculpted face.
Tips for using a Jade Roller
Before massaging your face with a Jade Roller, make sure that you wash your face and moisturise it.
You can use the Jade Roller on your neck in a to-and-fro motion to aid lymphatic drainage.
You can keep the Jade roller in the freezer for some time before sugar to enhance the cooling effect.
Why choose Lotus Botanicals
Louis Botanicals is committed to the idea of creating ethically formulated and sustainably produced skin care, hair care and beauty products. Our goal is to nail the perfect balance between bountiful natural ingredients and scientific advancements to create exceptional products that are endowed to benefit the skin, hair and cosmetic requirements of the customers. In addition to tb jade facial roller, we also have an expensive range of other skin care products including face wash, face moisturiser, day cream online, best night cream, skincare products, lotus sunscreen, bio retinol products, baking soda skincare products and green tea skincare products. You can browse through our website for other hair care and beauty products as well. Buy your perfect jade roller online from Lotus Botanicals TODAY!!
---