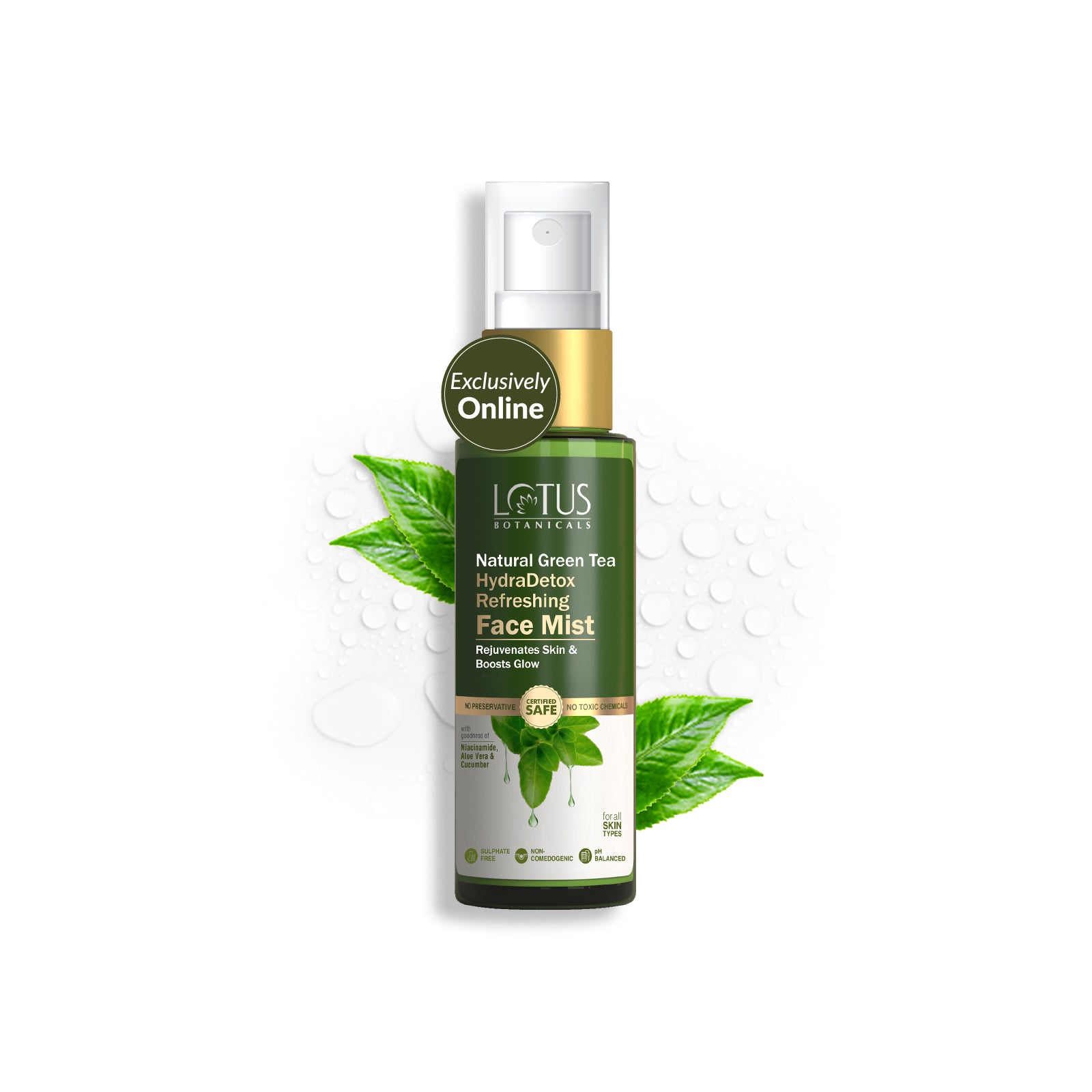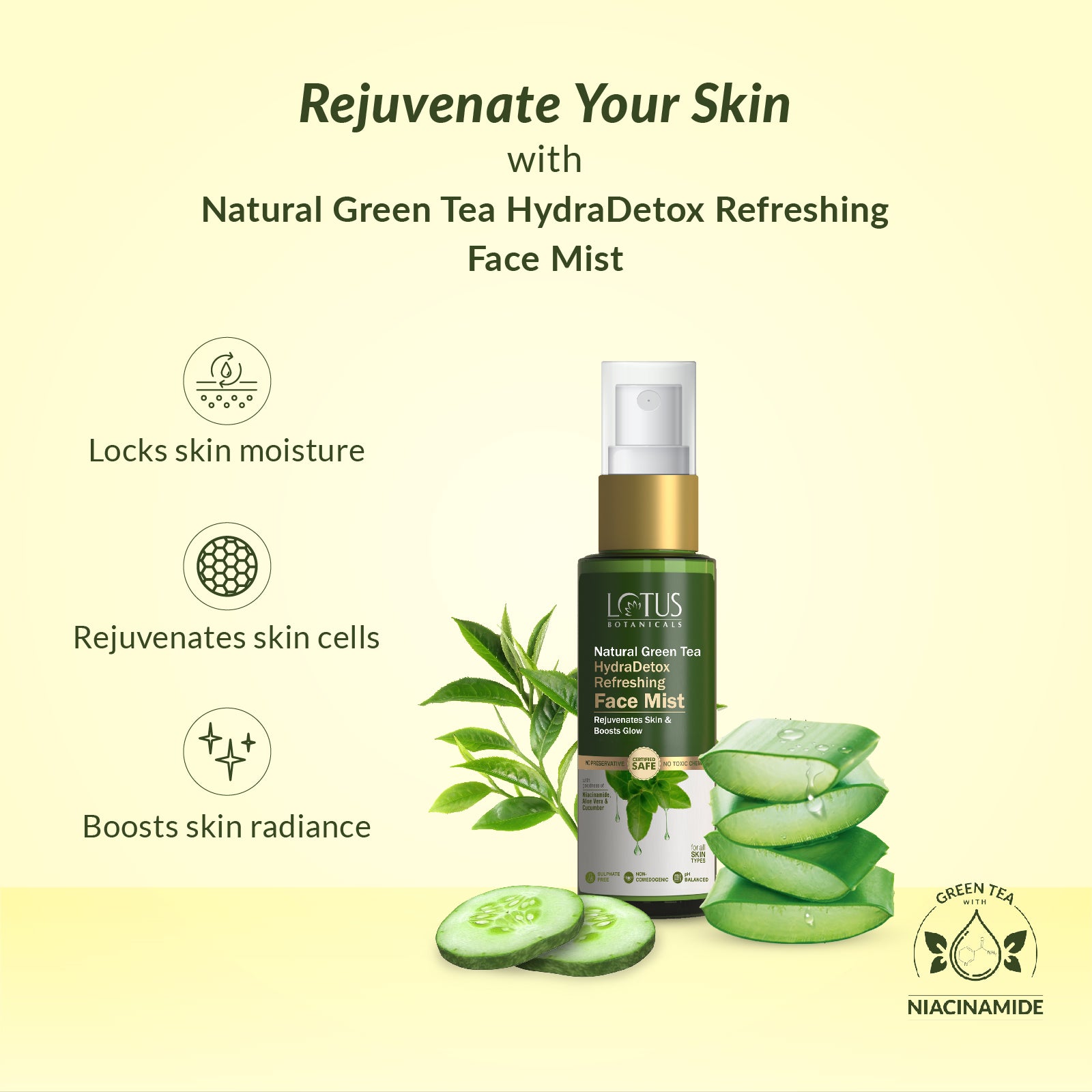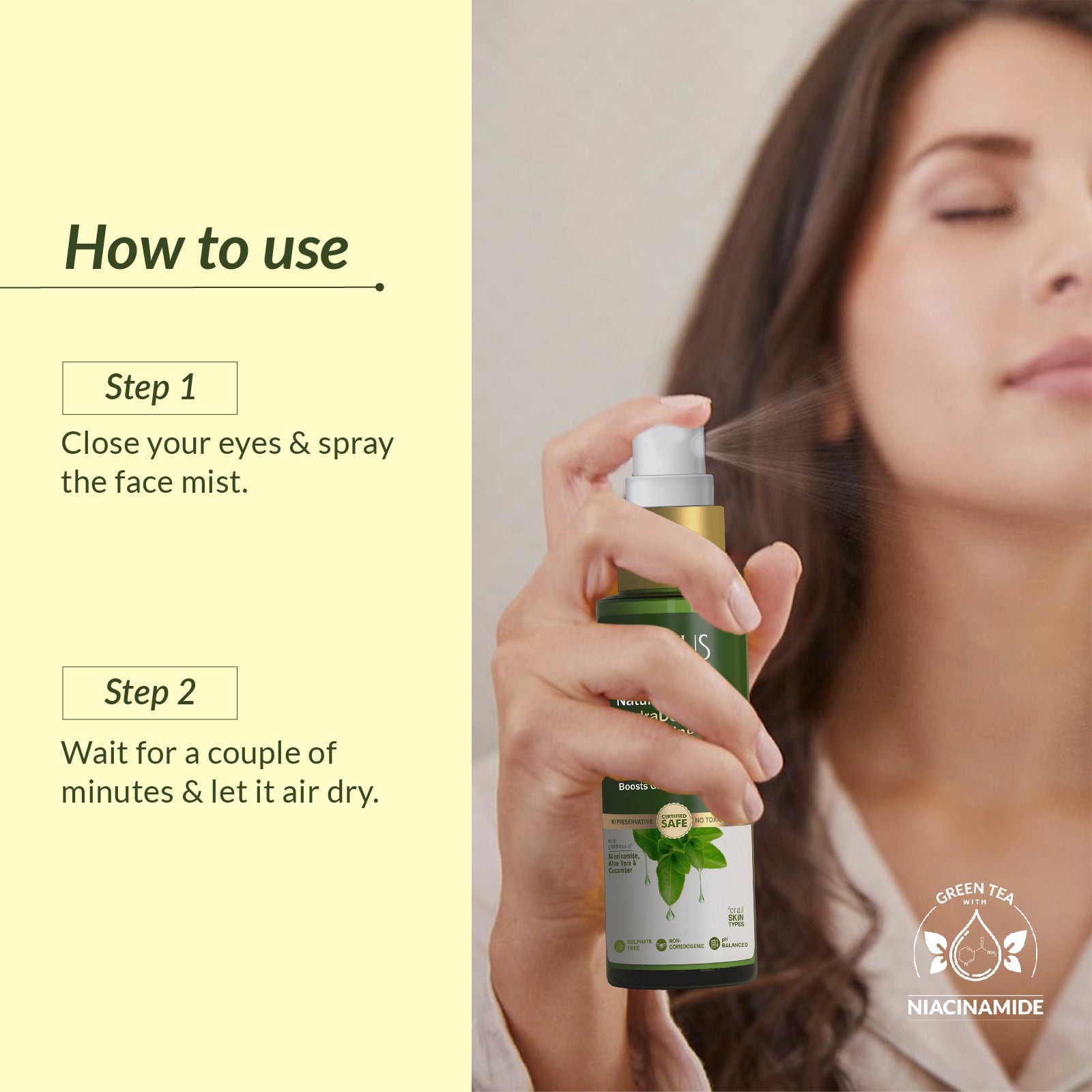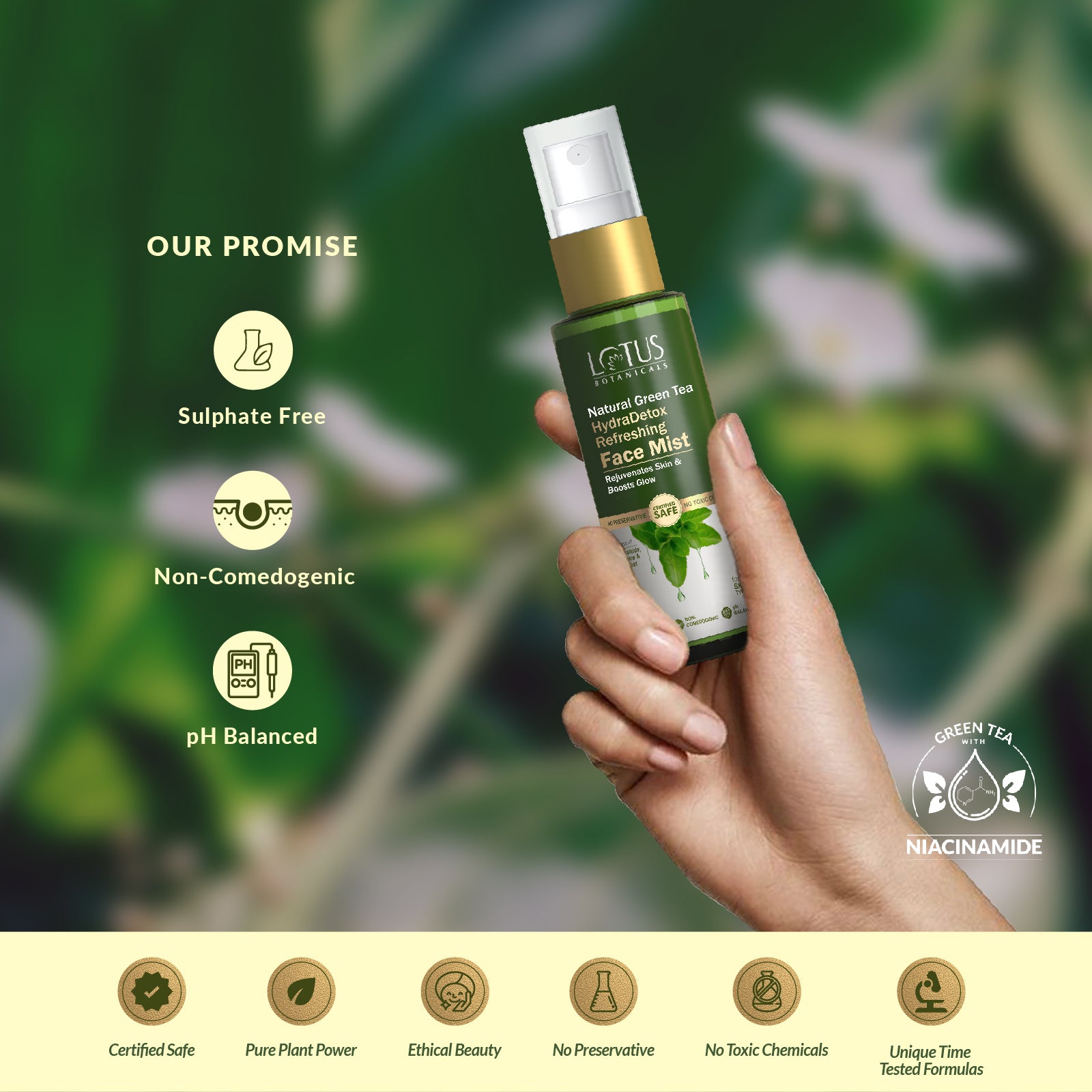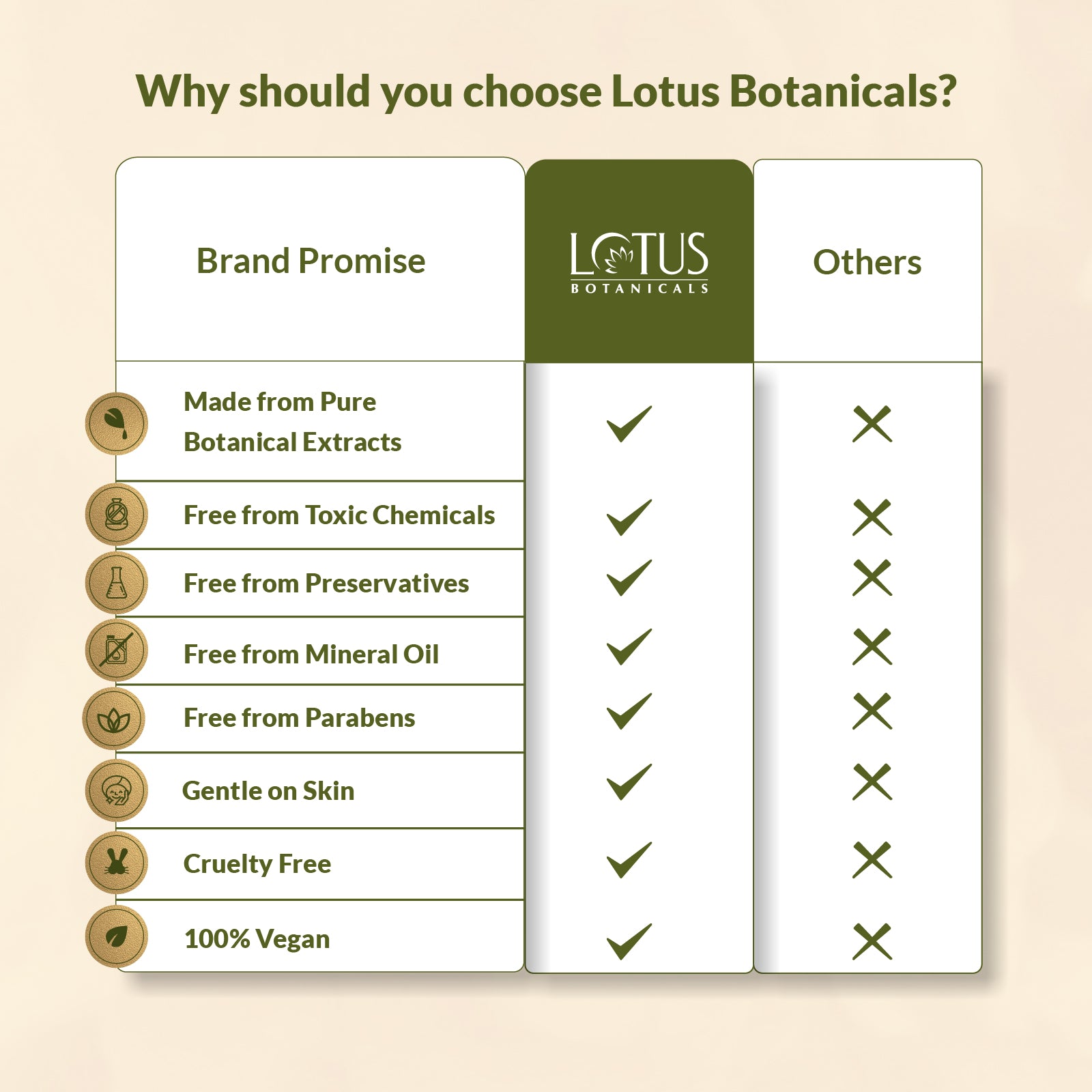 Natural Green Tea HydraDetox Refreshing Face Toner Mist
Offers You
Can't Resist
🎁 FREE Vitamin C Wash N Moisturise Worth Rs 960 on purchase of Rs999🎁
Description

Ingredients

Know Your Product

FAQs

Good To know

More Info

Reviews

You May Also Like
Spray your way to freshness with the Lotus Botanicals Natural Green Tea HydraDetox Refreshing Face Toner / Mist. Rich in antioxidants, the mist provides a youthful and glowing skin while further toning up skin pores. Reviving your dull looking skin just became easier!

• Made with unique combination of Green Tea, Aloe Vera, Cucumber and Niacinamide
• Energises skin giving it a fresh look
• Tones Skin
• Reduces skin infammation
• Prevents premature ageing
• Prevents acne, pimples and inflammation
• Soothes irritated skin
• No Preservatives, No Toxic Chemicals, Sulphate Free, Silicon Free, Mineral Oil Free, Non-Comedogenic, pH-Balanced, Anti-Pollution, Cruelty Free, Allergen Free Fragrance, 100% Vegan
Green Tea
A common Japanese healthcare ingredient, green tea contains good amounts of antioxidant and anti-inflammatory properties. It is renowned in the skincare world for its ability to soothe irritated skin, reduce acne and slow premature ageing. Potent in antioxidant contents, it helps fight the damage caused by free radicals and reduces oxidative stress. It is also beneficial for providing a boost of refreshment to the skin.
Witch Hazel
It is a plant ingredient that possesses many medicinal and skincare properties. In the skincare and SkinCeutical world, it is primarily known for its anti-inflammatory properties that help to reduce skin irritation and inflammation. Witch hazel is also rich in tannins, a plant compound that helps our skin fight against oxidative stress. Additionally, witch hazel also helps us prevent acne.
Aloe Vera
Aloe vera is one of the most soothing plant-based elements that you can find in a majority of skincare and cosmetic products. It is predominantly known for its hydration properties, making it an excellent choice for helping alleviate dry skin problems. It also reduces skin inflammation and the stinging sensation caused by cuts and burns. Applying aloe vera gel on the face can also help keep acne at bay.
Cucumber
Another ingredient that is composed primarily of water, cucumber is incredibly soothing on the skin. It provides our skin with intense moisture and nourishes it. According to studies, cucumber also helps us reduce the swelling and puffiness of the face and combat the premature signs of ageing like wrinkles and fine lines. It is also beneficial to reduce the effects of sunburns and injuries like burns or cuts.
Chamomile
Chamomile is another type of tea that is used in this green tea face mist. It is loaded with antioxidants and anti-inflammatory properties. Products infused with chamomile can help you get rid of free radicals, hyperpigmentation, acne and wound healing. It is also very beneficial for soothing skin irritation and redness.
---
Frequently Asked Questions
Yes, you can use green tea as a face mist, and ensure your skin is clean and hydrated. For using the ingredient as a face mist, you can either look for a procedure to help you or you can purchase a green tea face mist online.
The Lotus green tea face mist contains witch hazel, which is a natural astringent, it helps you with oily skin issues.
Yes, the antioxidant contents of green tea can help reduce the production of excess melanin, thus helping with issues like dark spots and hyperpigmentation.
Facial mists are designed to help you fight dryness, dullness and revitalise your skin.
Using a green tea face mist is very simple. You can use the green tea face mist as a base for your make up products, an instant boost of hydration and freshness or to help you give your makeup a better finish.
Generally, while applying a facial mist, you must keep your eyes closed and spritz the liquid from a distance of approximately 1 feet.
Even with regular usage, a green tea face mist can also you approximately 1 month.
The tannins present in the green tea acts as a natural astringent, which helps in shrinking the enlarged pores.
Its astringent and skin cleansing properties make a green tea mist ideal for use on pores.
---
Good To Know
Store in a cool and dry place.
In case of pregnancy, consult your physician before using the product.
For external use only.
Avoid contact with eye. If the product gets into you eyes, rinse them with water immediately.
We recommend doing a patch test to ensure you are not sensitive to the product or allergic to any of the ingredients used.
---
More Info
The Lotus Botanicals Natural Green Tea HydraDetox Refreshing Face Mist is your ideal choice if you want to add to your skincare routine.
Green Tea has been long known for its health benefits across the eastern parts of the planet, especially in Japan. And recently, skincare companies have started understanding the various benefits of this potent ingredient for our face and skin. The plant-based ingredient is known to have copious amounts of antioxidant and anti-inflammatory properties, which help you stay clear of all major skin concerns like acne, breakouts, inflammation and premature signs of ageing.
Lotus Botanicals now offers you the benefits of this excellent ingredient in the form of the Lotus Botanicals Natural Green Tea HydraDetox Refreshing Face Mist. The Green Tea face mist is ideal for helping you repair your skin from damage caused by various skin problems while providing you with a boost of freshness.
The Green Tea Face Toner Mist Benefits
Besides using green tea face TONER mist for acne-related concerns, there are many other benefits that this Lotus Botanicals Natural Green Tea HydraDetox Refreshing Face Mist offers. They are:
Reduces Inflammation

Green tea is renowned for its anti-inflammatory properties. And the other ingredients present in this face mist, like cucumber, aloe vera and chamomile, are all packed with anti-inflammatory properties. Therefore making this green tea face mist excellent for combating inflammation caused due to sensitivity or as a result of acne and breakouts.

Prevents Premature Ageing

The Epigallocatechin Gallate (ECGC) contents in Green Tea are excellent at tackling the oxidative damage caused by free radicals. This green tea face mist also helps neutralise these reactive oxygen species that often cause premature cellular ageing.

Helps Reduce the Occurrence of Hormonal Acne

Acne or hormonal acne, is a prevalent skin problem we face these days that is caused due to high oxidative stress and the stimulation of excess androgen hormones. The green tea face mist works both ways to help you reduce acne. It contains antioxidants that help your skin fight oxidative stress. At the same time, the Epigallocatechin Gallate (ECGC)is also anti-androgenic, which helps you inhibit the androgen molecules resulting in no disruption caused to the sebum-producing glands.

Protects from Pollution and Sun Damage

According to research studies, the polyphenols of this green tea face mist have been found to help protect against the damage caused by the sun's UV radiation. It also helps you fight the damage caused by other environmental factors, such as pollution.
Lotus Botanicals Green Tea Face Toner Mist Uses
Face mists / toners are used for various purposes. Some of the uses of green tea face mist are listed below.
Refreshing the Skin

Our daily routines involve many outdoor activities, and the prolonged duration that we spend outdoors daily can dehydrate us and make our skin look dull. And cosmetics we wear outdoors can clog the pores leading to acne and breakouts. In such instances, using a face mist helps us rehydrate our skin and restore its radiance with a quick spritz of the green tea face mist.

Boosts the Makeup

Face mists / toners can help boost your overall makeup game since you can use it both before and after applying makeup. Using the face mist before wearing your cosmetic acts as a primer for the following products, giving them a well-hydrated and smooth canvas. Using the green tea face mist after applying your daily makeup ensures that it stays in place for a longer time and sets perfectly.

Diluting Skincare or Makeup Products

If you are looking for some product to help dilute those heavy foundations or moisturisers, look no further. Interestingly, a face mist can aid in diluting the heavy skincare and cosmetics you often wear, making them lighter overall. And using this lotus green tea face mist on matte products can provide you with a dewy finish that amplifies the overall effect of the cosmetics you use.

Soothes Irritated Skin

One of the most prominent uses of a face mist / toner is to soothe irritation and redness of the skin, and the Lotus Botanicals Natural Green Tea HydraDetox Refreshing Face Mist is no exception. Most face mists, including this one, are infused with other ingredients having anti-inflammatory properties, making them excellent for redness caused due to acne, sunburns or allergic reactions.
Steps of Using the Green Tea Face Toner Mist
To use face mists / toner most effectively, all you need to do is close your eyes and spritz the mist from a feet away. You can do this process multiple times a day.
---