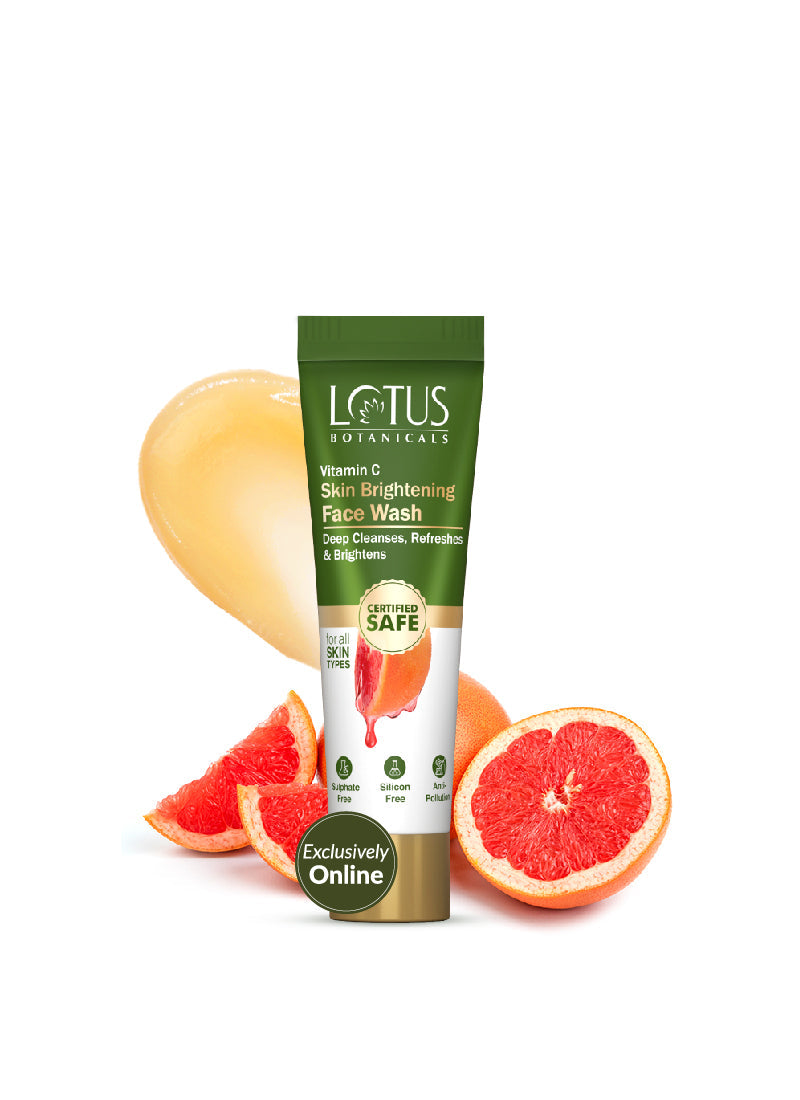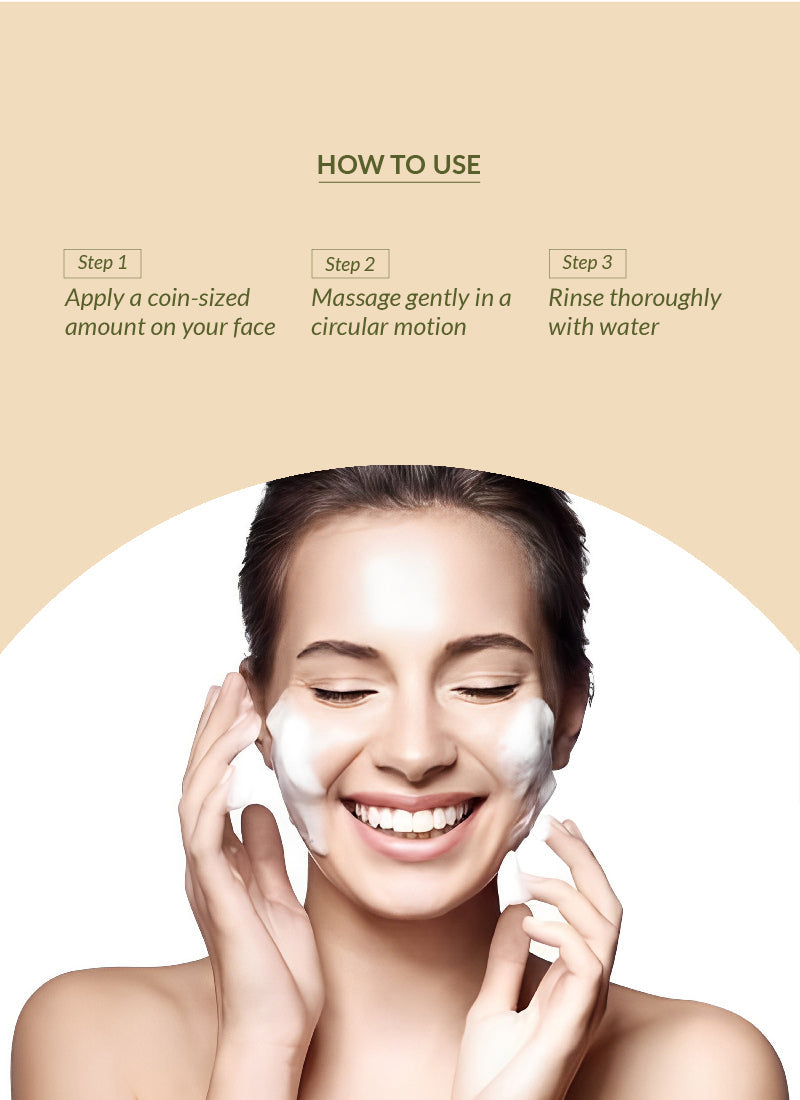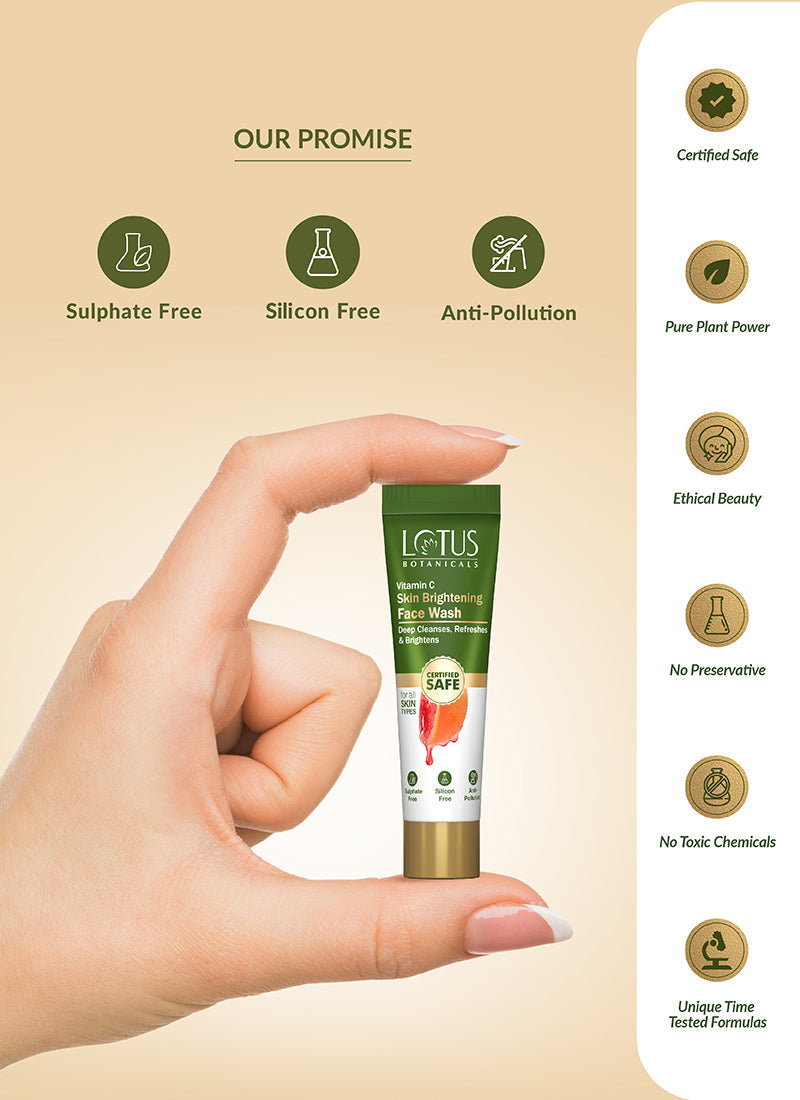 Vitamin C Skin Brightening Face Wash
Offers You
Can't Resist
🎁FREE Green tea Renew and Restore worth Rs 915 on purchase of Rs 999 or more🎁
Description

Ingredients

Know Your Product

FAQs

Good To know

More Info

Reviews

You May Also Like
Experience the magic of our best-selling Vitamin C Skin Brightening Facewash with our exclusive sampler pack. This highly sought-after product has gained a reputation for its exceptional results in brightening and revitalizing the skin, and now you can try it for yourself in a convenient mini size.
Inside the sampler pack, you'll find a miniature version of our beloved Vitamin C Skin Brightening Facewash. This powerful formula combines the benefits of Vitamin C with carefully selected botanical extracts to effectively cleanse, purify, and brighten your complexion. It gently removes impurities, revealing a more radiant and even-toned skin.
Our Vitamin C Skin Brightening Facewash has earned its best-selling status due to its ability to reduce the appearance of dark spots, hyperpigmentation, and dullness, while promoting a youthful glow. It is suitable for all skin types and is particularly loved by those seeking a brighter and more luminous complexion.
The Vitamin C Skin Brightening Facewash Sampler is the perfect opportunity to experience the remarkable effects of our best-selling product before committing to a full-sized version. It is also an ideal travel companion, allowing you to maintain your skincare routine on the go.
Join the ranks of our satisfied customers and uncover the secret to radiant skin with our Vitamin C Skin Brightening Facewash Sampler. Embrace the power of Vitamin C and unveil a more luminous and vibrant complexion that is sure to turn heads.
Please note that for long-term and optimal results, we recommend incorporating our full-sized Vitamin C Skin Brightening Facewash into your daily skincare regimen.
Vitamin C

A powerhouse ingredient, Vitamin C is well-known for its skin-brightening benefits. It fades spots, scars and pigmentation. It is a potent antioxidant that neutralizes free radicals created in the skin due to oxidative stress. It aids in skin's natural cell regeneration. It also helps recover skin and reduces redness either caused by sensitivity, overexposure to the sun or inflammatory skin disorders. It refreshes, energises and radiates the skin.
Full Ingredients List

Aqua, Decyl glucoside, Cocamidopropyl betaine, propanediol, Glycerin, Coco-Glucoside (and) Glyceryl Oleate, Cocodiethanolamide, Niacinamide, Polyacrylate Crosspolymer-6, Xanthan Gum, Olive Oil PEG-7 Esters, Sodium PEG-7 Olive Oil Carboxylate, Tocopheryl acetate, Disodium EDTA, Allantoin, Biosaccharide Gum-4, Citric acid, Terminalia Ferdinandiana (Kakadu Plum) fruit extract, Caprylhydroxamic Acid (and) Phenethyl Alcohol, CI 15985, Fragrance.
---
Frequently Asked Questions
Yes, our products are anti-pollution which means they cleanse the skin from nanoparticles absorbed from the air.
Yes, both men and women can use this product
Yes, our Vitamin C Skin Brightening Face Wash works on all skin types. Every wash instantly reveals a hydrated, soft and refreshed skin.
Step 1: Use warm water to wet your face and neck. Step 2: Apply the face wash to your palm with a pea-sized amount. Step 3: Give your face and neck a round massage. Step 4: Pat it thoroughly after rinsing with warm water.
Vitamin C face wash helps in deep cleansing of your face, removing all dirt and Pollutants without removing natural moisturizer of skin and thus gives you a glowy and clean appearance.
Vitamin C face washes are generally safe but the since it contains antioxidants it may cause irritation, redness and can be uncomfortable on sensitive skin.
Vitamin C face wash can be used daily, twice a day!
Yes, you can use Vitamin C face wash for dry skin.
Yes, this Lotus Vitamin C face wash is dermatologically tested. In addition to that, this product is vegan, cruelty-free, sulphur-free and paraben free as well.
You can use the Lotus Botanicals Vitamin C Skin brightening face wash during your daytime and nighttime skin care routine. You should apply the face wash on your face in circular motion to stimulate your face cells and ensure good cleansing.
No, this Lotus Botanicals face wash has a non-drying formulation and it is enriched with Vitamin C. It will properly cleanse your face without drying it.
Yes, you can use this Vitamin C face wash daily. For best results, it is advised that you use it twice a day; once in the morning and once at night.
Yes, you can use this Vitamin C face wash daily. For best results, it is advised that you use it twice a day; once in the morning and once at night.
Vitamin C is a wonderful product when it comes to wholesome skin benefits. It can protect your skin from damage caused by increased exposure to sun rays and can even work on various visible signs of ageing like wrinkles, fine lines etc.
Yes, the Lotus Botanicals Vitamin C face wash can produce very good results for brightening your skin tone.
Yes, this product is suitable for all skin types but it is advisable that you do a patch test in order to mitigate any possible signs of skin irritation.
Yes, this Vitamin C face wash can deep clean your facial pores and regulate the production of sebum in your skin which makes it an ideal face wash for oily skin.
Acne is essentially a skin inflammatory condition. This face wash can be used to cure acne owing to its anti-inflammatory and collagen-boosting properties.
There are no side effects of using this face wash but we advise you to do a patch test to look out for any signs of skin irritation.
Yes, this face wash is vegan and cruelty free. Lotus Botanicals pivots around the idea of producing ethical and sustainable hair care and skin care products that use nature's bounties to provide amazing hair and skin benefits.
100 ml packing of this face wash is priced at Rs 275.
To experience noteworthy results, you have to be consistent with respect to your usage. You can experience evident results after 2-3 weeks of using this product.
---
Good To Know
We recommend that people with sensitive skin always perform a patch test first to ensure there is no reaction. Discontinue if irritation occurs.
Store in a cool and dry place.
In case of pregnancy, please consult with your physician before the product usage.
For external use only.
Avoid contact with eye. If contact occurs, rinse immediately with water.
---
More Info
Cleansing is one of the most
important skin care steps
as it disburdens your skin from any harmful build-up. Vitamin C is a skincare sweetheart by virtue of its outstanding skin healing and nourishing properties. This powerful antioxidant is one of the dermatologist's most favourite ingredients to be used as a part of skincare. 
Gentle on your skin and tough on your impurities, our Lotus Vitamin C Skin Brightening Face Wash has natural powerful antioxidants that deeply cleanse your face without stripping the natural moisture of the skin. Free radicals that damage skin and cause wrinkles, age marks, and tiredness can be neutralized by using t
his Lotus Vitamin C face wash
.
. Brighter skin is aided by Lotus
vitamin C face wash
. Both men and women can use this
Skin Brightening Face Wash
.  Collagen formation in skin is also increased and aids in balancing skin tone. Lotus Vitamin C face wash reveals a hydrated, refreshed soft and non-drying effect after washing face. 
Our Lotus Vitamin C skin brightening face wash is devoid of harsh chemicals or any other harmful additives, and therefore, it works like a charm on your skin to effectively maintain its pH balance and keep a number of skin problems at bay. 
For a clear, radiant face, use a healthy cleaning face cleanser. Our Vitamin C Face Wash for Men and women is packed with the benefits of vitamin C, but it also contains potent antioxidants that lessen hyperpigmentation and give your face a healthy glow. Additionally, it contains organic components like Vitamin C and Niacinamide, which support skin health and keeps your face looking young and energised throughout the day. The Vitamin C facial wash has excellent anti-ageing properties while also being incredibly gentle on your skin. There are numerous benefits of Vitamin C face wash. Vitamin C brightening face wash is affordable its 100ml face wash pack costs just Rs. 275.00
Why Use Lotus Vitamin C Face wash?
This Lotus Vitamin C face wash is endowed with a number of benefits like 
Vitamin C face wash deeply cleanses your skin 
The non-drying formulation of this Lotus Botanicals face wash makes it an appropriate addition to your daily skincare routine. It can effectively cleanse your skin and make it possible for other skin care products to work on your skin properly. 
Vitamin C face wash

helps in keeping your skin nourished and hydrated 
Vitamin C also goes by ascorbic acid, packed with anti-inflammatory traits and other essential properties to provide wholesome benefits to your skin. This vitamin c face wash provides exceptional skin smoothening and cleaning benefits upon topical application. 
Consistent usage can provide anti-ageing benefits. 
Vitamin C products can be very helpful in fighting wrinkles, fine lines, dark spots and other signs of ageing. It can also augment collagen production to give you a youthful and radiant glow. 
Vitamin C face wash

enables your skin to mitigate the effect of free radicals 
The Vitamin C present in this Lotus face wash can fight the free radicals caused by environmental distress. These free radicals can cause significant damage to your skin if left unchecked.
Vitamin C face wash

facilitates an even and glowing skin tone 
Vitamin C is known to be a potent antioxidant that can work wonders on hyperpigmentation. This Lotus Vitamin C face wash can help curb the signs of photoaging and give you an even complexion with a glowing skin tone. 
Who can use 
It is ideal for usage by anyone (18+) who wishes to spruce up the effects of their skin care regime. 

It is suitable for use by both men and women.
Best suited for: 

All skin types


Concerns: 

Dry, dull skin and uneven skin tone
Paraben Free 
Silicon Free 
Mineral Oil Free
Anti-Pollution 
pH Balanced 
Cruelty Free 
100% Vegan 
Recyclable
Key Benefits
Removes make-up residue without stripping the skin's natural moisture.
Leaves the skin fresh, energized, smoother and brighter.
Maintains the skin's natural moisture.




Directions To Use
Step 1: Apply coin size on damp face.

Step 2:
Massage gently in circular motion.

Step 3:
Rinse throughly with water.

For best results, use twice daily in the morning and evening.
---