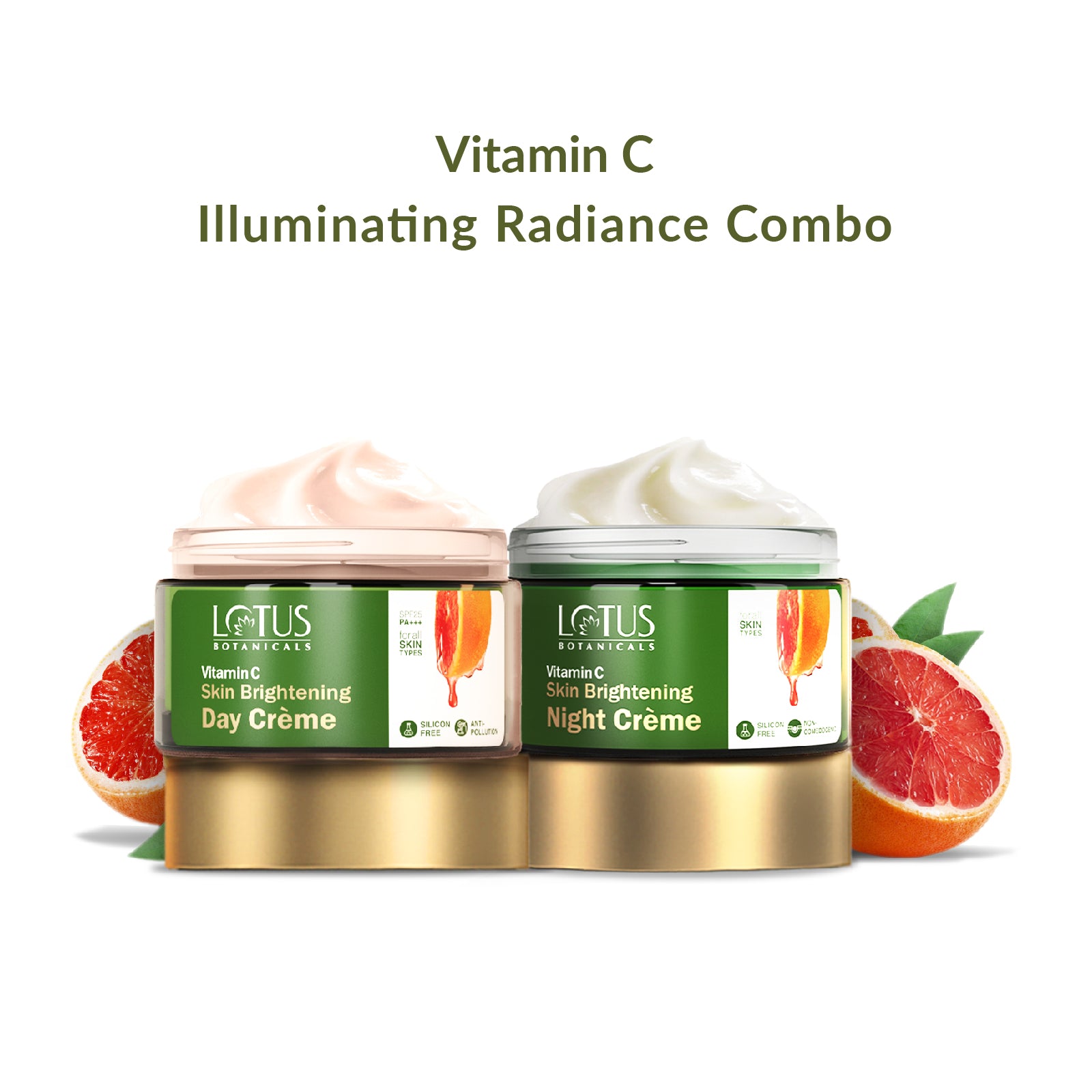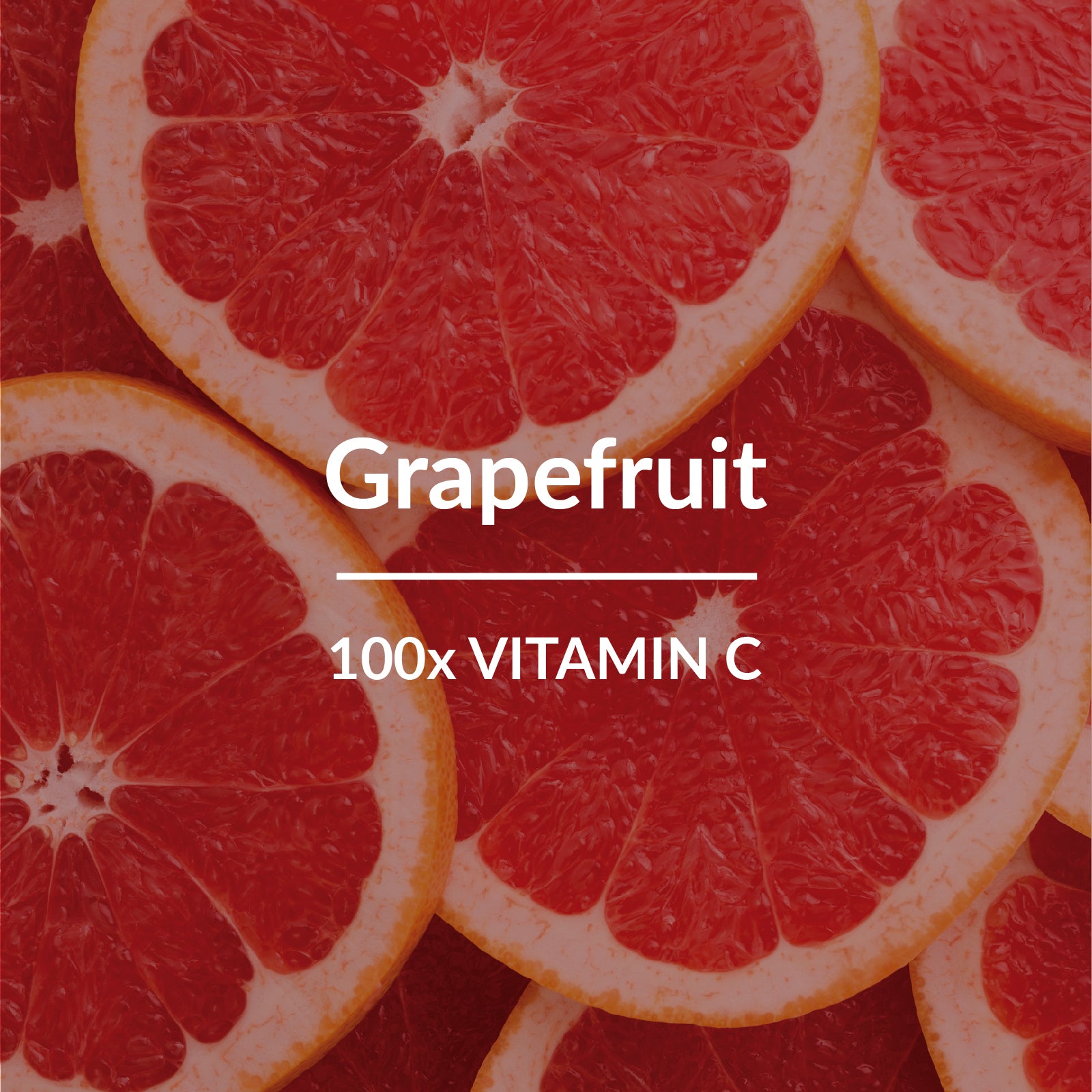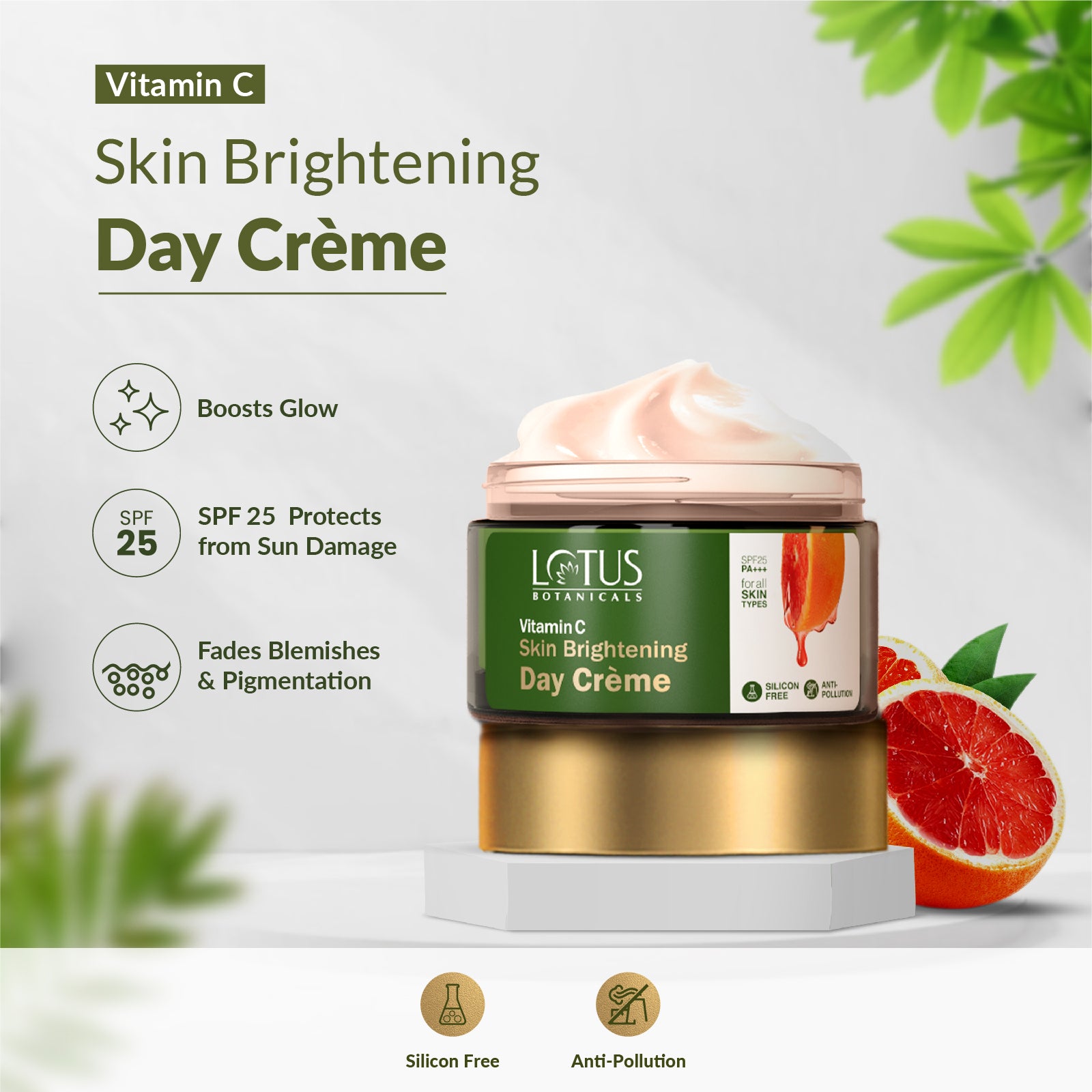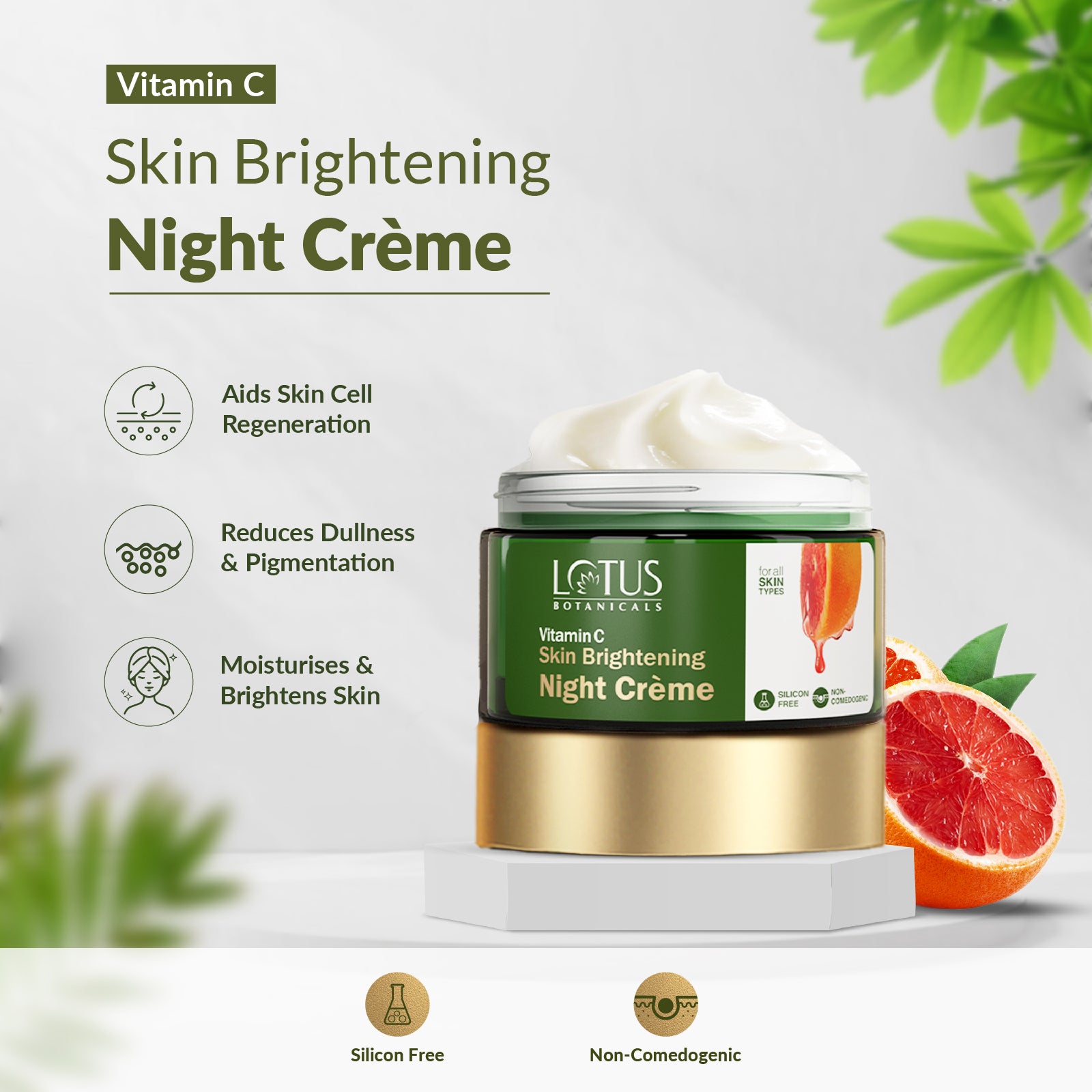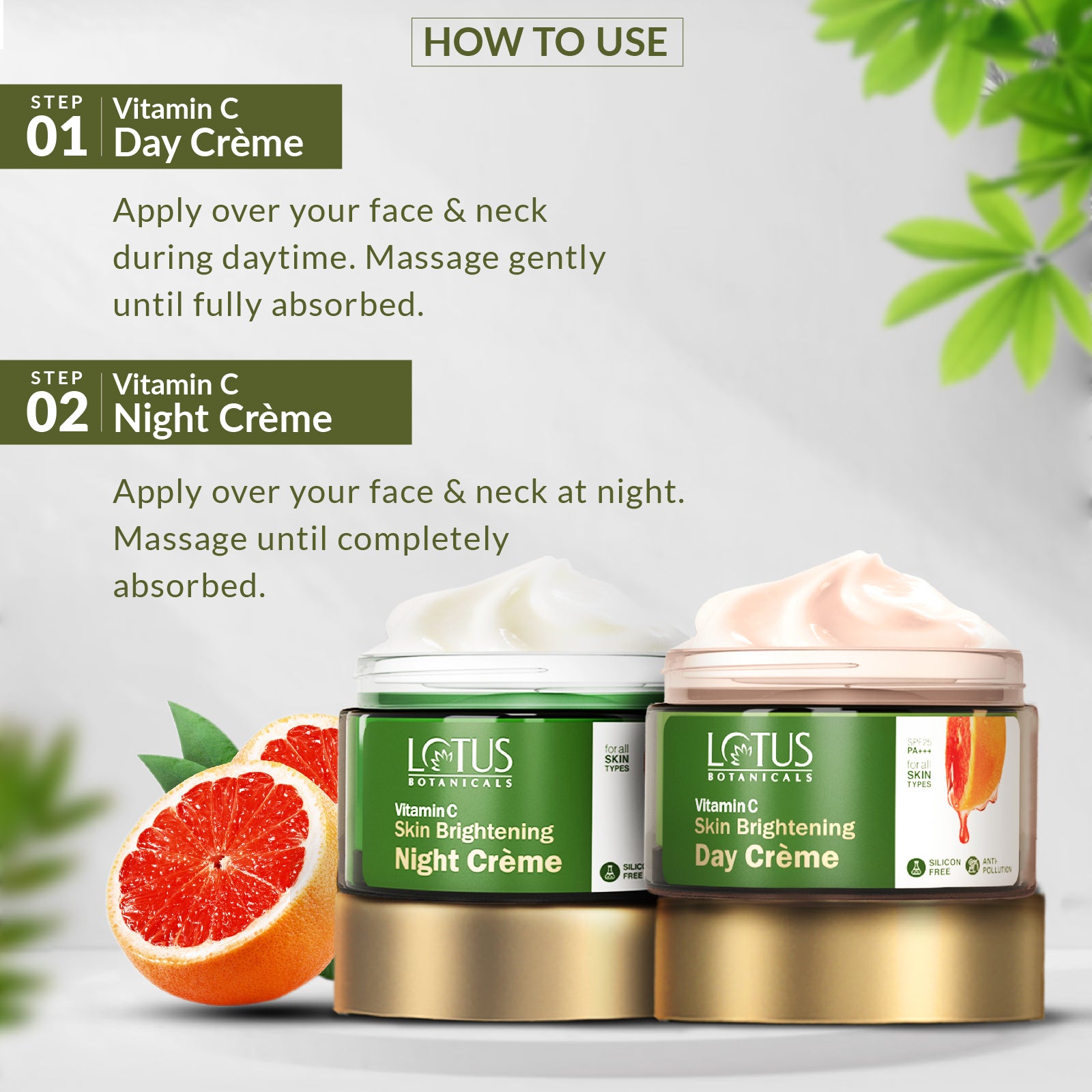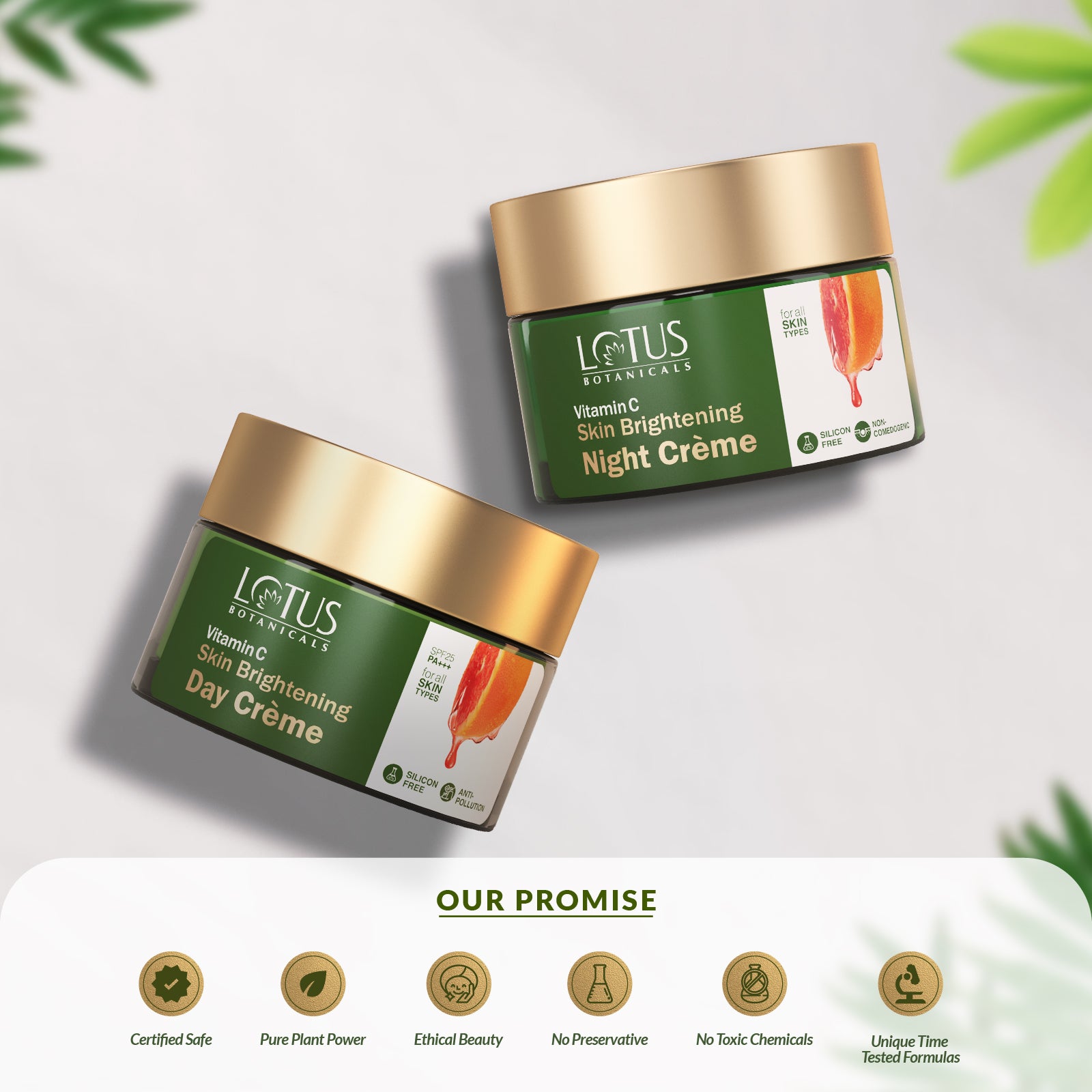 Vitamin C Illuminating Radiance Combo
Combo Includes:
1 X Vitamin C Skin Brightening Day Creme (50g)
X Vitamin C Skin Brightening Night Creme (50g)
Offers You
Can't Resist
🎁 FREE Vitamin C Wash N Moisturise Worth Rs 960 on purchase of Rs999🎁
Description

Ingredients

Know Your Product

FAQs

Good To know

More Info

Reviews

You May Also Like
Rise and Shine with Lotus Botanicals Vitamin C Skin Brightening Day Crème! This lightweight Gel Crème formulation brightens your skin and restores its natural moisture. This Vitamin C powerhouse helps boost skin's glow while fighting signs of fatigue and environmental aggressors. Infuseed with SPF25, it protects your skin from harmful sunburns, sun-tan and UV rays.

• Powerhouse boost of Vitamin C
• Fast absorbing lightweight gel crème formula
• SPF 25 protects skin from sun and UV rays
• Results in Glowing, Radiant and Brightened Skin
• Provides instant hydration and keeps skin moisturised
• Balances out skin making it firmer and younger
• Fades away pigmentation and blemishes.
• No Preservatives, No Toxic Chemicals, Paraben Free, Silicon Free, Mineral Oil Free, pH-Balanced, Anti-Pollution, Cruelty Free, 100% Vegan
Night time is skin repair time! Set your skin clock to a restore mode with Lotus Botanicals Vitamin C Skin Brightening Night Crème. Powerhouse of Vitamin C in this moisture-surge formula activates your skin's natural defence reducing uneven tone, pigmentation, fine lines and wrinkles. Unravel smoother, younger-looking and revitalised skin!

• Rejuvenates skin overnight resulting in brighter looking face
• Moisture surge formula keeps skin hydrated
• Reduces uneven skin tone, pigmentation, finelines and wrinkles
• Results in smoother, younger looking and revitalized skin
Vitamin C, the star ingredient in our Skin Brightening Day and Night Cremes, offers remarkable benefits for the skin. Known for its brightening properties, Vitamin C effectively targets dark spots and hyperpigmentation, promoting a more even skin tone. These cremes are enriched with Vitamin C to provide antioxidant protection, helping to shield your skin from environmental stressors and reduce the signs of aging. With regular use, your skin will appear revitalized, radiant, and glowing.
---
---
---
More Info
Before applying the cremes to your face, it is recommended to perform a patch test on a small area of your skin. This helps determine if you have any sensitivities or allergic reactions to the ingredients. Discontinue use if you experience any irritation or discomfort.
---