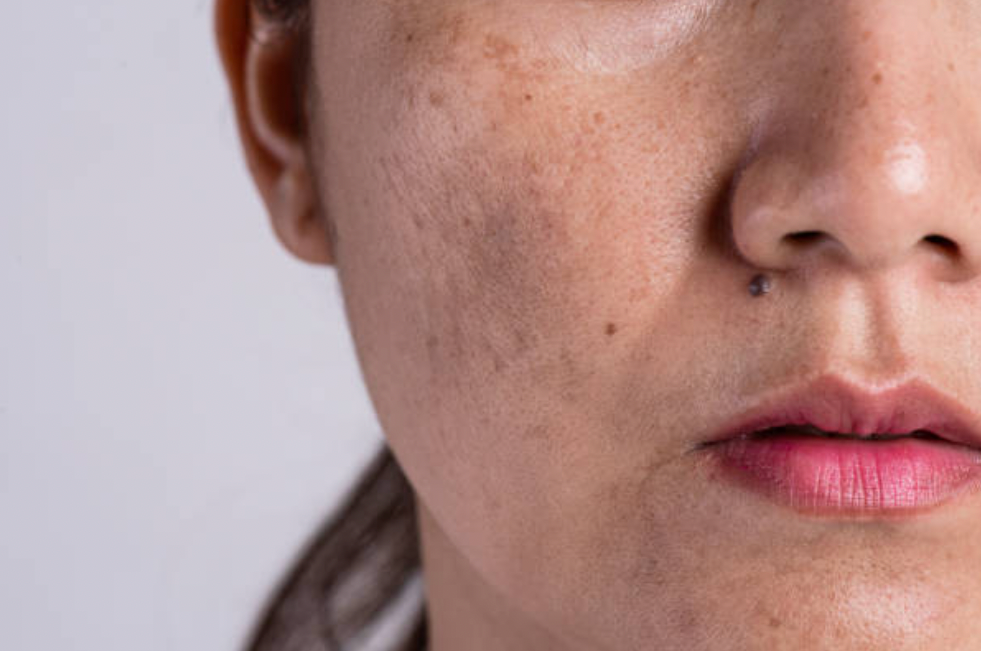 Highlights
Why do we get Dark spots?

Ways to remove pigmentation from the face

7 Home Remedies for Pigmentation: How to Get Rid of Dark Spots
Dark spots and hyperpigmentation are so annoying! Dark spots on the skin can be a result of acne marks, excessive exposure to the sun, or even hormonal changes. If you are someone who is dealing with hyperpigmentation on the skin then you probably know how stubborn and frustrating they can be. But don't lose hope, skin pigmentation treatments can be done naturally and at home! In this post, we will share home remedies for pigmentation and the best ways to reduce dark spots on the face.
Why do we get Dark spots?
The complexion of our face looks uneven due to dark spots or patches, which can be difficult to cover. But first, let us understand we get these dark spots on our faces. These hyperpigmentation or dark spots can appear on the skin due to various reasons. If you have oily skin which is acne-prone, dark spots can appear as a result of acne marks and acne scars. They often leave dark spots which are pretty stubborn.
Sun exposure is a big contributor to skin pigmentation. Excessive sun exposure and not using sunscreen can lead to hyperpigmentation and dark patches on the skin. These dark spots are caused by overactive pigment cells in our skin. The UV rays speed up the production of melanin, and regular exposure to the sun leads to a high concentration of melanin leaving dark spots and patches on the skin. (1) (2)
Hyperpigmentation and dark patches can appear on the face as a consequence of hormonal imbalance. And sun exposure can further aggravate it. (3)
Ways to remove pigmentation from the face
There are several ways hyperpigmentation can be controlled. Topical and laser skin pigmentation treatments are widely available. But using chemicals or lasers can harm the skin even more. Natural ingredients are, however, safe for the skin. Regular kitchen items like turmeric, yoghurt, aloe vera, potato, and papaya have hidden properties for skin brightening and reducing dark spots on the face. In this post, we'll share home remedies for pigmentation using natural ingredients that are easily available in your kitchen. Since these ingredients are natural and organic they do not have any side effects and are absolutely safe for your skin.
7 Home Remedies for Pigmentation: How to Get Rid of Dark Spots
#1 Skin Exfoliation with Papaya
The humble papaya contains a fruit acid called alpha-hydroxy acids or AHA. AHAs work like a good exfoliant to remove the dry top layers of the skin by weakening the lipid bonds. Thus a DIY papaya scrub can remove dull and dead skin and reveal healthy skin cells. They are also helpful in increasing collagen production.
Mash a slice of ripe papaya and add a spoon of oatmeal powder
Massage it on a clean moist face for a minute
Leave it on for 15 minutes
Remove this exfoliating mask with circular motions
Use this mask twice a week for two months to see visible results
#2 Turmeric for Even Skin Tone
Turmeric is revered in Ayurveda for ages for its healing properties. Turmeric contains a compound called curcumin which gives its bright yellow colour. Curcumin is known to slow down melanin production and reduce hyperpigmentation. (4) Turmeric has anti-inflammatory properties that help treat skin disorders and wound care. If you want to learn ways to remove pigmentation from face then make friends with turmeric. If you can find wild turmeric or 'kasturi haldi' it is even better.
Mix 2 teaspoons of turmeric powder with 2 teaspoons of milk and a few drops of lemon juice to form a paste
Apply it on the face and leave it for 20 minutes
For best results use this DIY pack twice a week regularly
Lotus Product Recommendation: Try Ubtan products that contain turmeric and sandalwood powder.
#3 Tomato paste for Skin Pigmentation Treatment
Tomatoes are loaded with antioxidants. Their slightly acidic nature can transform dull skin and reduce dark spots. They act like astringents and help to shrink pores. They contain lycopene, an antioxidant that fights free radicals on the skin. If you were wondering how to get rid of Hyperpigmentation based on your skin tone and if your dark spots are a result of sun exposure then tomatoes are the best bet.
Grate 1 tomato and make a paste
Apply this paste on a freshly washed face
Leave it for 15 minutes
Use cold water to rinse it
Use it twice a week for the best results
#4 Potatoes can lighten dark spots
One of the best Home Remedies for Pigmentation is to use potato juice in your skincare regularly. Raw potato juice is rich in B Vitamins and Vitamin C. It not only hydrates your skin, but it can also remove blemishes and dark spots from your skin. Potatoes have natural bleaching properties.
Grate a potato and squeeze out the juice
Mix 2 tablespoons of potato juice with a few drops of lemon
Apply this mix on the dark spots on a freshly washed face at night
Leave for 15-20 minutes
Wash with lukewarm water
Repeat on alternate days for best results
Use freshly squeezed potato juice
#5 Brighten your skin with Yogurt
Lactic acid present in yogurt breaks down dead skin cells easily. Lactic acid has alpha-hydroxy acids or AHA that improve dark spots. AHA is gentle on the skin and exfoliates the top layer of the skin quickly. Since natural yogurt is made from cow's milk, it improves the skin's pH balance and texture.
Mix 1 tablespoon of yogurt with 1 teaspoon of honey
Apply on the skin for 15 minutes
Wash off with lukewarm water
Additionally you can also mix 1 teaspoon of oatmeal powder to make it a better exfoliant
#6 Reduce Dark spots with Aloe Vera
One of the best Home Remedies for Pigmentation caused by acne scarring is using aloe vera masks. When acne leaves dark scars it makes the skin appear darker. Instead of spots, acne scars can leave dark patches on the skin. Aloe vera is known for its anti-inflammatory properties which help in reducing redness and healing scars.
Apply fresh aloe vera gel on your dark patches and acne scars
Leave for 20-30 minutes
Wash off with lukewarm water
#7 Apple Cider Vinegar
Apple Cider vinegar is a vital ingredient for skin pigmentation remedies and works wonders for treating acne marks and dark spots. It has both Acetic Acids and AHAs that help to lighten dark spots.
Mix 2 teaspoons of ACD with 2 teaspoons of water
Apply this solution on the face
Leave for 10 minutes
Wash off with cold water
Use it on alternate days
Vitamin C is a great ingredient for bright glowing skin that is proven to fade dark spots. Include Vitamin C products in your diet through fruits and vegetables. Additionally, apply Vitamin C face serums that can penetrate deep into the layers of your skin. Only use vegan products that contain naturally derived ingredients and are certified safe.
Try out these natural Home Remedies for Pigmentation to eliminate dark spots on the face using easy kitchen ingredients. Be natural for spotless skin!
Highlights
Why do we get Dark spots?

Ways to remove pigmentation from the face

7 Home Remedies for Pigmentation: How to Get Rid of Dark Spots