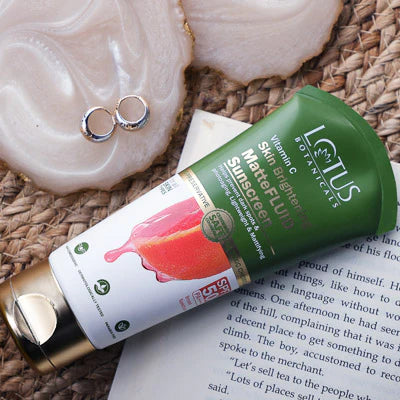 Summer is now in full swing and while you are making your checklist, don't miss out on your skin protection – especially when the sun is stronger, hotter and scorching.
In case you are using sunscreen only outdoors, it is time to start layering your skin with sunscreen at all times to protect your skin from the harmful rays of the sun.
1. Choose a Broad-Spectrum Sunscreen
Your sunscreen should protect you from both UVA and UVB sun rays. It is not only important to prevent cancerous elements from seeping into your skin but also to prevent other skin damages and slow down the process of premature skin ageing.
2. Choose SPF 30 or Higher/ Choosing the right SPF for your skin
Higher the SPF number, more protection it will provide. SPF 30 and above is efficient enough to protect your skin. Sunscreens also tend to have additional nutrients to nourish your skin barrier. SPF 50 is the most effective sunscreen as it provides about 98% protection.
Remember: No sunscreen can provide complete protection to your skin; it can only reduce the damage.
3. Consider Your Skin Type
An oily skin type would prefer a water-based sunscreen instead of the one that is oil-based.
Dry skin type should look for skin hydrators infused sunscreens that provide protection and moisturizes the skin.
A MatteFLUID formulation is best suited for all skin types as it mattifies your skin, does not make your skin sweat, and keeps it hydrated leaving the skin non-greasy and that
4. Look for Water Resistance
No sunscreen can claim to be waterproof as any skin applicator is easy to be rinsed away. While buying a sunscreen look for water resistance which means that it will protect you while you swim (however, remember to reapply it after coming out of the water).
5. Additional Ingredients
With the primary function of protection against harmful sun rays, you should look for a sunscreen that has additional benefits – Vitamin C infused sunscreens help prevent dark spots, photoaging and helps lighten the pigmentation. It is time to replace your Vitamin C Day cream with an all-around Vitamin C sunscreen.

Important: Look for a sunscreen that does not leave white cast as it suggests that the sunscreen is not absorbed by your skin properly.
Lotus Botanical's Vitamin C Skin Brightening MatteFLUID Sunscreen is a revolutionary formulation that is infused with Vitamin C. It comes with all the necessary requirements for an effective sunscreen. With SPF 50 PA+++ this sunscreen not only provides protection against harmful sun rays but also helps in cell regeneration, lightening dark spots, scars, and pigmentation. It leaves no white cast as well.
Protect your skin with the Lotus Botanicals Sunscreen that not only protects but also enhances your skin texture. Visit www.lotusbotanicals.com to shop now!