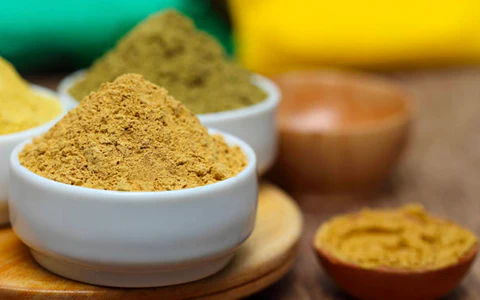 Highlights
Sandalwood Powder: Nature's Caring Gift

Wondering how to use Chandan Powder? Let's look at the various ways to use Sandalwood Powder

FAQs
It wouldn't be an exaggeration to call it a natural skincare product used by Indians since ancient times. You may have seen it during the festive season or weddings, used to give the bride as well as the groom, young and healthy skin.
If you haven't guessed by now, we are talking about miraculous sandalwood, a natural beauty product that has been an integral part of our ancestors' skincare routine.
Sandalwood Powder, also known as Chandan or Sandal Churna, is obtained by boiling the heartwood of the Indian Sandalwood tree. The plant grows exclusively in the rainforests of Southeastern India and has been used since ancient times as an ingredient in Ayurvedic medicines.
Sandalwood Powder: Nature's Caring Gift
The sandalwood plant has many benefits. But did you know, it finds its roots in Ayurveda? For centuries now, it has been commonly used in Ayurvedic medicine to treat skin conditions such as acne, psoriasis, and eczema. (1)
And getting this magic product is a simple process. Sandalwood powder is made by grinding the dried wood of the sandalwood tree and has a light brown colour. There are two main kinds of sandalwood available to you: red sandalwood, which comes from India and Australia, and Australian sandalwood, which comes from the heartwood of trees found in the Eucalyptus genus.
Sandalwood oil has been used for thousands of years as incense, perfume, and medicine in India. To help you understand what makes sandalwood so important in a skincare routine, let's see what are the benefits of Sandalwood Powder.
Calms body and mind
The powder also emits a delicate fragrance that's calming for both body and mind, making it popular among those who practice yoga or meditation. (2)
That's not all, there are various beauty benefits of Sandalwood Powder also.
Treatment of skin diseases
Sandalwood has been used for centuries in the treatment of many diseases including skin disorders like acne, eczema, and psoriasis, as well as eye problems, asthma, and respiratory conditions. (1)
Anti-microbial and anti-inflammatory
Its anti-microbial and anti-inflammatory properties make it useful in treating skin infections and ulcers as well as arthritis and other inflammatory conditions. (3)
Treating skin problems, without any side effects
Sandalwood powder is mostly used as an ayurvedic remedy for treating various skin problems, including acne and pimples, itching and burning sensation of the skin, rashes, boils, and other bacterial infections on the skin surface. (4)Ayurveda suggests sandalwood powder mixed with yoghurt be applied on the affected areas of the skin.
Anti-bacterial properties and rich antioxidant content
Sandalwood powder has anti-bacterial properties and rich antioxidant content which help in the healing of many diseases related to the skin easily without causing any side effects to the body. (4)
Ideal ingredient for sensitive skin
Its natural anti-inflammatory properties make it an ideal ingredient for people with sensitive skin and allergies. (3)
Can be used as an astringent
Additionally, Sandalwood Powder for the skin can be used as an astringent to tighten pores and reduce excess oil on the skin. (5)
To treat Skin tan
Now there are Sandalwood benefits for skin tan, to treat Skin Tan (1), it can even be applied on areas of your skin that are tanned to help remove stubborn sun spots or remove the sun-burnt skin tan.
The benefits of sandalwood powder for skin and body are immense; and if you are looking for ways to use sandalwood powder and the benefits of Sandalwood Powder for face, look no further! We will guide you through utilizing sandalwood for a natural skincare routine.
Wondering how to use Chandan Powder? Let's look at the various ways to use Sandalwood Powder
There are many ways to use sandalwood powder: You can mix a small amount with your favourite lotion to nourish dry skin, or use it on its own as an all-natural face mask!
There are many ways to use sandalwood powder for skin and body problems.
For example, it can be used as a face mask to make skin softer or as a body scrub for dry skin.
It can also be used to soothe sunburns or heal insect bites. As a bonus, this magical powder has been known to help with acne and eczema, too!
To use it in this way, simply sprinkle some on your skin after you have showered and then let it sit for about 20 minutes before washing it off with warm water.
Alternatively, add a tablespoon of powdered sandalwood to your bath water and soak in it before rinsing off. You may want to do this twice per day.
You could also mix 2 tablespoons of sandalwood powder with 2 tablespoons of organic honey and apply it directly to the affected area. Allow the mixture to stay on your skin for at least 30 minutes before rinsing off.
This powder has several benefits for the skin and body, and how you use it depends on your needs. Sandalwood can be used in sandalwood facial masks to keep skin looking fresh, it can be mixed with water to create a sandalwood scrub or a shampoo, or it can be mixed with milk and applied as an eye mask. The possibilities are endless!
There's no wrong way to incorporate sandalwood into your routine because this healing plant does so much for your body. Using Lotus Botanicals Ubtan products, which contain sandalwood powder, would be the easiest way to maintain healthy skin because they are blessed with the goodness of Sandalwood along with other ingredients bringing the essence of Ayurveda to your table.
FAQs
How to apply Sandalwood powder to the face?
Apply it to your face by first taking some sandalwood powder and rubbing it on your clean, dry hands. With both hands, apply the powder to your face and neck in circular motions until you have a thin layer of powder on the skin. Allow the powder to sit on the skin for 10 minutes before washing it off with cool water. Repeat this process two times per day. You can mix it with water, honey or milk also. The benefits of sandalwood powder can be felt after just one application!
Can I use sandalwood powder daily on the face?
It is a question that often arises. The answer is yes, you can use sandalwood powder daily on the face. Sandalwood powder can be mixed with coconut oil or honey and applied to your face. It can also be mixed with water to create a paste, which can then be applied to the skin and left on for 10 minutes before rinsing off.
Is Sandalwood good for oily skin?
Sandalwood powder is a natural skin care product that absorbs excess oil and removes impurities from pores. The antiseptic qualities of sandalwood make it good for oily skin because it kills bacteria, which can cause acne. Sandalwood can also help reduce redness and inflammation, which are often associated with oily skin. In addition to being good for oily skin, sandalwood is also good for dry skin because it moisturizes without leaving behind an oily residue.
Read More:
Ubtan: The Age-old skin care formula
9 Amazing Benefits Of Ubtan For Glowing Skin
Take your anti-ageing skincare routine to the next level!
Highlights
Sandalwood Powder: Nature's Caring Gift

Wondering how to use Chandan Powder? Let's look at the various ways to use Sandalwood Powder

FAQs
Related Products