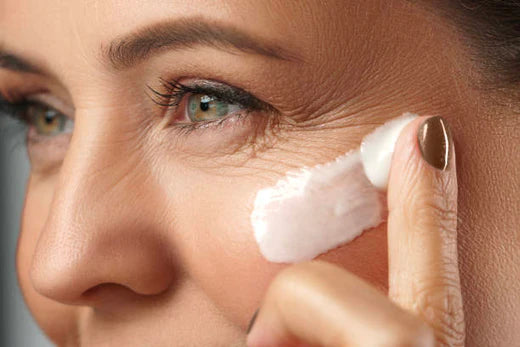 Highlights
What is Skin ageing?

Our Weapon: Anti-ageing skin-care regimen

Toner:

Moisturiser

Vitamin C serums

Sunscreen

Other Factors that you need to consider

FAQs
The first thing you notice about anyone is their skin: the largest organ in the human body. According to Marieb & Hoehn's Human Anatomy and Physiology Ninth Edition, an average adult's skin has a surface area of about 1.67m² and weighs around 4-5kg. As time passes, you may notice your skin not being as radiant and soft as it was during your earlier years. The dreadful wrinkles and fatigue catch up with us as we grow old.
And there's not much we can do about growing old, but you may be able to deal with skin-ageing.
What is Skin ageing?
In simple words, skin ageing means wrinkles, loss of elasticity, laxity, and pigmentation giving a rough-textured surface on your face. Lifestyle, diet, heredity, personal habits, exposure to the sun and pollution, stress, daily facial movement, obesity, and even sleep position are some of the primary factors driving the skin ageing process in some people.
Let's get into our skin: the Epidermis and the Dermis
When you get into the anatomy of human skin, it consists of two parts, the epidermis and the dermis. Hosting cells that produce keratin, an important element keeping the skin healthy and waterproof, as well as melanin, a photo-protective pigment that gives skin its colour, the epidermis protects the underlying layers from the environment.
Meanwhile, the dermis, the second and the thickest layer of skin, contains blood and lymph cells nerves, sweat glands and oil glands. It gives your skin its strength and flexibility and also provides the skin with nutrients and extracts its waste products.
Best tips for Anti-ageing
Many factors bring transitions into our skin like the changing seasons, harsh climate, our genes as well as our bad habits. Without much ado, let's look at the essential steps that we can take to enable our skin to look elegant and fresh.
Our Weapon: Anti-ageing skin-care regimen
Cleanser
It starts with a cleanser. Using a gentle cleanser, remove makeup and any skin care product. Washing your face with a cleanser will not only remove the natural skin oils, pollutants, and bacteria, but it will also allow the skin care products to enter your skin and work better.
Cleansers with a low pH like, Lotus Botanicals Vitamin C Skin Brightening Face Wash will help you get rid of all pollutants and leave you with hydrated, soft and refreshed skin.
Benefits of applying cleanser:
Along with cleansing your skin, using cleanser on your face will kill the dead cells on your face and boost blood circulation to your face for glowing skin.
Applying cleanser regularly to remove the dirt and impurities from your face will make your skin look more youthful and prevent indications of ageing.
How to Apply:
Step 1: Apply a small amount of cleanser on a damp face, massage gently and wash with warm water.
Toner:
Using a toner after a cleanser will restore balance and hydration to your face. Toners will also help reduce the formation of pores and naturally remove oil and dirt.
Benefits of using Toner:
Applying a toner after using a cleanser will helps you to restore balance to your skin and soothe the redness or discomfort after removing the makeup or skincare products.
As facial toners are water-based, they restore hydration to your skin after cleansing.
How to Apply:
Step 1 - After applying a natural cleanser, pour some toner on a cotton pad and gently wipe it on your face and neck. Or you can simply spray it on your face.
Moisturiser
Using a moisturiser is one of the most explicit ways to keep your face looking young and healthy. Apply a moisturiser every morning and evening to get beautiful and young skin.
Lotus Botanicals Vitamin C Brightening Face Moisturiser will give you supple and hydrated skin. With its feather-light texture and non-greasy formula, this face moisturiser will help you reduce pigmentation, dark spots, and signs of ageing on your face.
You can also use Night creams which contain components like retinol, reducing the appearance of wrinkles and fine lines. Lotus Botanicals Bio-Retinol Youth Radiance Sleeping Mask is an ultra-moisturising sleeping mask in the form of crème which repairs your skin overnight giving you soft, flawless and replenished skin in the morning.
Benefits of Applying moisturiser:
Moisturizing reduces the appearance of acne and blemishes and help maintain its balance.
The daily loss of skin cells can leave your skin vulnerable to dryness and the elements. Using a moisturiser can help give your sensitive skin the boost it needs to repair itself and stay young and healthy.
How to apply:
Step 1: Apply all over on a clean face.
Step 2: Massage gently till completely absorbed.
Vitamin C serums
Adding a Vitamin C Serum to your skincare regimen will bring a huge difference to your skin health as it plays an important role in forming and repairing body tissue, and delivers antioxidants that fight the free radicals and improve the appearance of fine lines and wrinkles and brighten your skin.
Introduce Lotus Vitamin C Brightening face Serum to your anti-ageing skincare routine. Its powerful formula removes free radicals, hydrates and even out skin tones and prevents skin ageing like wrinkles, dullness, and age spots.
Benefits of using Vitamin C Serum
Along with hydrating your skin, Vitamin C Serum will also help downsize the pigmentation, giving the skin a youthful glow.
As an anti-inflammatory agent, using Vitamin C Serum in your skincare regimen is an effective way to remove the dullness & puffiness from your face and retain a glossy touch to your skin.
Vitamin C serums can smooth out fine lines by plumping and hydrating the under-eye area, reducing the appearance of under-eye circles.
How to Apply
Step 1: Apply it to the face and neck and gently massage.
Sunscreen
No matter what the season is, you must use sunscreen every day to protect your skin from the sun's harmful UV rays. Sunscreen minimises the penetration of UV rays into the skin and the preventing a variety of skin disorders.
Lotus Botanicals Vitamin C Skin Brightening Matte FLUID Sunscreen SPF -50 is the perfect pick if you want to level up your skincare game. The light, the non-sticky formula of vitamin C sunscreen fights off the free radicals and effectively protects the delicate face skin cells. The richness of Vitamin C, the most potent antioxidant, in this sunscreen offers the benefits of anti-ageing and skin protection.
Benefits of using Sunscreen
One of the most well-known benefits is that sunscreen protects your skin against the sun's harmful UV rays.
Sunscreen is essential in preventing premature ageing by shielding skin from wrinkles, fine lines, pigmentation, photodamage, and dry skin.
Along with protecting your skin from harmful UV rays, sunscreen will also lower the chances of Skin cancer, making it one of the most significant advantages of using sunscreen.
How to apply
Step 1: Apply sunscreen 15 minutes before going out on the exposed parts of your body and massage gently.
Bio-Retinol Products
Psoralea corylifolia, often known as babchi, is a shrub whose seeds and leaves are mostly found in India. Its natural plant form, bio-retinol, is obtained from this shrub. The bio-retinol is a chemical from plants that has properties comparable to those of traditional retinoids without the negative side effects. It is suitable for all skin types, secure for use everyday, and safe for expectant mothers as well!
Regular application of this cream could provide your skin with unheard-of benefits in terms of reducing inflammation and the visibility of fine wrinkles. Additionally, it will increase collagen formation to give your skin a glowing, lit appearance. In addition to reducing skin discoloration, this bio retinol lotion also improves uneven skin tone and gives the skin a smoother texture. Additionally, it can increase the skin's suppleness, giving it a plumper, more radiant appearance.
Using a sleeping mask increases skin cell turnover, which minimises the visibility of wrinkles and fine lines. Your skin is kept moisturised so that it is smooth and radiant when you wake up. It is a crème-like, non-comedogenic sleeping mask that restores your skin over night and leaves you with soft, beautiful skin that has been refilled the following morning. When applied often, it also aids in repairing and reversing pigmentation and photoaging.
With its lightweight formula, Lotus Botanicals Bio-Retinol Youth Radiance Face Wash efficiently addresses fine lines, wrinkles, and crow's feet while making your face firm and bright. It's time to bid farewell to ageing, dull, and dry skin.
Other Factors that you need to consider
When you want to protect your skin from ageing, following a specific skincare regimen can only do so much. You need to consider many factors to keep your skin looking young and radiant. Your sleep habits and diet also make a big difference in the appearance of your skin.
Along with using skincare products, following a healthy sleeping schedule and a healthy & well-balanced diet will bring visible improvements to your skin. Smoking significantly speeds up skin ageing, causing wrinkles and a dull, sallow complexion. Exercising for at least three days a week can improve circulation and boost the immune system, giving the skin a more youthful appearance.
Exfoliate your skin once a week with a face scrub. It's a known fact that our skin releases dead cells regularly, creating a new layer every 28 days. As we grow old, that process can slow over time, leading to a dull-looking complexion and rough patches. To help remove that buildup, exfoliate weekly for brighter skin.
Ditch the harsh-skin products and use Lotus Botanicals Vitamin C Skin Brightening Scrub to get naturally soft and bright skin. Apply it twice a week for optimum results.
FAQs
What's the best skincare routine for ageing skin?
As we mentioned above, start your skincare routine with a cleanser, followed by toner, moisturiser, anti-ageing serums, and sunscreen. To get optimum results, exfoliate your skin weekly to get rid of dead skin cells.
Which serum is best for anti-ageing?
Lotus Botanicals Vitamin C Skin Brightening Serum will be an excellent addition to your skincare regimen, as it will give you the benefits of using a serum filled with the richness of vitamin C, which will you fight the signs of skin ageing.
At what age should you start anti-ageing?
You can start following an anti-ageing skincare regimen at 25 as that is when the skin degeneration process starts.
What will make you look younger?
Along with following a healthy skincare regimen, you should also take care of your body. You can recharge your skin's tissue and cells by simply getting some rest or drinking enough water, creating young and healthier-looking skin.
How can I make my face look younger and smooth?
Use retinoids, also known as the ultimate anti-ager. Lotus Botanicals Bio-Retinol Youth Radiance Sleeping mask helps speed up skin cell turnover rate, thereby reducing the appearance of fine lines and wrinkles. It locks moisture into your skin to let you wake up with fresh skin that glows from within.
Read More:
Ubtan: The Age-old skin care formula
Bio Retinol - Alternative to Retinol
Vitamin C Products for Skin Brightening
Everything You Need To Know About Niacinamide
Highlights
What is Skin ageing?

Our Weapon: Anti-ageing skin-care regimen

Toner:

Moisturiser

Vitamin C serums

Sunscreen

Other Factors that you need to consider

FAQs