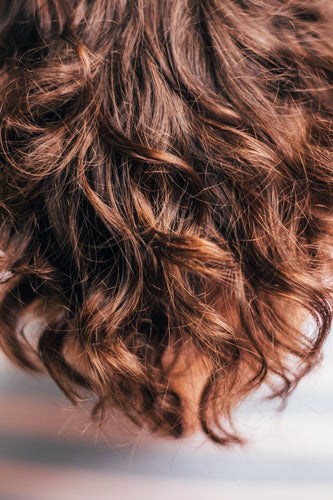 Highlights
Tips for Managing an Oily Scalp During Summer

Home Remedies for an Oily Scalp

When to Consult a Dermatologist or Trichologist?

Bottom Line
Before understanding the causes you must know sebaceous glands and their role. Sebaceous glands are small oil-producing glands found in the skin. They secrete sebum, an oily material that moisturizes and protects skin and hair.
Sebaceous glands are most abundant on the face, scalp, and upper body. They keep skin hydrated, defend against external influences, and support hair follicle health. However, overactive sebaceous glands can lead to conditions like acne or oily skin.
Now, let's figure out some possible causes of an oily scalp. There are Several factors that can contribute to an oily scalp:
Overactive Sebaceous Glands: Excessive production of sebum by the sebaceous glands on the scalp can lead to oiliness.
Hormonal Imbalance: Puberty, menstruation, and hormonal problems can increase sebum production, causing an oily scalp.
Genetic Predisposition: Some individuals may have a genetic predisposition to produce more sebum, leading to an oily scalp.
Environmental Factors: Hot and humid weather, as well as exposure to pollution and certain chemicals, can stimulate sebum production.
Incorrect Hair Care Routine: Frequent washing, using harsh shampoos, or over-brushing the hair can strip away natural oils, triggering the scalp to produce more oil to compensate.
Stress: Stress can disrupt hormonal balance and stimulate sebum production, leading to an oily scalp.
Dietary Factors: Consumption of greasy or oily foods may contribute to an oily scalp in some individuals.
You must also know that heat and humidity also affect the production of oil. In hot, humid weather, sebaceous glands create more oil. The increased humidity can also make the skin feel sticky, which may lead to clogged pores and exacerbate oiliness.
Therefore, heat and humidity can contribute to the overproduction of oil and potentially worsen conditions like an oily scalp or oily skin.
It's crucial to know that seborrheic dermatitis and hormonal problems can also create an oily scalp. If you're worried about your scalp's oiliness, see a dermatologist.
Tips for Managing an Oily Scalp During Summer
Managing an oily scalp during summer is very crucial. But many people ignore it. Ignoring the management of an oily scalp during summer can lead to several undesirable outcomes.
Excessive oil buildup on the scalp can result in greasy, flat-looking hair that lacks volume and appears unclean. It may also contribute to clogged hair follicles, leading to scalp acne or folliculitis.
Moreover, the accumulation of sweat, oil, and dirt can cause an unpleasant odor. People may ignore this issue due to a lack of awareness, assuming it's a temporary problem, or simply not prioritizing scalp care amidst other summer concerns.
However, there are certain tips that can help you manage an oily scalp during the summer months. Below are some of them:
1. Wash your Hair Regularly
Washing your hair regularly is crucial for managing an oily scalp during summer. Use a gentle shampoo designed for oily hair and focus on massaging your scalp to remove excess oil and buildup. However, avoid over-washing as it can strip your scalp of natural oils, leading to increased oil production.
Find a balance by washing your hair frequently enough to keep it clean and fresh, but not so often that you disrupt the natural oil balance of your scalp. Here is how you can wash your hair properly:
Wet your hair thoroughly.
Apply an appropriate amount of shampoo to your scalp.
Massage the shampoo into your scalp using your fingertips.
Rinse your hair thoroughly, ensuring all the shampoo is washed out.
Apply conditioner to the lengths and ends of your hair, avoiding the scalp, and rinse it out after a few minutes.
2. Use a Clarifying Shampoo
Using a clarifying shampoo once or twice a week can help combat an oily scalp during summer. Clarifying shampoos are specially formulated to remove product buildup, excess oil, and impurities from the scalp. These shampoos contain stronger cleansing agents that effectively strip away the accumulated residue, leaving your scalp feeling refreshed.
By incorporating a clarifying shampoo into your hair care routine, you can maintain a clean and balanced scalp environment, reducing the chances of excess oil production.
However, if you don't have a clarifying shampoo, you can use a regular shampoo. But ensure that it must be a red onion based shampoo. Red onion is for the scalp as it contains sulfur compounds that can promote hair growth and scalp health.
3. Avoid Hot Water
Using hot water to wash your hair can stimulate the sebaceous glands on your scalp, leading to increased oil production. It's best to use lukewarm or cool water instead.
Hot water can strip away the natural oils that help maintain scalp health, causing your scalp to produce even more oil to compensate. By opting for cooler water temperatures, you can help regulate oil production and keep your scalp balanced and less oily during the summer months.
4. Don't Skip Conditioner
Using a conditioner is important to keep your hair hydrated, even if you have an oily scalp. Apply the conditioner mainly to the lengths and ends of your hair, avoiding the scalp area. Look for lightweight, oil-free conditioners or those specifically designed for oily hair.
To address this need, LotusBotanical offers their "100% Pure Aloe Vera Gel With Vitamin E." This lightweight, oil-free conditioner is specifically designed for oily hair types. Infused with vitamin E, it nourishes and hydrates the hair without weighing it down or adding excess oil to the scalp. The aloe vera gel provides soothing properties, helping to balance the scalp's oil production.
Conditioners help prevent dryness and maintain the overall health and appearance of your hair, while minimizing the risk of adding excess oil to your scalp.
5. Limit the use of Styling Products
Limit the use of styling products to manage an oily scalp during summer. These products, such as gels, mousses, and hairsprays, can contribute to buildup on the scalp, making it oilier. Opt for oil-free or water-based alternatives or minimize their usage altogether.
By reducing the amount of styling products you apply to your hair, you can help prevent excess oil production and maintain a cleaner scalp.
Additionally, be mindful of the ingredients in your styling products and choose those specifically designed for oily hair to minimize their impact on scalp oiliness.
6. Avoid Touching your Hair Frequently
Avoiding frequent touching of your hair is crucial when managing an oily scalp. Constantly touching your hair transfers oil and dirt from your hands to your scalp, exacerbating the oiliness. Additionally, excessive brushing or combing can stimulate the sebaceous glands, leading to more oil production.
You may reduce oil transfer and keep a cleaner scalp by not touching your hair and brushing less. Remember to handle your hair only when necessary and try to keep your hands away to prevent further oil buildup.
7. Use Dry Shampoo
Dry shampoo is a convenient and effective solution for managing an oily scalp between washes. This handy product helps absorb excess oil, revitalizing your hair and leaving it looking fresh. Simply apply the dry shampoo to your roots, allow it to sit for a few minutes, and then brush it out.
The dry shampoo works by absorbing the oil, giving your hair a cleaner appearance and adding volume. It's a quick fix for those times when you don't have the opportunity to wash your hair but still want to combat the greasiness.
Keep a bottle of dry shampoo handy for on-the-go touch-ups throughout the day. Again, you can use regular shampoo. There are many ingredients such as red onion (as discussed earlier) that can help protect your scalp. However, using a Ginger Root based Shampoo can also be beneficial. Ginger can promote a healthy scalp by improving blood circulation and reducing inflammation, aiding in hair growth.
8. Choose Hairstyles that Keep Hair Off Your Face
Choosing hairstyles that keep your hair off your face can help manage an oily scalp during the summer. Sweating and contact with the skin can exacerbate oiliness, so opting for styles like ponytails, buns, or braids can minimize the transfer of oil.
By keeping your hair away from your face, you reduce the chances of oil being transferred from your scalp to your forehead and other areas. Additionally, these hairstyles help to maintain a cooler environment around your scalp, reducing the likelihood of excessive sweating.
Home Remedies for an Oily Scalp
Home remedies for an oily scalp continue to be highly effective, and many individuals have seamlessly incorporated them into their daily routines. These natural solutions offer a multitude of benefits, such as regulating sebum production, reducing greasiness, and promoting scalp health.
People have embraced the use of ingredients like apple cider vinegar, tea tree oil, aloe vera, lemon juice, and witch hazel, among others.
These remedies are known for their ability to balance oil levels, soothe irritation, and unclog hair follicles, resulting in a refreshed and revitalized scalp.
With their proven track record and ease of accessibility, these home remedies remain a trusted and popular choice for managing an oily scalp.
Given below are some of the best home remedies for an oily scalp.
Apple Cider Vinegar
Apple cider vinegar is a popular home remedy for an oily scalp. It works by balancing the pH levels of the scalp, which helps regulate oil production.
To use it, dilute apple cider vinegar with water and apply it to the scalp before rinsing. The acidity of apple cider vinegar helps remove excess oil and leaves the scalp feeling refreshed.
Regular use of this remedy can help control oiliness and maintain a healthier scalp.
Tea Tree Oil
Tea tree oil is a popular home remedy for an oily scalp. Mixing a few drops of tea tree oil with a carrier oil like coconut oil and massaging it into the scalp can help control oil production.
Tea tree oil has antimicrobial properties that combat bacteria and fungus on the scalp, reducing oiliness and addressing dandruff concerns.
Its natural properties make it an effective and natural solution for managing an oily scalp.
Aloe Vera
Aloe vera is a commonly used home remedy for an oily scalp. Applying fresh aloe vera gel to the scalp for 20-30 minutes before rinsing can help soothe inflammation and regulate oil production.
Aloe vera has natural astringent properties that help control excess oil and leave the scalp feeling refreshed. It also provides a cooling effect, relieving any discomfort caused by an oily scalp.
Incorporating aloe vera into your routine can promote a healthier scalp and reduce oiliness. If you don't have fresh aloe vera, consider buying Lotus Botanicals' 100% Pure Aloe Vera Gel with Vitamin E.
Lemon Juice
Lemon juice is another effective home remedy for an oily scalp. Its acidic properties help regulate oil production and provide a refreshing sensation. Dilute freshly squeezed lemon juice with water and apply it to your scalp. Leave it on for a few minutes before rinsing.
The lemon juice helps tighten the pores, control oiliness, and leave your scalp feeling rejuvenated. However, be cautious as lemon juice can cause dryness, so it's important to use it in moderation and moisturize your scalp afterward.
Witch Hazel
Witch hazel is a natural astringent that can be used as a scalp rinse. It helps tighten the pores on the scalp, which reduces excess oil production and controls oiliness.
By using witch hazel as a rinse, you can effectively minimize the greasiness of your scalp and promote a healthier environment for your hair.
Simply mix witch hazel with water and apply it to your scalp after shampooing, then rinse it off thoroughly.
When to Consult a Dermatologist or Trichologist?
If you have skin, hair, or scalp concerns, see a dermatologist or trichologist. Dermatologists and trichologists diagnose and treat disorders affecting these areas, but their specialties differ.
Dermatologists diagnose, treat, and prevent skin, hair, and nail diseases. They treat acne, eczema, psoriasis, skin infections, and cancer. Dermatologists can also provide cosmetic treatments like Botox, fillers, and laser therapy.
On the other hand, a trichologist is a specialist who specifically focuses on the health and diseases of the hair and scalp. They are knowledgeable about conditions like hair loss (alopecia), scalp infections, dandruff, and other hair and scalp disorders. Trichologists can assess the causes of hair problems, provide guidance on hair care, and recommend appropriate treatments.
If you have a persistent or severe skin condition, such as a rash that won't go away, a suspicious mole, or a sudden increase in hair loss, it's advisable to consult a dermatologist. If your concerns are primarily related to your hair and scalp, a trichologist may be the right specialist to consult.
However, a dermatologist may recommend a trichologist or vice versa depending on your needs. Your choice of dermatologist or trichologist depends on your issue and the expertise needed to treat it.
Bottom Line
Managing an oily scalp during the summer is crucial for maintaining healthy hair. Excess oil production can be challenging, but with the right tips and solutions, it is possible to keep the scalp balanced and fresh. Establishing a proper hair care routine, selecting suitable products, incorporating home remedies, and seeking professional help when necessary are all key strategies. Consistency, patience, and experimentation are vital in finding what works best for individual needs. By following these recommendations, individuals can overcome the discomfort of a sweaty scalp, ensuring a happy and healthy hair season.
Highlights
Tips for Managing an Oily Scalp During Summer

Home Remedies for an Oily Scalp

When to Consult a Dermatologist or Trichologist?

Bottom Line