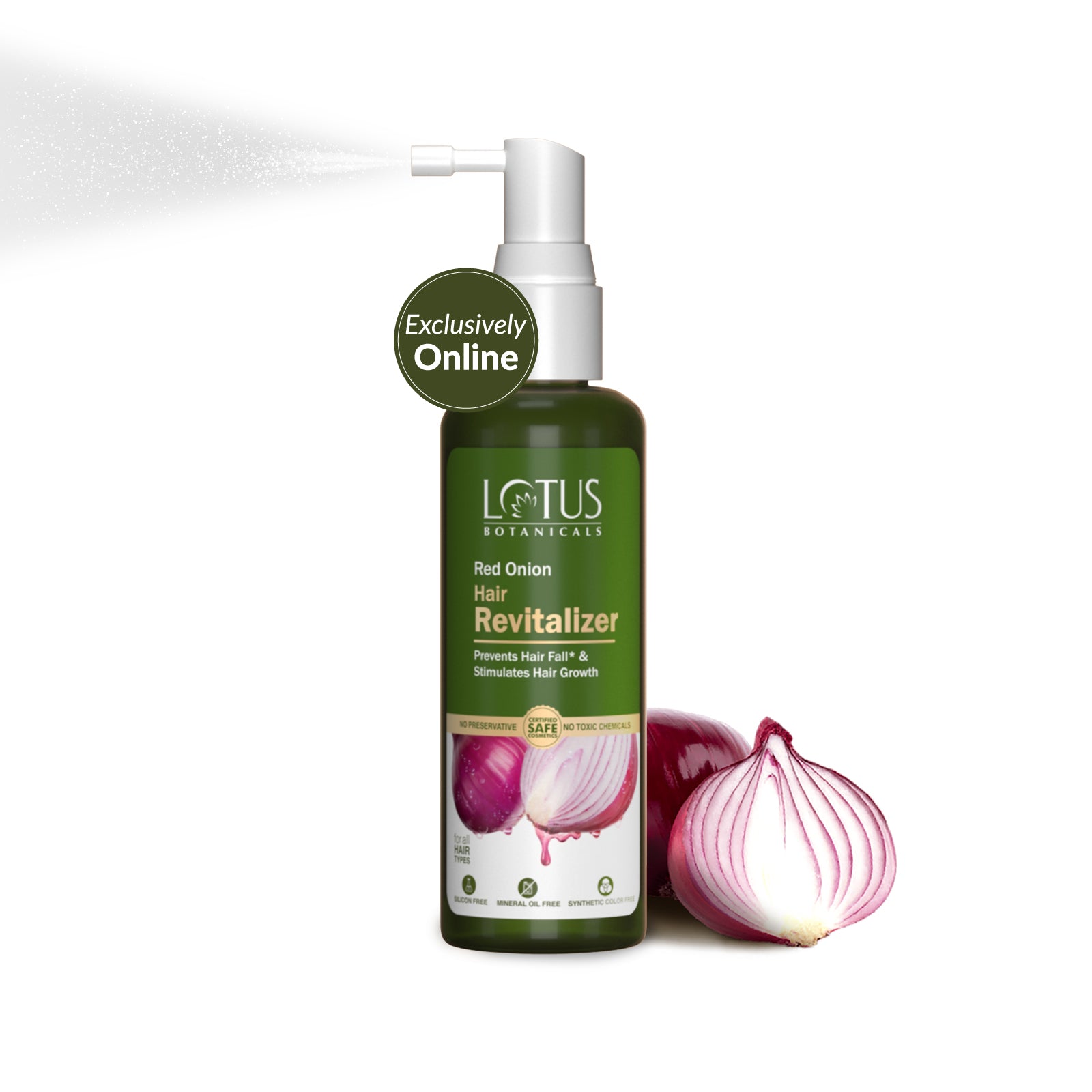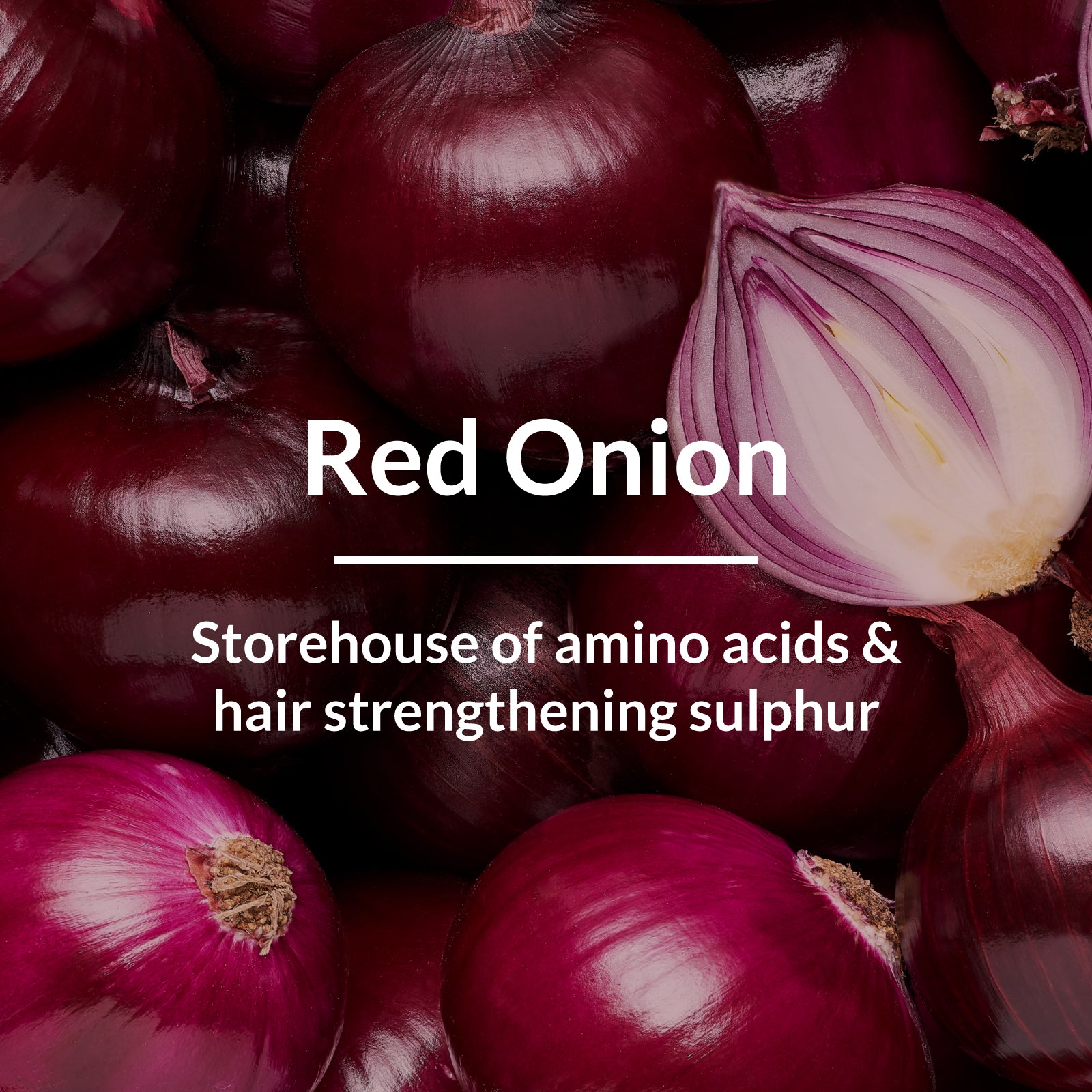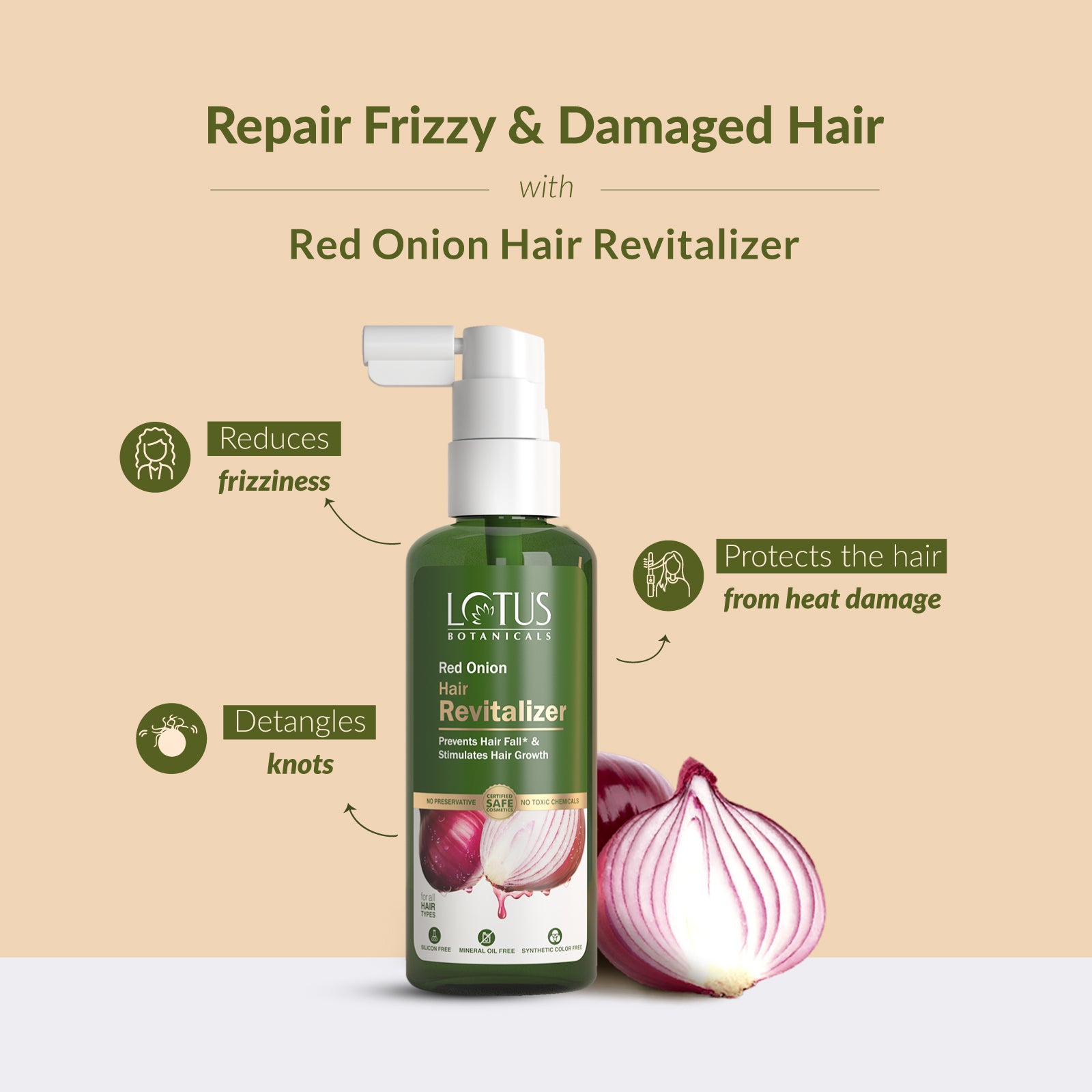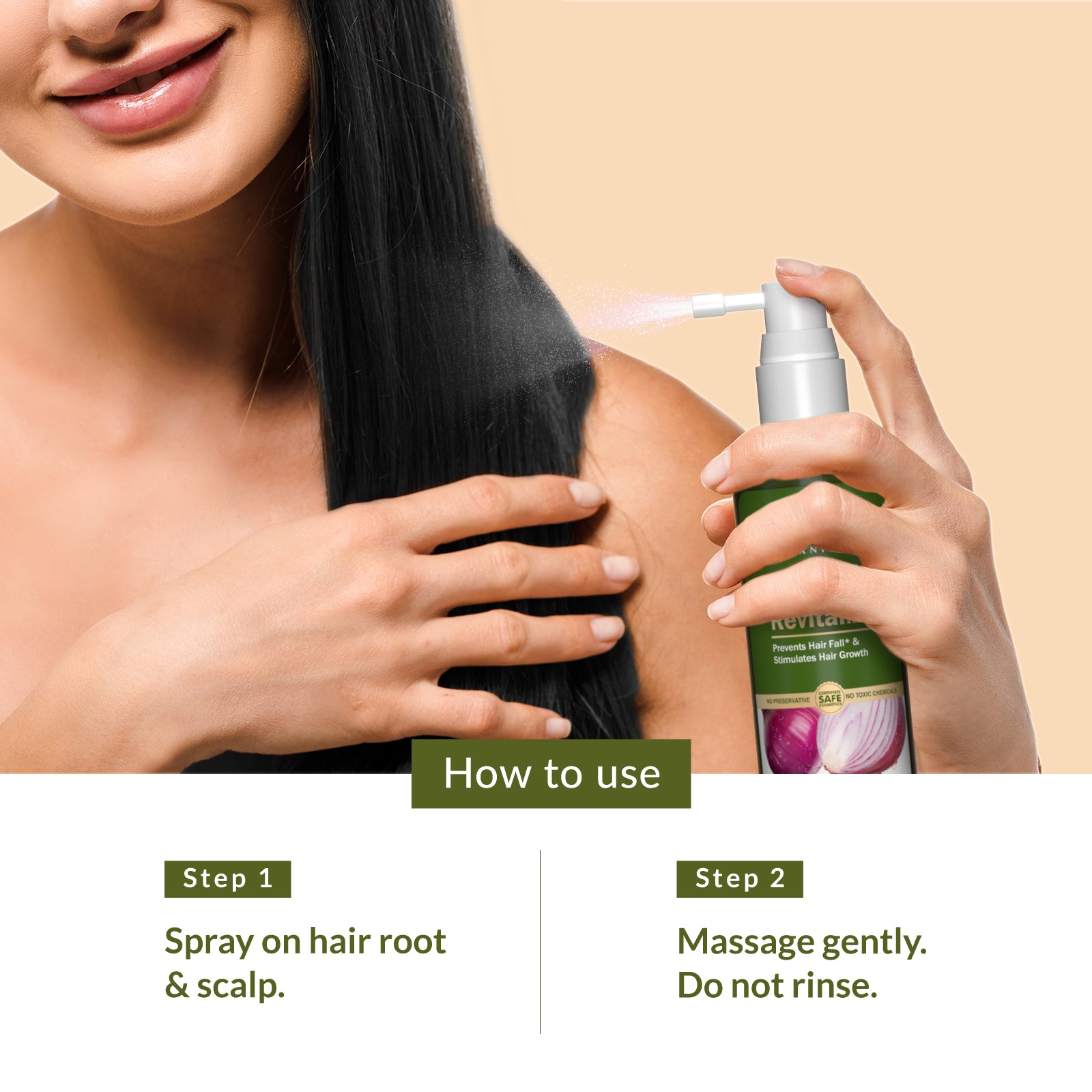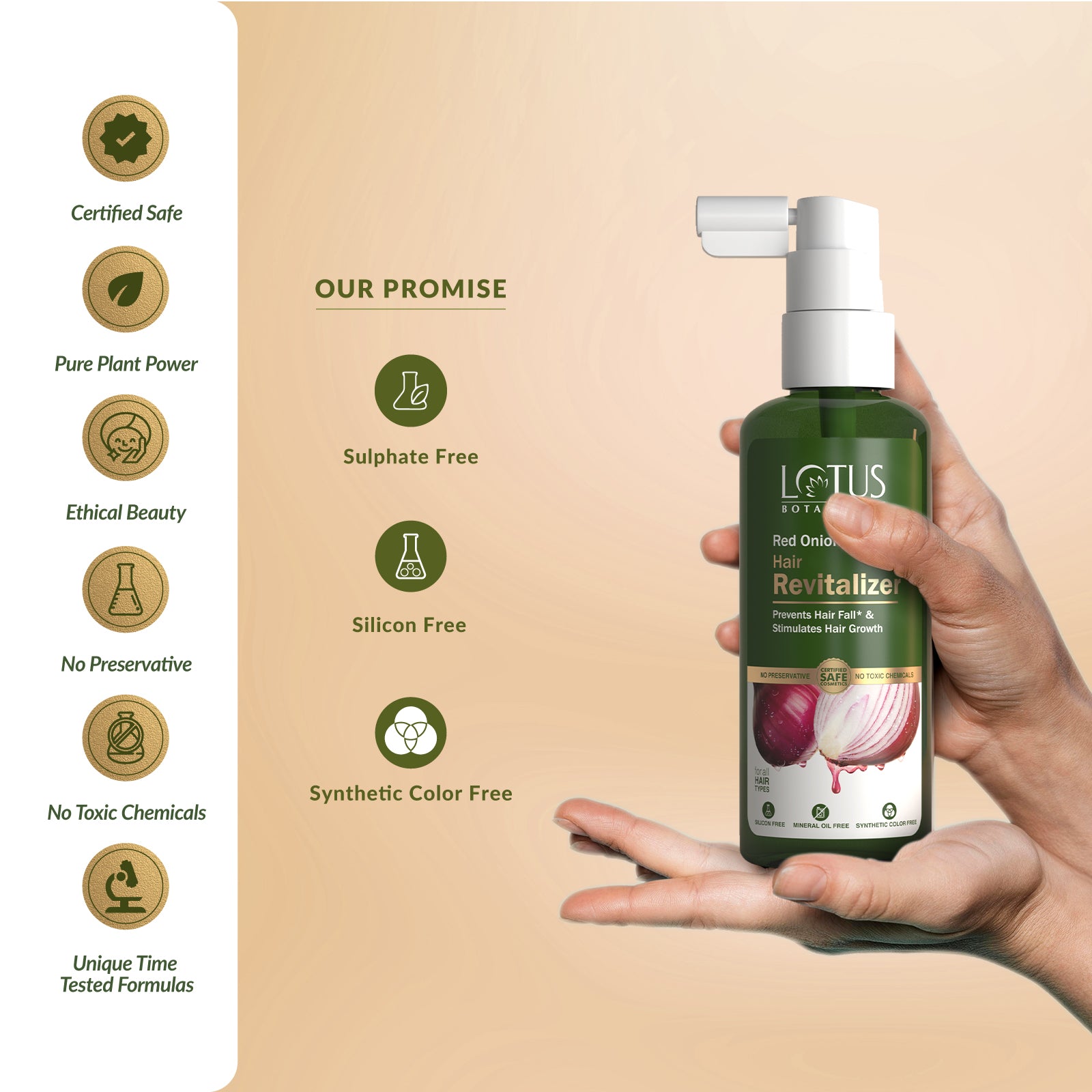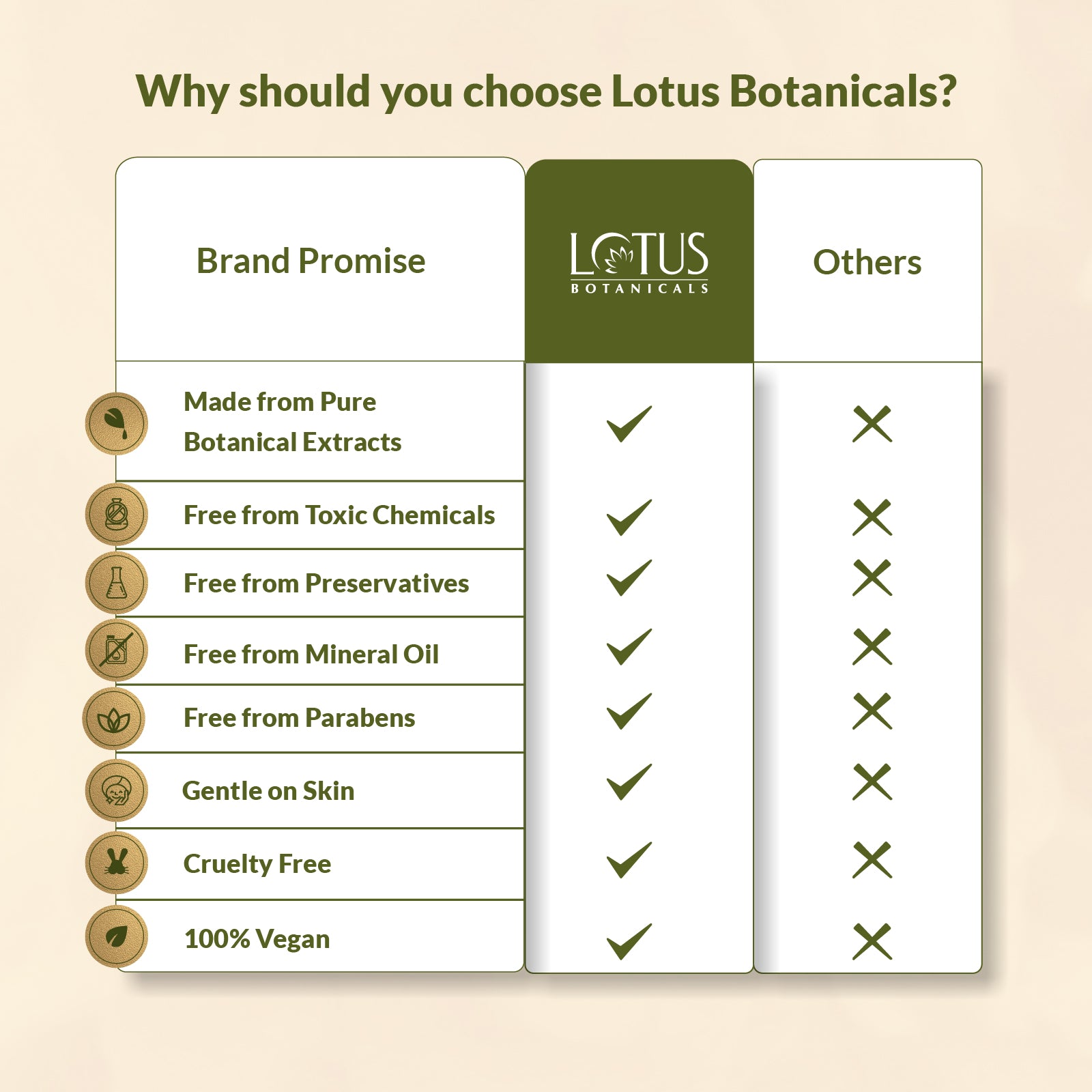 Red Onion Hair Revitalizer
Offers You
Can't Resist
🎁FREE Green tea Renew and Restore worth Rs 915 on purchase of Rs 999 or more🎁
Description

Ingredients

Know Your Product

FAQs

Good To know

More Info

Reviews

You May Also Like
Environmental factors, stress and pollution can leave you with tons of hair issues! Choose Lotus Botanicals Red Onion Hair Revitalizer - years of research, craft and 100% pure nature's bonanza blended with Red Onion & Ginseng Root Extracts. A deeply nourishing concentrate, it locks in natural hair protein and moisture, preventing hair fall and stimulating fresh hair growth.

🍀 Rich in Red Onion Extracts, which helps in healthy, nourished and strong hair
🍀Smoothens the hair cuticles, reducing frizz and flyaways
🍀 Adds shine and luster to the hair by smoothing the hair cuticles and sealing in moisture
🍀 Protects the hair from heat damage caused by styling tools
🍀 Detangles knots, making it easier to comb and style
🍀 No Toxic Chemicals, No Preservatives, No Silicon, No Mineral Oil, No Parabens , No Sulphates, No Synthetic Color, 100% Vegan, Cruelty Free, pH Balanced & Recyclable
Red Onion

Red Onion has shown positive results when it comes to taking care of excessive hair fall. Onions are rich source of dietary sulfur, which is a fundamental nutrient for better hair health. Keratin is a protein that is responsible for the growth and strength of your hair. The effectiveness of this particular protein is anchored to an amino acid cysteine which has sulfur in it. Due to external provocateurs, the body's natural sulfur level goes down and Red Onion can provide extra sulfur to bridge that gap, when applied topically. Regular application of Red Onion Hair revitalizer can stimulate your hair follicles and enhance the strength and shine in the strands of your hair. In addition to that, Red Onion hair revitalizer can enhance your collagen production which is ideal for your overall scalp's health.


Ginseng

Another ingredient that has been used in Asian countries for centuries is Ginseng. This is also known as Ashwagandha in the Indian subcontinent. Ginseng has been regarded as a magical herb which has amazing healing properties like boosting immune health, cardiovascular diseases, cancer treatment, etc. Panax Ginseng is the most popular variety of ginseng which has been used in Asian medication for centuries. Ginseng can effectively boost hair growth,and keep hair issues like dandruff and itchy scalp at bay. It has outstanding regenerative properties for holistic hair and scalp health. Ginseng has also proven to make your hair healthy from within by increasing the dermal cells in your hair follicles . Ginseng consists of a group of protein compounds known as Saponin or Ginsenosides that can augment hair growth and protect your hair from issues like premature hair greying.


Full Ingredients List

Aqua, Alcohol Denat (Natural grain alcohol), Polysorbate 20, Propendiol, Glycerin, Allium Cepa (Onion) Bulb Extract, Panax Ginseng Root Extract, Disodium EDTA, Lactic Acid, Caprylhydroxamic Acid (and) Phenethyl Alcohol, Fragrance
---
---
Good To Know
AOur Products are organic, sulfate-free, and paraben-free which are enriched by the goodness of nature . Since we are a 100 % natural product, temperature change can bring changes to the consistency of our product, but not its effectiveness. It is advisable to initially apply over a patch so that you can be rest assured about the product.
Discontinue in case of irritation or sensitivity.
Store in cool a dry place away from direct sunlight.
For external use only.
Always store the product in a cool and dry place.
Avoid contact with eye. If contact occurs, rinse immediately with water.
Do not refrigerate.
---
More Info
Are you facing issues with the sudden increase of hair fall and dry hair? Well, what if we tell you that there is one herbal ingredient that you will find in almost every kitchen that is the ultimate solution to your hair fall issues? 
Yes! Red Onion! It can give you lustrous, voluminous hair, which has multiple hair benefits. Multiple factors cause hair loss, premature hair-greying, and hair thinning like dandruff, poor nutrition, poor blood circulation, etc. These are caused due to multiple lifestyles and environmental factors like the hectic lifestyle of the modern world, unhealthy diet, air pollution, UV rays, etc. Red Onion extract is one of the herbal ingredients that has proven to stimulate hair growth. It's rich in antioxidants, anti-inflammatory, and anti-bacterial properties with sulfur that strengthens hair follicles. 
To help you say goodbye to various  hair  issues, we bring Red Onion Hair Revitaliser for you, which helps in hair growth, and reduces dandruff and itchy scalp. It also contains Ginseng, which has proven to have outstanding properties that work on your holistic hair health. 
Nourish your hair from root to tip with the Red Onion Hair Revitalizer. It boosts hair growth and reduces fall and odour while locking in natural hair protein and moisture. Infused with powerful natural properties of Red Onion and Ginseng, it restores the scalp's lost nutrients and keeps your tresses just as strong, smooth and voluminous. 
Best suited for: 

All hair type and scalp therapy


Concerns: 

Hair fall, Dandruff, dry, itchy and flaky scalp
Paraben Free 
Silicon Free  
Mineral Oil Free
Anti-Pollution 
pH Balanced 
Cruelty Free 
100% Vegan 
Recyclable 
Key Benefits
Prevents hair fall and stimulates new hair growth.
Deeply nourishes hair and scalp.
Locks in hair protein and moisture for smooth and glossy hair.
Directions To Use
Step 1.
Spray on hair root and scalp.
Step 2.
Massage gently. Do not rinse.
Use daily for best results.
---