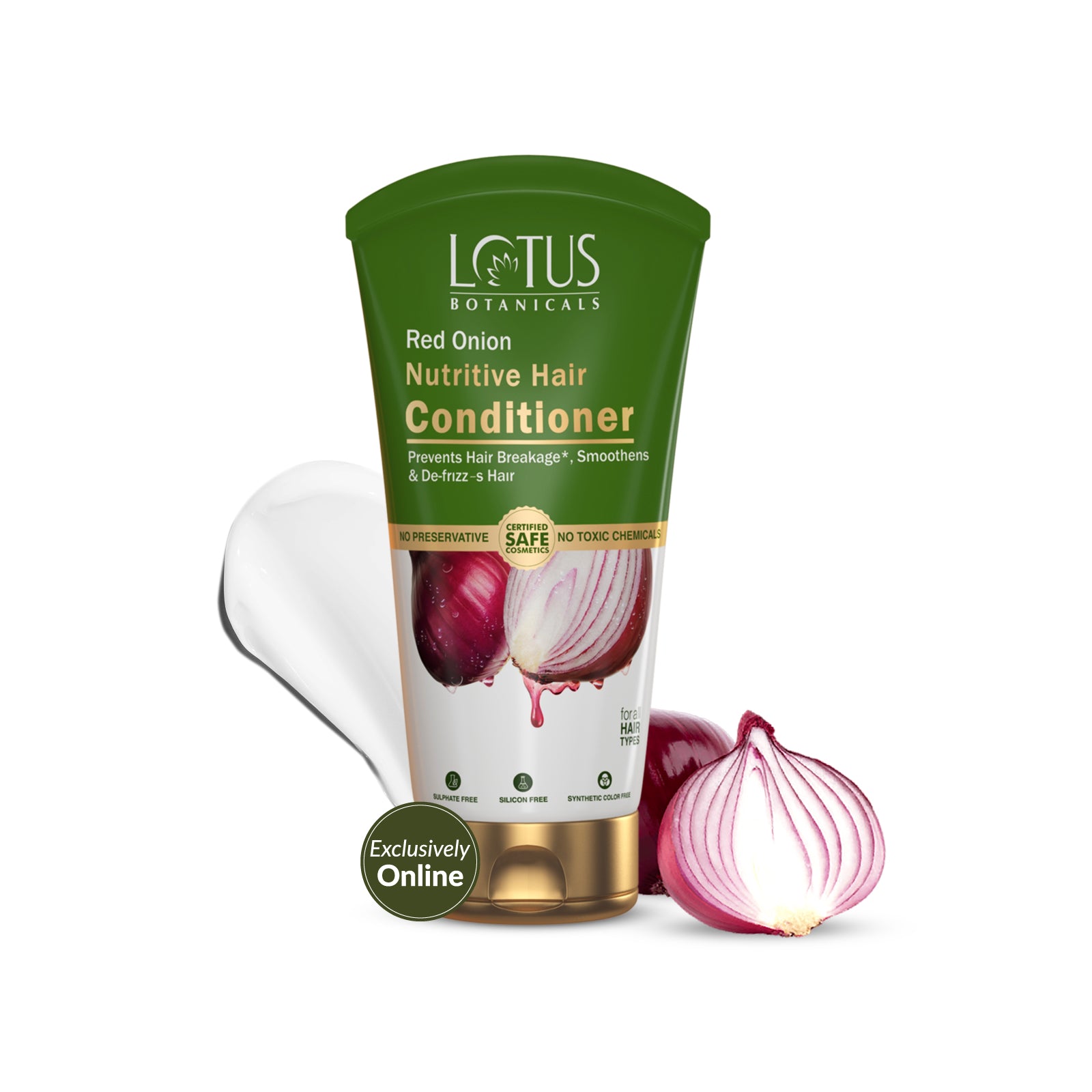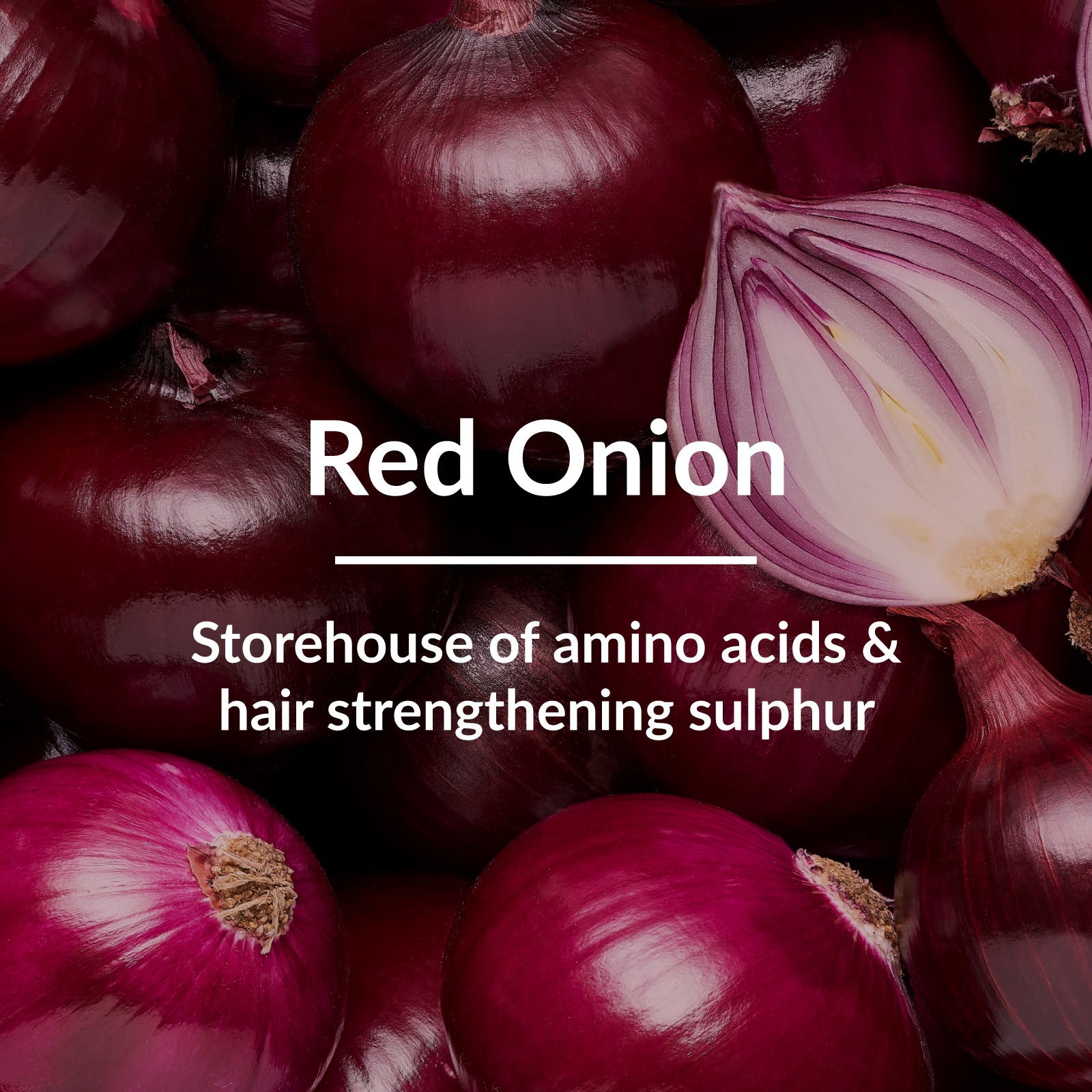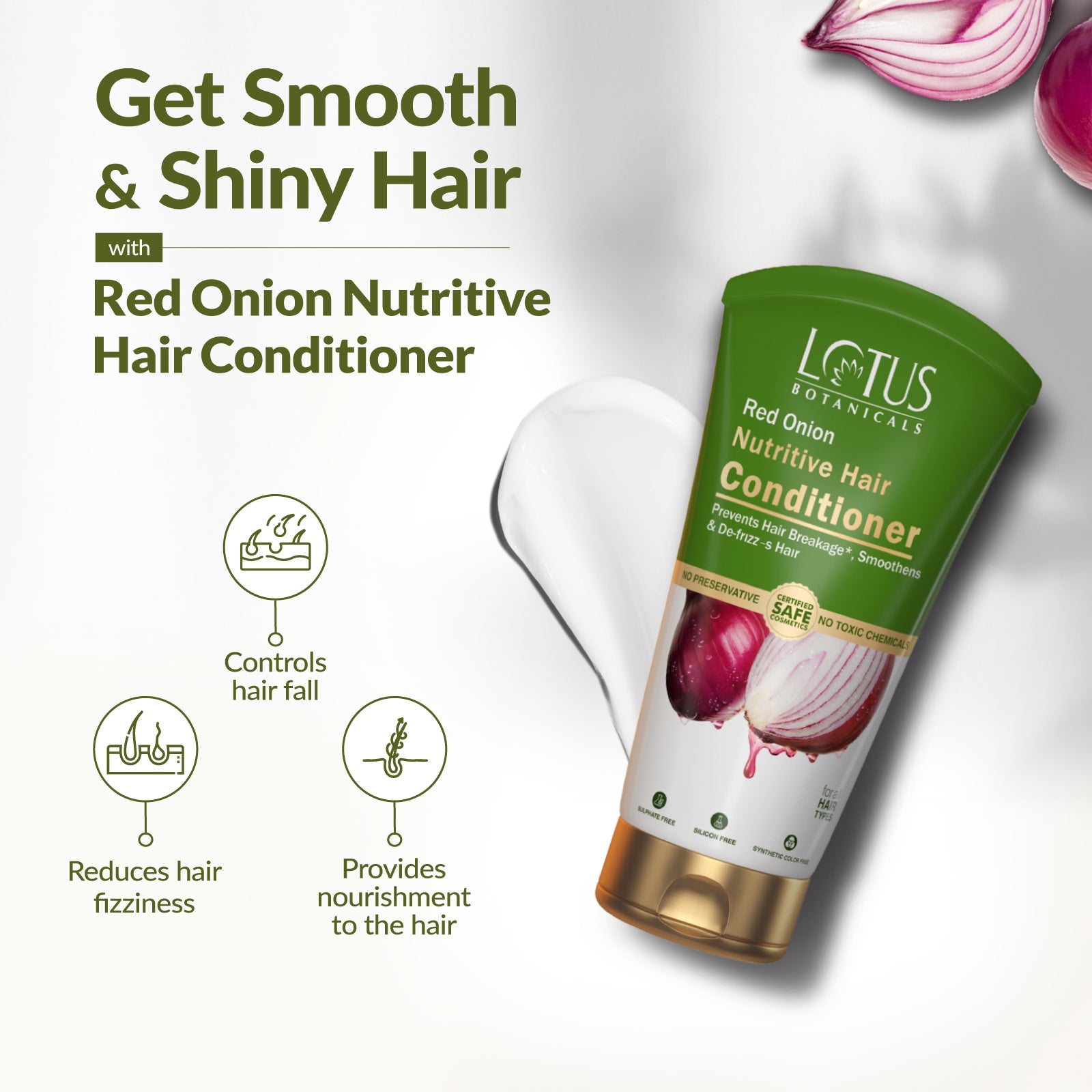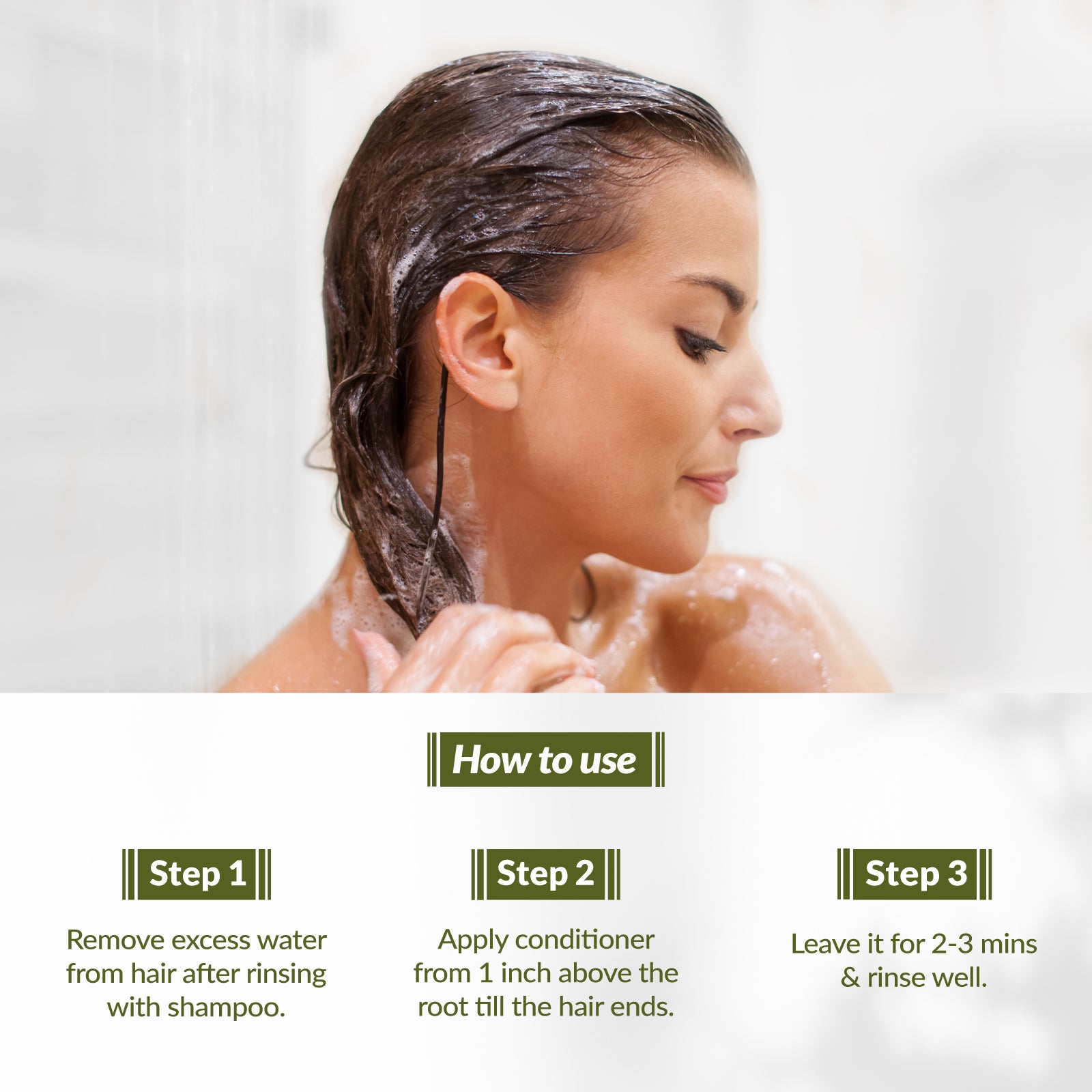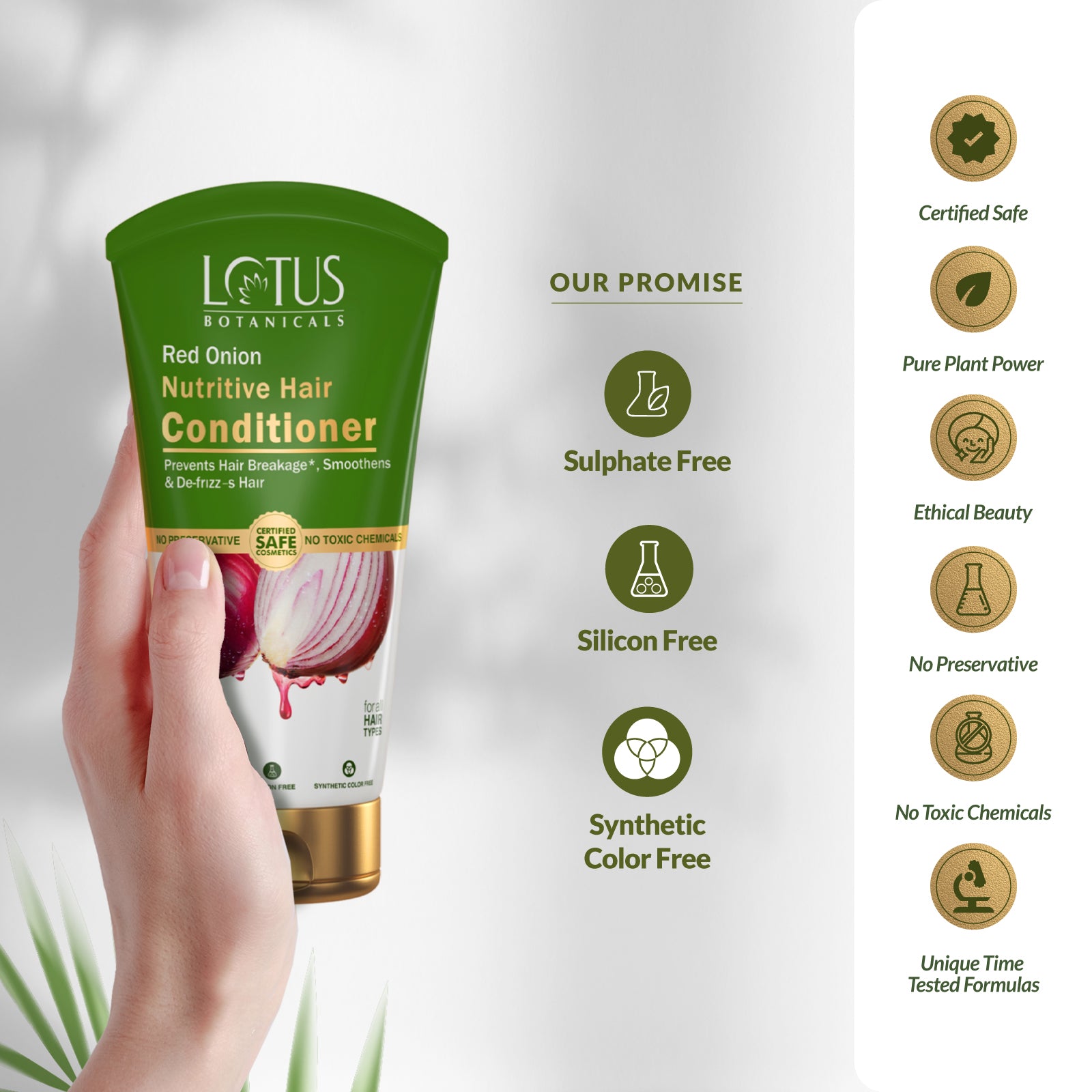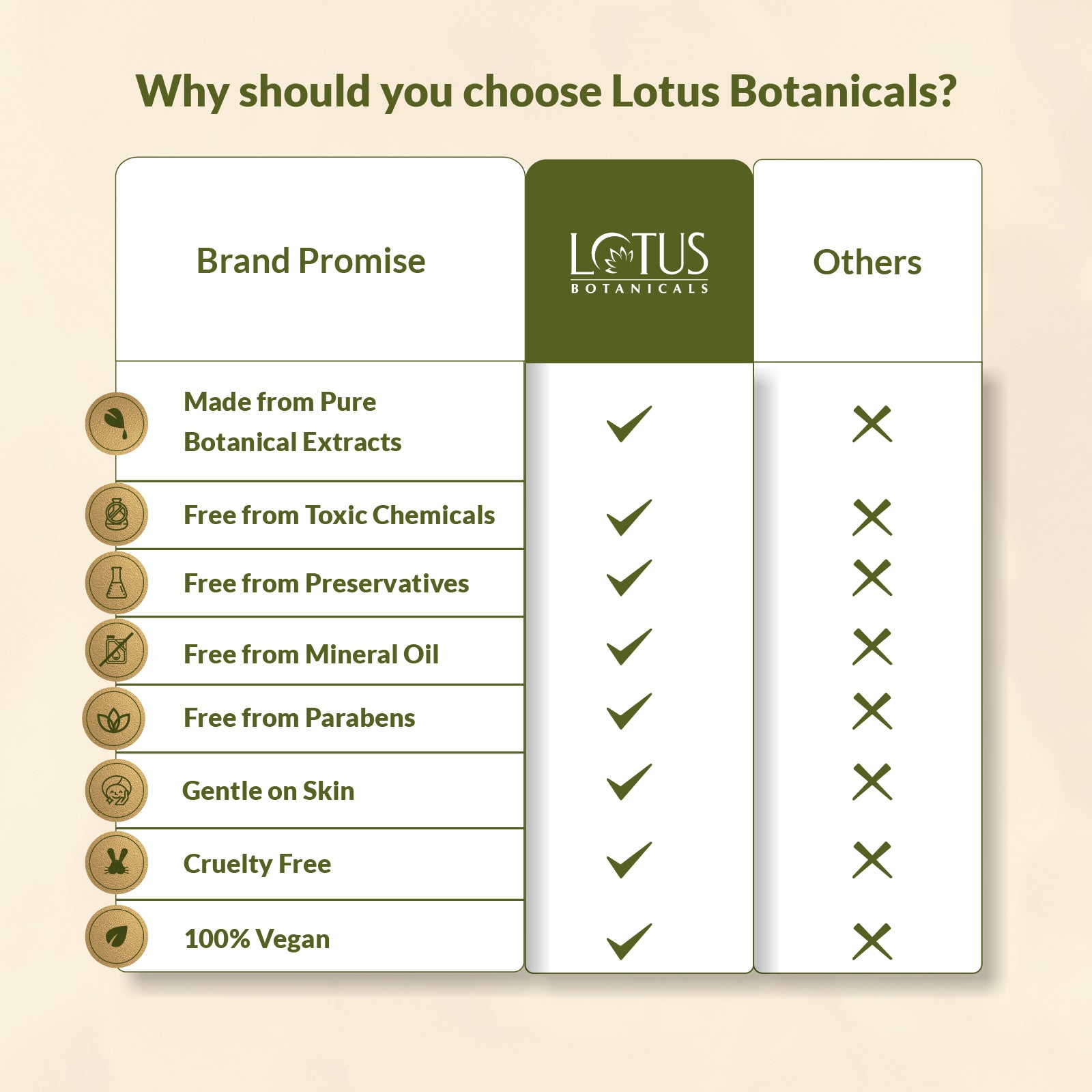 Red Onion Nutritive Hair Conditioner
Offers You
Can't Resist
🎁FREE Green tea Renew and Restore worth Rs 915 on purchase of Rs 999 or more🎁
🎁 Purchase Red Onion Nutritive Hair Conditioner to Get FREE Hair Revitalizer 🎁
Description

Ingredients

Know Your Product

FAQs

Good To know

More Info

Reviews

You May Also Like
Goodbye frizziness, tangles and knots! 100% Natural Red Onion Extract enriched, Lotus Botanicals Red Onion Nutritive Hair Conditioner is here to caress those frizzy and unmanaged tresses with care. With its creamy, nourishing goodness, it gives you those soft, lustrous, bouncy and free-flowing tresses straight out of your dreams

🍀 Rich in Red Onion Extracts, which helps in healthy nourished and strong hair
🍀 Gives soft, lustrous, and bouncy tresses with creamy consistency
🍀 Controls Hairfall
🍀 Reduces hair frizziness
🍀 De-tangles hair
🍀 Provides nourishment to the hair
🍀 Helps to maintain healthy hair with nourishing formula
🍀 No Toxic Chemicals, No Preservatives, No Silicon, No Mineral Oil, No Parabens , No Synthetic Color, 100% Vegan, Cruelty Free, pH Balanced & Recyclable
Red Onion

Excessive hair fall is a significant hair problem that red onion has successfully addressed. Sulfur is an essential nutrient for healthy hair and is abundant in onions. How? Only a protein component known as amino acids, particularly keratin, can include sulphur. Your hair needs keratin to develop and maintain its strength. Hair loss and breakage can be caused by poor keratin quality. Now, sulphur is present in keratin, ensuring the general functionality of this specific protein molecule. Red onion hair can now supply more sulphur when applied topically, helping to replenish the body's depleted sulphur levels and enhancing the keratin protein. This is how red onion promotes increased hair follicle growth while minimising hair loss. Other types of micronutrients are also present in red onions, which promote the formation of collagen. This quality benefits the health of the scalp.
Ginseng

Ginseng is a different component that has been used for ages in Asian nations. In India, this herb is also known as ashwagandha. Did you know that the 2000-year-old book "The Herbal Classic of Divine Plowman" listed ginseng as one of the most significant herbs for treating a variety of diseases? There are several other kinds of ginseng, but Panax ginseng is the most well-known and has been used extensively for millennia. Numerous studies have shown that ginseng offers numerous health advantages, including improving immune function and treating cancer and cardiovascular problems. Ginseng has been shown to improve hair development, greatly aid in skin regeneration, and prevent hair problems including dandruff and itchy scalp. Additionally, ginseng has shown to improve the inside health of your hair. A class of protein substances found in ginseng called saponins or ginsenosides have been shown to promote healthy hair, promote hair development, and delay the onset of premature greying of the hair.
---
Frequently Asked Questions
Use the Onion conditioner after applying shampoo always. It is suggested to use red onion conditioner as a second step after shampoo for best results on those days when your hair is extremely dry and coarse, with dry ends. You should use the red onion conditioner whenever you feel your hair looks dull and dehydrated.
Yes! An onion conditioner is perfect for frizzy hair. It contains Sulfur which boosts the keratin levels of hair that makes your hair smooth and tamed. Also, red onion conditioner nourishes your hair deeply, hydrates your hair, and makes your hair strong, which helps to smoothen the frizzy hair while making it look voluminous and healthy.
Yes! Lotus Botanicals Red Onion Conditioner is formulated organically with no harsh chemicals like Sulfates and parabens. Usually, Sulfates and parabens harm colored hair, making them brittle and dry. Also, it fades the color. But Lotus Botanicals' organic Red onion conditioner has no such chemicals but only the goodness of nature. It helps the hair regain its lost lustre and health due to hair colors and gives your hair color a new definition.
Yes. Lotus Botanicals' products have no harsh chemicals like mineral oil, paraben, and Sulfates. These are cruelty-free and vegan-based products making them the best for all kinds of hair.
You should apply all kinds of conditioners only to the length of the hair. We recommend never applying conditioner on your scalp.
Red Onion has proven to have antifungal and antioxidant properties, which helps your hair to restore the lost lustre properties while making your hair healthy. Also, it contains Sulfur that boosts keratin production, making your hair strands strong and reducing hair fall and thinning.
Yes. Red Onion hair conditioner may reduce hair fall due to its multiple proven hair benefits. But you should always consult a doctor if you have sudden hair loss to rule out issues like hormonal imbalance and other diseases.
Yes. We are vegan and cruelty-free, with no harsh chemicals like parabens, Sulfates, and mineral oil.
The onion conditioner is filled with the goodness of red onion and ginseng, which are excellent in promoting hair growth and reducing hair loss. You can use it regularly to see the benefits for yourself.
You must first clean the scalp thoroughly using a shampoo and then remove excess water from your hair. Apply the red onion conditioner to your hair from 1 inch above the root up to the tips of your hair. Keep it for a few minutes and then rinse.
The most important advantage of using a conditioner containing red onion is optimum hair growth due to the presence of sulphur in onion, which boosts the function of the hair protein, keratin.
Red onion is one of the most recommended ingredients for hair growth as it reduces hair loss and prevents thinning and breakage of hair. It also gives soft and silky hair.
---
Good To Know
As a 100 % natural product, temperature changes can affect the consistency of the product, but not its effectiveness.
Discontinue in case of irritation or sensitivity.
Store in cool a dry place away from direct sunlight.
For external use only.
Avoid contact with eye. If contact occurs, rinse immediately with water.
Do not refrigerate.
---
More Info
Red Onion Nutritive Hair Conditioner
Our modern lifestyle often puts us in physiological and psychologically stressful situations. And that takes a toll on your health which affects even your hair. Also, due to poor food habits and other lifestyle factors, we often face issues like hair thinning, hair fall, hair breakage, premature hair greying, etc. Well, what if we tell you that two herbal ingredients have the ultimate solution to your hair fall issues? 
Several hair benefits have been proven to be associated with red onion and ginseng. Dandruff, poor nutrition, poor blood circulation, etc are some of the factors that cause hair loss, premature hair greying, and hair thinning. A variety of lifestyles and environmental factors contribute to these conditions, such as the hectic lifestyle we live in the modern world, unhealthy diet, air pollution, UV rays, etc. 
Herbal ingredients such as red onion extract have been proven to stimulate hair growth. With Sulfur that strengthens hair follicles, it's rich in antioxidants, anti-inflammatory, and antibacterial properties. 
As a result, to address these hair problems, we offer you Red Onion Nutritive Hair Conditioner, which nourishes your hair while assisting in its outer layer's healing. Another key component, ginseng, has also been shown to have numerous therapeutic benefits that improve hair quality by enhancing keratin production. It boosts dermal cells in hair follicles, resulting in thicker, shinier, and better-quality hair.
With the Red Onion Nutritive Hair Conditioner, revitalise brittle, damaged, and unhealthy hair. Its nourishing composition penetrates deeply to strengthen the strands and improve the quality of the hair and is infused with the amazing powers of red onion and ginseng. Additionally, this conditioner is more effective and relatively light.
Benefits of Red Onion Nutritive Hair Conditioner
Lotus Botanicals has come up with its natural onion hair conditioner to keep your hair troubles at bay. Red onion is known for its several red onion health benefits in keeping your hair healthy. We have created a special formula combining the goodness of red onion and ginseng that gives you the following benefits for your hair:
Red onion contains an essential nutrient called sulphur which is fundamental in promoting the function of keratin, a protein present in your hair. This is how red onion helps provide extra sulphur for thicker and stronger hair.

One of the

red onion benefits

is that it contains antibacterial and antifungal agents which help prevent infections and keep the hair healthier. 

Red onion helps balance the pH of the hair and helps improve blood circulation, which promotes the growth of hair.

It is a magical ingredient for dry and damaged hair thanks to the presence of amino acids which eliminate impurities in the pores and nurse damaged hair back to normal. 

The sulphur from onions also helps promote collagen production, which is essential for the production of healthy skin cells and hair growth.

Ginseng, also called ashwagandha, is a wonderful Asian ingredient which has been shown to improve hair health, help in skin regeneration, and reduce problems of dry and itchy scalp. 

The

red onion conditioner

by Lotus Botanicals incorporates the best of these ingredients and promotes softer and more voluminous locks. 
Uses of Onion Hair Conditioner
The red onion hair conditioner is a great choice for several hair concerns and will give your silky smooth and thicker hair when used regularly. Here are some of the uses of this conditioner and a guide on how to use the product:
You can use the

onion conditioner

for dry and damaged hair. It will help in maintaining your hair's health and nourishing your hair back to its shiny form.

It is an excellent choice for those with dandruff concerns and itchy scalp because the ginseng present in this conditioner is known for reducing these problems effectively.
Here is how you can use the red onion conditioner to derive the maximum benefits from it:
First, cleanse your hair using a good shampoo suited for your scalp type

Now remove excess water from your hair after cleansing.

Apply the

red onion hair conditioner

on your hair from 1 inch above the roots of the hair up to the tips. 

Leave it on for 2-3 mins

Rinse it off 
Things to Consider Before Buying Onion Hair Conditioner
The red onion hair conditioner is a great product for dull and damaged hair and if you are looking for a way to deal with this type of hair, it is one of the best natural hair conditioners.

It is made with no toxic chemicals or preservatives, which means it is safe to use on your hair even if you have a sensitive scalp.

As it is 100% natural, temperature changes may cause changes in the consistency of the product, but its effectiveness will not be reduced.

Preferably store it in a cool and dry place away from direct sunlight.

Perform a patch test and discontinue if any irritation occurs.
Buy Onion Hair Conditioner Online at Lotus Botanicals
Lotus Botanicals has come up with a wonderful conditioner to deal with dry, damaged and dull hair which is filled with the goodness of red onion. It provides natural nourishment to the hair and makes your hair soft and shiny. Say goodbye to frizzy and unmanageable hair after using this red onion conditioner! It helps treat dry hair, strengthens hair to prevent breakage and thinning and also improves hair texture to make them more smooth and glossy. It is free of silicone, parabens and mineral oil and is a completely cruelty-free product. It is anti-pollution and pH balanced, which means it will not disturb the normal function of the hair follicles. Made with the goodness of red onion and ginseng, it is filled with beneficial properties, like the presence of micro nutrients to nourish the hair, promoting hair growth with the help of sulphur and collagen production, and reducing frizziness and itching. Buy this conditioner and other nutritive hair products only at Lotus Botanicals.
Why choose Lotus Botanicals
Lotus Botanicals is one of the leading skincare brands which focuses on natural and pure skincare products. Our products are made from 100% natural ingredients free of preservatives and other harmful substances such as parabens and silicon. You can rely on our excellent formulations combining the goodness of scientific data and Indian herbs to create effective products.
Best suited for: 

All hair type


Concerns: 

Dry, frizzy and unmanageable hair.
Paraben Free 
Silicon Free  
Mineral Oil Free
Anti-Pollution 
pH Balanced 
Cruelty Free 
100% Vegan 
Recyclable
Key Benefits
Promotes soft, lustrous, bouncy and free flowing tresses.
Takes away frizziness, tangles and knots.
Minimizes hair breakage and thinning
Directions To Use
Step 1:
Post cleansing your hair with shampoo, squeeze excess water and apply the conditioner from one inch above the roots till hair tips.
Step 2:
Leave for 2-3 mins and rinse well.
---