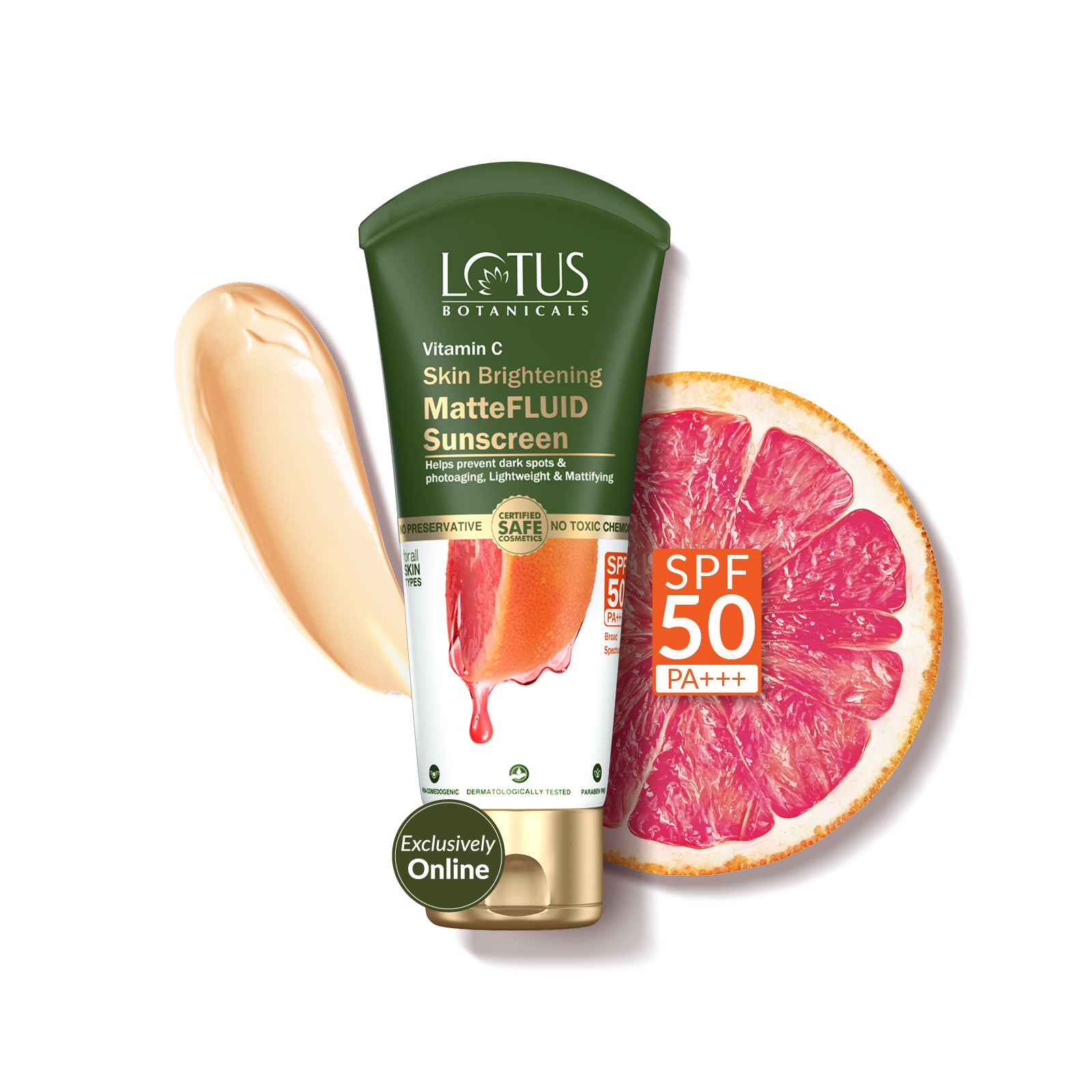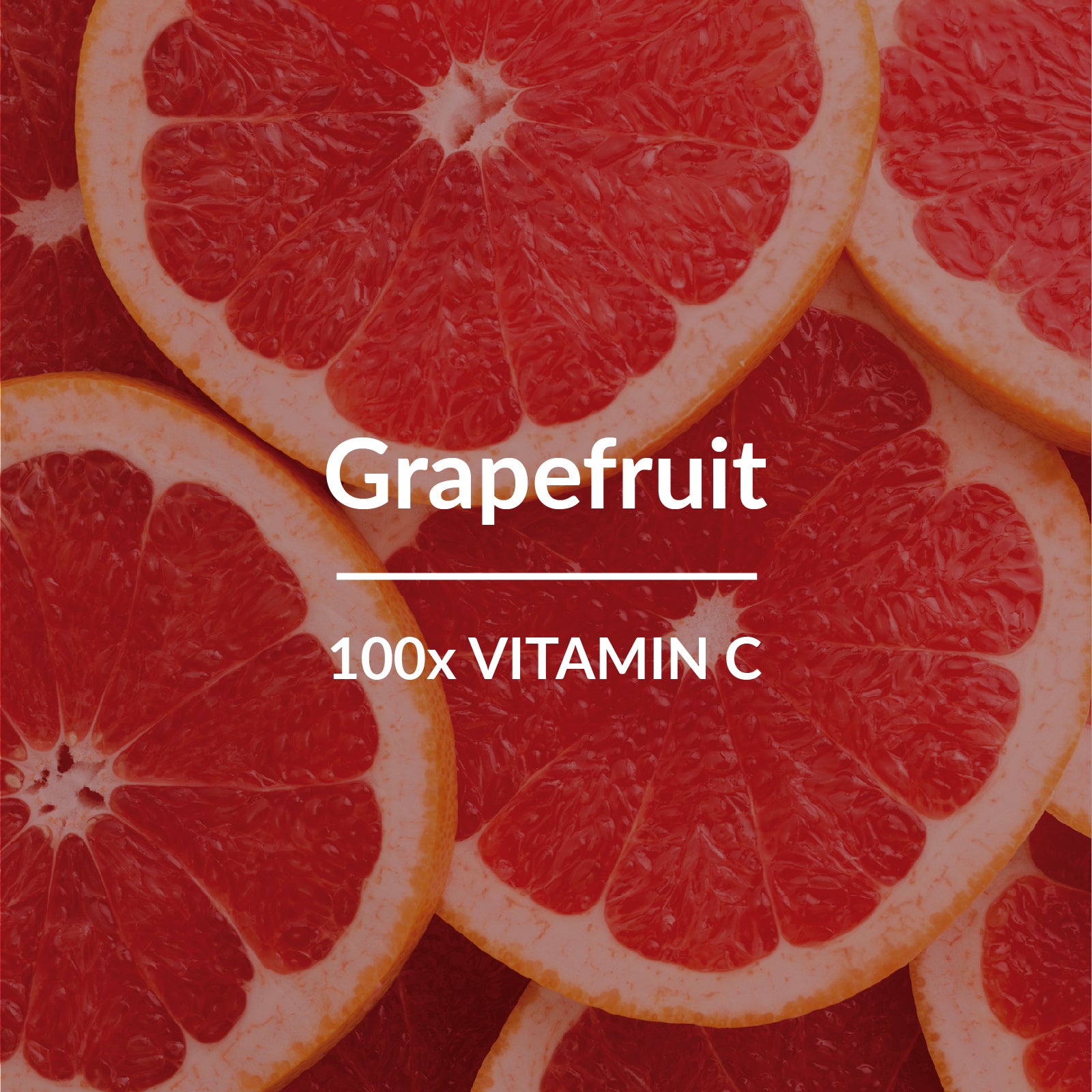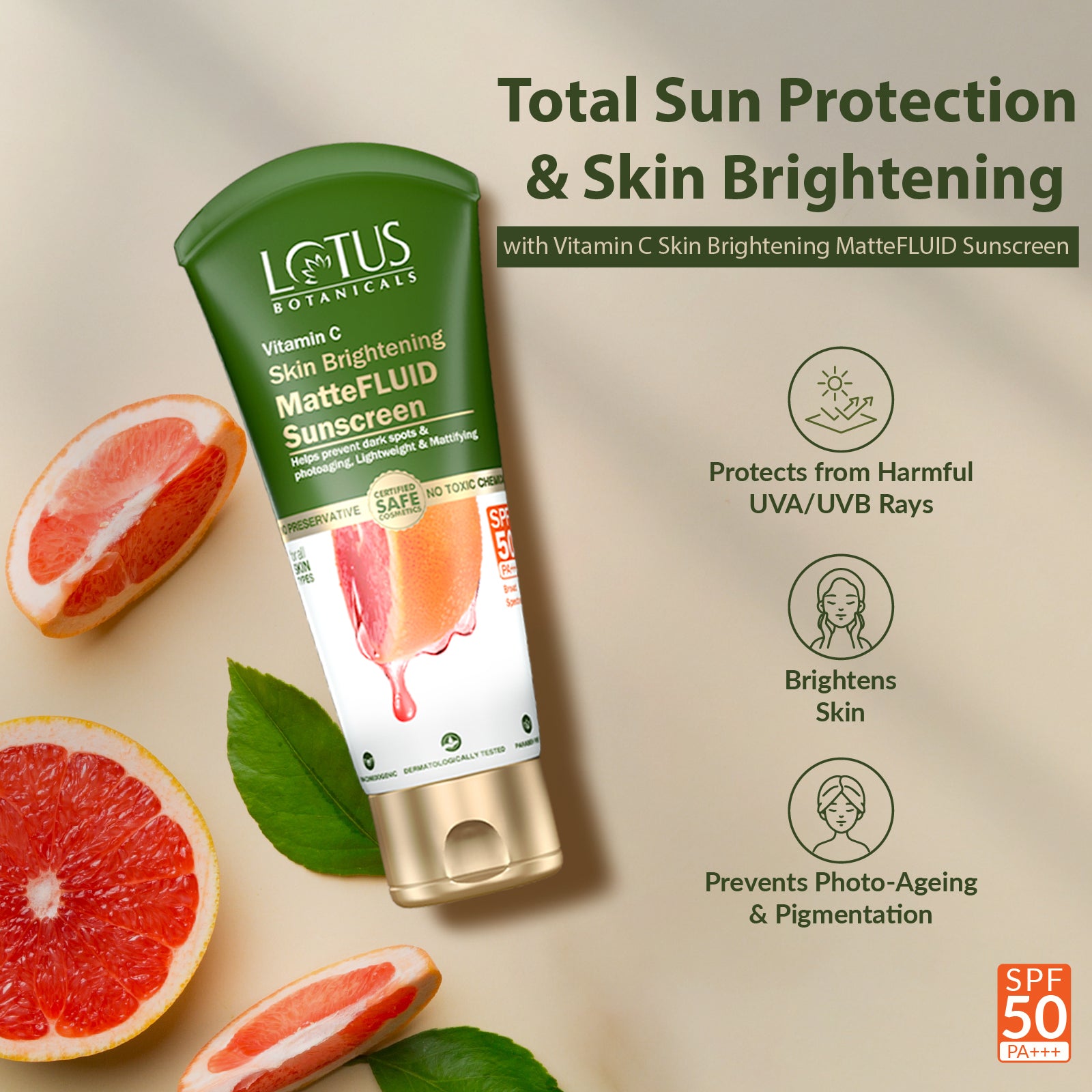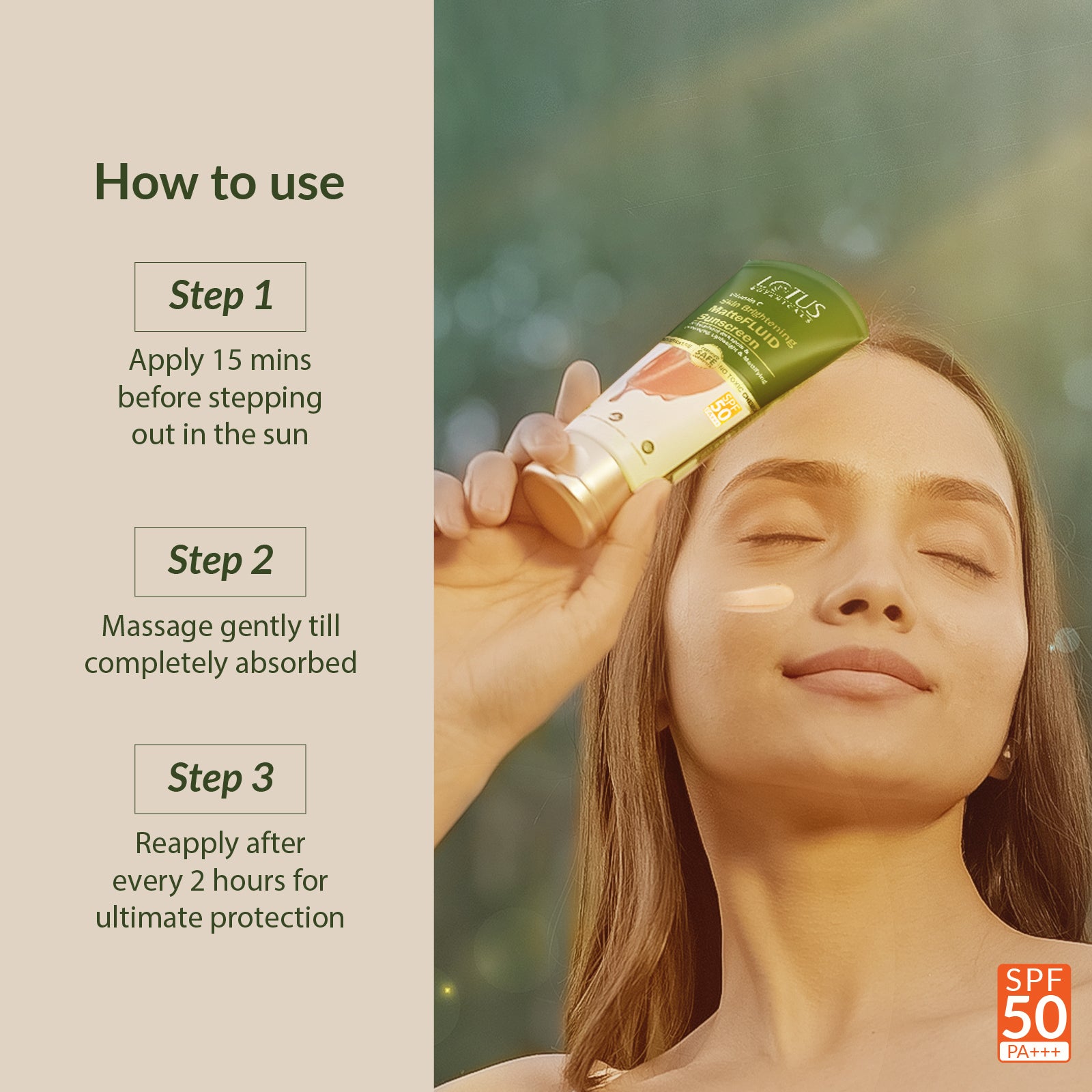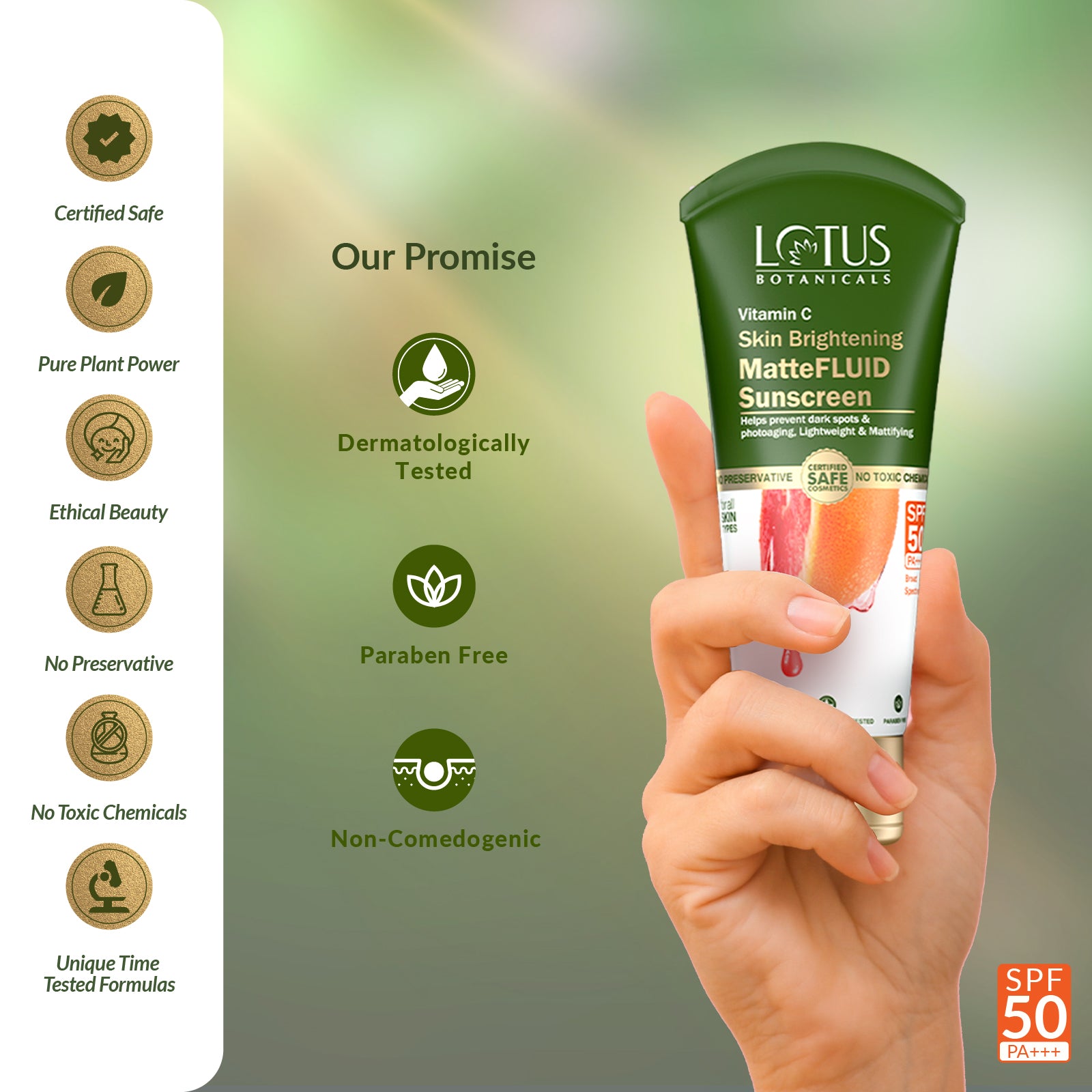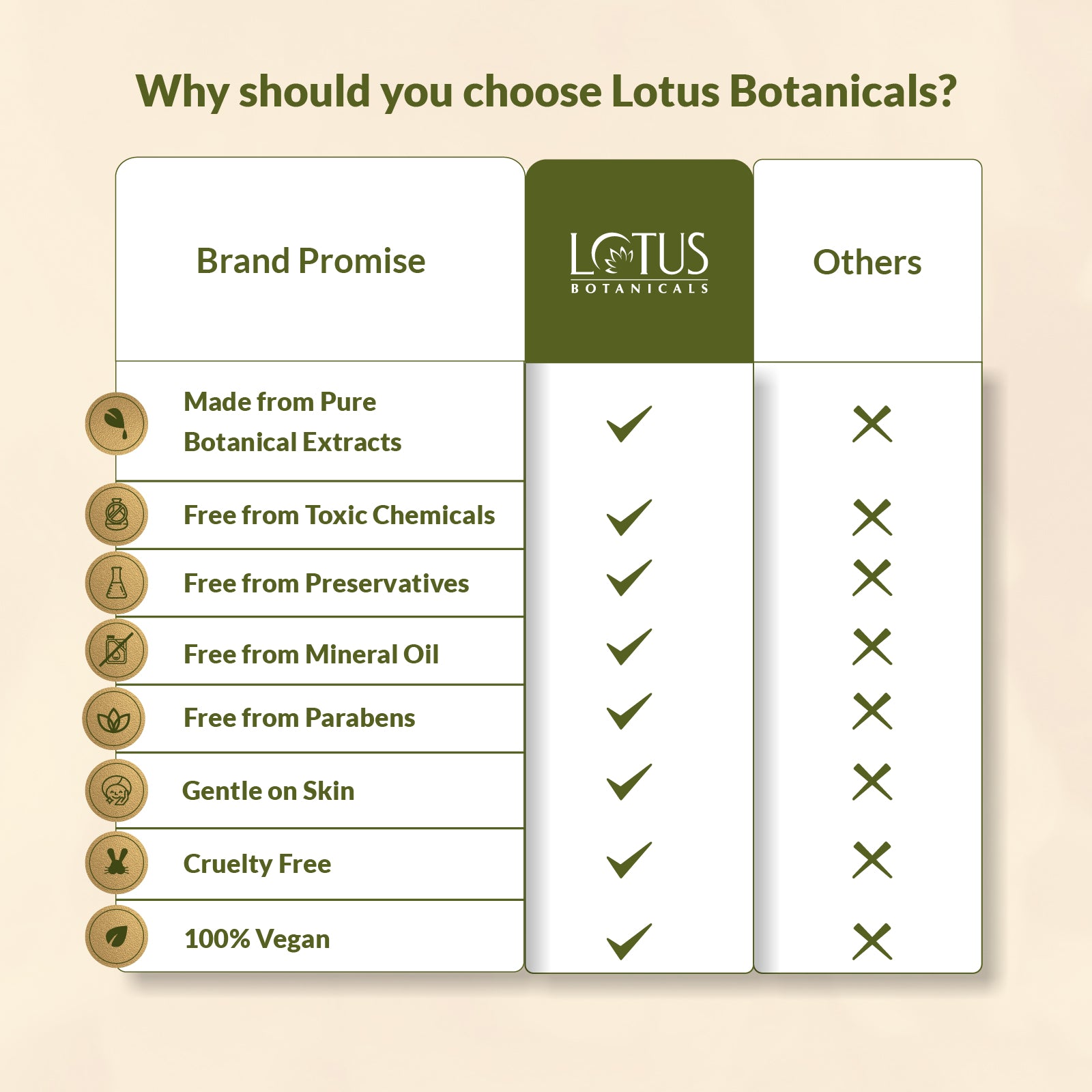 Vitamin C Skin Brightening MatteFLUID Sunscreen
Offers You
Can't Resist
🎁FREE Green tea Renew and Restore worth Rs 915 on purchase of Rs 999 or more🎁
Description

Ingredients

Know Your Product

FAQs

Good To know

More Info

Reviews

You May Also Like
Vitamin C is truly effective when worn with SPF. Lotus Botanicals Vitamin C Skin Brightening MatteFLUID Sunscreen is a potent blend of Vitamin C + SPF 50 which brightens the skin and prevents skin tanning, dark spots, pigmentation and photoaging caused by UV rays.

🍊 Powerhouse boost of Vitamin C with SPF 50
🍊 Revolutionary MatteFLUID Formula - Lightweight and Mattifying
🍊 SPF 50 & PA+++ ; Broad Spectrum
🍊 UVA / UVB Protection
🍊 Protects from sun-tan and sun-burns
🍊 Prevents dark spots, photoageing and pigmentation
🍊 Water Resistant
🍊 Dermatologically Tested
🍊 No Preservatives, No Toxic Chemicals, No Sulphates, No Parabens, No Silicon, Anti-Pollution, No Mineral Oil, Non-Comedogenic, pH-Balanced, Cruelty Free, 100% Vegan
Vitamin C

A powerhouse ingredient, Vitamin C is well-known for its skin-brightening benefits. It fades spots, scars and pigmentation. It is a potent antioxidant that neutralizes free radicals created in the skin due to oxidative stress. It aids in skin's natural cell regeneration. It also helps recover skin and reduces redness either caused by sensitivity, overexposure to the sun or inflammatory skin disorders. It refreshes, energises and radiates the skin.


Grapefruit

Another powerful ingredient in the Lotus Botanicals Vitamin C sunscreen SPF 50 is the grapefruit. Being a citrus fruit is rich in Vitamin C. The extracts of this fruit impart compelling skin brightening and smooth ending benefits to this sunscreen lotion. Regular usage of this product can revive and rejuvenate your skin and help you get that flawless radiant complexion in addition to protection from sun damage.


Full Ingredients List

InCI, Aqua, Talc, Octyl methoxycinnamate, Kaolin, Butyl Methoxydibenzoylmethane (and) Benzophenone-3 (and) Phospholipids (and) 1,3-Butylene Glycol, Niacinamide, Cyclopentasiloxane, Glycerin, Titanium Dioxide and Isocetyl Stearoyl Stearate, C28-52 Olefin/Undecylenic Acid Copolymer, Polyacrylate-13 (and) Polyisobutene (and) Polysorbate 20, Polysorbate 80, Biosaccharide Gum-4, Propanediol (and) Enteromorpha Compressa Extract (and) Silybum Marianum Fruit Extract (and) Ocimum Sanctum, Leaf Extract (and) Citric Acid, Triethanolamine, Polyacrylate Crosspolymer-6, E.D.T.A disodium, Allantoin, Silica, Butylated hydroxytoluene, Terminalia Ferdinandiana (kakadu plum) Fruit Extract, Citrus aurantium dulcis (Orange) Peel Oil, Tocopheryl acetate, Caprylhydroxamic Acid (and) Phenethyl Alcohol, CI 15985, Fragrance
---
Frequently Asked Questions
Yes, both men and women can use this product
Yes, our Vitamin C Sun Screen works on all skin types.
Yes, Vitamin C is known to have numerous anti-ageing and skin-brightening benefits. It is also known to provide effective and comprehensive protection against sun damage.
The light and non-sticky formula of the Lotus Botanicals Vitamin C sunscreen SPF 50 will not make the sunscreen oily in hot weather.
Our products are made from 100 per cent natural ingredients. This Vitamin C sunscreen is suitable for all skin types but performing a patch test before the application is advisable if you have very sensitive skin.
Vitamin C sunscreen enhances the benefits of a broad-spectrum sunscreen by providing protection against free radicals and significantly curbing the formation of sunburn cells.
Take a dollop (coin size) of sunscreen and rub it on all exposed areas of your body for at least thirty minutes before you step out in the sun.
By using a Vitamin C sunscreen you enhance the overall capacity of your skin to fight against sun damage. It also imparts outstanding anti ageing and skin smooth ending properties.
No, the Lotus Botanical Vitamin C sunscreen is devoid of any toxic chemicals and will not cause any harmful side effects. The sunscreen doesn't have any side effects as this is dermatologically tested.
Lotus Botanicals Matte Sunscreen has a white gel appearance and a calming feel when applied. The gel's texture makes it glide over the skin easily and absorb quickly. For combination and oily skin types, the formula is ideal.
---
Good To Know
If you have sensitive skin, then you should perform a patch test first to ensure that there is no reaction. Discontinue usage if irritation occurs.
Store in a cool and dry place.
In case of pregnancy, please consult with your physician before the product usage.
For external use only.
Avoid contact with eye. If contact occurs, rinse immediately with water.
---
More Info
If you are looking to amp up your skincare routine, then the Lotus Vitamin C SPF 50 is the perfect pick for you. 
The richness of Vitamin C in lotus sunscreen is all you need for sun protection. The revolutionary no-white cast formula of this vitamin c lotus sunscreen fights off the free radicals and visibly improves the skin's radiance & texture making it look brighter & younger. Vitamin C Skin Brightening PA+++ MatteFLUID lotus Sunscreen SPF -50 effectively protects the delicate face skin cells and prevents skin tanning and photoaging caused by harmful UV rays as well as the goodness of vitamin C  helps brighten skin. The light non-sticky formula of vitamin C sunscreen can be used by both men & women. 
Marrying the Benefits of Vitamin C with your Sunscreen can yield exceptional results
Vitamin C is the most potent antioxidant that imparts unparalleled benefits of anti-ageing and skin protection. Ultraviolet rays can cause a lot of damage to your skin in terms of dark spots , premature ageing, sunburn etc. When the benefits of Vitamin C are infused with the protective properties  of lotus sunscreen, the resultant product packs a powerful punch against the skin problems caused by the harmful ultraviolet rays. 
The most striking feature of this sunscreen is its ability to balance the free radicals that cause oxidative stress on the cells of the skin. These free radicals or unstable oxygen molecules are formed as a result of UV rays. They latch unto the healthy skin cells, thereby damaging their DNA and activating enzymes that are responsible for premature ageing, collagen depletion and many other problems. This can set off a series of harmful chain reactions for your skin. 
Benefits of Lotus Vitamin C Sunscreen Spf 50
Vitamin C sunscreen has multifaceted benefits that span wider than just sun protection. 
Let us look at some of the benefits of Lotus sunscreen with Vitamin C. 
Combining the goodness of Vitamin C with broad spectrum lotus sunscreen lotion is that it provides holistic protection against wrinkles, fine lines, sunburns and other sun related damage to one's skin. 

It is instrumental in protecting your skin against collagen depletion.

Free radicals are those unbalanced oxygen atoms that can cause serious damage to the skin and are formed as a result of the harmful ultraviolet rays. Lotus Vitamin C sunscreen SPF 50 for dry skin has the necessary antioxidants that can stabilise these free radicals in the most effective way. 

Vitamin C sunscreen for the face can enhance your skin's ability to protect itself from sun damage significantly by reducing the formation of sunburn cells by nearly 60 percent. 
When and how to use the Lotus Botanicals Vitamin C Sunscreen SPF 50
Always remember to use your sunscreen lotion at least 30 minutes before you plan to step out in the sun. This will allow your skin the time to absorb the product completely so that the product doesn't come off with sweating. Also, it is advisable to use your Vitamin C sunscreen after swimming, running or any other form of work out that entails perspiration. 
Take a dollop of vitamin c sunscreen and rub it on all exposed areas of your body like face, neck, elbows etc. 

Apply a thick layer and let it sink in your skin before you step out. 

It is important to note that you must always rub the sunscreen on your skin and not just simply pat in order to allow the product to yield maximum benefits

. 
Choosing The Right Vitamin C Sunscreen For You
Your midday skincare routine must include Vitamin C sunscreen. Applying the right brightening sunscreen to shield your skin from the sun's harmful rays is essential whether you're going outside for a short while or spending time at the beach. How then should I choose brightening sunscreen? What are the things to look for when purchasing one? We'll aid with your research. Lotus Sunscreen lotions are generally better at reducing the harm caused by free radicals from sun exposure. Lotus Sunscreen price is affordable and available online at Rs. 645.00. lotus sunscreen benefits skin in many ways, Reduces oiliness and lightens the skin using a non-greasy solution. defends the skin from skin problems, premature ageing, and sunburn, and also provides a protective barrier against skin tan. Buy your lotus sunscreen SPF 50 today from our webstore.
Lotus Botanicals Sunscreen Price in India
Wearing sunscreen is one of the best ways to protect your skin from sun damage. Sun damage not just leads to tanning but causes fine lines, wrinkles, and hyperpigmentation. Include using sunscreen or day cream with SPF in your daily morning routine. Do not skip wearing sunscreen if it is cloudy outside, because clouds cannot restrict UV rays. It's a good practice to wear sunscreen all-round the year.
Choose a sunscreen depending on the occasion. For daily use, you can use a day cream with SPF 25 if you have to go to work. But if you have to spend more time outside in the sun you should choose sunscreen with SPF 50. Check Lotus sunscreen price SPF 50 below.
Lotus Sunscreen and Day creams are available with different SPF levels that address different skin issues while protecting the skin from sun damage. If you are looking to compare Lotus sunscreen price and the ingredients, we are here to help you. 
Lotus sunscreen SPF 50 price – Vitamin C Skin Brightening MatteFLUID Sunscreen is available at Rs. 645 for a 75g tube. It comes with SPF 50 PA+++ to protect the skin from harmful UVA and UVB rays of the sun. Vitamin C in this MatteFLUID sunscreen helps to boost your glow.
Lotus sunscreen SPF 25 price – Lotus Botanicals Vitamin C Skin Brightening Day Crème with SPF 25 is available at Rs. 595 for a 50g tub. This light gel crème formula with SPF 25 and Vitamin C prevents sun damage and boosts glow.
Lotus Day Crème with SPF 25 – Lotus Botanicals Bio-Retinol Youth Radiance Anti-Ageing Ultra Crème with SPF 25 is available at Rs. 675 for a 50g tub.
Lotus Day crème with SPF 20 – Lotus Botanicals Natural Green Tea HydraDetox Glow Boosting Day Crème SPF 20 is available at Rs 495 for 50g tub. 
Best suited for: 

All Skin Types


Concerns: 

sun screen
Paraben Free 
Silicon Free  
Mineral Oil Free
Anti-Pollution 
pH Balanced 
Cruelty Free 
100% Vegan 
Recyclable
Directions To Use
Step 1:
Before venturing out in the sun, apply "Lotus Botanicals Vitamin C Sunscreen" liberally on your face, neck and other exposed areas on your body. Massage gently till completely absorbed.
Step 2:
This sunscreen works effectively when applied 15 minutes before going outdoors.
Step 3:
Keep applying this sunscreen once every 2 hours for better protection from UV rays.
---