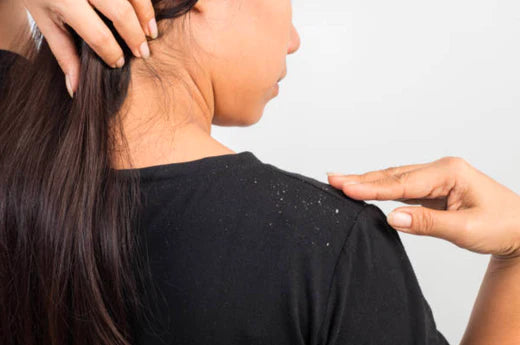 Highlights
What causes Dandruff?

6 Natural Remedies for Dandruff

Tips to maintain dandruff-free hair in winter
Are the annoying dandruff flakes creating havoc on your hair this winter? With dry weather comes dry skin inviting stubborn hair problems like itchy scalp and dandruff! The hot water showers that you love in the winter add to the dandruff woes because it makes your scalp dry and flaky. Dandruff can be persistent and suborn but don't lose hope, there are enough natural remedies for dandruff that can rescue you from the white flakes on your shoulders. In this post let us share with you easy home remedies for dandruff that you can do at the convenience of your home. These anti-dandruff treatments use common ingredients that can be found easily in every Indian kitchen.
What causes Dandruff?
But first, let us understand what dandruff is and why you get them, especially in winter. Dandruff or seborrhoea occurs when the scalp starts shedding tiny flakes of dry skin. Dandruff can occur if you have dry skin and lack natural moisture in your skin. However, dandruff can also occur if you have an oily scalp. It is a common problem that is seen in both men and women. A yeast-like fungus called Malassezia colonizes the scalp and starts feeding on the sebum on your scalp. This leads to inflammation and dandruff. (1)
Mild and moderate cases of dandruff caused by dryness in the skin can be easily treated with home remedies for dandruff. However, chronic cases like dandruff due to eczema or psoriasis might require medical attention.
6 Natural Remedies for Dandruff
Dandruff is a common problem during winter, and everyone wants to get rid of the embarrassing itchy scalp and white flakes. Thankfully, dandruff treatment is possible at home. Using natural ingredients like lemon, and ginger for hair is safer for the skin and hair. Let us share some natural remedies for dandruff with kitchen ingredients that you can use for dry scalp treatment.
1. Ginger Hair Mask
Ginger root has excellent antiseptic properties that help to get rid of dandruff. It maintains the pH level on your scalp and keeps it clean and fresh.
Grate 2 inches of ginger root and extract the juice
Mix this ginger juice with 2 tablespoons of olive oil
Apply on the scalp
Leave it for 20 minutes
Wash with a gentle shampoo
Use this twice a week for two to three weeks to see a visible change.
2. Apple Cider Vinegar Wash
Make a hair rinse using apple cider vinegar at home because ACV works best for dandruff treatment by maintaining the pH level of the scalp.
Mix ½ cup of Apple cider vinegar (ACV) and ½ cup of water in a mug
Pour the Apple cider vinegar (ACV) rinse on freshly washed hair
Massage it onto the scalp
Leave it for 10-15 minutes
Rinse it off with water
Use this Apple cider vinegar anti-dandruff treatment twice a week for 3 weeks.
3. DIY Neem Solution
The leaves of the neem tree have excellent anti-bacterial and anti-fungal properties. They are used in Ayurveda as a cure for dandruff and many other skin problems.
Boil some neem leaves in 1 cup of water
Let it cool down
Strain it into a mug
Apply on hair
Leave it for 15 minutes and rinse it off
Use this thrice a week to see a noticeable change in the dandruff problem.
4. Baking Soda Mask
Baking soda reduces skin oils and cleans dead skin cells from the scalp. It can also help with maintaining the pH level of the scalp by controlling the colonization of fungi that causes dandruff!
Add a few drops of water to 1 tablespoon of baking soda to make a paste
Rub this magic paste onto your scalp.
Leave it for 10 minutes
Wash off with a gentle shampoo.
You can also add some lemon juice to this paste. Use it twice a week for two weeks for the best results.
Also read: How To Treat Face Dandruff Naturally
5. Yogurt & Olive Oil Hair Mask
Yogurt is an excellent ingredient when it comes to hair care. It is a high protein ingredient that not only hydrates the hair and adds shine but it can also reduce dandruff on your scalp. Use this easy dandruff treatment at home with yogurt and olive oil.
Mix 2 teaspoons of olive oil with ½ a cup of yogurt
Make sections in your hair
Apply the DIY mask onto the scalp and hair strands
Leave it for 30-45 minutes
Wash it off with an anti-dandruff shampoo or any mild shampoo
This is one of the easiest remedies for dandruff that can be used twice a week for three weeks to see visible results!
6. Green Tea Rinse
Green tea has excellent antifungal properties. It is one of the best ways to get rid of dandruff while being a healthier beverage. Green tea is rich in antioxidants that restore the health of your scalp.
Dip 2 green tea bags in a glass of hot water for 10 minutes
Once brewed allow it to cool for 30 minutes
Apply this green tea rinse to the scalp
Massage well in circular motions
Leave it for 15 minutes
Gently rinse your hair with water
No need to use shampoo after you apply this hair rinse. Use this hair rinse twice a week for two weeks.
Tips to maintain dandruff-free hair in winter
With the onset of winter, dandruff might increase because of the dry weather. Here are some tips you can follow to maintain a dandruff-free scalp and hair during winter.
Keep your scalp clean – Avoid sebum build-up fungus inflammation by keeping your scalp clean. Use an anti-dandruff shampoo twice a week.
Keep yourself hydrated – Hydrated skin reduces your chances of getting dry skin and dandruff. Drink 2 litres of water every day to maintain your hydration levels.
Reduce hot water showers – Everyone enjoys a hot water shower in winter. However, it dries out the skin even more leading to dandruff. Wash your hair in room temperature water.
Reduce Heat styling – Heat styling and blow drying can also lead to dandruff.
Increase healthy fat intake – Healthy fats like avocado, nuts, bananas, and olive oil reduce the chances of you getting dandruff.
Use anti-dandruff shampoo – anti-dandruff hair products are designed to keep your scalp clean and dandruff free.
Lotus Botanicals bring you a dandruff treatment shampoo made from natural ingredients. The Ginger root shampoo is effective in cleaning your scalp and restoring the pH balance. It is a useful shampoo for getting rid of the dandruff problem. You can also use hair revitalizer and onion products to strengthen the hair follicles Check out hair mask and ginger hair care products on Lotus Botanicals. These products are 100% vegan and free of any harmful chemicals like parabens, sulphates or mineral oils.
Conclusion
If you are suffering from dandruff and want to put an end to it nourishes your scalp and keep it clean. Follow these remedies for dandruff regularly for at least two weeks to notice changes in your scalp health. Dandruff treatment at home is easy to do when you have mild or moderate dandruff due to weather changes or dryness. We recommend you consult a dermatologist in case of chronic dandruff. These home remedies for dandruff and itchy scalp can be done by both men and women to reduce dandruff problems. Lotus Botanicals anti- dandruff hair care range also is used along with natural remedies for dandruff.
Frequently Asked Questions (FAQs) About Dandruff Removal
1. What naturally removes dandruff?
There are many organic and natural ingredients that can remove dandruff easily. Ingredients like lemon, aloe vera, ginger root, yogurt, have natural properties to remove dandruff from your scalp and hair. Use the above-mentioned remedies for dandruff with these ingredients to get rid of your dandruff problems.
2. What kills dandruff on the scalp?
Use an anti-dandruff shampoo with ingredients like ginger root to get a clean dandruff-free scalp. Lotus Botanicals Ginger root dandruff control shampoo can help to solve dandruff issues you might be facing. Also, use DIY hair masks to hydrate the scalp and keep the scalp clean.
3. What food kills dandruff?
Eat a balanced diet with foods like nuts, olive oil, yogurt, avocado, and banana to reduce your dandruff problems. These foods have healthy fats that help to reduce dandruff.
4. Does lemon remove dandruff?
Yes, lemon with its citric acids has good anti-microbial properties that can kill dandruff-causing bacteria on your scalp and keep the scalp clean and fresh.
5. What is dandruff caused by?
Dandruff can occur due to various reasons like dry skin, dry weather, excessively oily skin, irritated skin, and fungus (Malassezia) infection on the scalp. The dandruff problem might increase in the winter with temperature and humidity going down.
6. Does dandruff cause hair fall?
Dandruff can cause hair breakage and hair fall. An itchy scalp and dry scalp reduce the strength of hair follicles.
Read More:
How To Treat Frizzy Hair
Hair Thinning Causes and Reasons
Winter Hair Care Routine
Ginger Juice Benefits For Hair
Highlights
What causes Dandruff?

6 Natural Remedies for Dandruff

Tips to maintain dandruff-free hair in winter