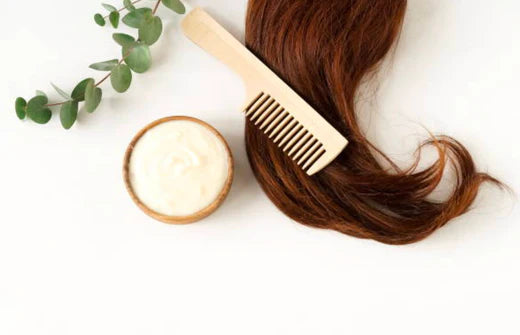 Highlights
Winter Hair Care Tips

Winter Hair Care Routine for Every Hair Type: Step by Step

FAQs
Winter is the season for us to wear our warmest clothes, but it can also be when our hair and skin suffer the most. If we're not careful, winter can lead to dull and lifeless locks and dry skin prone to irritation or worse—acne breakouts and dandruff! But fear not: there are several ways you can help your hair stay strong in the cold months ahead. In this blog post, we'll explain how you can protect your hair and implement a Winter Hair Care Routine to ensure it stays healthy all year.
Winter Hair Care Tips
During winter, it's important to take extra care of your hair. The cold, dry air can damage strands and make them frizzy and dull-looking. Following these winter hair care tips, you can keep your locks healthy and shiny.
Use a conditioner after shampooing.
Switch to sulfate-free shampoo
Deep condition your hair once a week
Eat healthy foods to keep your hair strong
Exfoliate your scalp every week
Winter Hair Care Routine for Every Hair Type: Step by Step
You will need to take extra care of your hair in winter. Curly hair, wavy hair, straight hair—winter is hard on everyone's tresses. You can protect your hair from winter damage with the right hair products. Hence, maintaining a proper winter hair care regimen is important. Here are some winter hair care tips for healthy hair:
1. Wash your hair with a nourishing shampoo
Healthy hair requires regular washing with a nourishing shampoo. The right shampoo will keep your hair looking shiny and healthy. Shampoos with pH levels of 4.5-5.5 can prevent irritation and dryness that can cause dandruff and flaking.(1) High-alkalinity shampoos cause redness and dryness in the hair, making your scalp hard to clean if you're not careful! It is recommended to use shampoo without sulfates. Sulfates can strip hair scalps of essential oils, leaving them susceptible to infection. So before purchasing anything, read reviews to find out how each product performs after regular use.
2. Condition your hair with Red Onion Hair Care Products for silkier and more manageable hair.
The experts recommend red onion hair care products because they are all-natural and chemical-free. They prevent hair loss and keep your scalp healthy.
Besides nourishing your hair, red onion also acts as an antiseptic and scalp remover. Vitamin C in red onions also prevents premature greying and improves the texture of your hair. Besides strengthening hair follicles, sulphur found in red onions prevents premature hair loss.
Onion oil has many benefits, including curing dandruff and premature greying of hair. It is also an effective remedy for treating skin problems such as psoriasis, eczema, acne, etc., as well as helping reduce inflammation caused by insect bites or stings.
You can use red onion shampoo at least once a week to get rid of dandruff and increase the volume of your hair. The anti-bacterial properties of red onion make your scalp healthier and prevent infection from acne or dermatitis. By using red onion shampoo regularly, you will also be able to reduce the risk of premature greying of hair as it contains vitamin C and sulfur, which help promote healthy hair growth.
Here's Red Onion Hair Care Regimen for Hairfall:
Why Should You Switch to Onion Oil During the Rainy Season?
Onion oil is the best oil to use during the rainy season. It has sulphur and nutrients that promote hair growth, prevent hair loss, and nourish the follicles, giving your hair volume, shine, and strength.
3. Use the right tools to detangle and style your hair.
A winter hair care routine should include tools for detangling and styling. Using a fine-tooth comb to untangle tangles can break your hair and cause it to frizz. Instead, use a wide-tooth comb. Using a brush too vigorously can make frizzier curls more likely to break. Instead of brushes, use wide toothpicks to remove knots and tangles since they won't pull or tug on your hair.
4. Dry your hair with a soft towel.
Don't rub or squeeze the water out of your hair, as this will cause frizz. Gently press the towel against your head until all the moisture is absorbed.
Finally, when you are finished drying off, be sure not to brush wet hair—this can cause tangles and breakage.
5. Use a leave-in conditioner or protective oil serum to seal in moisture.
The best way to seal in moisture is with a leave-in conditioner or protective oil serum. These are perfect for dry and oily hair since they nourish hair from root to tip with conditioning and moisturizing ingredients. You can use multiple coats of these products throughout the day without worrying about weighing down your hair or looking greasy.
6. Don't brush it when it's wet.
Avoid brushing or combing wet hair to prevent breakage. Use a wide-toothed comb to remove tangles in the shower to prevent breakage.
Conclusion
Follow these tips to protect your hair in the winter. It requires a bit of effort, but it's well worth it! Lotus Botanicals makes moisturizing shampoos, oils, and conditioners. The products they create are vegan, cruelty-free, and natural. You can find out more about Lotus Botanicals and its Lotus products at Lotusbotanicals.
FAQs
Does hair grow thicker in winter?
Hair does not grow any thicker in winter than it does during the summer. But, the cold weather can make your hair appear coarse and frizzy because it is drying out your locks.
Can onion juice be used in the winter season?
Yes, you can use onion juice in the winter season. It is a good remedy for preventing hair loss and promoting healthy growth.
How many times should I wash my hair in winter?
You should wash your hair once or twice a week. Keeping your scalp clean and dry during the winter is important.
How can I increase my hair growth in winter?
To increase your hair growth in winter, you should take care of your scalp. You can use red onion as a hair mask or massage oils for a few minutes daily to benefit your hair.
How can I get silky hair in winter?
In winter, your hair becomes dry and frizzy. It would help if you used a good conditioner after shampooing your hair to eliminate this problem. You can also take care of your scalp by massaging it with coconut or olive oil.
Which hair oil is best in winter?
Red onion oil and olive oil are the best oils for winter. They will keep your scalp healthy and also help you get silky hair. You can use these oils as a hair mask or massage oil daily to get results.
Can we apply red onion oil on hair in winter?
Yes, you can. Red onion is a good source of vitamin B and sulfur, which help strengthen your hair. You can use red onion oil as a conditioner or massage oil to get better results.
Can cold weather damage your hair?
Yes, cold weather can damage your hair. The most common symptom is dry and brittle hair. You can use a good red onion conditioner after washing your hair to prevent damage.
Read More
Red Onion Hair Care Regimen for Hairfall
How Red Onion Shampoo is best For Hair Growth & Hair Fall Control?
Surprising Benefits of Red Onion Oil That You Should Know!
9 Easy Yet Effective Hair Care Routine For Summers
Highlights
Winter Hair Care Tips

Winter Hair Care Routine for Every Hair Type: Step by Step

FAQs