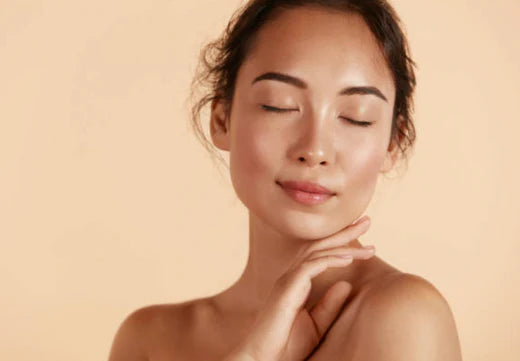 Highlights
What Are Under-Eye Wrinkles?

What Are the Types of Under Eye Wrinkles?

What Are the Causes of Under Eye Wrinkles?

Home remedies to remove under-eye wrinkles

Prevention Tips for Under-Eye Wrinkles

Under-eye Skin Care Tips

Lotus Botanicals Recommendations for products for Fine lines & Eye-Wrinkles

Conclusion
The skin under your eyes is thinner than anywhere else on your face and can't absorb enough moisture, which leads to wrinkles, dark circles, puffiness, lines and even bags under your eyes. Below we will look at some of the most common causes of these problems as well as ways you can prevent them from happening in the first place.
What Are Under-Eye Wrinkles?
Under-eye wrinkles are a common problem caused by genetics, ageing, sun exposure and other factors. They usually occur because the skin around your eyes is dehydrated.
In addition to this condition being hereditary (meaning it runs in families), it's also something many of us will experience as we age. As we age, our skin loses elasticity and develops wrinkles around the eyes. Loss of elasticity causes decreased firmness in that area, leading to a decrease in volume. That loss can then cause fine lines under your eyes.
What Are the Types of Under Eye Wrinkles?
Eye lines are normal, but wrinkles under the eyes can be unsightly. As the skin around your eyes loses elasticity, it can develop those pesky creases. In addition, people who spend a lot of time in the sun or those with genetic predispositions toward getting wrinkles tend to get lines around their eyes more quickly than others.
There are two types of under-eye wrinkles: static and dynamic.
Static wrinkles occur when your skin is damaged. This damage is visible even at rest, so the lines are always on your face. Over time, dynamic wrinkles can devolve into static ones (probably vice versa). The most common causes of static wrinkles are poor nutrition, smoking, and overexposure to sunlight.
Dynamic wrinkles occur when the muscles beneath your skin repeatedly contract, causing the skin to break up. Dynamic wrinkles become visible as these muscles move—for instance, when you smile or frown. Facial creases and lines, such as crow's feet around the eyes or forehead furrows that appear when you make a certain facial expression (like smiling), are dynamic wrinkles because they change continuously.
Dynamic wrinkles appear under the eyes in your late 20s or early 30s. Static lines usually start appearing when you are in your mid-30s (although some people develop them earlier if they spend a lot of time outdoors).
A wrinkle called a "crease" forms when your skin loses its elasticity around the mouth/nose area and becomes more noticeable. However, some lines can also occur under the eyes—caused by repeatedly squinting at intense light or smiling. These are laugh lines (formed when muscles around your eyes contract from making repeated expressions).
What Are the Causes of Under Eye Wrinkles?
Many factors can lead to under-eye wrinkles. Some of them include the following:
The sun is one of the biggest causes of under-eye wrinkles because it makes your skin age faster by damaging your DNA and causing free radicals. UV rays break down collagen—the main protein that holds together all tissue within the face—and without enough collagen, you get fine lines around the eyes (among other things). Over time, if skin loses enough collagen from your skin, you may notice wrinkles forming on your face and sagging or leathery-looking skin overall. Exposure to ultraviolet rays—whether it be unprotected sun exposure or tanning beds—can hasten the appearance of these symptoms.
Smoking restricts blood flow to the skin, depriving it of oxygen and making wrinkles more likely. Smoking also increases oxidative stress in the skin—where collagen breaks down as we age —and leads to sagging skin around the eyes. Smoking inhibits the flow of nutrients to your face and constricts blood vessels, which leads to wrinkles. (1)
Lack of sleep or poor diet
Poor quality sleep and diet are both leading causes of dehydration. It can contribute towards developing fine lines around the eyes because they dehydrate our bodies without giving us enough fluids back through drinking water or eating foods like fruits/vegetables high in water, such as cucumbers or celery sticks.
Dry weather, wind and pollution can all contribute to lines and wrinkles under the eyes. The skin can become dry and flaky when constantly exposed to these environmental factors, and it causes lines around your eyes and makes them appear more prominent.
If you're under a lot of stress, it can cause your body to produce more cortisol. This hormone breaks down elastin and collagen, which keeps your skin elastic and smooth. When you have less elasticity, your skin becomes more prone to developing lines under the eyes.
Genetics can also affect how deep your wrinkles appear under the eyes. If you have a family history of premature ageing (such as dry skin), then this may be why you're noticing lines around your eyes at such an early age.
Home remedies to remove under-eye wrinkles
The best way to remove under-eye wrinkles is by combining home remedies. Here are some of the most effective methods:
Use a moisturiser or eye cream daily, especially around the eyes. to help keep the skin smooth and hydrated so that it's less likely to develop fine lines or wrinkles in this area.
Apply cold compresses around your eyes after washing them off before bedtime every night for about 20 minutes each time (or longer if possible) to help reduce redness from puffiness caused by lack of sleep - plus, it feels good too.
If you have sensitive skin, look for products with ingredients like aloe vera or cucumber extract instead of fragrances or other chemicals in them; they'll be gentler on your face over time and be able to do their job better.
Prevention Tips for Under-Eye Wrinkles
Keep your skin hydrated. The most important thing you can do to prevent under-eye wrinkles is to keep your skin hydrated and healthy, which means using a good moisturiser daily.
Avoid smoking and alcohol, as they are both notorious for causing premature ageing in the form of wrinkles around the eyes (and elsewhere).
Stress can also contribute to wrinkles around the eyes, so try to reduce stress whenever possible by practising relaxation techniques like meditation or yoga!
Sunscreen use is crucial if you live in an area with a lot of sun exposure; this will help keep those fine lines from becoming more profound over time and prevent any sun damage that could lead to cancer later down the road! A good rule of thumb is to apply sunscreen before going outside--especially during summer when UV rays are strongest--and reapply every two hours regardless of whether it's cloudy out because clouds don't block all UV rays from reaching through them!
Under-eye Skin Care Tips
Cleanse regularly with a gentle cleanser that does not contain harsh chemicals or fragrances to keep pores open so they can breathe better and reduce swelling from trapped moisture.
Gently exfoliate around your eyes with a washcloth or soft cloth to remove dead skin cells to prevent fine lines and wrinkles from forming.
Moisturise before bed. It's a good idea to use a moisturiser at night, especially if your skin is dry.
Use a serum with vitamin C and peptides in the morning. Serums are packed with concentrated ingredients that penetrate deep into the skin, so they're great for targeting wrinkles around your eyes (and any other place on your face).
Look for serums that contain retinol or hyaluronic Acid--both of these compounds help keep collagen levels high, which means less sagging over time. (2)
Use a hyaluronic acid and retinol eye cream twice daily, once in the morning, before applying makeup, to smooth away fine lines while keeping your skin hydrated.
Lotus Botanicals Recommendations for products for Fine lines & Eye-Wrinkles
Lotus Botanicals' skincare products contain a blend of ingredients that are proven to reduce fine lines and wrinkles. These formulations include natural compounds like bio-retinol and hyaluronic Acid for extra hydration. We use only the highest-quality ingredients in our formulations, so you can trust that they're effective and safe. Here are some products we recommend:
FAQs About Under-Eye Wrinkles
How do you get rid of under-eye wrinkles?
There are several ways to get rid of under-eye wrinkles. The most popular methods include using a moisturiser with retinol, an eye cream with hyaluronic acid and vitamin C, and an eye serum or gel with peptides. In addition, you can also try sleeping on your back instead of your side and applying ice packs to reduce puffiness.
Can under-eye wrinkles be fixed?
Yes. Many people find that under-eye wrinkles are more prominent when dehydrated, so drink plenty of water throughout the day. You can also try using an eye cream or serum with peptides, retinol and hyaluronic Acid.
At What Age Do Under Eye Wrinkles Appear?
Under-eye wrinkles tend to appear in your 40s or 50s, but they can also develop earlier if dry skin is prone to dehydration.
What is a natural remedy for under-eye wrinkles?
There are a variety of natural remedies for under-eye wrinkles. Massaging cucumber slices on your eyes can help reduce puffiness and dark circles, and applying aloe vera gel or coconut oil can also be beneficial.
How can I tighten the skin around my eyes?
Try using a retinol cream or serum, which will help to tighten the skin around your eyes. You can also apply vitamin C and hyaluronic acid products, known for their anti-ageing properties.
Why do I suddenly have under-eye wrinkles?
There are various reasons why you may suddenly develop under-eye wrinkles. One common cause is dehydration, which can leave your skin wrinkly and dry. Other factors that could contribute to under-eye wrinkles include genetics, stress and ageing.
How can I increase collagen under my eyes?
Using hyaluronic acid products is the best way to increase collagen under your eyes. Hyaluronic Acid helps to hydrate the skin, which in turn leads to a reduction in wrinkles and fine lines. You can look for a moisturising eye cream that contains ingredients like peptides, vitamin C and retinol.
Which vitamin is good for under-eye wrinkles?
Vitamin C is an excellent option for reducing wrinkles and fine lines. Vitamin C can help boost collagen production, which will help improve your skin's appearance.
Conclusion
We hope we've helped you understand the causes of under-eye wrinkles and some home remedies and tips on preventing them. If you want to learn more about our products, please visit our website at Lotusbotanicals.com. Lotus Botanicals is a leading brand for organic and natural skin care products. They offer a range of face masks, serums, moisturisers, and more! Lotus Botanicals products are paraben free, cruelty-free, and 100% vegan. They also don't include synthetic fragrances or dyes— instead, using all-natural ingredients ensures skin safety.
Highlights
What Are Under-Eye Wrinkles?

What Are the Types of Under Eye Wrinkles?

What Are the Causes of Under Eye Wrinkles?

Home remedies to remove under-eye wrinkles

Prevention Tips for Under-Eye Wrinkles

Under-eye Skin Care Tips

Lotus Botanicals Recommendations for products for Fine lines & Eye-Wrinkles

Conclusion