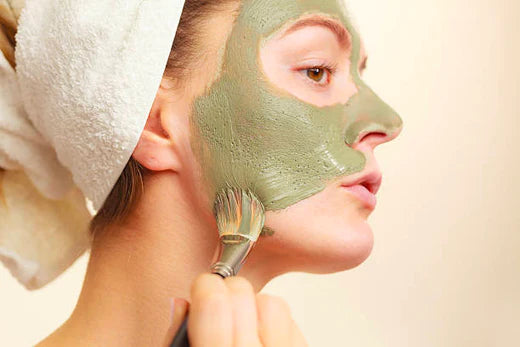 Highlights
Skincare Benefits of Green Tea

Effective Ways to Use Green Tea for Skin Care

Frequently Asked Questions
Green tea is one of the most renowned skincare ingredients that is used across the world. But, did you know that it is also widely popular as a skincare solution to some of the most common skin concerns we face daily? It is also infused in many skincare products to boost their effects and add to their list of benefits. So, let's look at the benefits of green tea for the skin, and understand how green tea benefits the skin.
Skincare Benefits of Green Tea
Green tea has long been known for its therapeutic benefits and medicinal properties in Japan, China, and other parts of Asia. It also has plant compounds called polyphenols packed with antioxidants to help us tackle many skin and health concerns. Let's look at some of the skin benefits of green tea in detail.
Protect Against Skin Cancer
Green tea products packs numerous polyphenols and six catechins, including epigallocatechin gallate (ECGC) and Epicatechin gallate (ECG). These compounds possess antioxidant properties that help us fight the free radicals from our bodies and prevent oxidative damage, which can lead to skin cancer.
According to a research study, the antioxidant abilities of ECGC can help repair your DNA strands from the damage caused by UV rays (1) from the sun, which in turn can aid you in preventing nonmelanoma skin cancer. It is one of the most excellent benefits of green tea for the skin and body.
Treat Acne
Green tea is a powerhouse of antioxidant, anti-inflammatory and antimicrobial properties, which makes this ingredient an effective treatment against acne and oily skin. Research studies show that the polyphenols present in green tea regulate sebum production (2) when applied to the skin. And they can also fight off infection by damaging the bacterial membranes, making them excellent for controlling bacteria growth that can lead to acne. The ability to fight bacteria and control sebum production are two benefits of green tea for skin acne.
Fights Premature Ageing
According to research, green tea's antioxidant ECGC can rejuvenate dying skin cells.(3) As an antioxidant, this substance prevents premature ageing and improves the appearance of dull skin by protecting and repairing the cells in your body. Additionally, the vitamins in green tea, especially vitamin B12, can maintain collagen levels and keep the skin firm, making it look more youthful. It is one of the widely known skin benefits of green tea.
Reduces Redness and Irritation
Green is also packed with anti-inflammatory properties due to the presence of polyphenols in it. These anti-inflammatory properties can help reduce skin irritation, redness, and swelling. And applying it to your skin can also help soothe minor cuts and sunburns. Research shows that topical application of green tea can help treat many dermatological conditions.(4) The cream can help relieve the itching and irritation caused by psoriasis, dermatitis, and rosacea, as well as treat symptoms of keloid formation.
Moisturises Skin
When we talk about the usage of green tea for skin health, one of the most excellent skincare benefits of green tea is its ability to hydrate and nourish the skin effectively. It contains several vitamins, like vitamin E, known for its moisturising and antioxidant properties.
Gentle Exfoliant
Exfoliation is essential for removing dead skin cells that make the skin look dull and lifeless. Green tea is a natural exfoliator that gently exfoliates the skin and triggers the production of new skin cells. This is an excellent benefit of green tea for skin health which not only provides you with a glowing appearance and keeps dirt and oil-induced skin problems at bay.
Effective Ways to Use Green Tea for Skin Care
While you are now aware of the numerous benefits of green tea for the skin, knowing "how to use green tea for the skin" can help further. There are multiple products infused with green tea that you can incorporate into your skincare routine. Let's look at some of the steps of a daily skincare routine where you can include green tea for better results.
Cleansing
Using green tea in your cleansing process of the skin routine can help with redness control, removal of environmental impurities, and toning of your skin. You can use the Lotus Botanicals Natural Green Tea HydraDetox Clarifying Face Wash.
Face Mist
Using a green tea face mist daily can help reduce the appearance of dark circles. It can also help you get rid of eye puffiness effectively. You can add the Lotus Botanicals Natural Green Tea HydraDetox Refreshing Face Mist to your skincare kit.
Face Serum
Green tea is renowned for its moisturising qualities, so adding a green tea-infused face serum can give your skin more moisture throughout the day. You can choose the Lotus Botanicals Natural Green Tea HydraDetox Moisture-Replenishing Face Serum for adding extra hydration and nourishment to your skin.
Day Cream
A day cream is meant to equip you with the ability to protect your skin from environmental and UV damage and has hydrating & Moisturising effect. The Lotus Botanicals Natural Green Tea HydraDetox Glow Boosting Day Crème SPF 20 is an excellent option as a day cream.
Night Cream
Night creams help you with your skin's rest and repair phase. They help the skin recover from the damage caused by environmental factors and UV radiation. The Lotus Botanicals Natural Green Tea HydraDetox Soothing Night Gel is an ideal choice for adding green tea to your night skincare mix.
Mentioned above are some of the most widely known benefits of green tea for the skin and ways to effectively get these benefits. You can get the products mentioned above at our website. Lotus Botanicals is India's leading plant-based skincare brand that offers 100% cruelty-free and vegan products.
Frequently Asked Questions
What is the best time to drink green tea for the skin?
The best time to drink green tea for skin health is in the morning after an hour or two of food or lunch.
Is green tea good for hormonal acne?
Research suggests that oral consumption and topical application of green tea are effective as an acne remedy and can help reduce its frequency.Featured Image -
Read More:
Bio Retinol - Natural Alternative to Retinol
Green Tea Super Ingredient For Dry Skin
Daily Skincare Routine For Glowing Skin
Guide To Clean Beauty Skincare
Highlights
Skincare Benefits of Green Tea

Effective Ways to Use Green Tea for Skin Care

Frequently Asked Questions