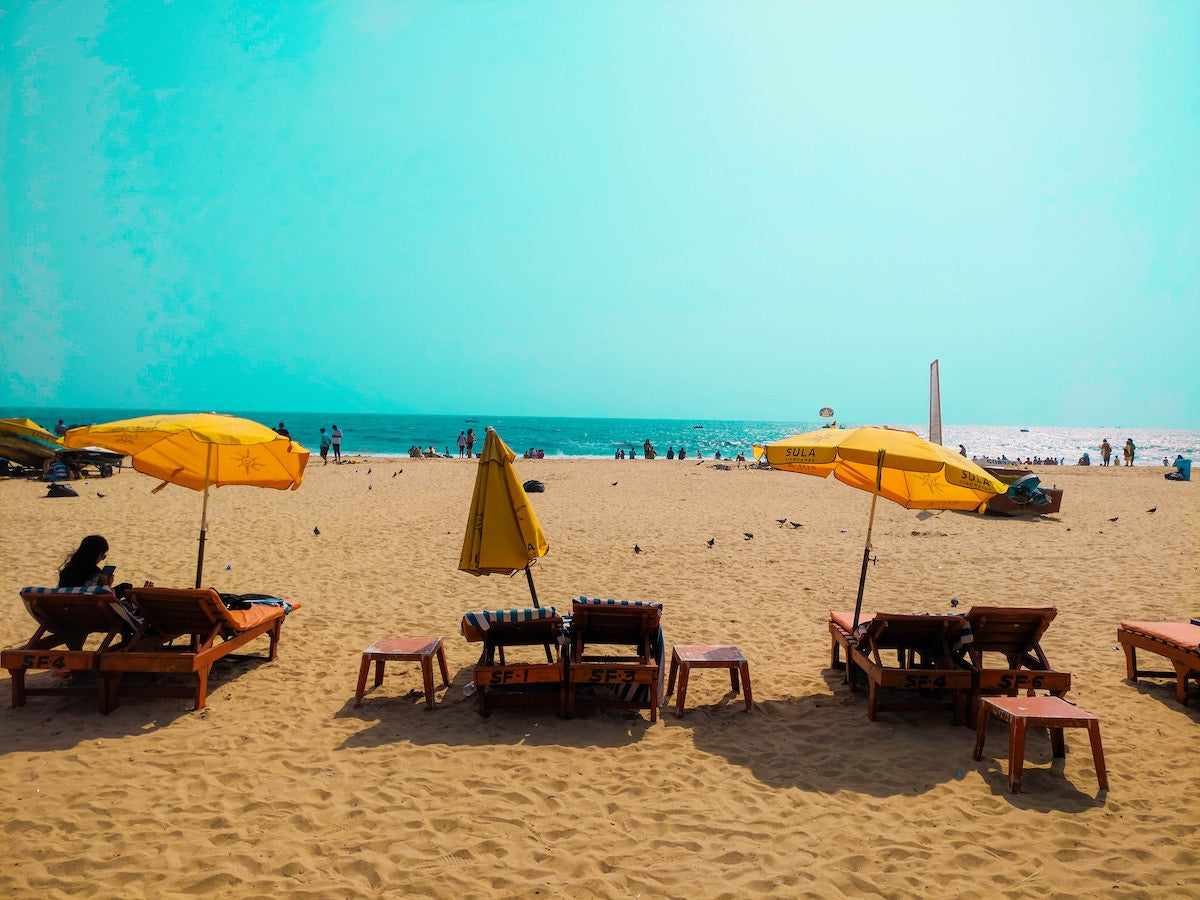 Highlights
What is Sun-kissed Skin and its Appeal

The Potential Risks and Damage Caused by Excessive Sun Exposure

Preparing for Your Goa Beach Vacation

Nourishing and Repairing Sun-Kissed Skin

Conclusion
Imagine yourself standing on the pristine shores of Goa, surrounded by golden sands and crystal-clear waters. The warm sun embraces your skin, leaving behind a gentle, sun-kissed glow. Goa, known for its breathtaking beaches and vibrant culture, attracts countless visitors seeking the ultimate beach vacation. But amidst the excitement, it's crucial not to overlook the importance of skincare. Sun damage can quickly dampen your holiday spirit and harm your skin in the long run. In this article, we will explore essential skincare tips to help you maintain a radiant and healthy complexion during your Goa beach adventure. So, get ready to indulge in the sun's embrace while safeguarding your skin's well-being.
What is Sun-kissed Skin and its Appeal
Sun-kissed skin refers to a warm and radiant complexion achieved through gentle tanning from the sun's rays. It holds immense appeal due to its association with vitality, leisure, and a youthful appearance. The golden glow of sun-kissed skin evokes memories of carefree beach vacations and outdoor adventures. However, it's crucial to balance the desire for sun-kissed skin with responsible sun exposure to avoid the potential risks of sun damage and skin cancer.
The Potential Risks and Damage Caused by Excessive Sun Exposure
Excessive sun exposure can have various risks and cause damage to the skin. Here are some potential risks and consequences:
Sunburn: Sunburn—redness, discomfort, and peeling—can result from overexposure to UV light. Sunburn damages the DNA in skin cells and increases the risk of skin cancer.
Premature Aging: Long-term sun exposure can cause wrinkles, fine lines, sagging skin, and age spots. UV rays damage the skin's collagen and elastin fibres, which keep it firm and elastic.
Skin Cancer: Skin cancer is linked to UV radiation from the sun. It can trigger skin cell DNA alterations that cause cancer. Melanoma is the most lethal of the three most frequent skin cancers: basal cell carcinoma, squamous cell carcinoma, and melanoma.
Eye Damage: Excessive sun exposure can also harm the eyes. UV radiation can induce photokeratitis (corneal sunburn), cataracts, and pterygium.
Suppression of Immune System: UV radiation affects the immune system and promotes skin infections, including viral, bacterial, and fungal diseases.
Hyperpigmentation: Sun exposure can trigger an overproduction of melanin, resulting in hyperpigmentation or dark spots on the skin. These spots can be challenging to treat and may require specialized treatments.
Photosensitivity Reactions: Some people become sun-sensitive and suffer skin rashes, hives, or other allergic responses. This is photosensitivity or photodermatitis.
Protecting and maintaining sun-kissed skin is vital to preserve its health and appearance. You can avoid sunburn, premature ageing, and skin cancer by applying sunscreen, seeking shade, and wearing protective clothes. Proper maintenance preserves sun-kissed skin's shine and prevents long-term sun damage. Embracing sun-safe practices ensures a beautiful and healthy complexion for years to come. Now let's explore how to prepare yourself for a Goa Beach vacation.
Preparing for Your Goa Beach Vacation
In Goa, like any other beach destination, there is a chance of skin problems due to several factors. The intense sun exposure in tropical regions increases the risk of sunburn, premature aging, and skin cancer.
Additionally, sandy beaches can harbor bacteria, leading to skin infections. The high humidity and sweat can also contribute to clogged pores, acne breakouts, and fungal infections.
Proper sun protection and hygiene practices are essential to mitigate these risks. Before your trip to Goa, it's important to prepare your skin for the tropical climate and sun exposure. Here's a suggested pre-trip skincare routine:
1. Exfoliate
Exfoliating your skin a few days before your trip to Goa is beneficial to achieve a smoother complexion. A light scrub or exfoliating cleanser can remove debris, oil, and dead skin cells. This process helps to unclog pores, prevent acne breakouts, and allows your skin to better absorb moisturizers and sunscreen.
Gentle exfoliation promotes a fresh, radiant appearance and prepares your skin for the upcoming tropical climate and sun exposure in Goa.
Consider using LotusBotanicals' "Ubtan De-Tan Radiance Face Scrub" for its natural exfoliating properties, which can help improve skin texture and restore a radiant glow before your trip to Goa.
2. Hydrate Yourself
Hydration is essential for healthy skin. In addition to moisturising, drink eight glasses of water a day. Hydration keeps skin supple, flushes toxins, and promotes health.
You can also hydrate yourself with natural fruit juices or infused water to add flavor and additional nutrients.
Remember, keeping your body hydrated from within contributes to maintaining a hydrated and radiant appearance for your skin in the tropical climate of Goa.
3. Apply Sunscreen (30+ SPF)
Choose a broad-spectrum sunscreen with a minimum SPF of 30 or above to effectively protect your skin from the intense sun in Goa.
Lotus Botanicals' "Vitamin C Skin Brightening MatteFLUID Sunscreen" is a great option that offers both sun protection and skin benefits.
With its high SPF, it shields against harmful UV rays while the added Vitamin C helps brighten the skin. Its matte finish is ideal for the tropical climate, keeping your skin looking fresh and oil-free throughout the day.
4. Use Lip Balm
Lips are often overlooked in skincare routines, but they are a crucial part of our skin that requires attention.
The intense sun in Goa can cause dryness, chapping, and even sunburn on the lips.
Applying a lip balm with SPF not only keeps your lips moisturized but also shields them from harmful UV rays. It helps prevent discomfort, cracking, and peeling, allowing you to enjoy your trip with soft, healthy, and protected lips.
5. Eye Protection
Protecting your eyes from the sun is essential. Long-term UV radiation exposure can cause photokeratitis (corneal burning) and cataracts (lens clouding).
To safeguard your eyes, wear sunglasses with UV protection that block both UVA and UVB rays.
Look for sunglasses labeled as 100% UV protection or UV400.
Polarized lenses can also help reduce glare.
By prioritizing eye care alongside skincare, you can prevent potential eye damage and ensure optimal eye health while enjoying your time in Goa or any sunny destination.
6. Water-Based Cleanser
Using a water-based cleanser is beneficial during your trip to Goa as it helps remove sweat, dirt, and sunscreen residue from your skin.
The hot and humid climate can cause excess sebum production and clogged pores, leading to breakouts and skin congestion.
A water-based cleanser effectively cleanses the skin without stripping away its natural moisture, maintaining its balance.
By adding this step to your skincare routine, you may avoid pore blockages, clean and refresh your skin, and reduce acne and other skin concerns. At night, cleansing and maintaining healthy skin are crucial.
7. Hydration Mist
Carrying a facial mist or hydrating spray during your Goa trip can make a huge difference in your skincare routine.
These products, like LotusBotanicals' "Natural Green Tea HydraDetox Refreshing Face Toner Mist," offer multiple benefits.
The mist provides an instant burst of hydration, revitalizing your skin in the hot climate. The refreshing spray helps cool down the skin, leaving you feeling refreshed and rejuvenated.
LotusBotanicals' mist, infused with natural green tea extracts, delivers antioxidant properties that protect the skin from environmental damage.
It also acts as a gentle toner, helping to balance the skin's pH levels and minimize pore appearance.
8. Body Moisturizer
After spending a day under the sun in Goa, it's crucial to replenish your skin's moisture. Use a nourishing body moisturizer to hydrate and soothe your skin.
LotusBotanicals' Vitamin C Skin Brightening And Renewing Kit is an excellent choice for post-sun hydration. This kit includes a vitamin C-infused body moisturiser to enhance skin texture and radiance. The lightweight formula absorbs quickly, leaving your skin feeling soft and supple.
Additionally, the kit includes a refreshing mist that can be used throughout the day to provide instant hydration and a revitalizing boost.
Keep your skin moisturized and radiant with LotusBotanicals' Vitamin C Skin Brightening And Renewing Kit.
In addition to skincare products, incorporating additional protective measures can enhance your sun protection in Goa.
Wear a wide-brimmed hat to shield your face, neck, and scalp from direct sun exposure.
Opt for sunglasses with UV protection to safeguard your eyes and the delicate skin around them.
Consider lightweight, loose-fitting clothing made of breathable fabrics to cover your arms and legs. Long-sleeved shirts, pants, and sarongs can provide an extra layer of defense.
Don't forget to seek shade under umbrellas or beach tents during peak sun hours.
These measures work in tandem with sunscreen to minimize sun damage and ensure a safer and more enjoyable beach experience.
Nourishing and Repairing Sun-Kissed Skin
After-sun exposure, it's essential to provide your skin with soothing and nourishing care. Here's a suggested after-sun skincare routine:
1. Cooling and Soothing Products:
Cooling and soothing products are important for after-sun skin care as they help alleviate sunburn discomfort, reduce redness and inflammation, and provide a soothing sensation to the skin, promoting its healing and recovery process. Here are some of the cooling and soothing products:
Aloe Vera Gel: Apply a generous amount of pure aloe vera gel to calm and cool down sunburned or irritated skin. Aloe vera has soothing properties that help reduce redness and inflammation.
Cucumber Slices or Masks: Place cucumber slices or use cucumber-infused masks on your face to hydrate and refresh the skin. Cucumber has a cooling effect and can help alleviate discomfort caused by sunburn.
2. Hydrating and Moisturizing Products
Hydrating and moisturizing products are important in an after-sun skincare routine to replenish lost moisture, soothe sun-damaged skin, and promote its healing and recovery.
Hyaluronic Acid Serum: Hyaluronic acid attracts and retains moisture, making it an excellent ingredient for post-sun hydration. Apply a hyaluronic acid serum to replenish moisture levels and restore skin's plumpness.
Hydrating Face Mask: Treat your skin to a hydrating face mask to provide an extra dose of moisture. Look for masks containing ingredients like hyaluronic acid, ceramides, or natural hydrators like honey or aloe vera.
3. Antioxidant and Vitamin-rich Products:
Antioxidant and vitamin-rich products are important for after-sun skin care as they help repair damaged skin, neutralize free radicals, promote healing, and protect against further oxidative stress caused by sun exposure.
Vitamin C Serum: Incorporate a vitamin C serum into your after-sun routine to help repair and protect the skin from UV damage. Vitamin C is known for its antioxidant properties that help combat free radicals and promote skin healing.
Antioxidant-rich Moisturizer: Choose a moisturizer infused with antioxidants like green tea extract or vitamin E to nourish and protect the skin from further damage. These ingredients assist in repairing the skin and boosting its overall health.
Conclusion
Taking care of your skin is essential, especially during a beach vacation in a beautiful destination like Goa. By following the skincare tips provided in this article, you can enjoy the sun-kissed glow while keeping your skin healthy and protected. Remember to prioritize pre-trip preparation, sun protection, and post-vacation nourishment for your skin. For high-quality skincare and hair care products, visit LotusBotanicals, an online shop known for its wide range of natural and effective products. Explore their collection to find the perfect products to complement your beach vacation skincare routine and maintain that radiant glow long after your trip.
Highlights
What is Sun-kissed Skin and its Appeal

The Potential Risks and Damage Caused by Excessive Sun Exposure

Preparing for Your Goa Beach Vacation

Nourishing and Repairing Sun-Kissed Skin

Conclusion