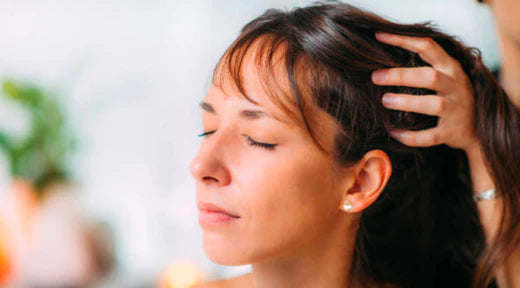 Highlights
Here are 11 benefits of using oil for hair:

How to Add Oil to Your Hair Care Routine?

Conclusion
Oil has long been used as a beauty product, keeping hair healthy and strong. Although new products are introduced every day, oil remains effective for this purpose—as the centuries of use prove. Oil can act as a natural conditioner for dry or damaged locks, absorbing excess sebum. Our mothers and grandmothers probably reminded us constantly of the benefits of oil because—it's not just our hair that can benefit from applying it; the skin will too.
Here are 11 benefits of using oil for hair:
1. Oils Can Reduce Protein Loss.
Protein loss is a normal part of hair growth. Hair sheds its outer layer, which contains protein—and oil can reduce this by keeping your hair strong and healthy.
How much is protein loss average? According to the American Academy of Dermatology, we lose 50-100 strands daily. So if you're losing more than that—especially if your hair feels thinner or looks duller than usual—it might be time for an appointment with your dermatologist.
To avoid protein loss and preserve the shine in your locks, try using one ounce of coconut oil or olive oil as a leave-in conditioner each day after washing your scalp and before styling it with other products. (1)
2. Oils Can Help Prevent Hair Strands From Breaking.
Hair breakage is a common problem for many people. It can be caused by several factors, such as tight ponytails or braids, lack of moisture, or too much heat styling. As you might imagine, this issue can cause hair to become weak and brittle over time, making oil an excellent solution for preventing breakage altogether. By strengthening your hair with essential fatty acids and hydration from natural oils like coconut oil and argan oil, you can help keep it shiny and healthy throughout the day (and night). (2)
3. Oils Can Keep Hair Moisturised.
If your hair is dry, using oil will help to keep it moisturised. The trick is to choose the right type of oil for the job and apply it correctly. If your hair is fine or thinning and prone to tangles, opt for a light oil that won't weigh down your locks (such as jojoba or castor). If you have thick or coarse strands that need extra conditioning power, reach for something heavier, like coconut or avocado oil.
When applying oil to your hair, start at the ends and work your way up. Massage each strand of hair until it is completely saturated with the product. The more product you apply at once, the longer it will take for your hair to be fully covered, reducing the chance of being washed out before it is done.
4. Oils Add Shine To Your Hair
If you're looking for shiny hair, oils can help. Oils contain natural moisturisers that can seal the cuticle layer of your hair, which helps protect against environmental damage and adds shine. They also make it easier to straighten and manage curly hair types by helping reduce frizz and flyaways. Some oils even have UV filters that protect the strands from sun damage when applied to damp hair before drying or styling.
5. Oils Provide Deep Conditioning
The greasier your hair, the better. Oil is a great way to restore moisture and shine to dull, dry strands. The main ingredient in coconut oil is lauric acid, which can penetrate the hair shaft and restore moisture to the cortex (the interior of a strand) and help lock in moisture that would otherwise escape from your hair as it dries out. Hence, some people may feel that their conditioning treatments need to be fixed by using shampoo instead of conditioner.
Oil is also great for getting rid of dry ends if you've been colouring or chemically processing your tresses too frequently; apply some oil on those strands once a week, leave it overnight, and then wash it out with shampoo the following day.
6. Oils Make Detangling Easier.
Next to the pain of washing your hair, detangling is probably one of the most annoying parts of having long or thick hair. If you're natural or have curly hair that takes a lot of work to maintain, keeping it healthy and moisturised is essential—and so is making sure you don't get stuck in a tangled web every time you comb through your strands.
Using oils as part of your weekly routine can make all the difference in detangling. Oils also help seal moisture into dry hair and add some much-needed shine back into dull locks—so people with limp locks might find that using an oil helps them feel less frizzy throughout the day (or at least until they rewash their hair).
You can use any oil on wet or dry hair—add it directly on top before braiding or wrapping up in a towel after showering. If possible, apply light layers rather than saturating too much of one area at once—this way, there are no clumps left behind!
7. Oils Make Your Scalp Happy.
Your scalp is often neglected because we tend to focus on the hair for conditioning. But the health of your hair starts at the root, and oiling can have significant benefits for you and your head. Regular application of oils helps prevent dryness, flakiness and dandruff by sealing in moisture from the air. It also soothes itchy, dry skin—so hair grows faster!
Read More: How to Treat Frizzy Hair: Causes, Reasons, and Solutions
8. Oils Stimulate Blood Circulation In The Scalp
When you apply oil to your scalp, blood circulation increases in that area. Increased blood flow is essential for healthy hair growth because it brings more nutrients and oxygen to the follicles, which helps keep hair strong. As a result, this improves the strength of your hair follicles and increases their ability to produce new strands faster than usual. (3)
9. Oils Help Combat Dandruff.
Dandruff is an annoying problem that many people experience. Several things, including dry skin, skin sensitivity and scalp conditions such as seborrheic dermatitis or Malassezia overgrowth, can cause it.
If you have dandruff and want to try something natural to treat it, applying oil to your scalp is one way to go about it. The right type of oil will hydrate the affected area while also helping get rid of bacteria that cause dryness in the first place. Several different types of oils can be used for this purpose:
Tea tree oil has antifungal and antibacterial properties, making it an effective treatment for dandruff. The oil also helps prevent new fungal infections from forming on your scalp and relieves itching associated with the condition.
Jojoba oil is another option for treating dandruff. It can relieve itching and soothe inflammation while keeping your hair soft and moisturised—which together help reduce dryness and flaking.
Coconut oil contains lauric acid, an antifungal agent that helps prevent dandruff by keeping the scalp clean. It also includes oleic and caprylic acid—which moisturise your skin and hair.
10. Oil Help Regulate The Production Of Sebum On The Scalp.
Sebum is the natural oil produced by the scalp. It acts as a moisturiser, keeping hair and skin healthy and smooth. In some people, sebum production goes up and causes dandruff. If you overuse shampoos or hair products that remove your scalp's natural oils, excess sebum can build up and cause problems such as dandruff. Oil for hair can help regulate sebum production because It Keeps Your Scalp Healthy And Moisturised.
Read More: 5 Surprising Reasons For Hair Thinning and How To Treat It
11. Oils Can Strengthen Your Strands And Improve Their Elasticity.
Human hair is made up of a bunch of tiny strands, which are held together by cells called keratinocytes. These cells also produce keratin—a protein that makes your hair strong. When these proteins are damaged due to chemical treatments or heat styling, it can lead to breakage and split ends – but oil can help reverse this process by strengthening the strand itself. (4)
Oils are full of fatty acids, which are crucial in making elastin—a protein that helps give strands bounce. Olive oil contains this element and can help prevent hair loss by strengthening the follicles and promoting healthy cell growth.
How to Add Oil to Your Hair Care Routine?
When adding oil to your hair care routine, you can apply it directly to dry hair and let it sit for a few hours before washing, or you can use it as part of your regular conditioning routine in the shower. Remember that too much will weigh down your locks, so start with a small amount and work up if needed.
If you apply hair oil to your hair during the day, use a lightweight formula that won't weigh down strands. If oils are applied at night, they should be washed out in the morning with lukewarm water (not hot) to avoid dirt or debris buildup.
Conclusion
Oils are a great option to improve your hair's health. They can provide deep conditioning, shine, strength and elasticity while also helping to combat dryness caused by heat styling tools. Plus, they smell amazing!
FAQ About Using Hair Oil
What are the dos and don'ts of hair oil?
Oil your hair with a clean scalp.
Gently massage your scalp and hair; avoid vigorous rubbing.
Use a small amount of oil when massaging into your scalp. The more you apply, the longer it will take to wash out—potentially causing dryness in your locks.
Always warm the oil a little. Warm oil penetrates better.
Can I use hair oil every day?
Yes, if you wish. Lightweight oils like coconut or almond oil are best for daily conditioning because they're less likely to weigh hair down than heavier options like castor or avocado.
Which is the best time to apply oil to hair?
The best time to apply oil is right after you shampoo. It's important to remember that your hair is at its most porous when it's damp, so applying the oil at this stage will ensure it penetrates more easily into your hair shafts.
Can I comb my hair after oiling?
Yes, you can comb your hair after oiling. It's recommended that you use a wide toothcomb to do so.
Can we leave the oil on the hair for three days?
No, it's not recommended that you leave the oil on your hair for more than one night. If you leave it on too long, your scalp will absorb the oil, which could result in dandruff.
Is it OK to apply oil on wet hair?
Yes, you can apply the oil on wet hair. It's important to remember that your hair is at its most porous when it's damp, so applying the oil at this stage will ensure it penetrates more easily into your hair shafts.
What to do before oiling hair?
Before applying oil to your hair, you should ensure that your scalp is completely clean so the oil can penetrate each strand rather than sit on top of dirt and debris.
Read More:
Why Should You Switch to Onion Oil During the Rainy Season?
Surprising Benefits of Red Onion Oil That You Should Know!
Red Onion Hair Care Regimen for Hairfall
9 Easy Yet Effective Hair Care Routine For Summers
Highlights
Here are 11 benefits of using oil for hair:

How to Add Oil to Your Hair Care Routine?

Conclusion