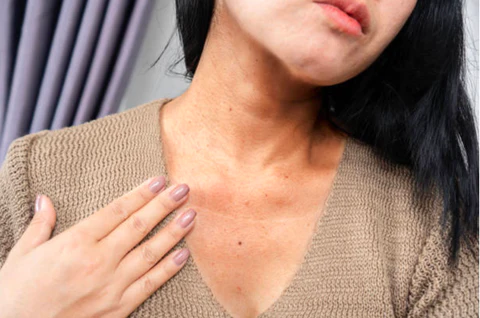 Highlights
What causes Hyperpigmentation?

What causes Neck pigmentation?

5 effective remedies to reduce neck pigmentation

Conclusion

FAQs
Do you find your neck darker than your face? You are not alone. There are many who are in the same boat as you. When we do skincare we often focus only on our face and the skin on the body and neck gets neglected. Pigmentation can occur anywhere on the skin giving it a darker appearance. Neck pigmentation can be annoying because it might feel velvety and itchy. If you haven't looked after your neck skin darkening it is time you do now! Dark skin folds on the neck are not something you want. And if you are wondering how to get rid of pigmentation or how to treat hyperpigmentation we are here to solve all your queries. Neck skin darkening can be treated at home with regular care. In this post, we'll share some home remedies for neck pigmentation so that you can get rid of the annoying pigmentation and step out with confidence.
What causes Hyperpigmentation?
Before going forward, let us first understand all about hyperpigmentation meaning, causes and sources. The depleting ozone layers are to be blamed for increased UV radiation from the sun. Sun exposure is the worst thing our skin goes through. This UV damage is the root cause of hyperpigmentation. Too much sun exposure and pollutants cause the darkening of skin and sun spots. Chemical-laden products can also cause hyperpigmentation on the skin. Hyperpigmentation can be a cause of various other skin issues like melasma, sunspots, photo ageing and even skin cancer. (1)
What causes Neck pigmentation?
There are various reasons that can cause neck skin darkening. While some can be hormonal, others can be related to sun damage. Let us take a closer look at the causes of neck pigmentation.
Sun Damage
One of the root causes of neck pigmentation is UV exposure and sun damage. Prolonged sun exposure leads to pigmentation. Sunlight causes the skin to produce more melanin, giving it a darker appearance. (2) While we take care to apply sunscreen on our face we often neglect the skin on the neck, arms or other exposed areas of the body. Thus, the exposed skin ends up getting pigmented.
Acanthosis nigricans (AN)
Pigmentation in body folds and creases can be caused by a skin condition called Acanthosis nigricans (AN). It is commonly noticed on the neck, groin or armpits. (3) AN can be caused as a side effect of medications like birth control pills or steroids. Hormonal imbalance, pregnancy, or hypothyroidism can also cause AN-related neck pigmentation. This is one of the acquired hyperpigmentation disorders you can encounter.
Dermatitis neglecta
It is a skin condition where crust-like layers form around the neck due to the collection of excess oil, dust, and dead cells. This kind of neck pigmentation can make the neck area velvety and itchy. Thus this pigmentation requires regular skincare.
5 effective remedies to reduce neck pigmentation
There are multiple remedies for neck pigmentation that you can use at home. You can find several ingredients in your kitchen that can work for reducing neck pigmentation. Let us share some home remedies to answer your queries on how to get rid of pigmentation and how to treat hyperpigmentation for healthy skin.
Potato Juice
Vitamin C in Potatoes boosts collagen production and lightens pigmentation. Potato also contains zinc that heals damaged tissues. Potato's mild bleaching properties reduce melanin production and lighten dark skin. Use this mask every day for three weeks to notice visible changes.
Grate a peeled potato and squeeze out the juice
Apply the juice to the dark areas on the neck
Let it sit for 15-20 minutes
Wash off with water.
Chickpea Flour & Turmeric
Ubtan is an age-old traditional method of Ayurveda to remove skin pigmentation. You can make a DIY Ubtan paste to treat neck skin darkening. Or use Lotus Ubtan face scrub and Ubtan face and body mask which can help to reduce neck pigmentation. These Ubtan products are made with chickpea flour (besan), sandalwood powder (Chandan), turmeric, rose and 24K gold. They are effective in de-tanning the skin and giving your bright glowing skin.
Ingredients you need to make this mask at home
2 tablespoons of besan
½ teaspoon of turmeric
1 tablespoon of yogurt
Few drops of lemon juice
How to make Besan and Turmeric mask at home
Mix all the ingredients together in a bowl
Apply on the neck and any other pigmented areas.
Leave it on for 30 minutes
Dampen your fingers and rub the dried mask in a circular motion
Wash off with water
Almond and Honey Face Pack
Almond and honey both are good skin-brightening ingredients and work to reduce neck pigmentation. Honey with its anti-inflammatory and anti-bacterial compounds reduces the appearance of scars and lightens skin.
Soak 4 to 5 Almonds overnight in water
Make a paste of them
Mix a spoon of honey
Apply a generous layer on the neck
Let it sit for 15 minutes
Rub in circular motions
Wash off with water
Papaya & Aloe Mask
One of the easiest remedies for neck pigmentation is to use a papaya and aloe vera mask. Aloe vera provides hydration and reduces inflammation while papaya treats sunburns and improves skin complexion.
Mash a piece of papaya
Add 1 tablespoon of aloe vera gel
Apply on neck
Leave it on for 30 minutes
Wash off with water
Orange Peel Mask
Vitamin C is rich in antioxidants that reduce pigmentation and sunburns. Lemon juice and orange have a good content of Vitamin C that can be used to reduce neck pigmentation. You can use Lotus Vitamin C face scrub to get rid of dry skin, dirt and grime and boost the glow in your skin around the neck area. It is made with the goodness of 100X power of Vitamin C from Kakadu plums.
You can also make a DIY orange peel mask to get reduce pigmentation on the neck.
Mix 2 tablespoons of orange peel powder
Add 2 teaspoons of raw milk
Mix together to form a paste
Apply on the neck
Leave it for 20 minutes
Rub in a circular motion
Wash off with water
Conclusion
With this, we hope you have answers to all your queries about how to get rid of pigmentation and how to treat hyperpigmentation. These are common skin problems that are faced by many. Maintain a proper skincare routine not just for your face but for the skin on your body. Choose products with natural ingredients that are safe for your skin. Lotus Botanicals offers a wide range of skincare products that are 100% vegan, free of parabens and sulphates and cruelty-free. With consistent skincare, you can reduce neck pigmentation and pigmentation around elbows or knees and get flawless bright glowing skin.
FAQs
Does neck hyperpigmentation go away?
Neck pigmentation can be stubborn but with consistent skincare, you can get rid of neck hyperpigmentation. Use natural ingredients like besan, turmeric, yogurt, and potato to treat pigmentation on your skin.
What causes high pigmentation on the neck?
UV exposure caused by sunlight is one of the major causes of high pigmentation on the skin. Sunlight causes excess production of melanin which results in tanning and hyperpigmentation. Other acquired hyperpigmentation disorders like Acanthosis nigricans can give you a darker neck.
How can I reverse my dark neck?
Use home remedies and skin care products like Ubtan products or Vitamin C products to treat dark necks. DIY home remedies can take a little longer time, but with consistent use of these ingredients, you can reverse dark neck.
How to get rid of dark neck fast?
Use skincare products made with natural ingredients to treat dark necks faster. Avoid using chemical exfoliation since that might not suit sensitive skin and damage your skin.
How can I hide the pigmentation on my neck?
You can use concealer and foundation to hide pigmentation on your face and neck. These are temporary fixes. Consistent skin care can reduce neck pigmentation considerably.
Read More:
Niacinamide in Skincare: Everything You Need To Know
Pigmentation Treatments: How to Get Rid of Dark Spots
Grapefruit Extract Benefits You Never Knew
How To Get Rid Of Wrinkles Using Serums
Highlights
What causes Hyperpigmentation?

What causes Neck pigmentation?

5 effective remedies to reduce neck pigmentation

Conclusion

FAQs
Related Products