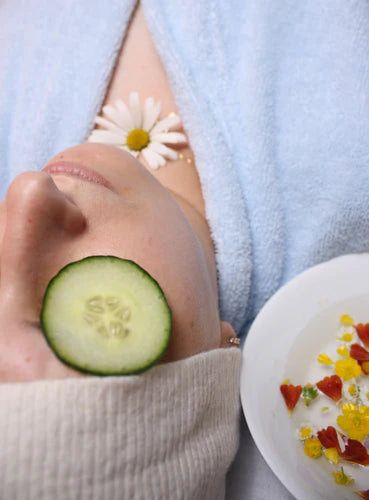 Summer is a time for outdoor pleasure but also skin dehydration. Our skin sheds moisture because of heat, humidity, and UV radiation, leading to dryness, flakiness, and irritation. Hydrating our skin during summer is essential to maintain a healthy, glowing complexion. With many products and techniques, it might be hard to start. This post will discuss summer skin dehydration and offer strategies to keep your skin moisturized and healthy. To keep your skin looking its best in the summer, we'll cover everything from drinking enough water to utilizing the correct creams and hydration methods for certain body areas.
Causes of Dehydrated Skin During Summer
Our skin requires water to keep healthy and operate correctly, thus dehydration damages it. Dehydration causes dry, flaking, and tight skin. This can also cause elasticity loss and wrinkles.
Summer is great for outdoor activities, but it can also dry up your skin. Here are some of the main causes of skin dehydration during summer:
Exposure to UV radiation
UV radiation promotes summer skin dryness. UV radiation from the sun can penetrate the skin and destroy cells, causing moisture loss. Too much UV light can dry out and peel the skin, causing sunburn and irritation.
Using sunscreen with a high SPF can protect your skin from UV harm and stop it from losing moisture.
Additionally, wearing protective clothing and seeking shade during peak hours of the day can also help minimize exposure to UV radiation.
Hot and humid weather conditions
Summer heat and humidity can induce excessive perspiration and skin dryness. When skin loses too much moisture, it becomes dry and flaky. Humidity can also make skin produce extra oil, clogging pores and causing acne.
Also, high temperatures can make skin more sensitive to sun damage and premature aging. Summer skin dehydration can be prevented by keeping skin hydrated, protecting it from the sun, wearing loose clothing, and avoiding heat and humidity.
Air conditioning and indoor heating
The use of air conditioning and indoor heating during summer can worsen skin dehydration. These systems reduce the moisture in the air, making the environment drier and leading to moisture loss from the skin. Dry air can cause your skin to become dry, itchy, and flaky, especially if you spend long hours indoors.
To combat this, try using a humidifier to add moisture to the air and help your skin retain its natural hydration. Additionally, avoid setting the temperature too low when using air conditioning and limit your exposure to indoor heating as much as possible.
Dehydration
If you don't drink enough water, your body prioritizes organs above skin, which might dry it out. Dry, flaky skin from dehydration is susceptible to sun and wind damage. Drinking enough water keeps your skin moisturized and healthy. Also, eating foods like fruits and veggies that contain a lot of water can help you stay hydrated during the hot summer months.
Tips and Tricks to Hydrate Your Skin During Summer
During the summer months, your skin needs extra attention to stay hydrated and healthy. Here are some tips and tricks to keep your skin hydrated during the hot and humid season:
1. Drink Plenty of Water
Water is necessary for summer skin hydration. Sweating can dehydrate you in hot and humid weather. Dehydration can dry, flake, and itch your skin. You can restore lost fluids and keep your skin moisturized by drinking adequate water.
Water also flushes toxins, which can improve skin. Try to drink eight glasses of water a day and bring a reusable water bottle with you.
2. Use a humidifier
Using a humidifier in summer helps keep your skin from drying out. Air-conditioned rooms can dehydrate skin by sucking moisture out of the air.
A humidifier can help your skin stay hydrated. They release water vapor into the air to keep skin moist. This can also avoid dry air conditions including chapped lips, dry tongue, and respiratory disorders.
3. Use a gentle cleanser
Using a gentle cleanser is crucial for maintaining your skin's hydration during summer. Harsh soaps or cleansers can strip your skin of its natural oils, leading to dryness and irritation.
When selecting a cleanser, opt for a gentle, non-foaming formula that is free of sulfates and other harsh ingredients. Look for cleansers that are specifically formulated for your skin type and avoid over-cleansing, which can also contribute to dehydration.
Using a gentle cleanser will help to remove impurities without compromising your skin's natural moisture barrier, leaving it clean, soft, and hydrated.
4. Apply sunscreen regularly
Sun damage can cause sunburn, premature aging, and skin cancer. If you're outside or in water, use a sunscreen with at least SPF 30 and reapply every two hours. Using a face-specific sunscreen can also prevent blocked pores and breakouts.
Sunscreen in your daily skincare routine can help keep your skin healthy and hydrated during the summer.
5. Use moisturizers with hydrating ingredients
In summer, Face moisturizers are necessary. Look for moisturizers with hyaluronic acid, glycerin, or ceramides. These chemicals help skin retain moisture and stay moisturized. Hyaluronic acid, a strong humectant that can hold 1,000 times its weight in water, helps hydrate skin.
Hydrating moisturizers help prevent dryness, irritation, and premature aging. Therefore, it is very crucial to use moisturizers in summers. One such moisturizer is Vitamin C Skin Brightening Face Moisturiser by Lotus botanicals.
6. Eat foods that are high in water content
Eating foods that are high in water content, such as watermelon, cucumbers, and strawberries, can help keep your skin hydrated during the summer.
These foods contain high amounts of water and other nutrients, such as antioxidants and vitamins, that are essential for maintaining healthy skin. Eating a diet rich in these foods can not only keep your skin hydrated but also help protect it from the harmful effects of UV radiation.
So, make sure to include these hydrating foods in your diet to keep your skin healthy and glowing throughout the summer.
7. Use face masks or sheet masks
Face and sheet masks are popular summer skin hydrators. Aloe vera, hyaluronic acid, and glycerin are common constituents in hydrating masks.
The mask seals in moisture to plump and rejuvenate your skin. After sun exposure or hot, humid conditions, face masks and sheet masks can relax and calm your skin. In the summer, these masks give extra hydration to your skincare routine
Hydration Techniques for Specific Body Parts
During summer, different body parts require different hydration techniques to stay moisturized and healthy. Here are some hydration techniques for specific body parts:
Face
Use a facial mist: Facial mists are a quick and easy way to hydrate your skin. They contain a mix of water and hydrating ingredients like aloe vera, rose water, and glycerin. Spritz a facial mist on your face throughout the day to keep your skin refreshed and hydrated.
Apply a hydrating serum: Hydrating serums are lightweight and fast-absorbing, making them perfect for summer. They contain a high concentration of active ingredients like hyaluronic acid, vitamin C, and antioxidants that penetrate deep into your skin and provide long-lasting hydration.
Lips
Exfoliate your lips: Dead skin cells can build up on your lips, making them dry and chapped. Use a lip scrub to gently exfoliate your lips once or twice a week. This will remove dead skin cells and allow your lip balm to penetrate deeper and provide better hydration.
Use a lip balm with SPF: Lips can also get sunburned during summer. Protect your lips from the harmful effects of the sun by using a lip balm with SPF. Look for a lip balm with at least SPF 30 and reapply it throughout the day.
Body
Take a lukewarm shower: Hot showers can strip your skin of its natural oils and make it dry and itchy. Take a lukewarm shower instead to keep your skin hydrated. Limit your shower time to 10-15 minutes and use a gentle, hydrating body wash.
Apply body lotion after showering: Moisturize your skin immediately after showering when your skin is still damp. This will help lock in moisture and keep your skin hydrated for longer. Look for a body lotion that contains hydrating ingredients like shea butter, jojoba oil, and glycerin.
Wear loose-fitting clothing: Tight-fitting clothes can irritate your skin and prevent it from breathing. Wear loose-fitting clothes made from breathable fabrics like cotton and linen. This will allow air to circulate around your skin and prevent it from getting too sweaty and dehydrated.
By following these hydration techniques for specific body parts, you can keep your skin moisturized and healthy during summer.
Final Words
Keeping your skin hydrated during summer is crucial to maintaining healthy and glowing skin. By following the tips and tricks outlined in this article, you can protect your skin from the damaging effects of UV radiation and dryness, and maintain its natural moisture balance. Remember to drink plenty of water, use gentle cleansers and moisturizers with hydrating ingredients, and protect your skin from the sun's harmful rays with sunscreen. By adopting these habits, you can enjoy beautiful, healthy skin all summer long.