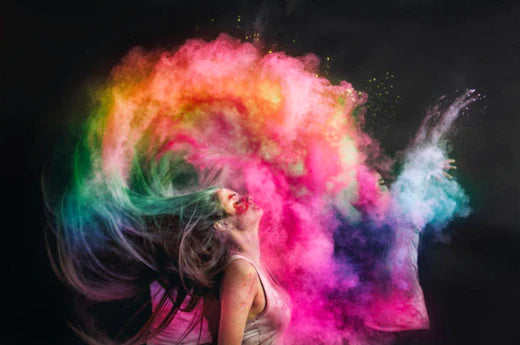 Highlights
Holi Hair Care

Pre-Holi Hair Care Tips

Post-Holi Hair Care Tips
Holi Hair Care
Holi is just around the corner and we know you cannot resist enjoying it outside with your friends and family. Amidst all the enjoyment you are going to have, do not forget that a single point of negligence may bring misfortune to your beloved tresses.
Traditionally, playing holi was all about buckets of water and dry gulal. Unfortunately, in present times these two are taken over by splashes of synthetic colours that are dangerous to health as well as uncomfortable for our hair too. Therefore it's crucial to take good care of your hair while having a great time at the Holi party.
No No, we are not scaring you and there is no need to limit the fun as well.
With some quick and easy pre and post-holi hair care tips you can double the fun and maintain the shine of your locks.
Com'on let's check them out!
Pre-Holi Hair Care Tips
Nourish Your Hair With An Oil Massage
We believe you are probably aware of this Holi hair care tip! Oiling your hair and scalp creates a shield over the hair fibres that stops the synthetic holi colours from harming them and also lessens breakage once you wash your hair. To ensure that your hair does not take the brunt of your Holi 2023 fun, generously massage it with Red Onion hair oil from Lotus Botanicals from the roots to the tips.
2. Tie-up Your Hair
Braiding your hair and pinning them up in a bun is another easy holi hair care to prevent your hair from getting damaged. Avoid letting your hair down because doing so will expose more of your hair to the colours and cause it to tangle up, which will inevitably cause additional damage and hair loss.
3. Keep Yourself Hydrated
Dehydration has the biggest negative effects on your hair after Holi. The damaging colours rob your scalp of moisture, making it susceptible to damage and dryness. Increasing your fluid intake days before Holi is a tried-and-true hair care tip for holi to ensure that your skin and scalp are well-hydrated before being exposed to the vibrant splashes of Holi.
4. Do Not Shampoo A Day Before
If you are looking for ways to protect hair from holi colours, then this is a must keep in mind tip. In-depth shampooing would completely dry out your scalp, which is acceptable on any given day, but not before Holi when you're hoping to keep it a little more moisturised. Avoid shampooing altogether or substitute it with a gentle shampoo and a Red Onion Nutritive Hair Conditioner from Lotus Botanicals.
5. Apply a Hair Revitaliser before Stepping Out
In addition to ensuring hair growth, a hair revitalizer also improves the condition of your mane. It lessens hair loss and makes your hair less susceptible to pollutants and dust. Get a Red Onion Hair Revitaliser from Lotus Botanicals and don't let worry about tresses lower your excitement for the festival. Follow this hair care tip and don't let the worry of tresses stop you from enjoying it.
Post-Holi Hair Care Tips
Cleanse With Gentle Shampoo
After the celebrations are over, it's time to give your hair a post-Holi treatment. To remove all the colour, rinse your hair with plain water before using a shampoo. Use a gentle yet effective shampoo for dry hair, such as Lotus Botanicals Red Onion Shampoo. After a long day of experimenting with colours, you need a shampoo that fights roughness and nourishes your hair from the inside out. This shampoo's hydrating ingredients nourish the scalp and improve overall hair health. Do follow this holi hair care tip for nourishment.
2. Condition Them Deeply
After Holi, your hair needs more hydration and nourishment, so simply washing it with shampoo for dry hair won't do. Use a deep conditioning hair conditioner that is rich and nourishing to replenish the moisture and oils in your hair, just like Red Onion Nutritive Hair Conditioner from Lotus Botanicals. Instead of merely letting your conditioner on for a minute, give your hair three to five minutes to soak up the goodness before washing it off with cold water to seal in all of the conditioner's nutrients.
3. Apply Hair Mask
The next stage in post holi hair care tip unquestionably involves using a natural conditioner or hair mask. To repair the harm caused by the hazardous colour, apply a Red Onion Nutritive Hair Mask from Lotus Botanicals. The antioxidant properties of red onion soothe your scalp, lock in shine, retain hair protein and strengthen the hair shaft to prevent damage.
4. Say Bye to Split Ends
Your hair will be severely damaged at the ends after participating in a daylong celebration of Holi. Only by removing these broken ends would healthy hair begin to grow from the roots up. Therefore, visit a salon and have the split ends cut off. This holi hair care tip is definitely going to enhance the shine of your hair making them look healthy.
5. Do not Colour Your Hair Immediately
Post holi hair care tips are incomplete without this step. You won't need to add to it because hair colours are made of chemicals, which would already be in large quantities on your head after Holi. Instead, wait at least a month following Holi celebrations before using any hair colour. In an emergency, go with the most natural option that is readily available.
Wrapping Up
Say bye to all hair worries and enjoy this festival of colours like never before with the pre and post-holi care tips above. Following this tip will let your hair stay strengthened even after a long day of exposure to the holi colours and damage if any, bought by them.
Including Lotus Botanicals Red Onion and Ginger roots hair-based products such as shampoo, conditioner, oil, hair mask and revitaliser hair care products in your holi hair care tips will further uplift the look and health of your beloved tresses.
Hence, keep tension aside, simply oil your hair, braid them high and you are all ready to say "Bura Na Mano Holi Hai".
Read More:
Hair Care Quotes For Instagram
Winter Hair Care Routine
Ginger benefits for Hair and DIY Hacks
Vital Vitamins In Your Diet For Hair Growth
Highlights
Holi Hair Care

Pre-Holi Hair Care Tips

Post-Holi Hair Care Tips