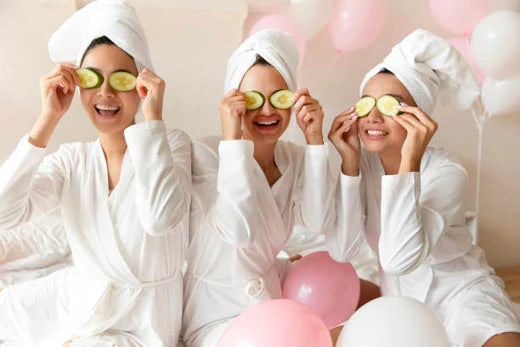 Highlights
How to make your skin festive-ready?

Hair care -

Why follow a hair care routine?
The festive season is here, and it is only natural for you to take steps to achieve a great skincare routine for glowing and nourished skin. Skincare routines before festivals bring out the best in you as a person from the perspective of confidence and help add a beautiful glow to your skin and your festive mood.
Maintaining a skincare routine throughout the coming months, regardless of how busy you are, helps achieve a natural, healthy glow -- even during dry winter. There are so many beauty products, and it may be hard to know which one to use.
Don't worry, though! We've got you covered. We've created a simple routine to keep your skin healthy and beautiful throughout the holidays.
How to make your skin festive-ready?
Here are our favourite tips for creating your holiday-worthy look:
Before you jump at exfoliating and hydrating your skin with all products, you must bring dietary changes too. Along with all your skin-care routines, you also need to keep up with your health-conscious lifestyle to get healthy, glowing skin. To maintain healthy, well-nourished skin, maintain your evening routine. When you care for your skin, the rest of your health and beauty routine becomes much easier. For that, it is imperative that you give extra attention to your skin, indulge in healthy eating habits, and practice good health practices before your celebrations.
Regular exfoliation is the key to keeping skin looking smooth, refreshed, and glowing during the holiday season. Exfoliating twice per week is said to be beneficial to your skin, and just before Diwali, your skin surely needs this jolt of brightness. To get rid of deep-set dirt and oils that may make your skin appear dull, you must use a deep cleanser facewash twice daily. Exfoliating can be done once or twice per week—it depends on your time before going out in public or sleeping at night! You should always start with gentle products first, then move on to more intense ones if needed.
The Lotus Botanical's Ubtan De-Tan Radiance Face Scrub is an ancient skincare solution that helps de-tanning and gives your skin a bright and refreshing glow. This de-tan face scrub can help remove blackheads and give them the required moisture.
The number one rule for your skin, no matter the season, is to stay as hydrated as possible. It sounds so unbelievably simple, but keeping your skin as hydrated as possible during this season and all year is essential for our skin's long-term health. Moisturizer is an important step in the skincare routine. It should be applied after cleansing, toning, and serum before eye creme or sunscreen. Moisturizers can also be used at night for all skin types if you have dry or sensitive skin. (1)
Yet another way of keeping your skin hydrated is using sheet masks. Sheet masks are a great way to hydrate your skin, but they're also just what you need to get into the holiday spirit. They're easy to use, customize, and can be done in no time. The best part is that sheet masks are great for all skin types; they're perfect for dry or sensitive ones. If you have oily or acne-prone skin (or both), it's still worth trying a few different types until you find one that works best for you—and if nothing else, they'll help reduce redness and inflammation too!
Lotus Botanicals Vitamin C moisturiser is designed to keep your face hydrated while incorporating the goodness of Vitamin C.
Hair care -
Make sure your hair is primed and ready to be styled during the winter by investing in a comprehensive moisturiser and nourishing regimen. It is still essential that your hair is well taken care of in the festival season, especially if you are outside all day. A good beauty routine followed right before a celebration can keep your skin looking glowing and give your hair some added lustre.
Oiling is an essential part of hair care. This can be done with mixing Onion Oil with coconut or almond oil and is a great way to get shine into your hair and make them look more radiant. You can also do this with a hair Revitalizer.
Get the Red Onion Hair Revitalizer by Lotus Botanicals is an excellent way to tame your frizzy hair and control hair fall.
If you wash your hair every day, you will notice that your hair will look thinner and have less volume. If you have long hair, it is best to wash it every other day. If you have short hair, then every other day is enough. If you have curly hair, then washing it daily is fine because curly hair tends to be oilier. However, if you have straight hair, then washing it daily will cause it to look limp and lifeless.
Bid adieu to dandruff with the help of Ginger Root Dandruff Control Shampoo. This excellent formula by Lotus botanicals is loaded with 100% natural ginger and tea tree oil to fight dandruff and cleanse your scalp!
A good deep conditioning treatment once a week will keep your hair from being dry and brittle. It will also help to prevent split ends. You can use coconut or almond oil with some honey in it as well.
If you are someone with dry, frizzy hair, then the Red Onion nutritive hair conditioner is the one for you. The herbal properties of red onions will help stimulate hair growth and render them with the lost shine.
A hair mask is a great way to give your hair a dose of nutrients and make it look healthy and moisturized. (2) You can use coconut or almond oil with some honey in it as well. You can also make your hair mask home using ingredients like yoghurt, avocado, banana, honey, and oat flour. Now that you know how to care for your hair, you'll be ready to celebrate the festive season.
Make sure to use these tips to make sure you look your best. A deep conditioning hair mask once a week can help to provide much-needed moisture for your hair during the winter months, ensuring it has all the bounce and shine needed for a beautiful celebratory look.
The Red Onion Total repair hair mask by Lotus Botanicals is an effective way to rejuvenate damaged hair. Red onions provide exceptional benefits such as strengthening the hair, nourishing the follicles, and so on.
Why follow a hair care routine?
Your hair deserves to be pampered as much as your skin does. Using hair oils, hair masks, and hair sprays will help you prepare your hair for the festive season. You can also use hair shampoos and hair conditioners that are enriched with nutrients and vitamins to protect it from damage and make it stronger. Most of the festivals in India start in August and go on till the cold chilly winter season.
Following a red onion products haircare routine becomes essential during the festive season because it removes impurities from the scalp and moisturises your hair.
Read More:
How to Pick Out the Best Sunscreen?
Take your anti-ageing skincare routine to the next level!
Incorporate Baking Soda In Your Beauty Routine
9 Amazing Benefits Of Ubtan For Glowing Skin
Highlights
How to make your skin festive-ready?

Hair care -

Why follow a hair care routine?