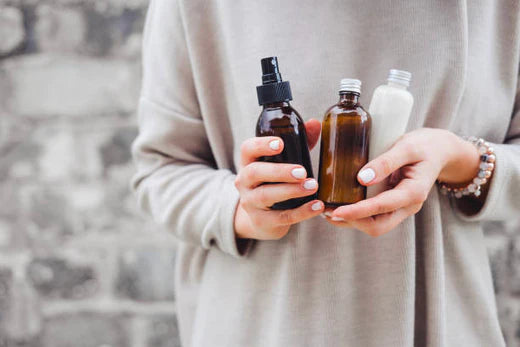 Highlights
Why is skincare important during monsoons?

Use Products that suit the season

Skincare at night-

Monsoon Skin Care Tips For All Skin Types
Skincare is one of the most important aspects of our lives. An effective skincare routine won't just keep your skin hygienic, soft and supple, but it will also help you in achieving a flawless complexion. (1) We take care of our skin from a very young age, but we often forget about it when the weather starts to change. Skincare routine needs to be adapted according to the weather. Monsoon Skincare is important because we have to protect our skin from harsh conditions, humidity and other external aggressors chemicals that can cause damage to our skin or even lead to other issues if not taken care of properly.
How can monsoons take a toll on your skin?
The monsoon season is a lot of fun, but if you don't take good care of your skin, it can suffer greatly at this time of year.
Fungal infections are pretty common in monsoons due to high temperatures and increased humidity. (2) In order to keep your skin protected from these issues, it is important that you keep your skin dry, sweat-free and protected. Choosing appropriate monsoon skincare products for your routine can greatly help you in managing various skin problems.
Monsoon humidity can lead to skin conditions like eczema and acne if proper care is not taken. It is important that you know your skin type and articulately choose products to soothe your skin during monsoons.
Excessive sweating during monsoons can lead to a skin condition called miliaria. (3) In order to protect your body's skin it is important that you wear loose fitting clothes made from a breathable fabric. This can greatly help you in keeping your skin dry and sweat-free.
Why is skincare important during monsoons?
You may have heard about the importance of skincare during monsoons, but what's the big deal? The weather is humid and wet. It's also hot, which leads to a higher risk of sunburns. Some people even sweat more than usual in the heat of summer.
During this time of year, you need special care for your skin because it is at the risk of being damaged easily by harsh sunlight and rainwater splashing on it throughout the day. If you have sensitive skin or are easily triggered by pollen counts reaching an all-time high then now would be a good time to start taking better care of yourself!
Use Products that suit the season
The monsoon season is the most humid one, so it's important to have skincare products for the monsoon. The rainy season is very inconsistent. At times it may rain incessantly, on the other hand, it may be blazing outside! Protecting your skin from humidity should be the top priority in your skincare routine.
Due to enhanced moisture content, our skin becomes prone to conditions like acne, rashes and other forms of irritation. If we do not tweak our skincare routine to accommodate these changes extremely sensitive, full and even damaged.
The humidity and rainfall can wreak havoc on your skin, leaving it feeling oily, irritated, and inflamed. Use Monsoon skincare products that suit your skin type and avoid harsh chemicals like alcohol-based toners, which dry out the skin by removing water from its surface. Instead, use gentle products having natural ingredients such as coconut make-up remover or rosewater as a facial wash. Checkout the blog to know 9 reasons why you switch to natural beauty products.
As you can see, it is important to have a solid monsoon skin care regimen and monsoon special skincare routine in place during this time of year. We have listed a few tips and Must-Have Products for the Rainy Season to help you get started. Following these simple tips will help you keep your skin looking and feeling its best all monsoon season long!
CLEANSE
Before you start applying your makeup, always cleanse your face with a cleanser or face wash. The reason is, that during monsoons, your skin is prone to having fungal and bacterial infections. Use a gentle, oil-free cleanser twice a day to remove excess oil and dirt.
The Lotus Botanicals' baking soda face wash is an excellent product for people with combination and oily skin. Tap into the goodness of baking soda by incorporating it into your skincare. Its mild exfoliating property helps to get rid of acne, blackheads, and pimples.
For those with dry, dull, and uneven skin tone, this bio-retinol face wash will deeply cleanse your face and allow your skin to get its fresh glow back. The monsoon can be a time when things get sweaty and grim. Bio-retinol helps in the production of collagen and makes your skin look supple and refines its texture.
EXFOLIATE
Exfoliating regularly will help to prevent clogged pores, and breakouts and get rid of the dead skin cells during monsoons.
Infused with the richness of Vitamin C this face scrub gently exfoliates the dead skin cells sitting on top of the dermis. The vitamin C in the scrub deeply cleanses the skin, helps in the regeneration of skin cells and gives it a natural, radiant glow.
Lotus Botanicals believes in harnessing the benefits of natural ingredients when it comes to skincare. What's a better treat for your skin than Ubtan? For those of you who are unaware, Ubtan is an age-old beauty secret.
Thanks to Lotus Botanicals, you can now extract the benefits of Ubtan via this de-tan radiance face scrub. Just apply and massage the face scrub on your face and let it sit for 5 minutes. Rinse your face thoroughly with water and wait for the results.
STAY CLEAR OF MASKNE
The pandemic has made masks an integral part of our life. However, this came with the new problem of Maskne. Wearing a mask for a longer duration of time can build up sweaty and humid conditions underneath it. This at times can lead to breakout around the covered region of the face, popularly known as maskne.
With the onset of monsoons, the situation can further aggravate. Thus, for all those with an issue of acnes or masknes, the Lotus Botanicals clean beauty products like anti-acne first aid kit, is a Must have Beauty product in the monsoon.
TONING
Toning is an important part of your monsoon skin care routine. Toning helps in balancing the pH level of skin which can protect your skin from a number of skin issues. The Lotus Botanicals hydrating green tea face mist will be an excellent addition to your skin care routine as it will safeguard the natural moisture level of your skin while controlling the production of extra oil.
MOISTURISE
A moisturiser during the monsoons will help in keeping the toxins from the sweat, pollution, and dust at bay. Use a light, oil-free moisturiser to keep your skin hydrated.
Incorporating a serum in your skincare routine will only enhance and nourish your skin. The vitamin C face serum reduces the redness and puffiness of your face and enables the skin to retain moisture for longer durations. The serum is also an effective solution for those with problems with pigmentation.
The benefits of Vitamin C are innumerable. A wonder nutrient in itself, vitamin C boosts the production of collagen, neutralises the free radicals, brightens the skin, and much more. Apply the moisturiser every day before you do your makeup, or step out of the house.
If you are someone who faces the issue of decreased production of skin collagen, then bio-retinol is a holy grail for you! This unique formula boosts collagen production, delays cell ageing, reduces scars, and gives you an even skin tone.
DON'T FORGET THE SUNSCREEN
Yet another important thing that you should include in your monsoon skincare is sunscreen. Sunscreen helps protect us from UV rays that can cause cancer and also prevent wrinkles from appearing on your skin.
If you want to be extra careful with what type of sunscreen to get them, go for a cream with an SPF 30+ and mineral protection instead! Wear sunscreen during the day, or at least 15 minutes before you apply your makeup.
Vitamin C Skin brightening Matte FLUID sunscreen


This is a broad-spectrum sunscreen with an SPF of 50. Combined with the goodness of vitamin C, this revolutionary no-white cast formula fights off the free radicals and provides a shield against the harmful rays of the sun. Apply vitamin C sunscreen every day, even on cloudy days.
Skincare at night-
After a long tiring day at work, we all just wish to snuggle up in bed. At night we often back out or skip the task of skincare. However, at night when the body is in repair mode, the skin renewal process is accelerated. Thus, it becomes important to establish a nighttime skincare routine.
The simplest of all tasks is to diligently take off all the makeup and wash our face. This bio retinol is a natural vitamin A derivative that stimulates the production of collagen.
As you know bio-retinol is a holy grail ingredient in skincare. It helps speed up skin cell turnover rate and gives your skin a natural radiance by locking moisture overnight.
Monsoon Skin Care Tips For All Skin Types
You can adhere to the following tips to take care of your skin during monsoons.
Hydration is very important for good skin. During monsoons, we tend to perspire more due to increased humidity. In order to make up for it, it is important that you drink appropriate quantities of water and eat right to keep your skin hydrated and nourished.
In case you get drenched in rain, make sure that you wash your face after that and apply a deep nourishing moisturiser to keep your skin healthy.
Go for light make-up during monsoons because heavy layers of cosmetic products clubbed with humidity can clog the pores of your skin which can lead to acne and other skin problems.
Do not go overboard when it comes to washing your face because repeated washing can enhance the oil production and lead to clogged pores. Washing your face two to three times a day should suffice.
It is important to remember that skincare during monsoons is not just about your skin. Always seek consultation from a dermatologist if you have any concerns about your skin health. Skincare is also about the environment and how all of these factors affect both you and your skin.
In addition to your skin, monsoons can have a detrimental effect on your hair as well. Humidity can make your hair very frizzy and dry and therefore you need to take extra care of your hair to keep them healthy. With proper care and grooming you can enjoy the monsoon fully while taking care of your body, hair and skin. Read a detailed blog for haircare in monsoon.
Highlights
Why is skincare important during monsoons?

Use Products that suit the season

Skincare at night-

Monsoon Skin Care Tips For All Skin Types