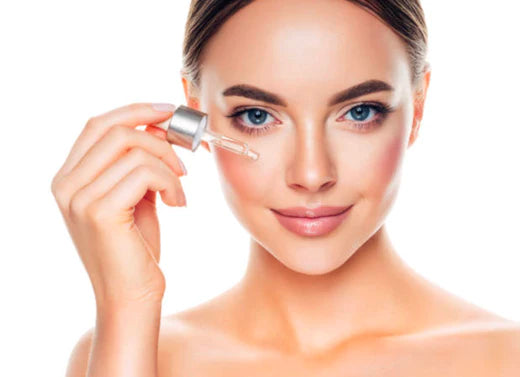 Highlights
7 Warning Signs Your Serum Is Not Working

Wondering Why is My Serum Routine Not Working Anymore

Conclusion

Frequently Asked Questions (FAQs)
There are a lot of options for skincare products, and it can be difficult to modify your routine once you've discovered one that works for you. Even though having a consistent skincare routine might be reassuring and dependable in many ways, it doesn't work forever. After years of using the same products, it might be difficult to give up tried-and-true skin care products, but there are instances when doing so becomes important when you see the damaging effects of the products on your skin. Hence, if you are coming across such skin issues, prioritise your skin and adopt a new routine in order to rejuvenate yourself.
Serums are one such integral part of your skincare routine. They hydrate and nourish your skin while healing it from within. However, with a plethora of options available in the market, picking the right one might look like a daunting task. Moreover, if you have picked the one, its results are not what you were looking for. So, how do you recognise if a serum is not working the way it should on your skin?
Also Read: Reasons Why Switching to Natural Skincare Is Worth It
Here in this blog, we have compiled a list of 7 signs signalling that your serum is not working anymore and it's time to make an intelligent decision of switching to a better serum for your skin.
7 Warning Signs Your Serum Is Not Working
Your Skin Becomes Dry and Irritated
If you notice that your face feels dry or irritated after applying the serum for a few days or weeks, then this is a warning sign for you to switch to a better serum. Before spending money on a possibly pricey skincare product that won't help you get the results you want, it can be worthwhile to opt for products that are infused with natural ingredients and suits your skin type.
If you have dry skin, then opt for a serum infused with Hyaluronic Acid and Raspberry from Lotus Botanicals. This Ultra Glow Hydration Boosting Serum is rich in antioxidants, provides deep nourishment and gives a boost of natural glow to your skin.
2. Persistent Itching
Your skin may become inflamed for a variety of reasons. One of these can be applying a serum that is full of chemicals, mineral oils, silicone and strong exfoliating acids that upset your skin's natural balance and make it flare up. Hence, it is always advisable to use serums that are 100% vegan and plant-derived, such as Vitamin C Skin Brightening Face Serum from Lotus Botanicals.
3. Clogged Pores
The best serum is said to work on clogged pores by cleaning your pores from the inside out. Hence, if your pores feel clogged and your skin feels heavy even after using a serum for a while then chances are high that you are using the wrong serum.
4. Persistent Acne
The presence of persistent acne may be a sign that you are allergic to a skincare product you are using. Occasionally, utilising chemical-infused serums can irritate your skin and lead to acne. If this is happening to you, take care how you handle it because popping it might leave your face with long-lasting scars. Say bye to that awful acne with Salicylic Acid and Tea Tree Acne Control and Pore Cleansing Power Serum from Lotus Botanicals.
5. Hyperpigmentation
Has your skin started appearing yellowish recently? Perhaps some regions of your skin are darker than others on your body. Hyperpigmentation results from excessive sun exposure, ageing, inflammation and applying serums that don't suit your skin. Hence, it is always advised to go for patch-testing if your serum is not working the way it should on your skin.
6. Your Makeup Isn't Lasting Long
It's likely that your serums aren't working properly if you notice that your foundation starts to run before noon. To get you through the day if you have oily skin, you need to locate a serum that balances your skin. Individuals with dry skin should invest in a thick serum to keep skin hydrated and prevent those unpleasant dry spots that cause makeup to slide off. Opt for AHA+BHA+PHA and Pineapple gentle resurfacing serum from Lotus Botanicals that gently exfoliates the skin and makes it even toned.
7. Increased Discoloration
Redness is not at the top of anyone's beauty list when creating your regimen. You may want to reconsider your current skincare routine if you're observing any discolouration, whether it's subtle or obvious. Redness can be brought on by things like hot water washing your face or popping a pimple right away. You must invest in face serums that soothe your skin such as Lotus Botanicals Natural Green Tea Hydra Detox Moisture Replenishing Face Serum.
Wondering Why is My Serum Routine Not Working Anymore
1. Expired Products
There is a possibility that the product may have expired if it is stored unused for 6 to 12 months. Also, if not stored in a cool and dry place, there are chances that your serum may potentially lose its effectiveness. The shelf life of a product can therefore be determined by the packaging.
2. Not Layering in Correct Order
There can be chances that the product you are using is the right one, but if you are not utilising it properly, your skin won't benefit from it. It's equally vital to use the products in the right order and follow the right skincare routine. Moreover, make sure to allow enough time to pass between using two skincare products. Before applying another layer, let the first layer fully absorb into your skin.
3. Lacks Active Ingredients
If a serum lacks adequate active components, it won't be able to tackle skin problems effectively. As an illustration, if the component's concentration is too low, it won't be able to penetrate the skin deeply and no changes will be visible.
4. Wrong Storage
When items are kept at the incorrect temperature, they eventually lose their effectiveness. For instance, according to experienced dermatologists, keeping your cosmetic items in the bathroom, where you frequently experience high temperatures from hot showers, would reduce their efficacy.
The skin may feel different from normal when serums are maintained in an overheated environment, which also affects how well they work on the skin.
Conclusion
Having known the various signs your serum is not working properly it's time to switch to better facial serums that are free from toxic chemicals such as parabens and sulphates. Not only free from chemicals but infused with the goodness of natural plant extracts that cause no harm to your skin leaving your skin feeling refreshed and hydrated.
Lotus Botanicals' extensive range of effective face serums online is a must-have in your beauty regime if clear-looking and refreshed skin is what you dream of! From Papaya, Tea Tree, Natural green tea, and Vitamin C to Niacinamide and Salicylic acid they have the best dermatologically tested and certified safe face serums.
Frequently Asked Questions (FAQs)
1. How do you know if the serum is not working?
If your serum is not working, you might experience redness or discomfort on your skin.
2. How long does it take to see results from a serum?
In general, benefits should start appearing between six and twelve weeks, but some ingredients such as NIacinamide and Salicylic Acid may take up to six months to really start showing obvious improvements because they structurally alter skin in a more significant way.
3. Why is my skin not absorbing serum?
Your skin isn't cleaned properly if it is not able to absorb the serum properly. To avoid such an issue, wash your face well before applying a skin serum because the active ingredients will attach to grime and dead skin. Use tepid water since hot water may cause your skin to sweat, which prevents absorption, and cold water may cause your pores to close, preventing the serum's benefits.
Read More:
How To Get Rid Of Wrinkles Using Serums
Important Seasonal Skincare Tips to Add to Your Daily Regimen
Niacinamide in Skincare: Everything You Need To Know
Ubtan SkinCare Products for Skin Radiance & Glow
Highlights
7 Warning Signs Your Serum Is Not Working

Wondering Why is My Serum Routine Not Working Anymore

Conclusion

Frequently Asked Questions (FAQs)
Related Products